After a lunch of "short eats" in Dambulla we hopped on a bus to Sigiriya. Short eats are basically pastries, some sweet, some savoury. The waitress brings a selection of them on a tray, you eat what you like and that's what you're charged for. Of course you're also charged for those which the kids taste and spit out :-). The selection included sausage rolls (hit), prawn pasty things (miss), vegetable pastries (miss but hit for adults :-), jam buns (big hit), bread with icing (big hit also), cheese pastries (hit) and chicken pies (miss). They're widely available in the Kandy area where bakeries are in abundance.
The bus to Sigiriya was perfect, the usual friendly Sri Lankan bus where you can stick your head out the window to cool down. It's only a short one too, about 45 minutes which is great.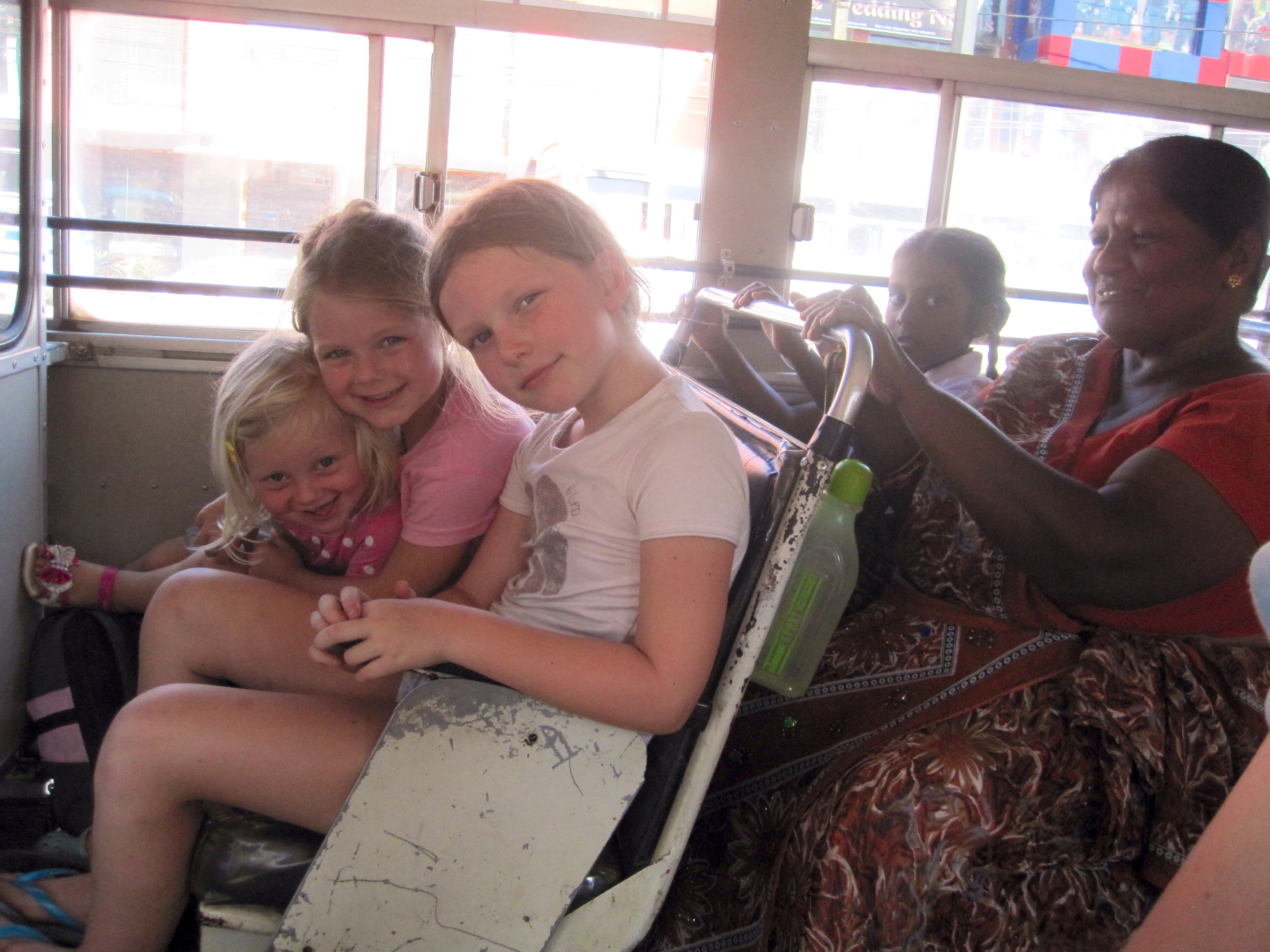 We told the conductor where we were staying, Lion lodge and the driver dropped us right outside our guest house which was brilliant. The owner, Ajith, popped out straight away and helped us with our bags. He couldn't have been more friendly and nice. It makes such a difference to get a nice reception after a long days travelling and in Sri Lanka, nice receptions are the norm. The family lives in a house at the front and then they have rooms and an eating area behind. The rooms are lovely, simple but comfy with a really nice vibe about the place, mainly because the owner and family were just so nice. There were 2 huge rocks in the garden which the kids could play on, ours set up camp on them anytime we were at the guesthouse so that made a very relaxing stay for Mom and Dad!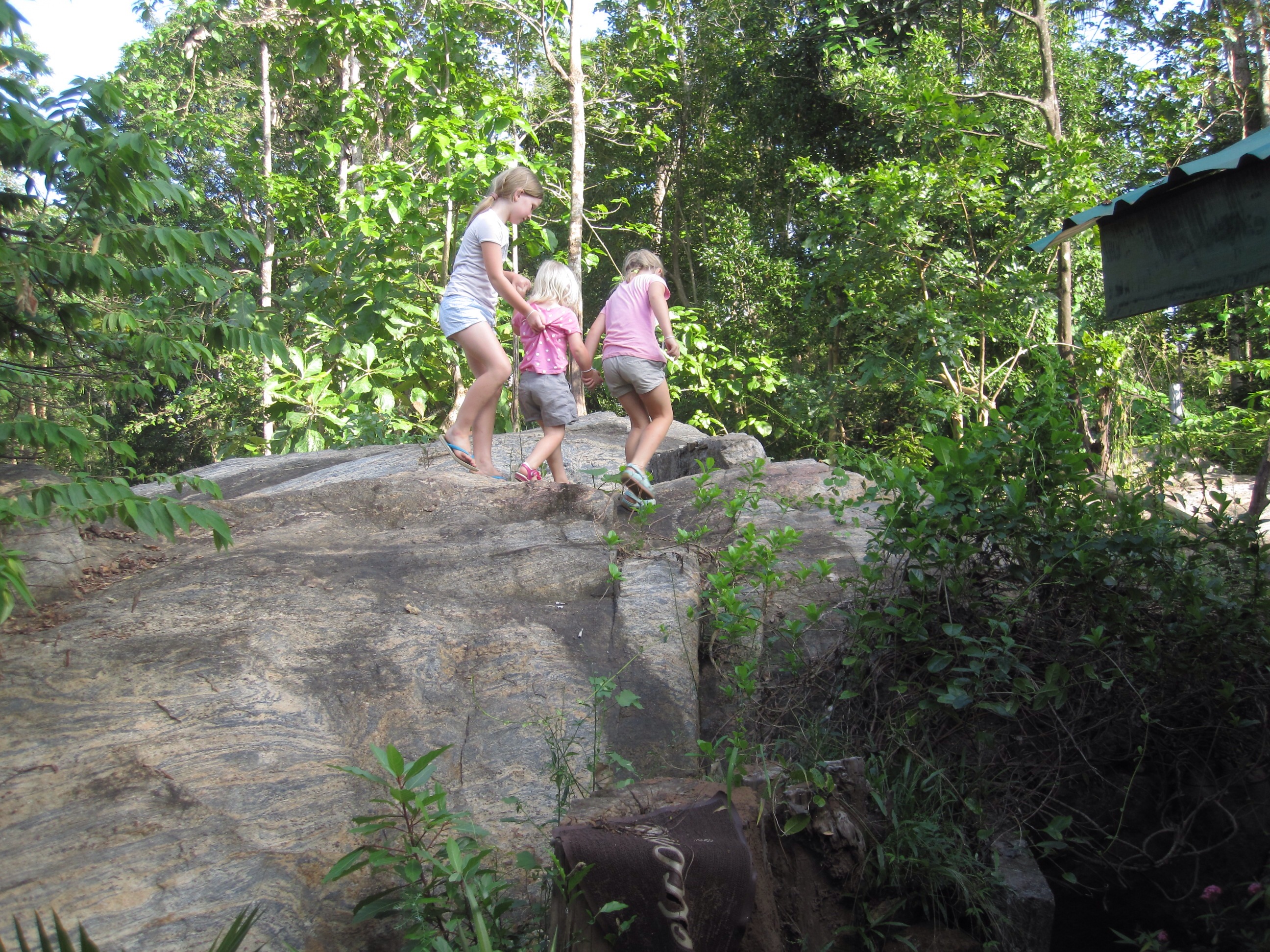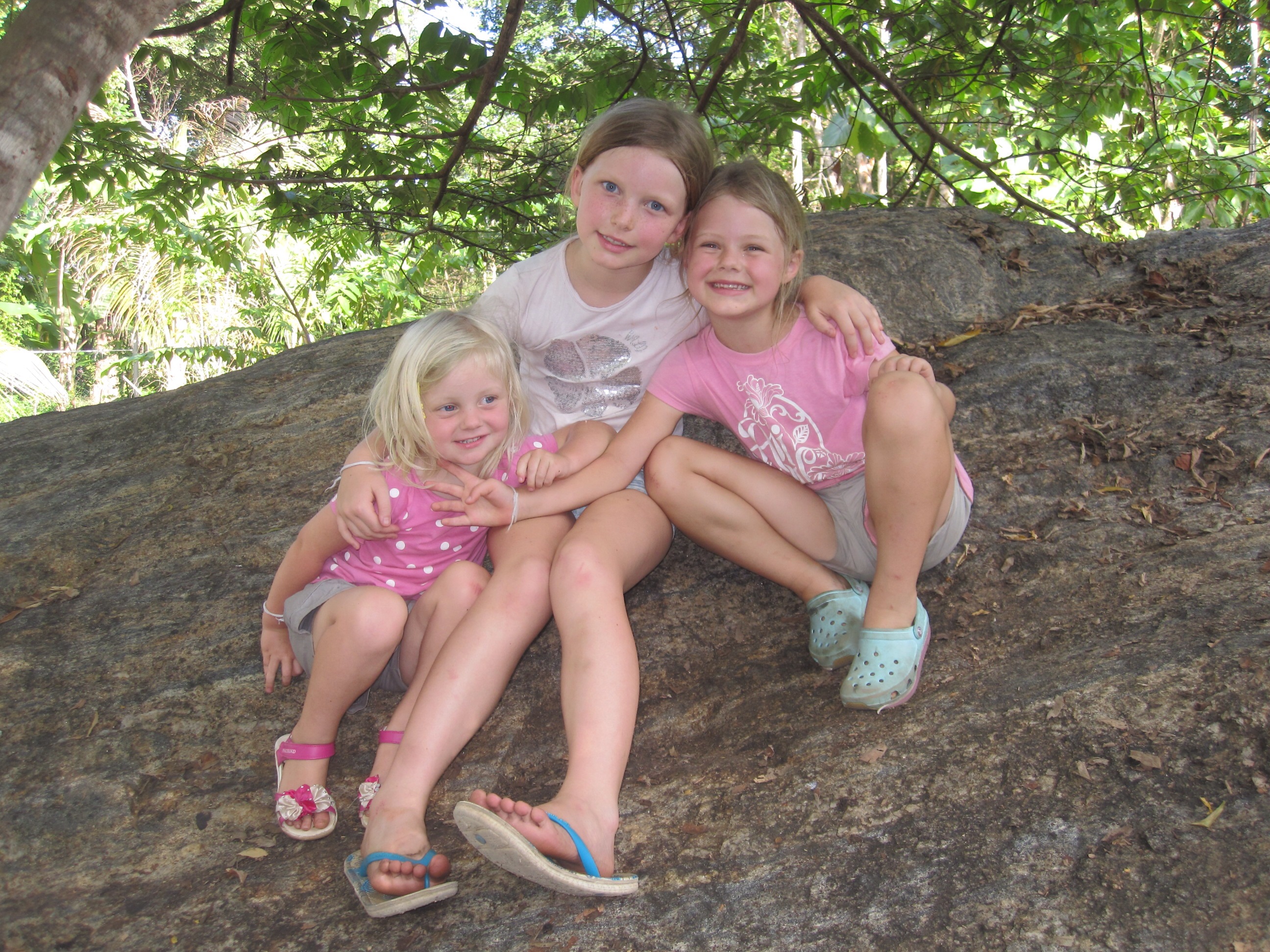 The room was great value, 2,500 rupees (just over €16) including a delicious breakfast of bread, omelettes, fresh fruit and tea.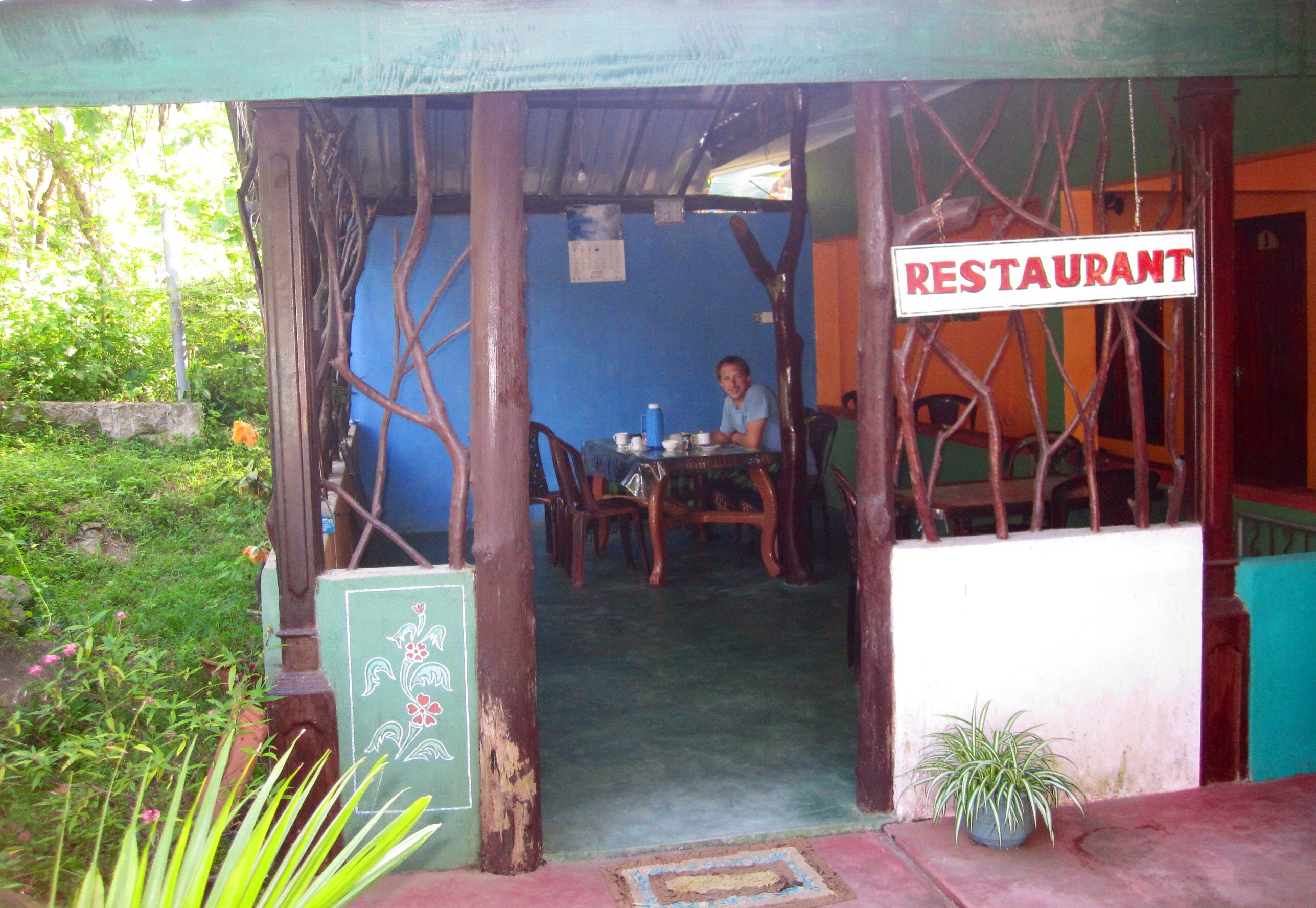 We really liked Sigiriya, it's a small, friendly, sleepy town a world away from the hustle and bustle of the big cities. There isn't a lot there but our guesthouse was walking distance from everything. Our favourite eatery was "Chooti", a lot of people shared this place as a favourite. They did delicious Rotti, really big, tasty ones for a very good price. We loved it there.

Apparently the countryside around Sigiriya is great for exploring, especially on motorbikes or scooters which you can hire cheaply. We didn't, but met a few people who did and really loved it. Next time…
They do elephant rides through the town and into the lake so it's not uncommon to spot an elephant walking down the road.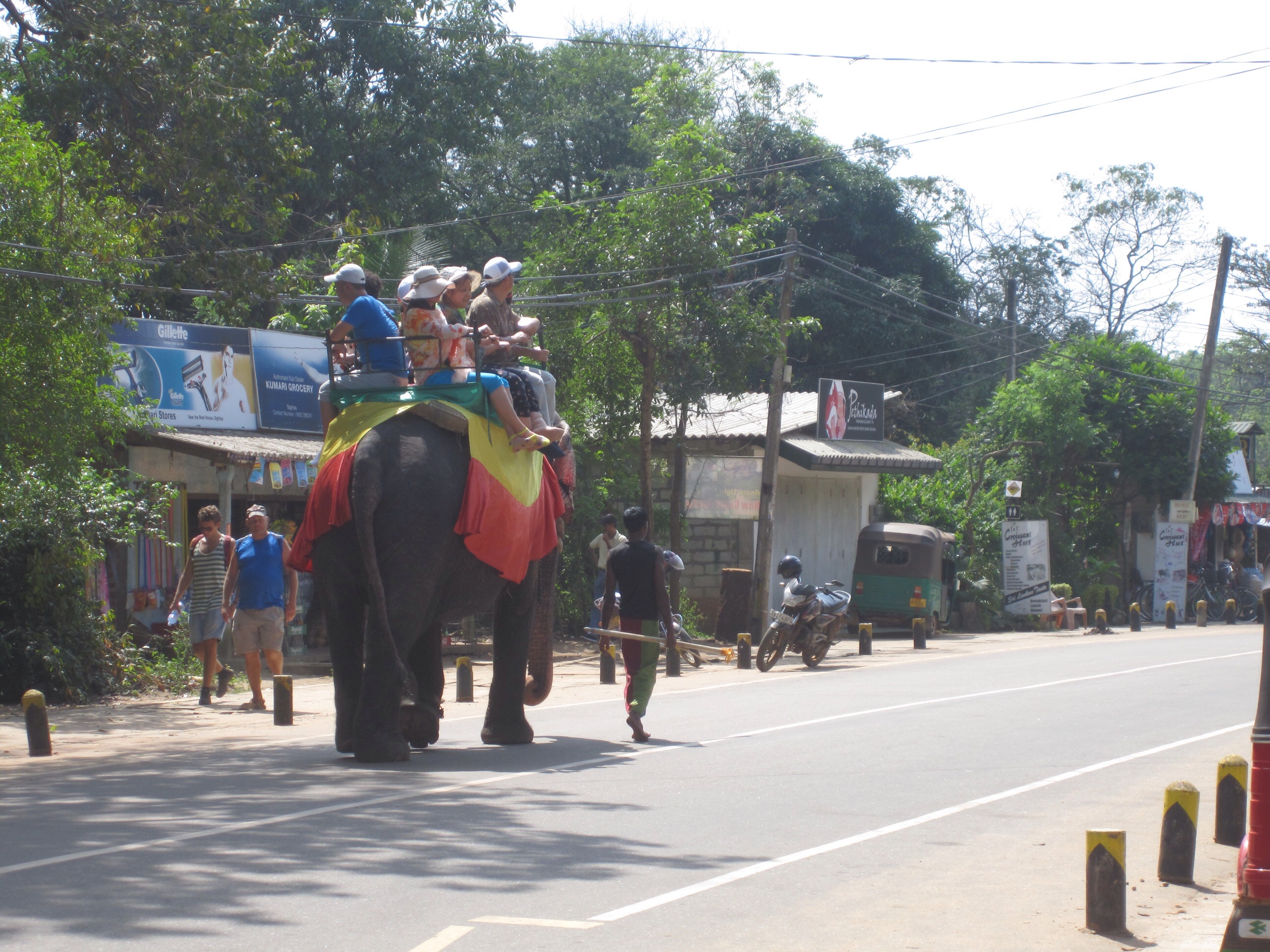 You can also frequently spot an elephant getting a good exfoliation with a coconut husk in the river. They seem to love it and it's lovely to watch the relationship between keeper and elephant where the keeper utters a command and the elephant squirts water over his back after his rub down or raises his foot to let the keeper climb up on to his back. Perhaps this control was as a result of harsh training but there was no evidence of that to us. There was just a lovely relationship between them.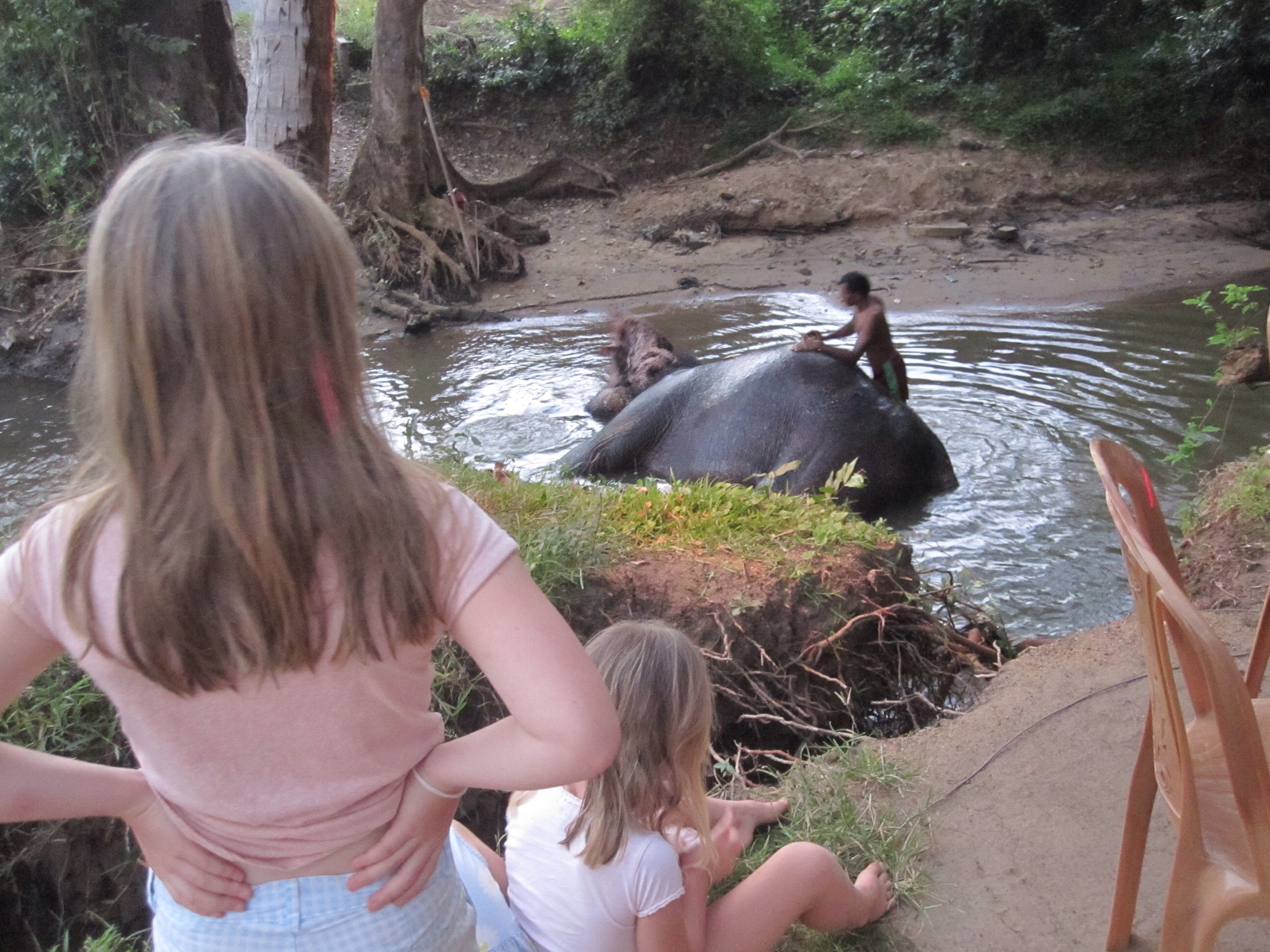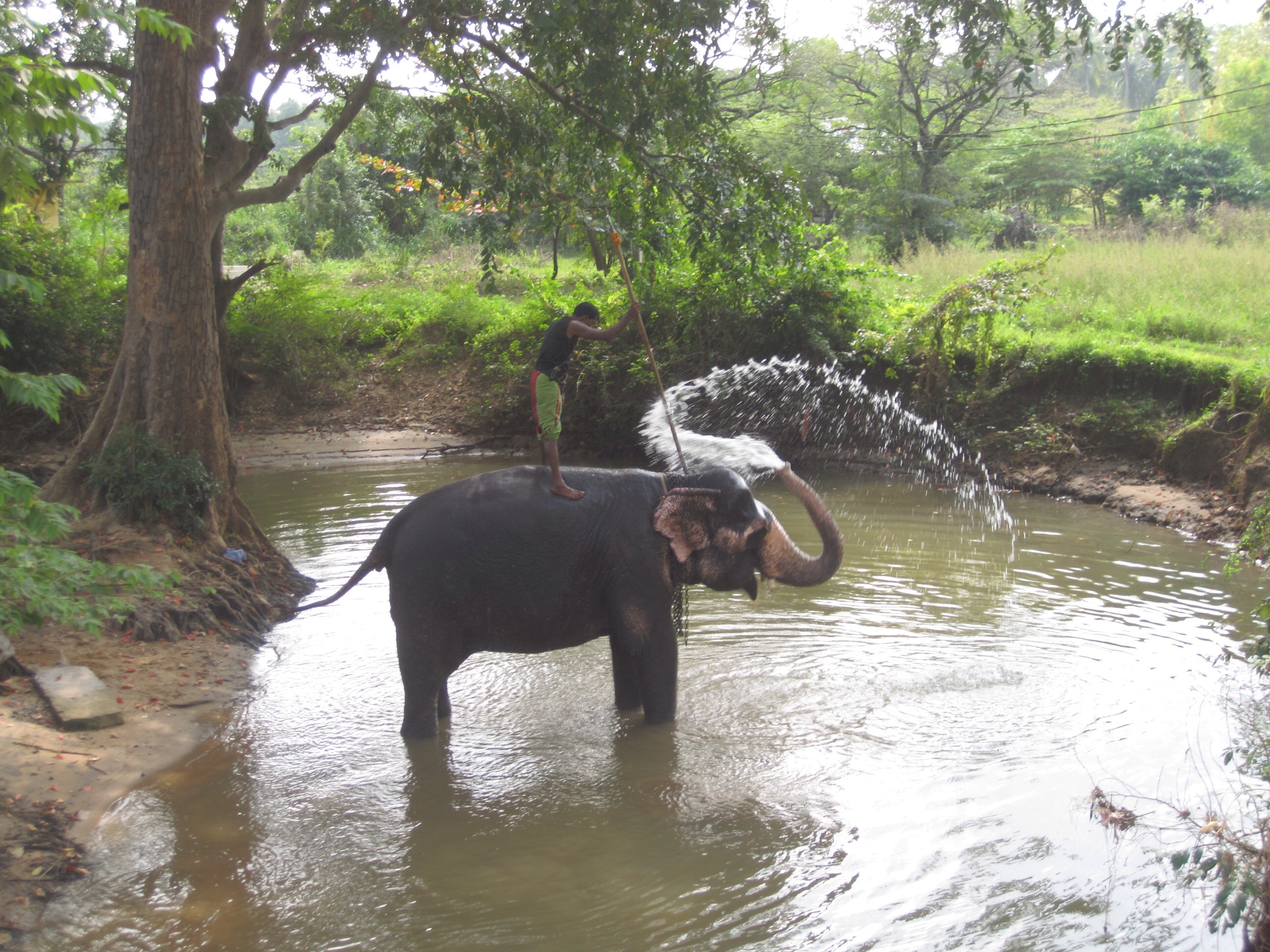 There are lots of monkeys around Sigiriya. Just across the road from our guesthouse, there was frequently a troop hanging out. Our guesthouse owner used to bring the girlies across the road with a bag of bread to feed them much to their delight :-).
The main activity people do in Sigiriya is climb Sigiriya rock. It's a Unesco world heritage site and is pretty amazing. The rock is basically a huge rock which looks a bit like Ayers rock in Australia.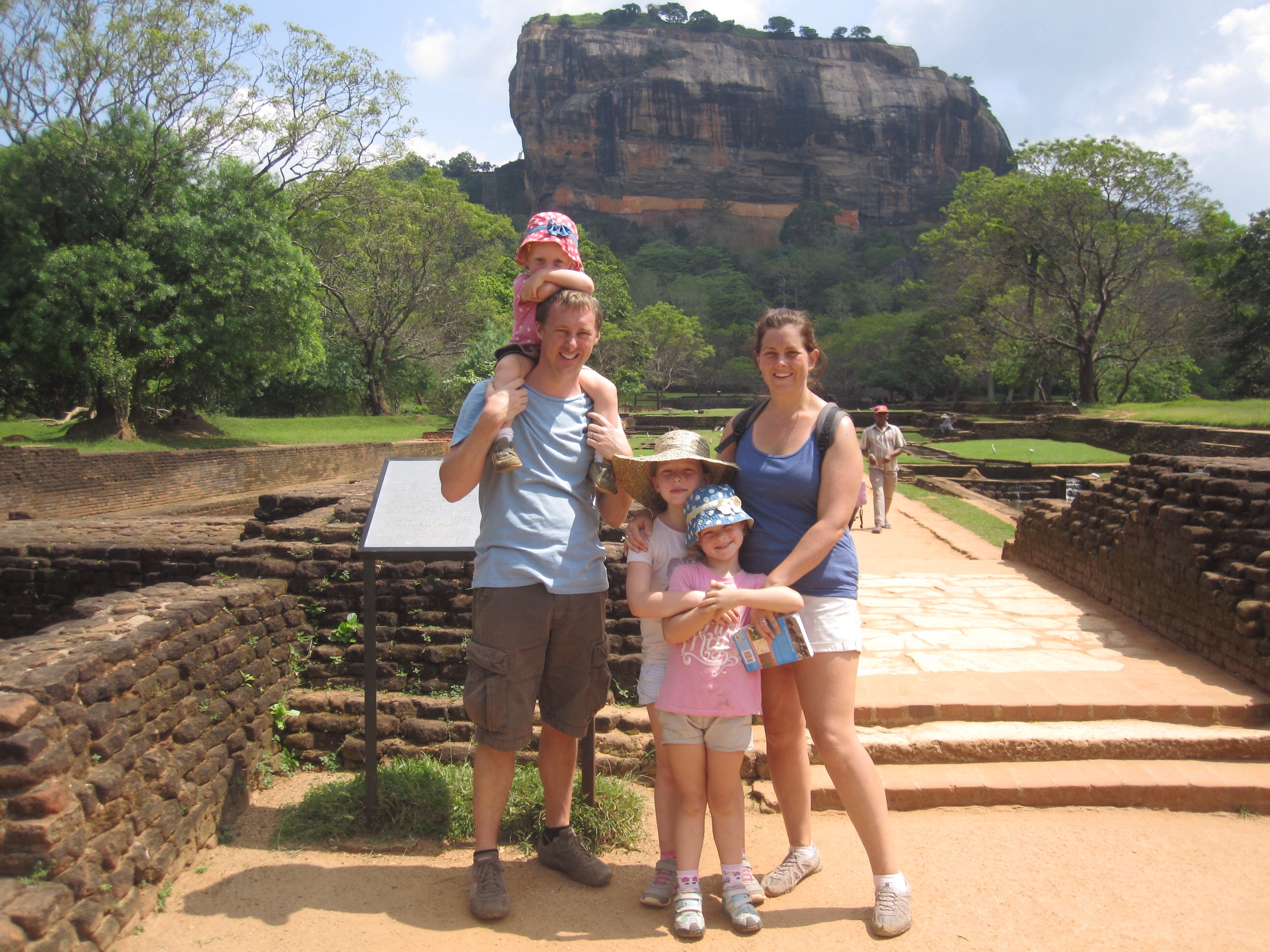 The walls of the rock are almost vertical and there are ruins of an ancient palace on top. The story goes that the palace was built by King Kassapa in the year 477 AD. He wasn't the nicest chap. Apparently he asked his Father King Dhatesuna of Anuradhapura what his inheritance was going to be. His father told him be didn't have anything so Kassapa had him put in a room, walled it up and left him to die. Nasty chap… He then built the fortress on top of the rock to hide from his brother who he thought might kill him for murdering his father. It appears he was a bit of a man for the ladies, he had a big pool at the top of the rock (quite a feat of engineering to get water up there), there are also ruins of a dancing hall with a big throne at one end where he could admire the dancing ladies. And there are frescos of scantily clad, buxom ladies in caves on the way up. Yes, he was quite the ladies man it seems….
We started the climb up the rock at about 8am, they say it's best to do it early in the morning or just before sunset to keep out of the midday heat. It wasn't so hot really, we found it was shaded most of the way up. It took us a couple of hours to reach the top. If you're afraid of heights I don't think this is the walk for you, it basically takes you along narrow scaffolded paths, up rickety spiral stairs, along cave ledges and up narrow stair cases. It's not for the faint hearted. Having said that, there is loads of danger to keep the kids amused, our girlies loved it!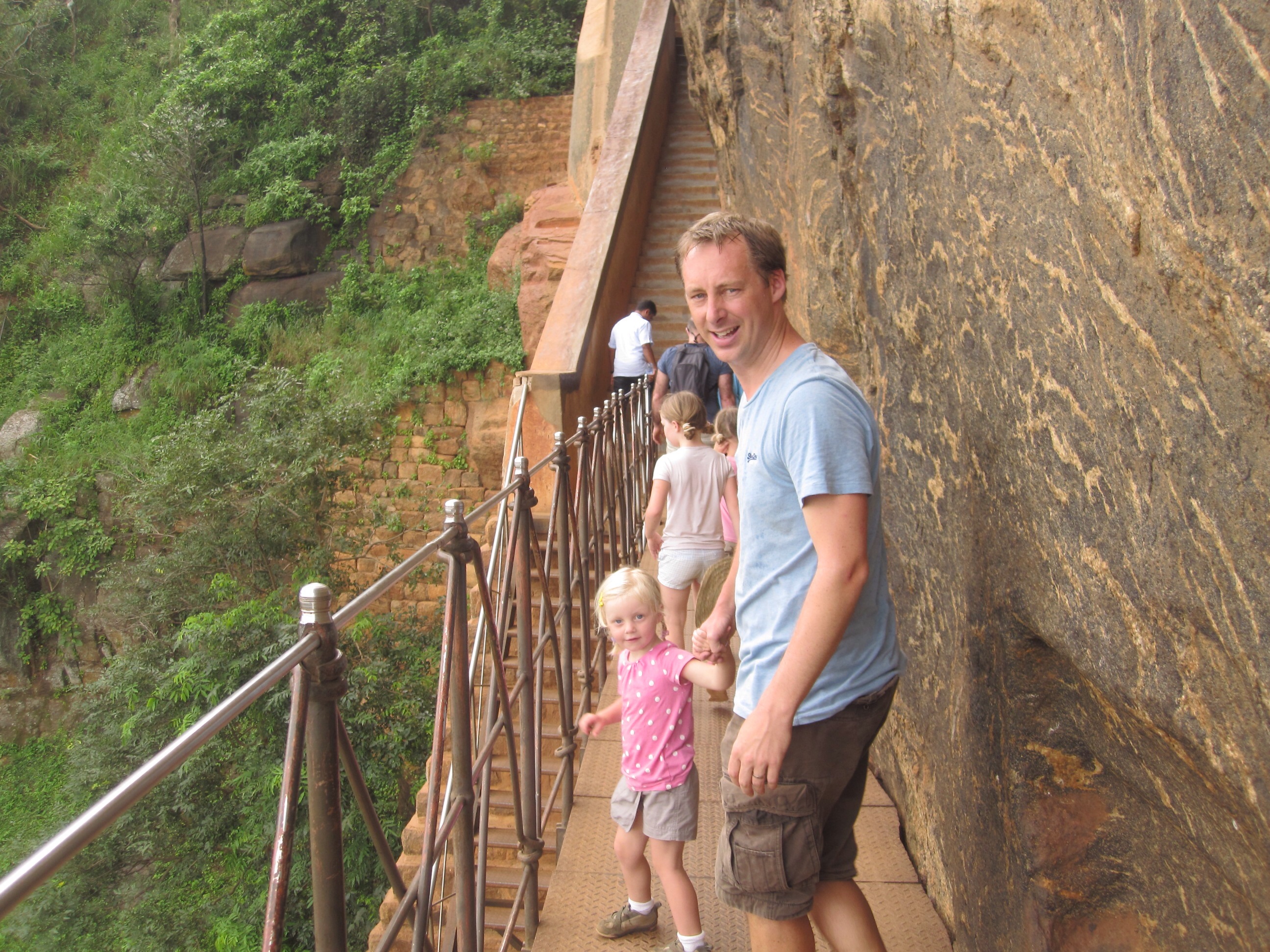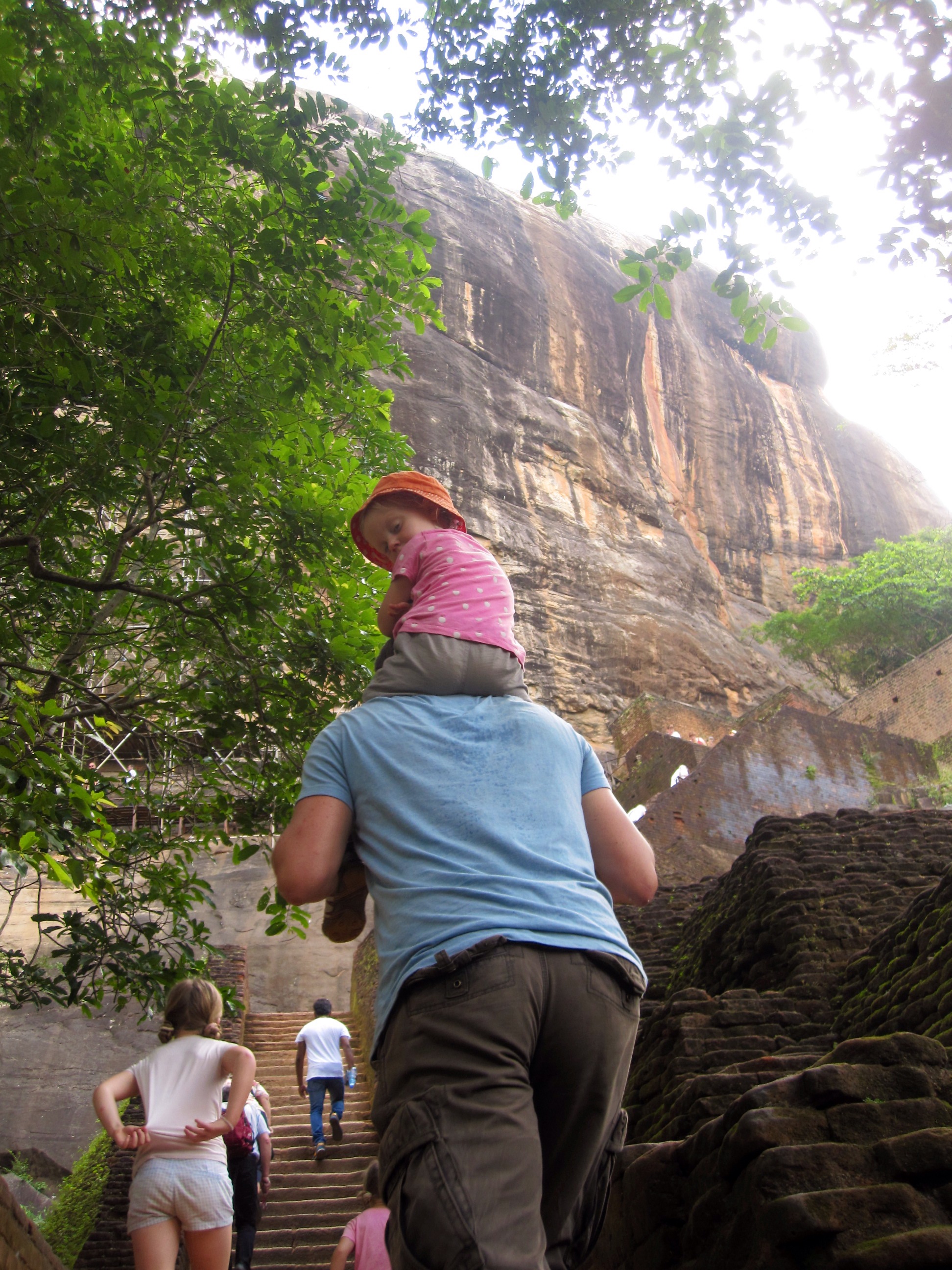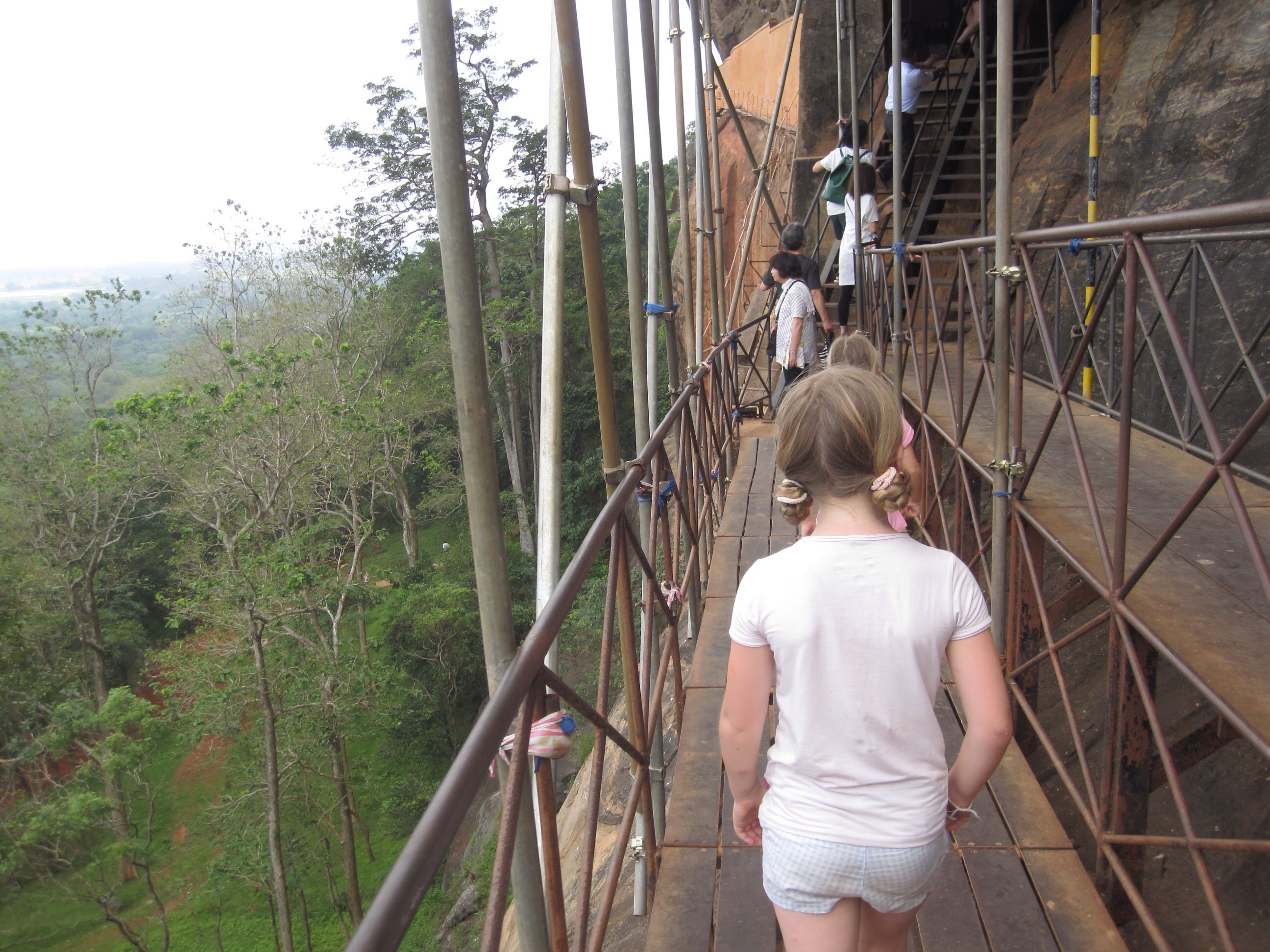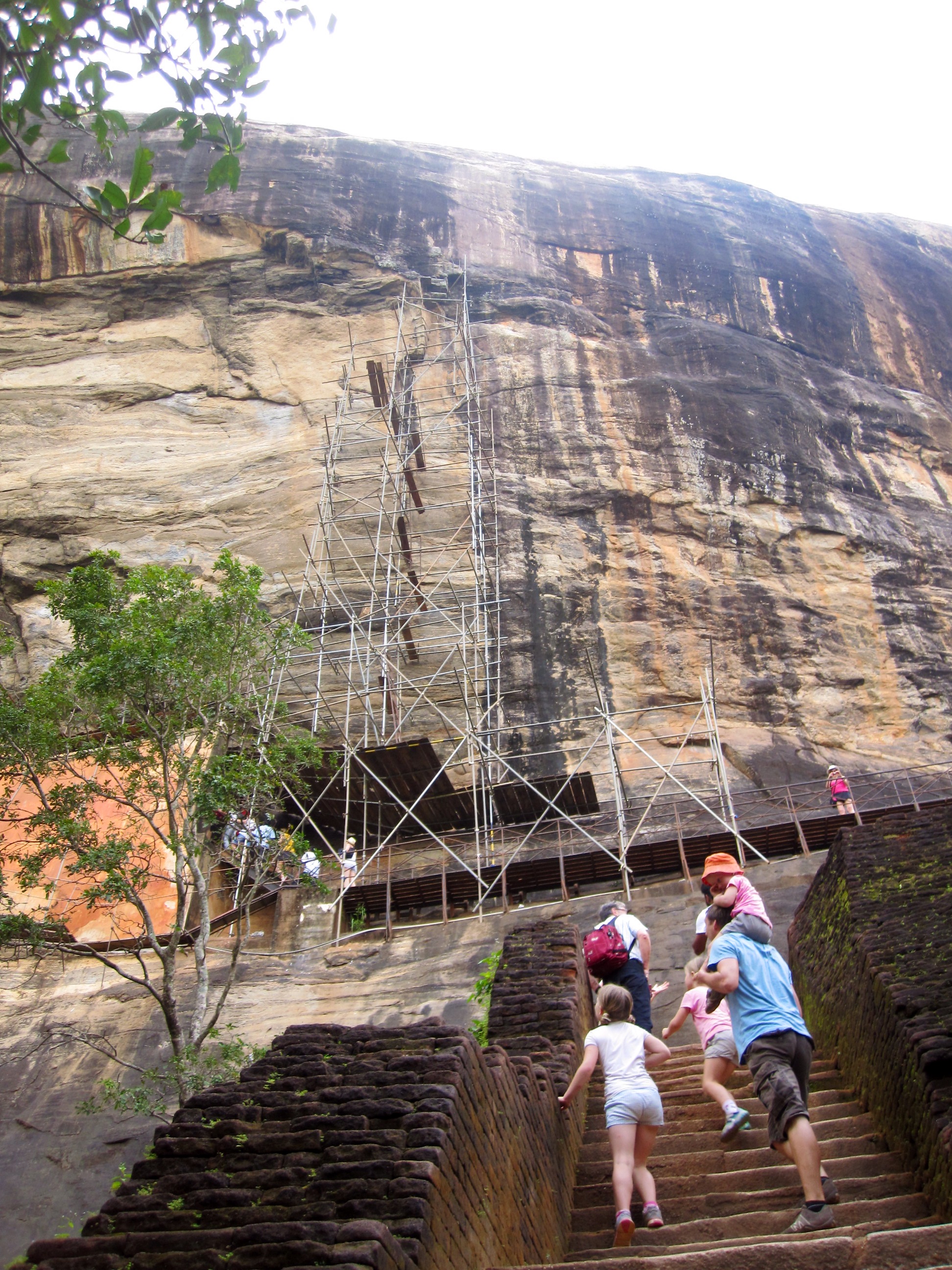 Near the summit, you come out in a wide platform where you can catch your breath and enjoy the views. We spotted a medical room and these large cages up there which was a bit disconcerting. It turns out they have big problems with stinging bees and hornets which nest on the rock sides. No matter what the authorities do as regards trying to kill the nests, they keep coming back. There are full length suits (like rain leggings and coat) people can wear if they're allergic to bees. We spotted the bee nests high up on the cliff edges. Bit scary seeing them, knowing they were prone to attack at any time. Anyway we tried not to dwell on it too much and continued up. You can see their large black shapes hanging off the rock sides.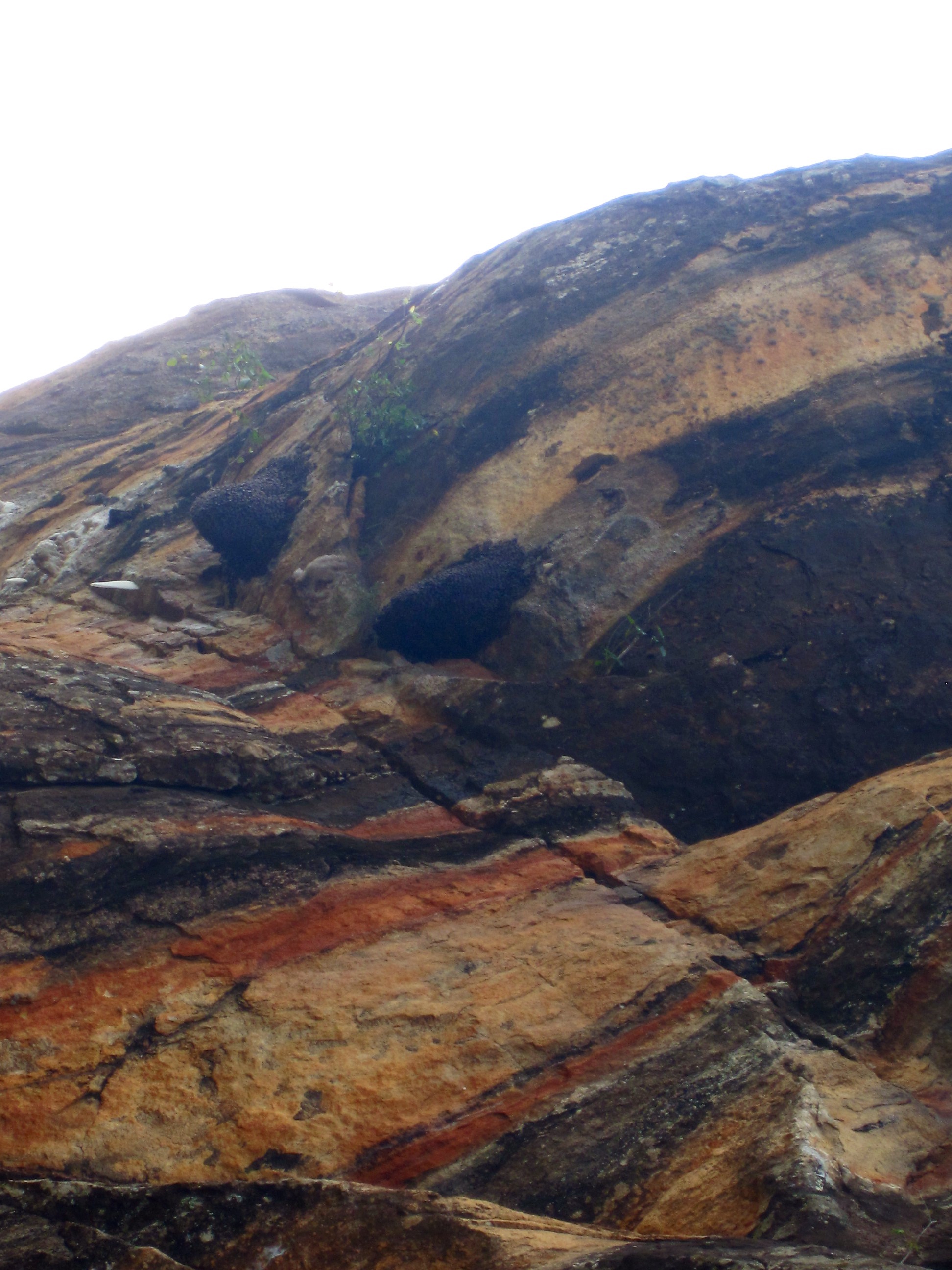 The last very steep ascent to the top starts by going through a pair of giant lion claws carved in the rock. Apparently there used to be a full lion carved in the rock, the stairs would start between his feet and into his jaws. Unfortunately the head is no longer there, just the feet, still it's very impressive.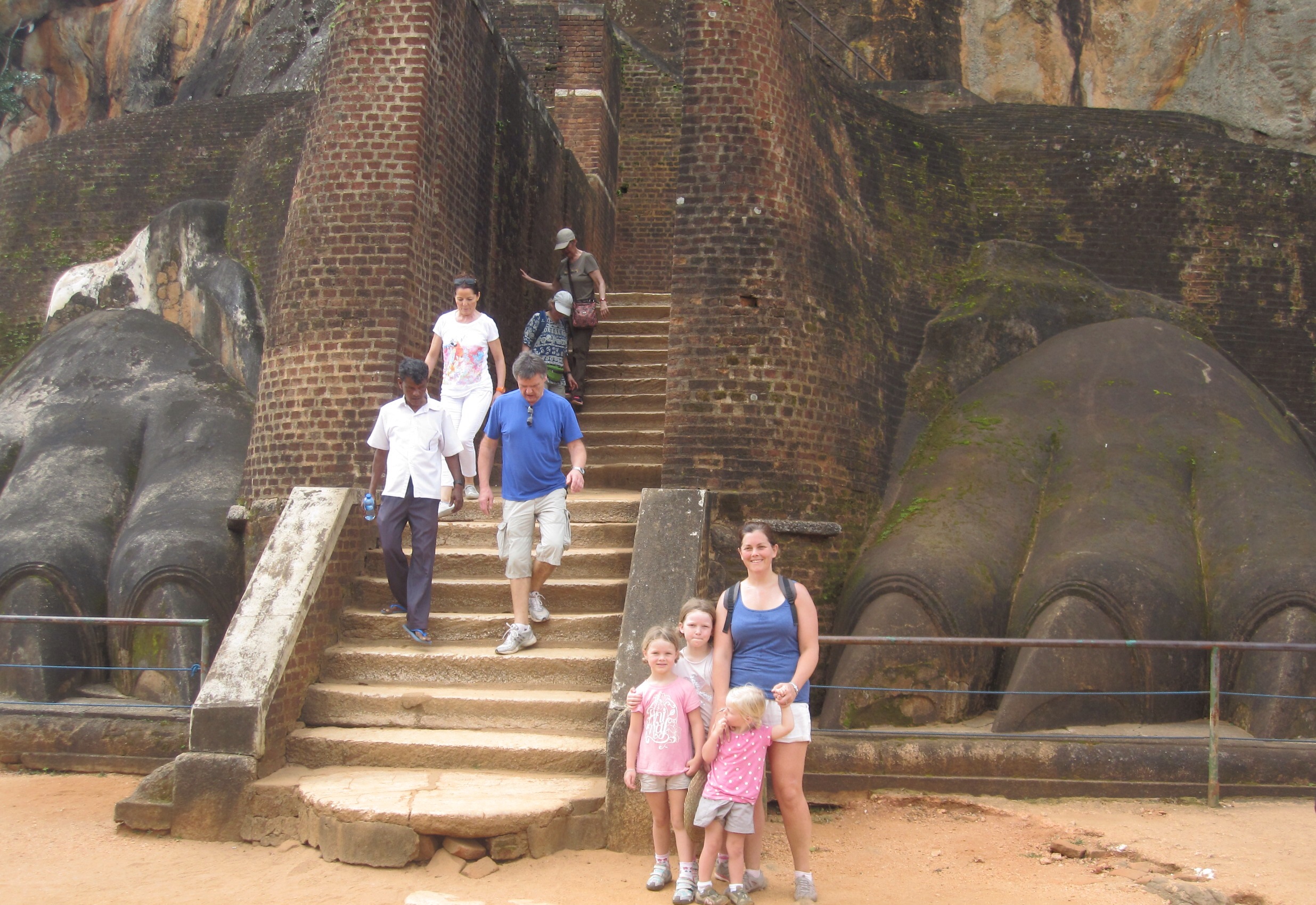 There's a newish, narrow, steep staircase to the top. Again if you're scared of heights, this is where you might consider turning back although there are loads of guides willing to help people up.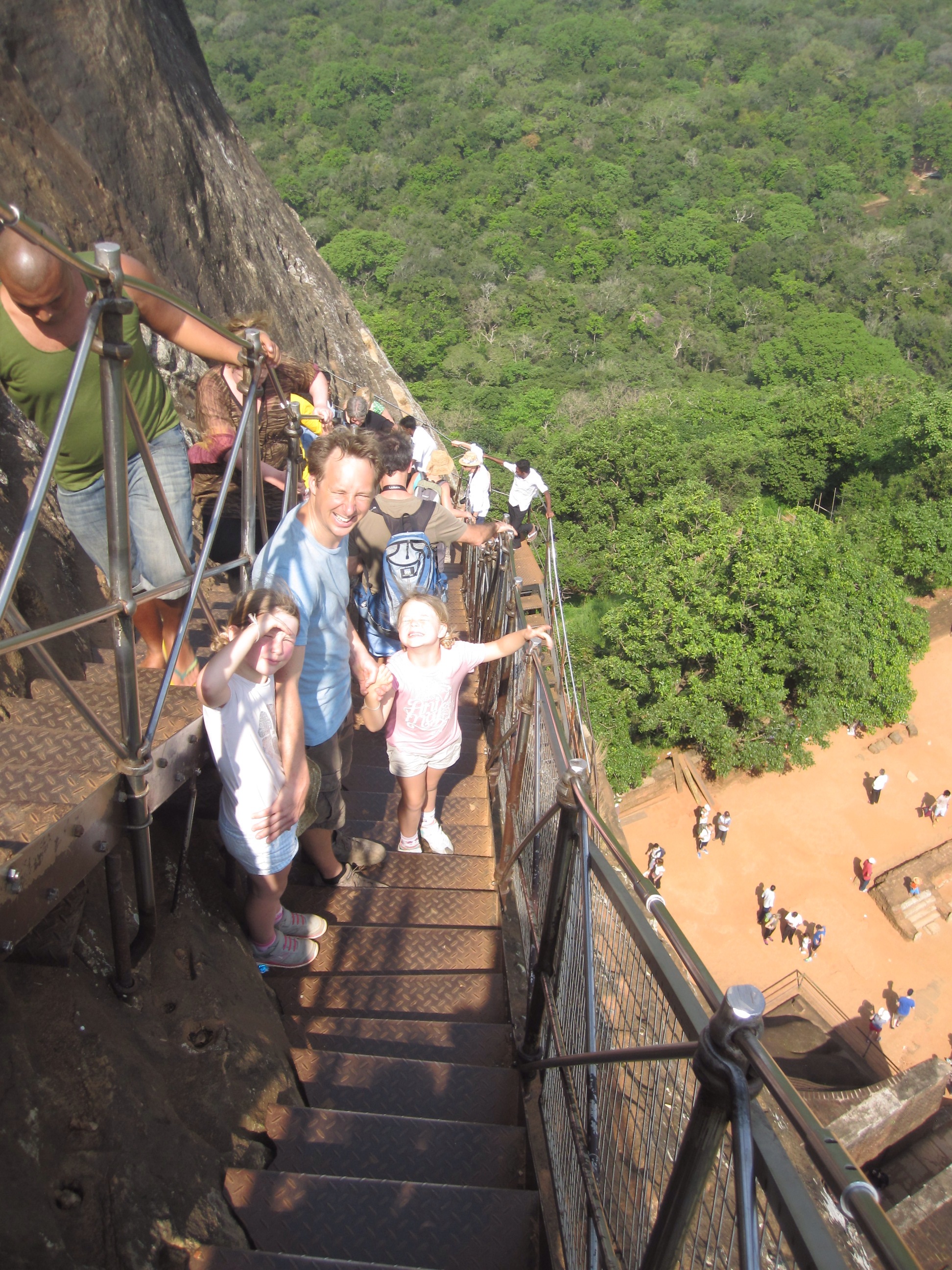 The summit is stunning, the ruins (although they're really only foundations now) are very impressive. You can see the King's various thrones, the rooms and the swimming pool or reservoir (nobodies certain which it was). We thought it definitely looked like a pool, you could imagine the King and all his laydeeees going for a nice cooling dip.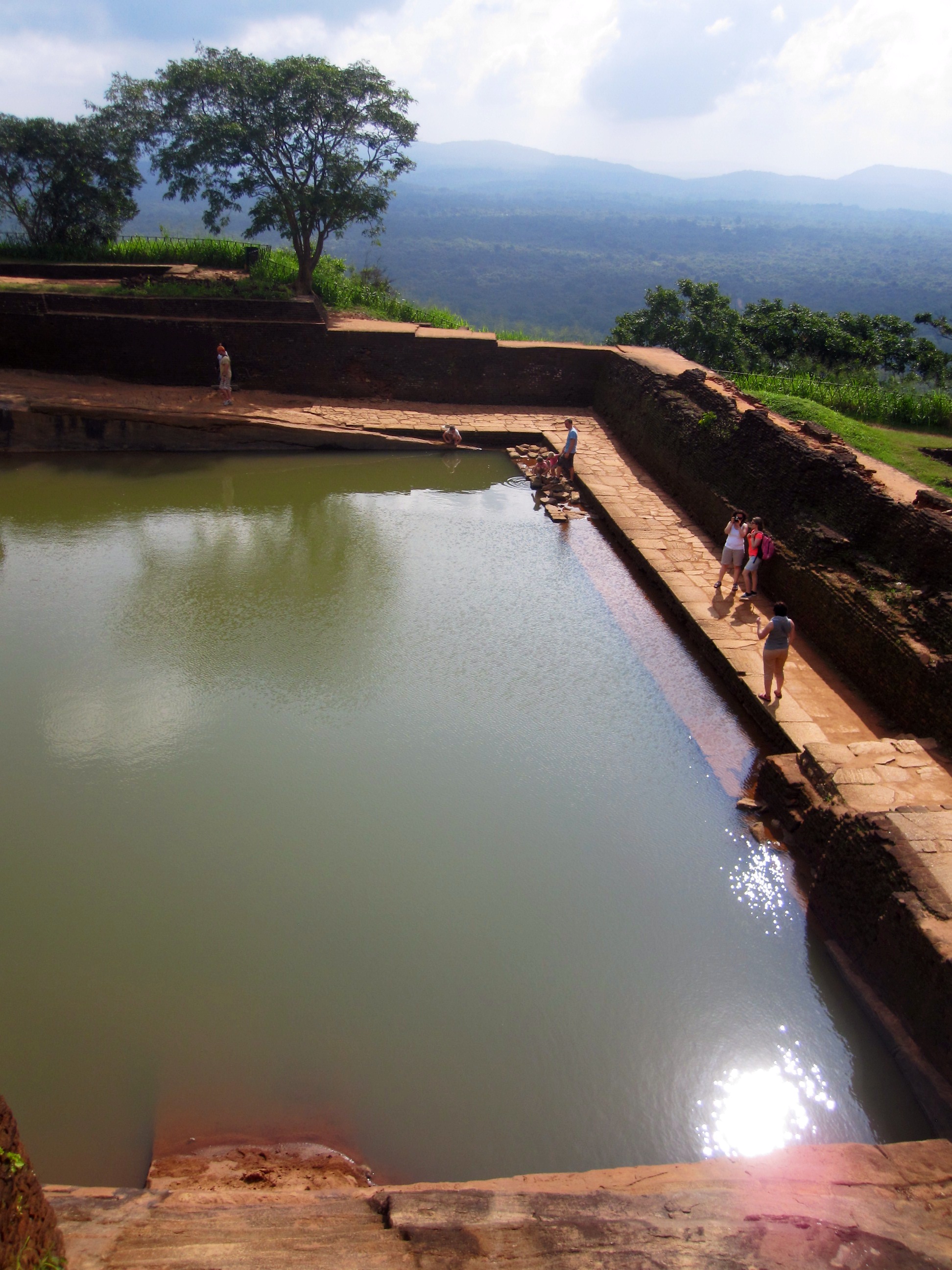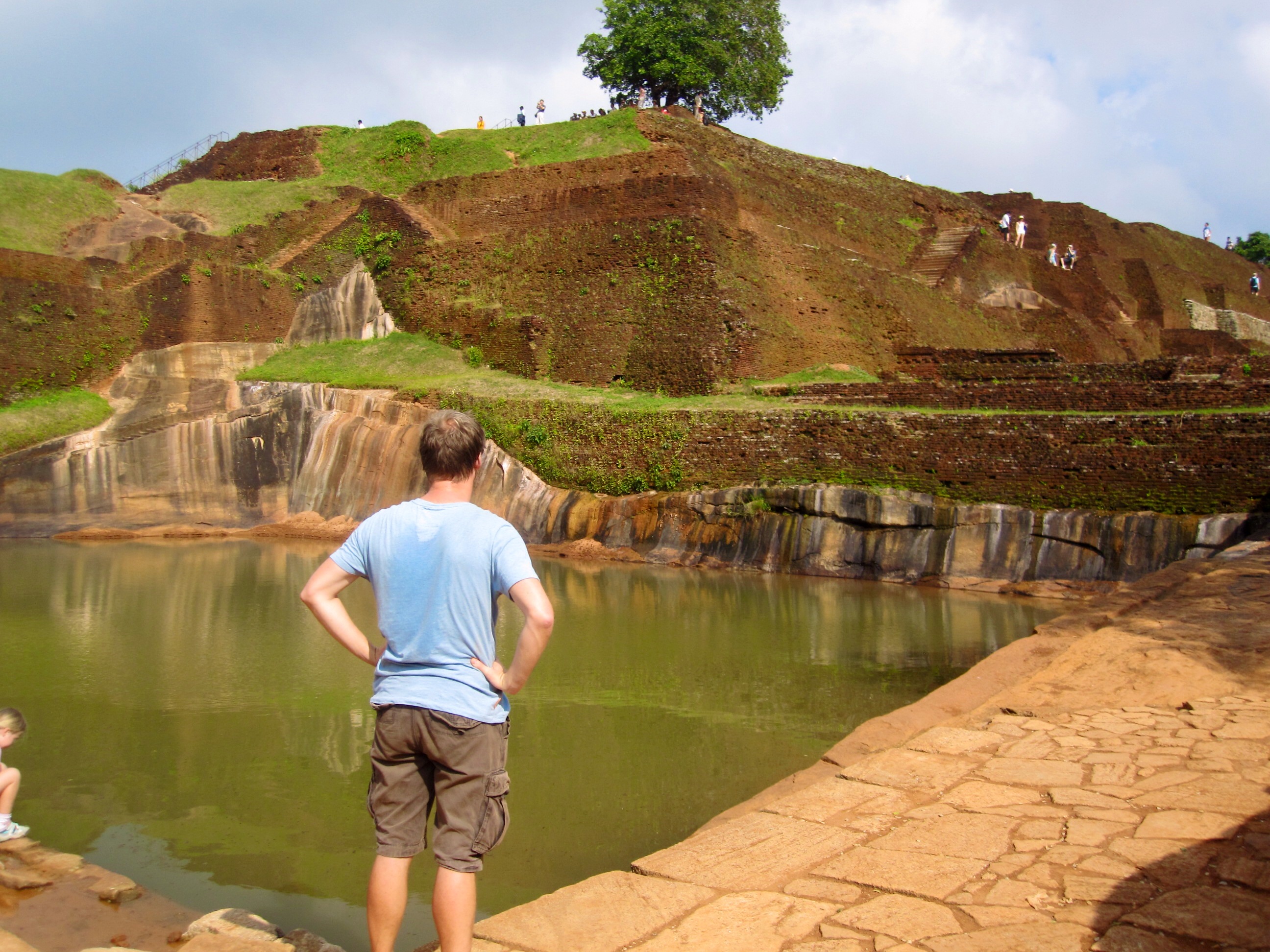 It was funny at the summit, anytime we lined the girls up to take a photo, we'd notice a gang of Chinese tourists behind us taking the same picture. They were very taken by the Kelly girlies. There are a lot of selfies of Chinese women with 3 little blondies in China, the smallest of which usually had her face covered. Here's one where I was trying to take a nice picture of Dervie but she got stage fright with the paparazzi that appeared behind me. You can see the men in the background repairing some of the structures.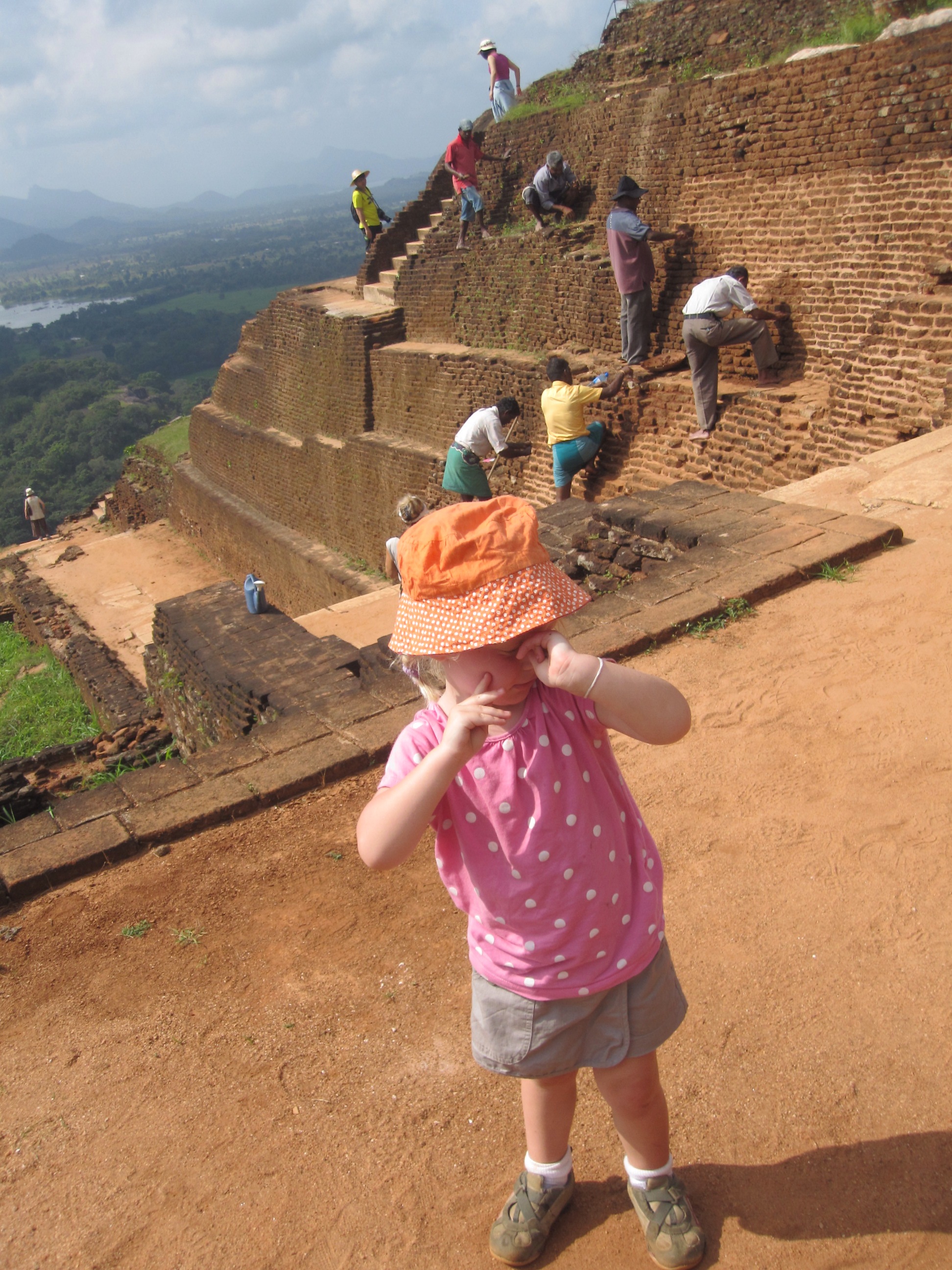 We spent a while at the top, it really was lovely and then braved the way down. Rickety, steep stairs are a lot harder going down :-). There's lots to see on the way down, we'd skipped all sights on the way up so we could avoid the heat.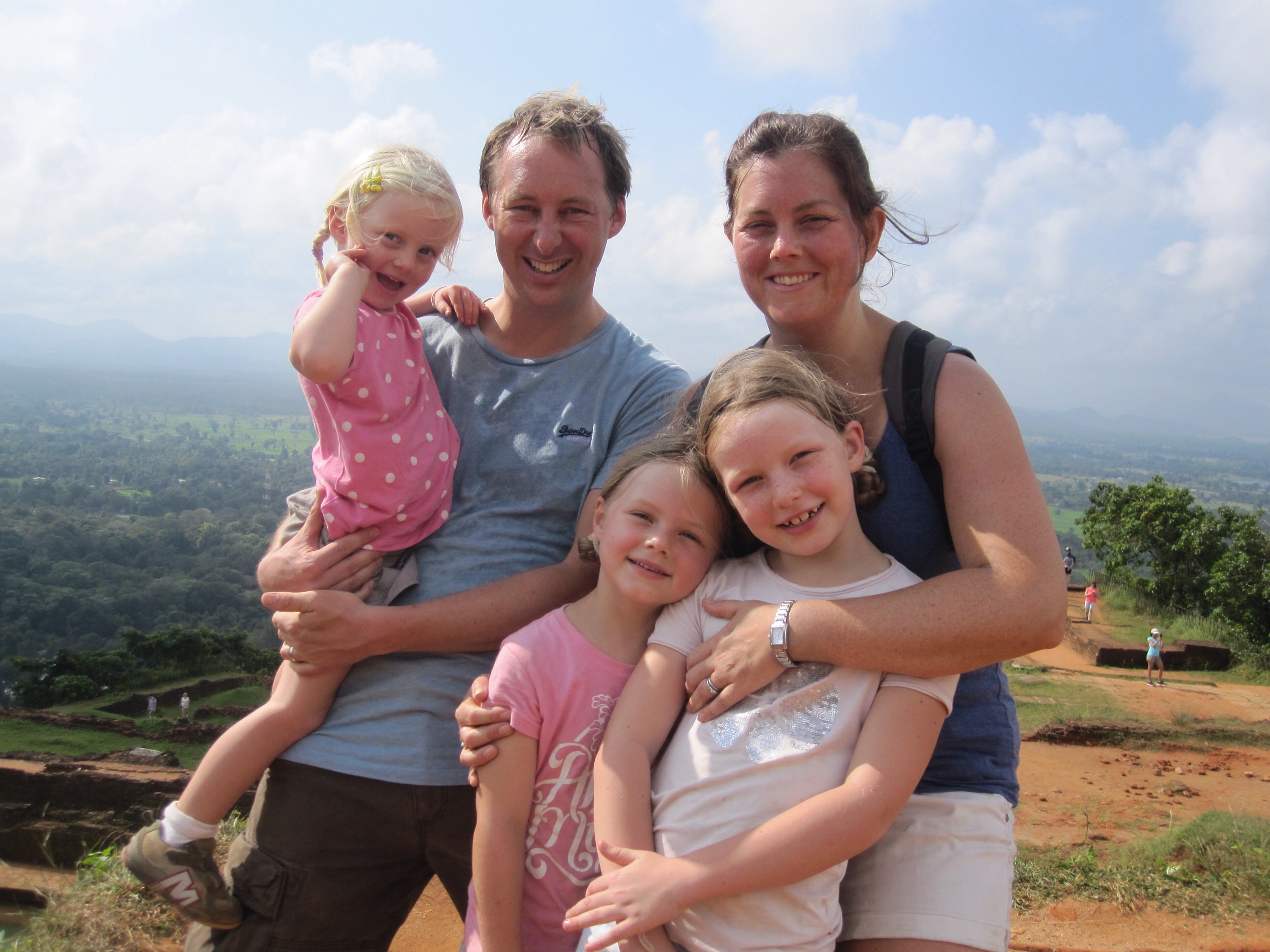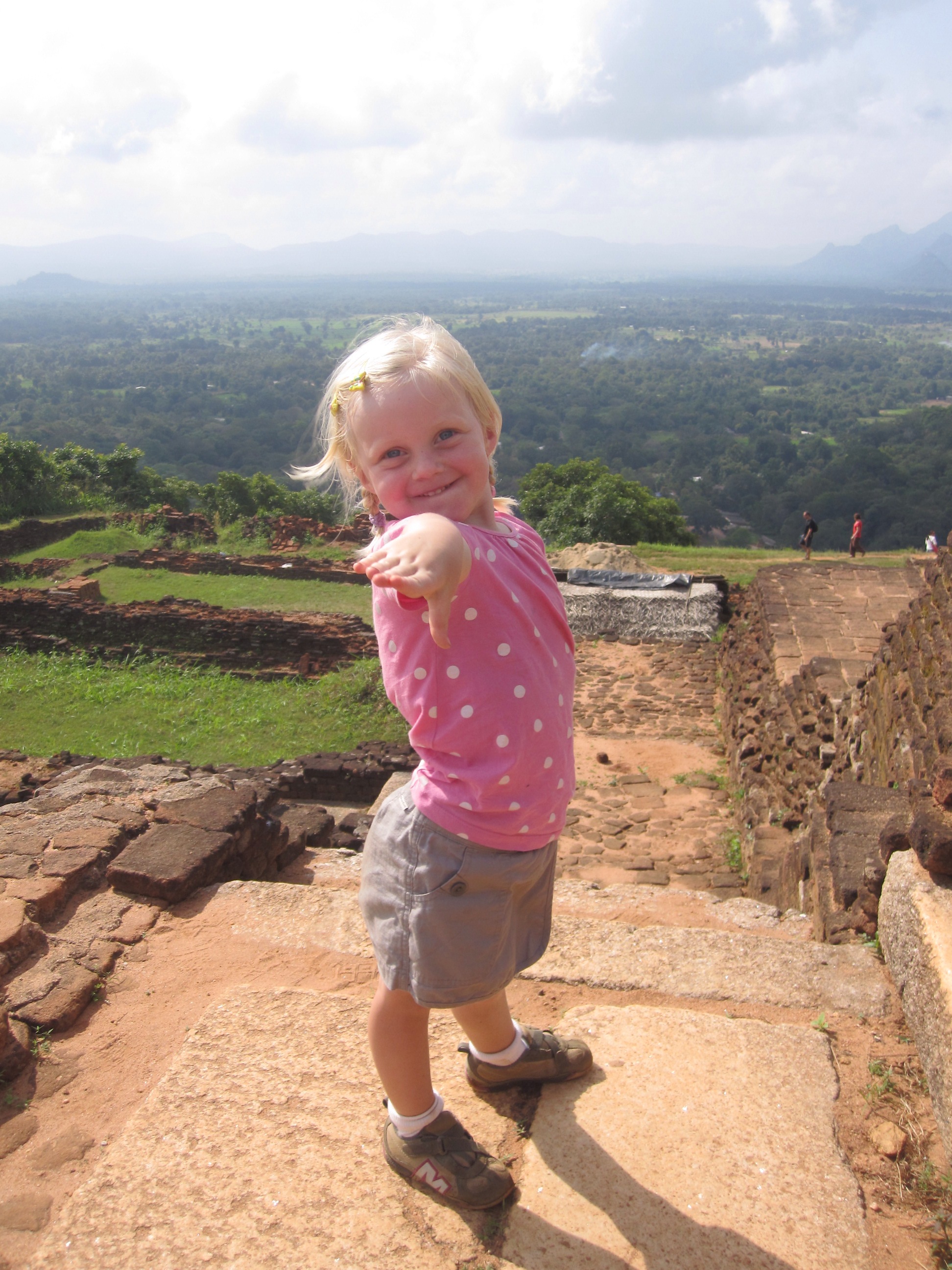 There are some striking frescos on a cave wall which you reach by climbing a caged but open air spiral staircase halfway up.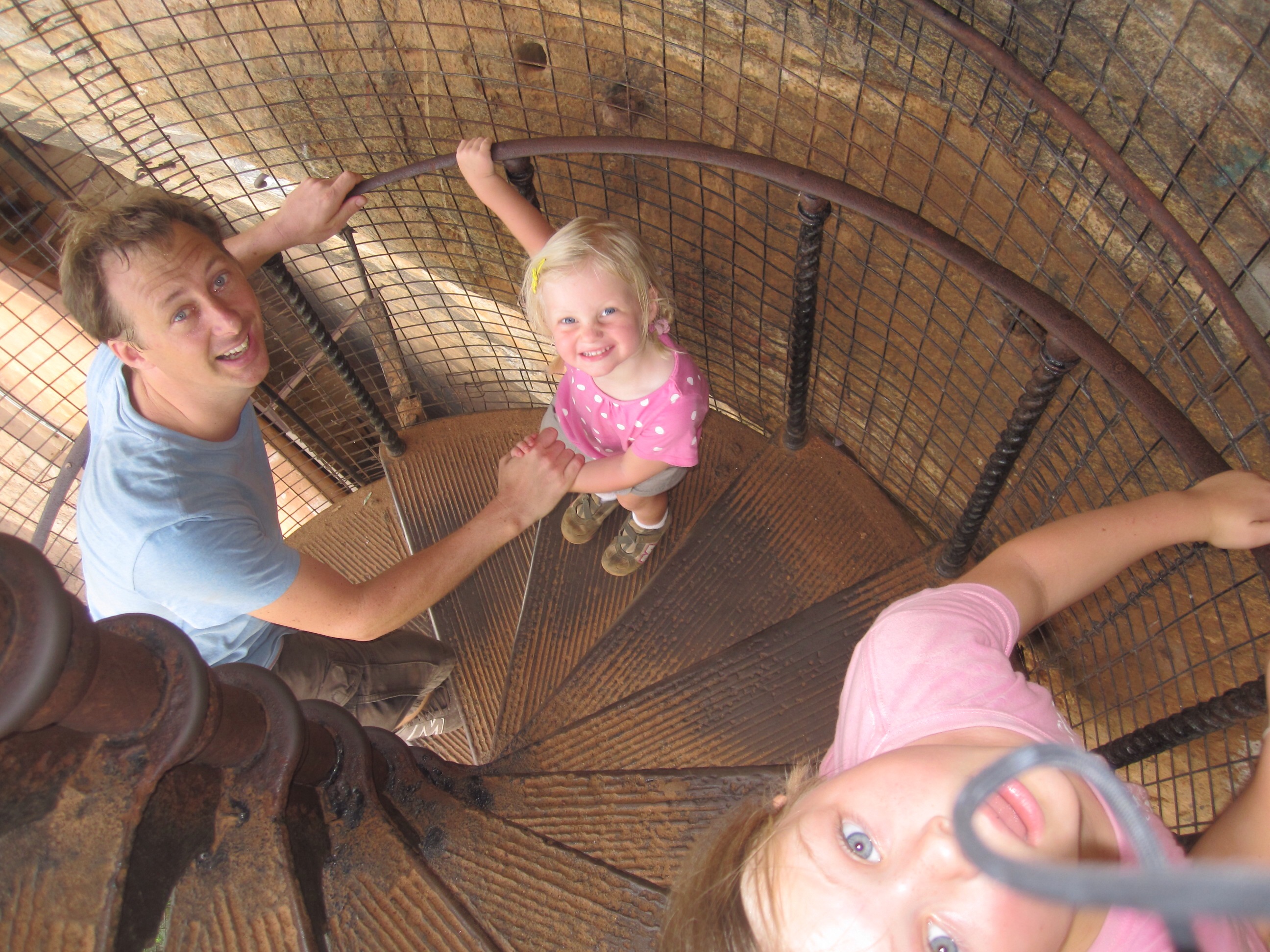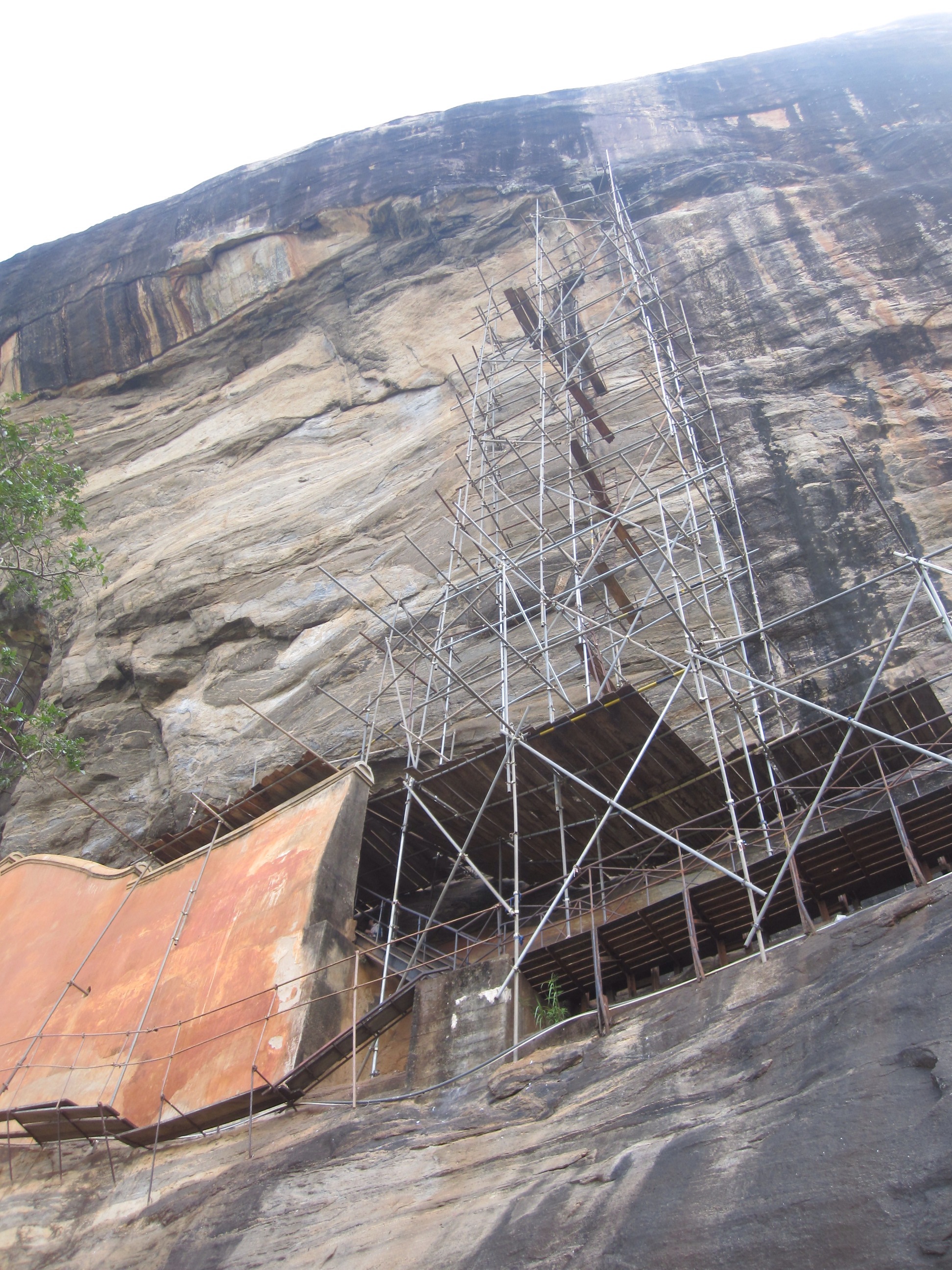 You can see the cave floor supported with scaffolding in this picture, eek! And the cage on the right which holds the spiral staircase up to the frescos. The long wall under it is called "The mirrored wall" and was originally plastered with a high sheen plaster which you can see in places.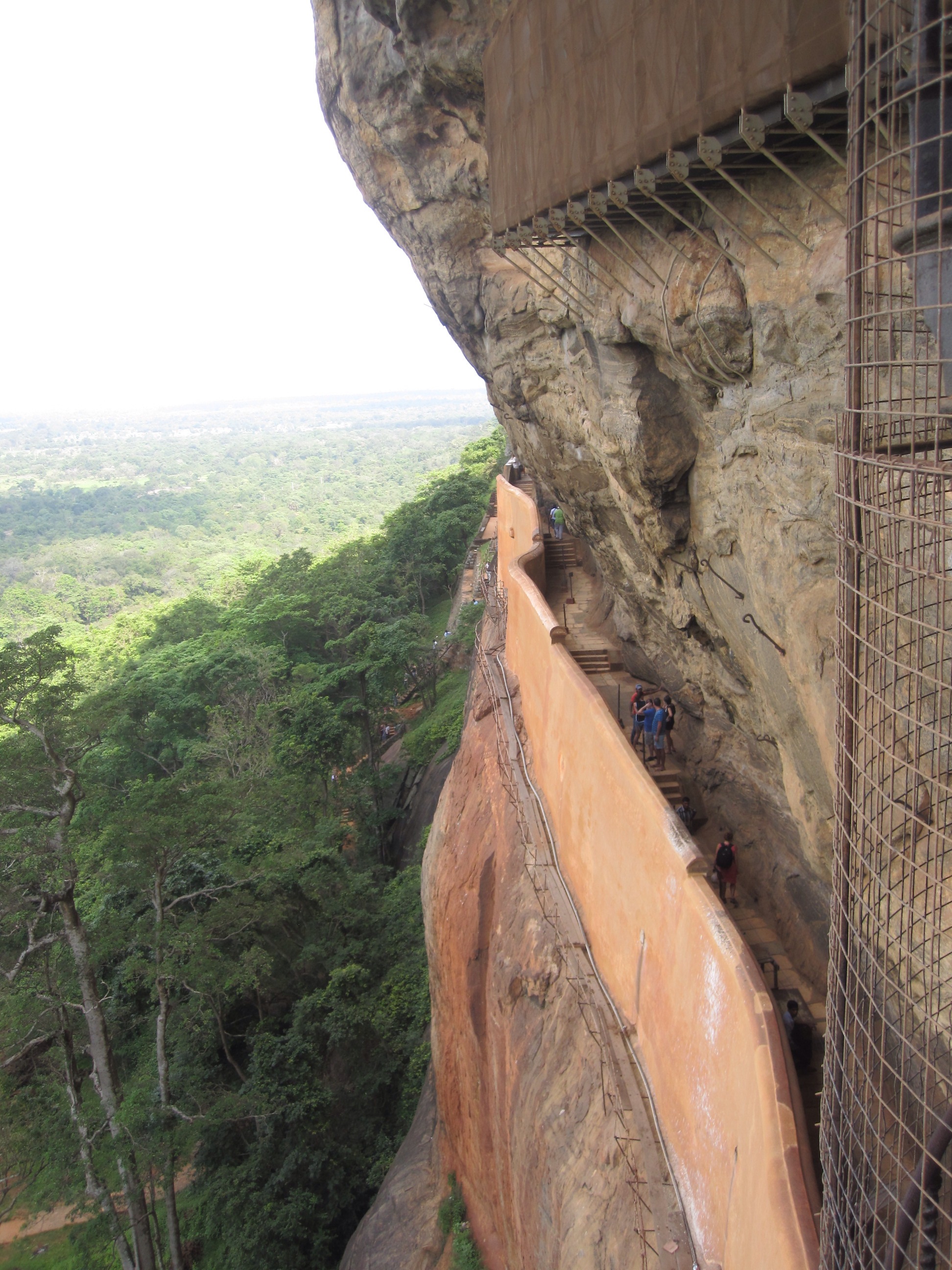 The frescos are extremely well preserved and feature very buxom, tiny waisted ladies.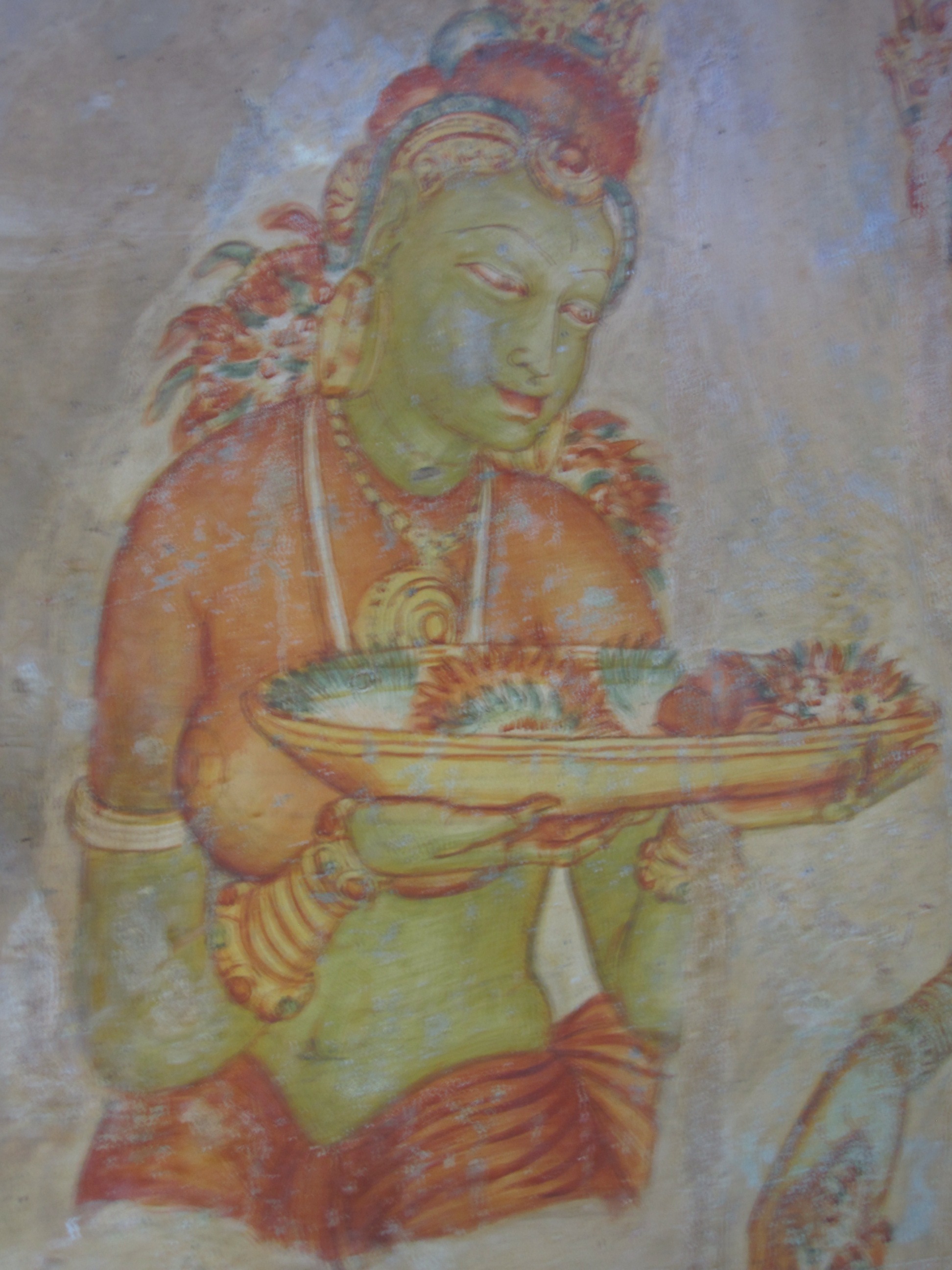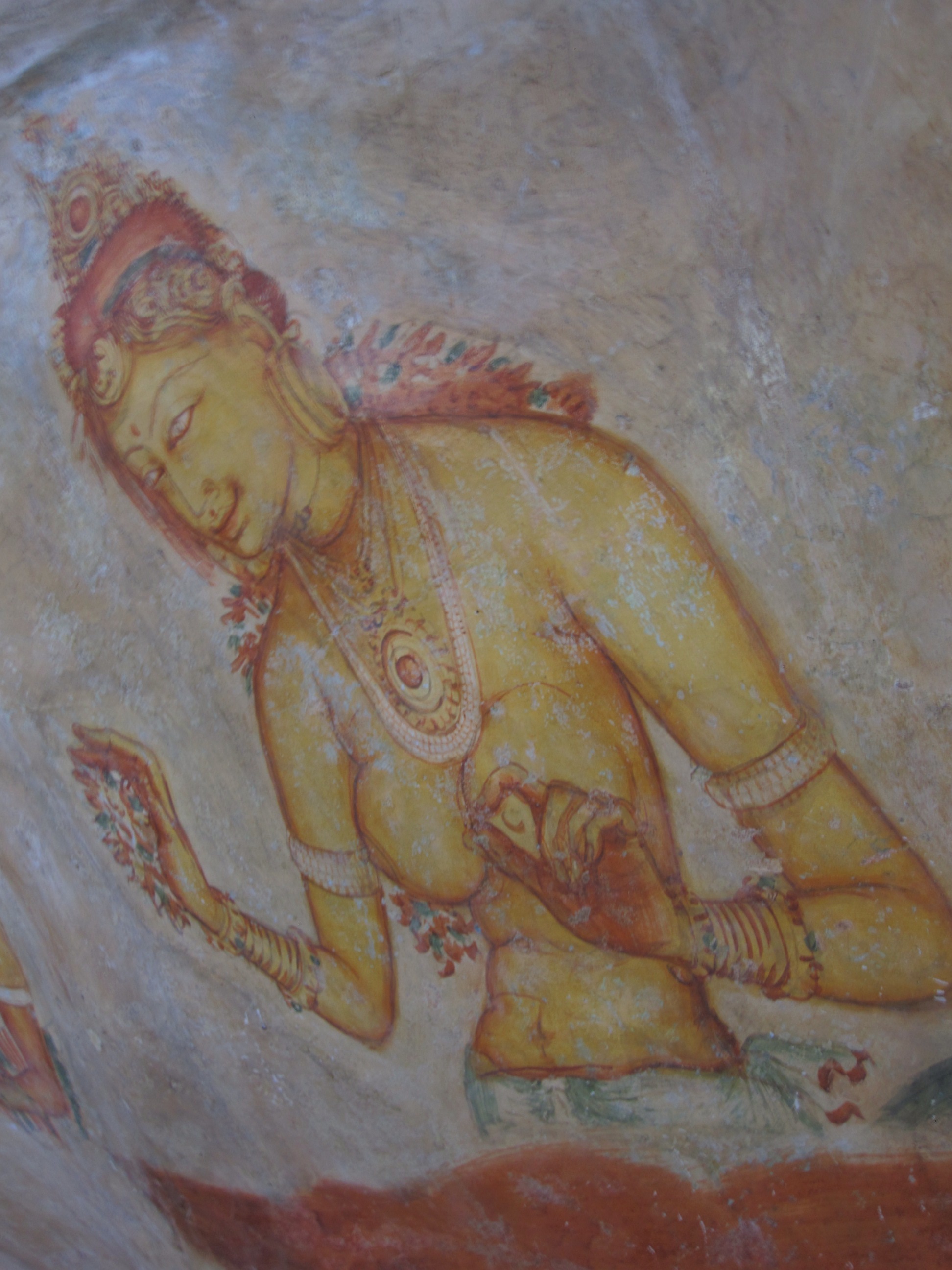 There's also a boulder garden with huge rocks and some impressive, but less well preserved frescos in caves. It's a pretty amazing site in general and definitely worth a visit.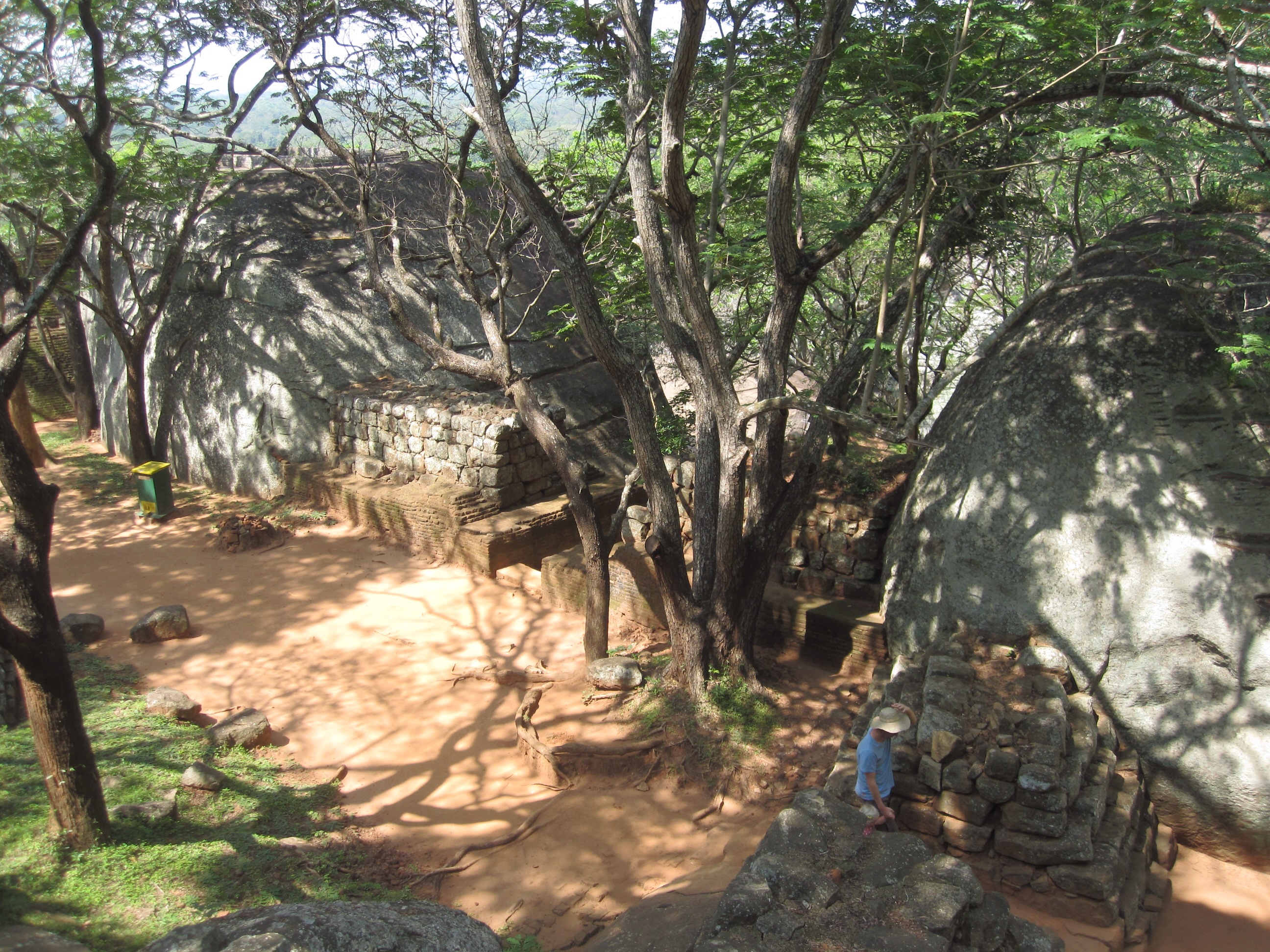 At the base of the rock, there are more foundations from an ancient village and loads of fountains and pools. The fountains still work after hundreds of years powered by gravity.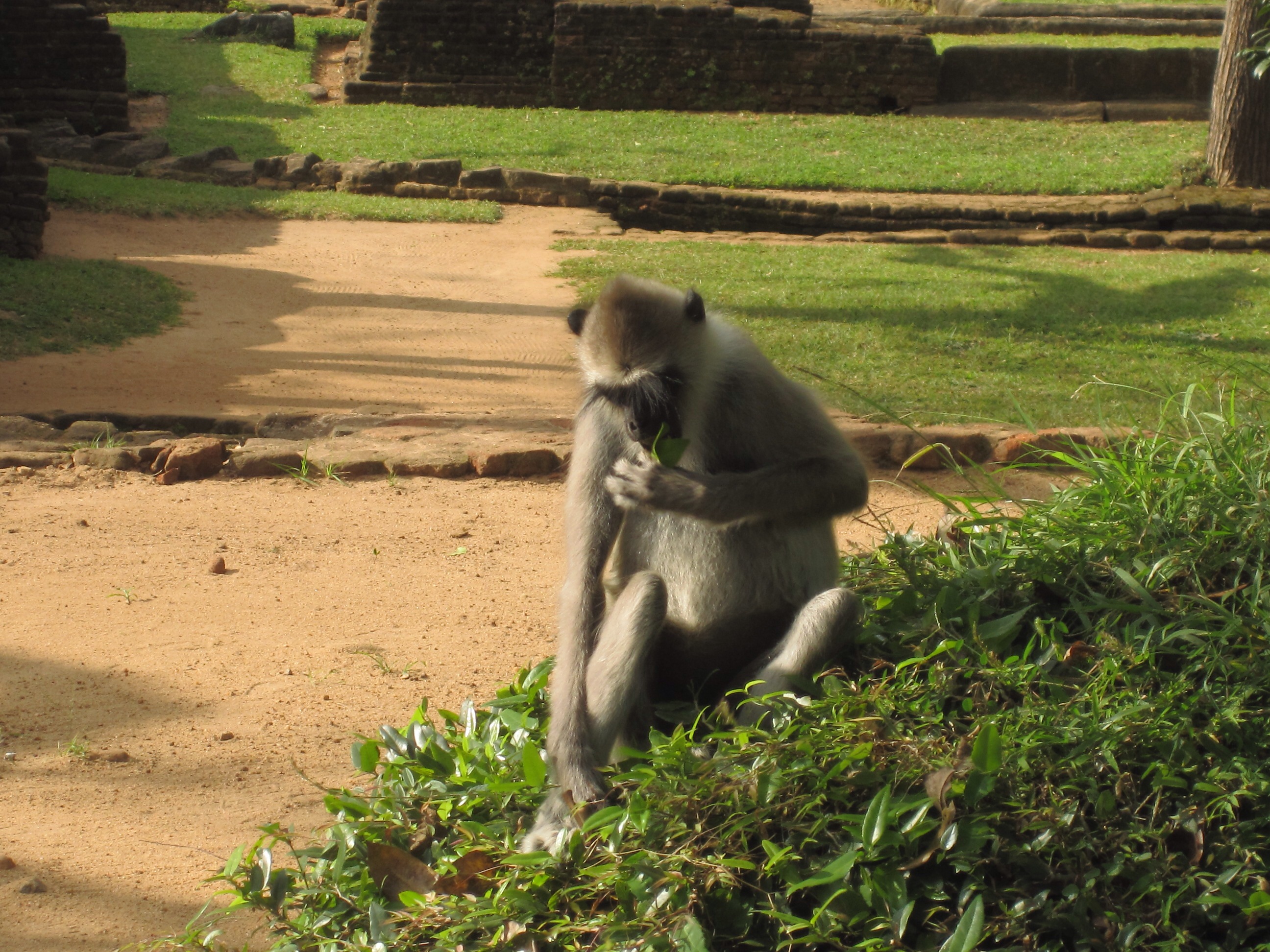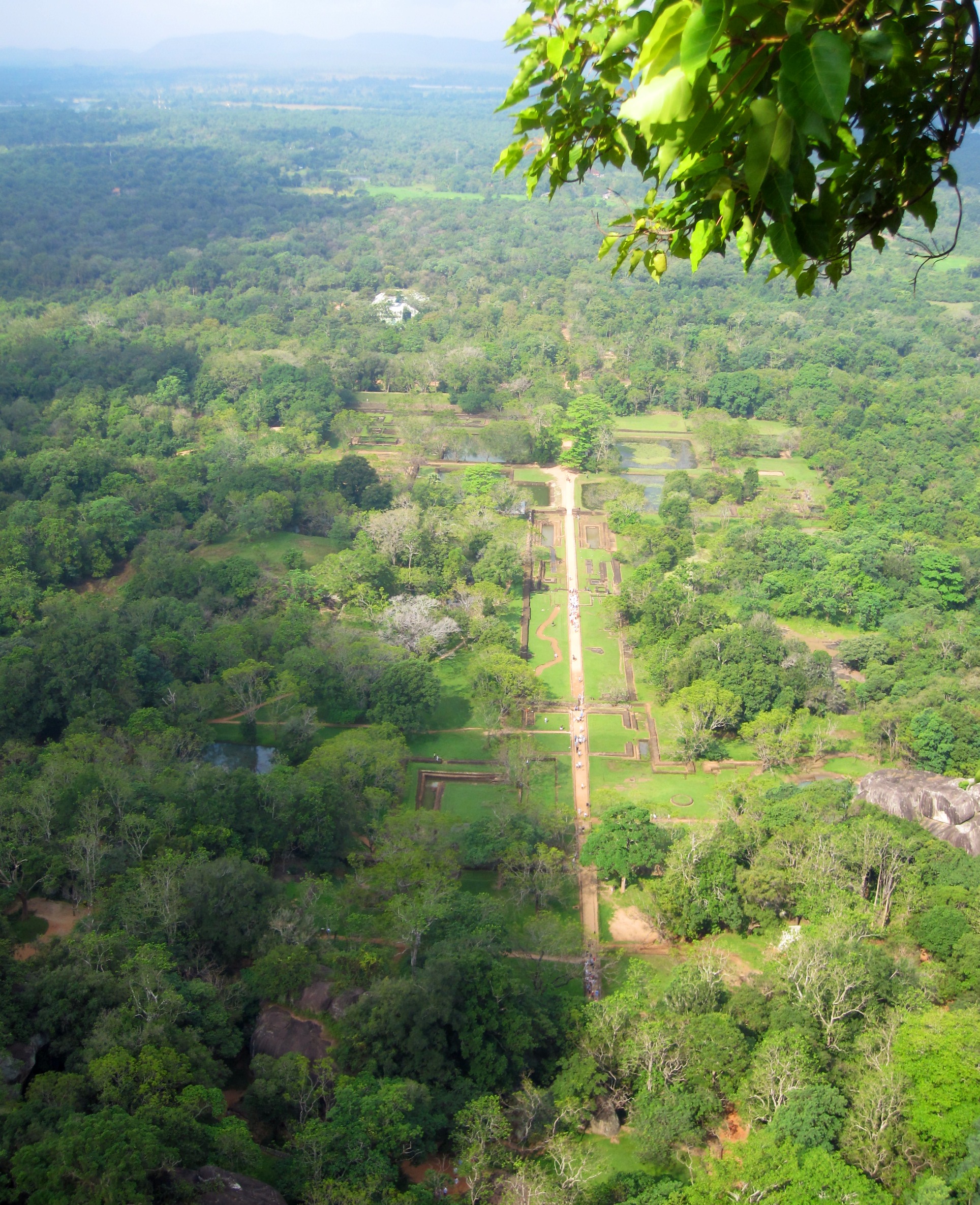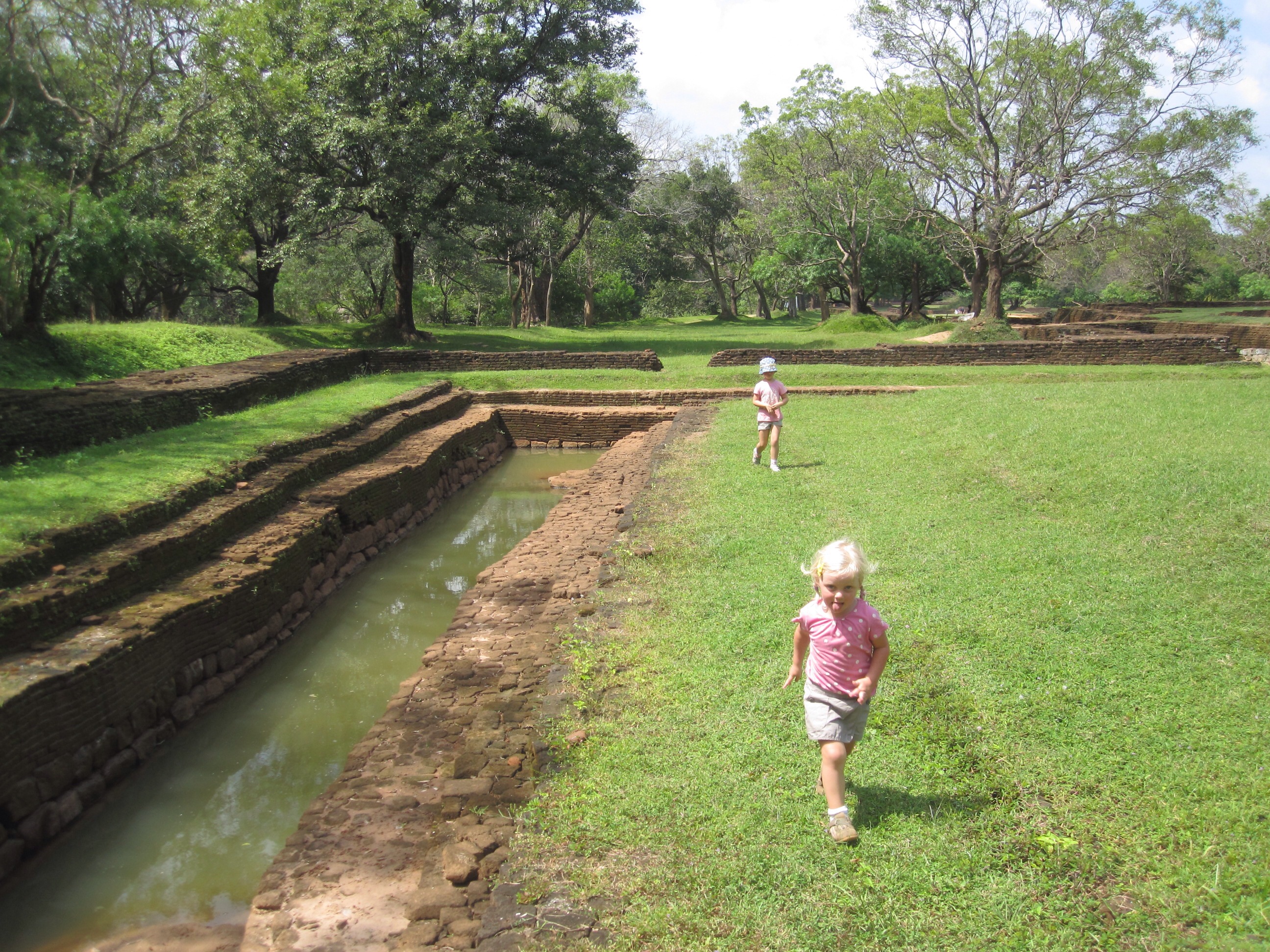 There's a museum at the end which is extremely disappointing and definitely one to miss. It's full of empty areas, tv screens which look like they're meant to show something but all are turned off. Vast, high-ceilinged rooms with nothing on display. It's a bizarre kind of place. The lonely planet guide we had said it was amazing so something's definitely changed on the last few years. Shame really, now it's just a vast, sorry building with a visitors book full of complaints. The best thing about it was an arts and crafts table with papers and crayons. I did a particularly gifted picture of the rock which is now proudly displayed on the wall.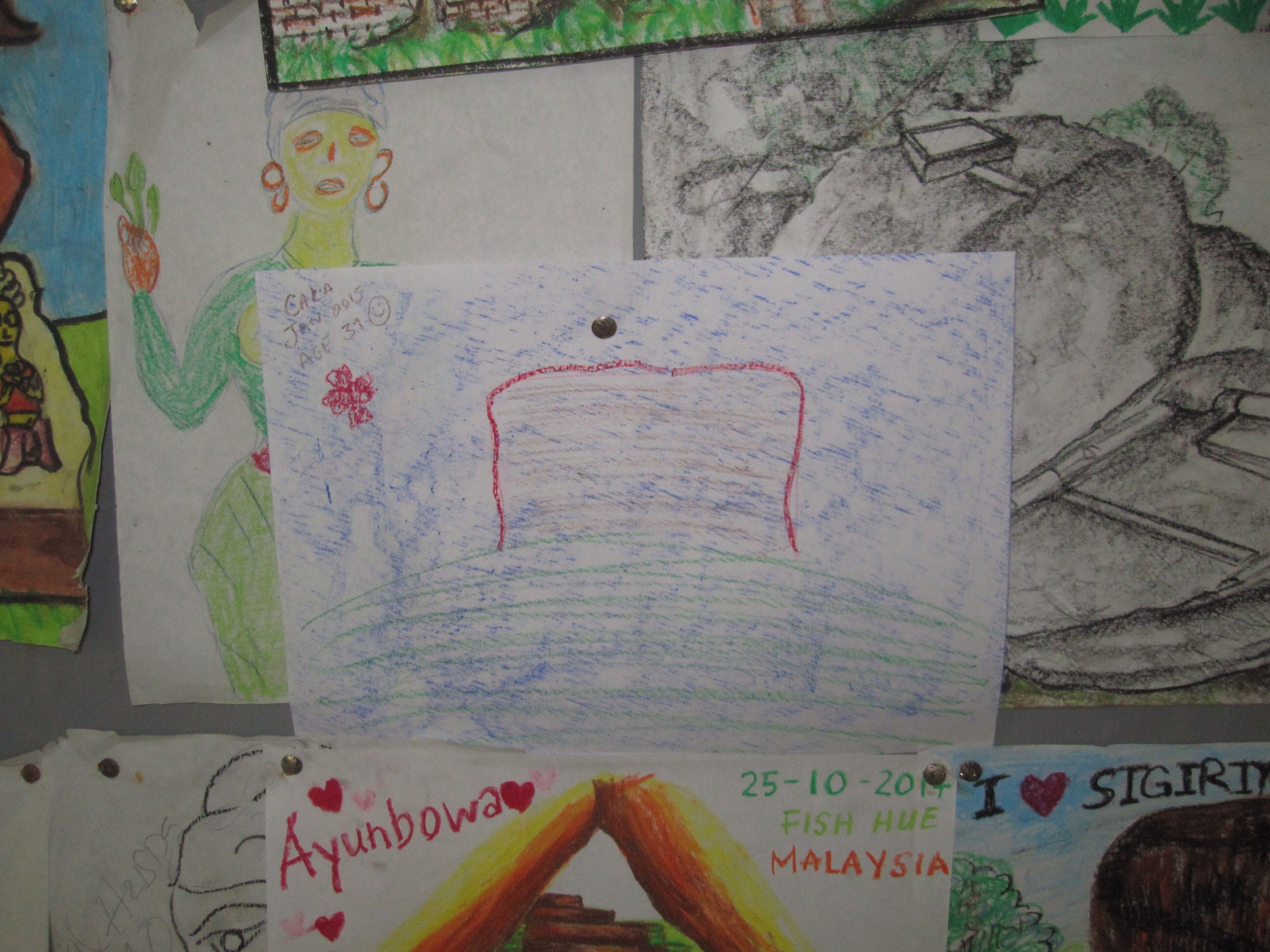 Other than the museum, our only other complaint about Sigiriya was the entrance charge. It was 30 USD per adult and 15 USD per child over 6. So it cost us 75 USD to climb the rock. A lot of the big attractions in Sri Lanka charge crazy prices to visit them. It's a shame and I'm sure puts people off visiting them. Try not to let it put you off visiting this one. It's so worth it… If you get the chance, just go.