Santiago Chile, our first taste of South America. It made a pretty easy starting point. It's a safe, relatively clean, structured city with great transport systems, really nice areas of bars and restaurants and really friendly people. It eases you in nicely to South American life. It's also a pretty easy city to get around. There's a great metro system which like all metro systems we've come across, just works. We mostly used it or just walked to get around.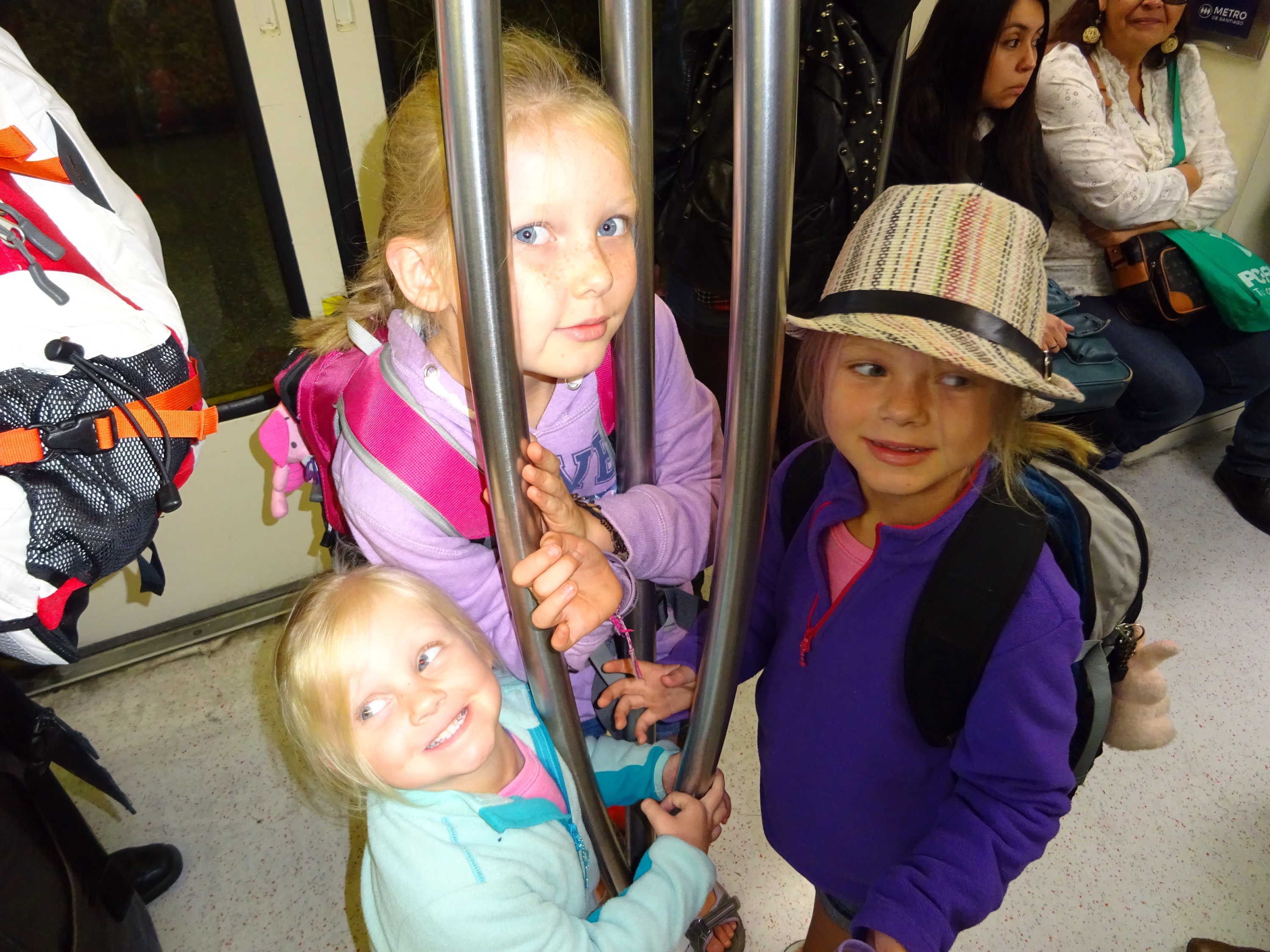 We were going to get a taxi from the airport into town and had heard that the best way to do that was to buy your ticket from the taxi office in the airport on arrival. The guide books we had suggested not to catch a taxi outside yourself as you're likely to get scammed. We went up to the desk which you find before the baggage claim area. They quoted us 27,000 Chilean pesos (just over €40) to get into town which seemed too high so we opted for a bus instead. This was a much better plan as it turns out and really easy to do. Coming out of the arrival hall, you'll find yourself accosted by many private taxi drivers touting for business. Just walk through them and follow the signs for "buses". They bring you outside the front of the building where you'll see the buses into town.
There are a couple of bus companies which go from the airport into town. We opted to get the "Centropuerto" bus which goes every 10 minutes. You buy the tickets on the bus and we were only charged 1,500 Chilean pesos for each adult with kids going free. So instead of a taxi costing us €40, we got a bus for less than €5.
Delighted with ourselves we felt we could justify a few beers that night!
The bus brings you to the metro station "Los Heroes" and from there you can easily hop on a metro to your destination. We all promptly fell asleep on the bus with Freya and Shuna resting up against random young Spanish men in their seats. The poor guys were the last to get off the bus as they didn't want to wake the sleeping beauties beside them. Luckily a lady woke me up as she passed or we would have been there the night!
We were going to "Hostal Providencia" on calle "Vicuña Mackenna" which was near the Baquedano metro station.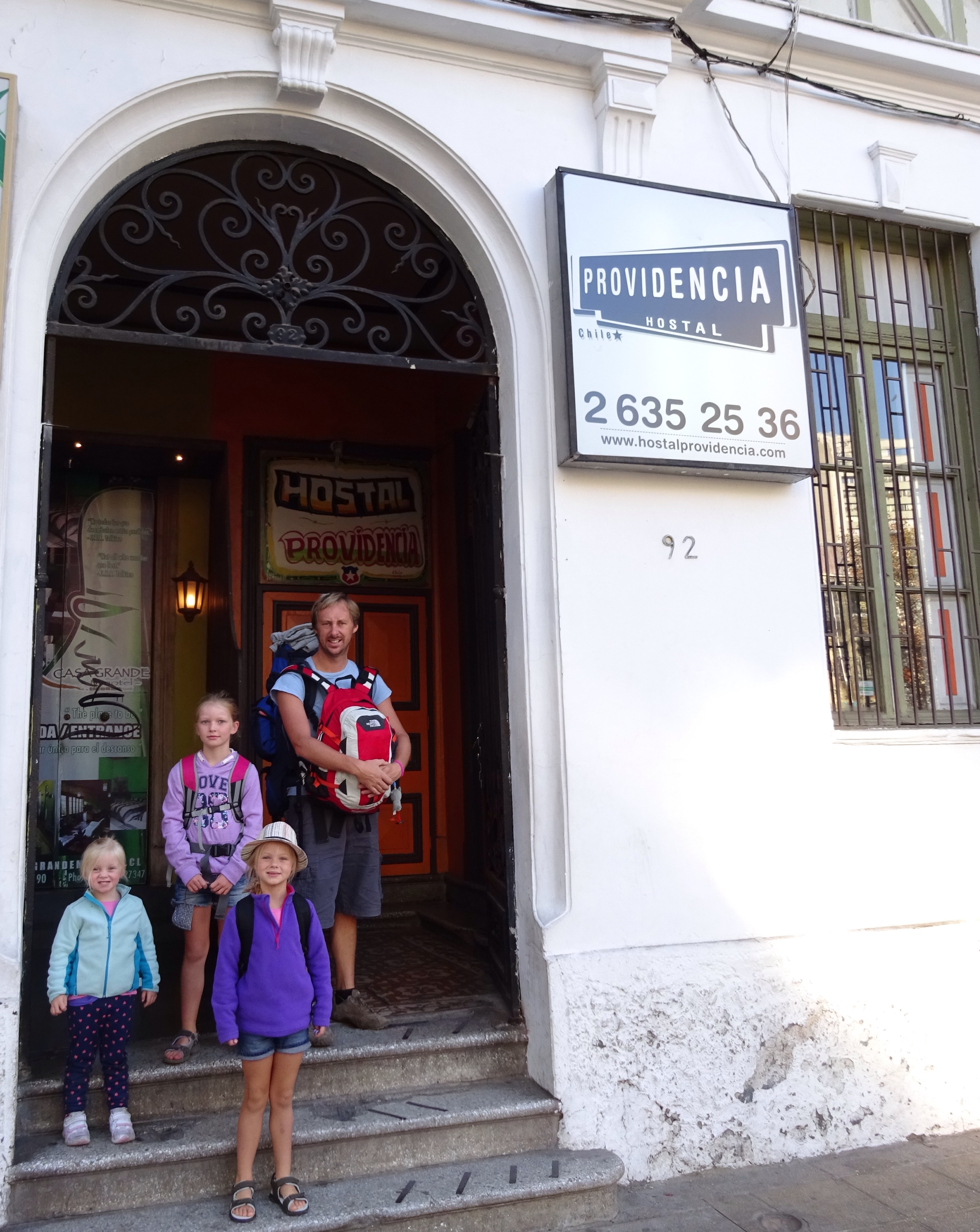 To get there by metro is pretty easy from "Los Heroes" where the airport bus drops you. You buy tickets for the metro from ticket desks inside each station, they're usually between 500 and 700 pesos per person. Again the kids travelled free. We had a 5/10 minute walk from the metro stop "Baquedano" to our Hostal. It was a nice Hostal, huge, I think it had 180 rooms or something. We got a room with a double bed, a set of bunk beds and an ensuite bathroom. We weren't mad on the first room we had so asked to move. The first room was bang in the middle of reception with windows which opened on to a central courtyard. So it wasn't very private and was very noisy. Just wasn't going to work for us. Anyway we asked to move and were moved upstairs to the 4th floor to a much nicer, quieter room.
We headed out that night to the Bellavista area of town to a restaurant recommended by the Hostal called "Galindo". Bellavista is walking distance from the Provicencia area where we were staying. It's a smashing area with cool little bars and restaurants dotted around the place. We had a tasty meal of roast chicken and rice for the kids and bean stew for us. All washed down with a nice bottle of Chilean wine… Think we were going to like it here….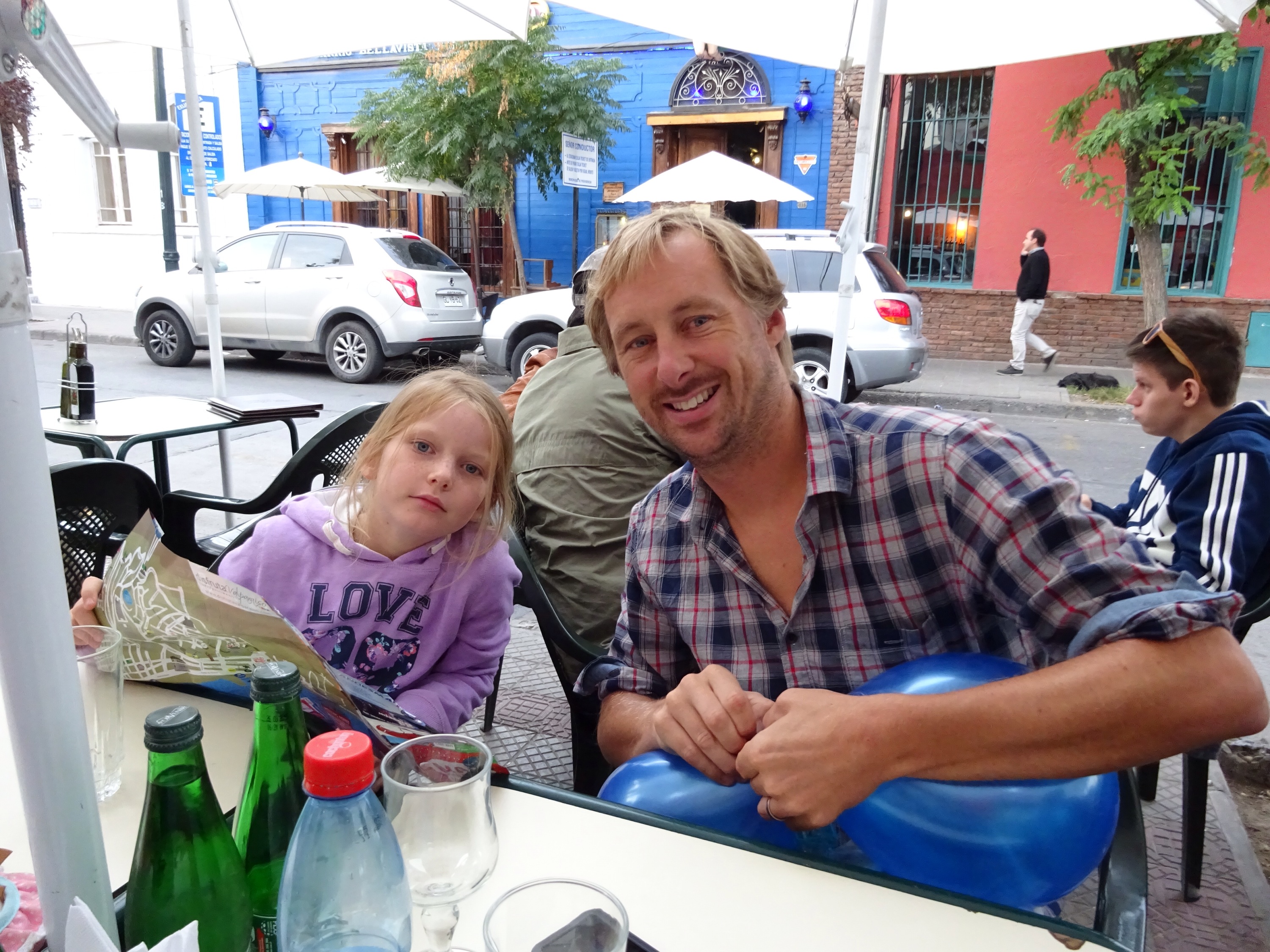 We had a great breakfast in our Hostal the next morning which was included in the price of the room. They basically provide eggs which you can cook, really nice fresh bread you can break into 4 pieces, jam, fruit, fruit juices, dodgy cornflakes, tea and coffee. All you need really. This was included in the price of our Hostal but at €63 a night for our room, we'd expect it.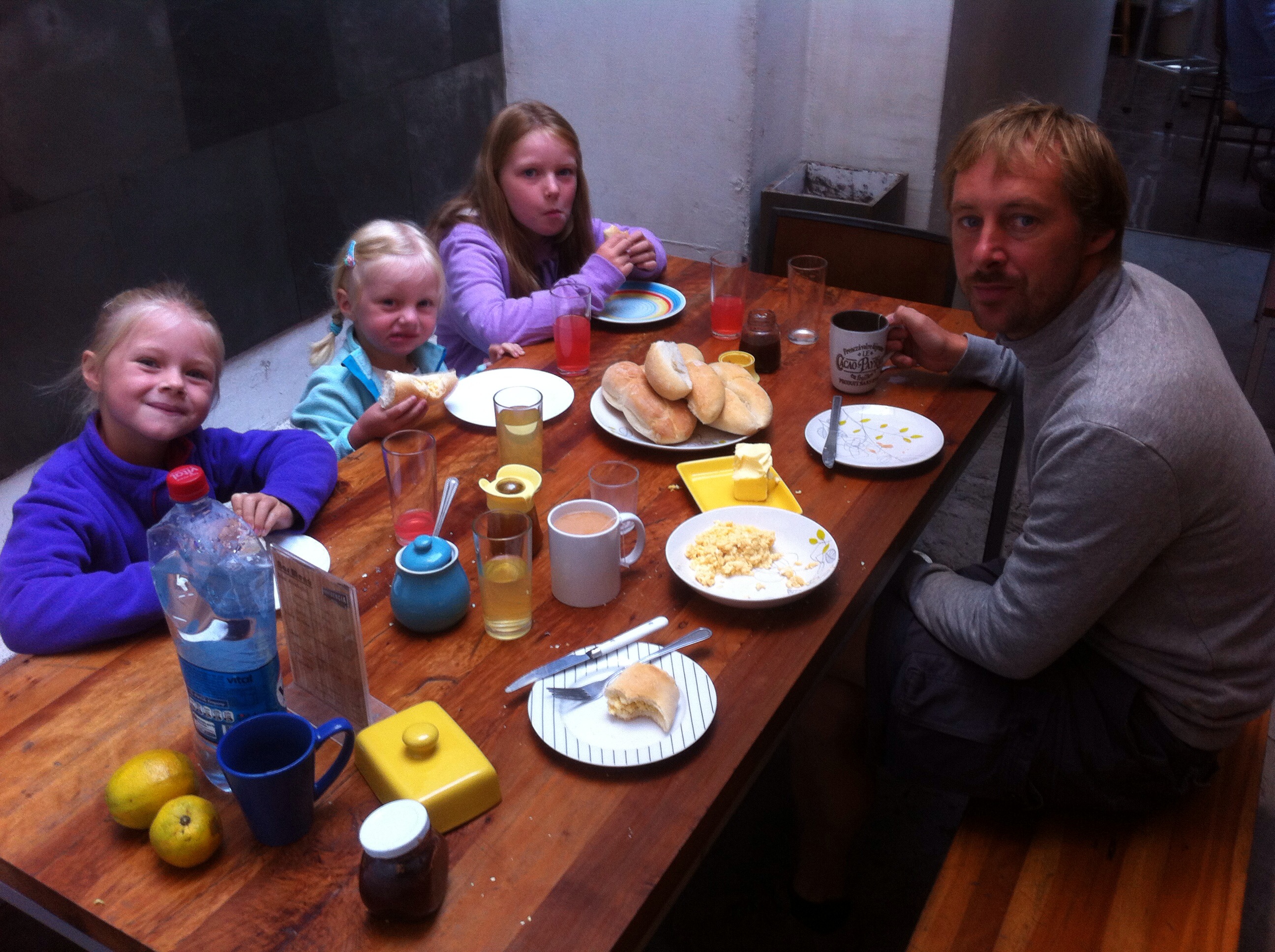 We quickly realised that our budget was going to be blown in South America and especially in Chile. Our average room price in Asia was about €20, already we were more than 3 times this. We were going to have to find some ways to cut back costs. After breakfast we set off to explore Santiago. Our starting point was a hill in town called Cerro San Cristobal. You can reach the top of it by catching a funicular or elevator up from the Bellavista area.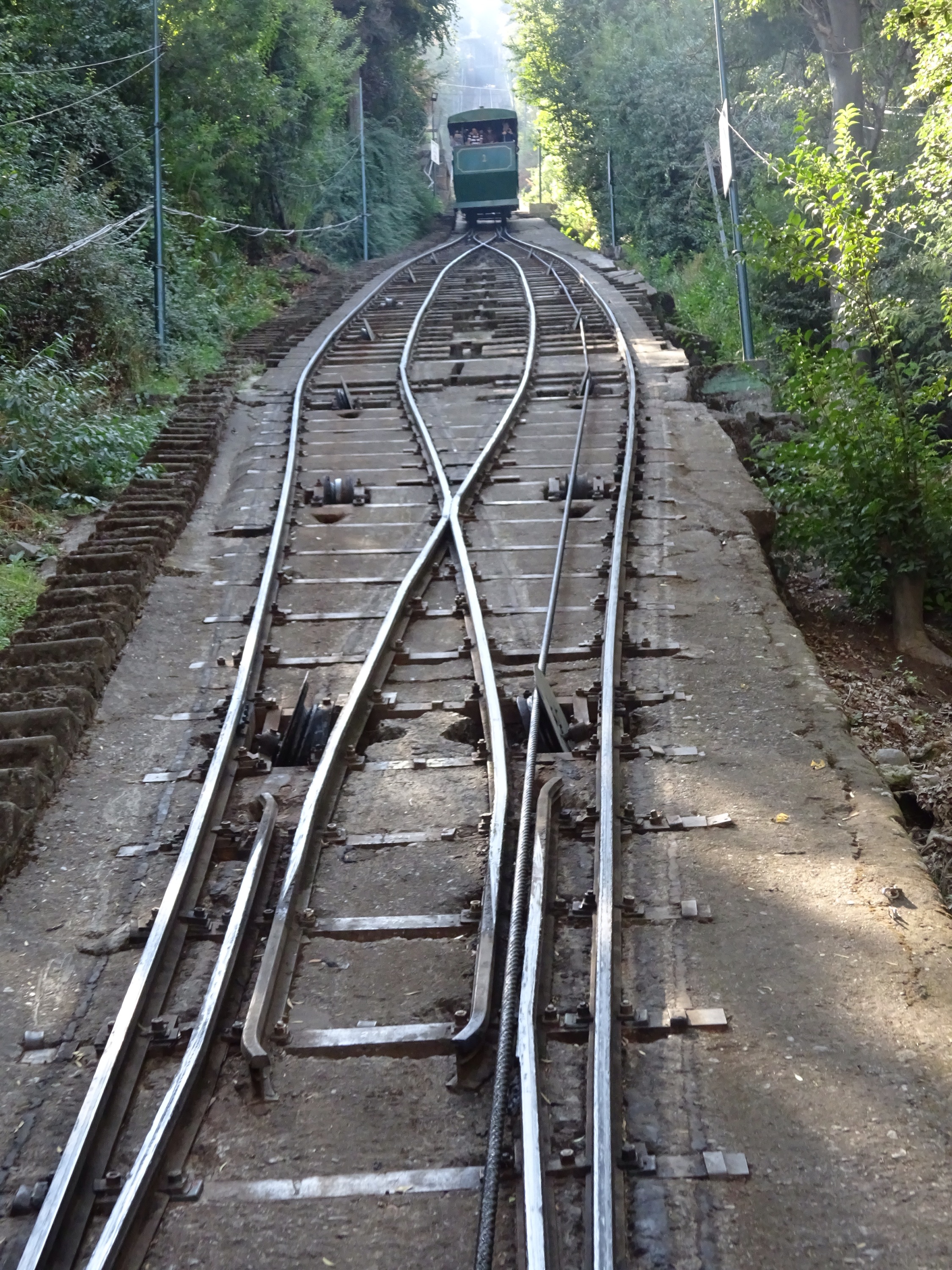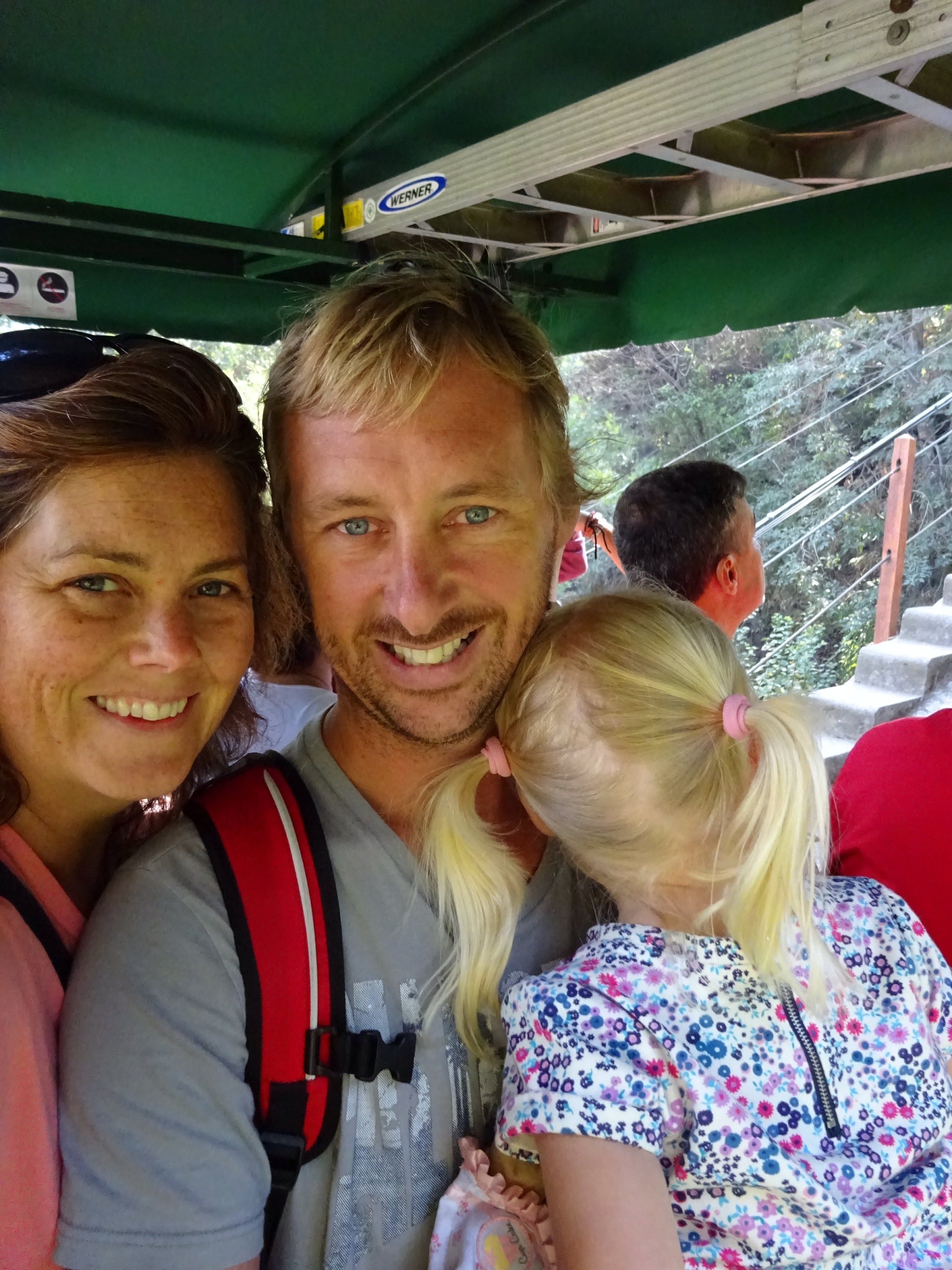 You could easily spend a day exploring the hill. There are lots of walks, a zoo, two public swimming pools, a church and some amazing views up there. We weren't in particularly energetic moods so decided to just enjoy the views and climb to the summit where there's a huge statue of our lady over looking the city.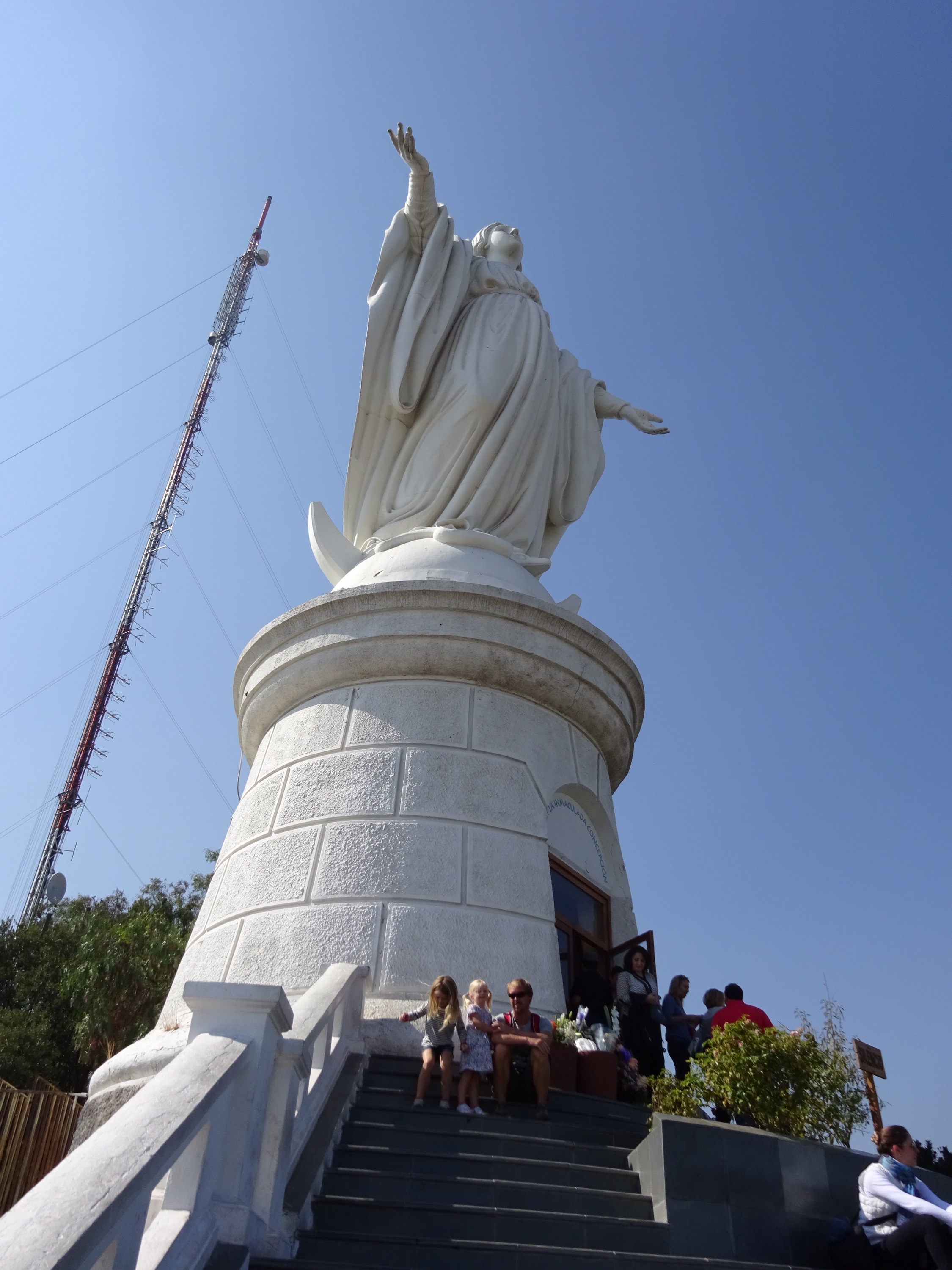 It's well worth the hike up to the statue to enjoy the 360 views of the city.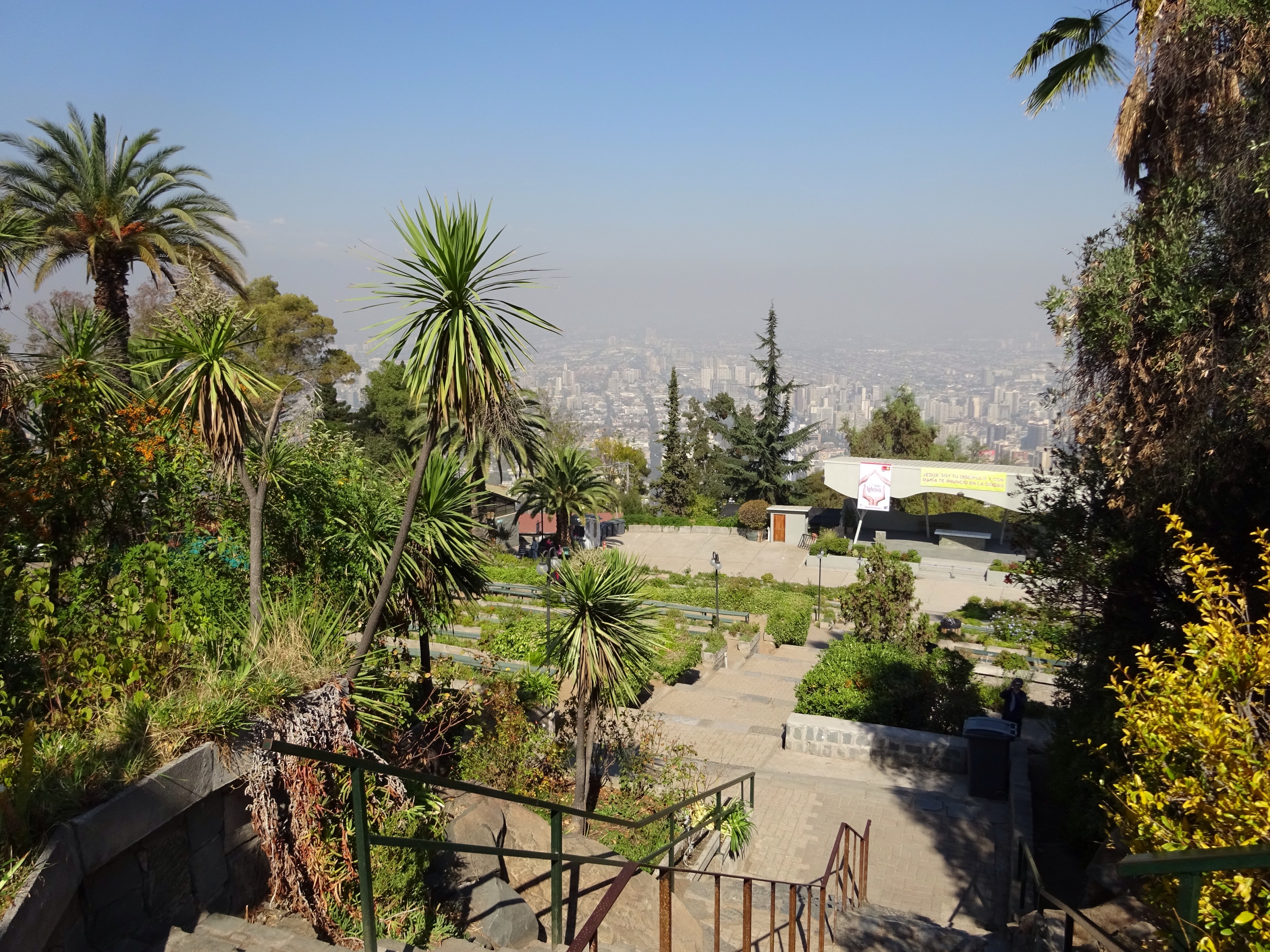 There's a nice church dedicated to our lady at the top of the hill too. It's a beautiful old stone church.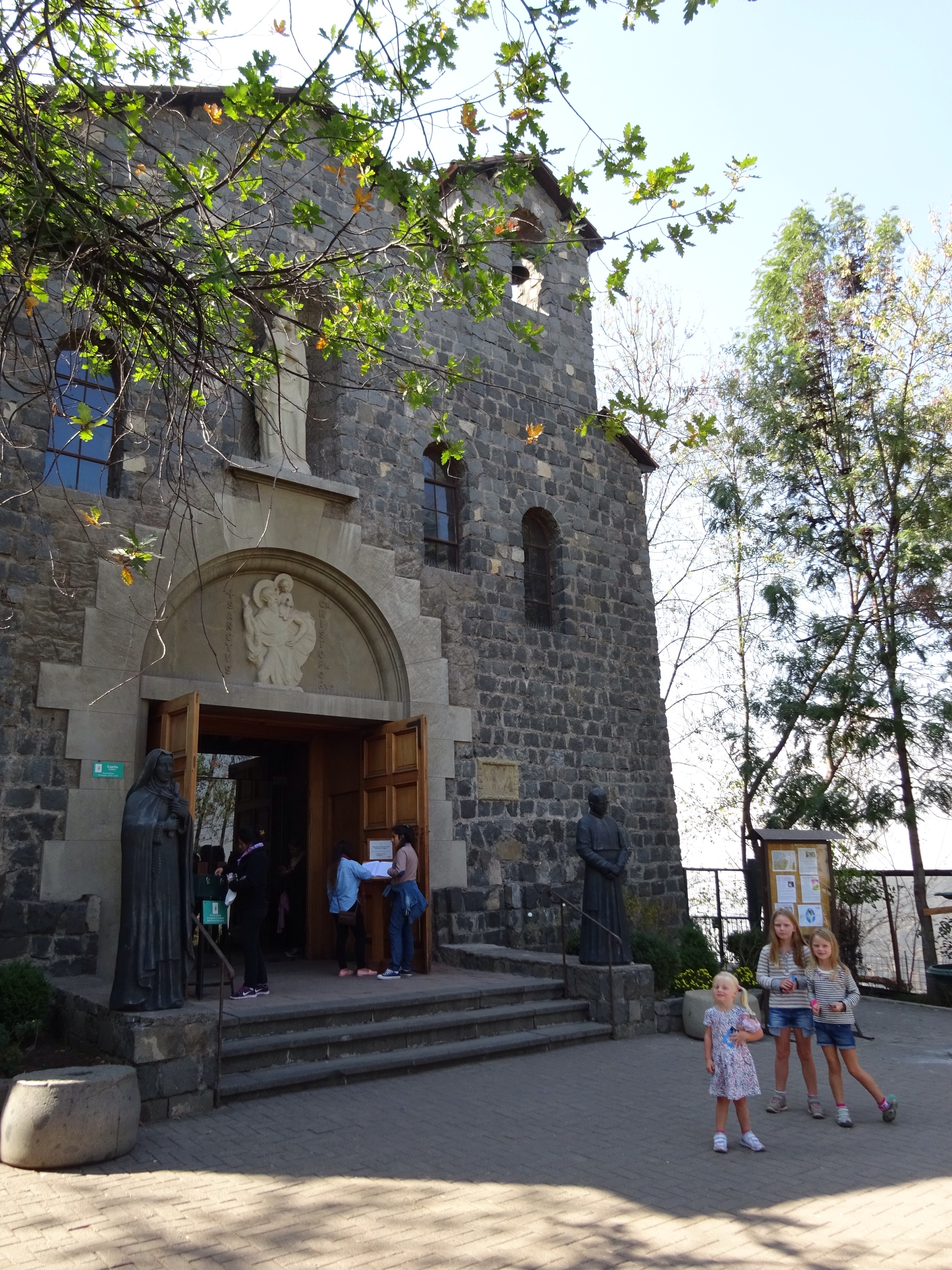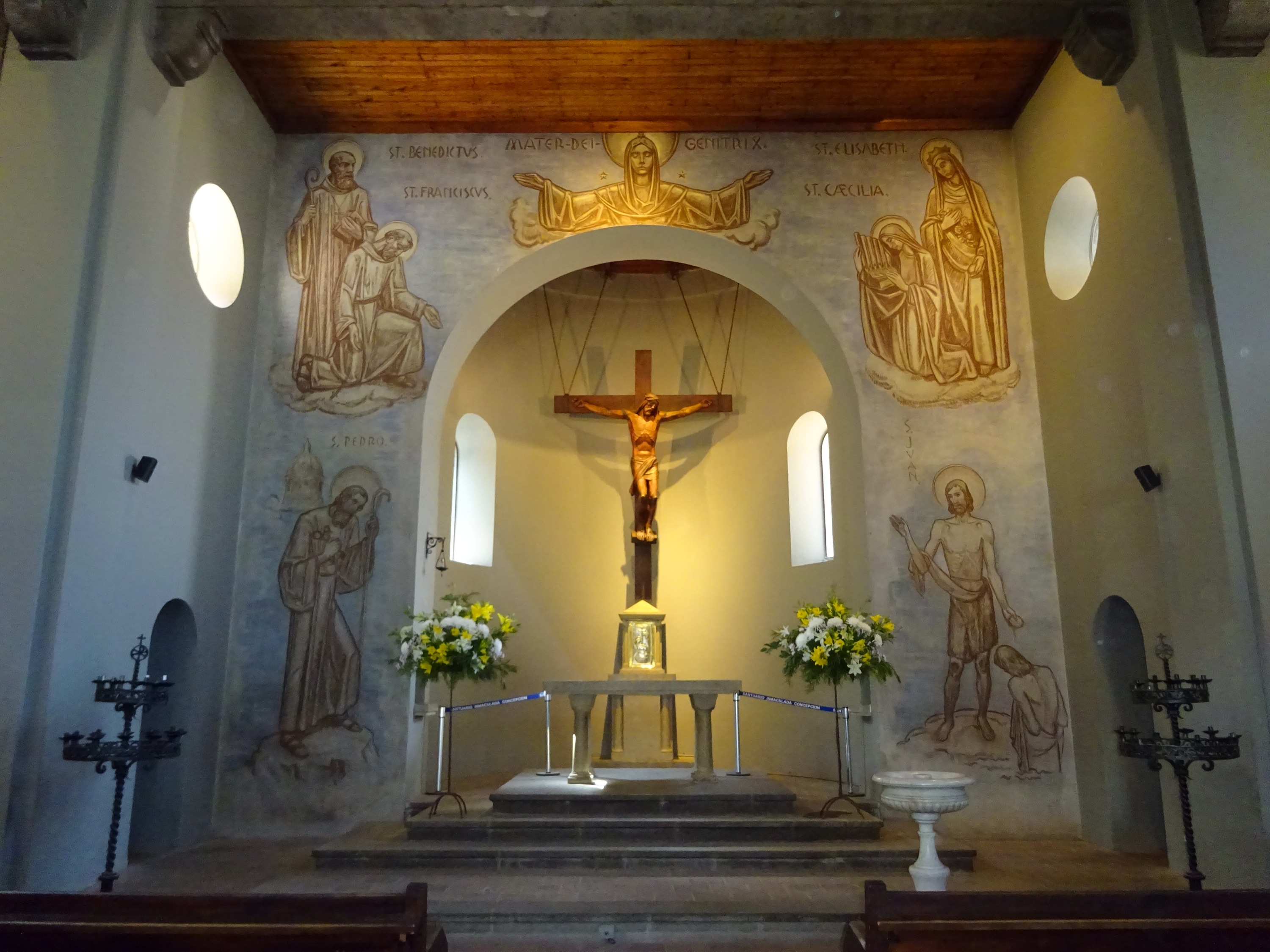 Outside the church on the way up to the statue on the hill there are fences where people have tied ribbons, pictures, bracelets, toys, flowers and rosary beads. They seem to be gifts and prayers to our lady with pictures of loved ones in need of prayers. We tied a ribbon on for someone we love who needs some prayers and moved on.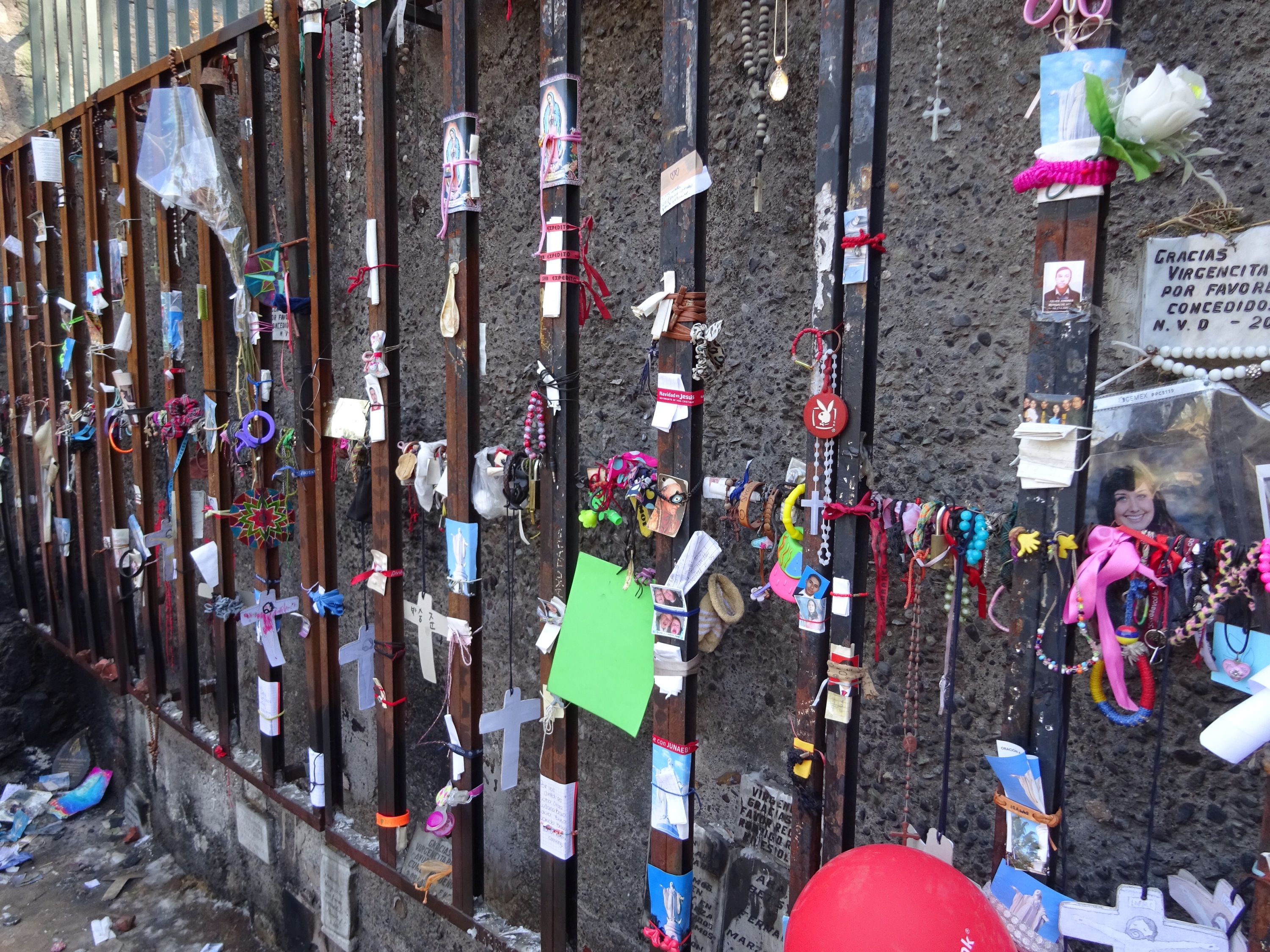 We had a quick lunch of some empanadas in the cafe on top of the hill. You can find empanadas everywhere in Chile. They sell them in many of the corner shops for about 1,000 pesos (€1.50). They're a bit like a Cornish pasty with various fillings like "pino" (meat and egg), "napolitana" (tomato, onion, ham and cheese), "queso" (cheese), "jamon y queso" (ham and cheese) and usually a "vegetariana" (cheese, onion, tomatoes and olives). There are two types oven-baked or fried. Beware of the fried ones, they're not nearly as nice, they're quite greasy. The oven baked ones are yum and look like this: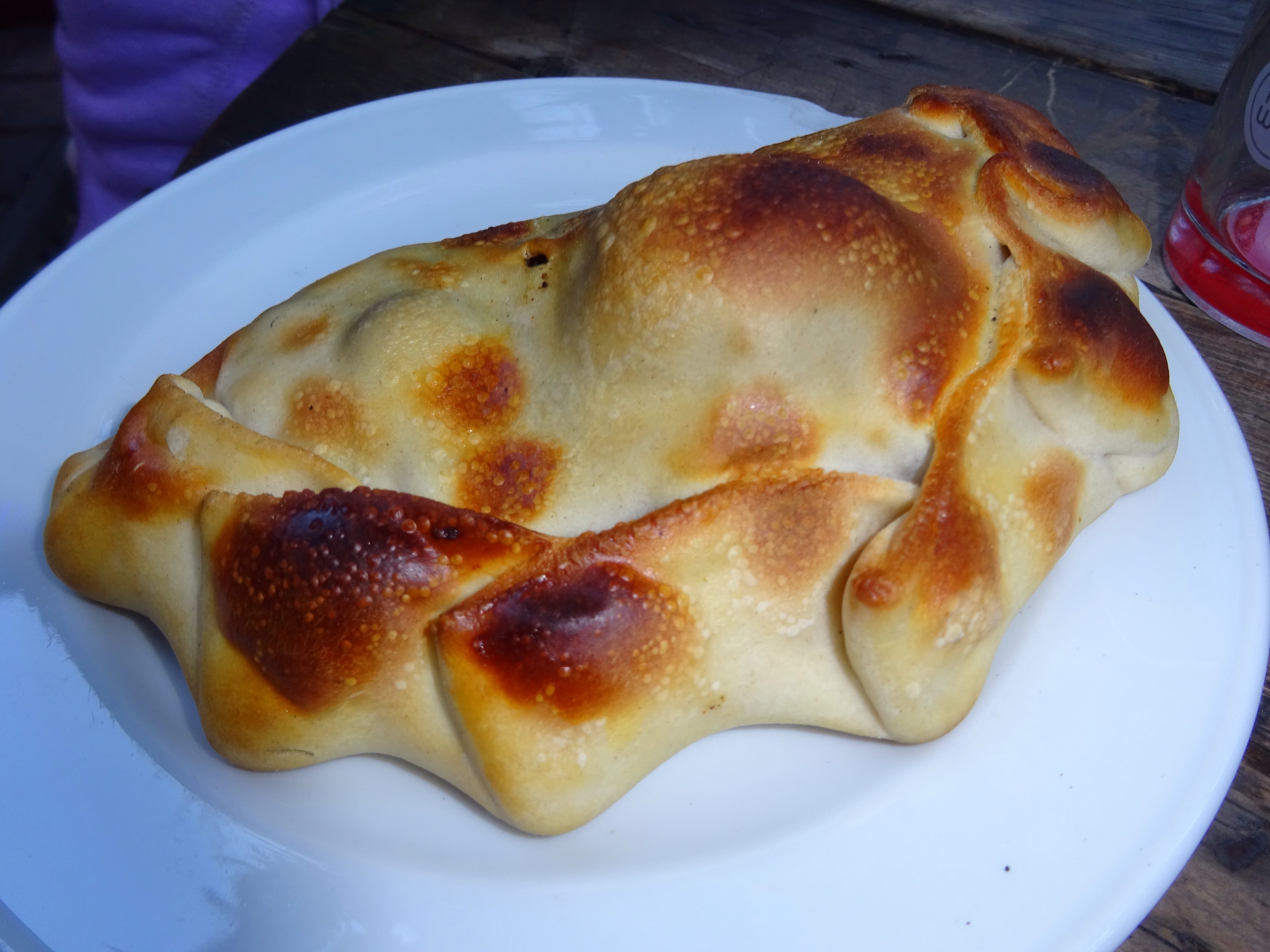 After lunch we had one final look at the views before getting the funicular back down the hill. The views really are smashing. On a clearer day you'd have great views out to the Andes mountains.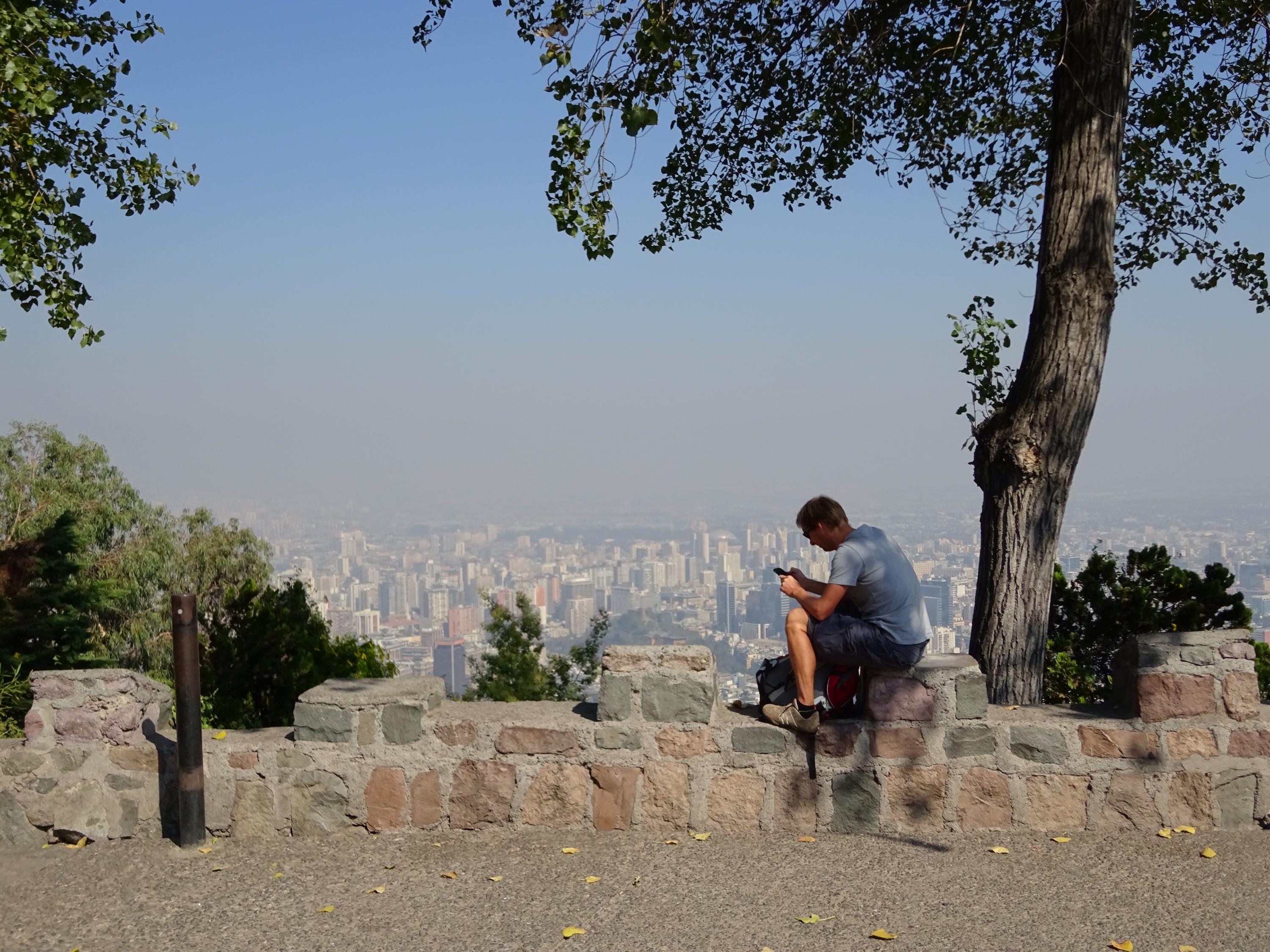 We didn't explore any more of the hill but there seemed loads there to merit a longer stay. We noticed lots of cyclists, both road and mountain bikers, there seemed to be a lot of trails around. Definitely worth checking out if you're into it.
Heading back into town we were pleasantly surprised by the whole look and vibe of the city. It's filled with trees and green spaces and very clean and well maintained. It really wasn't what we were expecting.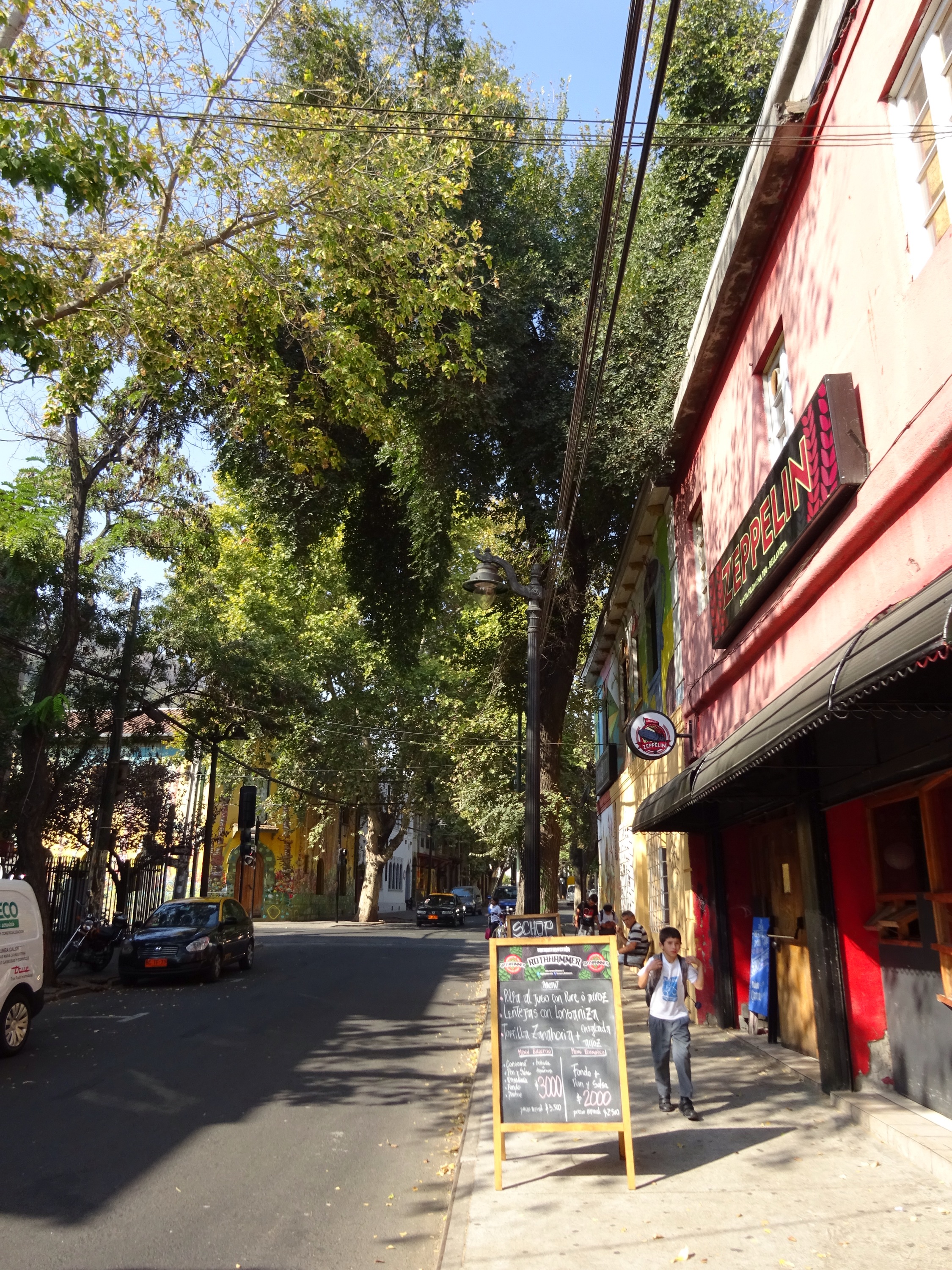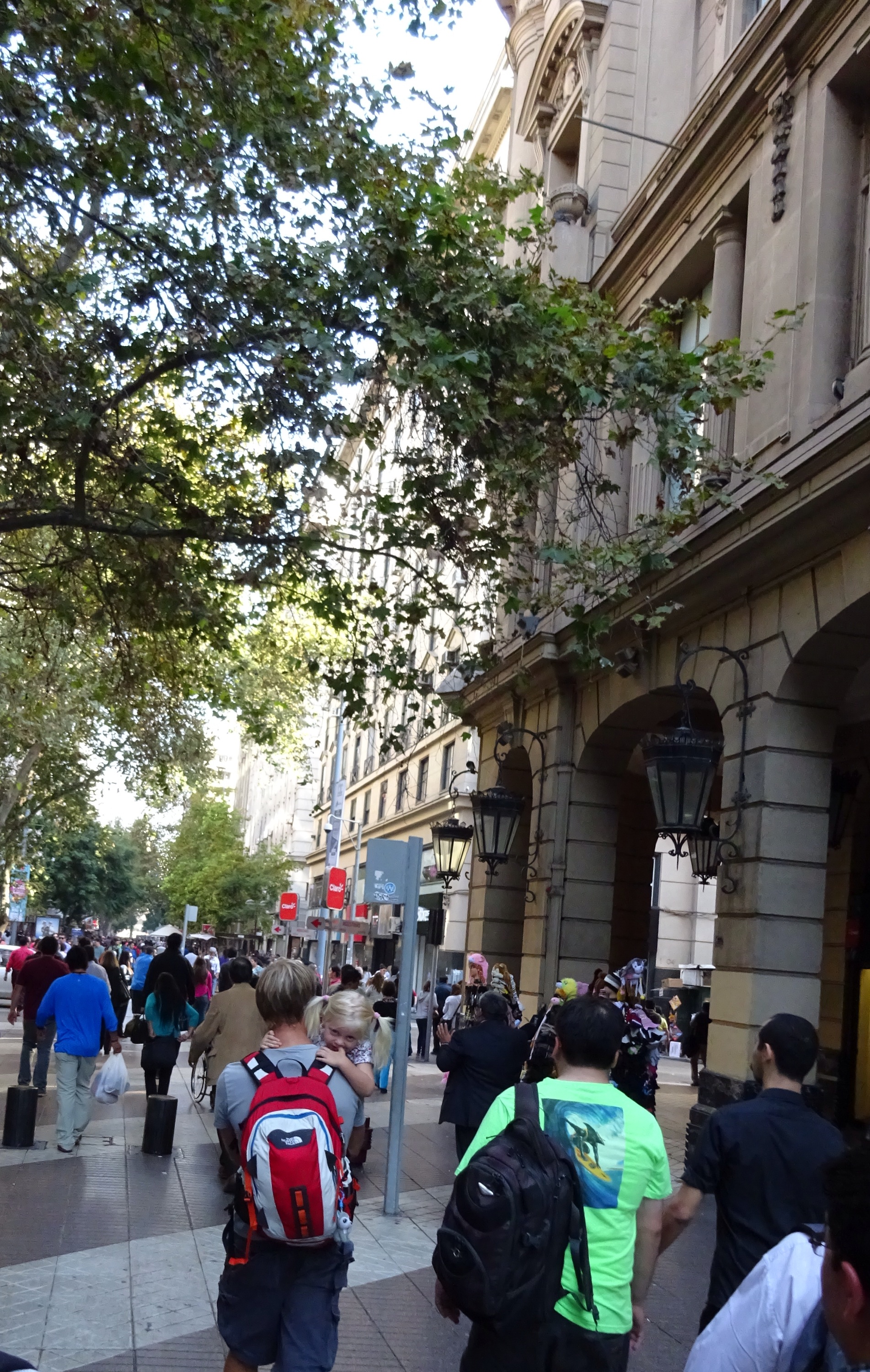 And it's really colourful. Chileans love street art and all across the country you'll see many murals on houses, shops and restaurants. They look cool, like these: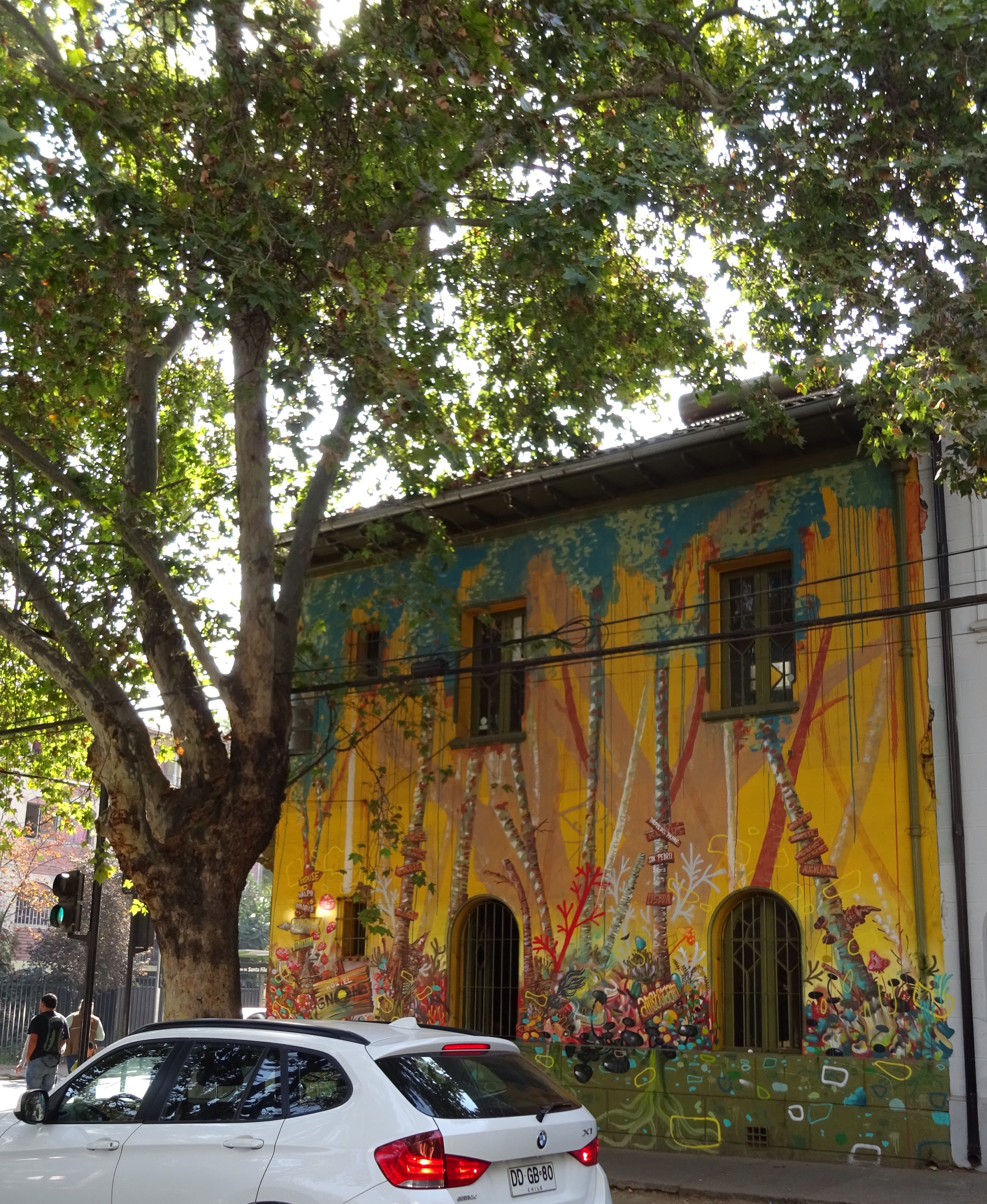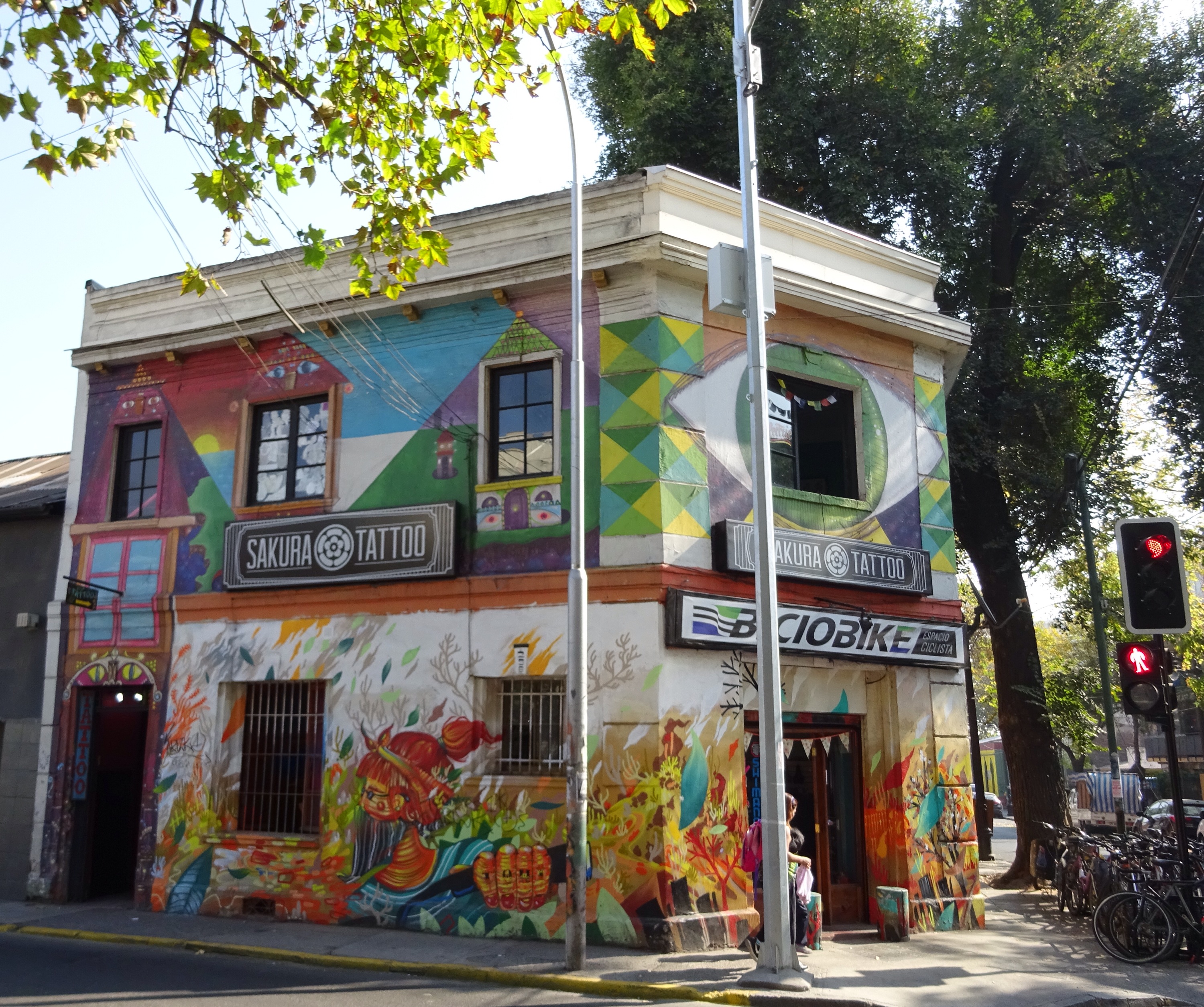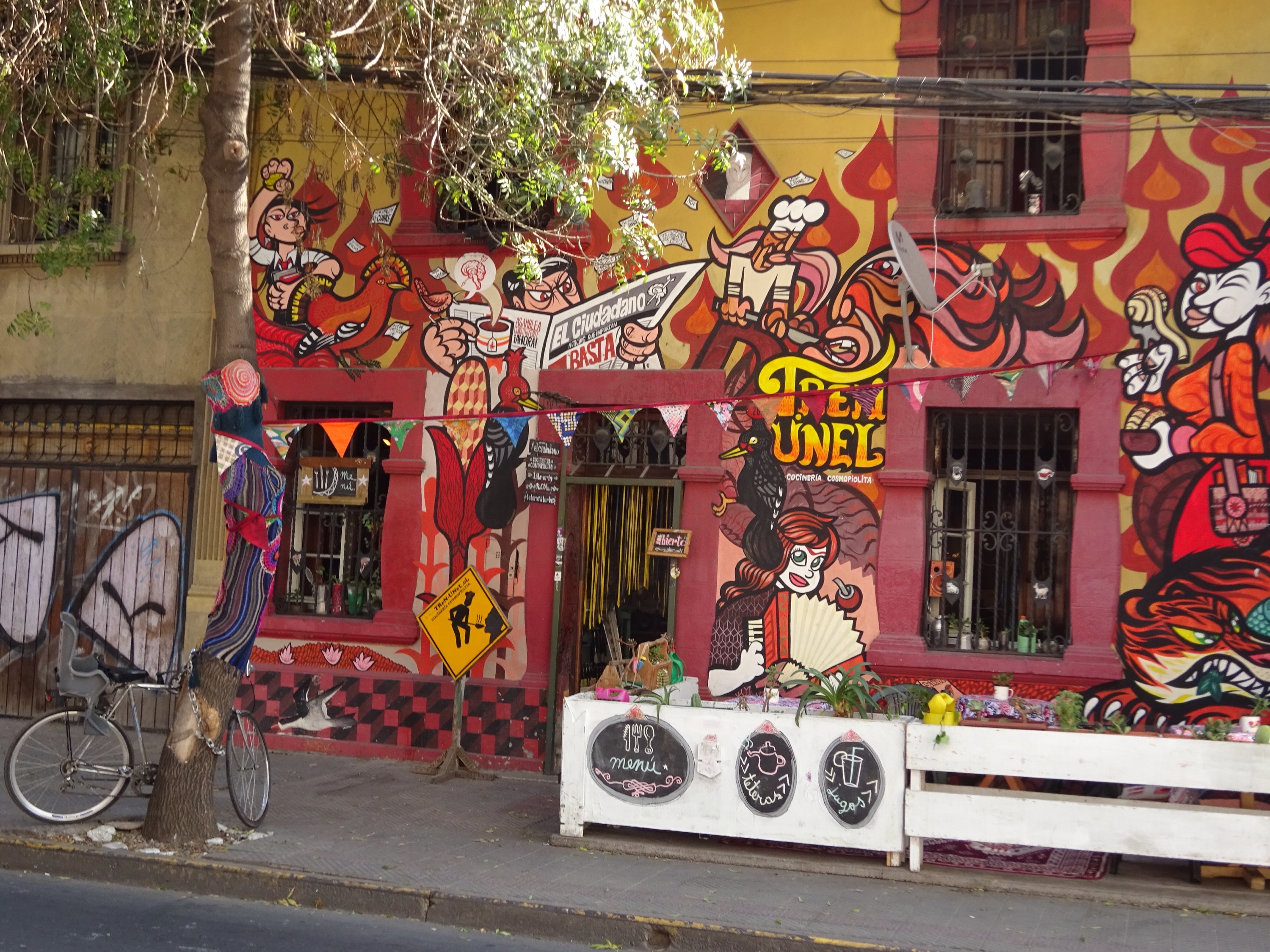 We also quickly noticed that the people were extremely chatty and friendly. And they weren't looking for anything from us, they were just nice. A man told us we should go see the cultural centre called "centro cultural la moneda" not far away near the palacio de la moneda. So with no other plans, we went and found it, a bit dubious as to what he was sending us to. But actually it was great, well worth a look. It's basically a large cultural centre with different museum/rooms off it.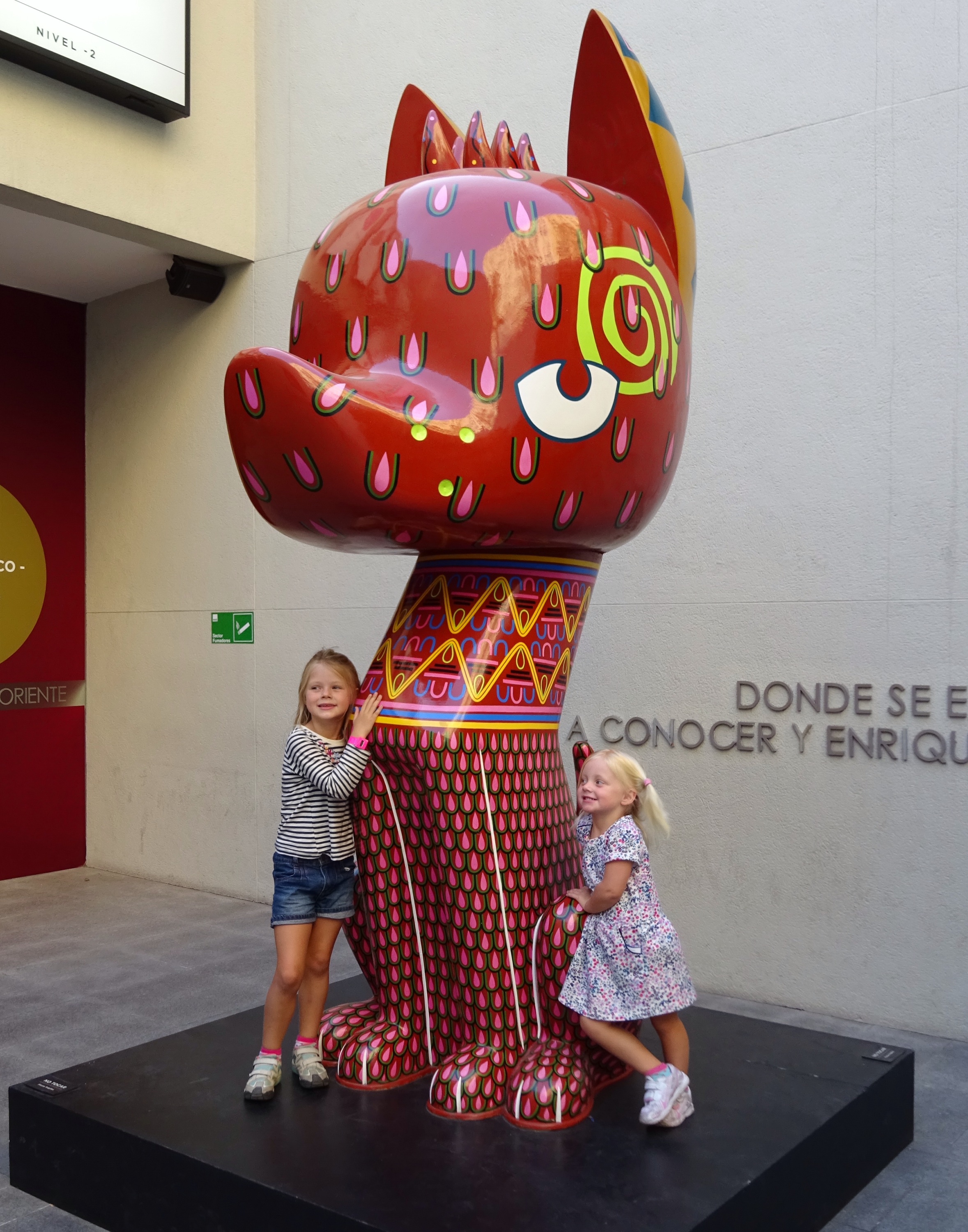 There are different exhibits at different times of the year. For us there was a room with displays of Columbia pottery and some old manuscripts like the book of Kells.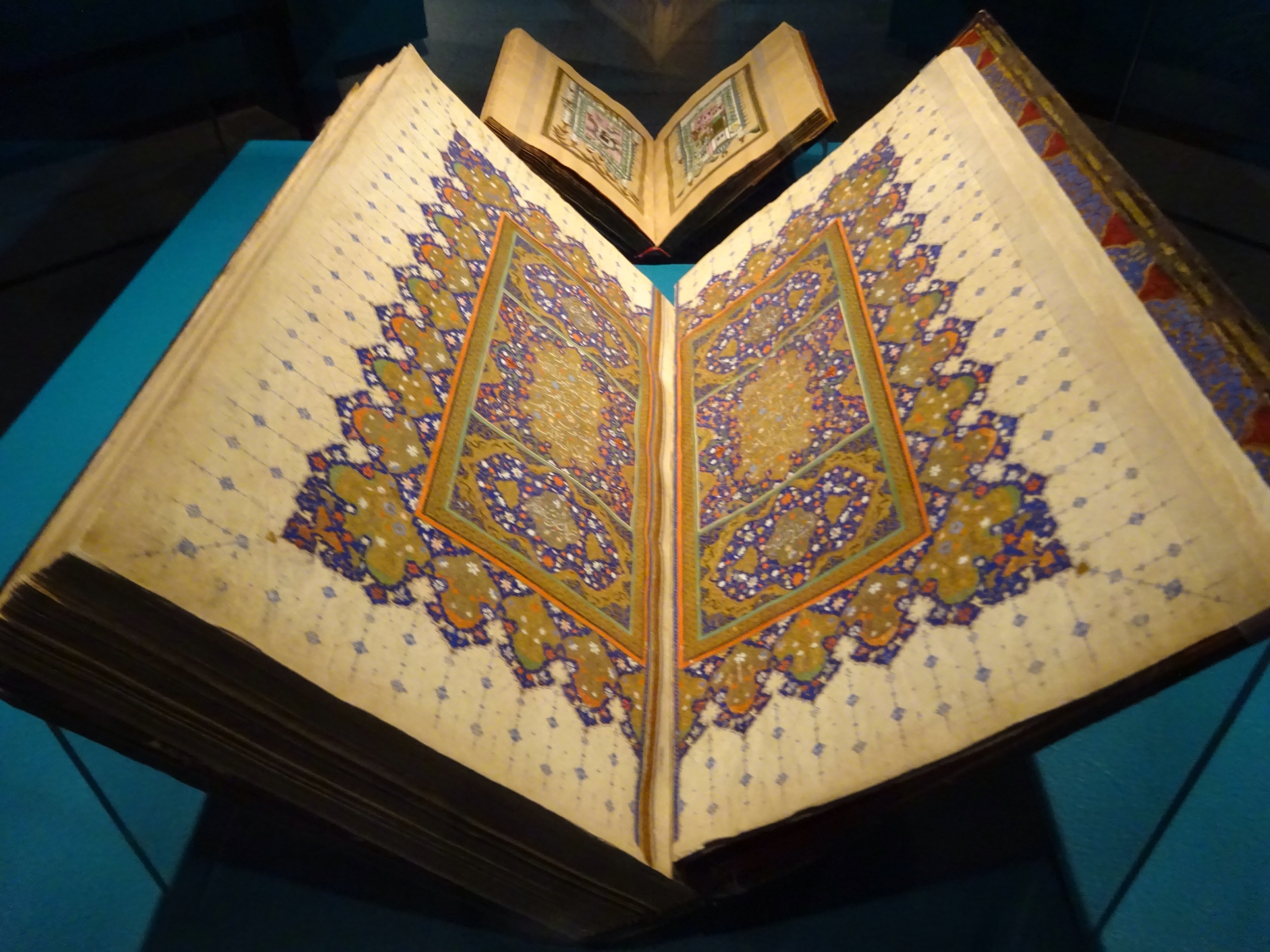 There was also an interactive room which the kids (and Dad) loved where they could ride bikes to make pictures change on screen.
They could also draw pictures with spirographs and listen to music.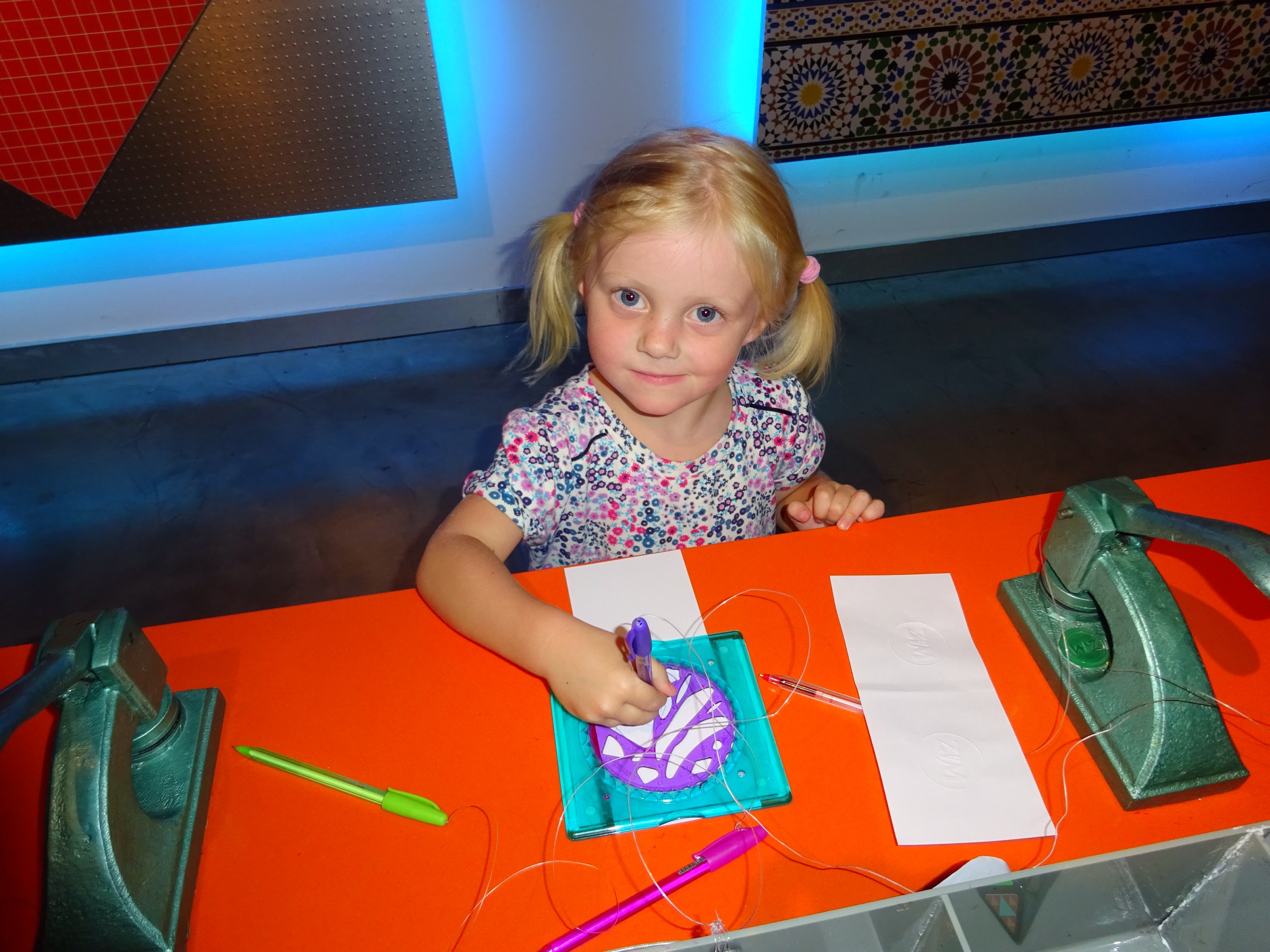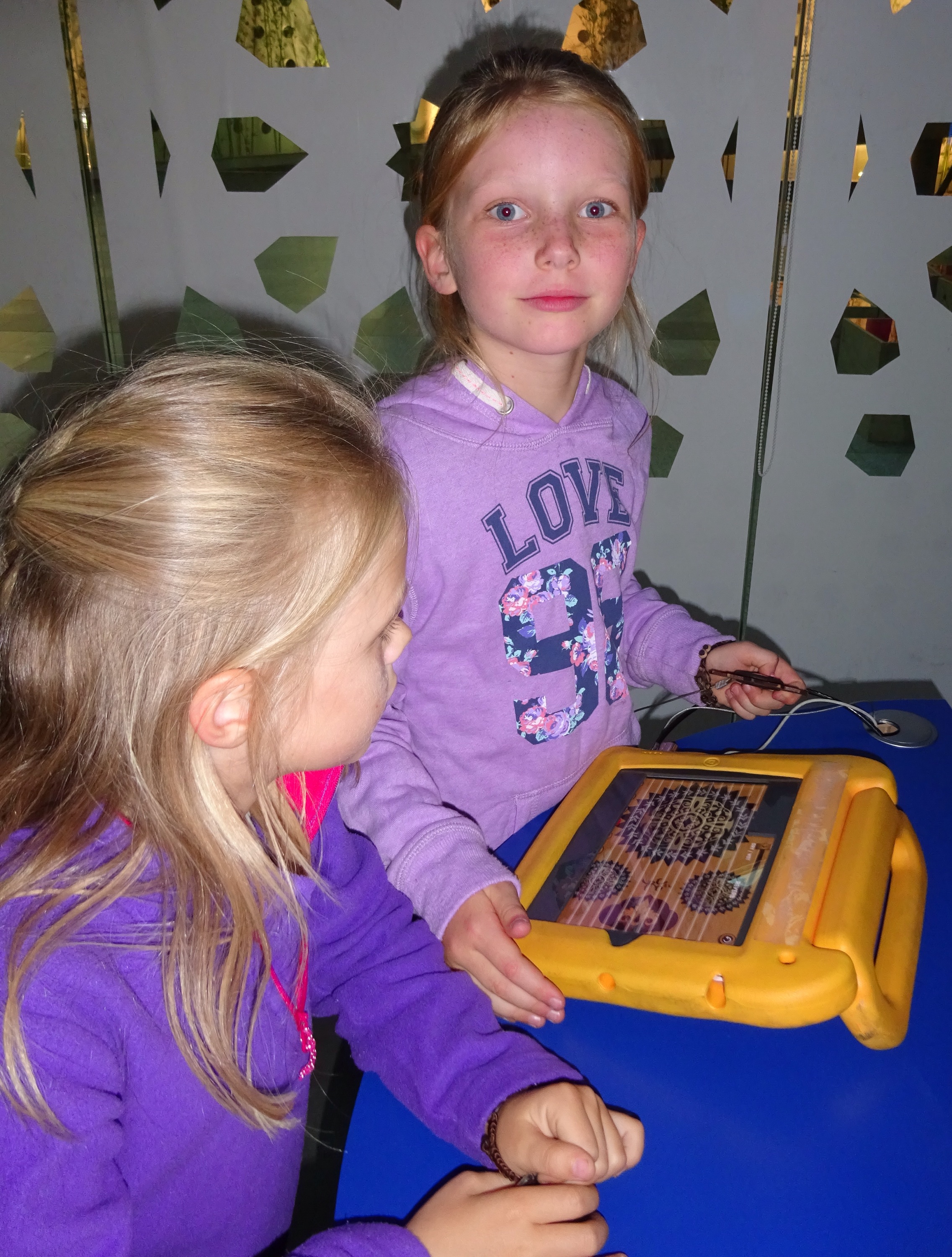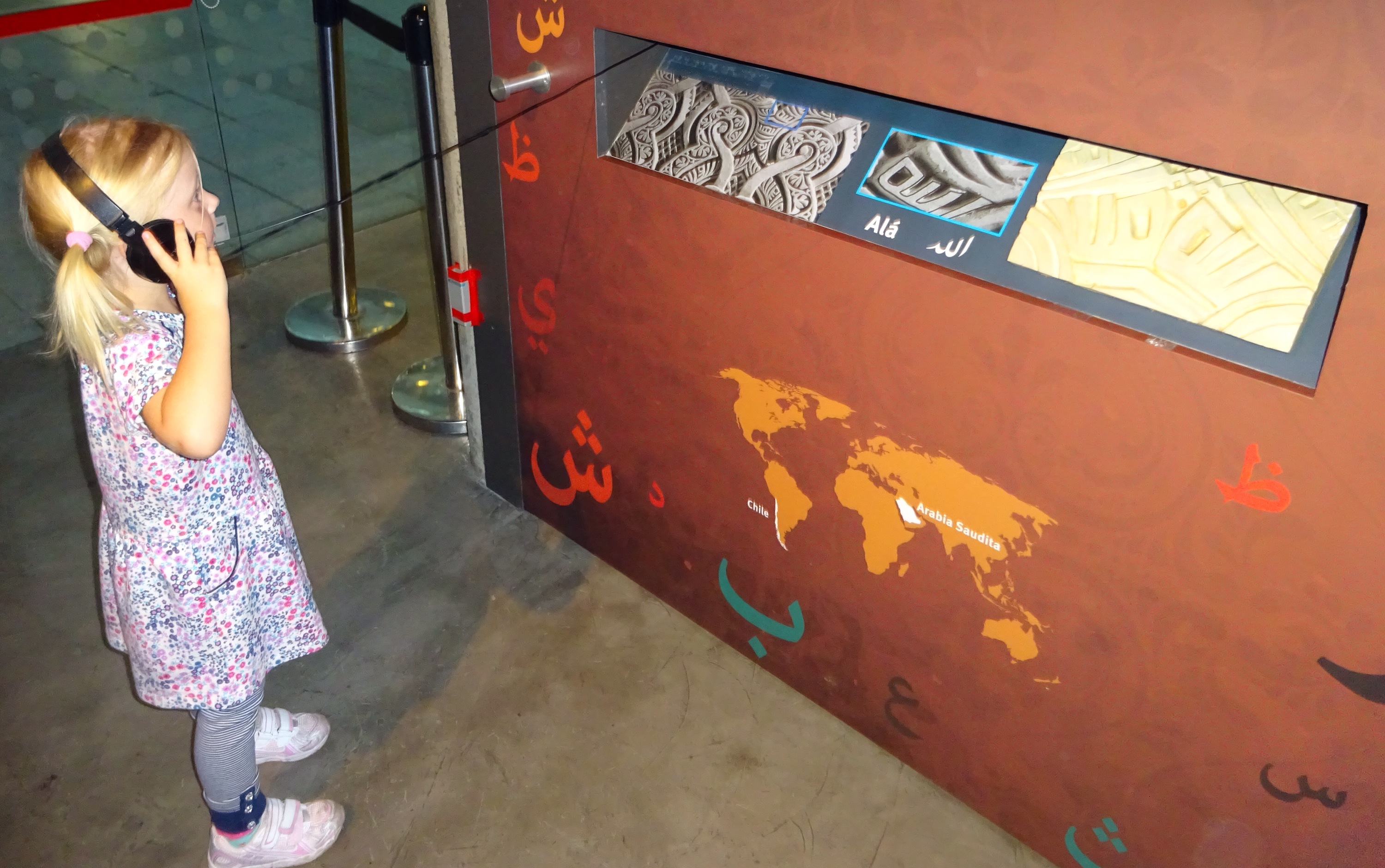 We weren't to sure what to make of one particular room, it seemed like a modern art room. The tree stump headed lady was a great source of amusement.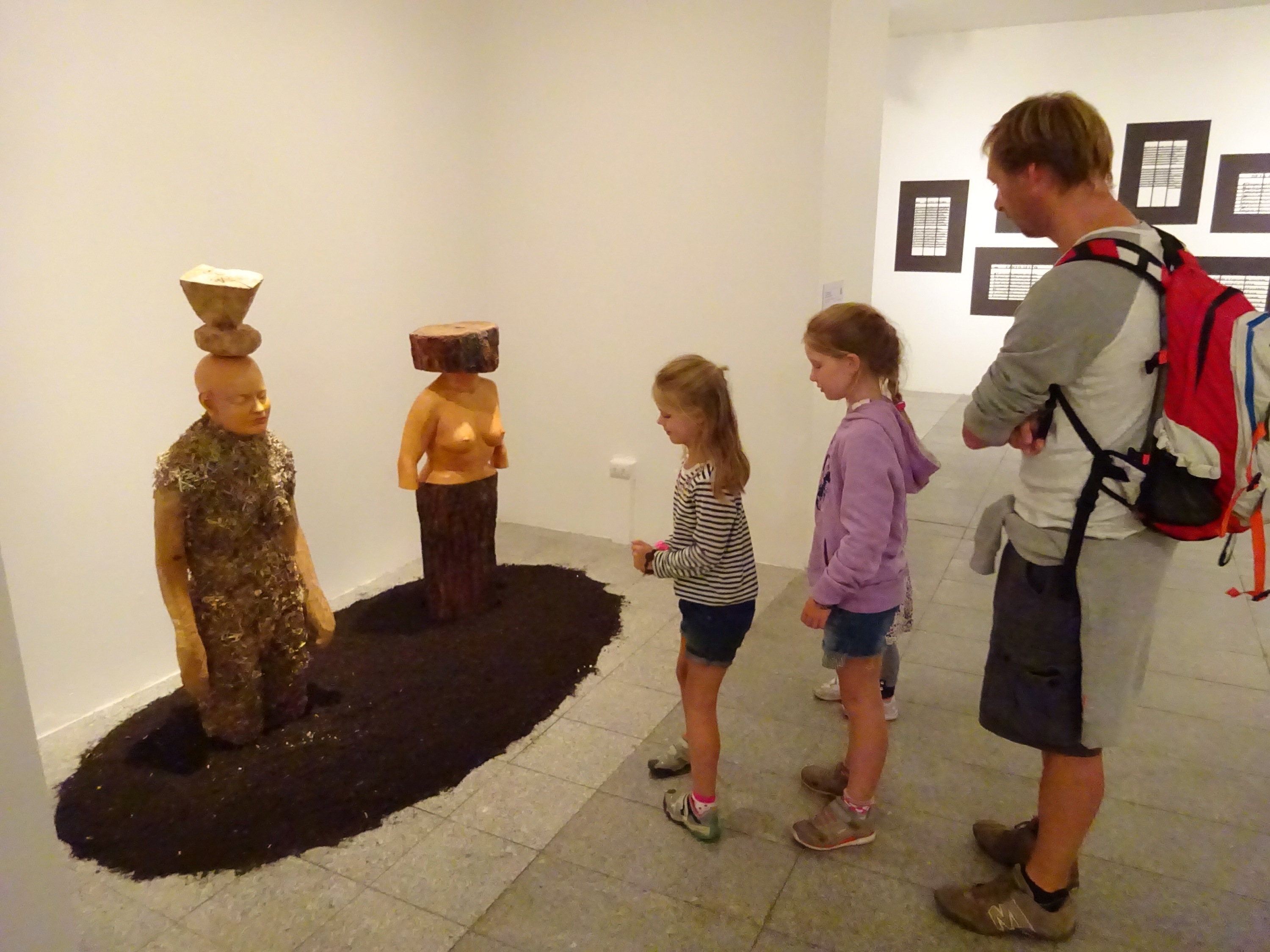 It was really chilled in the cultural centre, we really liked it. It's a lovely modern airy building and there's free wifi there which is always a bonus to catch up with people at home.
We hopped on the metro back to Providencia and found a restaurant nearby. We noticed something slightly concerning about the metro stations, something is sprayed through fans at the platform. It freaked us out a little. We've no idea still what it actually was.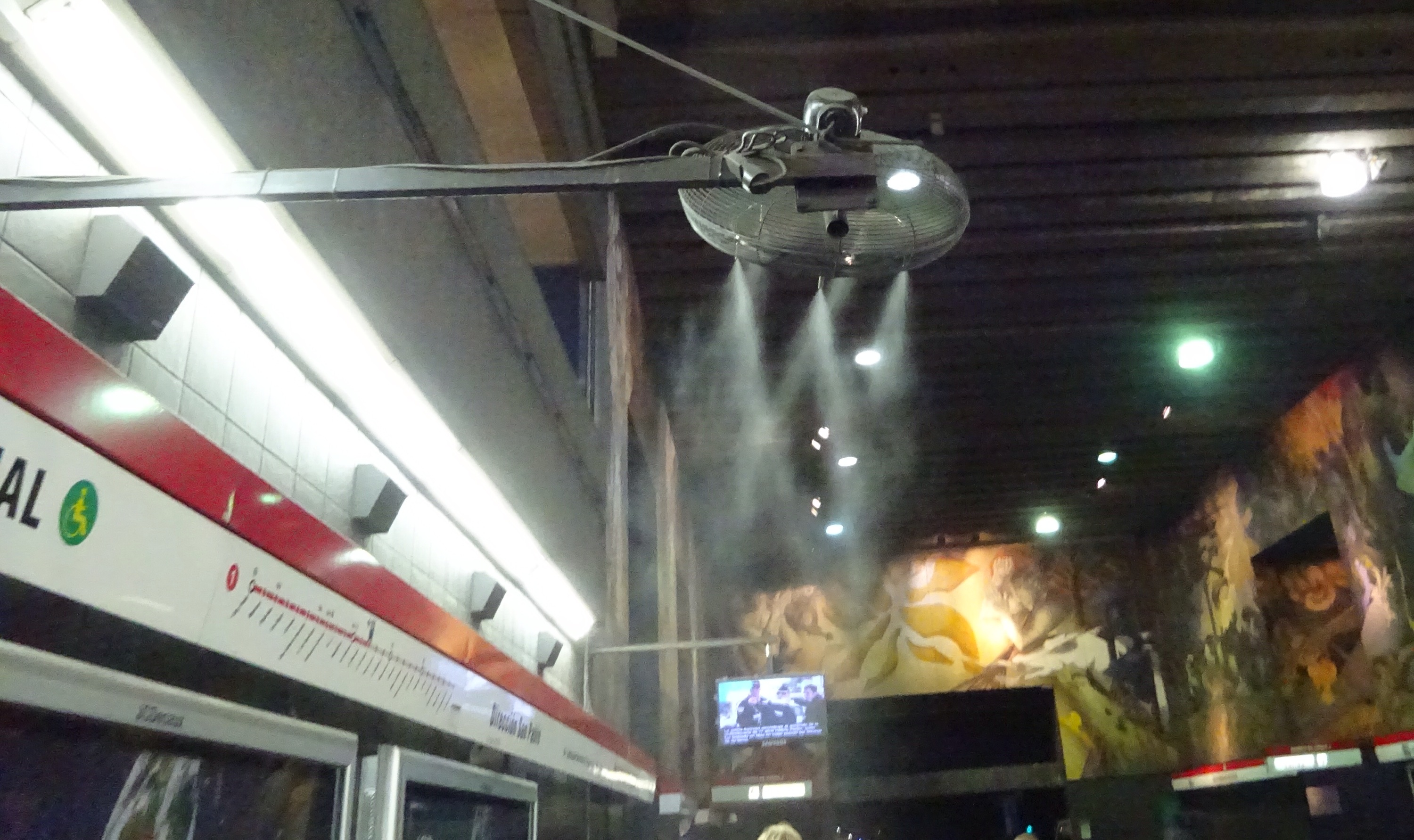 The food in the restaurant was nothing to write home about but it was good value (well for Chile!).
The food in Chile really isn't the best. There's a lot of meat served. Things like pollo asado (roast chicken) with rice/chips, cazuela (a clear stew not unlike an Irish stew, made with fatty meat, corn on the cob, potatoes and squash) and carne mechada (pork chops) can be found on every menu. The highlight of the meal is the spicy "pebre" served with bread as an appetiser. Pebre is a kind of spicy salsa made with tomatoes, onions and chile. You eat it with bread, it's delicious. Here's a recipe in case you fancy trying it out: Pebre Recipe.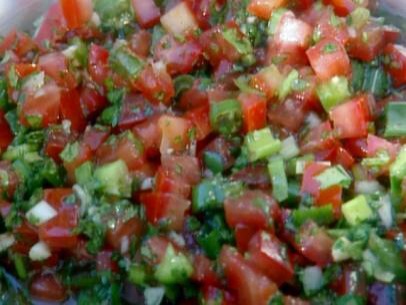 The food in general though is heavy and laden with carbs. And despite the fact that vegetables are readily available in the markets, they're not served with the meals much. It's a shame after all our healthy eating in Asia. Suffice to say I'm glad it's not togs weather!
The next day we pottered around again really not up to anything much and headed to the "Museo Chileno de Arte Precolombino", a museum just off Plaza de Armas which was listed in our travel guide as being one of the best museums in Santiago. It has one of the biggest collections of pottery in Chile. I'm afraid to say we just weren't impressed. Maybe it was the jet lag but we really didn't get much out of walking through the exhibits looking at pottery. I think it needed a lot more interactive exhibits or something to hold your attention. Again though, it may just have been jetlag! We were still shattered from having gone back in time. We left New Zealand at something like 4pm on a Monday, flew for 12 hours and arrived on Santiago at 12 noon on the same Monday.
The best bit of the museum was the interactive exhibition room they had in the basement. It was a really small room with fun interactive displays for kids. The first was a game with a kind of lever you pulled which spun three wheels to land on different letters. You then had to lift a holder for each letter and identify the smell from a set of three. Finally you lifted a screen to reveal if you were correct. The girls loved this. Some of the smells were lovely like Strawberries, Vanilla and Pineapple and others not so nice like Tomatoes, Peanuts and Nutmeg. Although I like the latter three, the smells weren't that pleasant!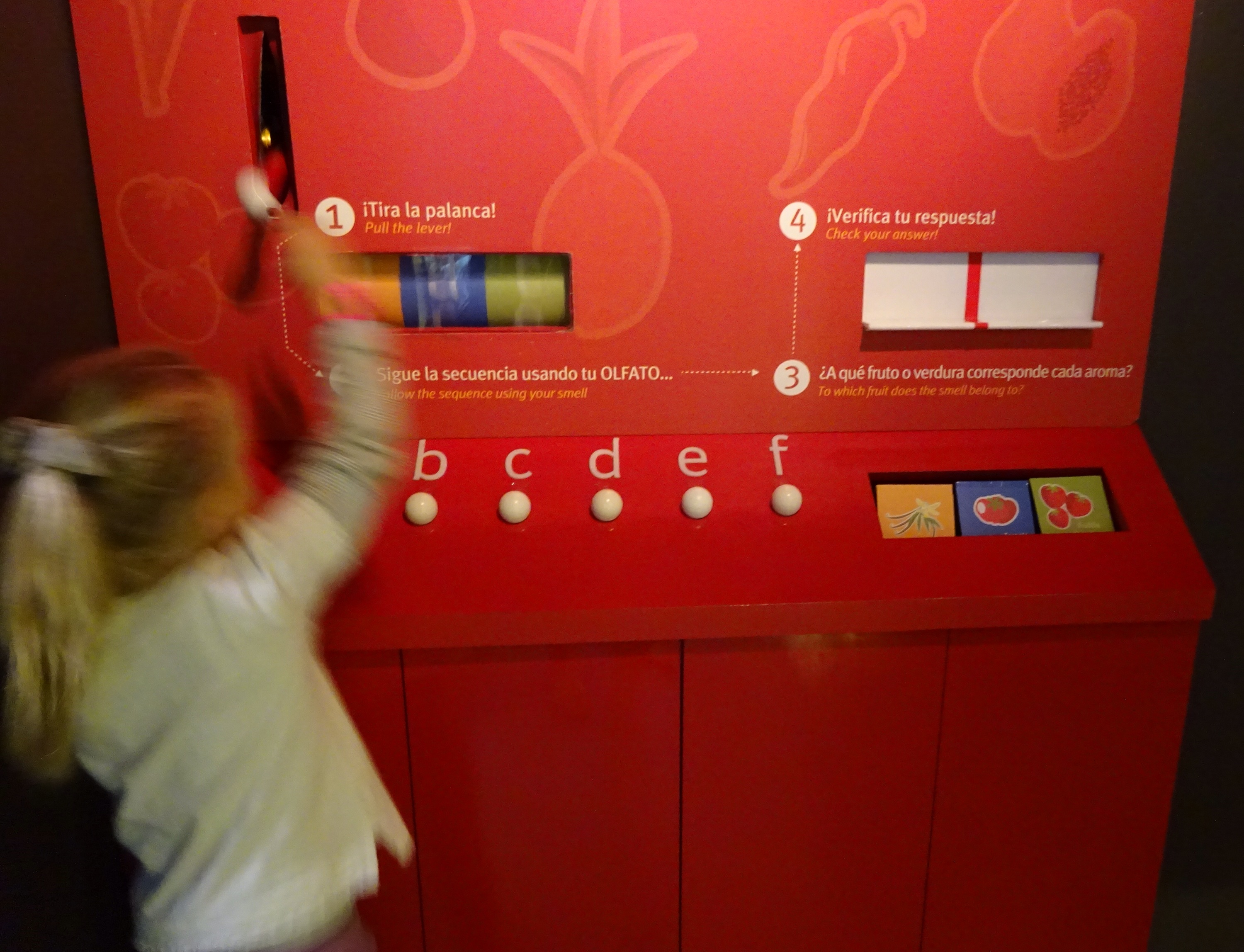 There was also a really fun exhibition where there was a large tv screen with a two player game to try copy traditional dances from indigenous tribes in Chile. The computer identified how good you were at copying the dance and displayed comments on screen like "amazing", "try harder", "perfect", "embarrassing" before giving you an overall score. We all had a ball making fools of ourselves with that exhibit. It was definitely the highlight of the museum for us.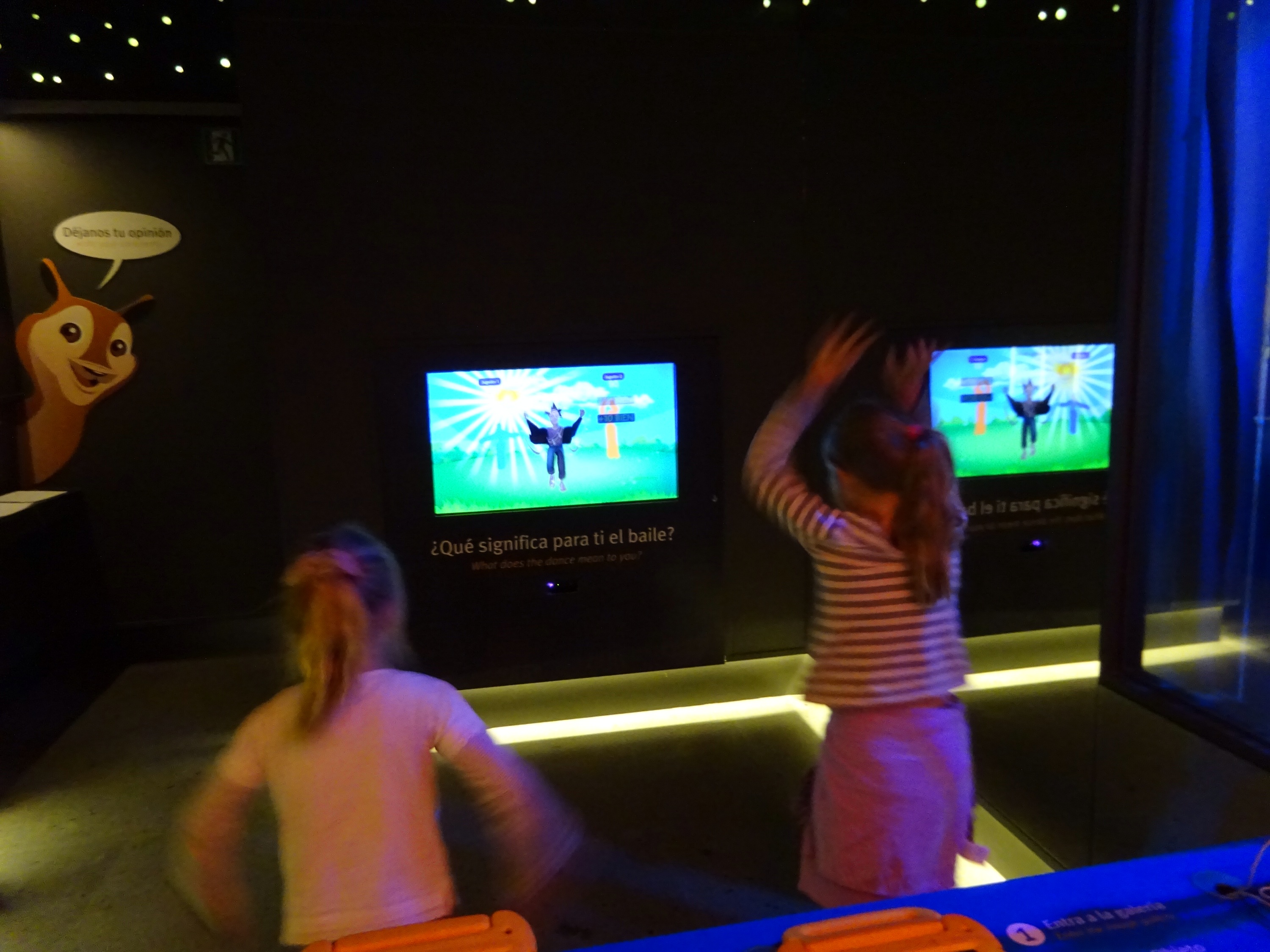 After the museum we promised the kids a bit of playground action and headed towards the river to "Parque Forestal" where we'd spotted a great playground earlier. We chilled for half an hour or so while the kids had a ball.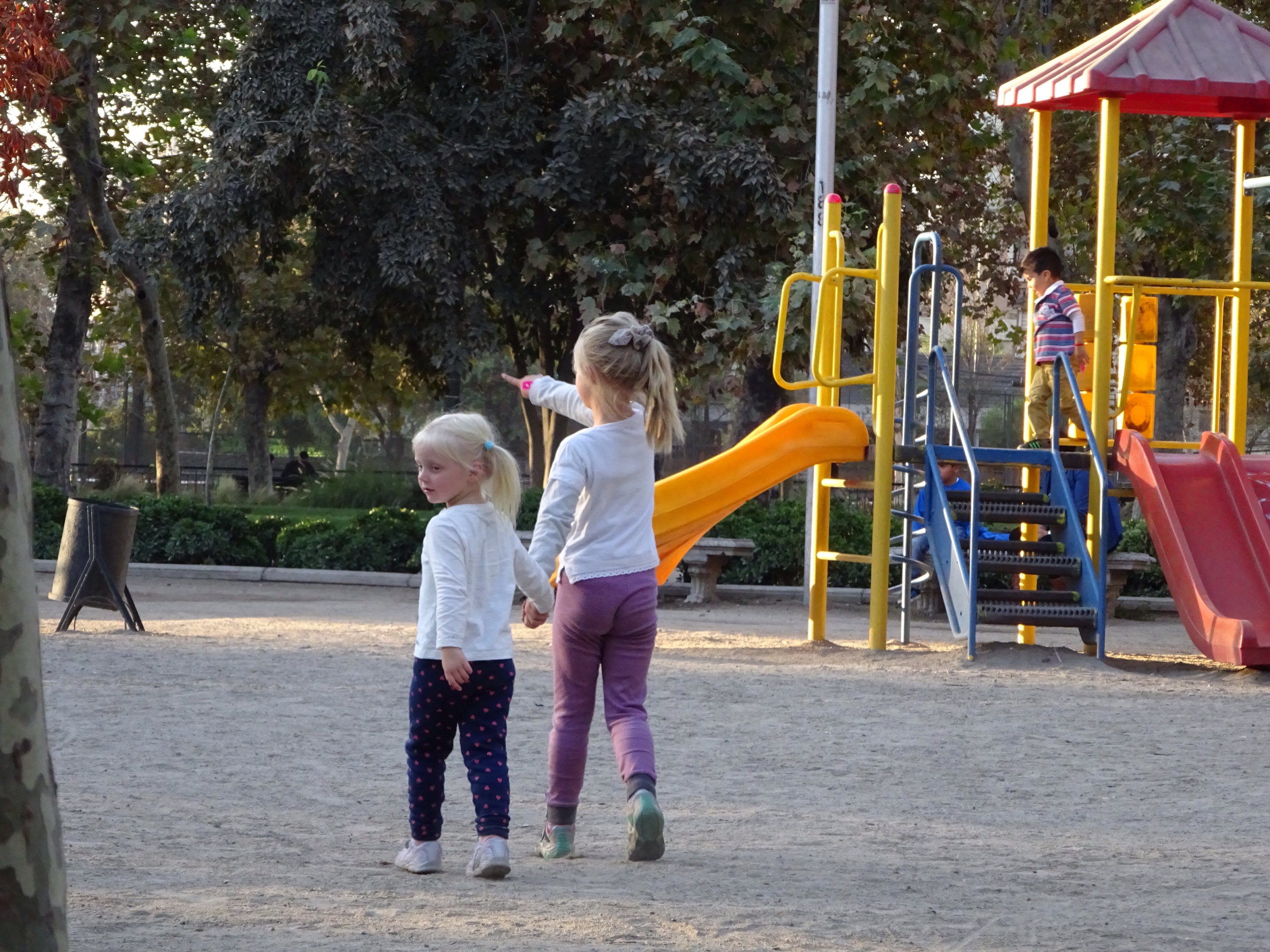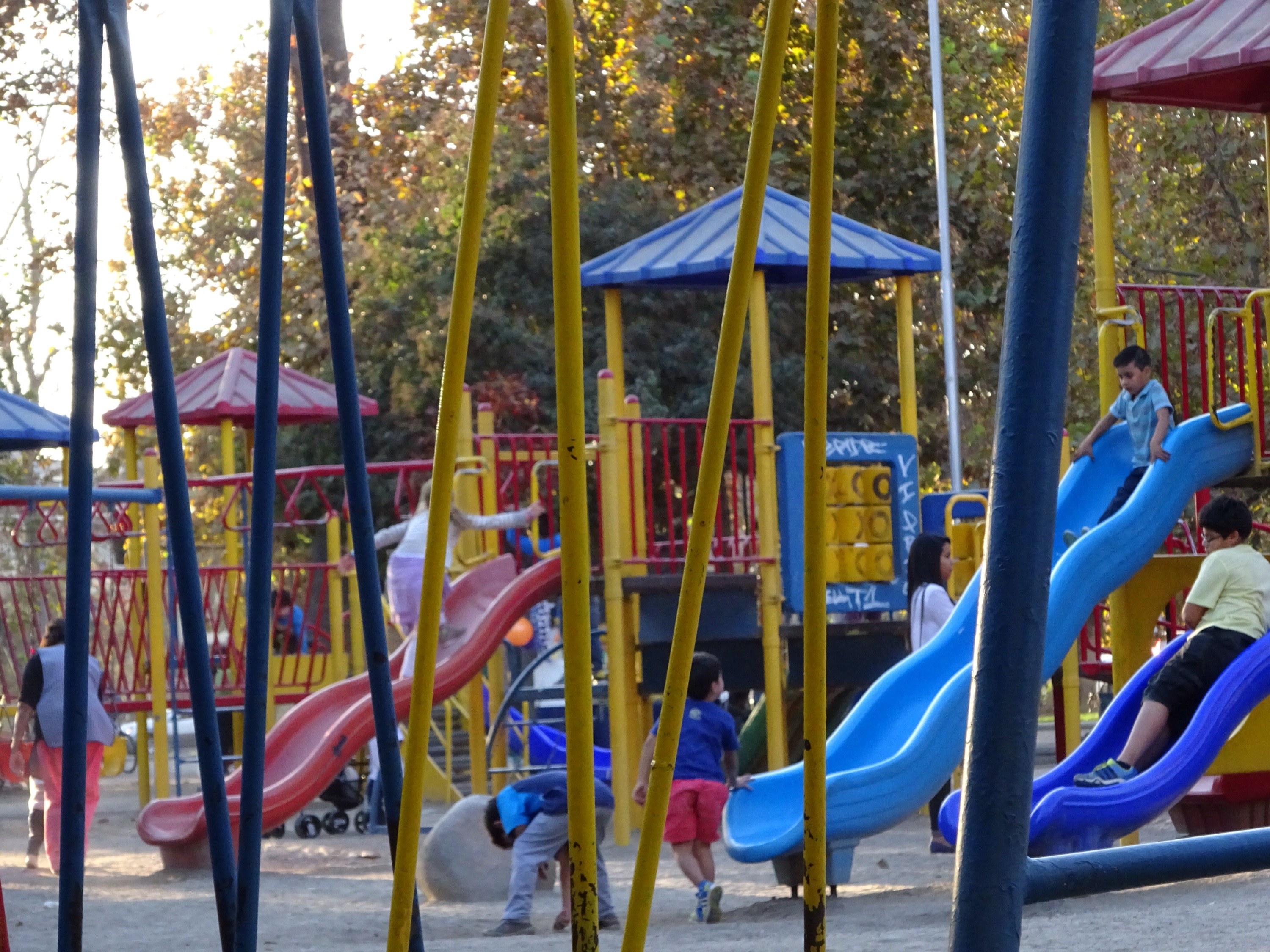 Then we wandered around looking for somewhere to eat. Ro brought us to a really smashing area near the playground between it and Cerro Santa Lucia. It was a smashing area with quaint, tree-lined streets and cool restaurants and bars. There was a lovely vibe around the place. We ate in a smashing restaurant on one of the corners, really you could have picked any though, there was a cool vibe around the place.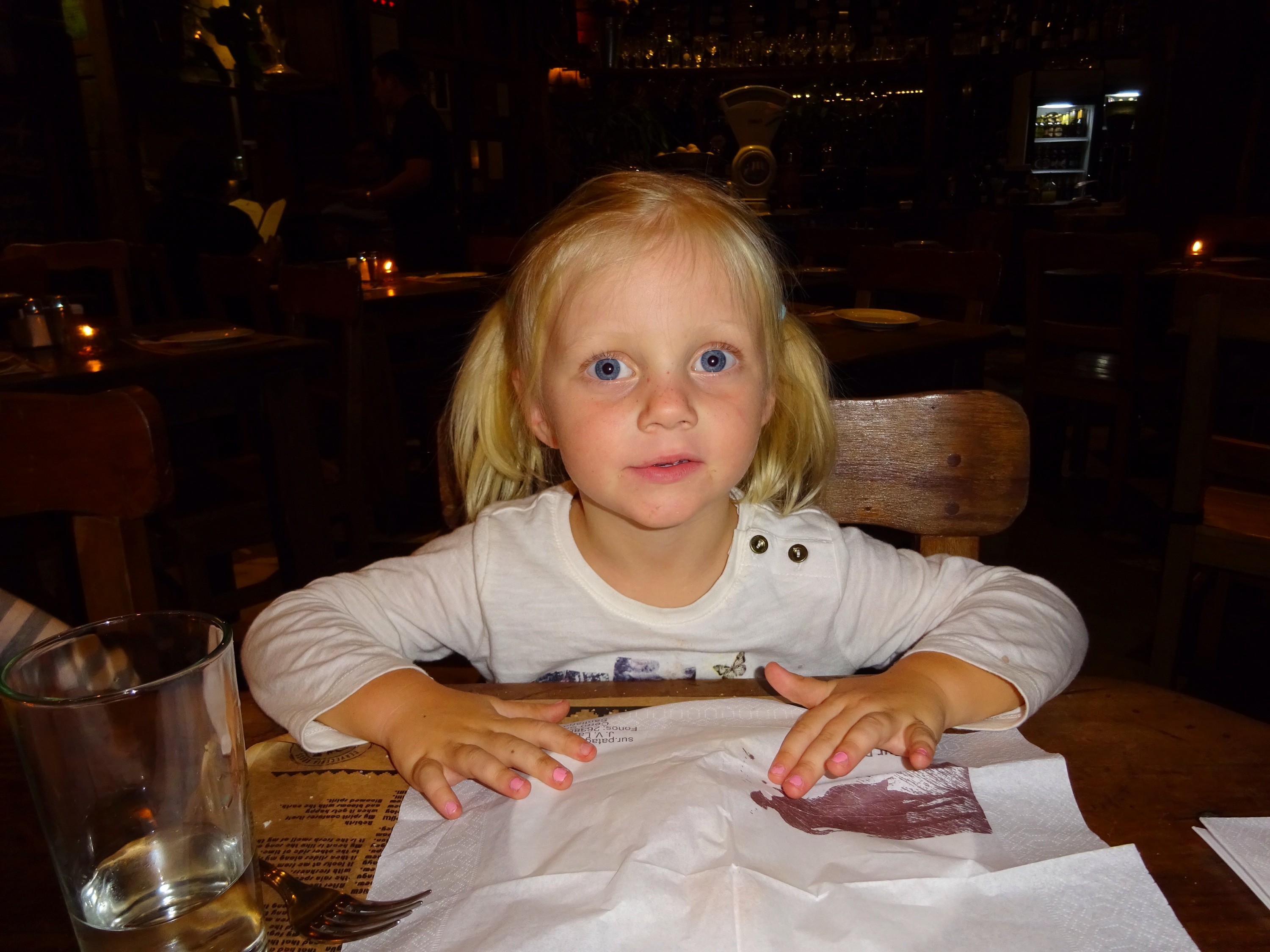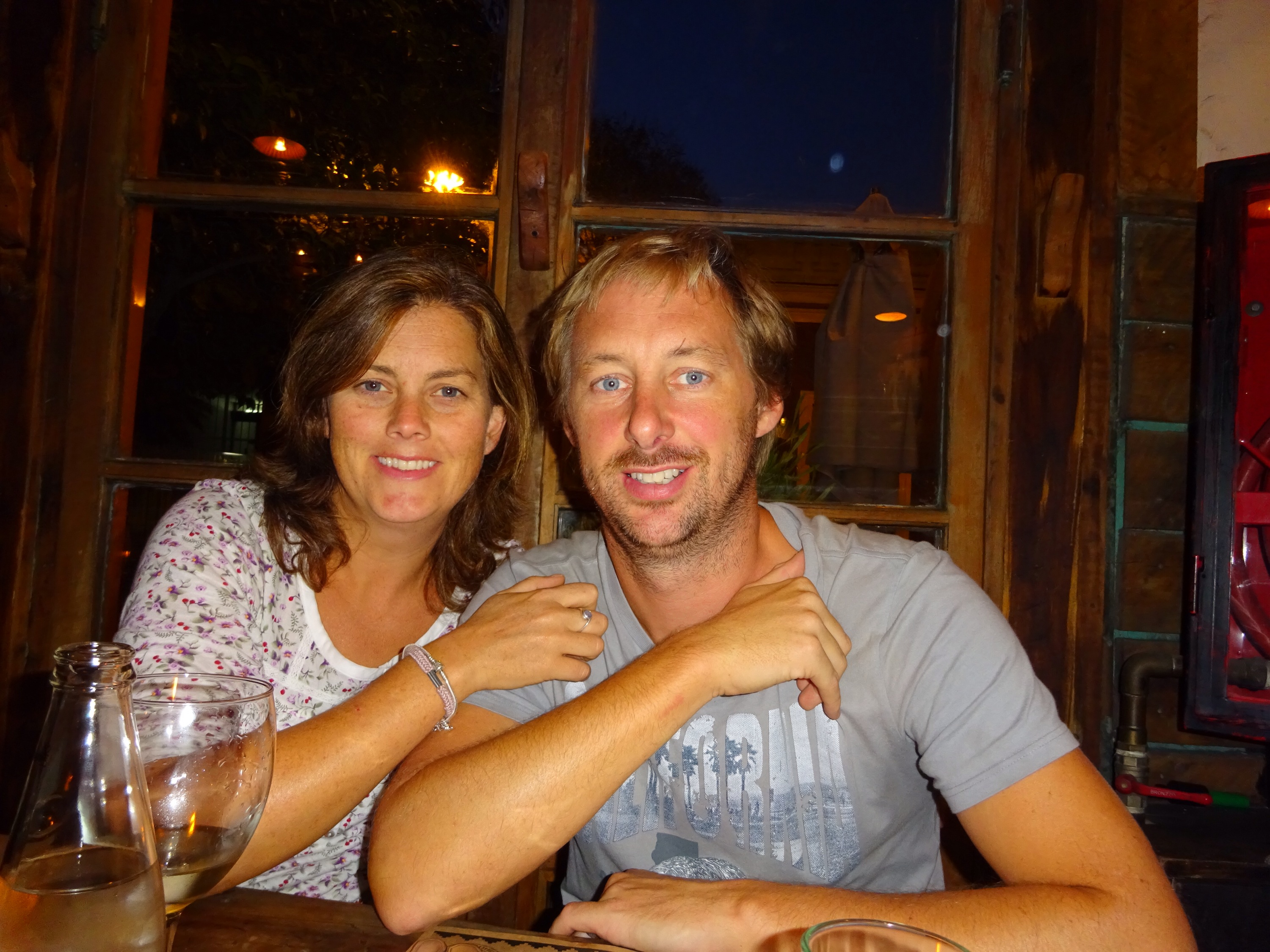 On the way home we came across some interesting street art where somebody had basically stuck all their unwanted household items on the wall and randomly painted them. Things like old shoes, kids clothes, toys, teddy's, jigsaws, tin cans, bottles, delph and cutlery. It looked really cool and I guess set the scene for a country which loves it's street art. I wondered could we get away with doing it on our house in Dublin. Somehow I don't think it would have looked so cool :-).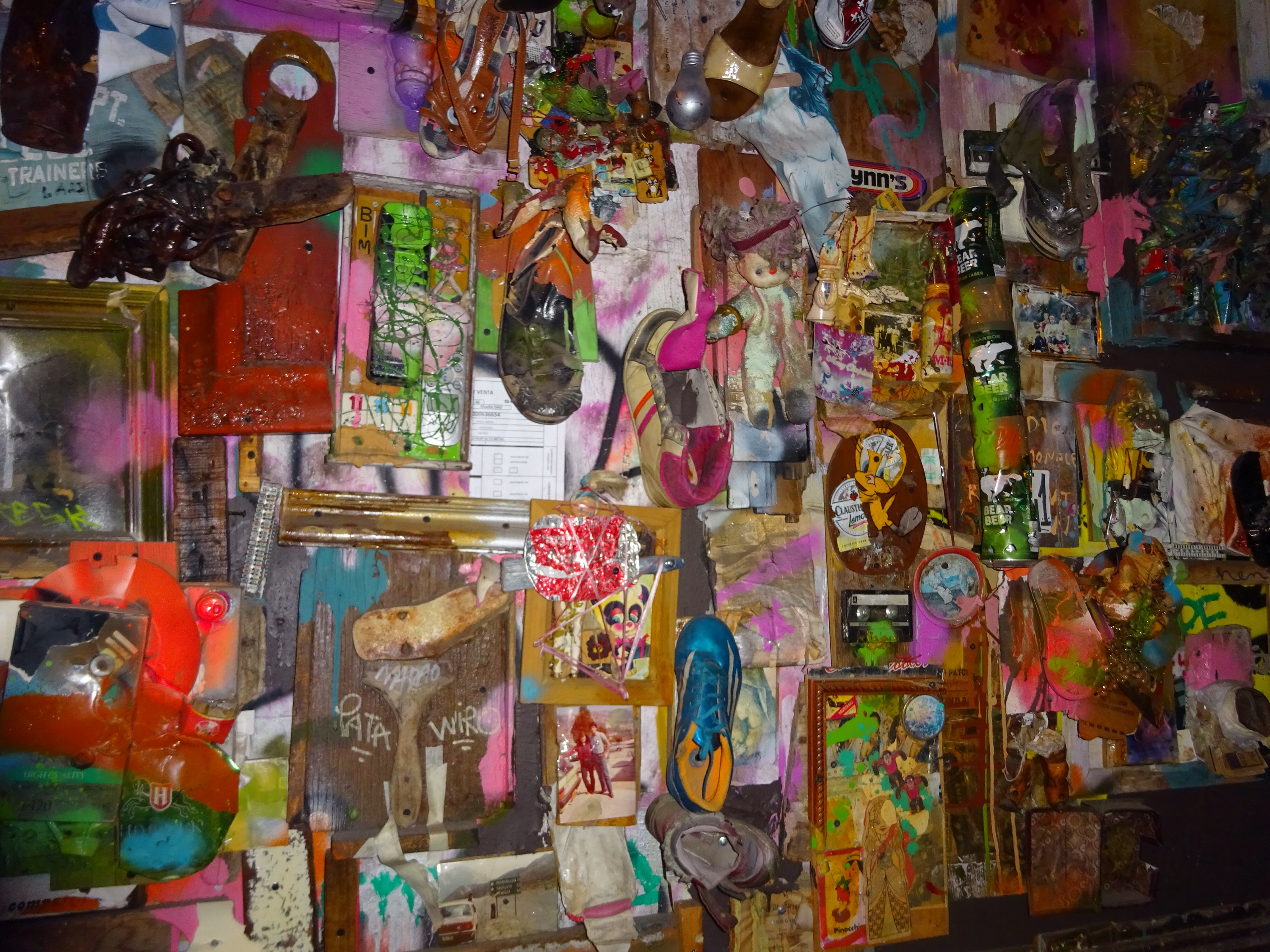 This was the end of our Santiago adventure. I'm afraid we really didn't get up to a whole lot. There's so much more to the city that would merit a longer stay. We just touched on a couple of sights. You could easily spend a week or more there.
We decided to hire a car for the next few days and head off to explore the countryside around Santiago. We got a good deal on a car from "Backup cars" which can be found in a car park at one of the exits of "Manuel Montt" metro station on the red line. We found the guys there great to deal with. So it was with a lot of excitement and a beta version of google maps that we set off on our adventure into the countryside. Note google maps is definitely in beta for Chile. It worked 80% of the time but the other 20% brought us to dead ends, one way streets and non existent motorway entrances! Would be worth getting an old street map instead.