After the hustle and bustle of Ho Chi Minh city, we decided a bit of beach time was needed. The most popular beach north of Ho Chi Minh is one called Mui Ne. It was listed in the top 20 places in Vietnam in the "Lonely Planet" so must be good, right??? Not so I'm afraid….. We didn't have a great impression of Mui Ne at all, in fact I think we'd go as far as to recommend not bothering to stop there. We wonder did we just miss something or go at the wrong time of year as people seem to love it but for us it just didn't rock our boat. The first thing we wanted to do when we arrived in Mui Ne was go to beach and jump in the sea, a pretty reasonable request when you arrive at a beach town, right? After all we went to Mui Ne for the beach, but hold on, where's the beach? In the main part of town there is no beach, the water comes right up to the walls of the establishments there and it's too dangerous to swim. We were able to enjoy a cocktail on a lounger on top of the wall but to our disappointment, no swim….. Mind you the mojito did help soften the blow of no swim :-).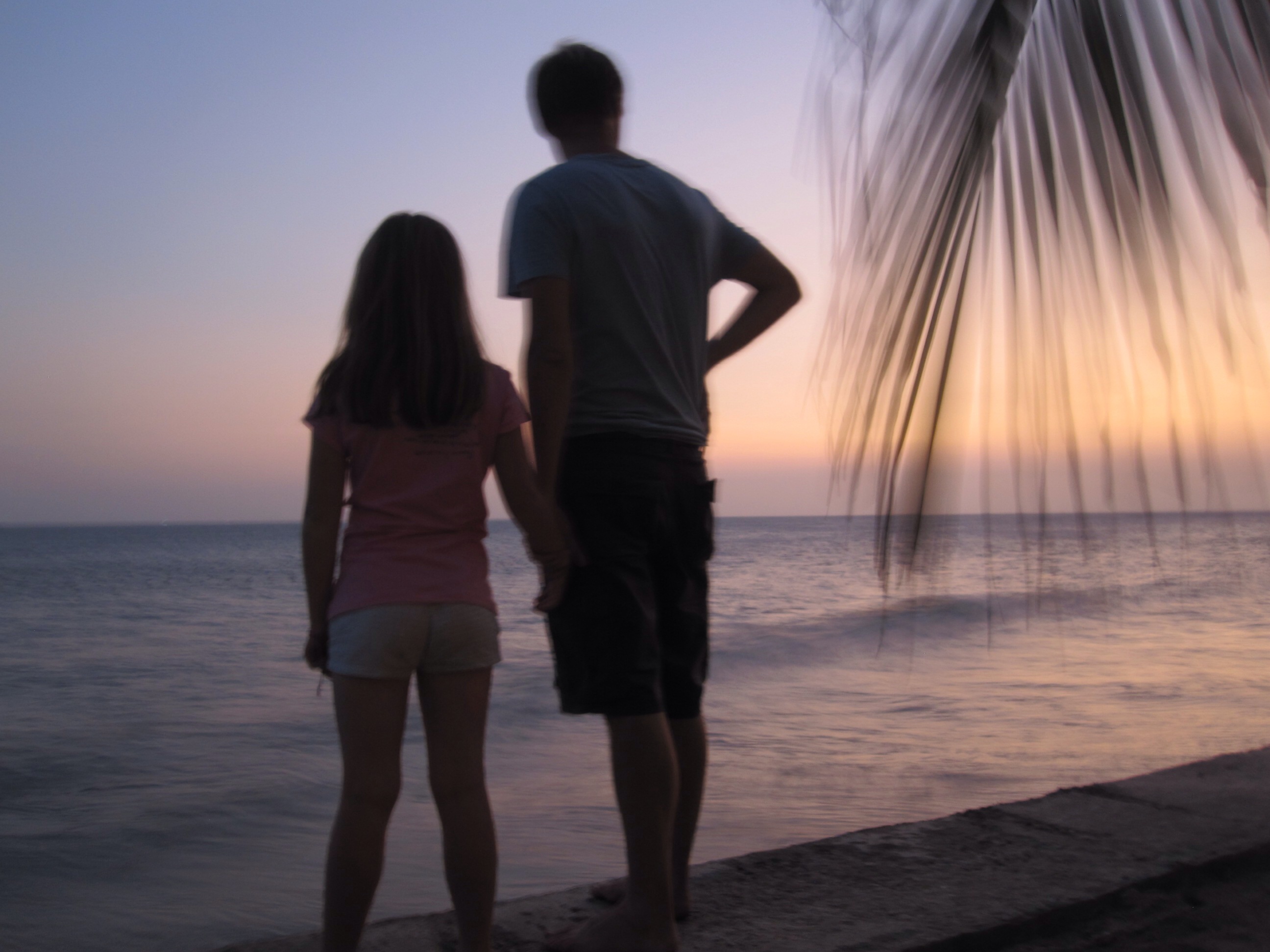 We caught a sleeper bus from Ho Chi Minh to Mui Ne. In Vietnam there are two different types of long distance buses; sleeper or sitting buses. They seem to be the only way to get around other than plane, train or motorbike. We had trouble finding standard public transport. At first we thought we were being ripped off by only being offered fancy tourist buses but that doesn't seem to be the case. And the buses are very comfortable. Sleeper buses are large coaches with 2 rows of reclined seats, one row on the ground at your feet if you're standing in the aisle and another at head level which you climb into.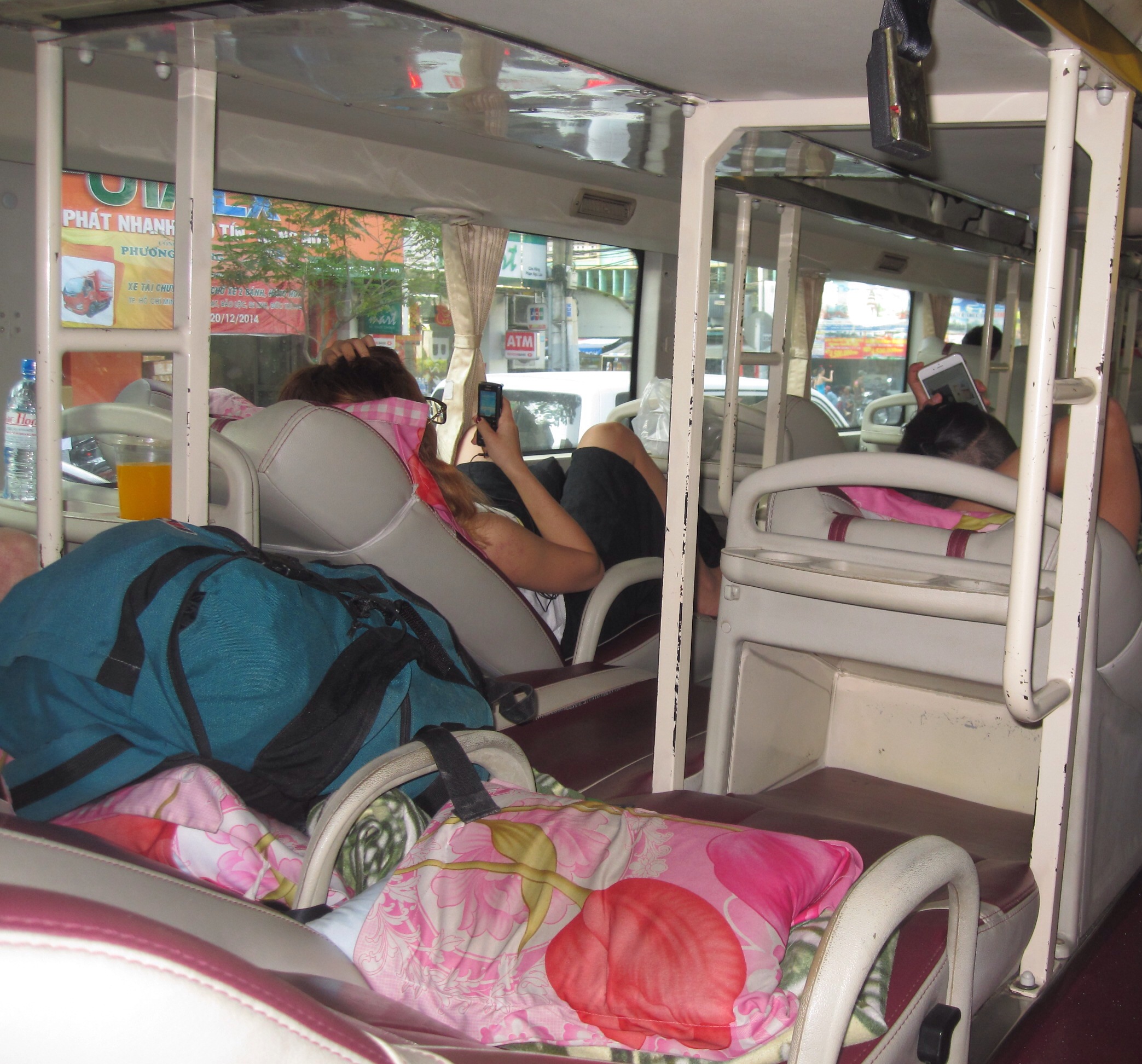 You're given blankets and pillows and the buses have toilets, wifi and sometimes a tv. They're super comfy once you manage to squeeze into your seats. They wouldn't be ideal if you were particularly tall, a bit of a squish in that case but for us, they were perfect.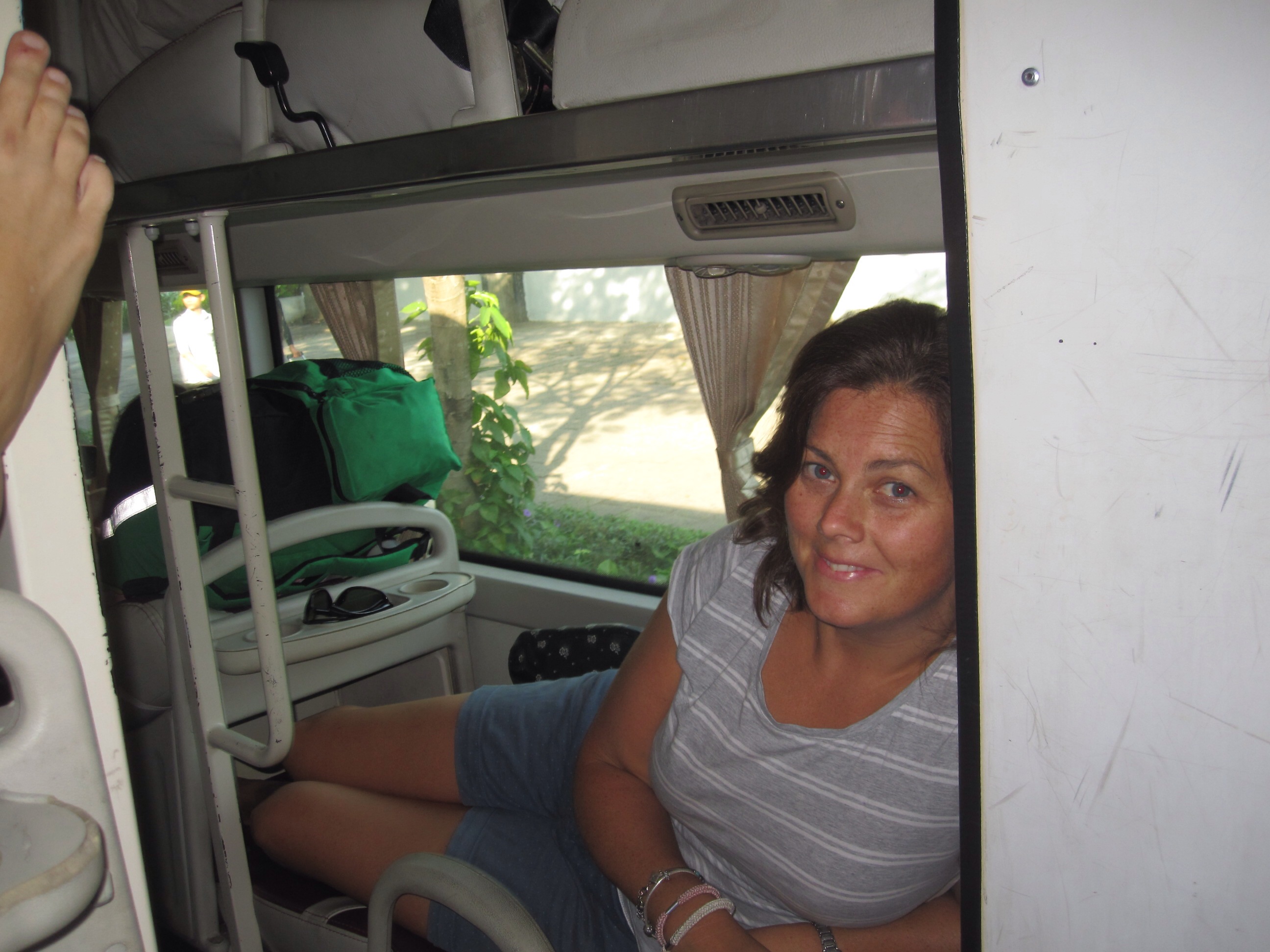 We bought 4 tickets at 120,000 dong each (just over €5 each) to accommodate the 5 of us. The plan was to squeeze Dervie in somewhere with the rest of us. This worked out fine as we ended up getting the back row which had 3 reclined seats together so 4 of us could easily squish into those.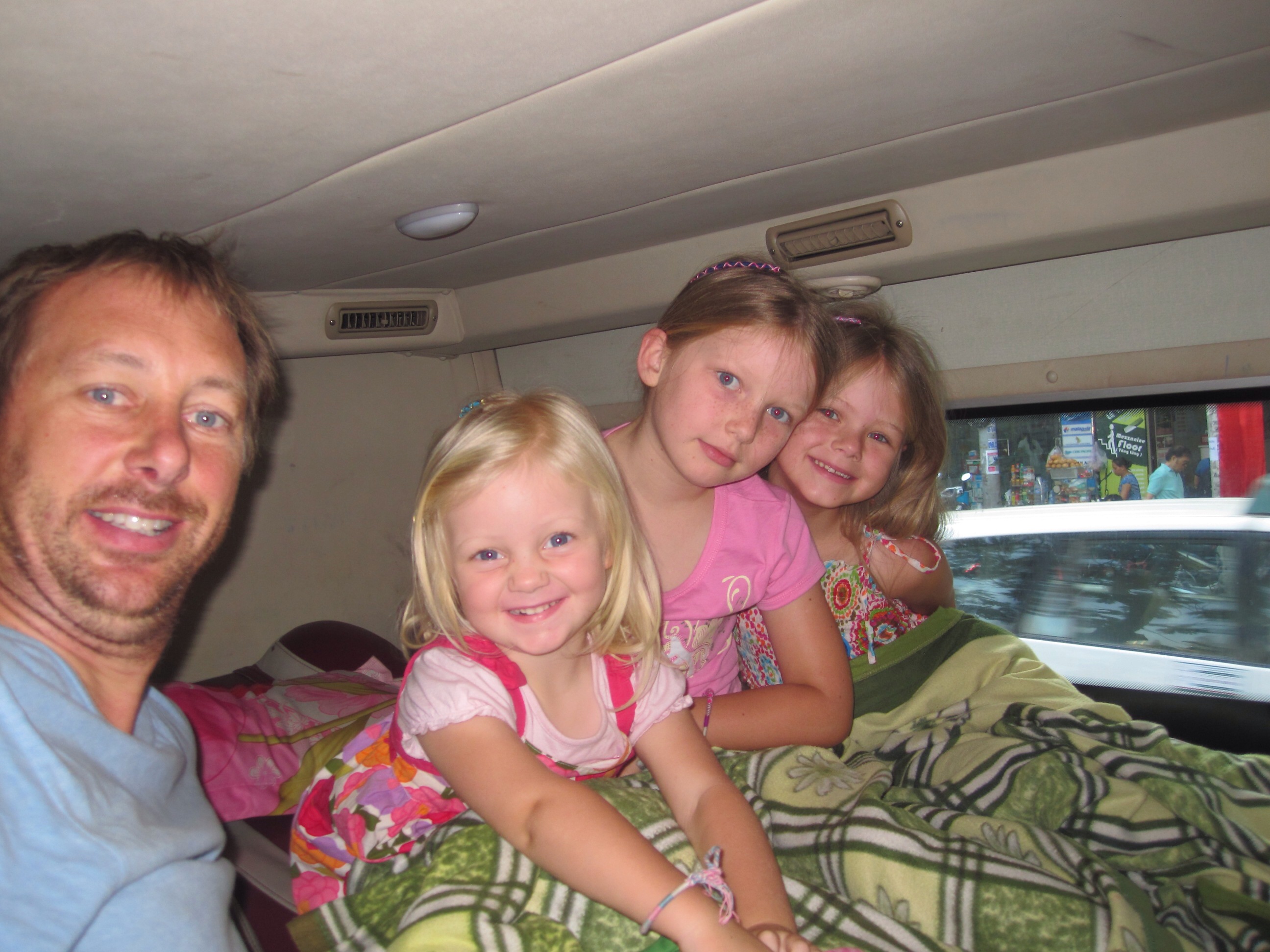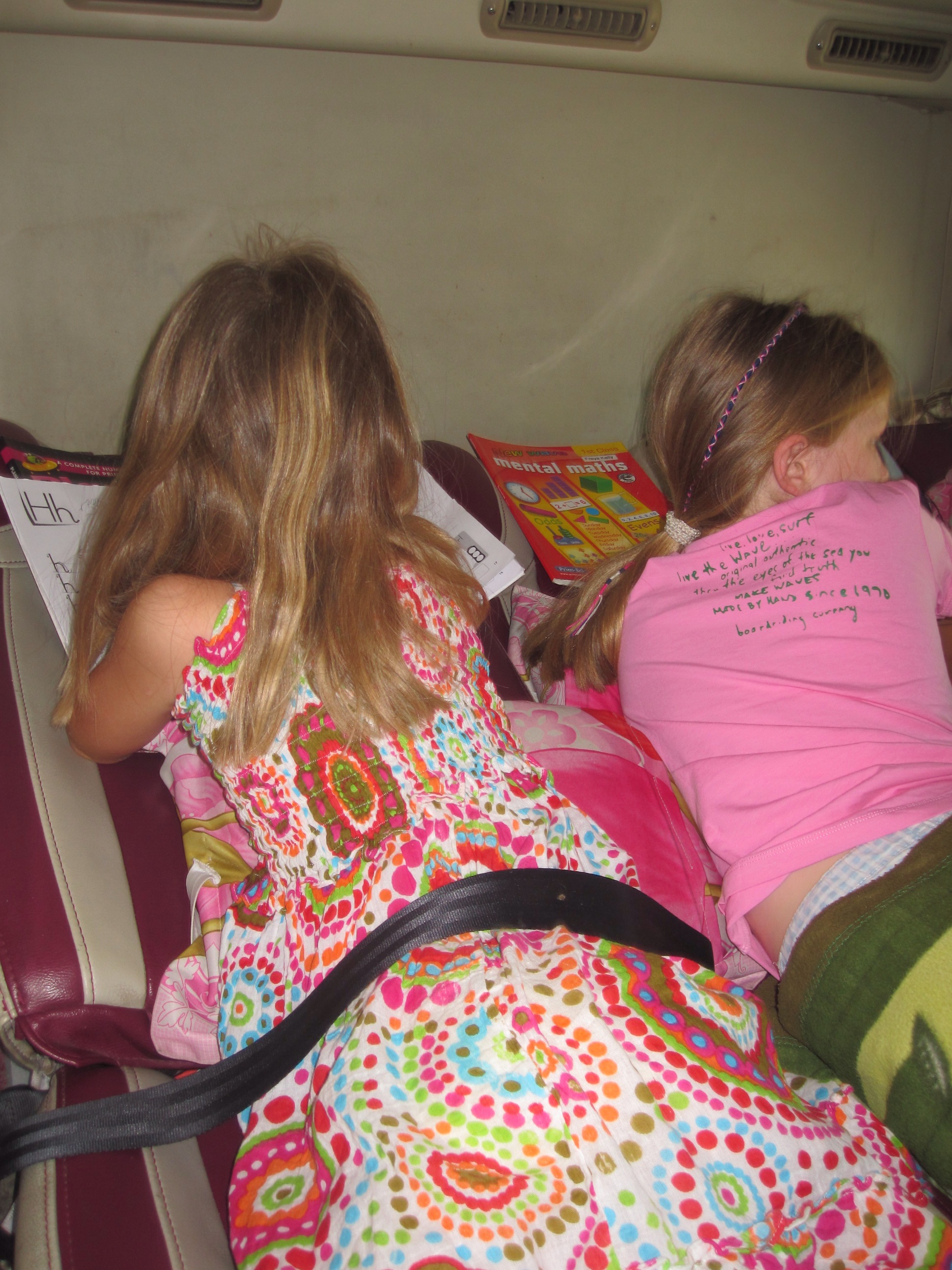 Our 4th seat was a separate (much coveted) single seat a row ahead. I started off sitting there and then was hit with a major bout of mothers guilt and swapped with Ro. I only lasted about 5 minutes in the lovely single seat. Lucky me squished in with the others and a 3 year old who wouldn't sit still :-). Still I wouldn't want to be anywhere else to be perfectly honest.
We weren't particularly impressed with Mui Ne. On arrival we wandered round the area to find a hotel. The Vietnamese people really weren't friendly there, it was as if they were just sick of tourists. It was a very Russian town with menus and signage all written in Russian and English. To give you an example of the unfriendliness you feel here; Ronan ordered a beer in the restaurant one night, there was only one other group there so it wasn't busy. He asked the waitress for a beer, she brought it down but left it at the far end of the table he was sitting at so he'd have to get up and walk around to get it. It was just rude. That's exactly the case. Even with the kids, we struggled to get a smile out if anybody which was a first for us. So no beach and unfriendly staff…. Was there anything to like here?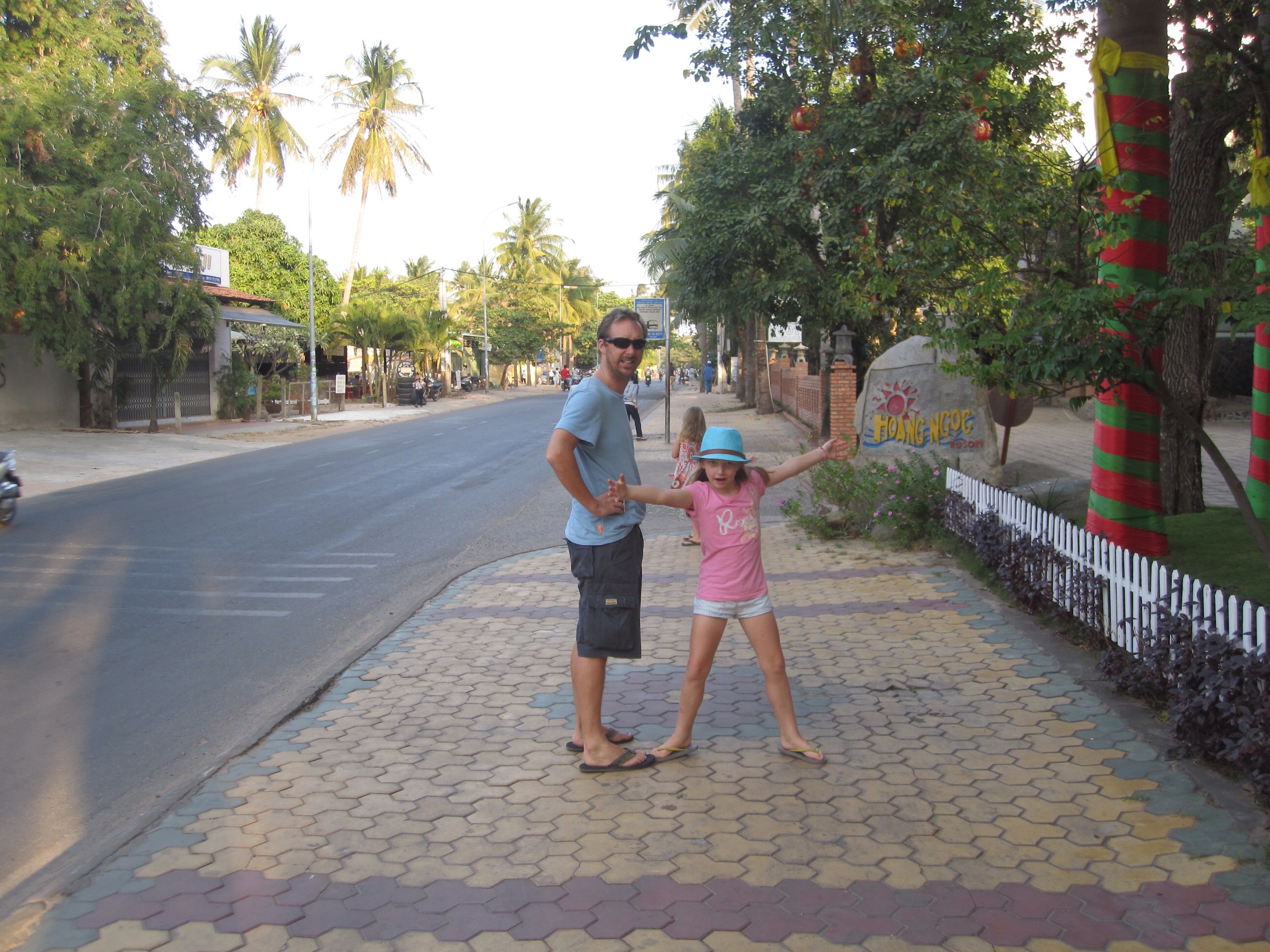 We did have some luck with our hotel. We found a really nice one with a pool on the main road called "Hai Yen guesthouse". It's positioned on both sides of the road with a snazzier hotel on the beach side. You can get cheaper rooms on the opposite side so that's where we were. It was lovely, our room was bright and airy with 2 double beds, a great bathroom and a small seated area out front. The pool had loungers and seating areas around it, it wasn't huge but perfect for us. We usually had it to ourselves.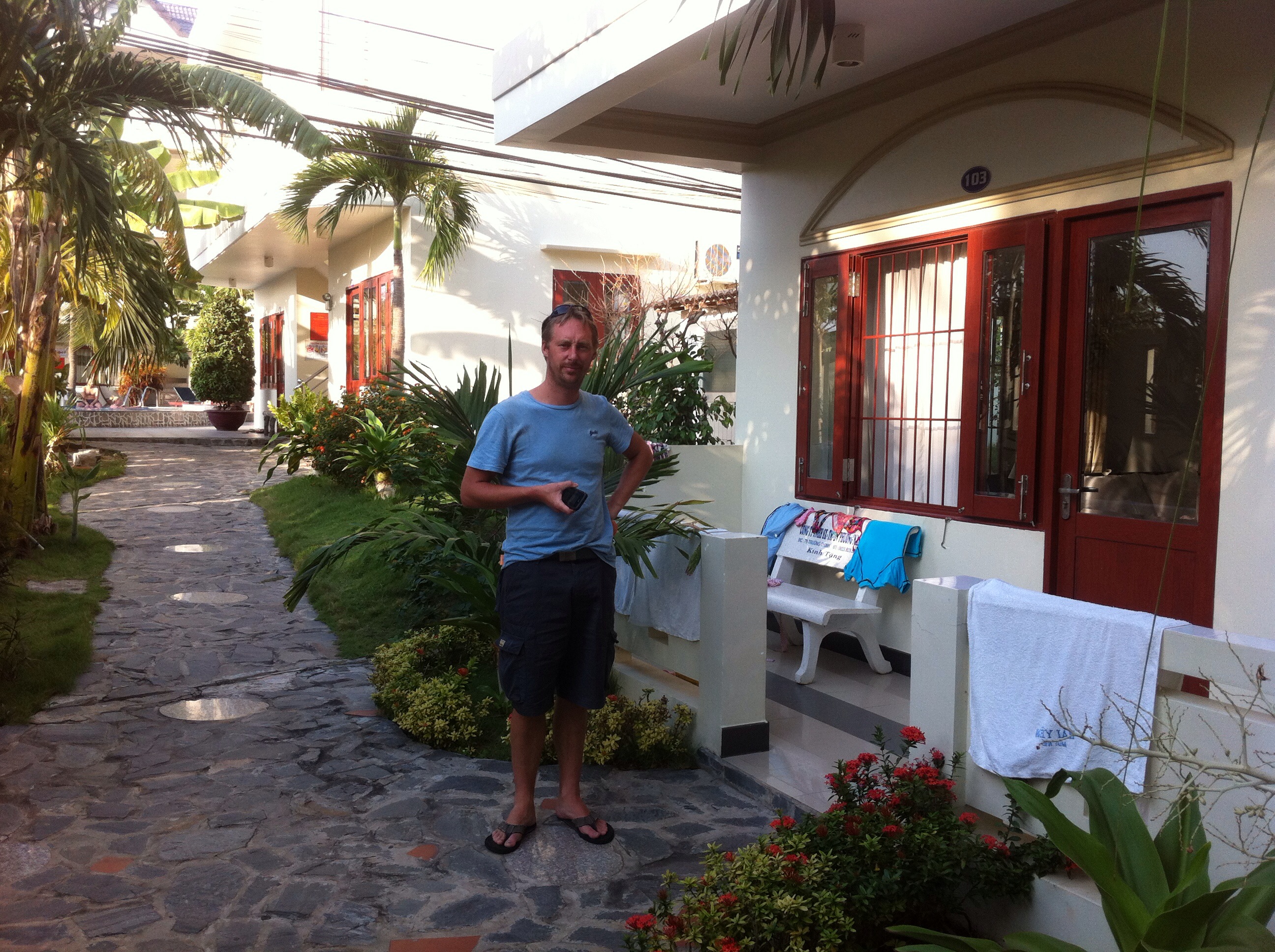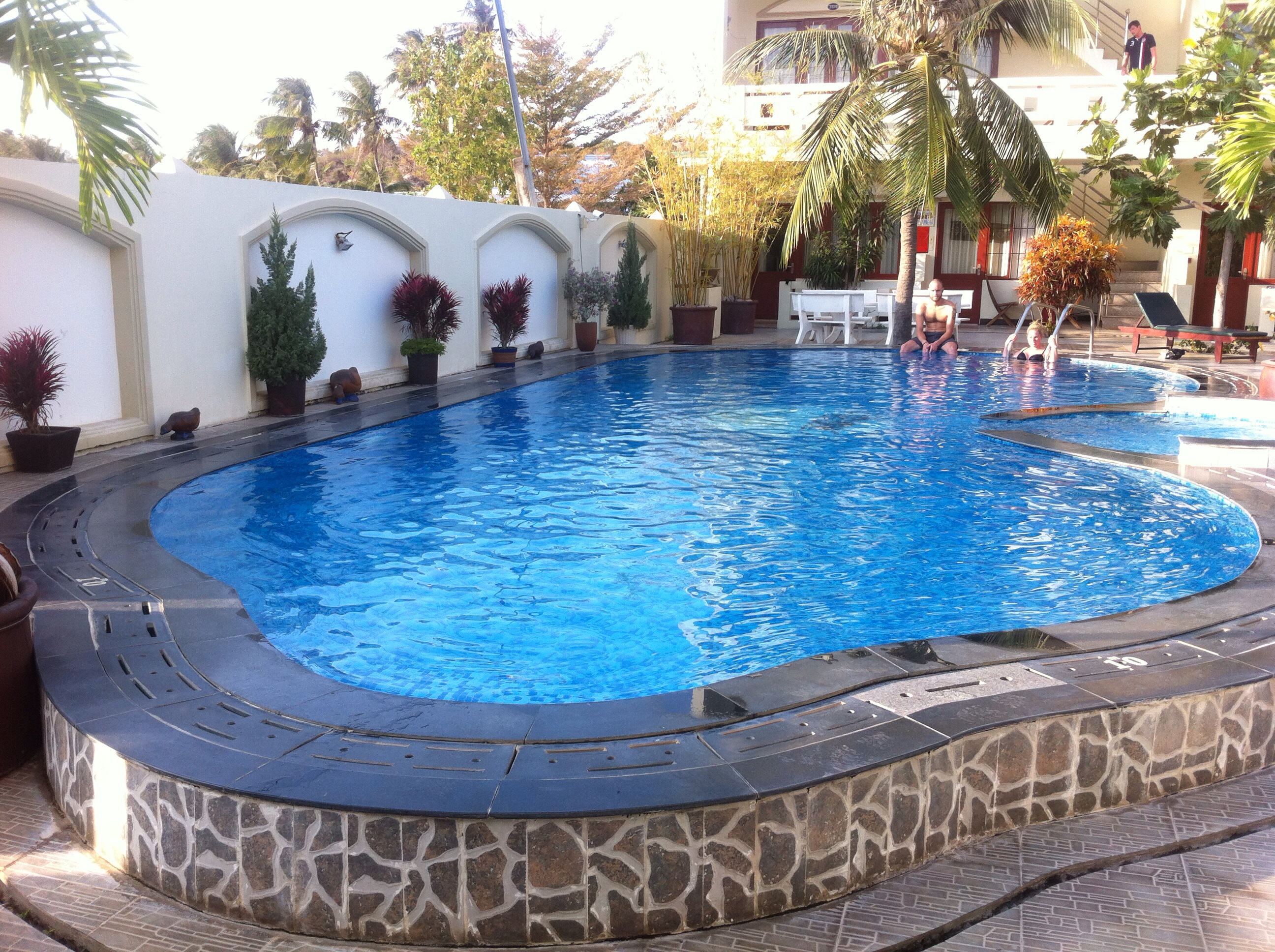 There was also a restaurant on site with good food but unfortunately pretty grumpy staff as I mentioned earlier. I bargained the room price down to one we were happy with and we parked ourselves up.
After a lovely cooling swim, we wandered off in search of something fun and went to see the fairy stream. It was a stream that ran through some amazing multicoloured rock formations making it look really quirky and fairy-like (hence the name). You walk along through the stream itself.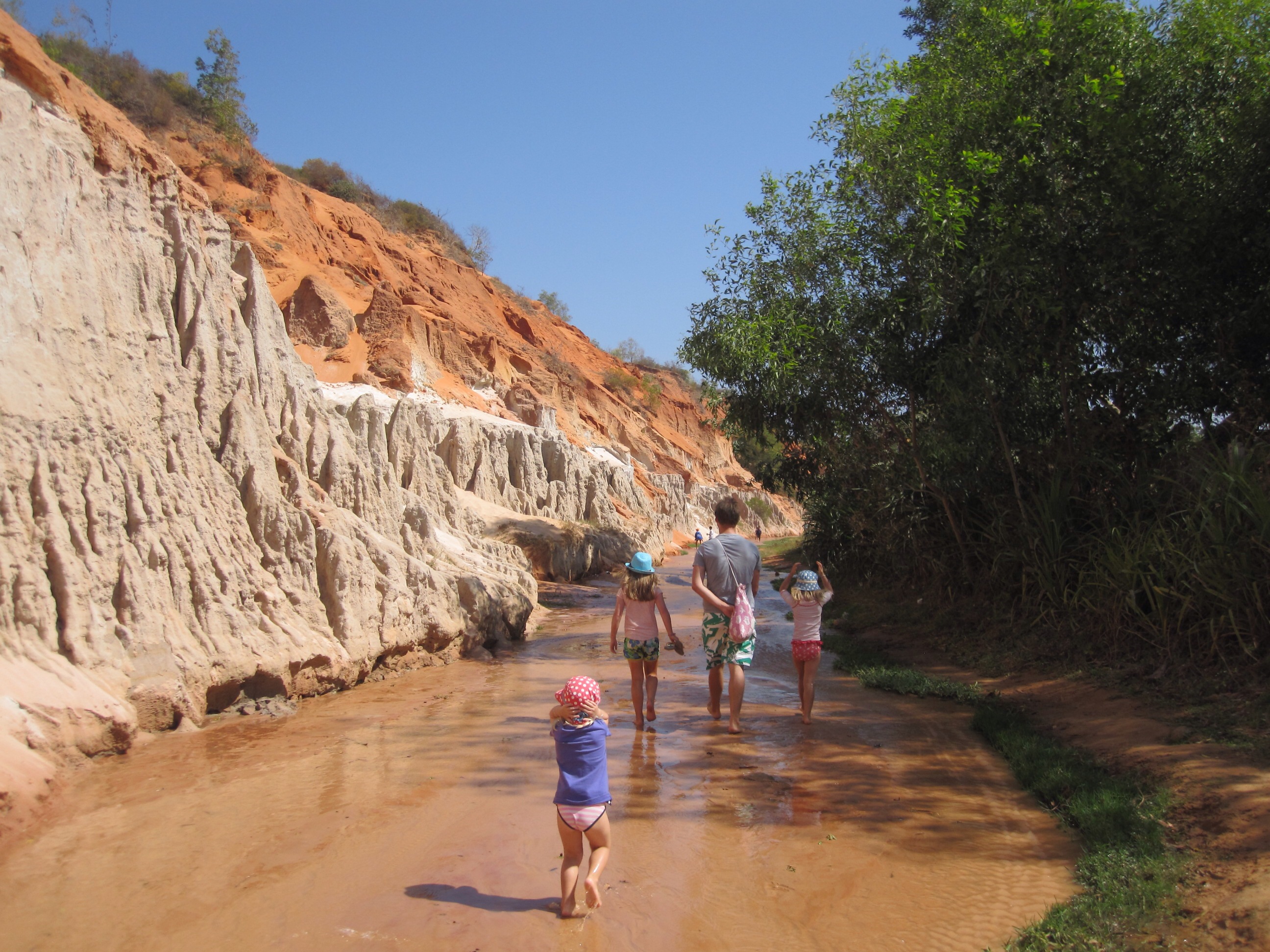 We figured the kids would love it. We caught a taxi on the street to bring us there and the taxi man pointed us in the direction of the stream. It was tricky to find, we followed some make shift signs which brought us through someone's gardens to enter the stream. As we came near 2 guys who had been sleeping in hammocks jumped up and approached us looking for money to enter the stream. It wasn't much, a few thousand dong each but the way they demanded it was so aggressive that we really didn't want to pay. They were also demanding each of us pay when usually we'd get the kids in free to most things, definitely the smaller two anyway. We refused, they wouldn't let us pass and we went back to the road to see if there was another way in. We saw another taxi drop people off but at the other side of the road to where we'd been dropped and sure enough there was a big sign there and path into the stream with no charge and no scary aggressive people blocking the way. We walked on apprehensively wondering what would happen when we came to the spot where the men were. But they just ignored us and pretended as if nothing had happened earlier. The encounter did leave us with a very sour taste in our mouths.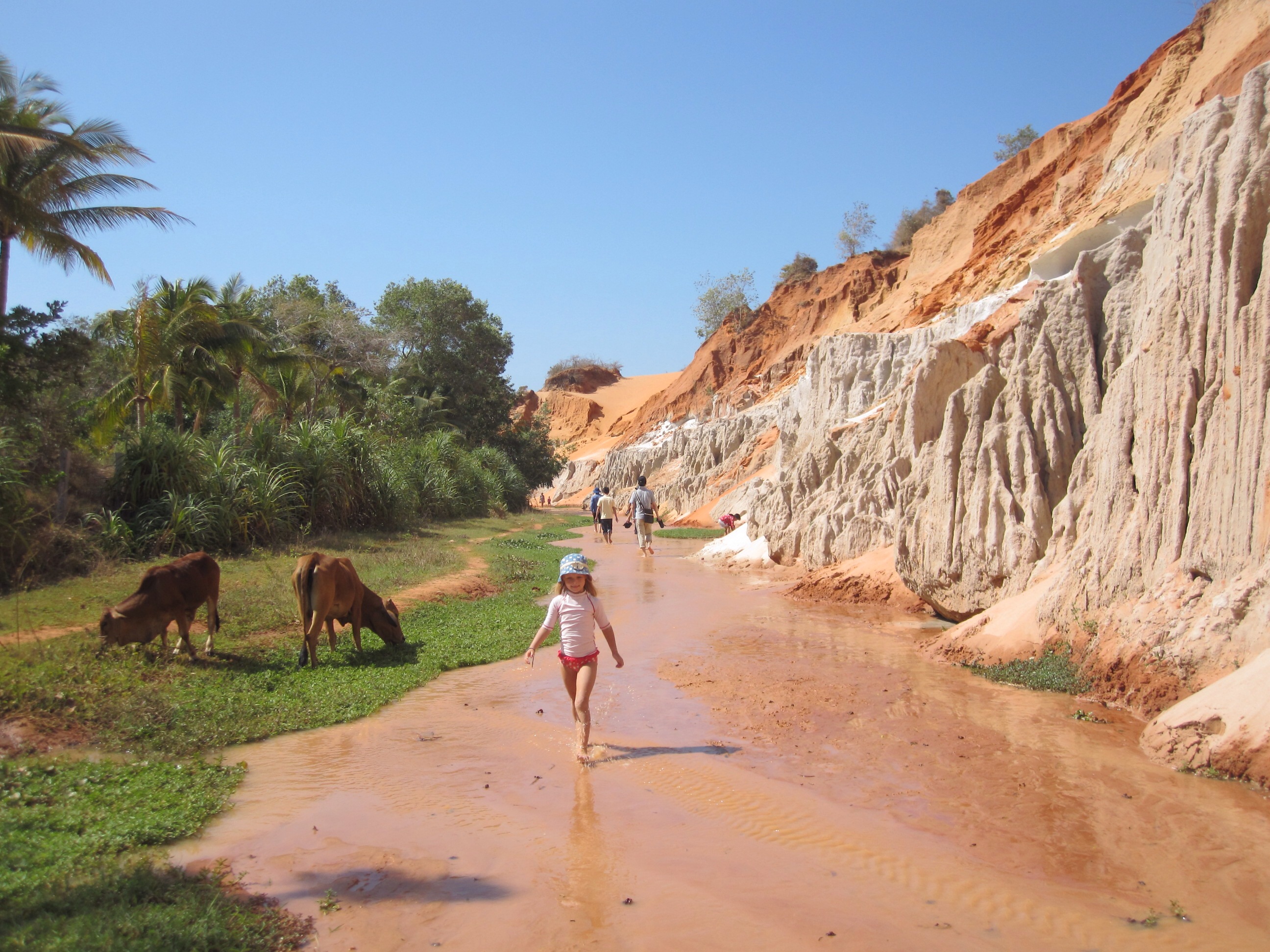 The stream was nice, the water itself wasn't the cleanest and there were a few sharp rocks so you'd be better in shoes. I kept thinking of leeches as my colleagues in work when I was leaving loved telling me horror stories about travellers getting leeches stuck up their noses in Vietnam. I'm happy to say we didn't come across any but it didn't stop me checking every 2 minutes!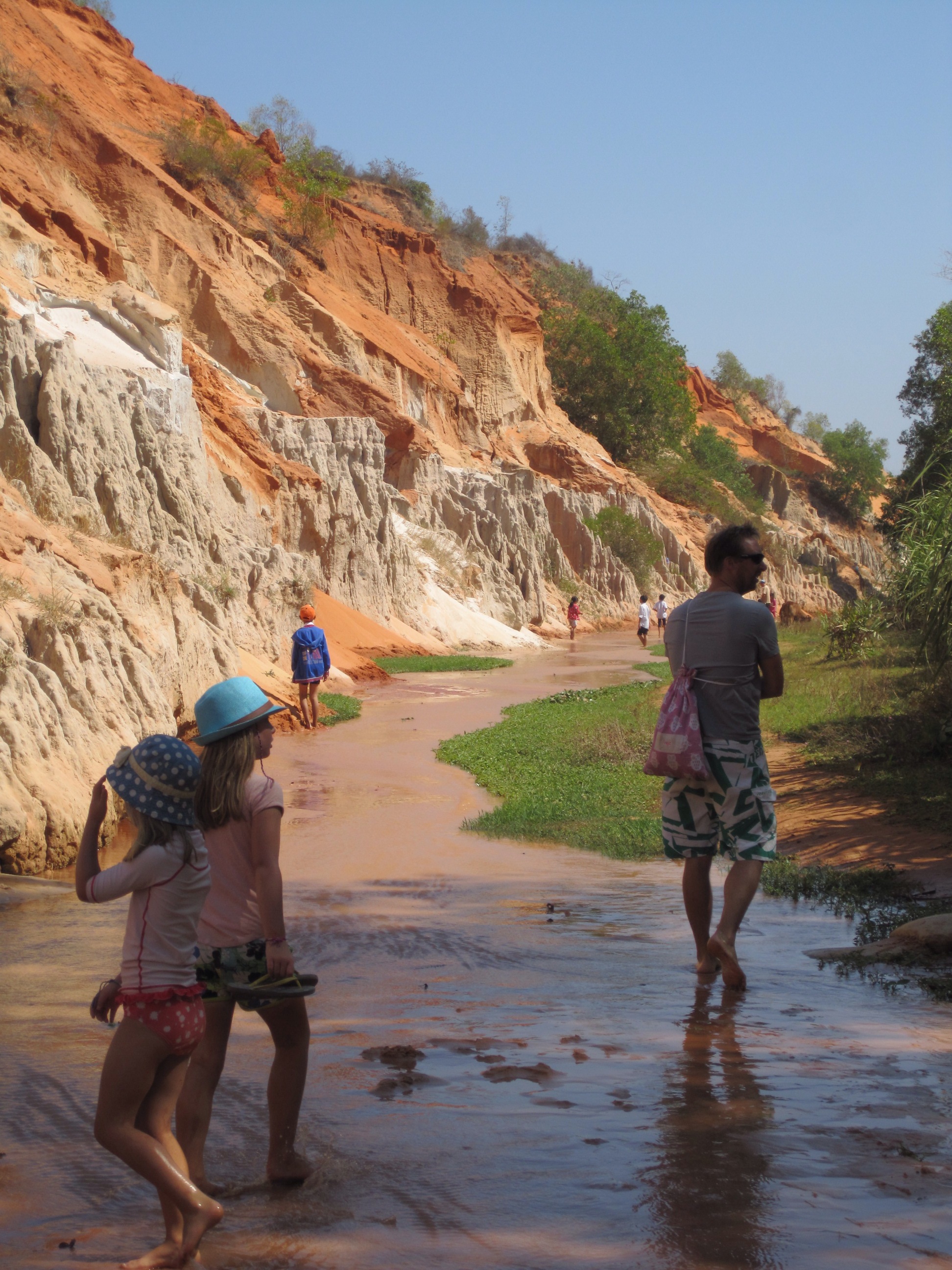 The dunes and rock formations on either side of the stream are spectacular. The kids had a ball climbing up and running down the dunes.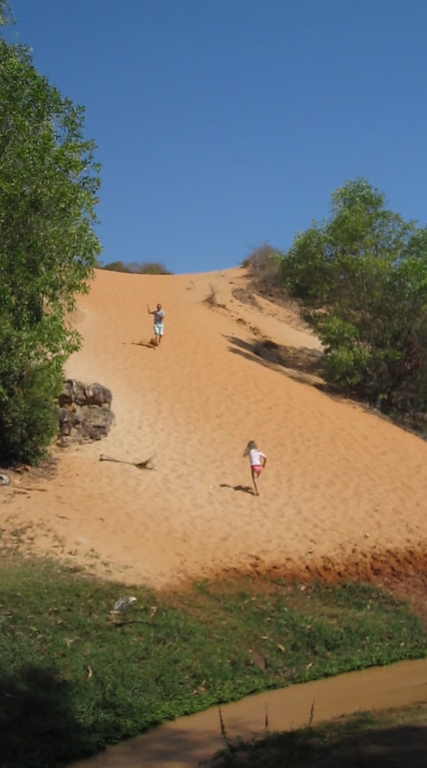 We were joined by gangs of kids on their way home from school asking "what's your name?" Charming the first time they asked, pretty irritating on the 20th time :-). The fairy stream is definitely worth a look if you're in Mui Ne, nothing spectacular but worth a look.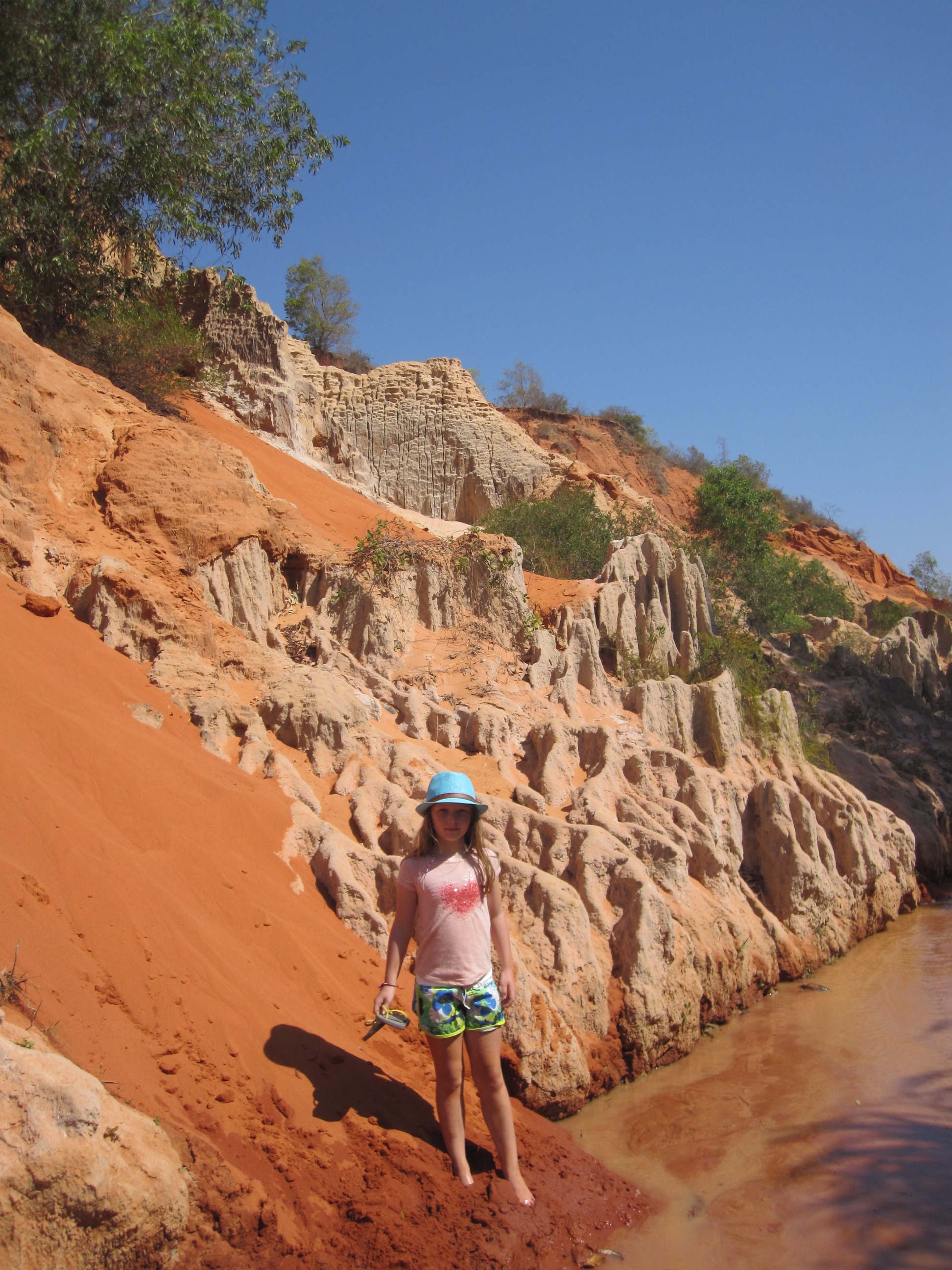 Mui Ne is famous for sandboarding down the dunes. There are these amazing white and red dunes where you can do it. We didn't actually go, I'm not sure why cos we love throwing ourselves down an old sand dune. I think it was hot and we were generally grumpy and disillusioned with touristy things there so instead we got a taxi out of town.
We went and found the beach, we were trying to find the kite surfing beach as Mui Ne is also famed for kite surfing. Somehow we didn't manage to find it and ended up in a beach just on the outskirts of town. It was nothing to write home about, not very clean and the water had a lot of rubbish in it. I think we were spoilt in Sri Lanka.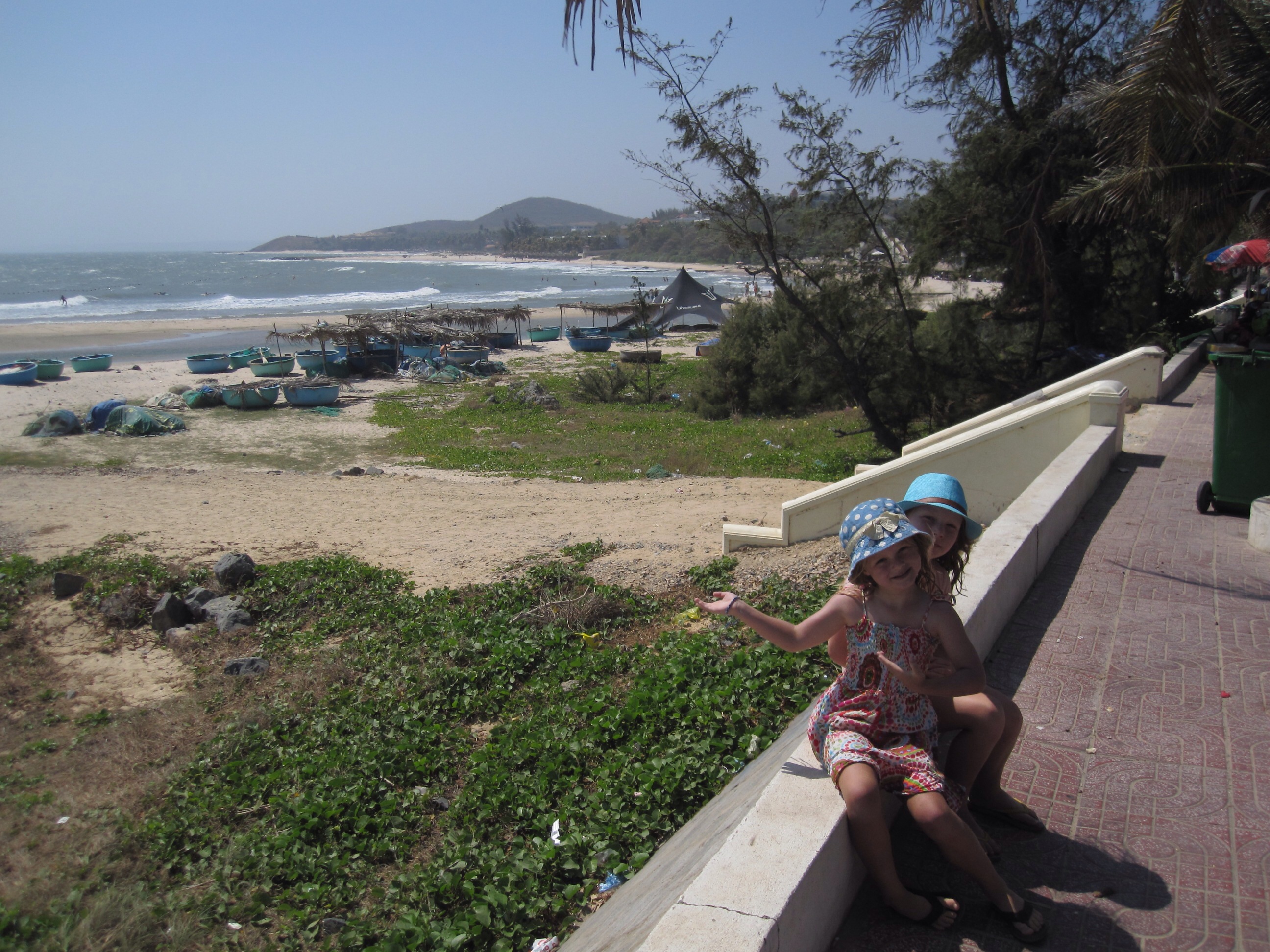 Ronan rented a surfboard but there wasn't a lot to catch. You can see we weren't having much luck in Mui Ne in general :-).
He brought us to the outskirts of town that evening where he'd seen some simple restaurants in a row. We picked one which had some live music from a three piece band. The guy playing the hand drums was very funny, a real character, if you held up a camera in front of him, he'd start doing a crazy dance. Highly entertaining!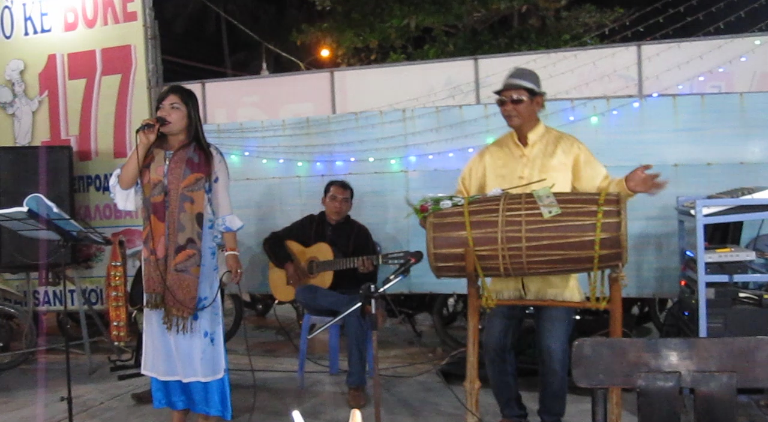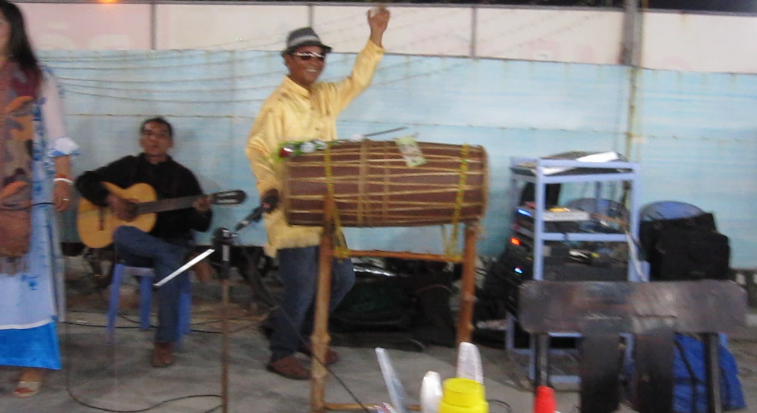 We had a great meal there of BBQ and fresh Vietnamese spring rolls.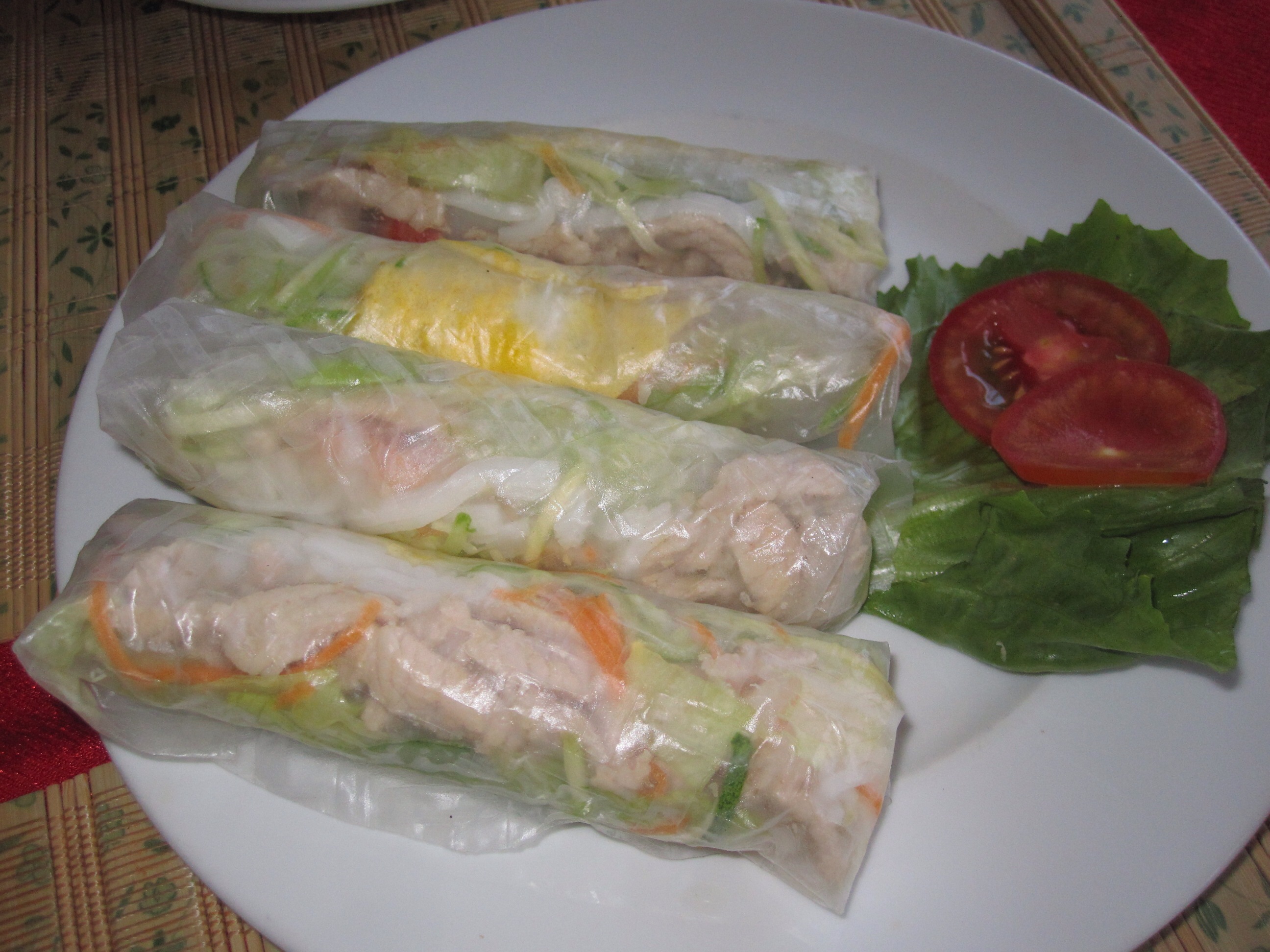 Lots of choice on the menu including snake, scorpion, crocodile and turtle. Mmmm no thanks.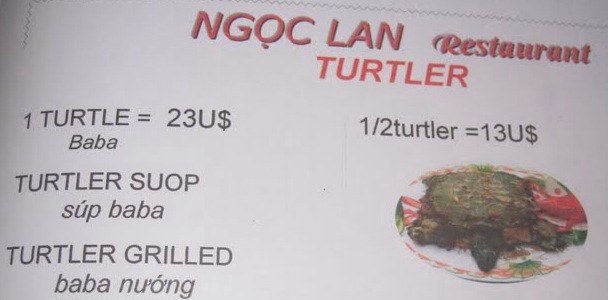 They even have the poor live turtles in tanks outside the restaurant. Horrible :-(. I wanted to free them all!
We were walking home after the restaurant and spotted a large hotel with a very cheesy jungle show on. We dragged Ro in for a nightcap and ice cream.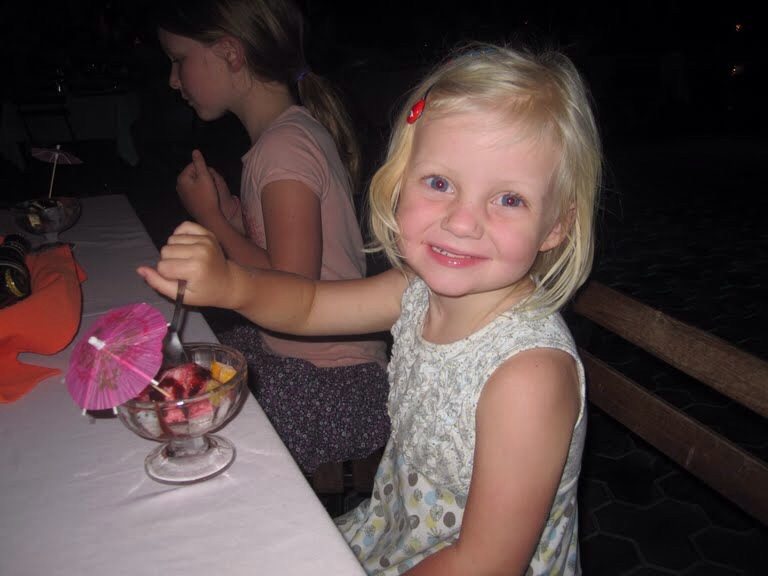 It was great, completely cheesy but very entertaining. Basically a variety show of different performances from singing to dancing to acrobatics and fire shows. The kids loved it.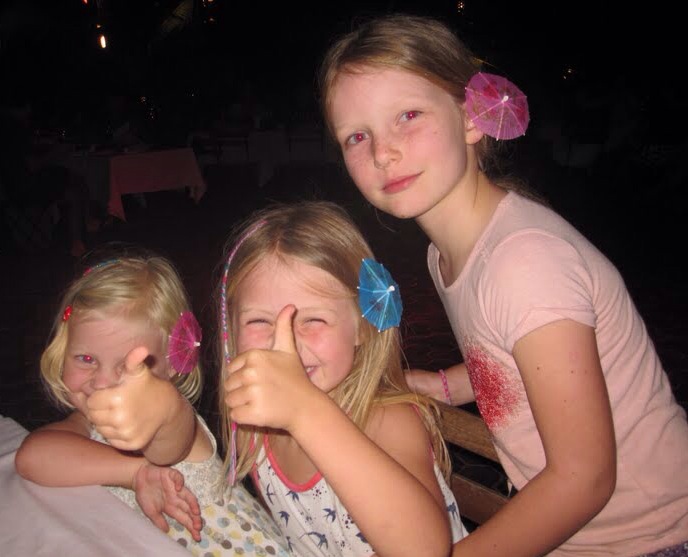 We noticed on the way out that there was a big playground near the toilets, would be worth remembering if parents fancied a quiet drink while the kids played away. The next day was Dervie's birthday. Goodbye terrible 2's and hello terrific 3's! Fingers crossed…..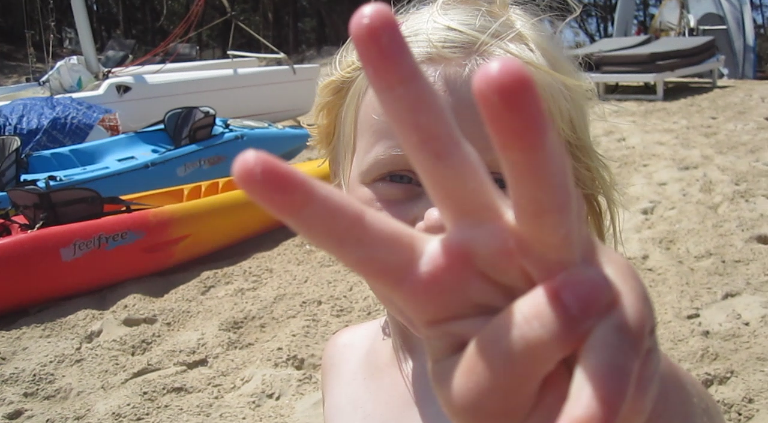 We had a pretty exciting morning with balloons and pressies to open.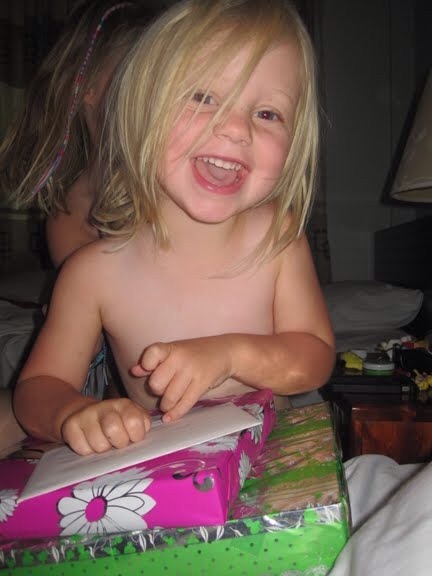 And then we set off to explore, I'd read about a bit of a gem of a place called "Jibes beach club" on a secluded beach about 8km out of town. It sounded great so we thought it would make the perfect birthday treat to spend the day there.
We stopped off on the way there to explore the fishing village in Mui Ne. There wasn't a huge amount to do or see here but we were glad we stopped. We walked down to the beach and it was pretty filthy. It was full of debris left by fishermen after a days fishing. The thing you noticed was that the beach was jam packed with shells. Piles and piles of them. We'd never seen anything like it.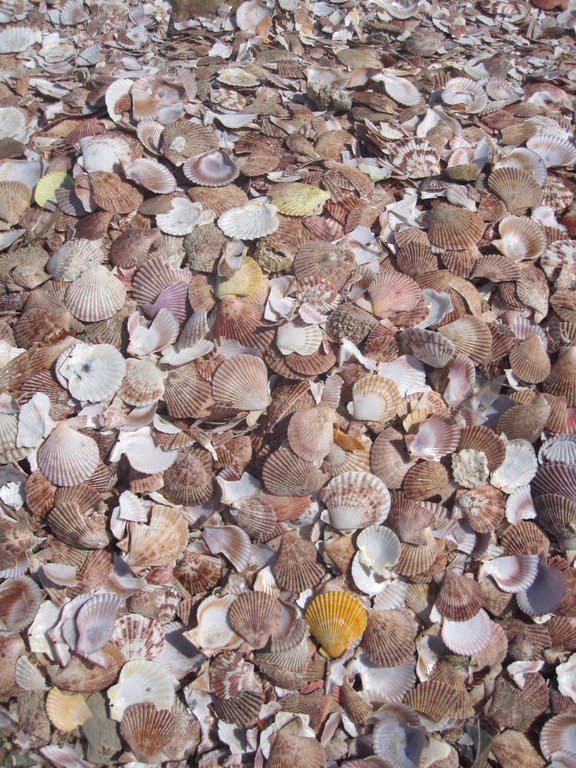 The girls were in their element collecting shells in every colour. Beautiful yellows and purples and reds.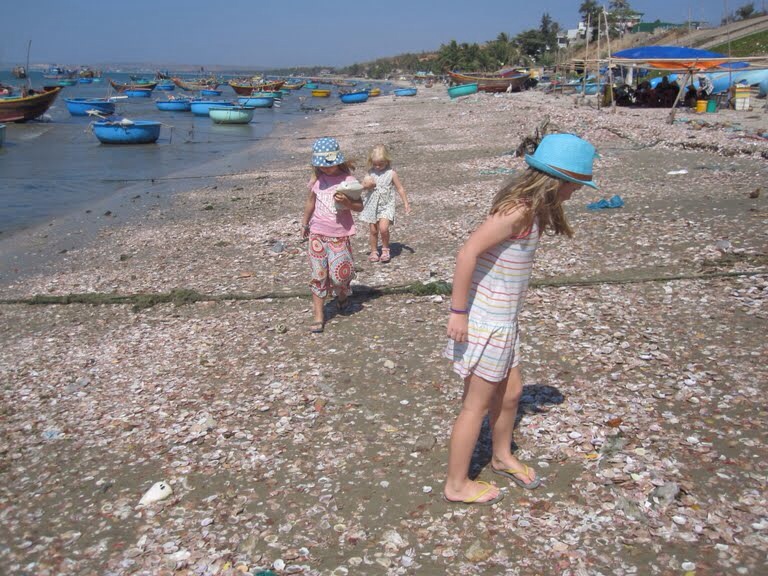 They must have been brought in with the fishing nets and dumped on the beach. It seemed a shame to me that something couldn't be done with them.
The boats moared here were beautiful. The Vietnamese paint their boats in really bright colours. They look lovely against the blue sea.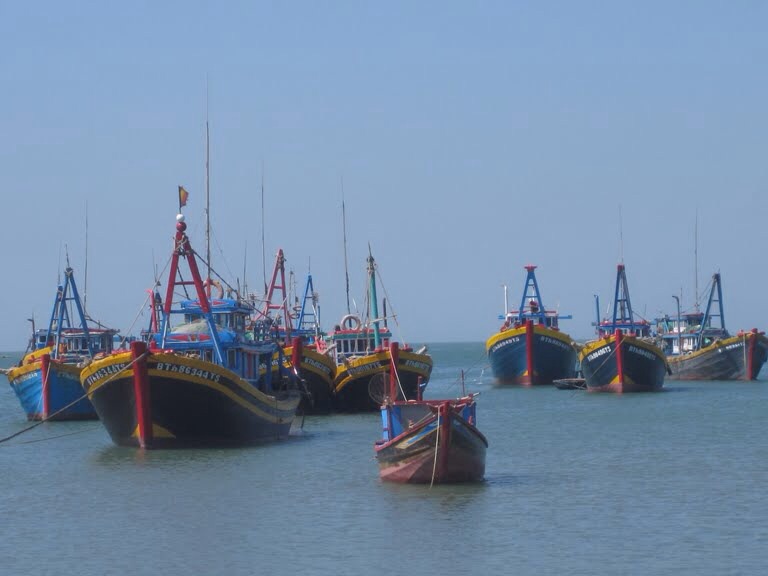 They also have these amazing circular boats which they use to ferry themselves to and from their bigger fishing boats. You have to row them in a very particular way (ferry glide) to go in a straight line otherwise you just keep going round in circles. I know this because I've been the one going round in circles :-). You can see some of the boats below.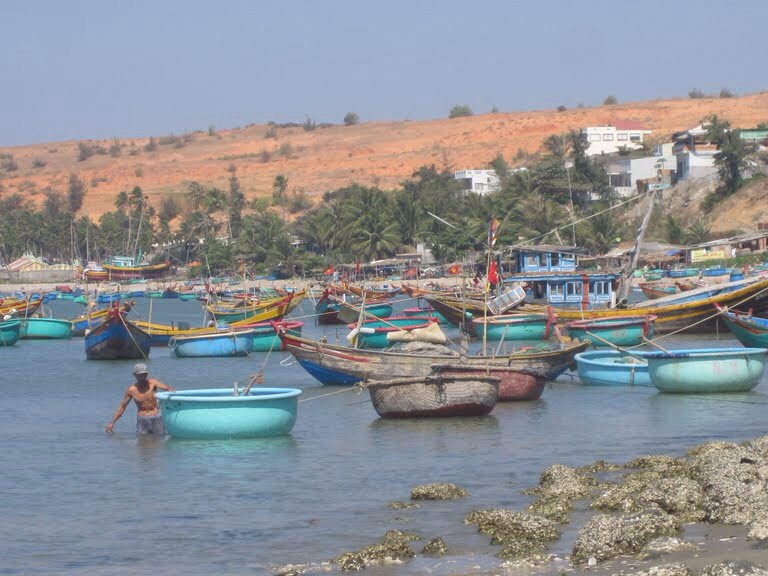 With the girlies pockets filled with shells, we headed off back up to the village. We waited for a bus for a while in town but no sign. A few men offered us a spin on the back of their motorbikes but we declined thinking there were too many of us. Then we spotted this family and realised we'd fit right in.


We then caught a taxi to Jibes, it was a fair hike out so pricey. Looking back we would have been sooo much better renting motorbikes but at the time we were a bit scared at the thought of piling us all on bikes. Jibes beach club is a hotel and restaurant on a really beautiful beach. Below is a picture of the main restaurant from the resort and there's accommodation across the road. Apparently they do great mute surfing lessons. It seems you can book packages through them which include lessons.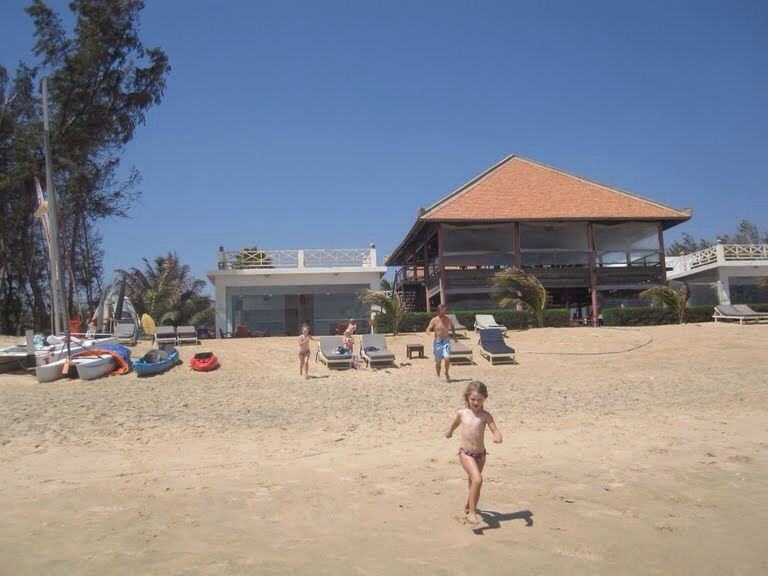 The beach Jibes is on is beautiful but the area in General is a bit strange. There are loads of resorts which are now derelict along the sea front. It's as if there were big plans for the area but they never quite materialised. Either that or it's up and coming… Still we were happy out having the beach to ourselves enjoying the waves.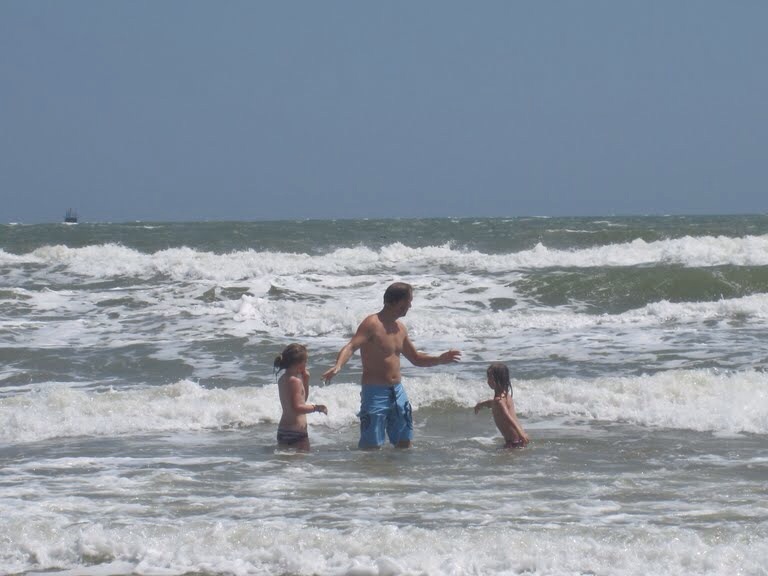 We spent a lovely few hours at Jibes chilling out with the beach completely to ourselves.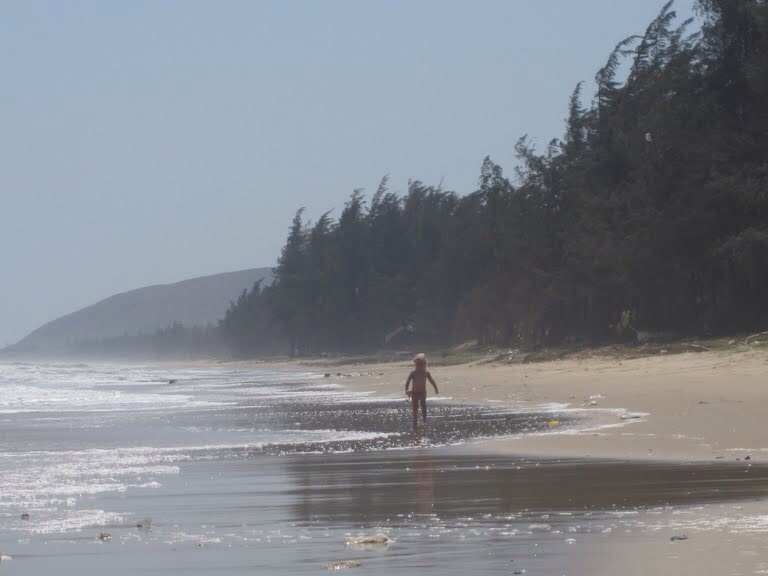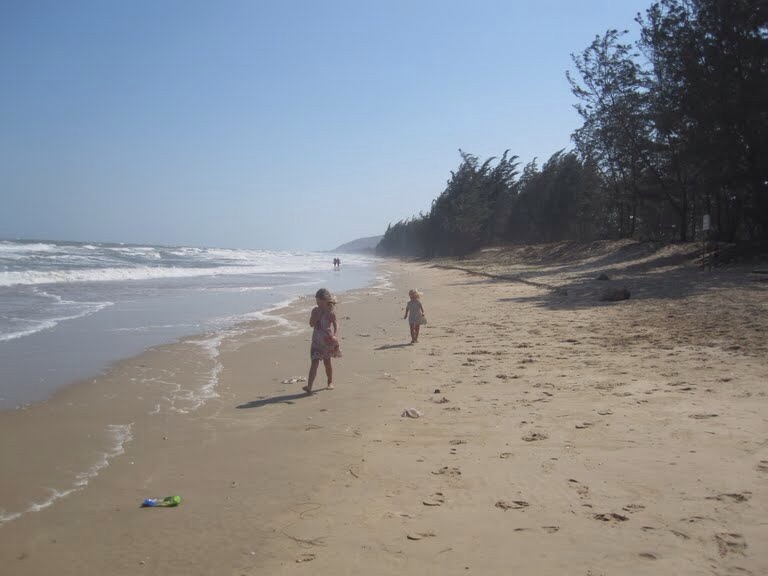 I think one couple walked by us at one stage but that was about it.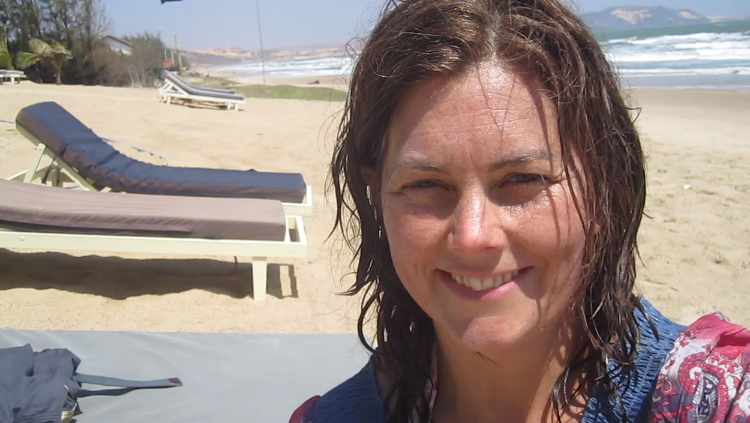 We had a delicious, although not so healthy lunch of pizzas, burgers and chicken nuggets in the restaurant at the resort. Have to say though the food may have been a bit unhealthy but boy did it taste good!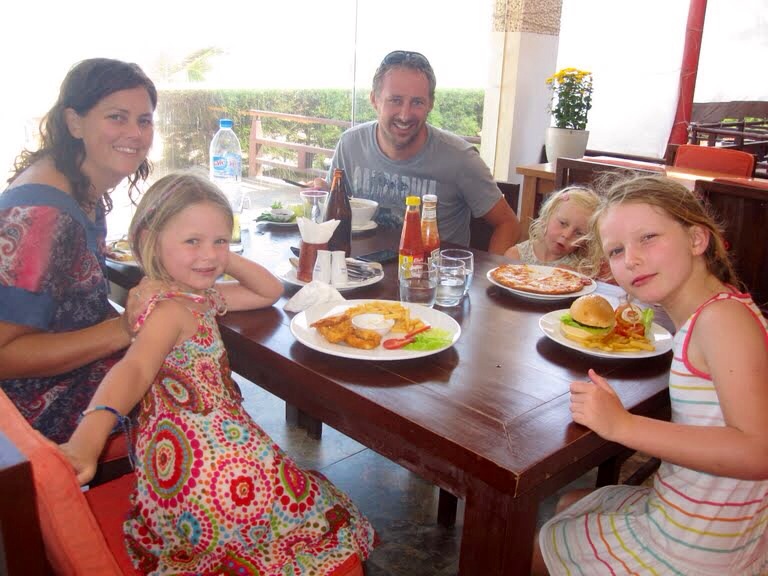 That night we went out to a seafood restaurant which like many in Vietnam displays it's wares on the street.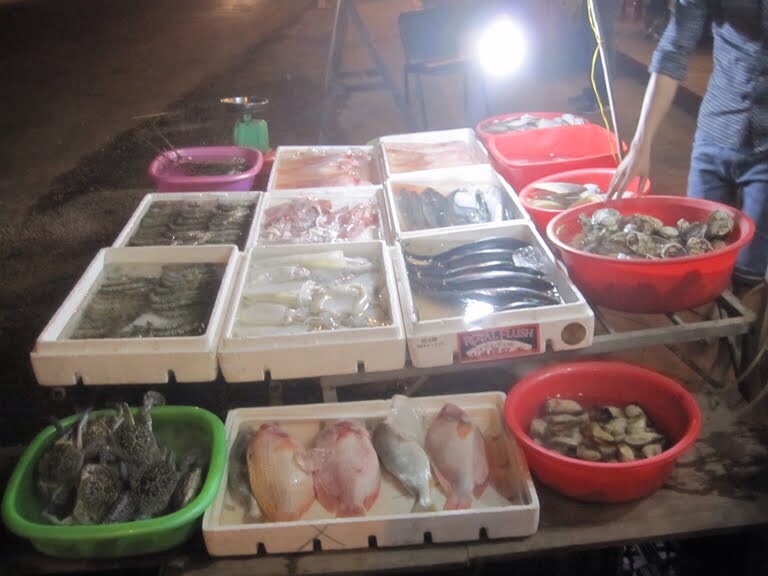 I think the best part of the meal for Dervie was the piece of chocolate birthday cake at the end.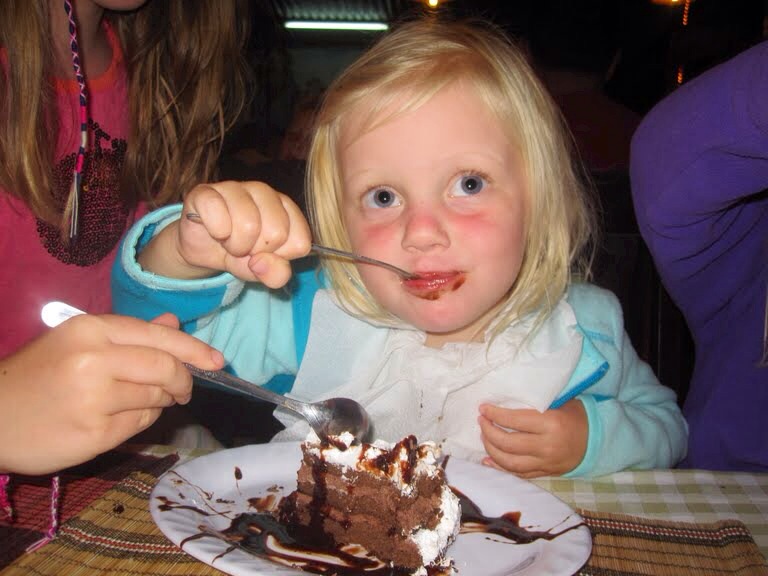 It didn't last very long.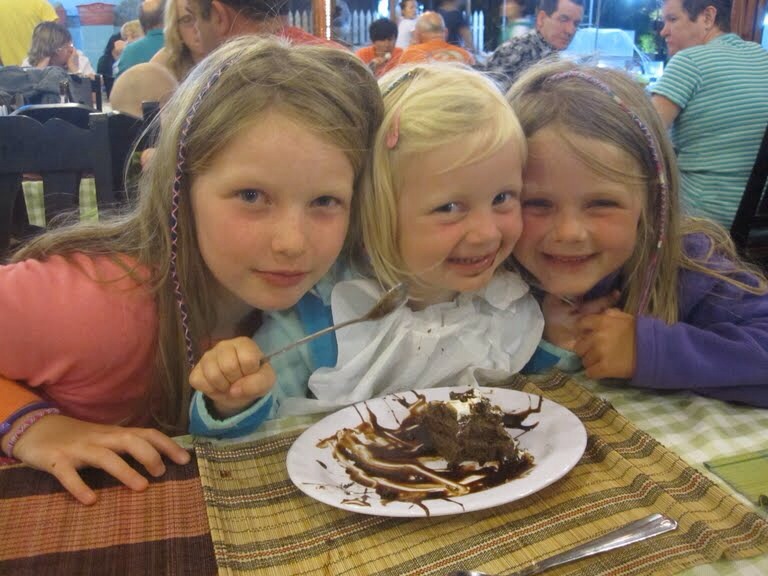 Still it was a nice way to round up the few days in Mui Ne. Think we were all ready to move on at this stage so the next day we were due to catch a bus to Dalat in the highlands, hopeful that we'd like it a little bit more….