After 2 months of busy, full on travelling in Sri Lanka and Vietnam, we decided we needed to chill for a bit. And what better way than to spend a few weeks island hopping down the West coast of Thailand. We started in Krabi and the goal was to hop from island to island to Langkawi in Malaysia. We weren't sure how possible that ŵould be but it turned out to be completely doable. The only obstacle was that transfers between islands can be pricey. So that meant we spent a little longer on some islands rather than hopping more regularly. Think we did pretty well in general though, we stayed at 5 islands; Railay beach (not quite an island but only accessible by boat so nearly :-)), Koh Lanta, Koh Mook, Koh Bulon Le and Koh Lipe. Our plan was to avoid the majorly touristy islands like Koh Phi Phi and Phuket, we'd heard that they had gotten very commercialised since the Tsunami in 2004 so wasn't really what we were looking for. Here's a map showing our route from Railay to Langkawi.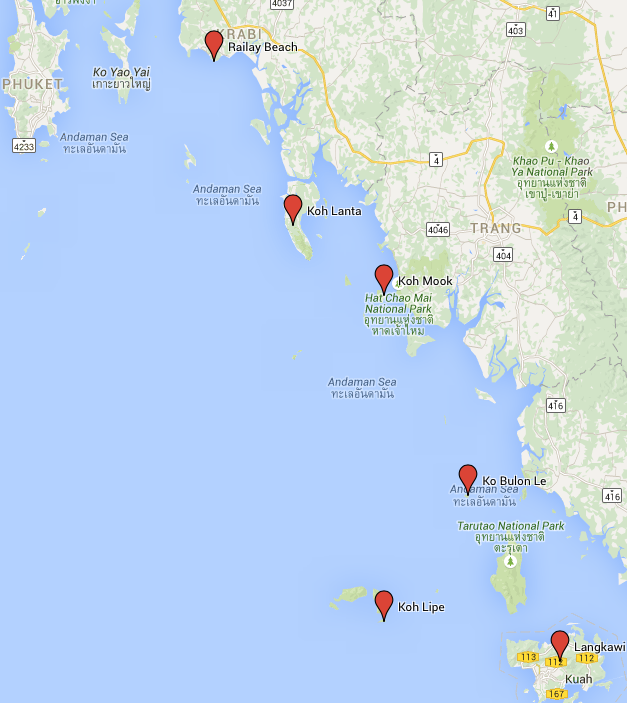 We found an invaluable source of information in a website called Travelfish.org. It's like an online guidebook for anywhere in South East Asia. It's got really accurate, updated information on the Thai islands. Admittedly the prices can be a bit off but for great reviews and locations of lodgings, we found it absolutely brilliant. You can download PDF books for free on destinations too. Everybody we met seemed to be talking about it, it's a really great site.
The first thing which struck us about Thailand was that it was a lot more expensive now than we remembered from travelling in 2000. Admittedly that was 15 years ago so I guess things are bound to change but we only managed to find one island, Koh Bulon Le, which was as cheap as we remembered.
Our starting point was a flight, well actually 2 from Hanoi in Vietnam to Bangkok and another from Bangkok to Krabi. We flew with Air Asia, you can get amazingly cheap deals all over Asia with them. They're like the Ryanair of Asia. It's often cheaper to fly then catch a bus or train and so much faster. If you were considering a trip to South East Asia, you could in reality find the cheapest flight into any country and then hop on an Air Asia flight to your chosen destination.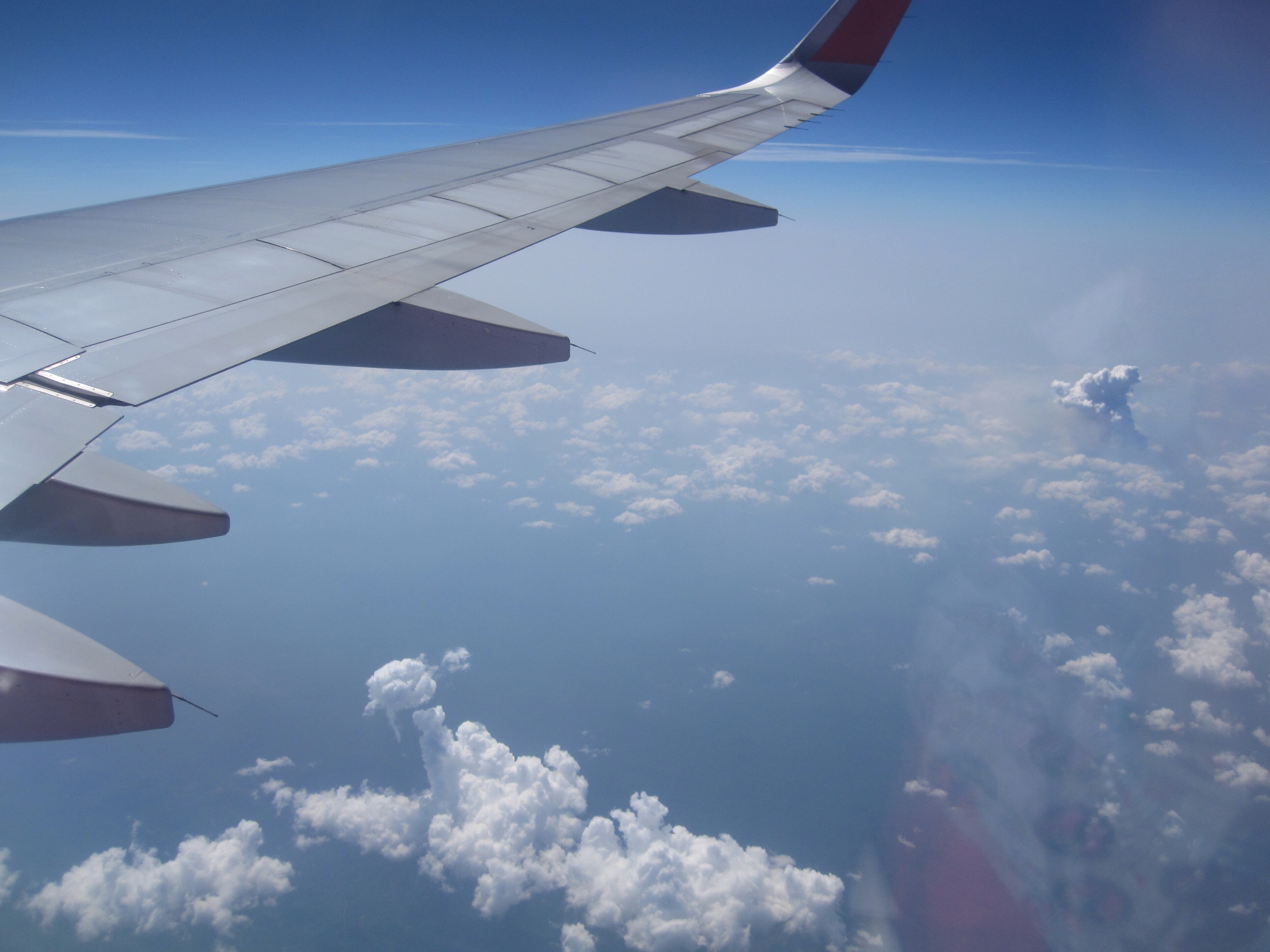 We caught a taxi from the airport in Krabi to Ao Nang where we knew we could catch a longtail boat to Railay beach. The drive to Ao Nang is beautiful. Krabi's a gorgeous area, all sea stacks and limestone outcrops. The landscape is so dramatic! Amazing.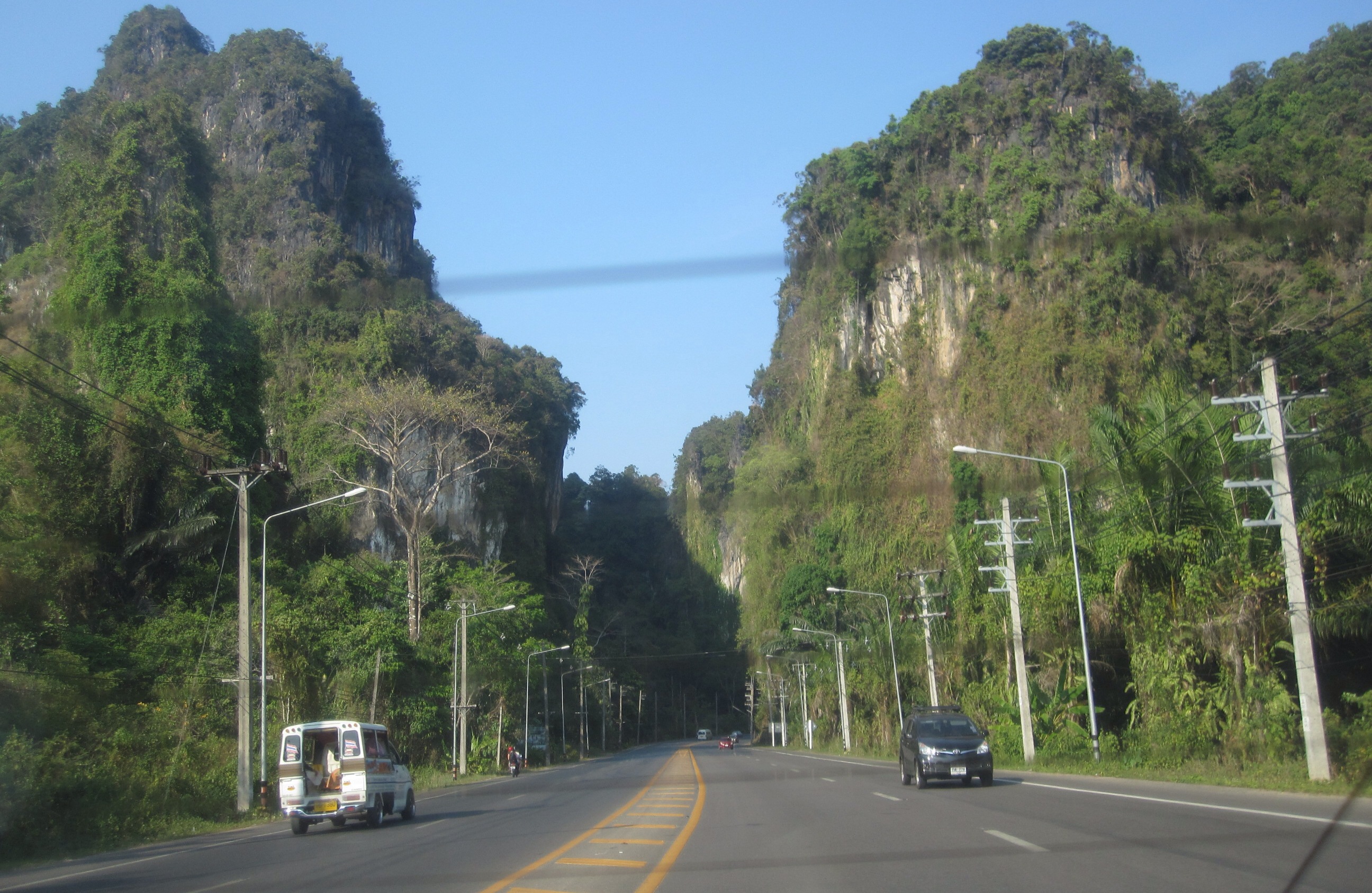 The taxi dropped us at the beach. There's a ticket office where you catch the long tails from. You might have to wait till they're full. As there were 5 of us, we didn't have to wait long, in fact it went straight away. We had to wade out pretty far to get into the boat, it was almost waist deep in the end.
Not the easiest with three kids and all your bags but I think the girls loved the adventure of it all :-).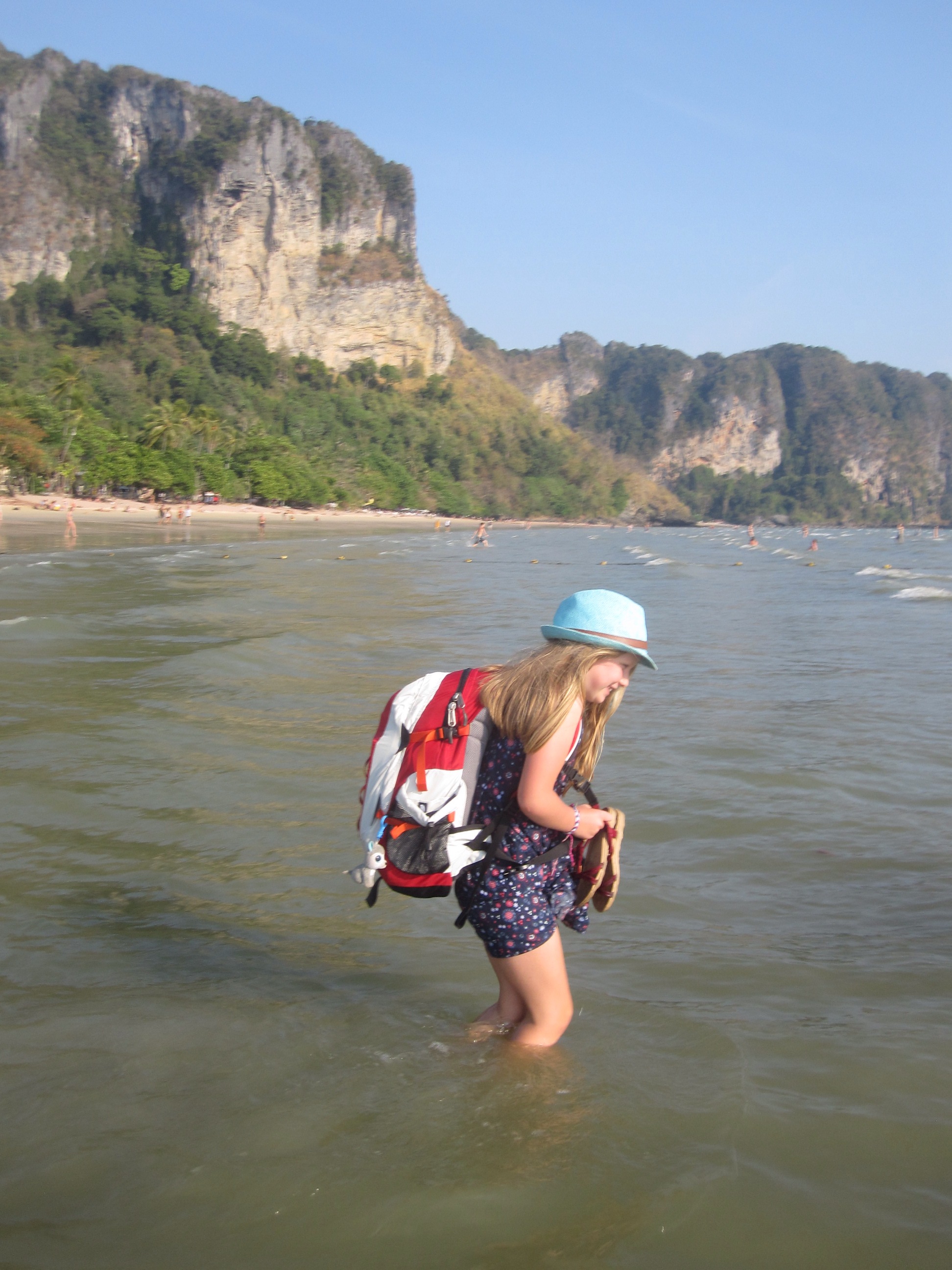 It was an amazing feeling to be back on a longtail, Ro and I couldn't take the smiles off our faces!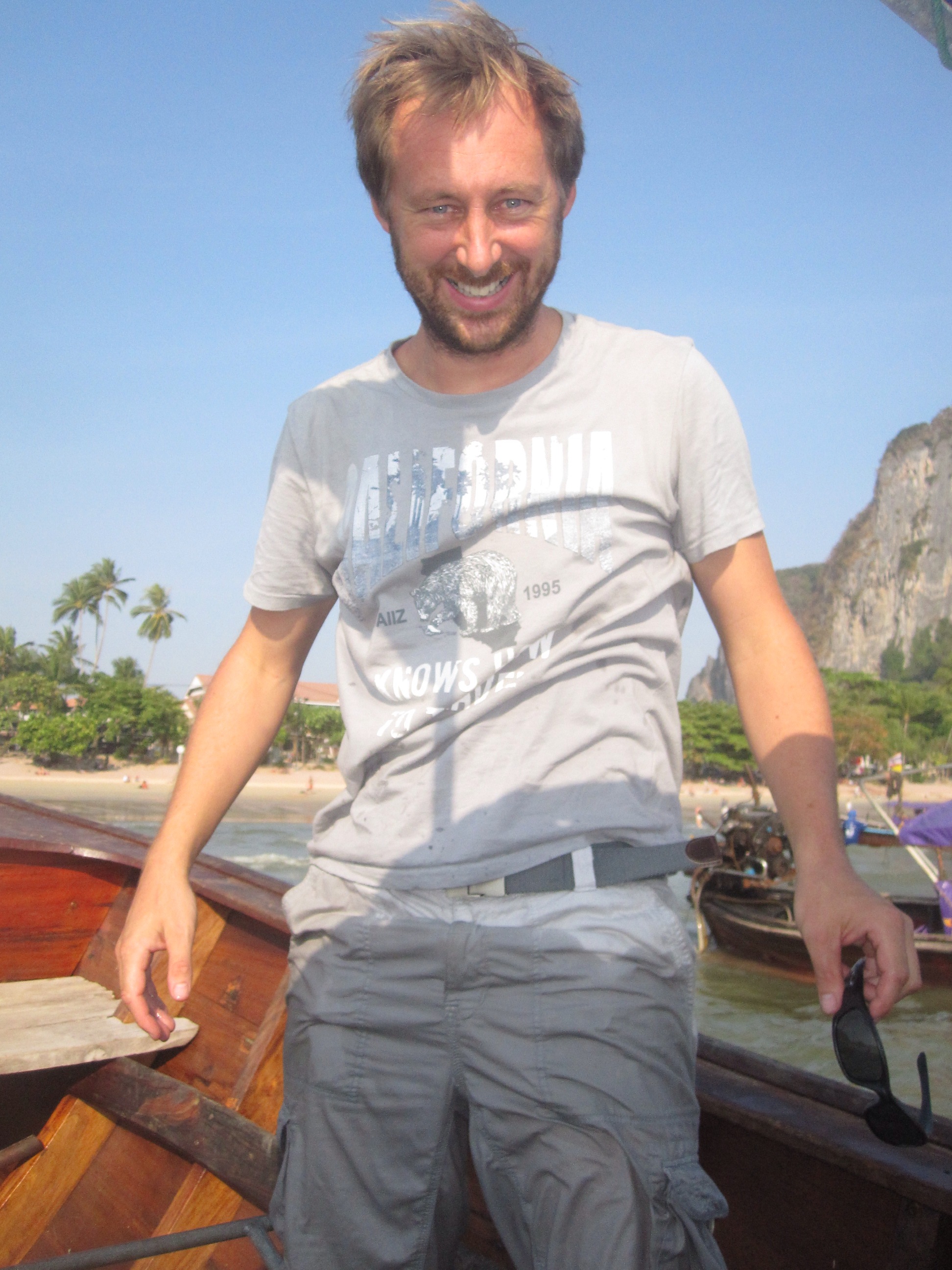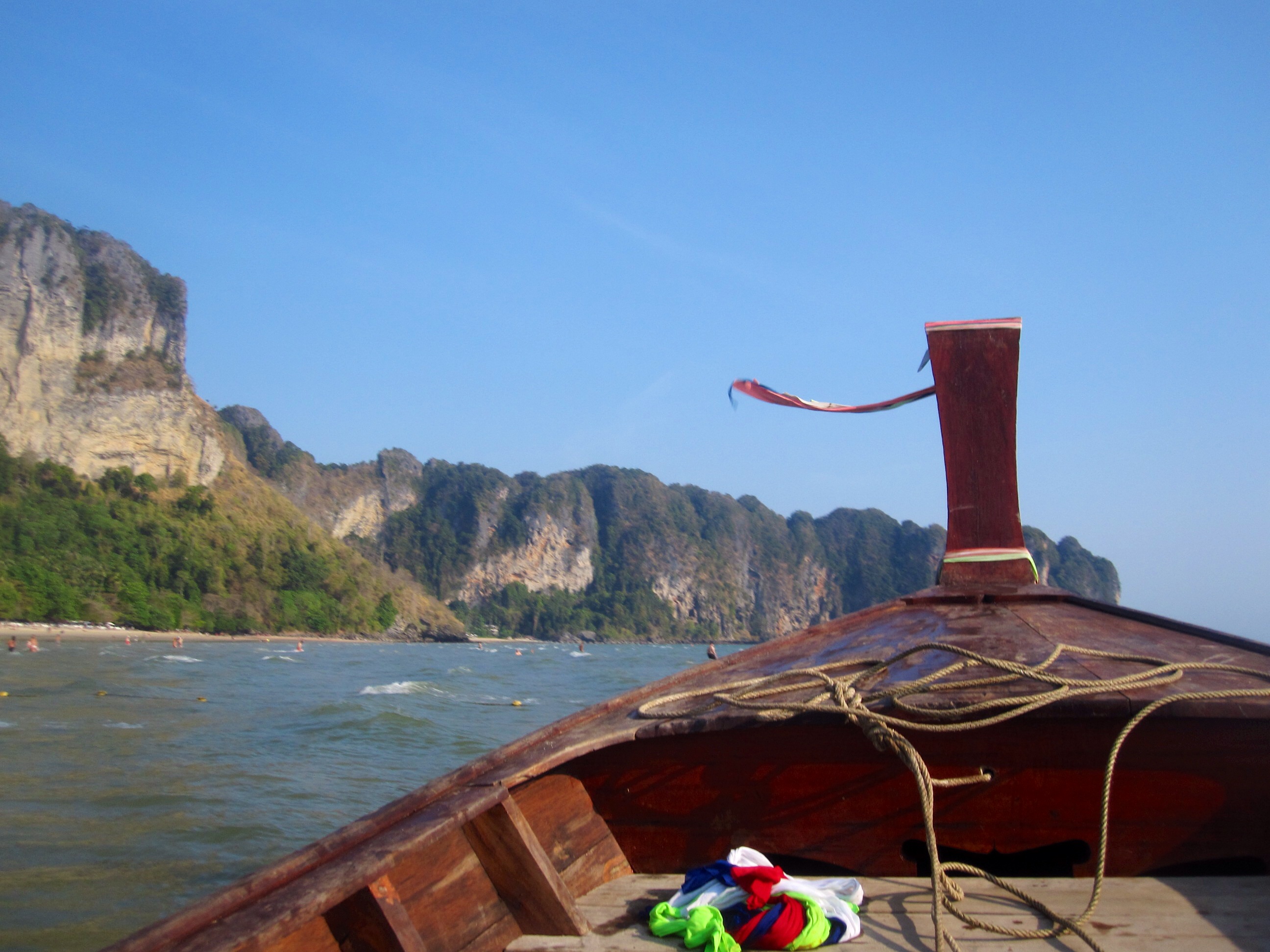 The scenery heading out to Railay is amazing, all limestone outcrops, you might know it from the Bond movie. Think it was "The man with the golden gun". We arrived on to the West side of Railay which is the expensive side of the island. There's a beautiful beach there.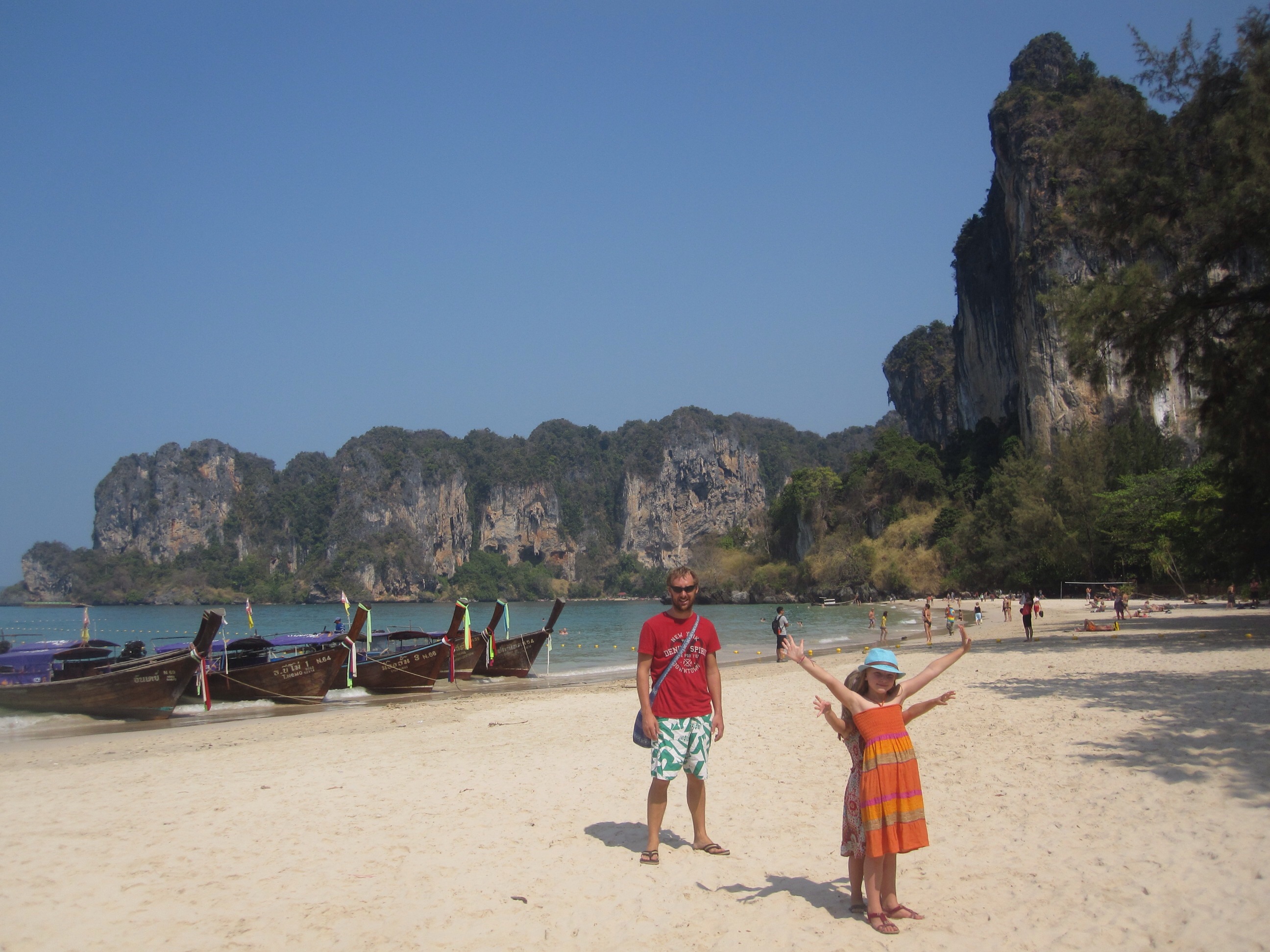 We checked a couple of prices in hotels but there wasn't a hope of us staying there so off we walked to the east/cheaper side. It was cheaper on the east but not overly so, Railay is expensive, no doubt about it. If you're looking for the cheapest option in the area, Tonsai beach is the place to go. It's full of climbers and us supposed to have a cool somewhat hippyish vibe.
On Railay's east side, there isn't really a beach, it's more mud flats and mangroves so no swimming there. There's a concrete walkway built along the stretch of coast with all of the hotels, restaurants, bars and shops off it. It sounds horrible but actually it's pretty cool. The Thais seem to know how to these walking streets very well.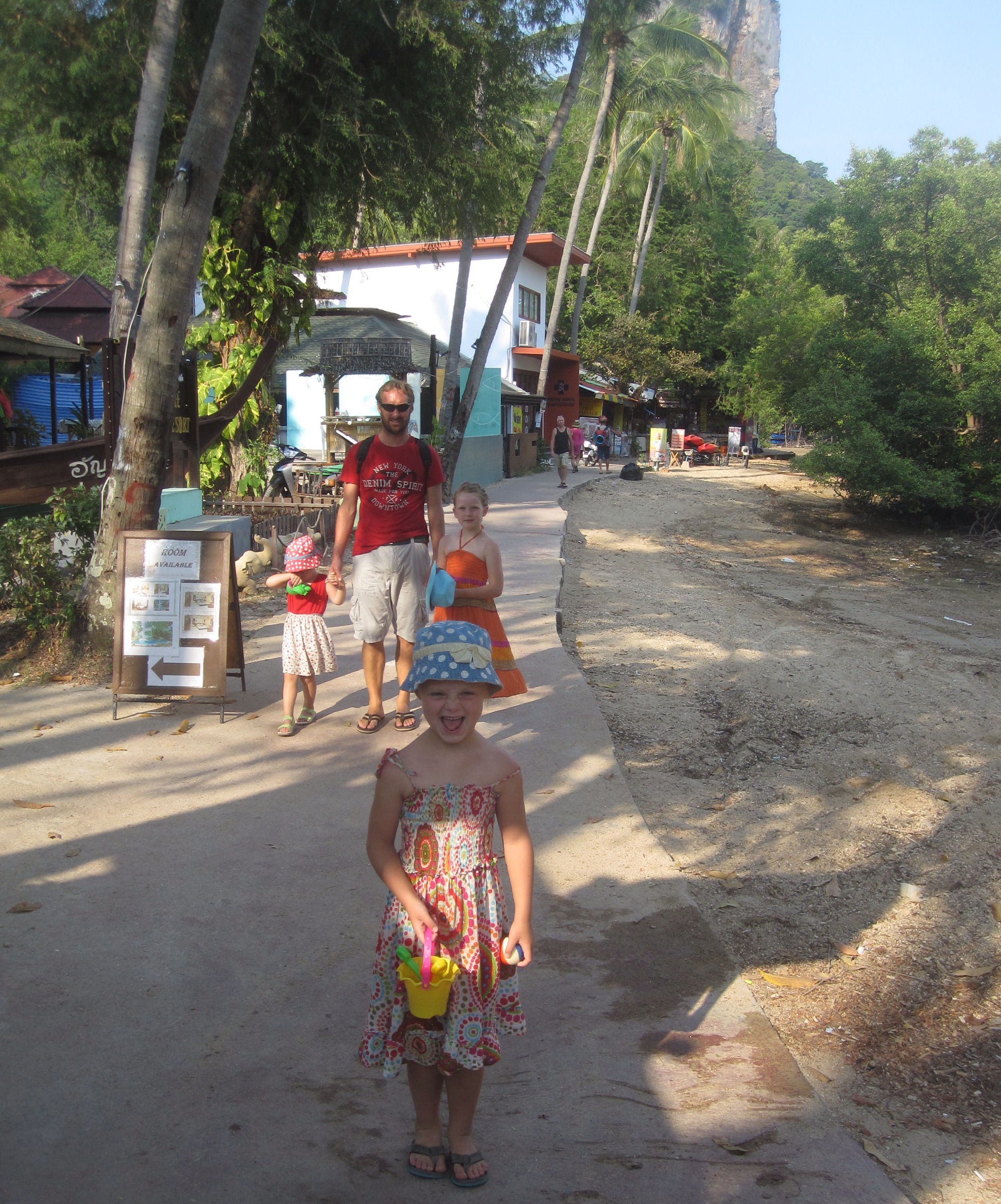 We eventually found a bungalow at the far end of town in a place called Rapala Rockwood Resort.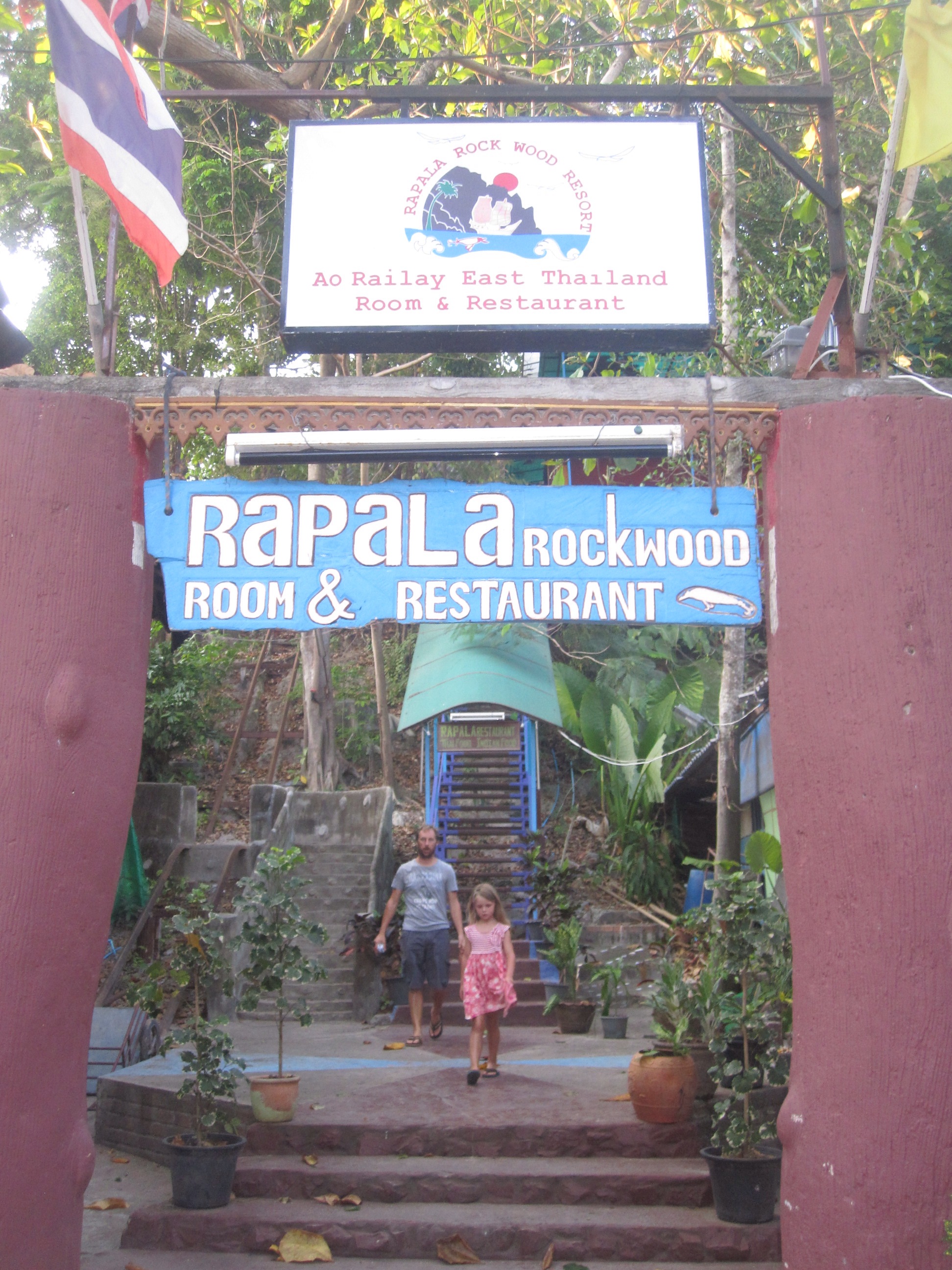 It was a cool wooden bungalow with a King size bed and single mattress (going to be a bit of a squish) and a hammock out the front. There was an en suite bathroom with a simple bucket flush toilet. Nothing fancy about it but it was perfect really. The girls love the novelty of the bucket flush loos, especially our three year old Dervie. She always insists on flushing it herself!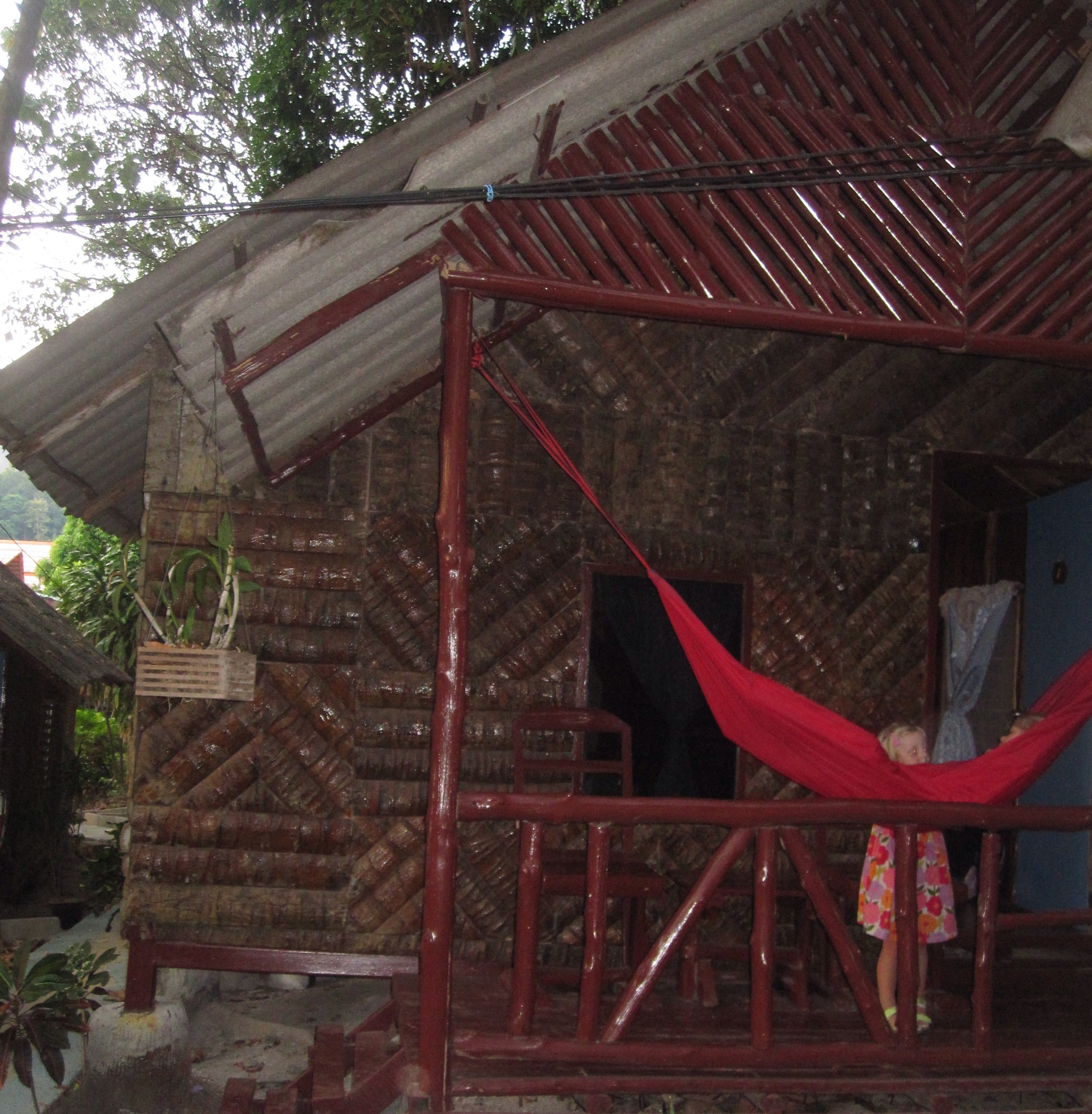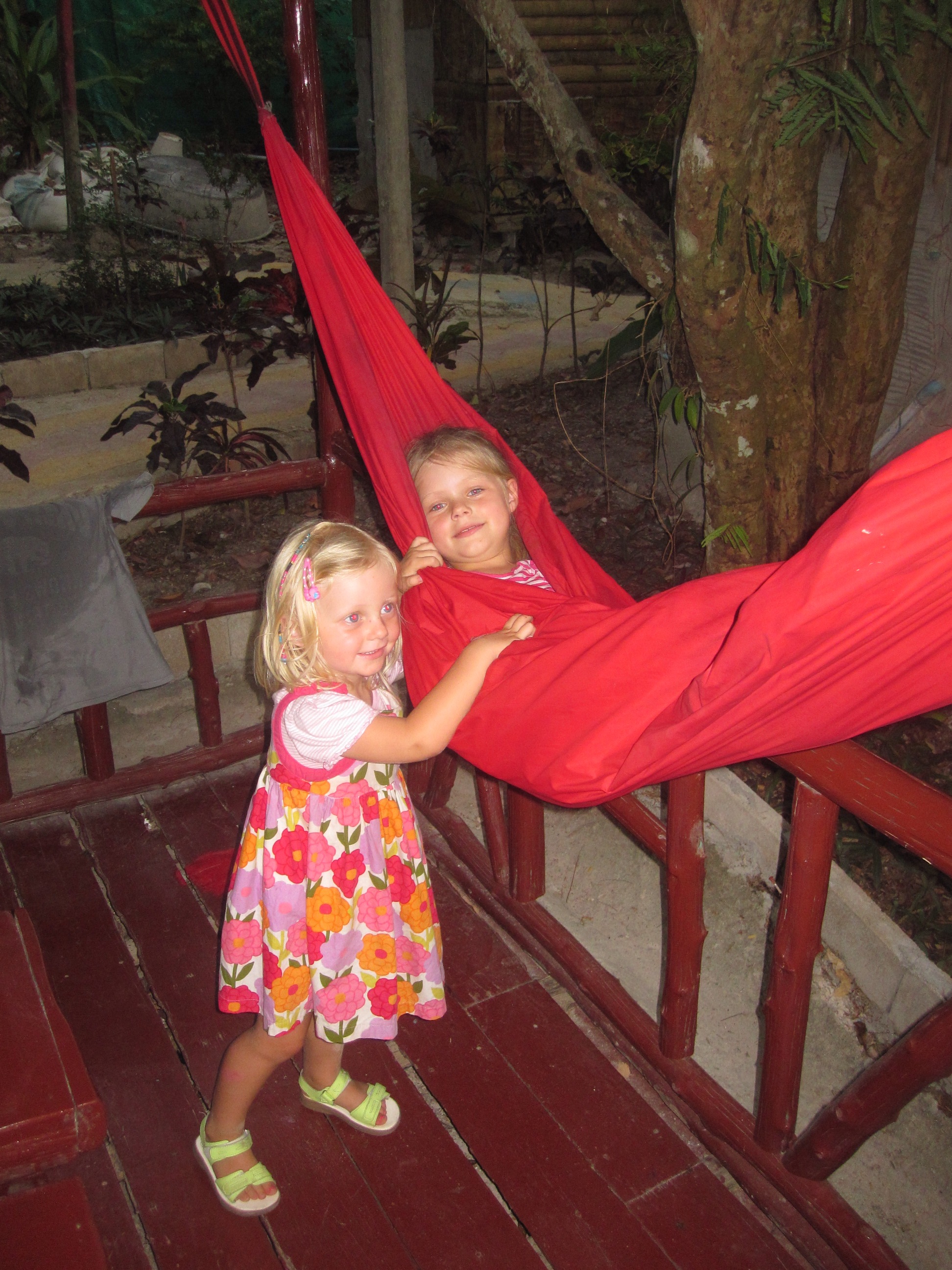 The complex was really nice, it had a great restaurant and really comfy seating areas. There was a small pool with hammocks around it. All in all, it was perfect to chill out in.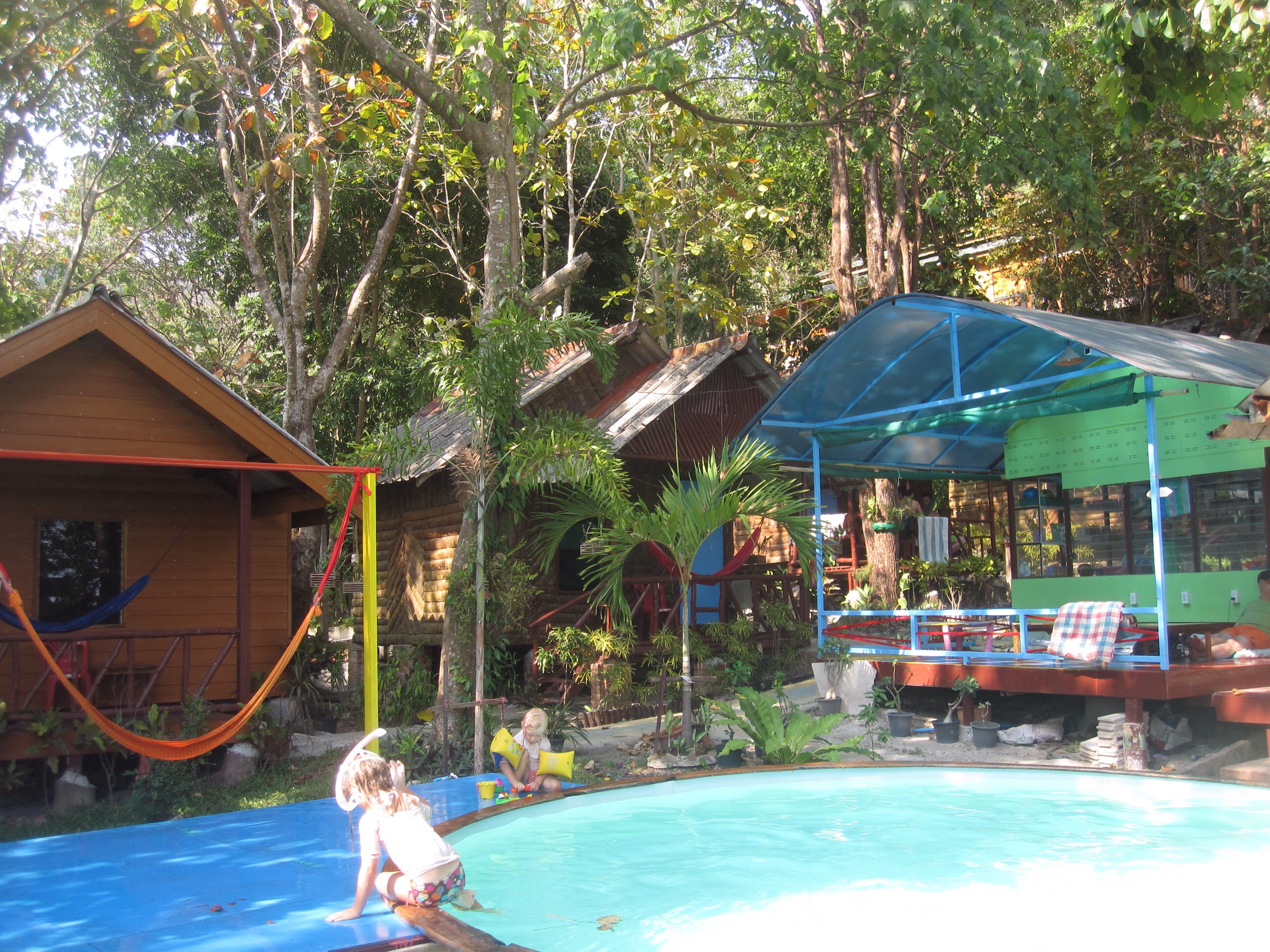 The next day we explored the area a bit. There's a cool walk way at the far end of the east side which leads past some amazing limestone rock filled with caves to a beautiful beach called Hat Phra Nang. The walk itself is worth the trip. The girls loved running in and out of the caves en route.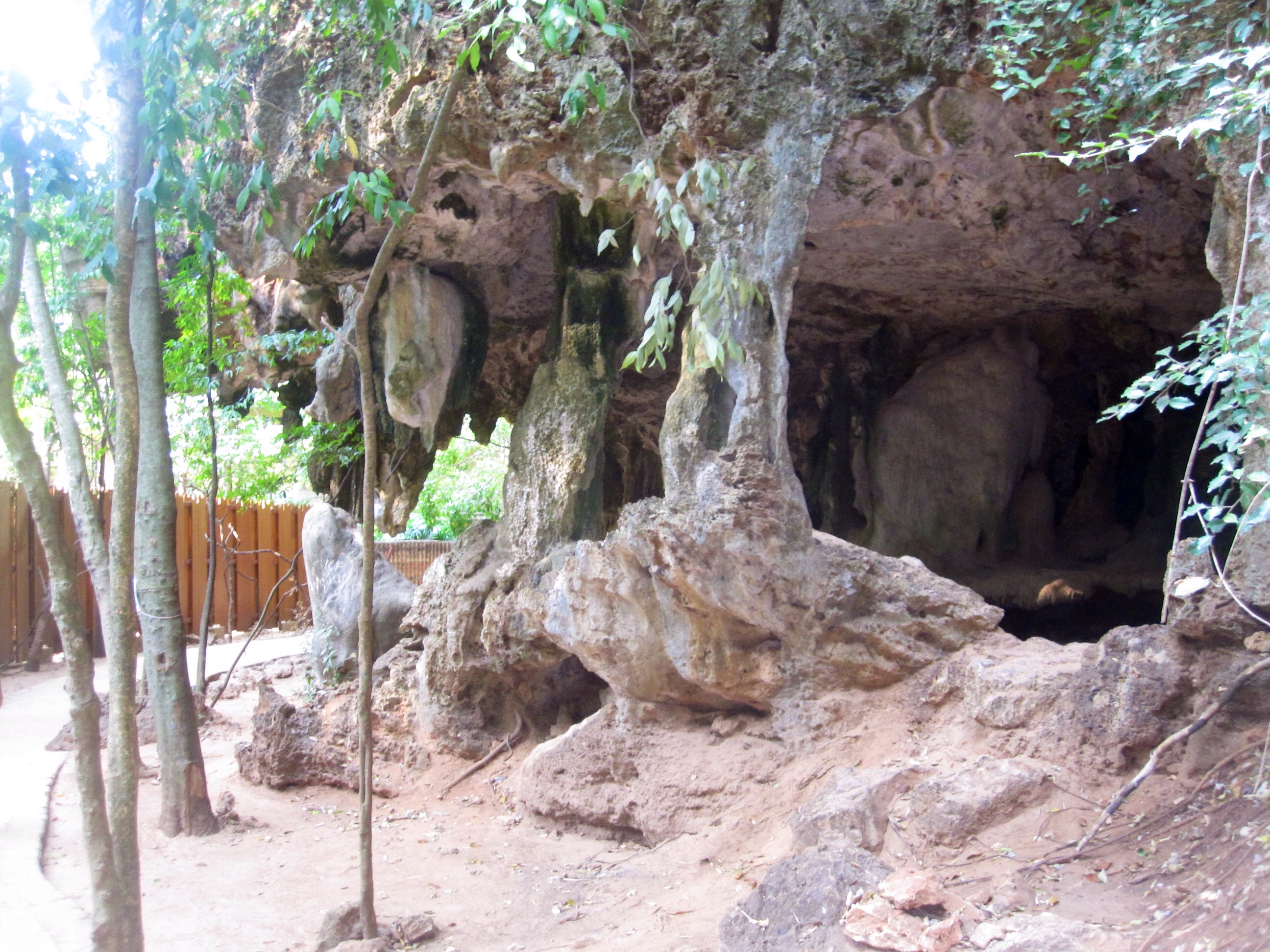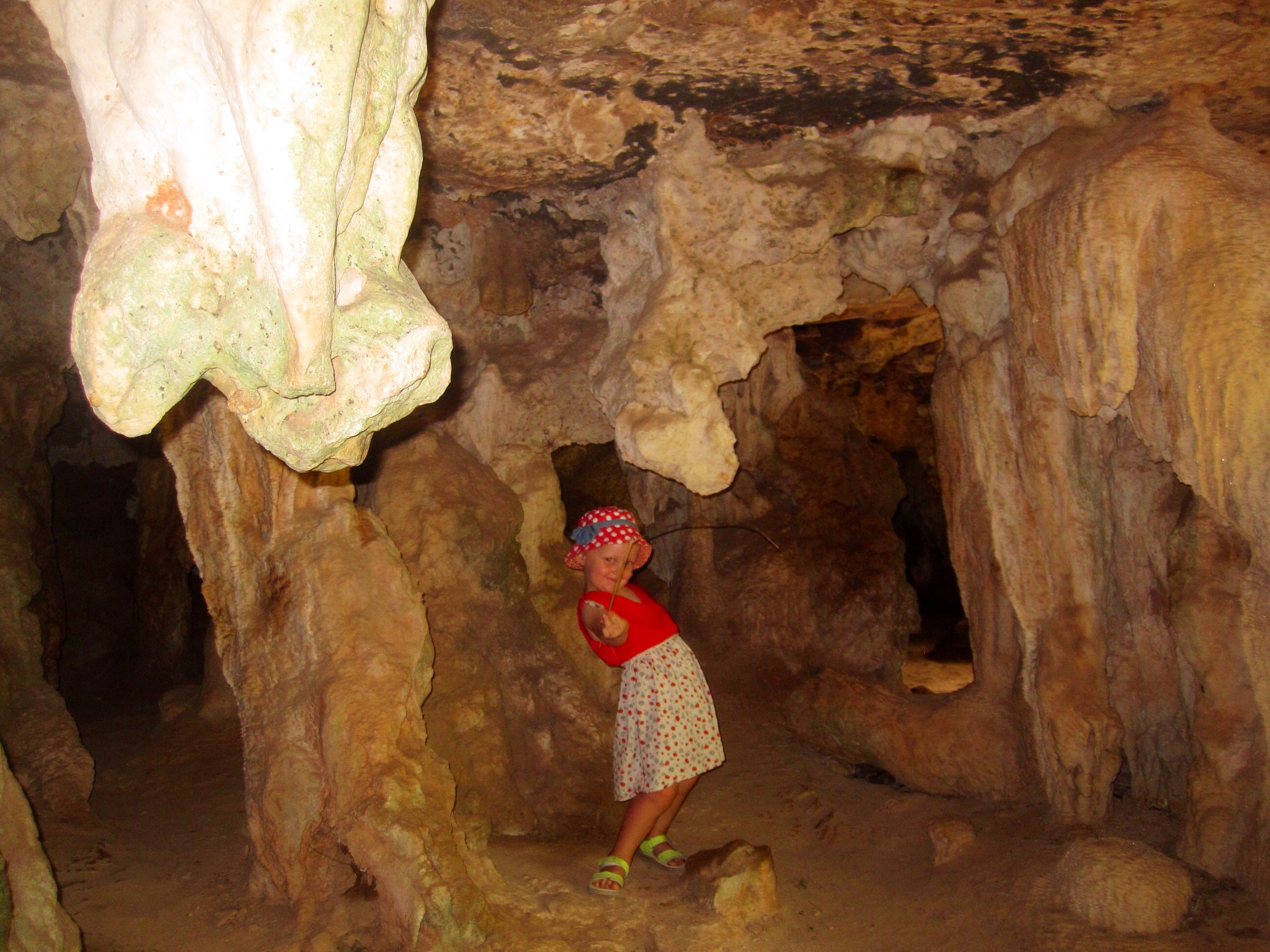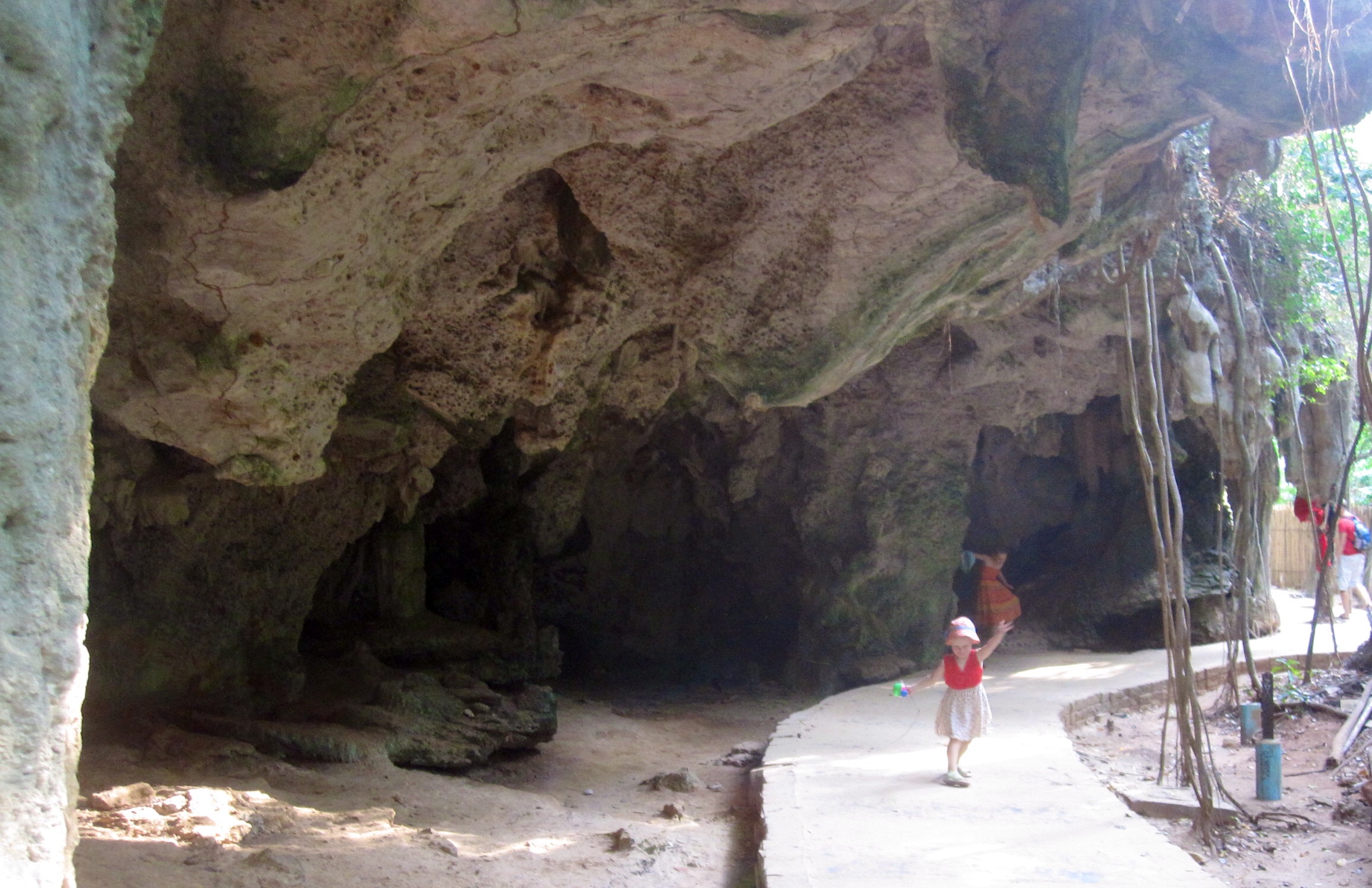 And then you arrive at this stunning beach!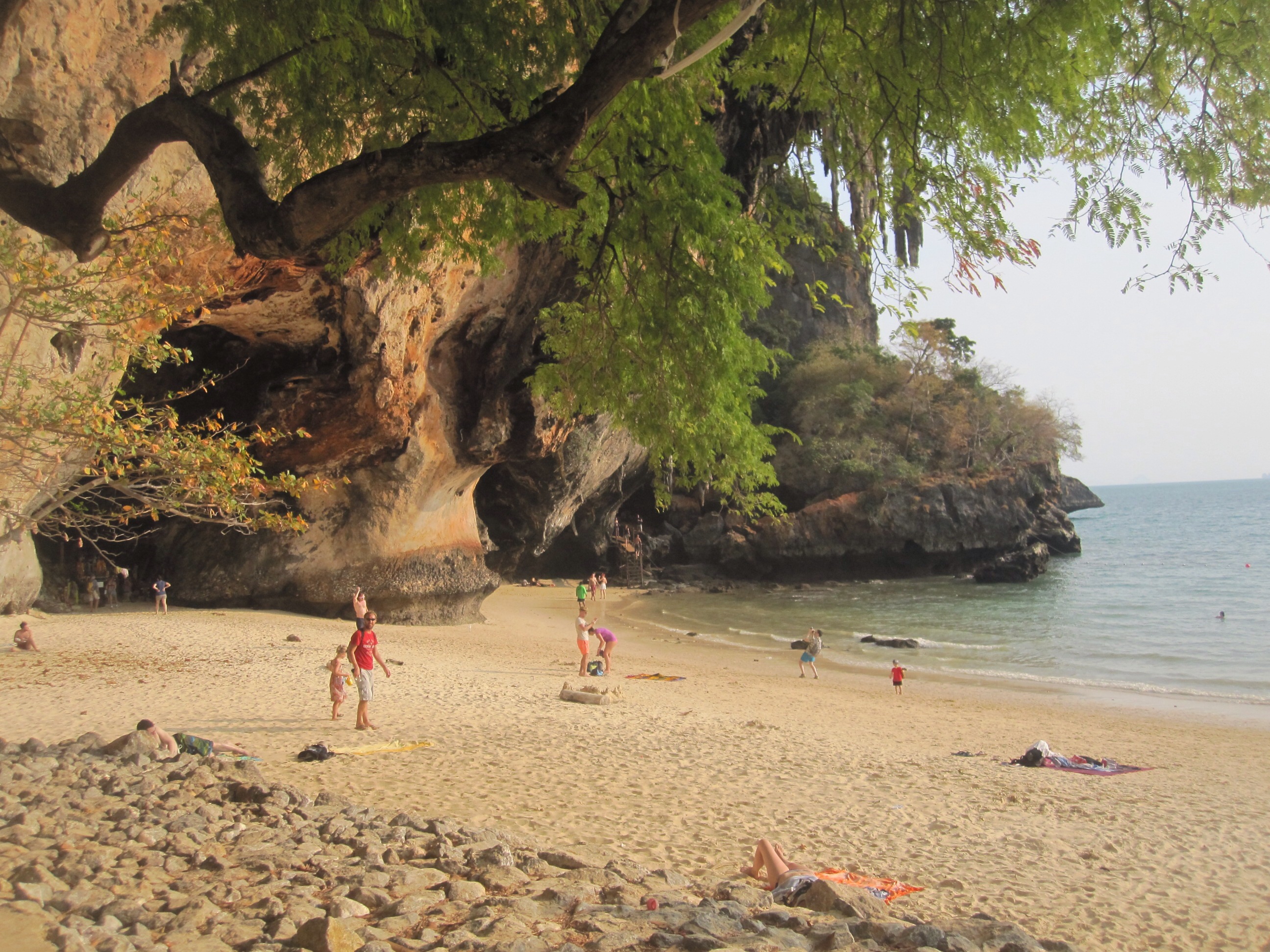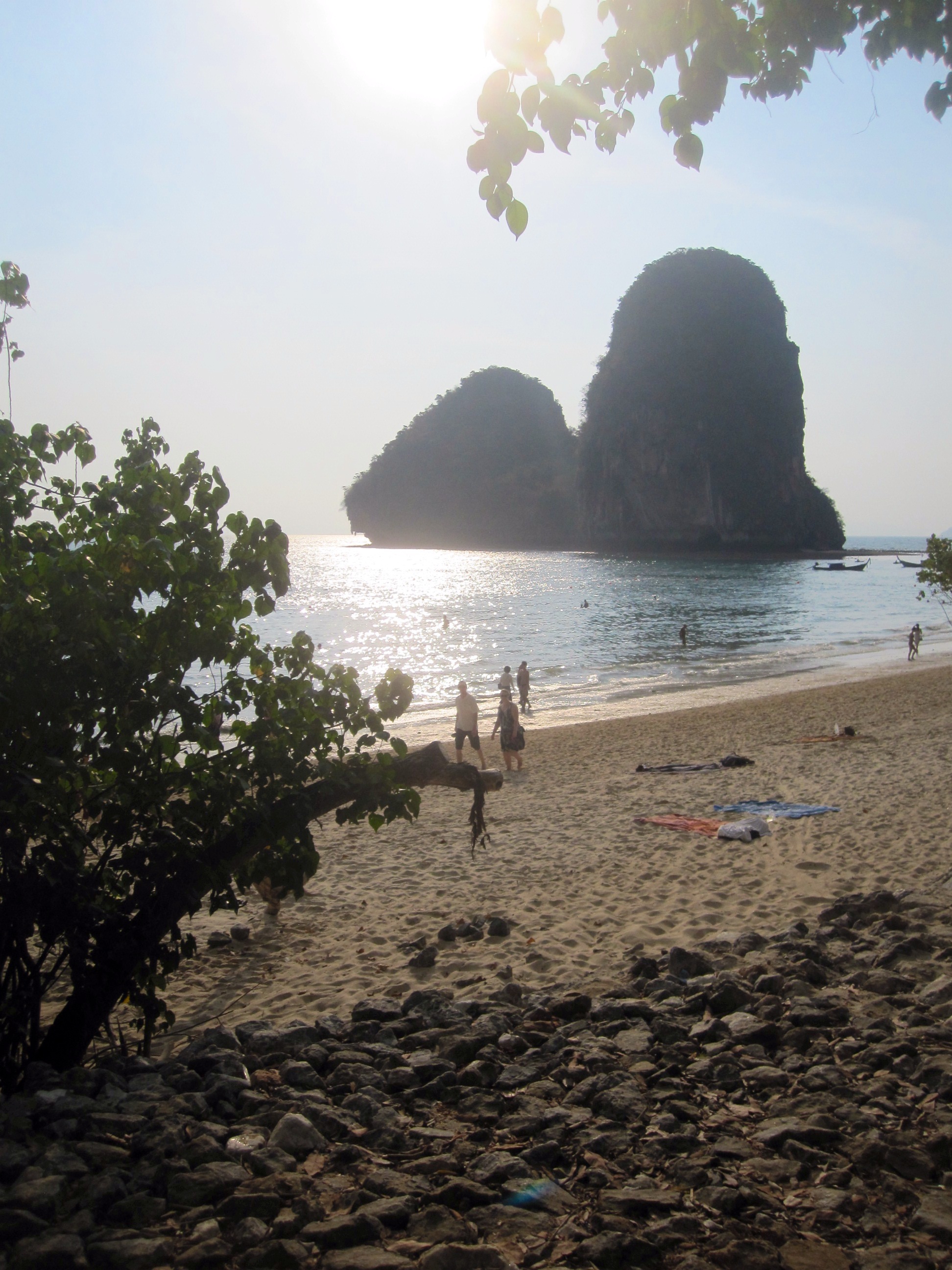 It gets pretty packed as a lot of the island hopping tours stop here. On the way to this beach, you can climb up the cliff to a viewing point and a lagoon. We thought about doing this but had read that it was a tricky and muddy climb. When we actually saw it we realised there wasn't a hope of us doing it. It looked lethal! We met a few people coming down who confirmed that it was a crazy climb. So not a runner for kids under 10 I'd say but probably great otherwise.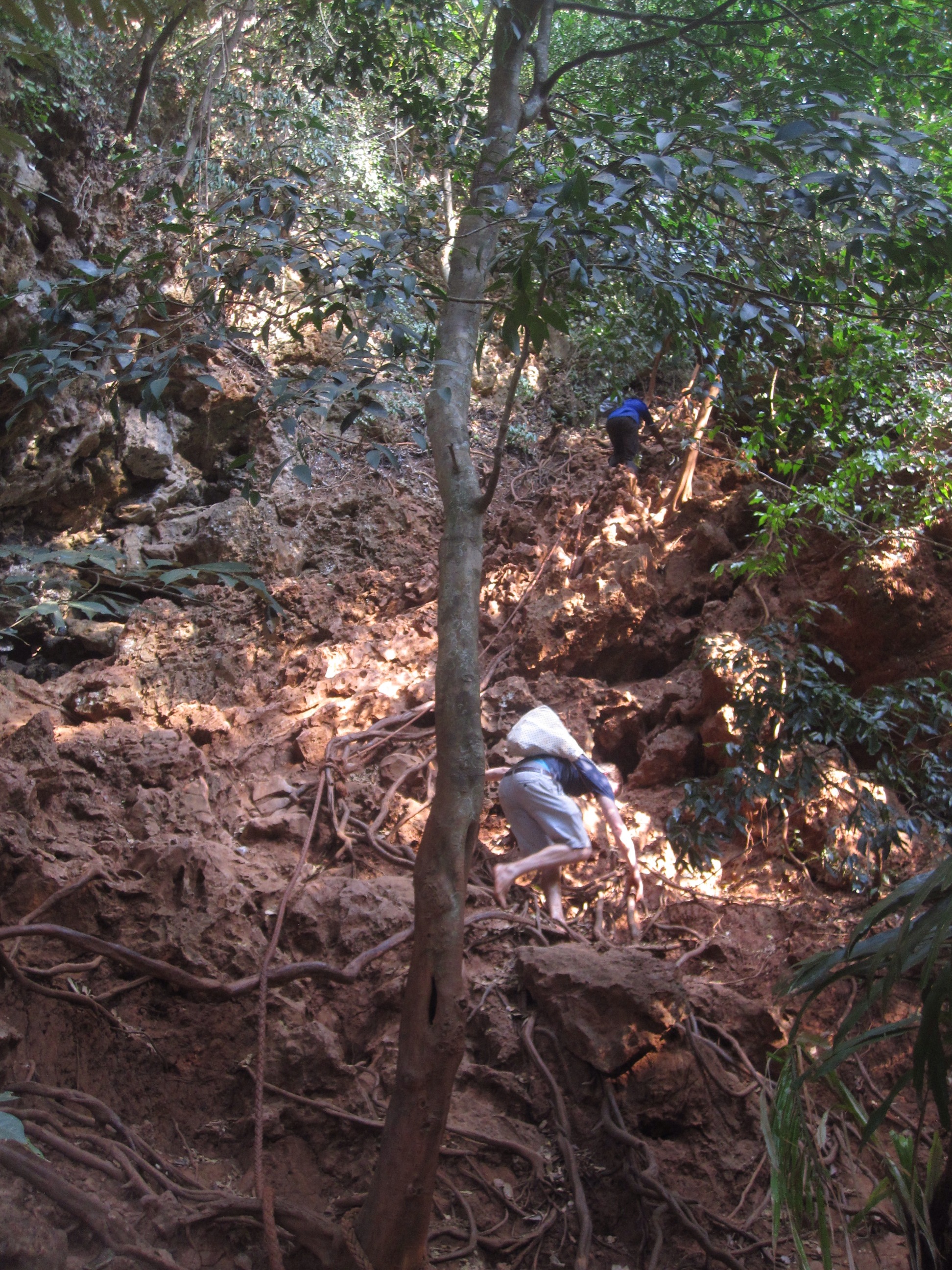 There are a couple of caves down one end of the beach which are called the Tham Phra Nang and are important shrines for the locals. They are filled with wooden willies. When you first see them you can't help giggling, it's the most bizarre thing ever.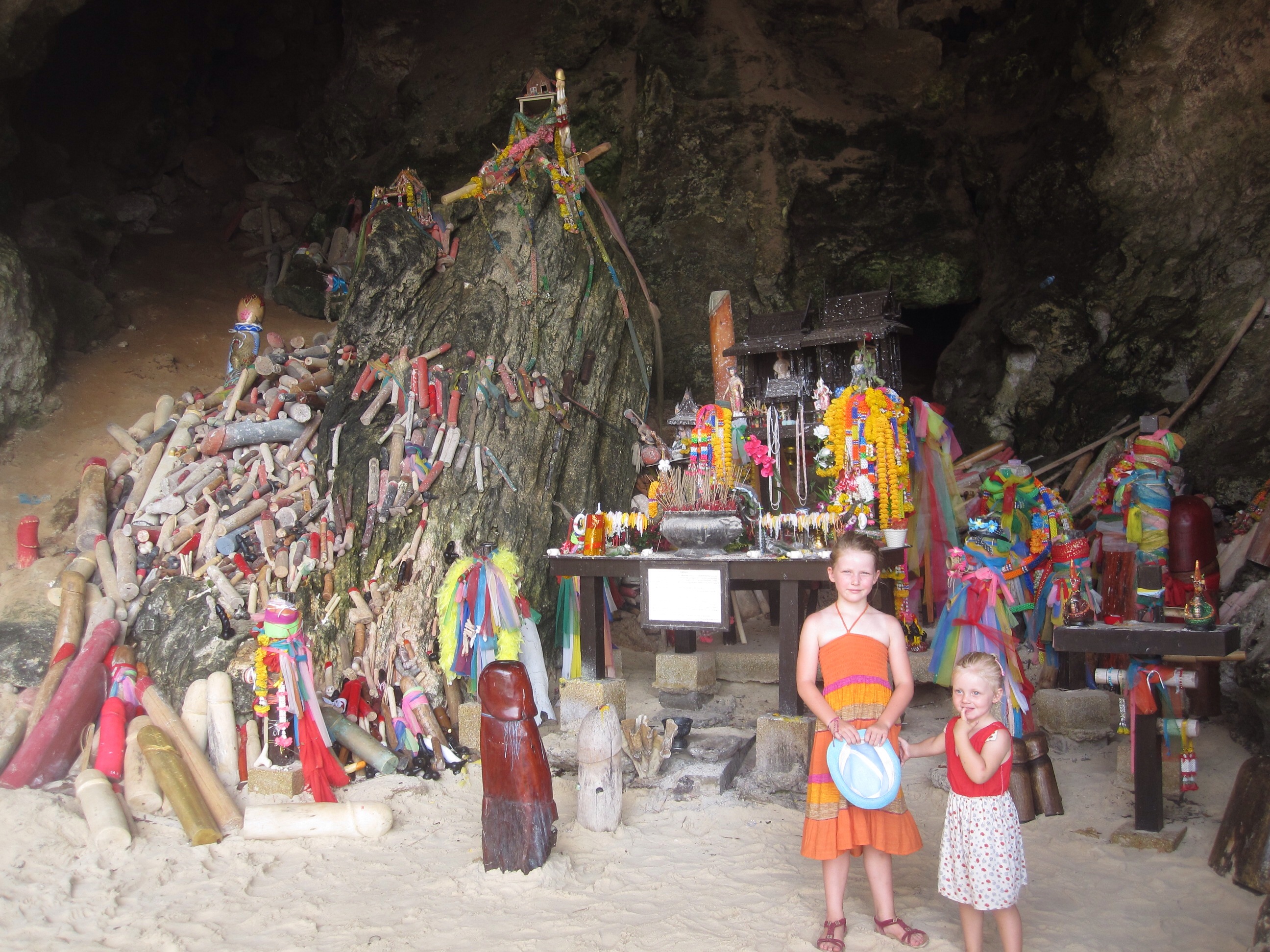 The girls were fascinated by the whole thing, they thought it was brilliant. There are different stories as to why the wooden phalices are there, one is that they are placed there by fishermen to pray for a good catch, the other is that they are placed there by couples having difficulty conceiving which is quite sad when you see them all. The girls couldn't understand why penises would have anything to do with having a baby! Hmmm not a conversation we fancied having just yet! We came up with some theory which kept them happy and moved on but not before Ro got a picture with the biggest one he could find :-).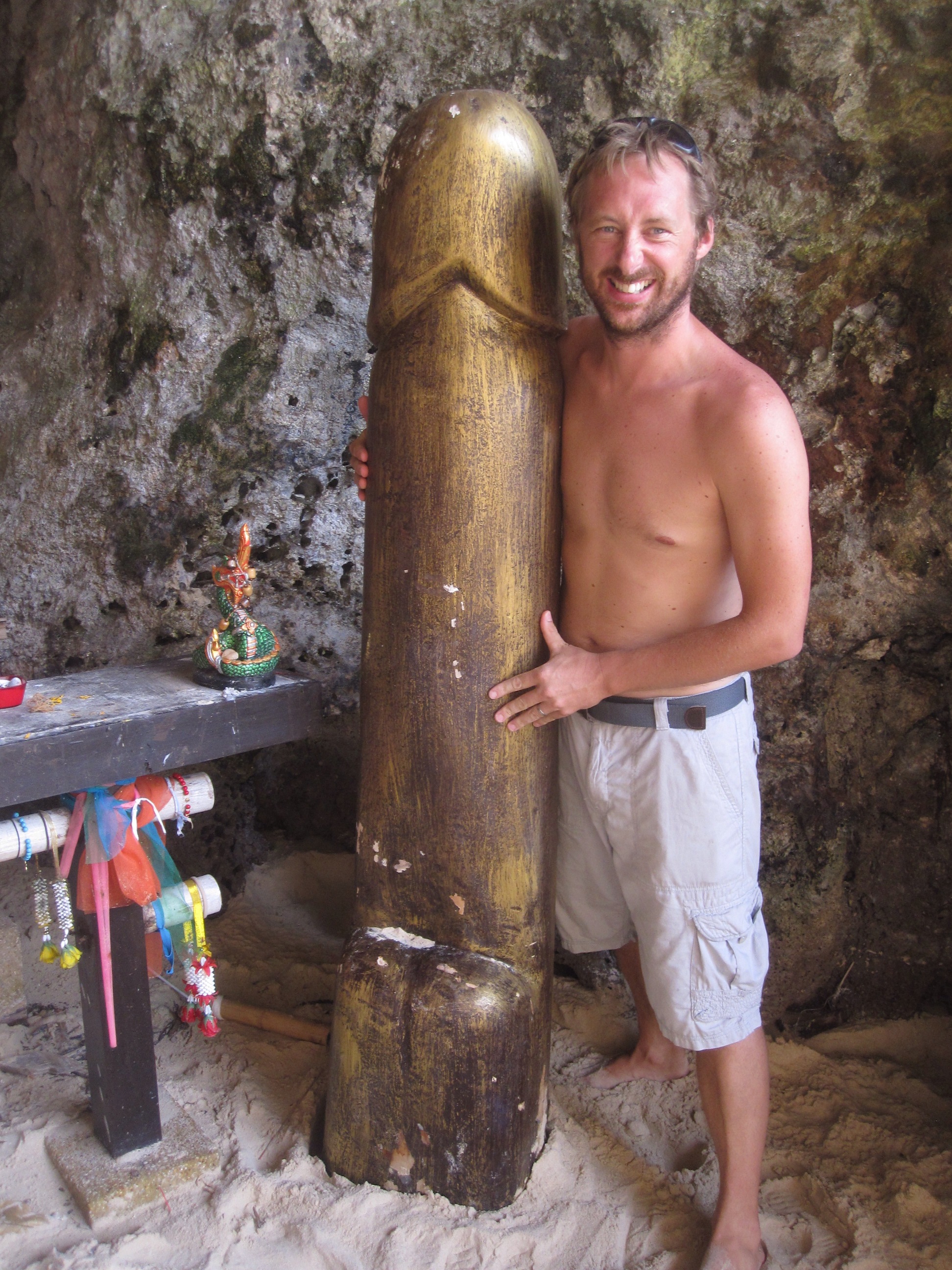 We stayed to watch a beautiful sunset and headed back home.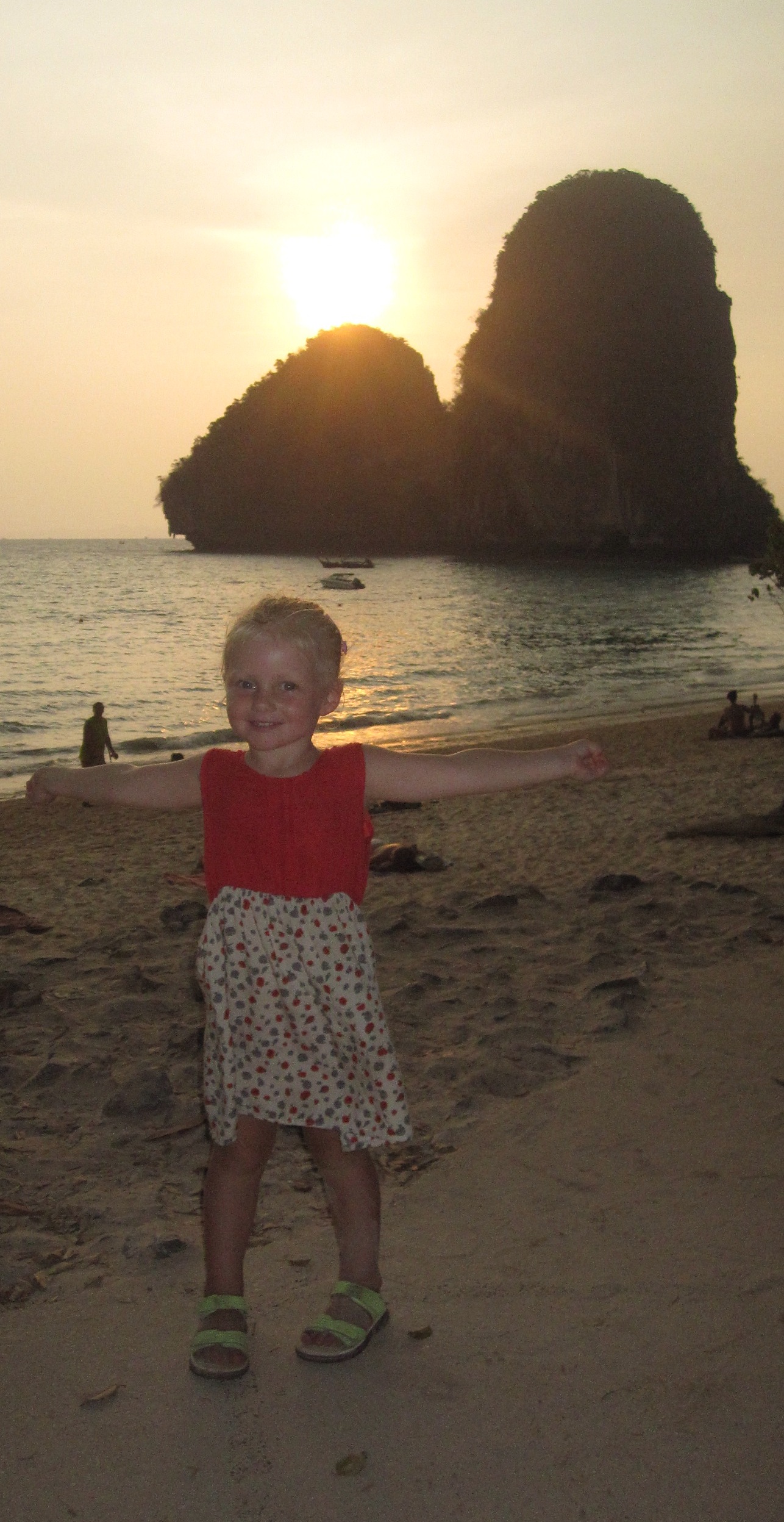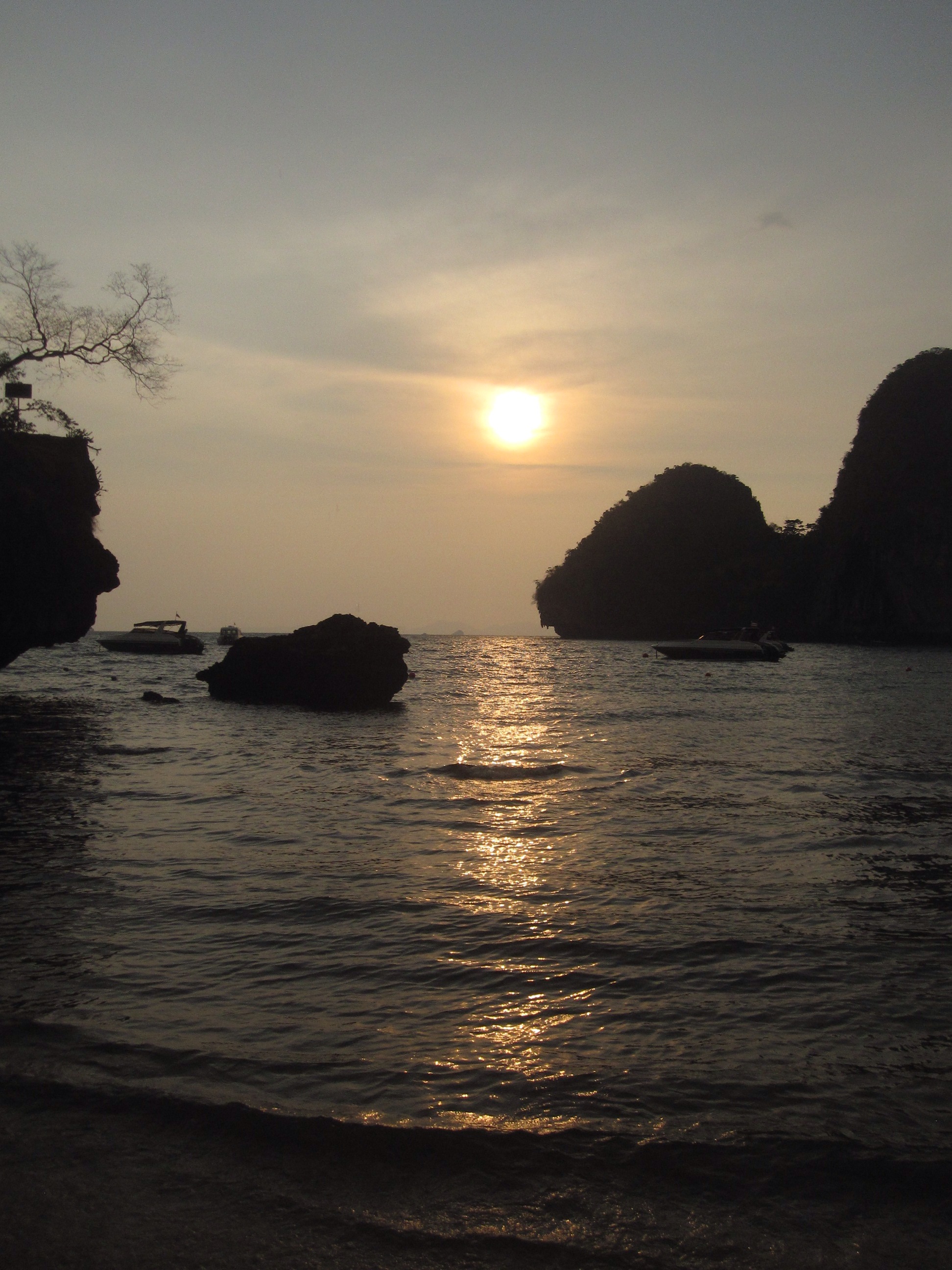 Much to the girls delight on the way back we passed a troop of monkeys.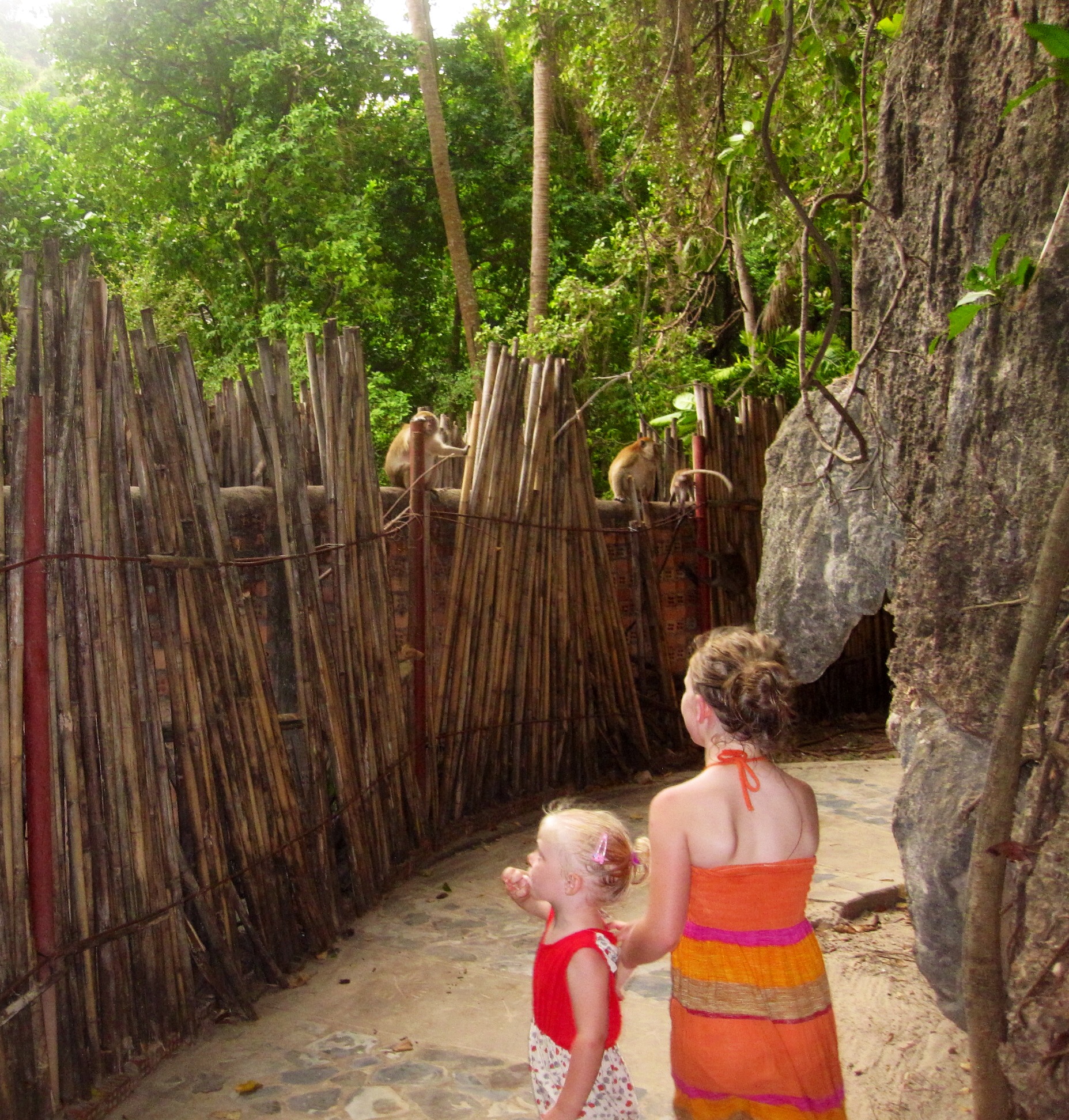 The food and juices in Railay are completely delicious. There are a few good restaurants which were great value on the path between the east and west. You won't miss them if you walk it. There was a lady at one who decided to teach Freya how to make rotti. She was lovely and Freya was delighted with herself as she got to eat all her failed attempts at making them!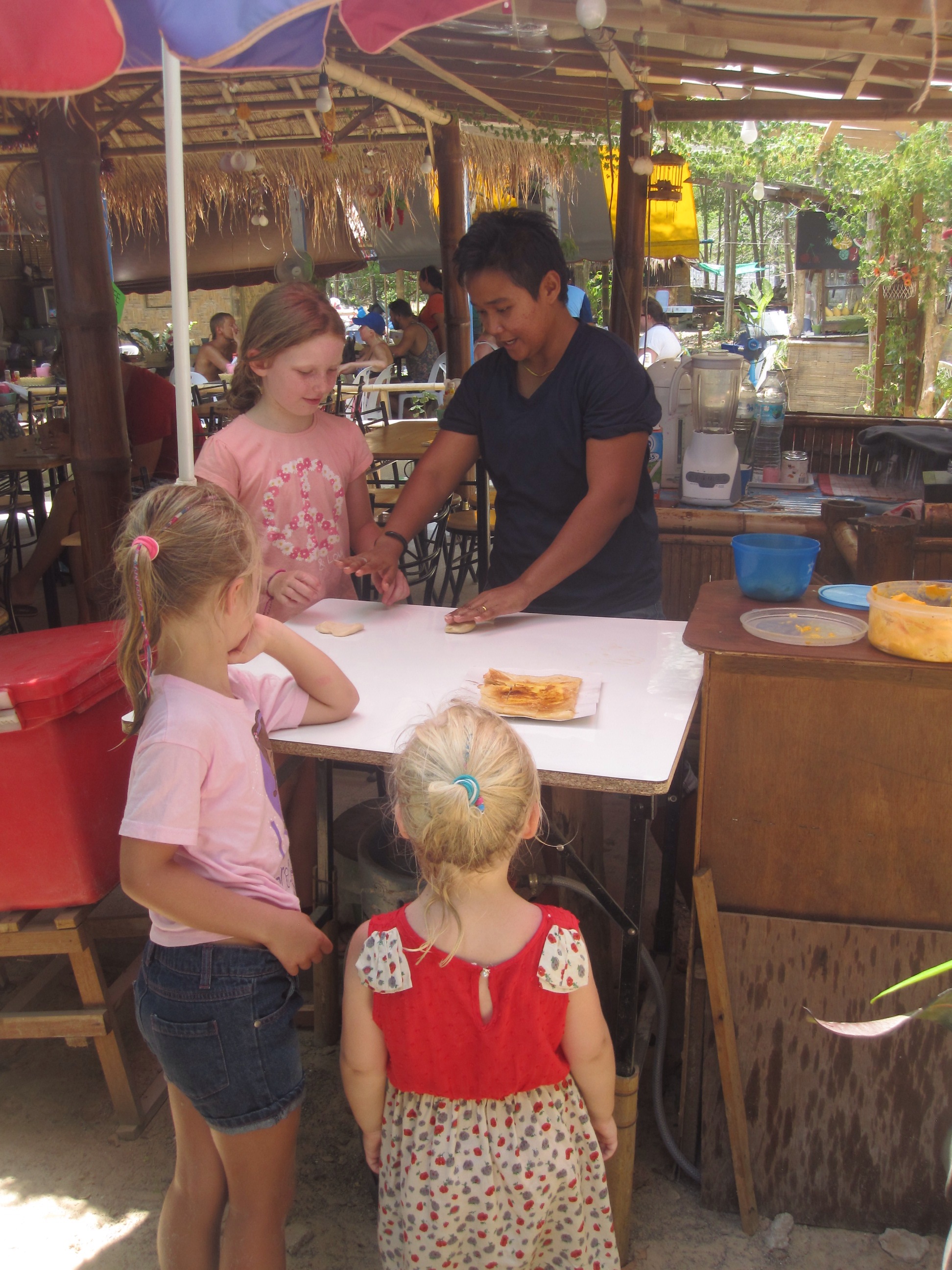 While we loved the food and juices, Unfortunately something didn't agree with us, we think it was probably the ice in the juices as one after the other we all got major vomiting and the rest bugs… Pretty miserable. We'd travelled for 2 months through Vietnam and Sri Lanka having street food, juices and ice without a hint of sickness and a few days into Thailand and we were all ill… You always read while travelling that you should avoid ice in your drinks. In most places these days it doesn't matter but it seems on the Thai islands it still does……
Railay and Tonsai are famed for rock climbing, there are climbing shops everywhere happy to organise trips. We thought we couldn't leave without giving it a bash. So Ro, Freya and Shuna signed up for a beginners climbing session with Spider rock climbing.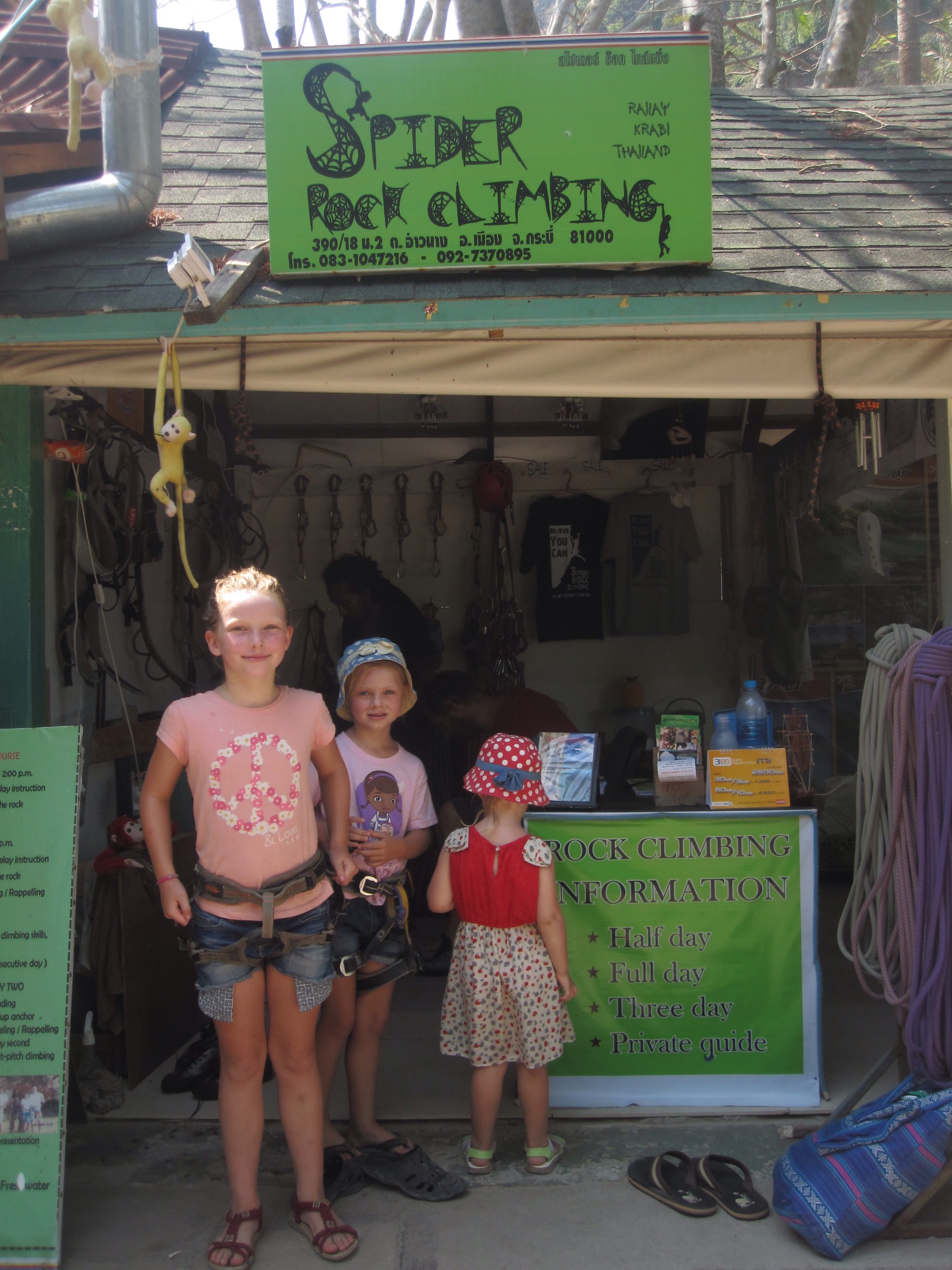 I decided against it as I'd had back surgery last year and didn't want to risk causing any trouble there. Don't worry Mom and Dad, I'm looking after myself! Turns out I was pretty happy to have an excuse to pull out. It was tough! I assumed it would be nice easy climbs especially for the kids but no, not really, their first climb was about 15 metres high and they got progressively higher after that! Ro was wrecked by the end of the session.
Our guides were two brothers who were the spit of Bob Marley. They were laid back but completely professional. We felt completely safe letting them look after the girls.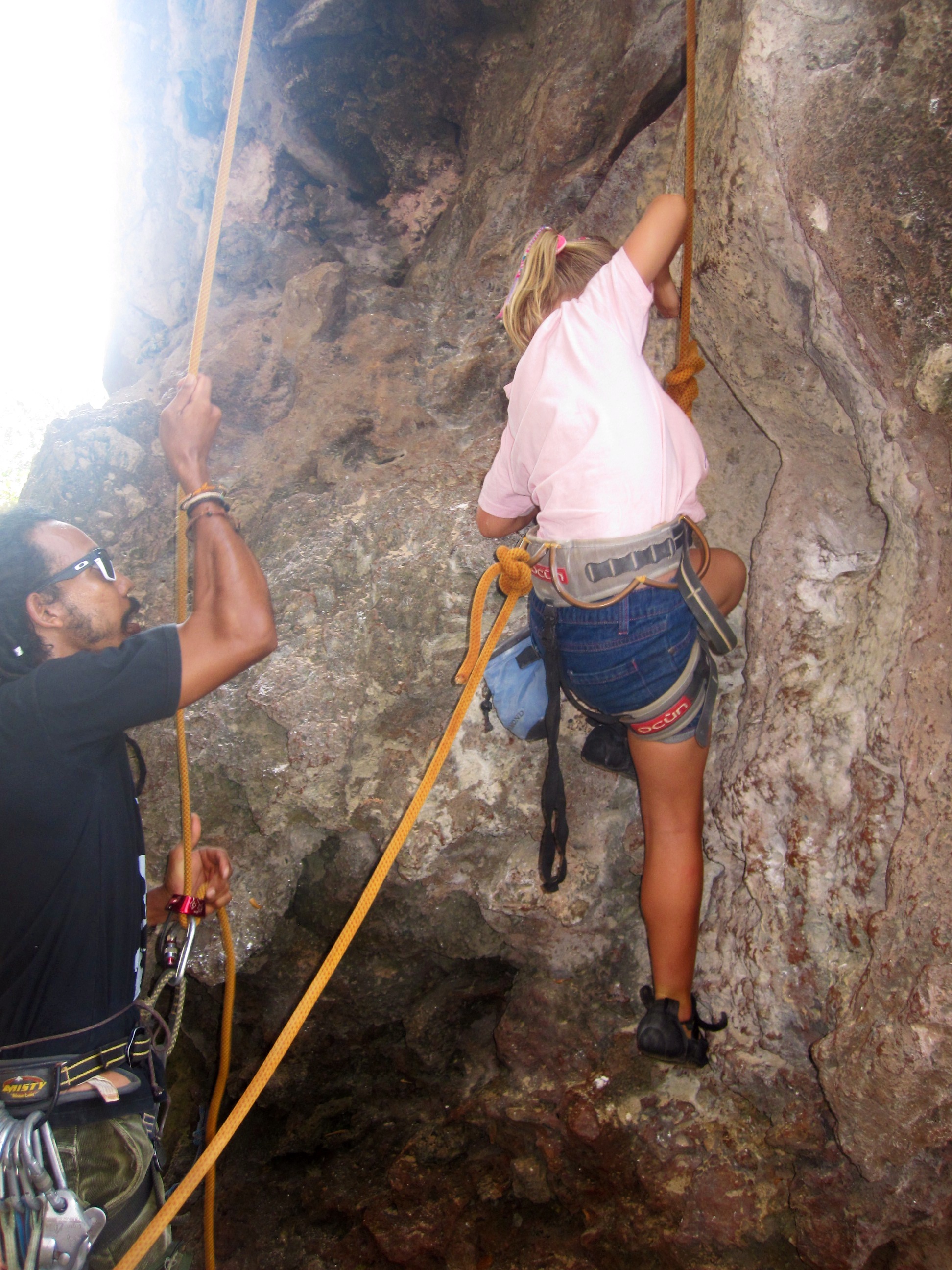 They started off on what was considered a small (didn't look small to me!) beginners climb of about 10 metres.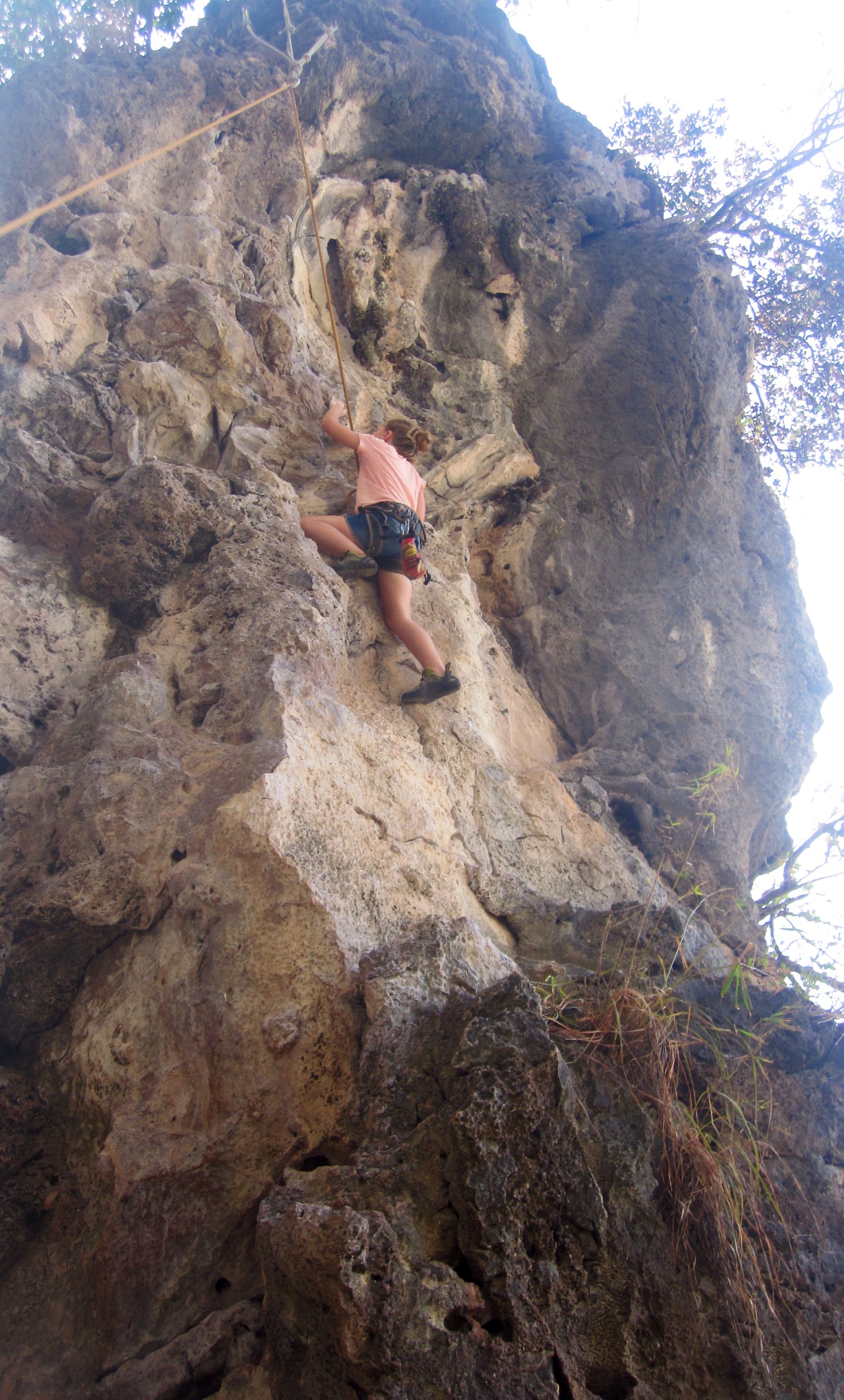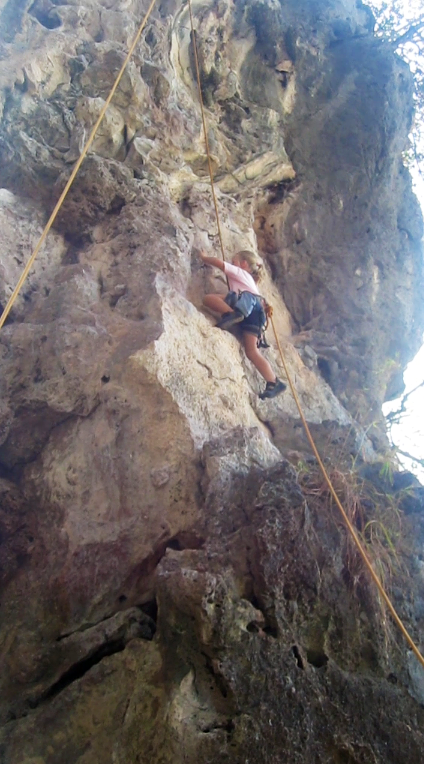 Freya took to it like a duck to water and loved every minute of it. Shuna loved the smaller climbs and stuck with those rather than anything bigger. At one stage she fell off but was well belayed with 2 instructors who were able to get her back climbing in no time. I still managed to lose my life though!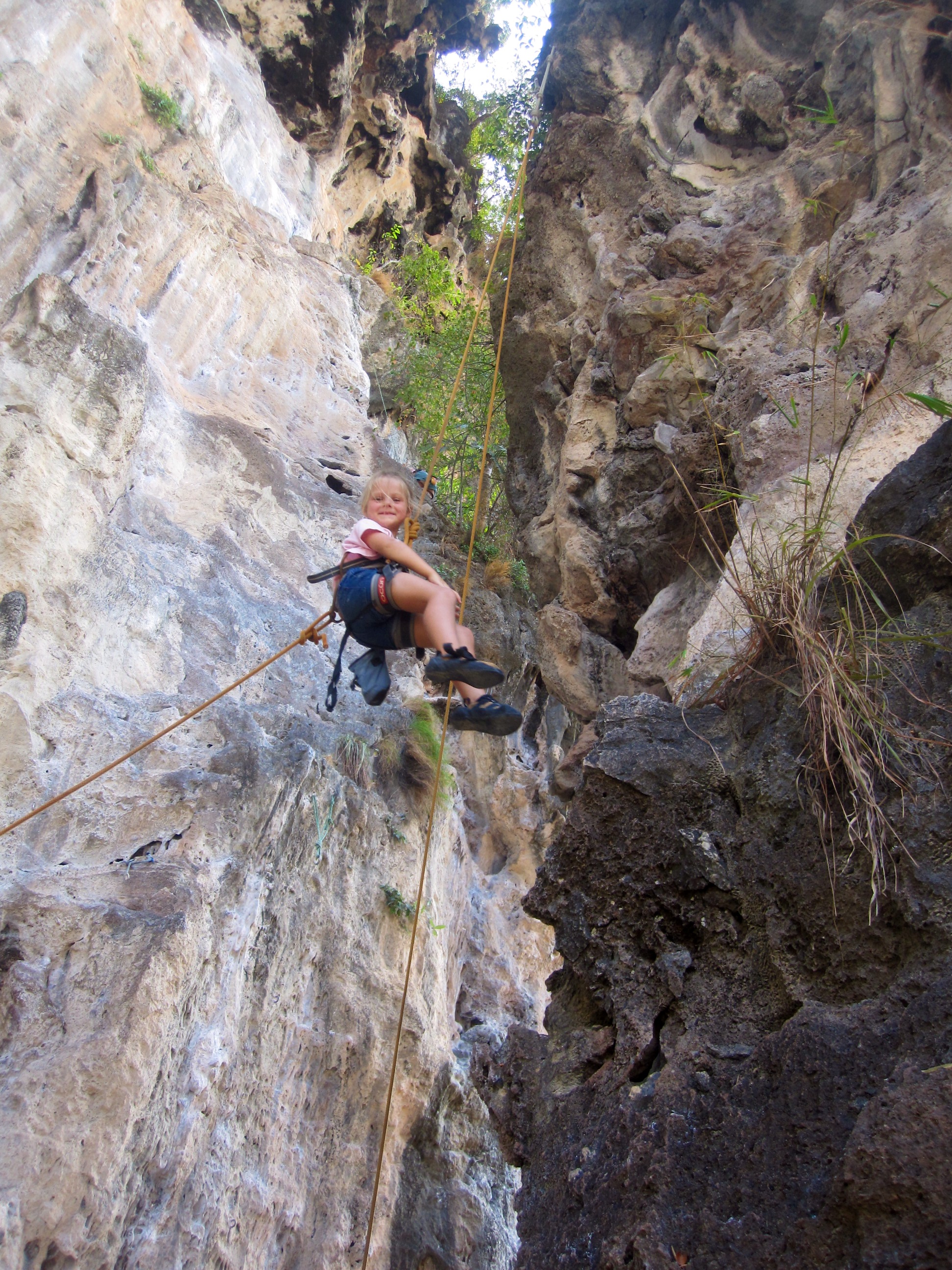 Freya moved on straight away to bigger climbs. I couldn't believe what she was happy to try. She's definitely braver than I am!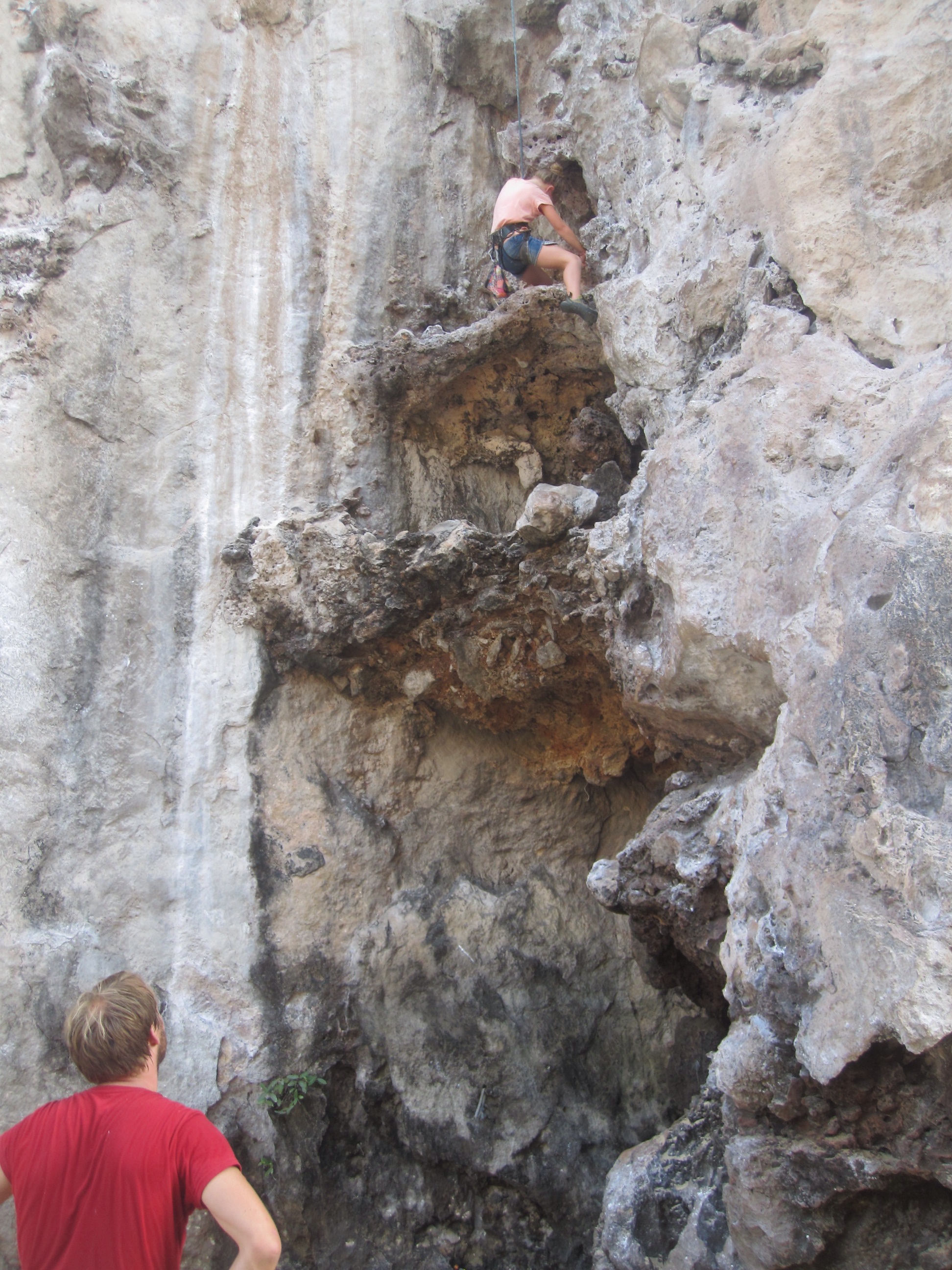 Ro was shattered by the end of it all, he had the most climbs to do as we were the only ones in our group and the girls tended to pull out early.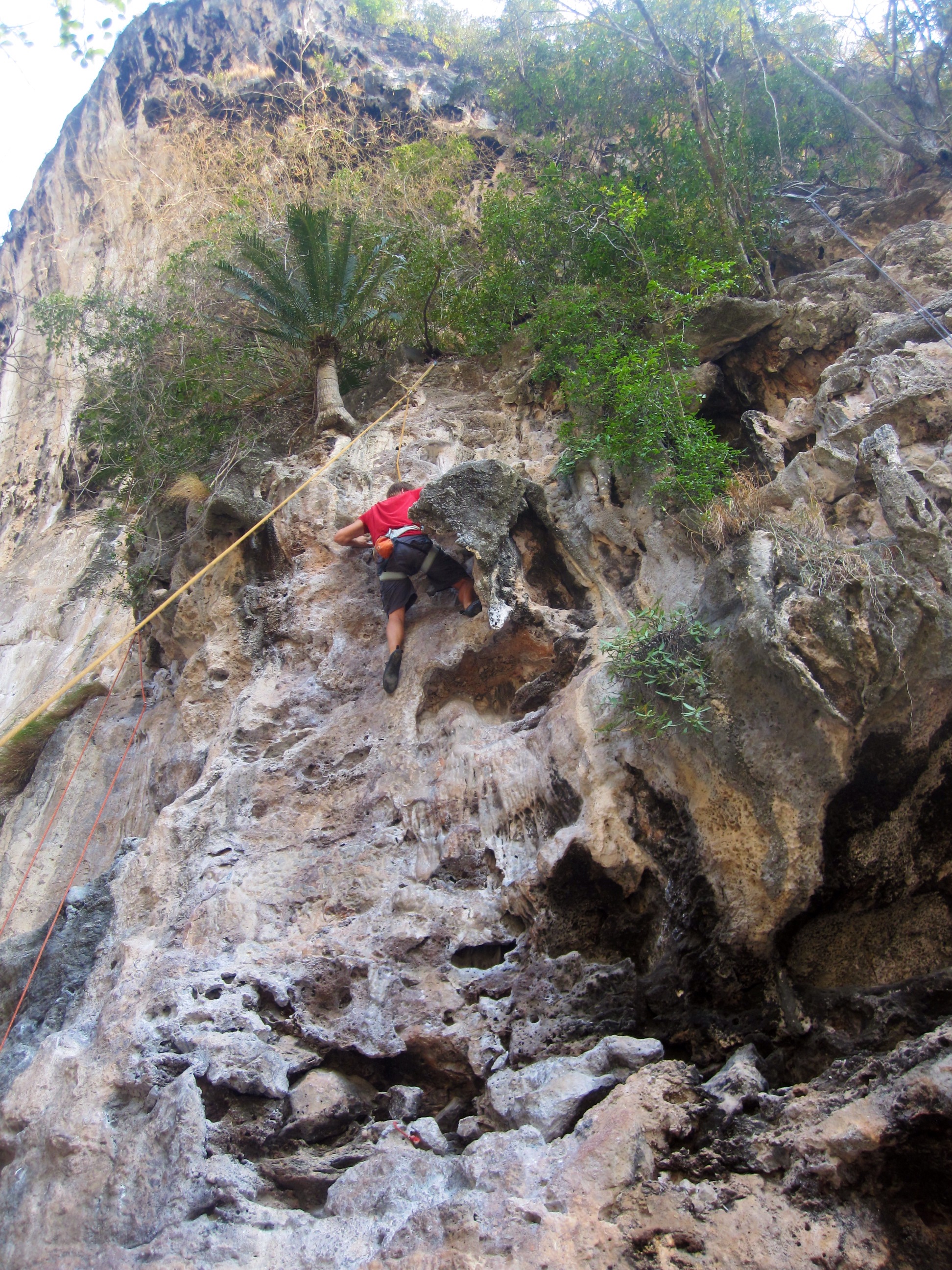 He may have been a bit shattered but he absolutely loved it. It was fab, a must if you're into climbing.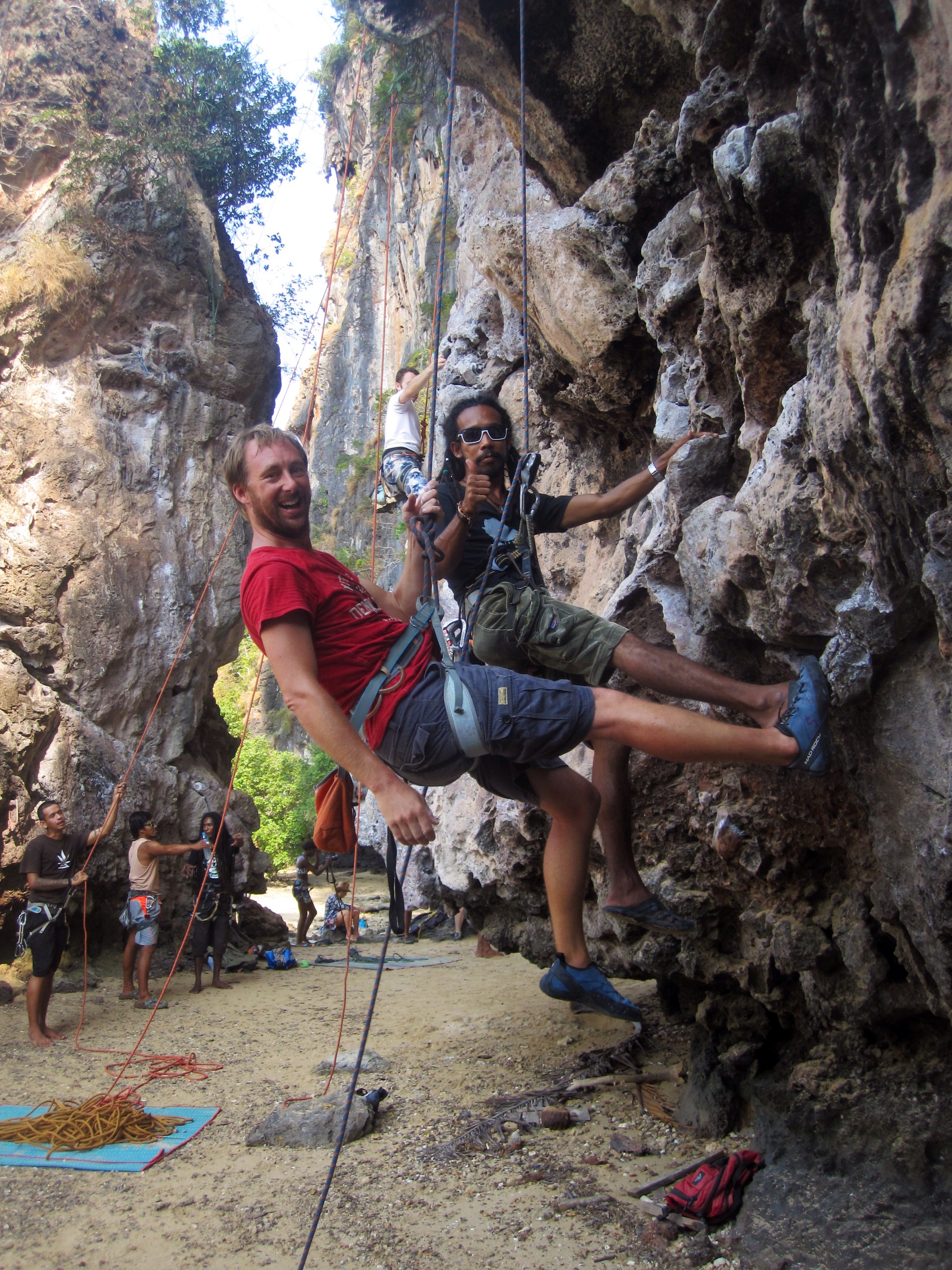 Freya summed it all up nicely at the end when she said "Wow that was AMAZING, I just feel like I could climb anything!".
We went on an island hopping tour the next day which was a huge dud! Really, DON'T DO IT unless you're into visiting admittedly beautiful beaches which are just covered with long tail boats and people walking around. They're small and so crowded with people and boats that there isn't even anywhere to sit.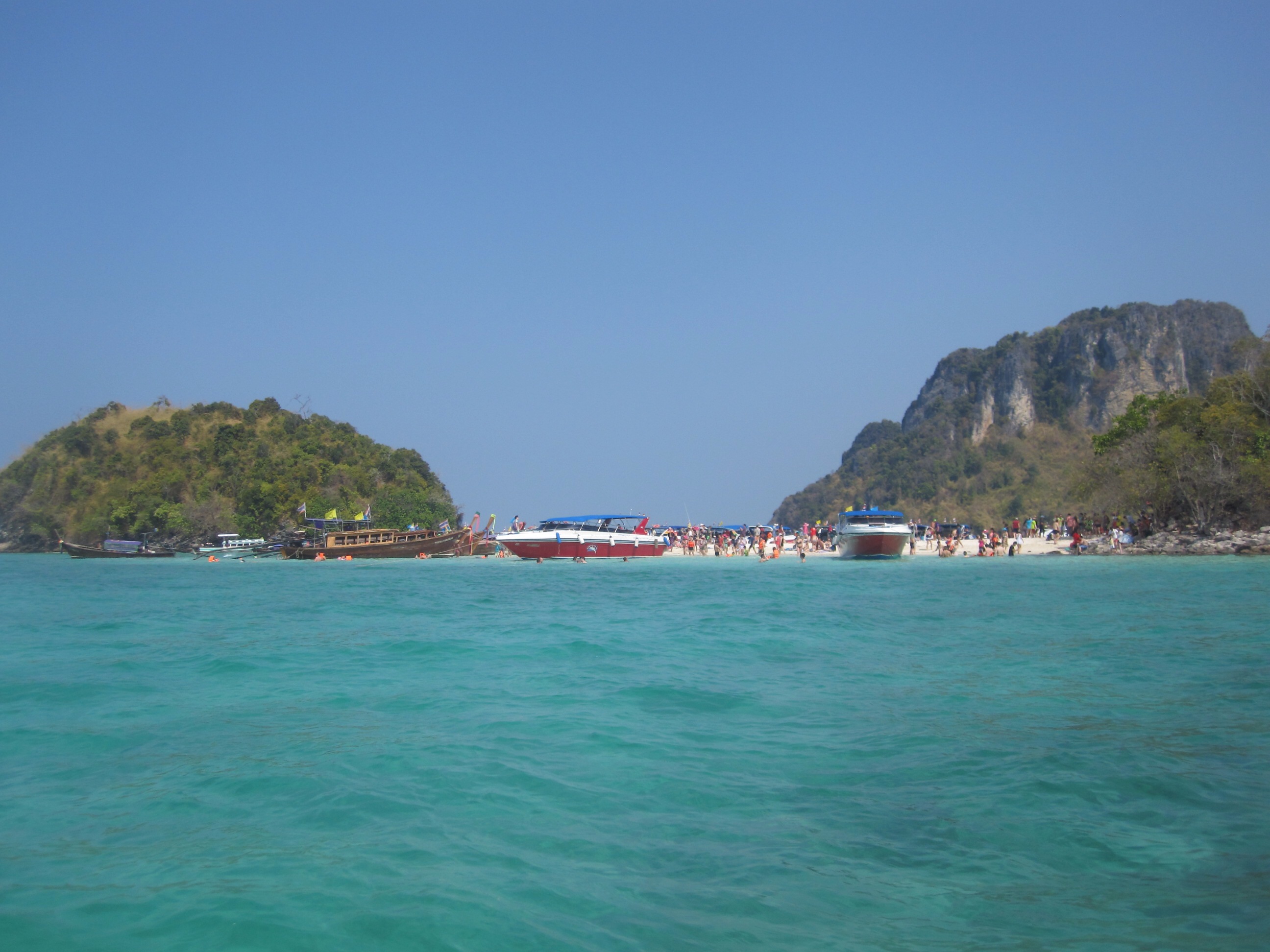 It's a horrible way to see some really beautiful spots. We didn't enjoy the trip at all and heard many others complaining too. There's a sunset tour you can do which I think would be much better as you'd probably avoid a lot of the crowds.
We left Railay the next day by catching a boat to Koh Lanta which is a big island not far from Phi Phi. We'd spent a week there when we travelled in Thailand in 2000 and absolutely loved it. We were dying to see if it had changed a lot in the 15 years. The ferry was great, we were able to sit on deck with our legs hanging off the sides.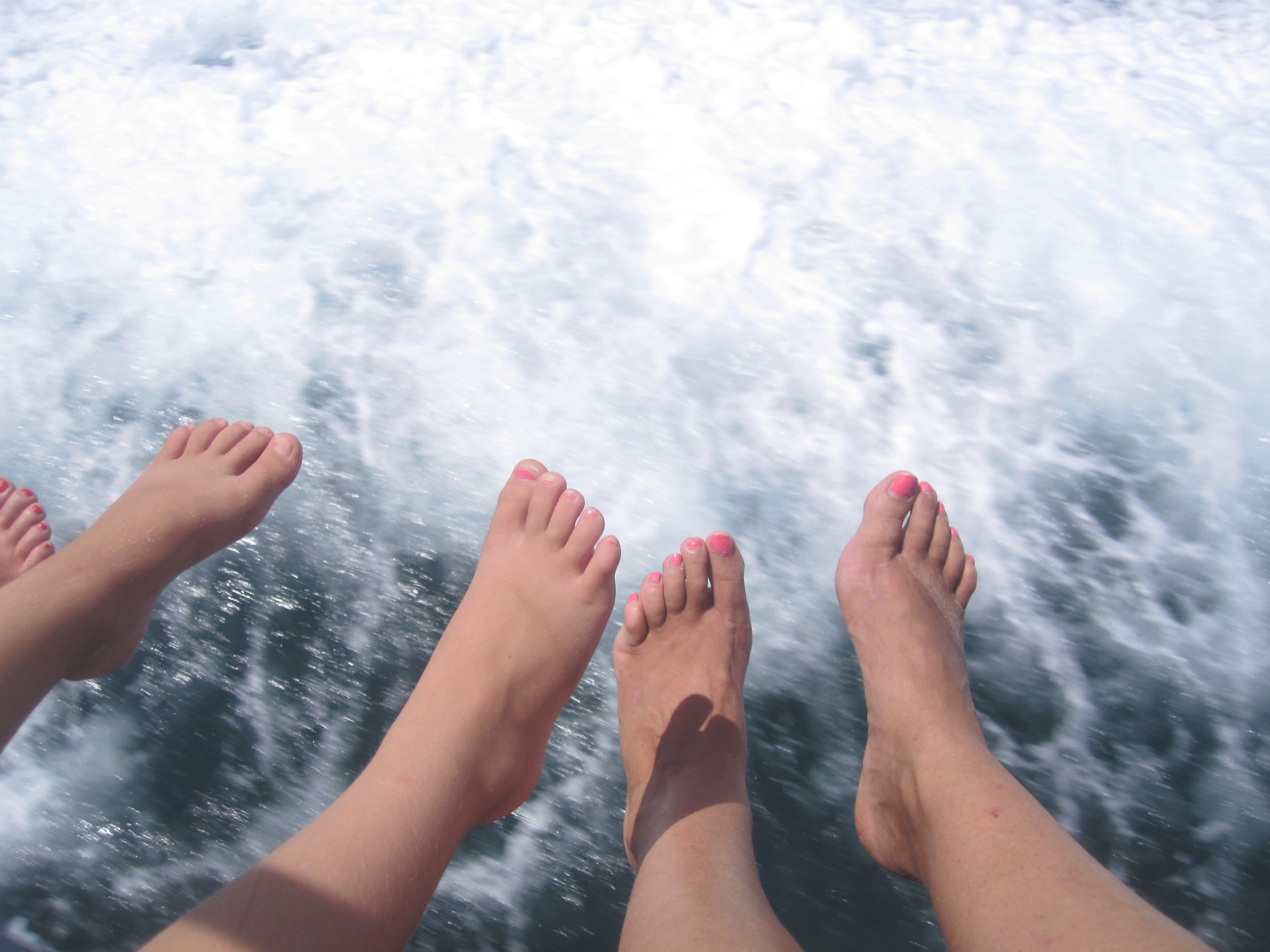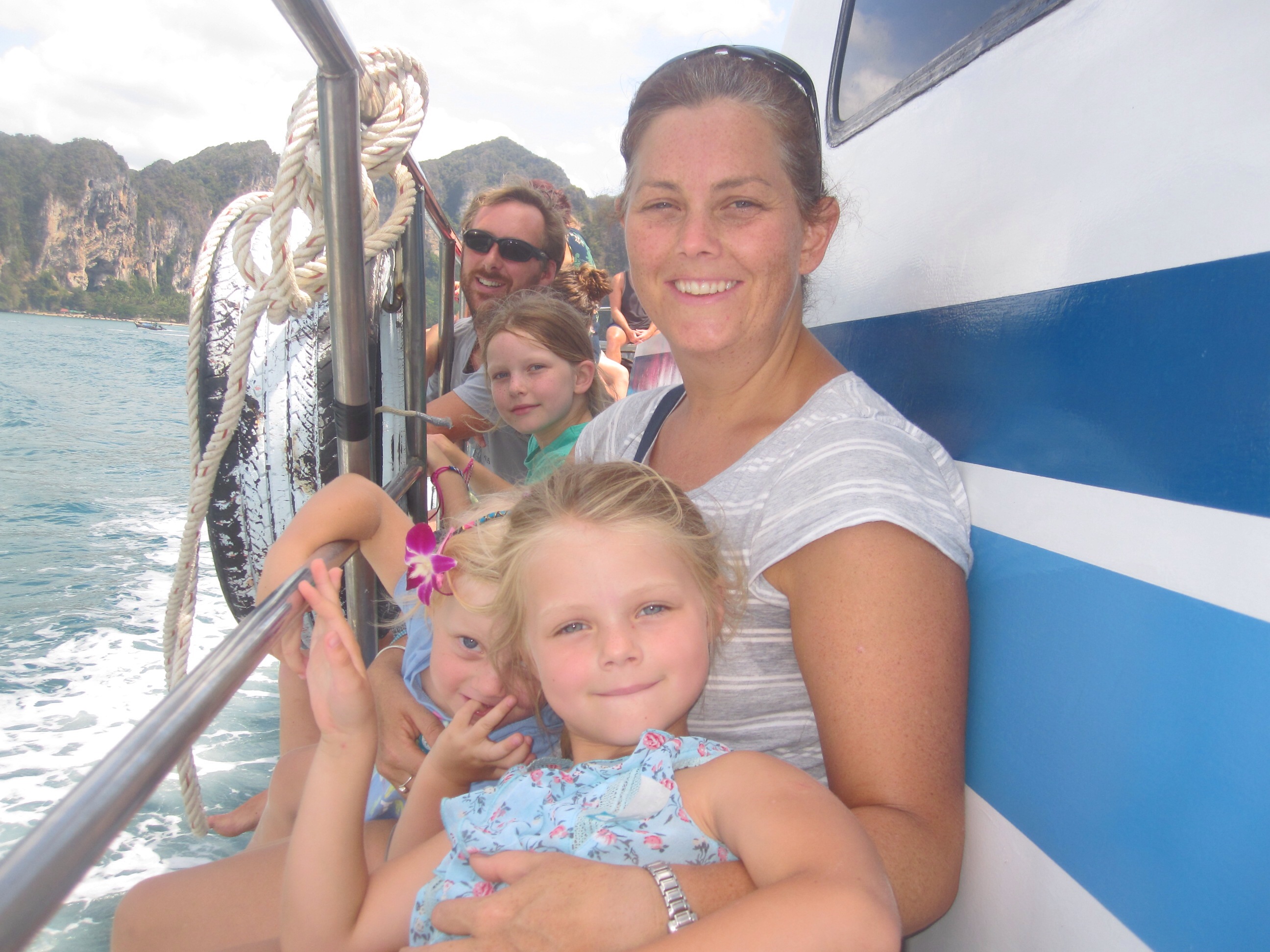 It didn't take long to realise Lanta had changed, arriving at the island there's a large built up port with a road leading off it. There were tuk tuks and taxis everywhere. When we arrived 15 years ago, there was no port and no road, just a dirt track with a pickup van which a few of piled into the back of. We caught a tuk tuk to bring us to Hat Khlong Nin where we thought we'd stay. We'd read there was a beautiful beach there and inexpensive guesthouses.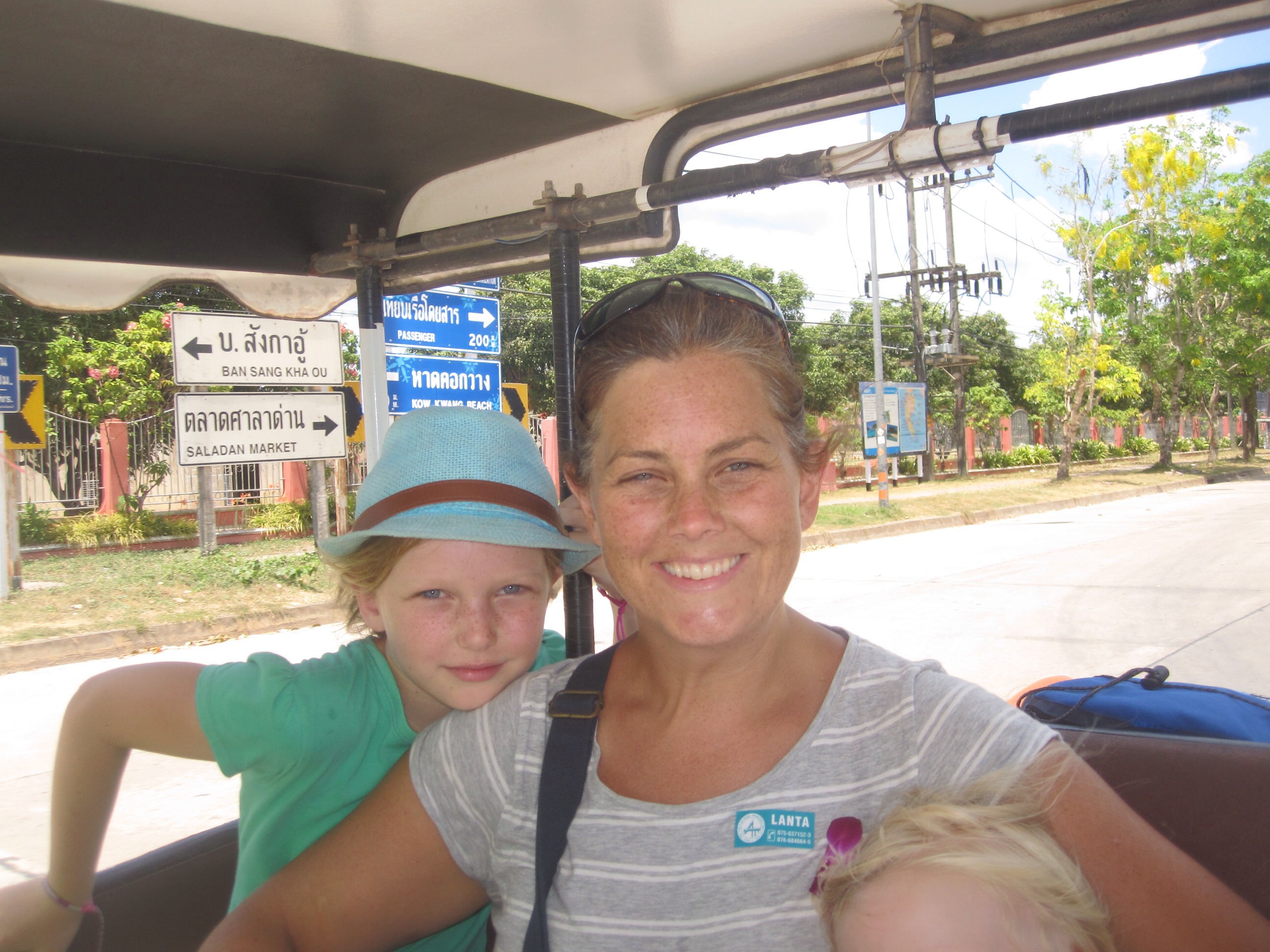 The book was right about the beautiful beach, it was stunning but we weren't so sure about the inexpensive guesthouses! The girls and I parked up in a restaurant on the beach and had a juice when Ro went off to find a room. Shuna is still talking about the delicious blueberry juice she got there!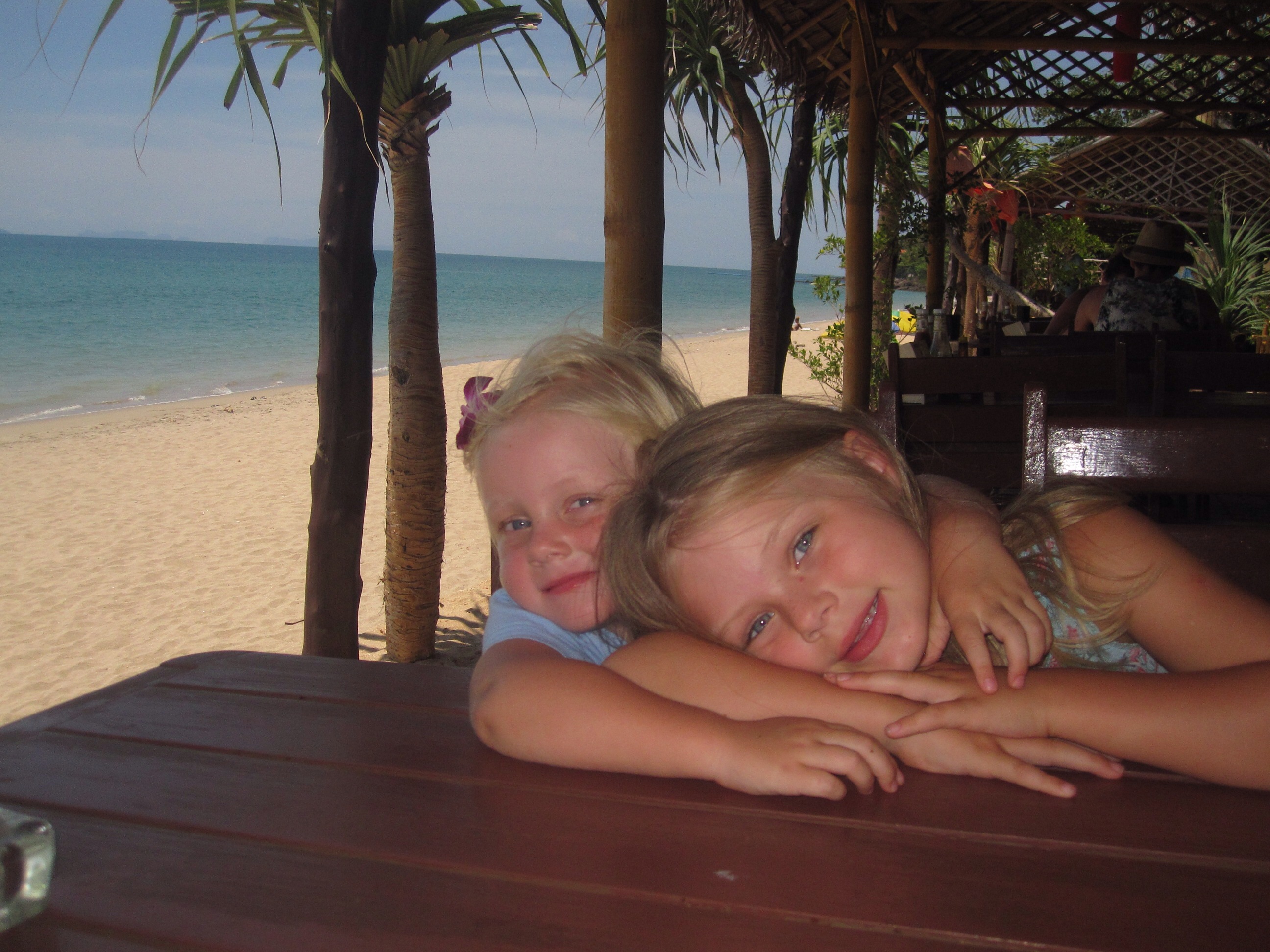 He found a great place right on the beach called sunset bungalows. We'd a room with 2 double beds, a mattress on the floor and an en suite bathroom. There was a restaurant on site with hammocks, loungers on the beach and deck chairs. It was a little bit of heaven!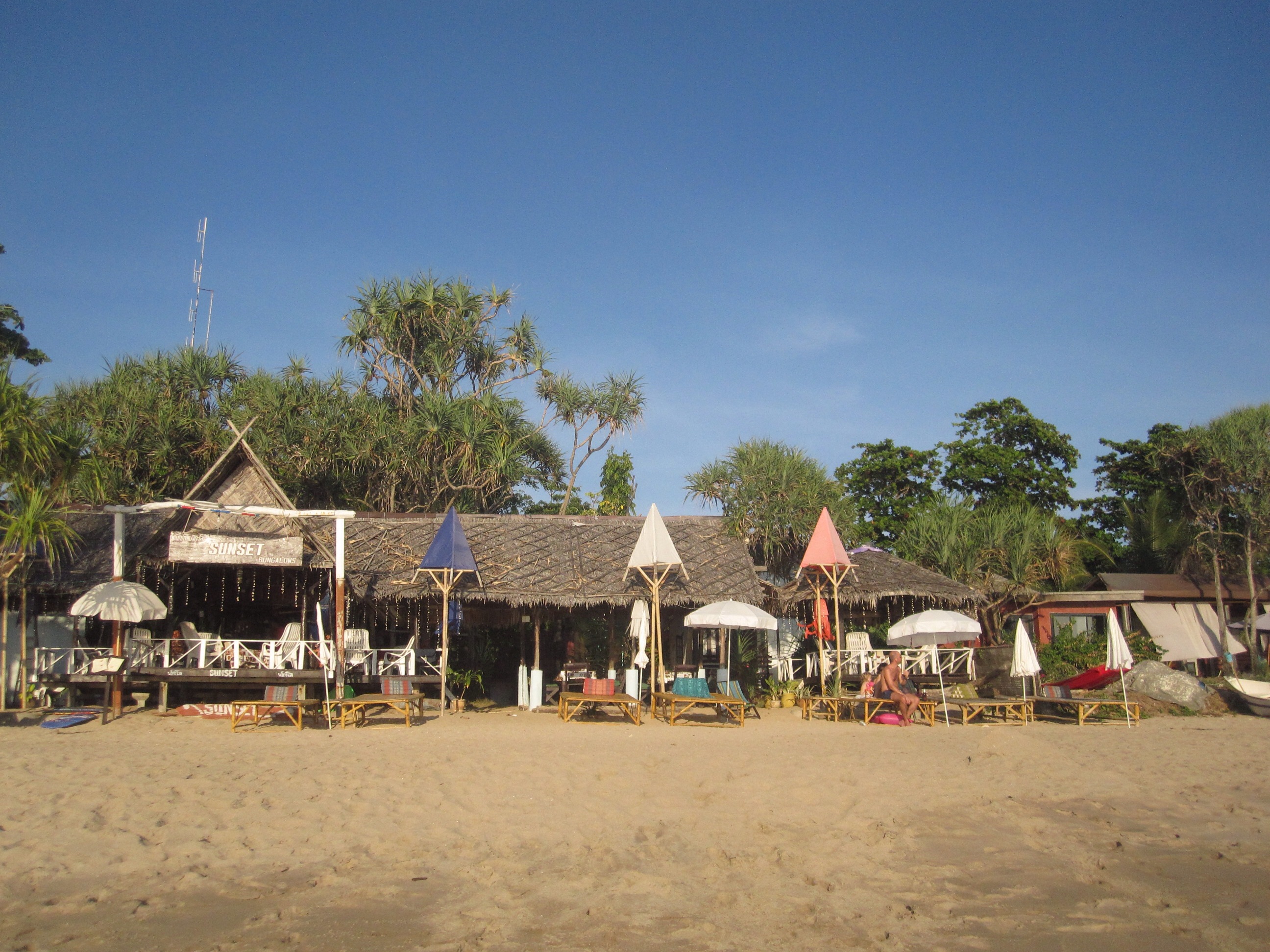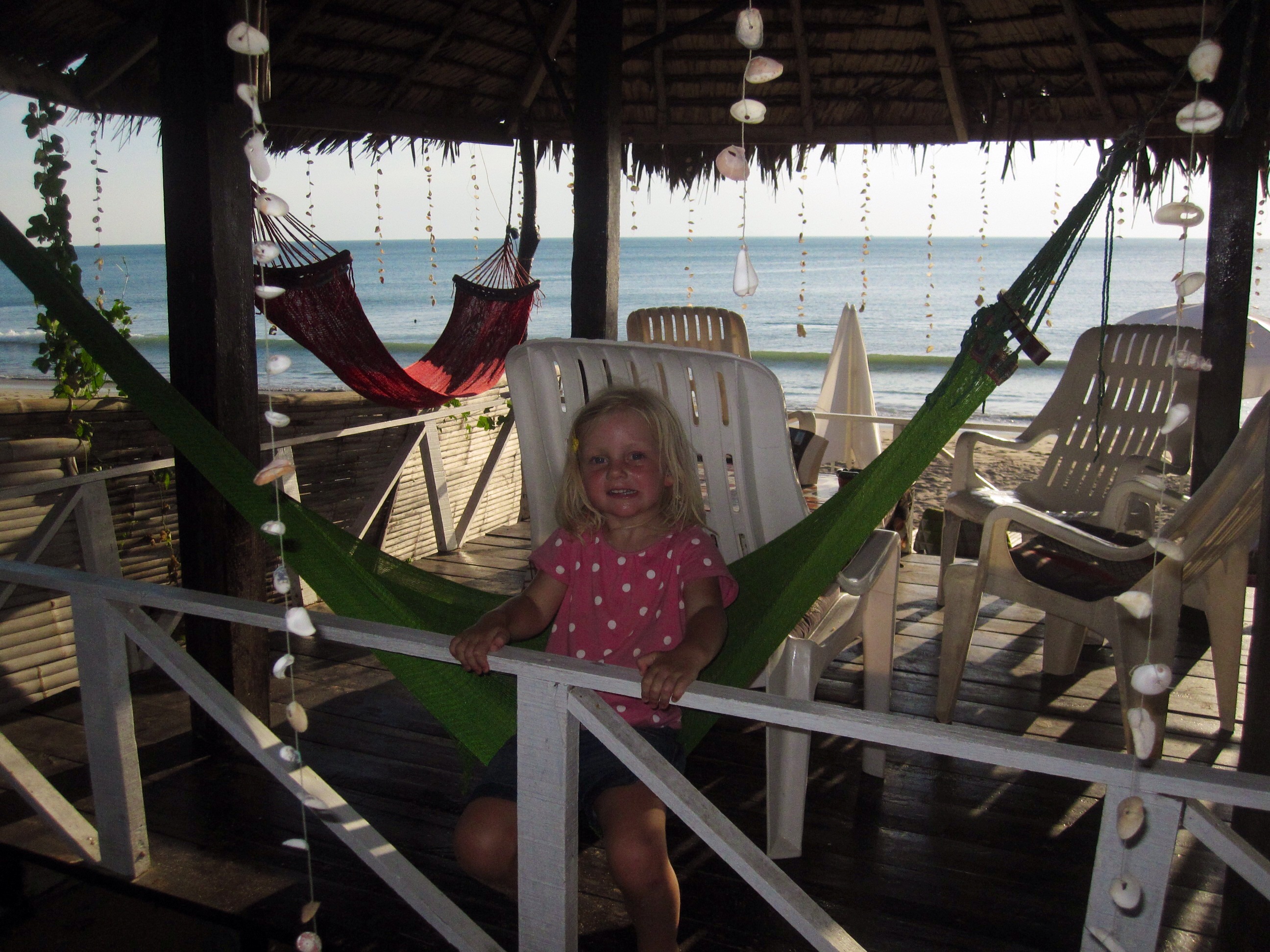 The beach at Khlong Nin is really beautiful. It's got just the right amount of action without being crazy. Hawkers aren't allowed on the beach so you're left in peace and jet skis and banana boats are banned. So it's clean and safe and beautiful and not packed at all. What more could you want?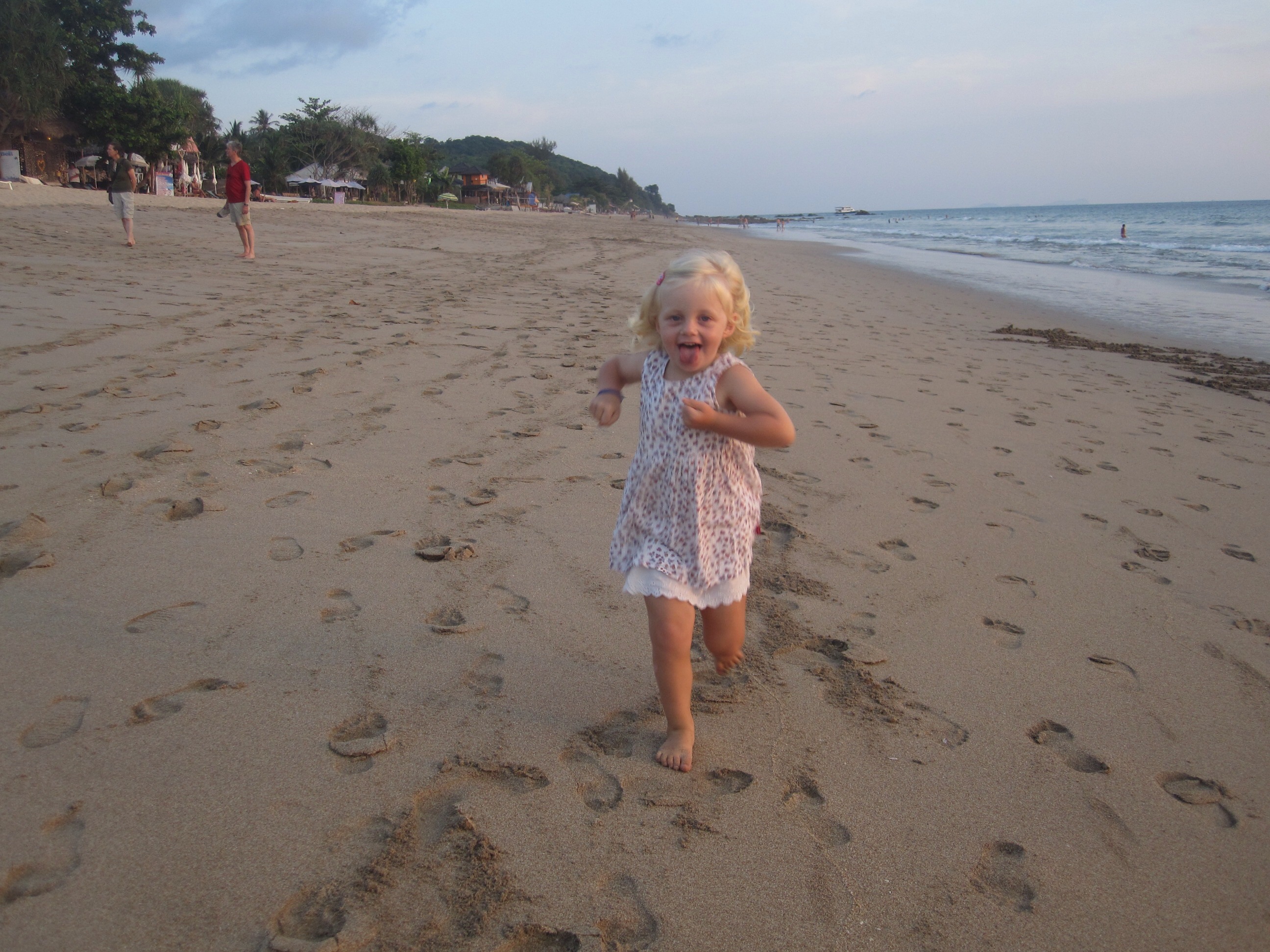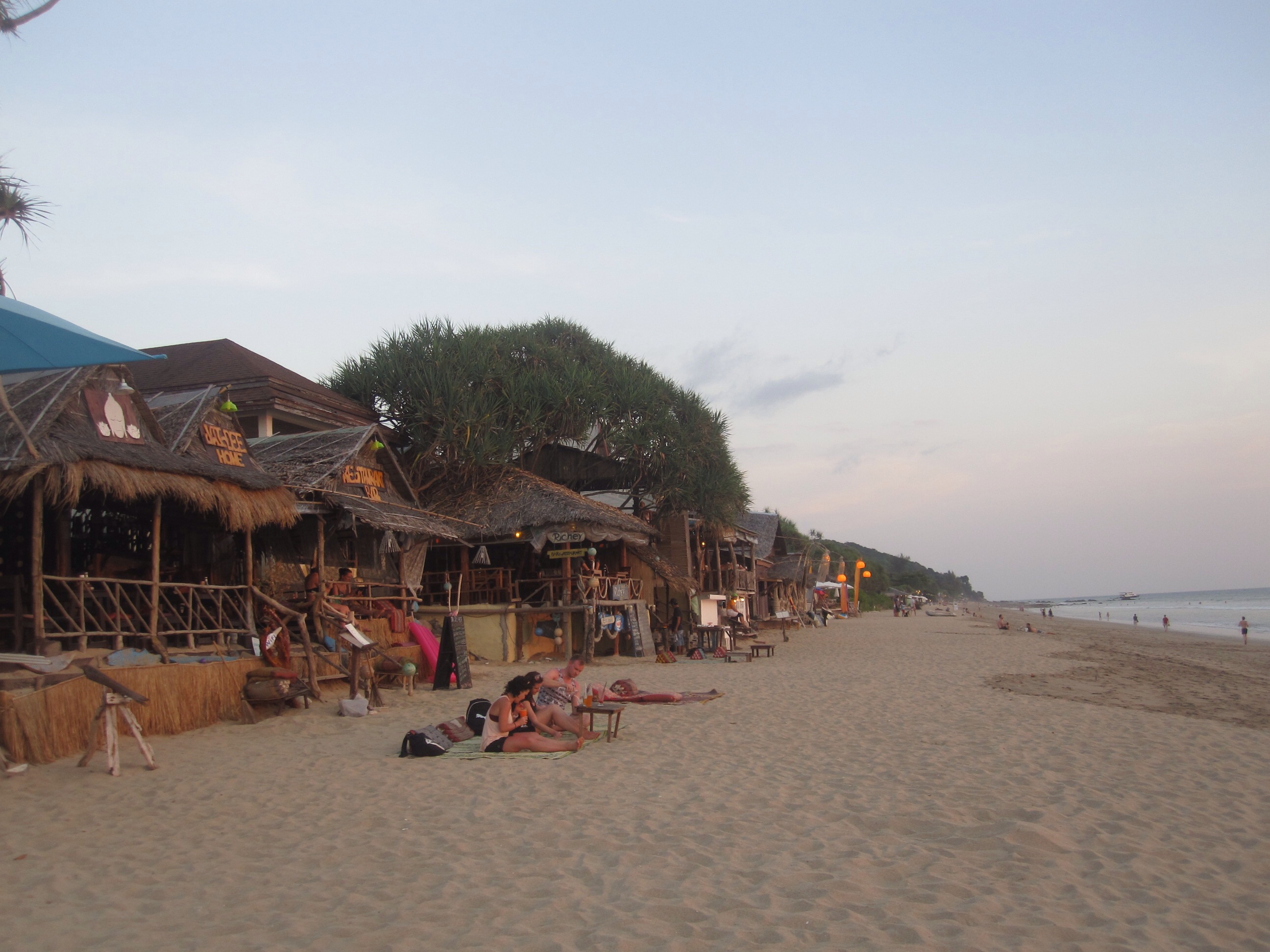 We spent the next few days doing very very little which was unusual for us and so nice! We literally parked up in loungers for the day, popped into the sea when we were too hot, built a few sand castles, dug holes in the sand and had a few beers. It was smashing. I don't think we left our little patch once!
By day 3 we were ready to get going again and have an adventure so we hired mopeds and set off to explore the island.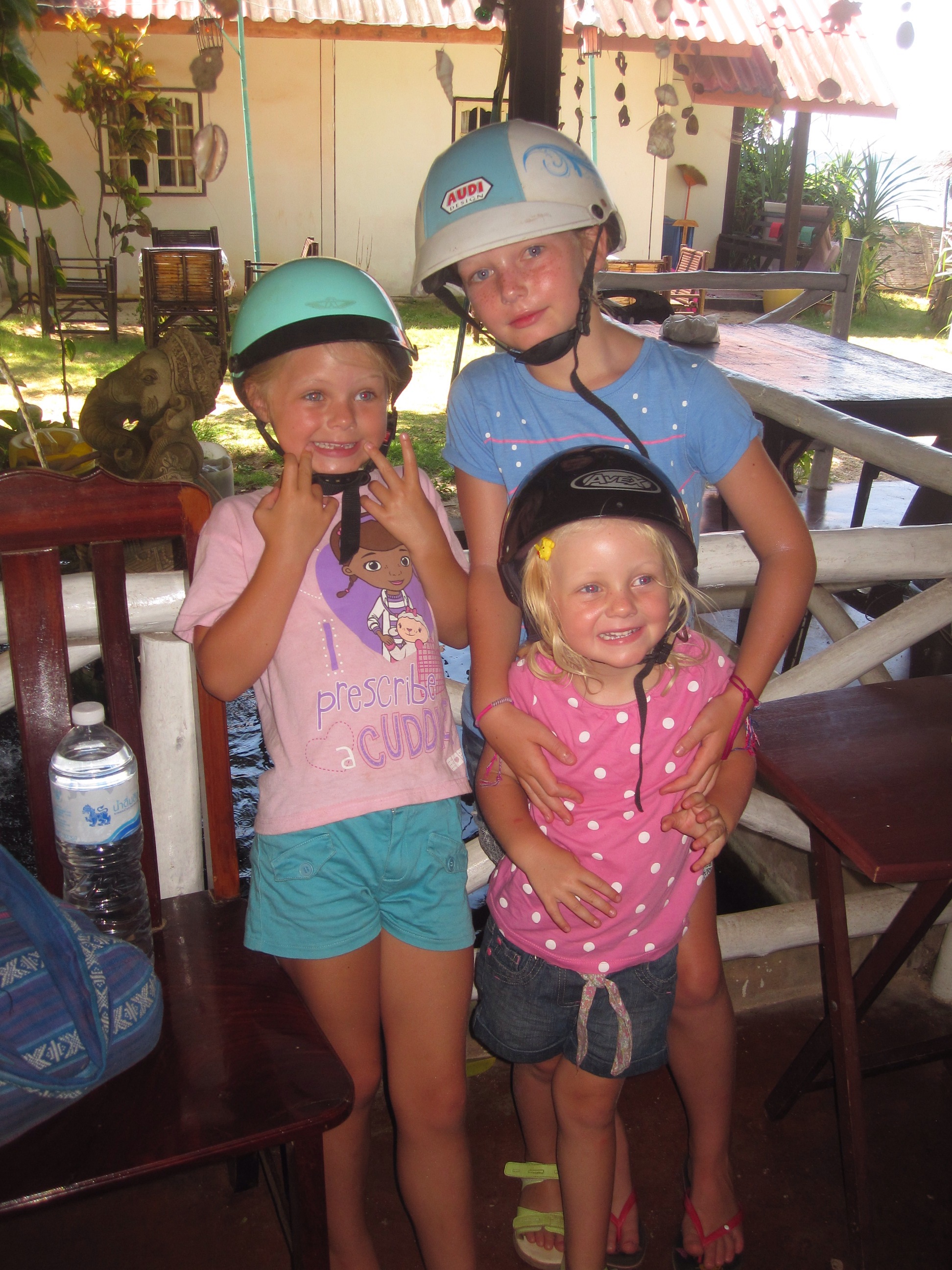 It was a great day. We headed South and found some amazing beaches which were completely deserted.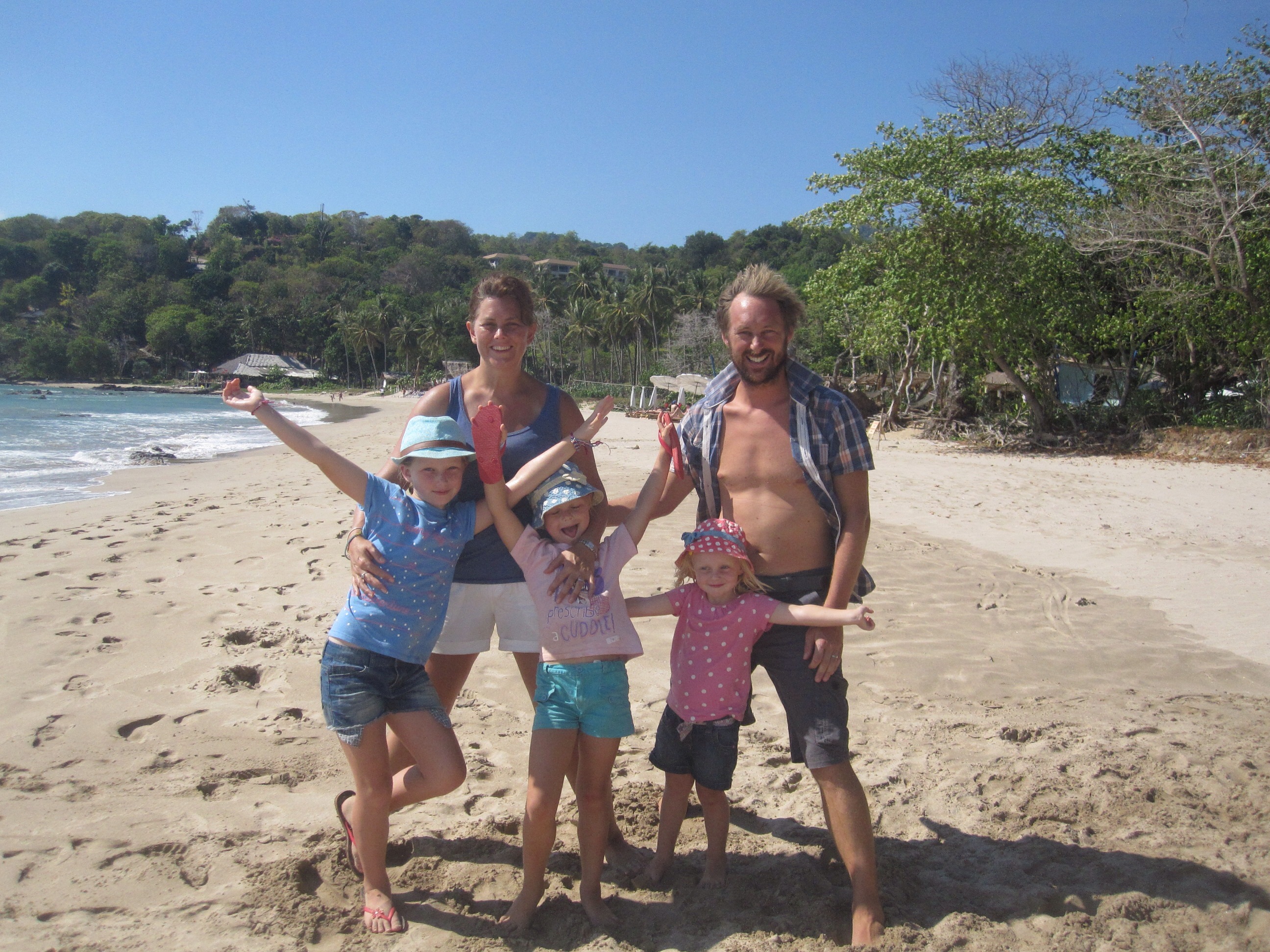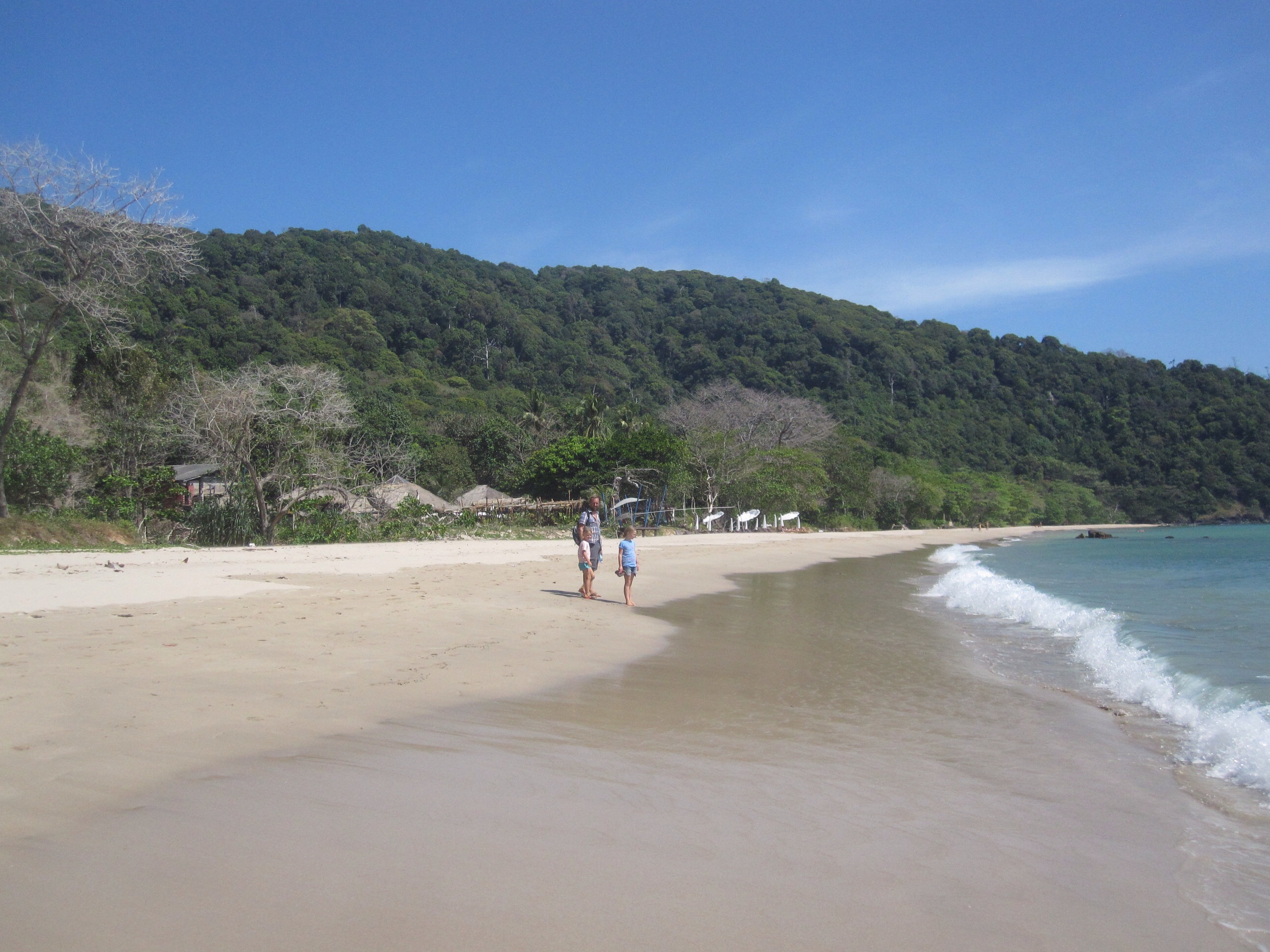 We also spotted a sign for elephant trekking. We'd promised the girls an elephant trek in Thailand so in we went. We got 2 elephants with 2 pretty crazy drivers. Well Ro's driver was crazy anyway. He could tell Ro was a bit nervous trying to hold onto Dervie and Shuna and stay on the elephant. So to really freak him out, he'd send the elephant off the track down some particularly steep stretch or set him off running down the path. Have to admit it was kinda funny, probably not for Ro though.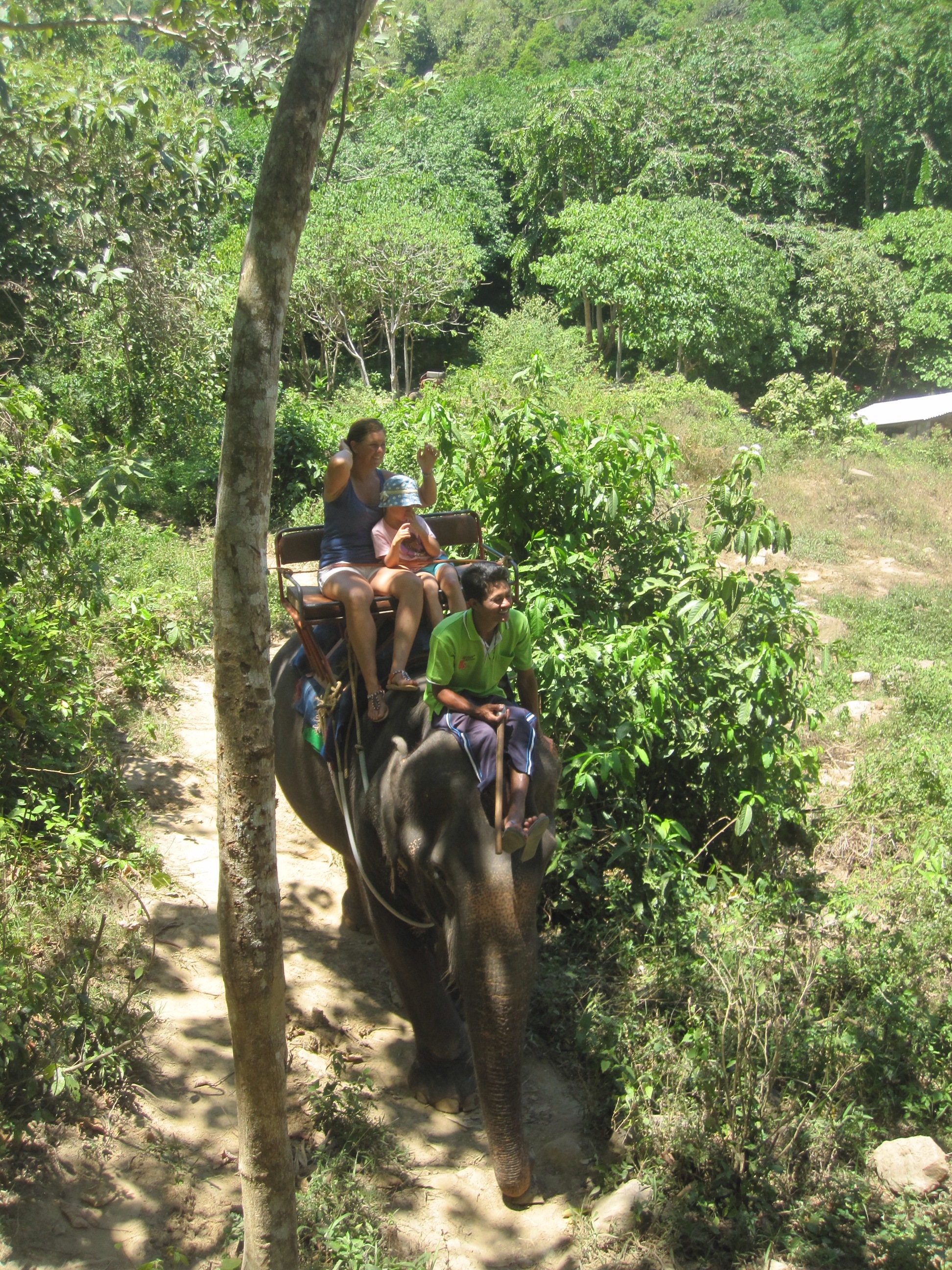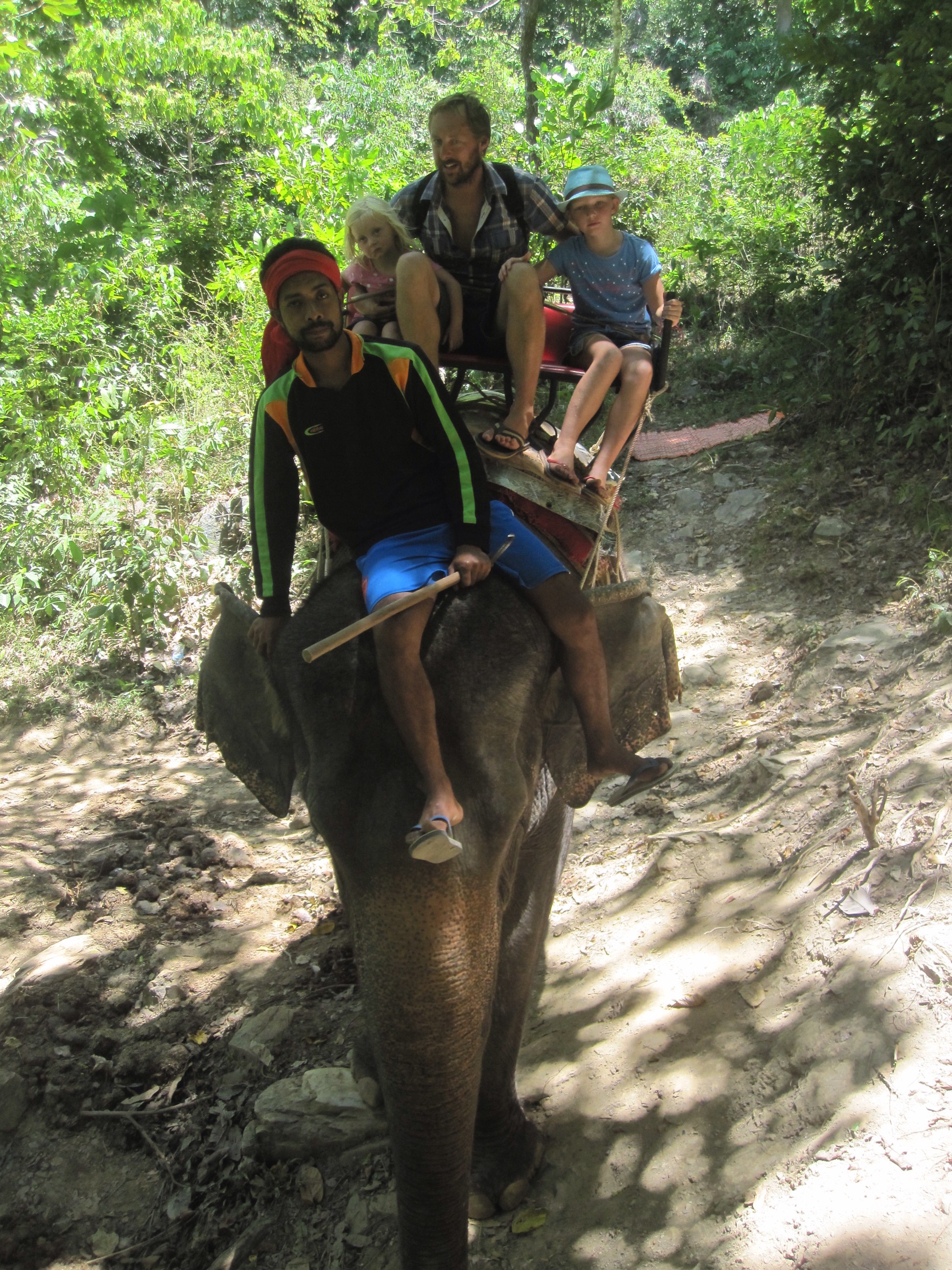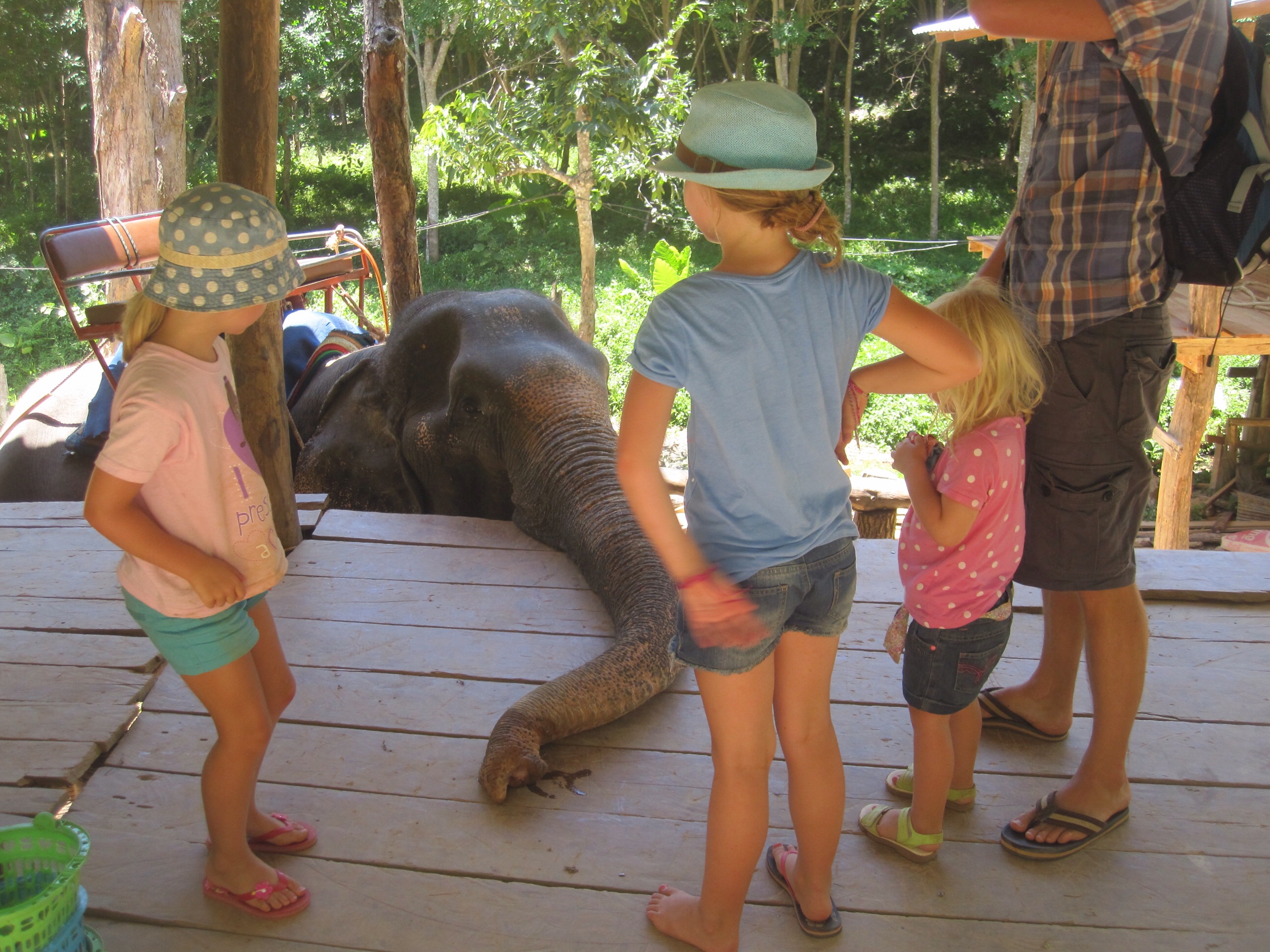 On the way back we stopped for a juice (with no ice!) in a little cafe at the top of a hill. The views were outstanding. Lanta really is a beautiful island.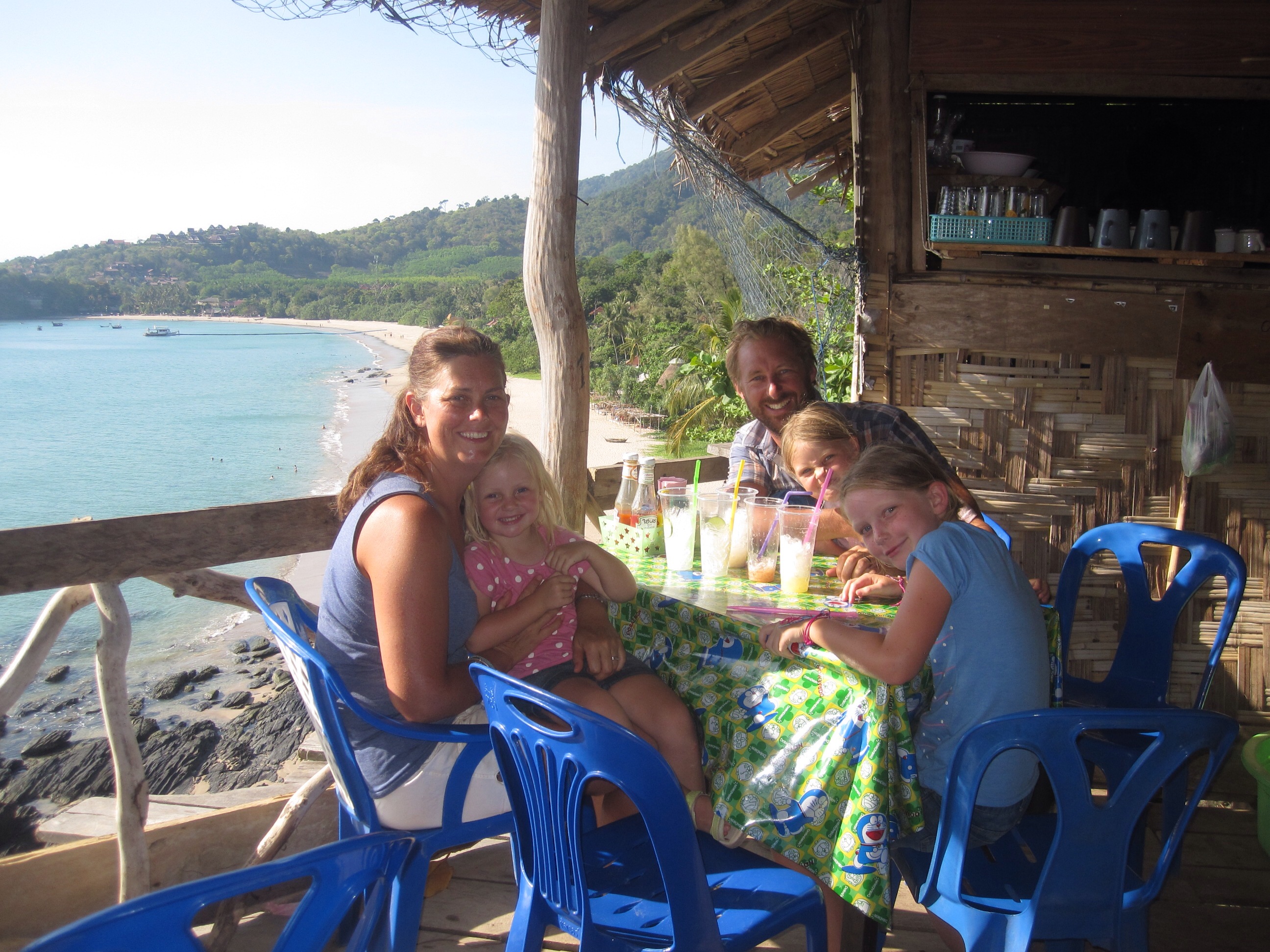 On the way home I spotted this sign and had to stop for a picture.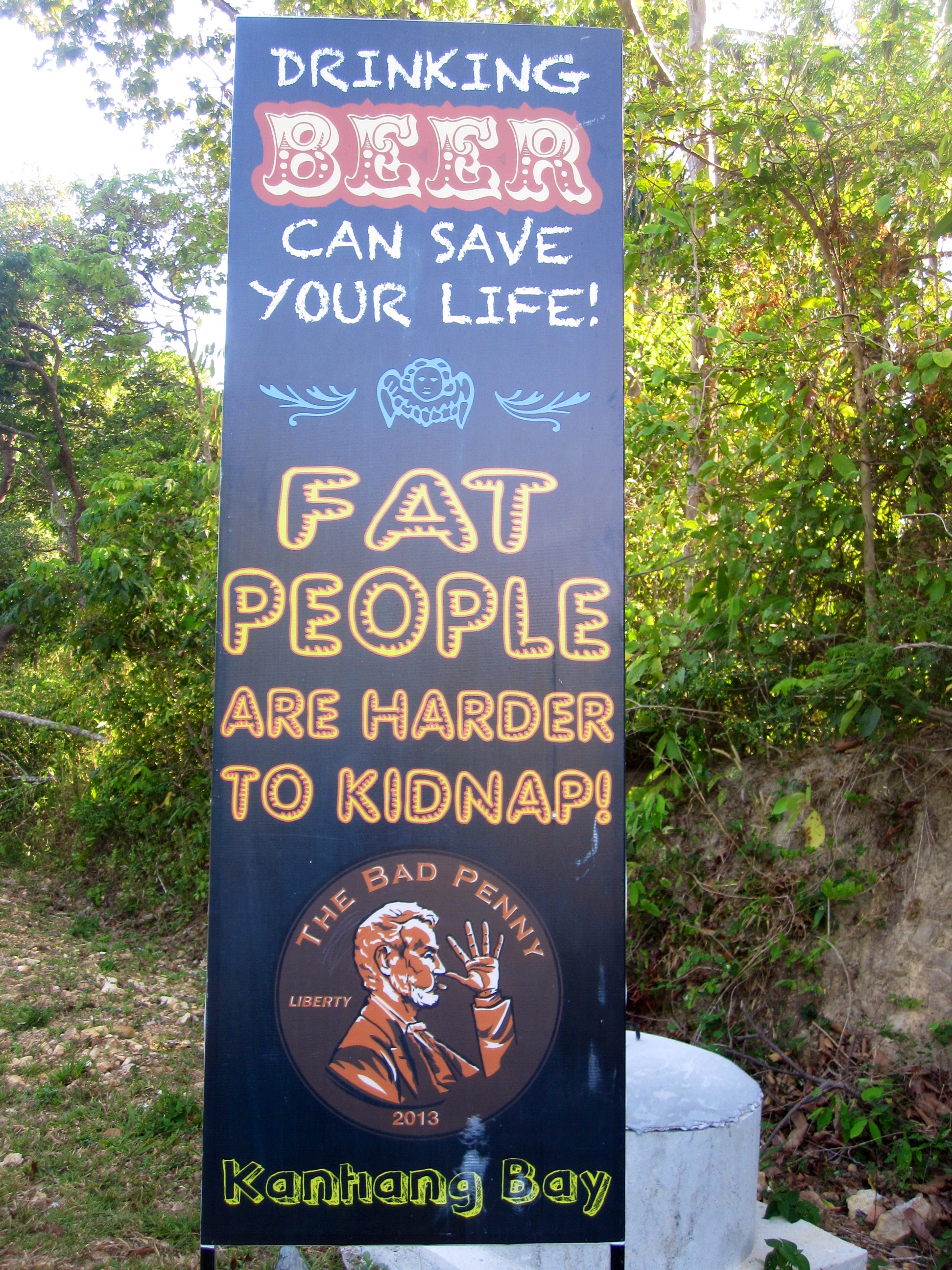 Riding around the island was brilliant, you get so much freedom. We loved it. I think I even got a bit better on the bike, certainly Freya stopped squeezing me quite so hard going down hill!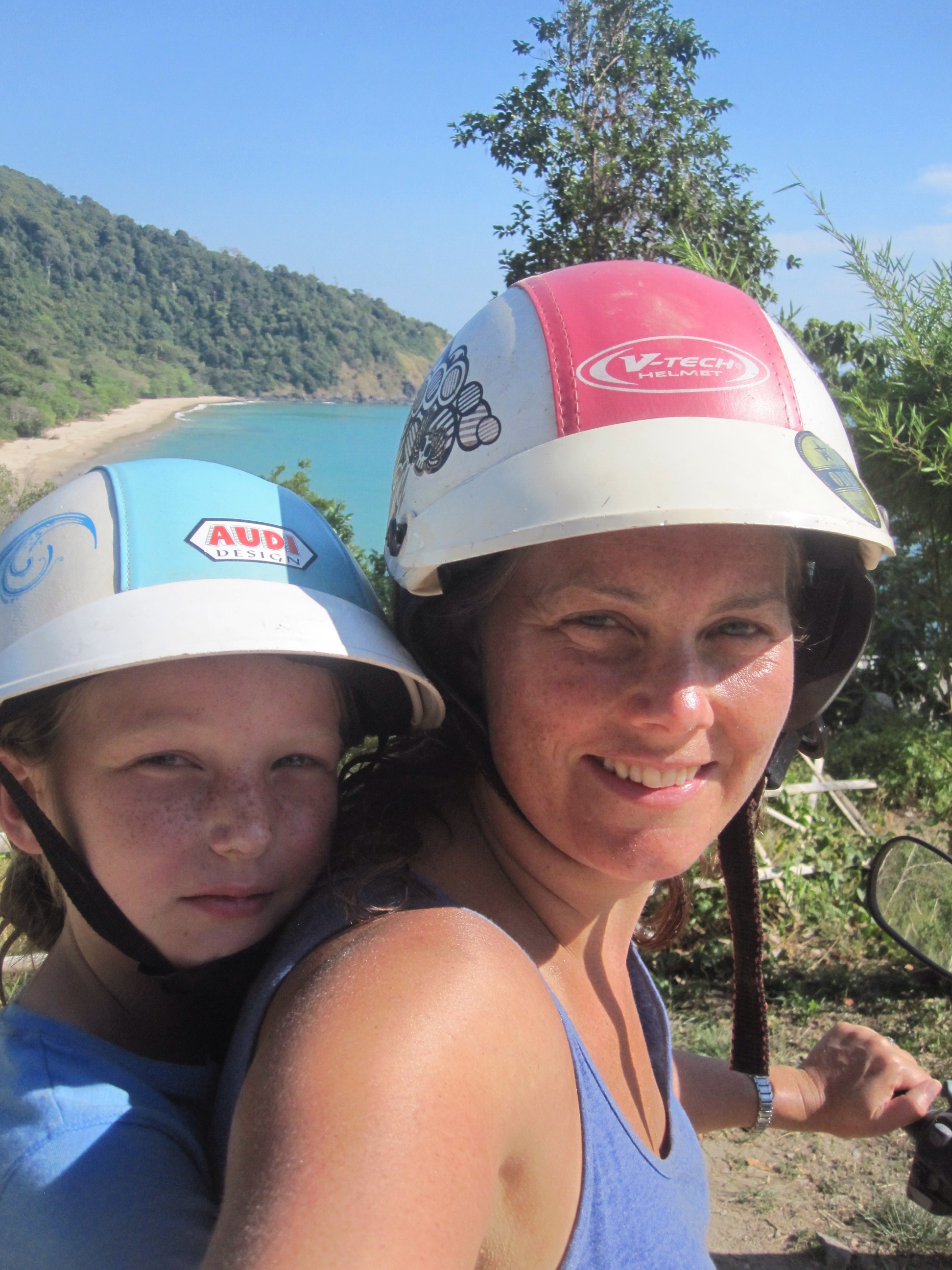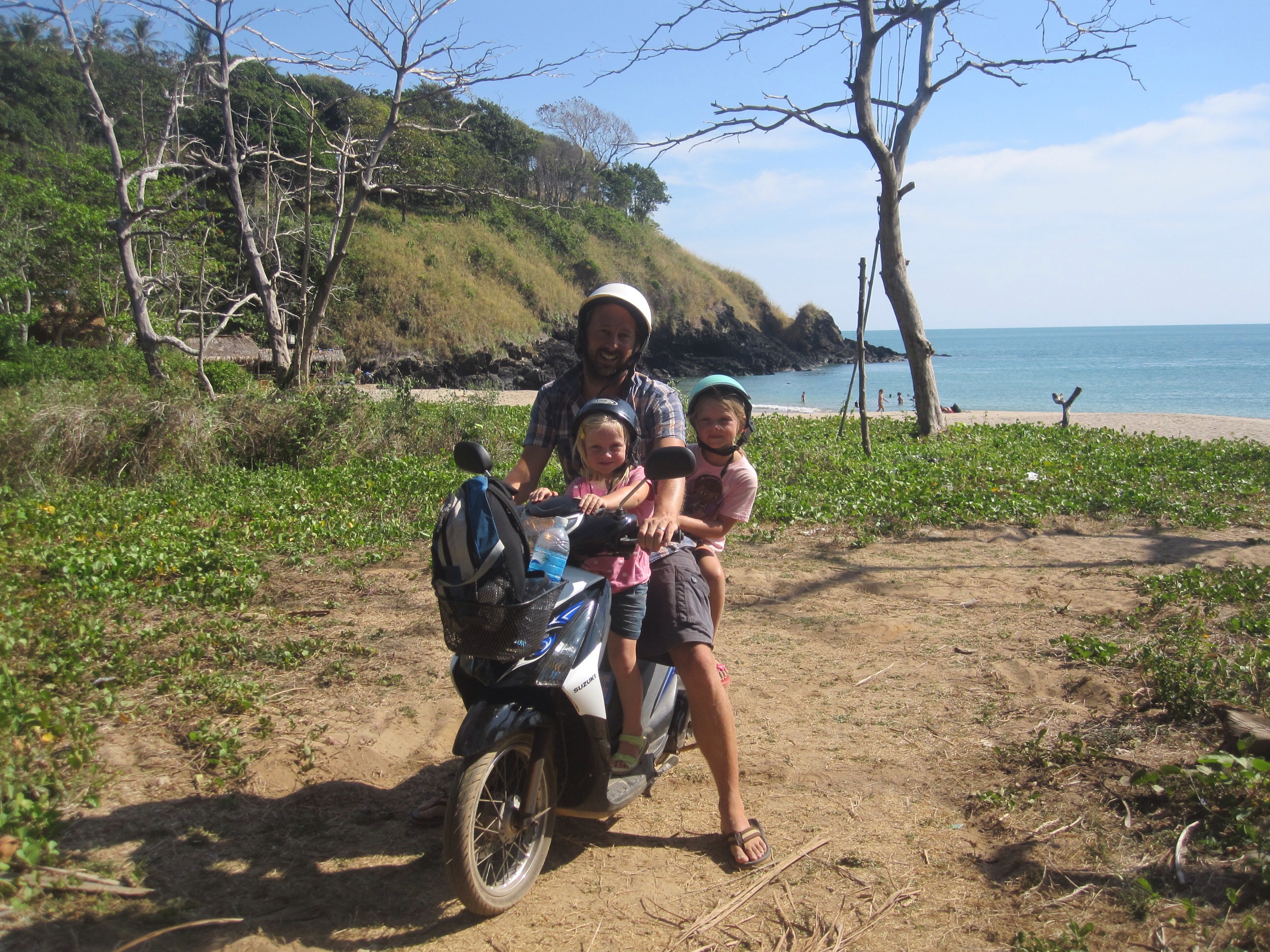 There were some spectacular sunsets on the beach where we were staying, lovely to admire with a sundowner and the kids playing happily in the sand.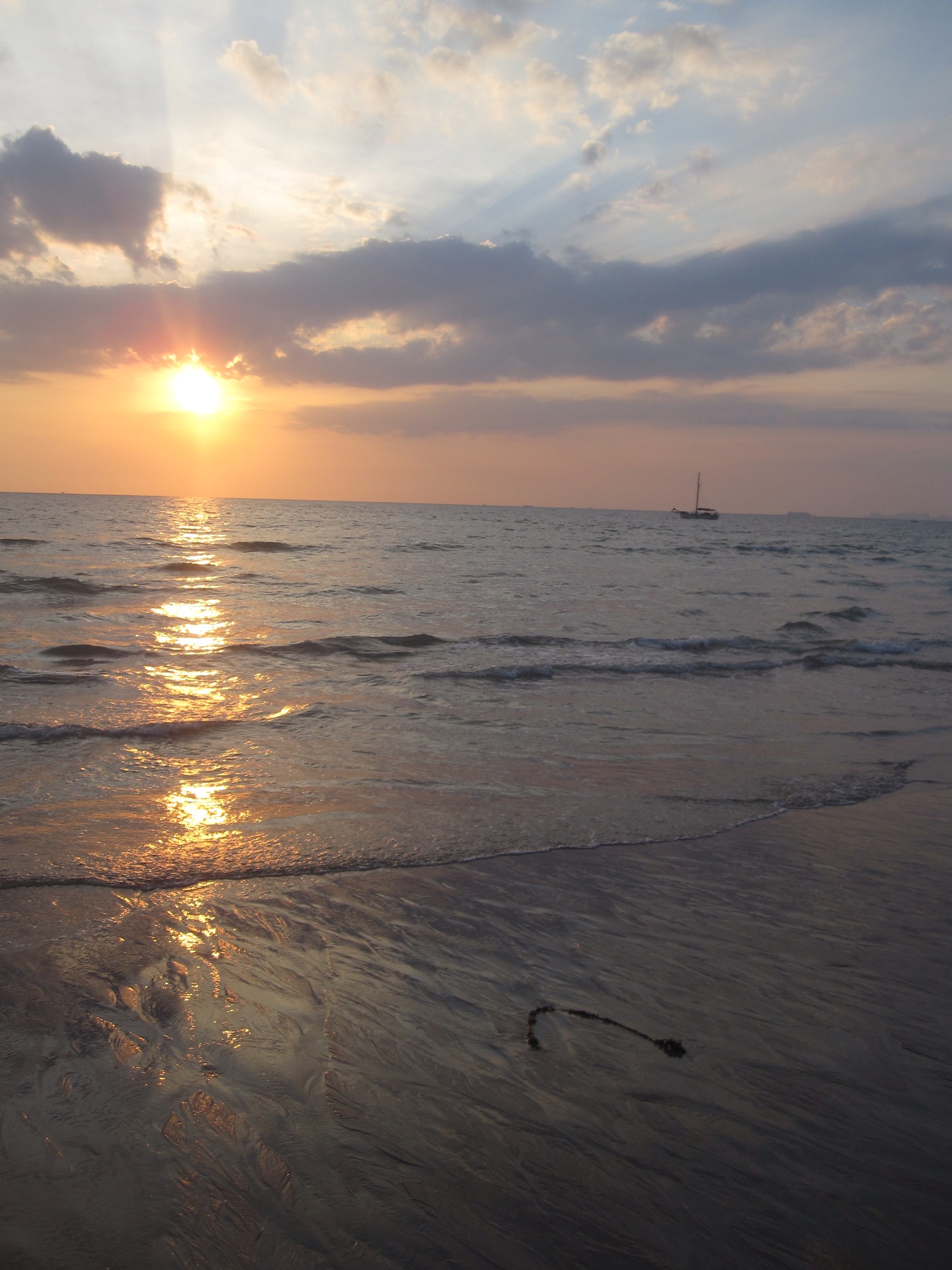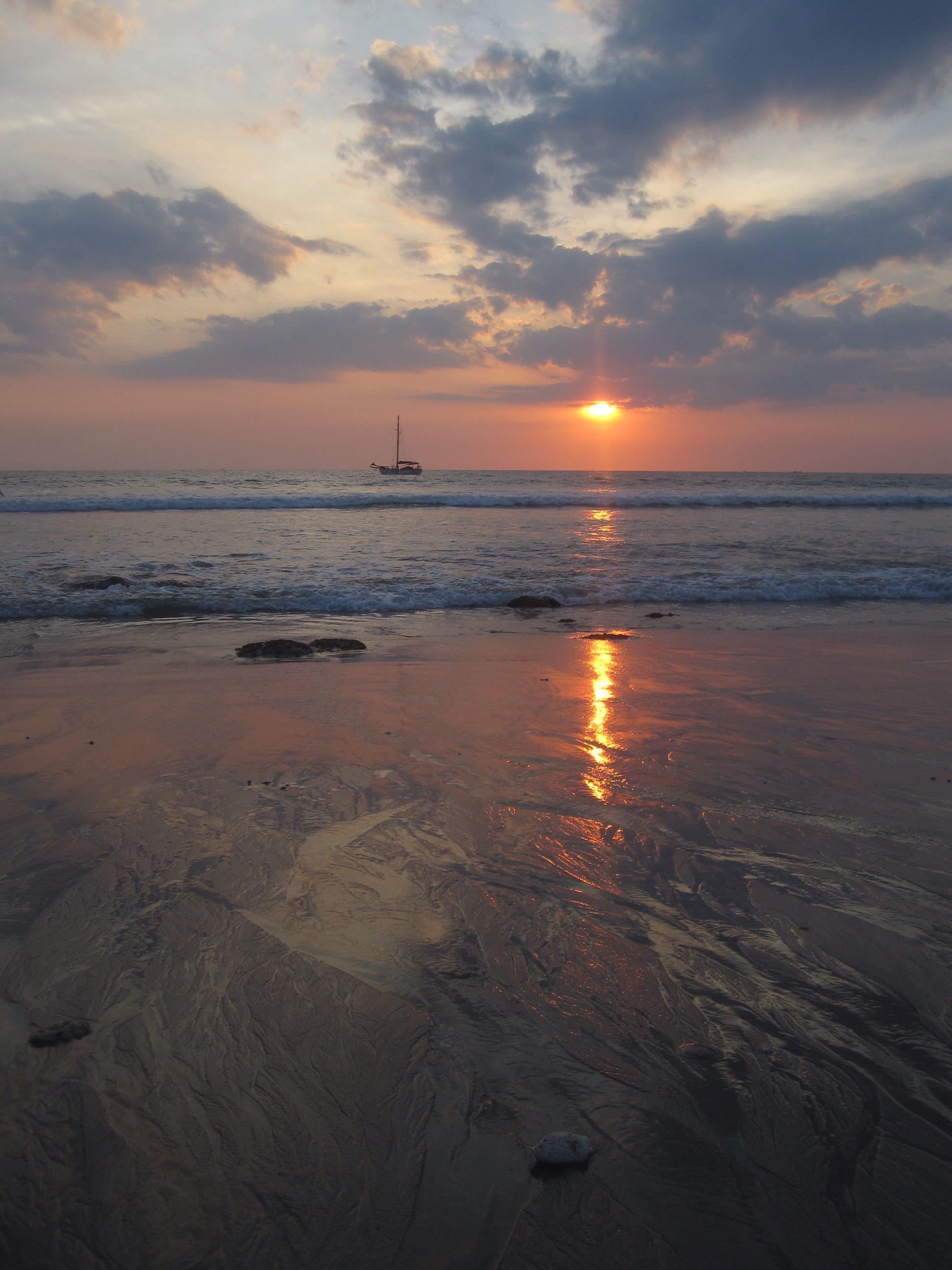 We left Lanta the next day feeling completely chilled and relaxed. We'd definitely recommend it for a visit, it's beautiful.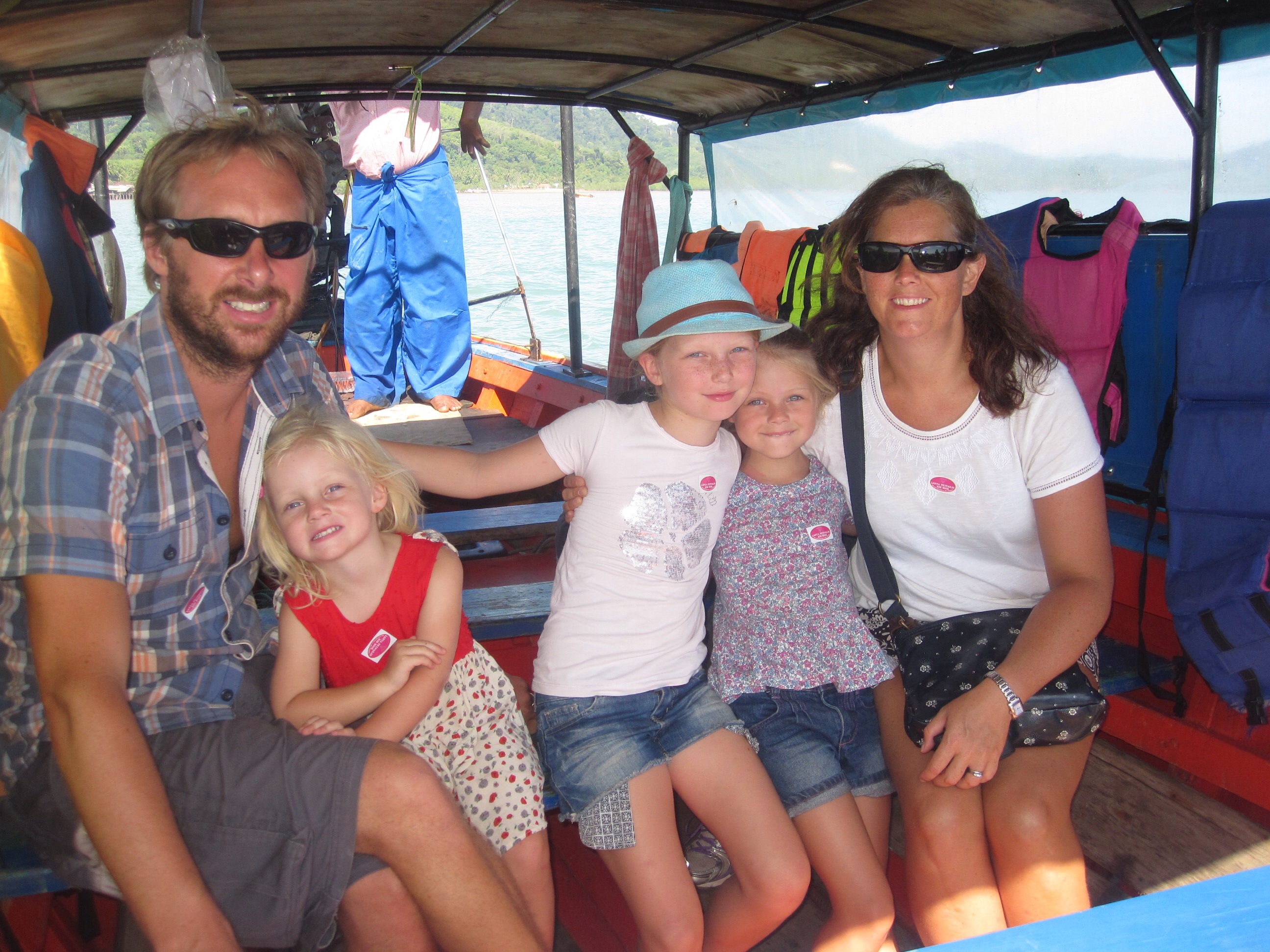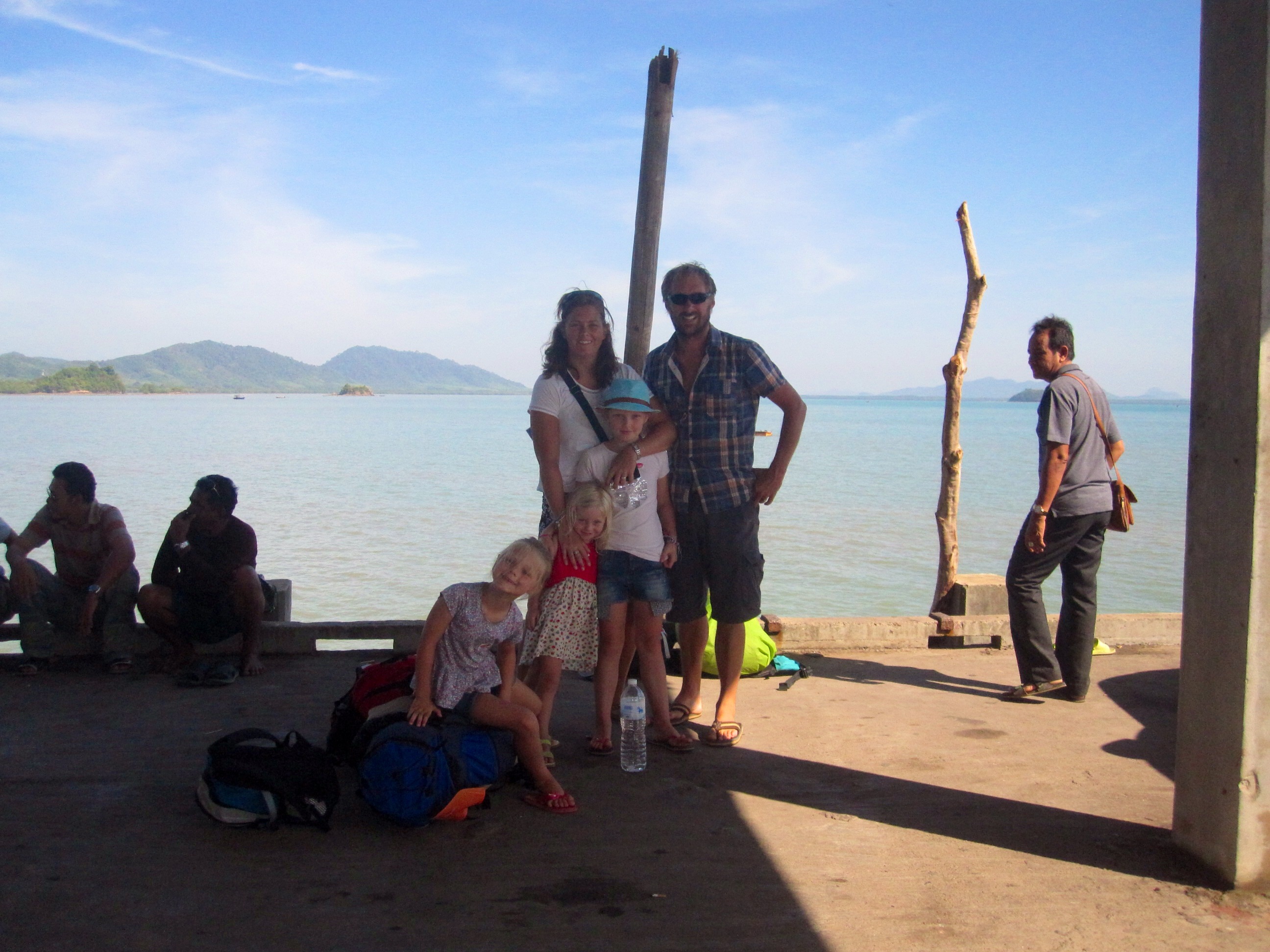 Next stop was Koh Mook. We booked accomodation on Koh Mook as we knew there wasn't much and we didn't want the hassle we had on Lanta finding somewhere. We booked a place called Coco lodge.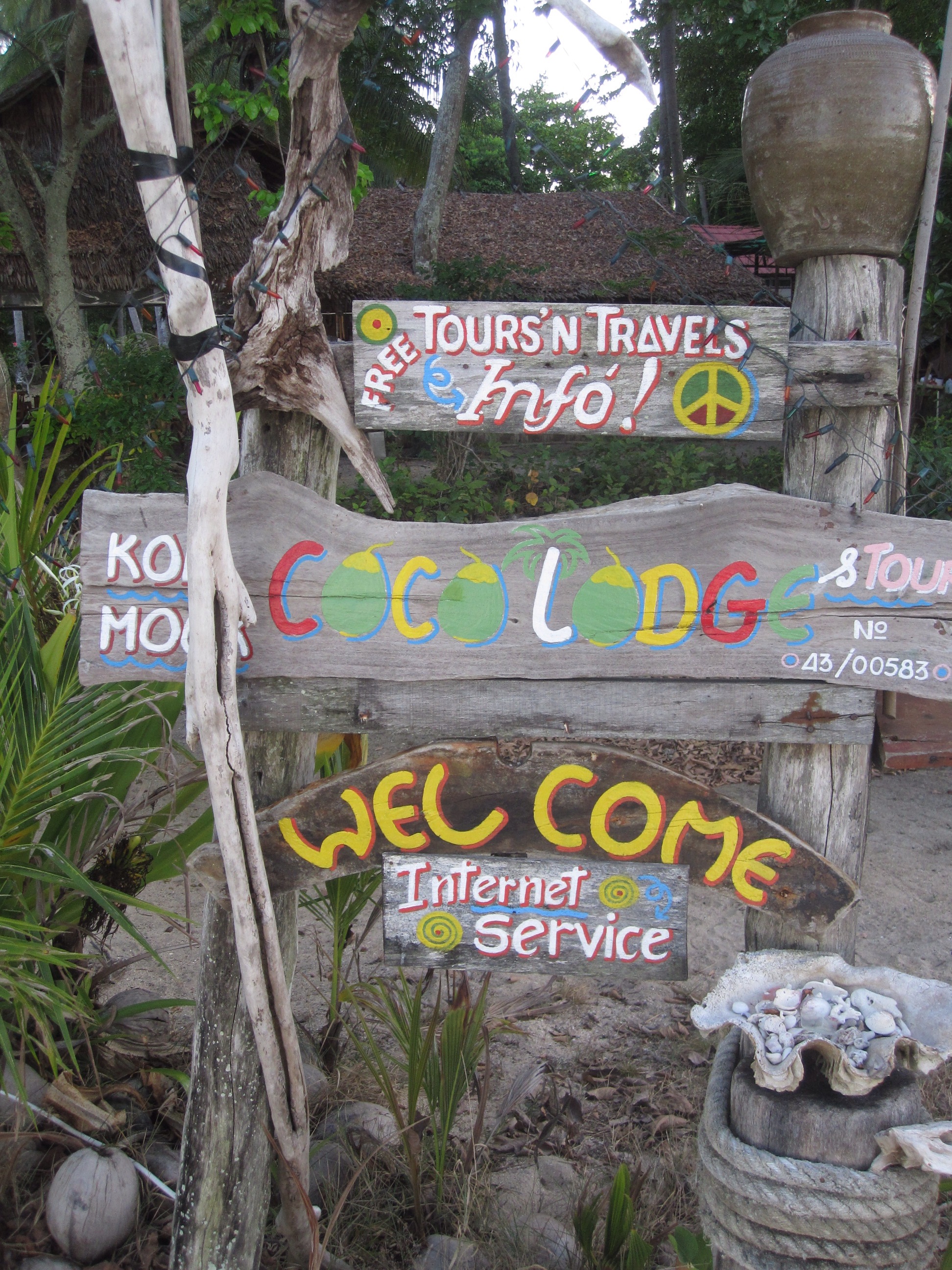 We absolutely loved it here. We had the best bamboo bungalow ever, at least the coolest one we'd ever seen. It had a big double bed and a set of bunks with their own mossie nets which the girls just loved.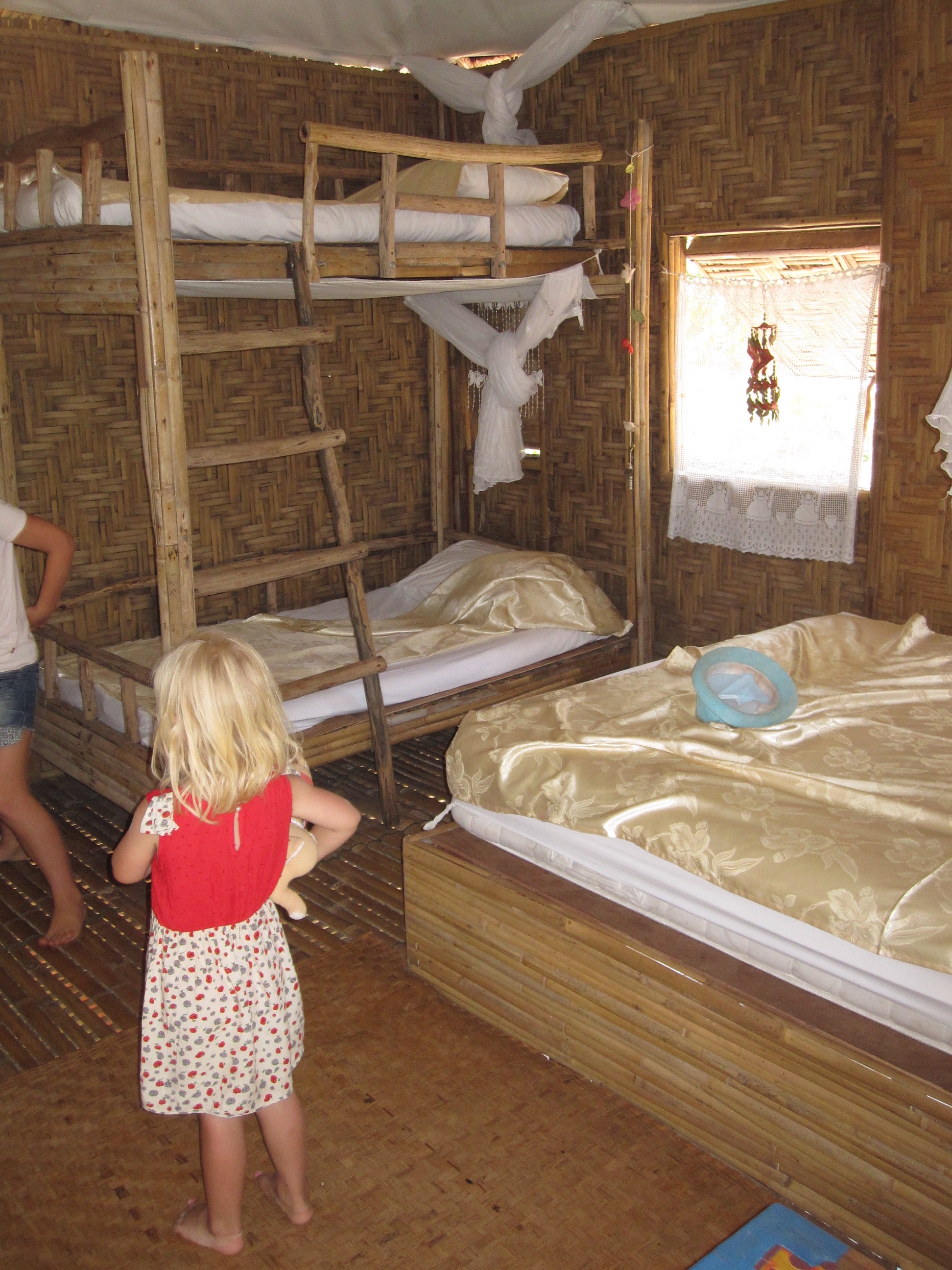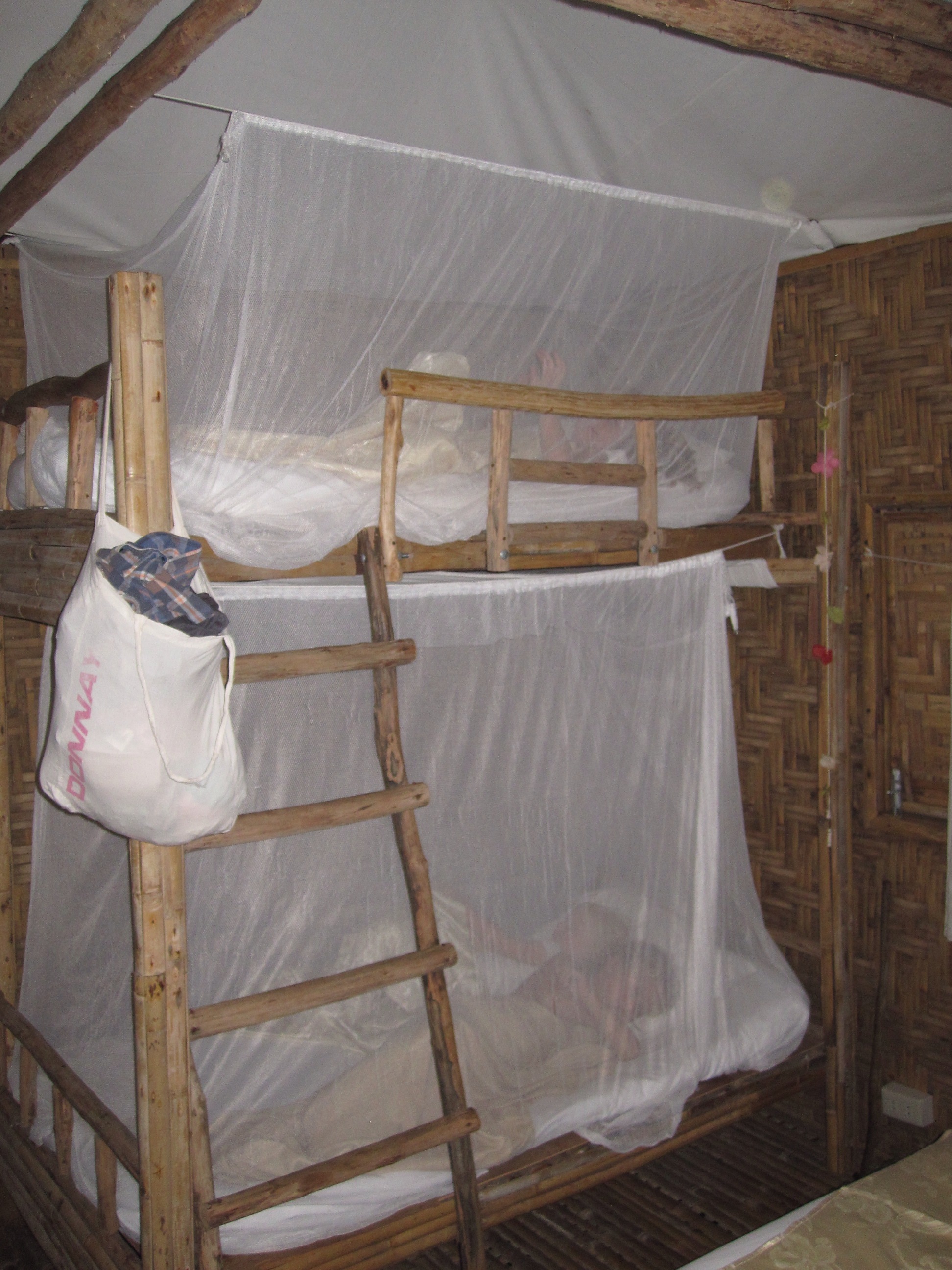 You walked up steps to get into the hut and then down steps into a bathroom which looked like a beach scene. The ground was all sand, it had shells everywhere and plants and no roof. Showering in there felt like you were in an outdoor shower. We loved it.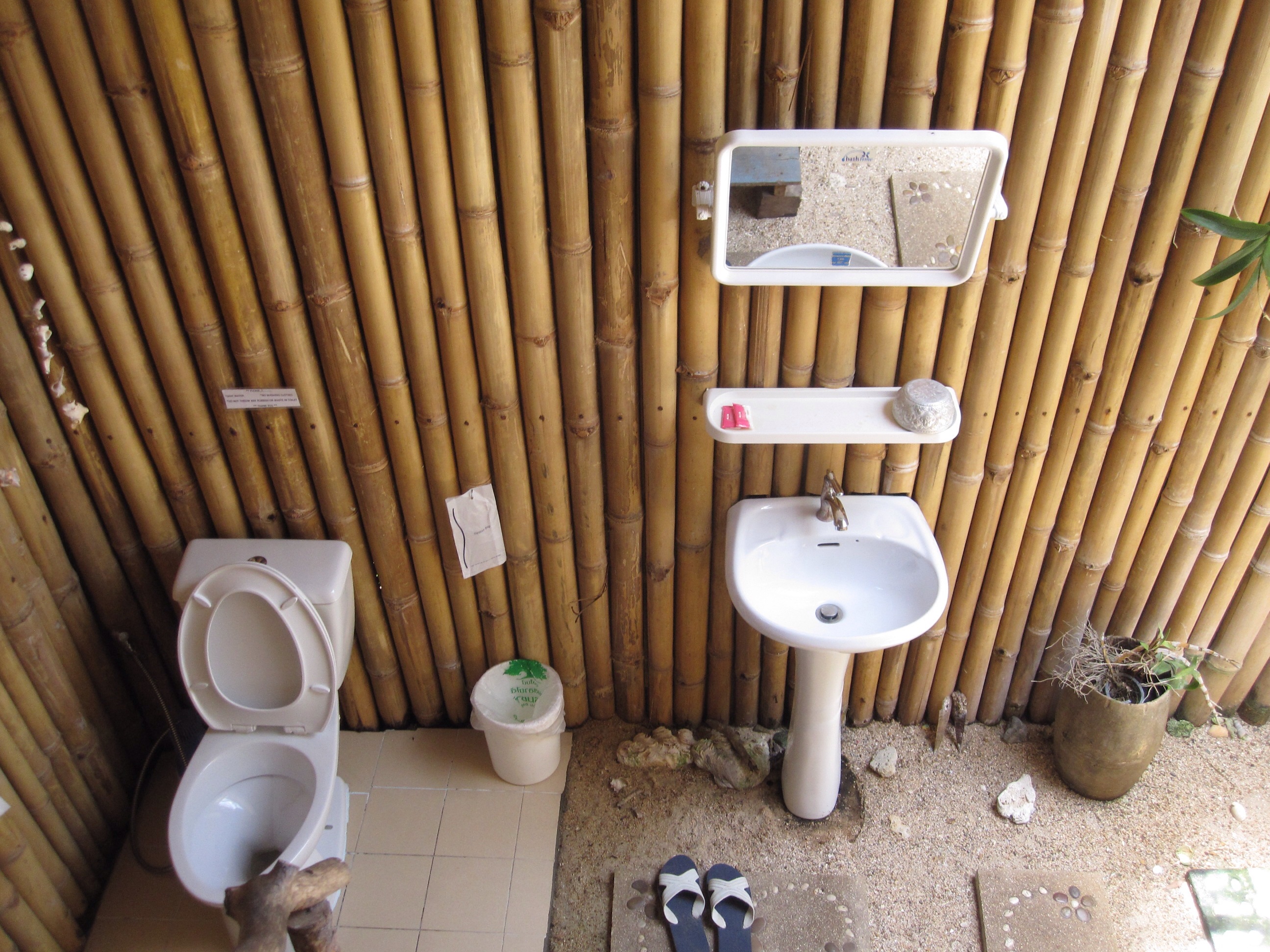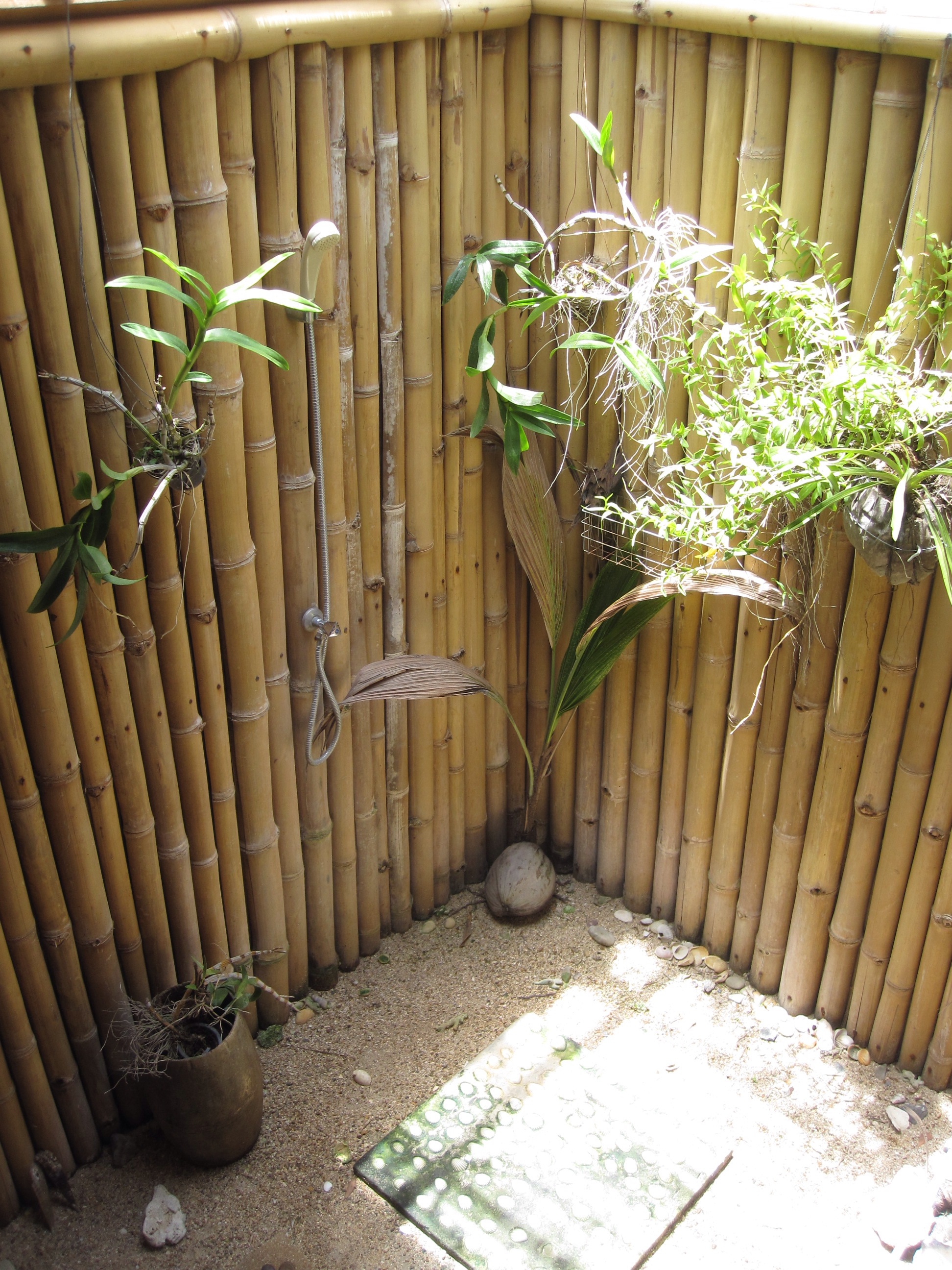 Coco lodge was a cool place to stay. It had a really nice restaurant on site and a cool vibe. It had bungalows of various sizes, some concrete cabins and a few tents in raised bamboo houses.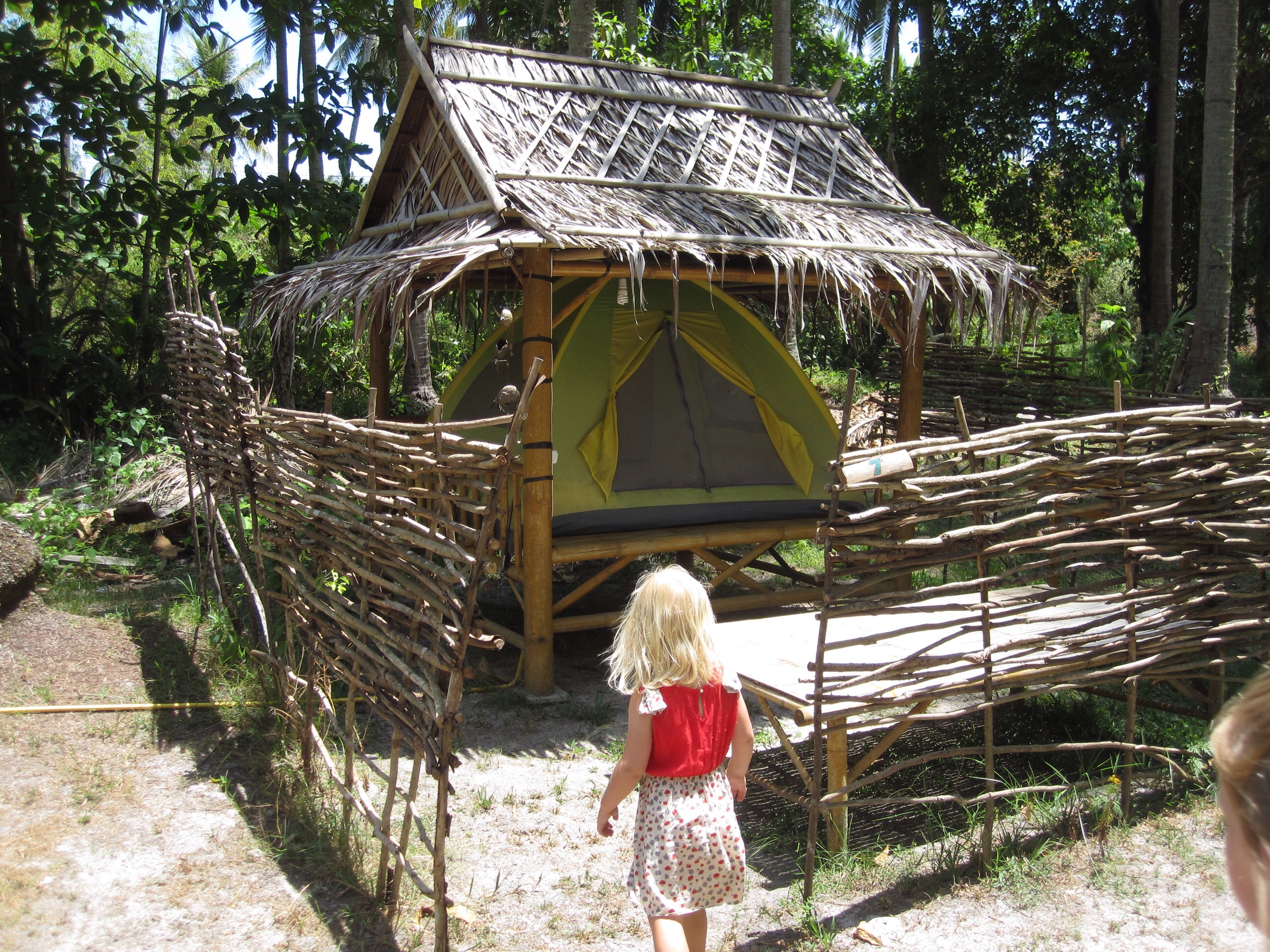 The bungalows were all set around a large garden with hammocks and fruit trees everywhere.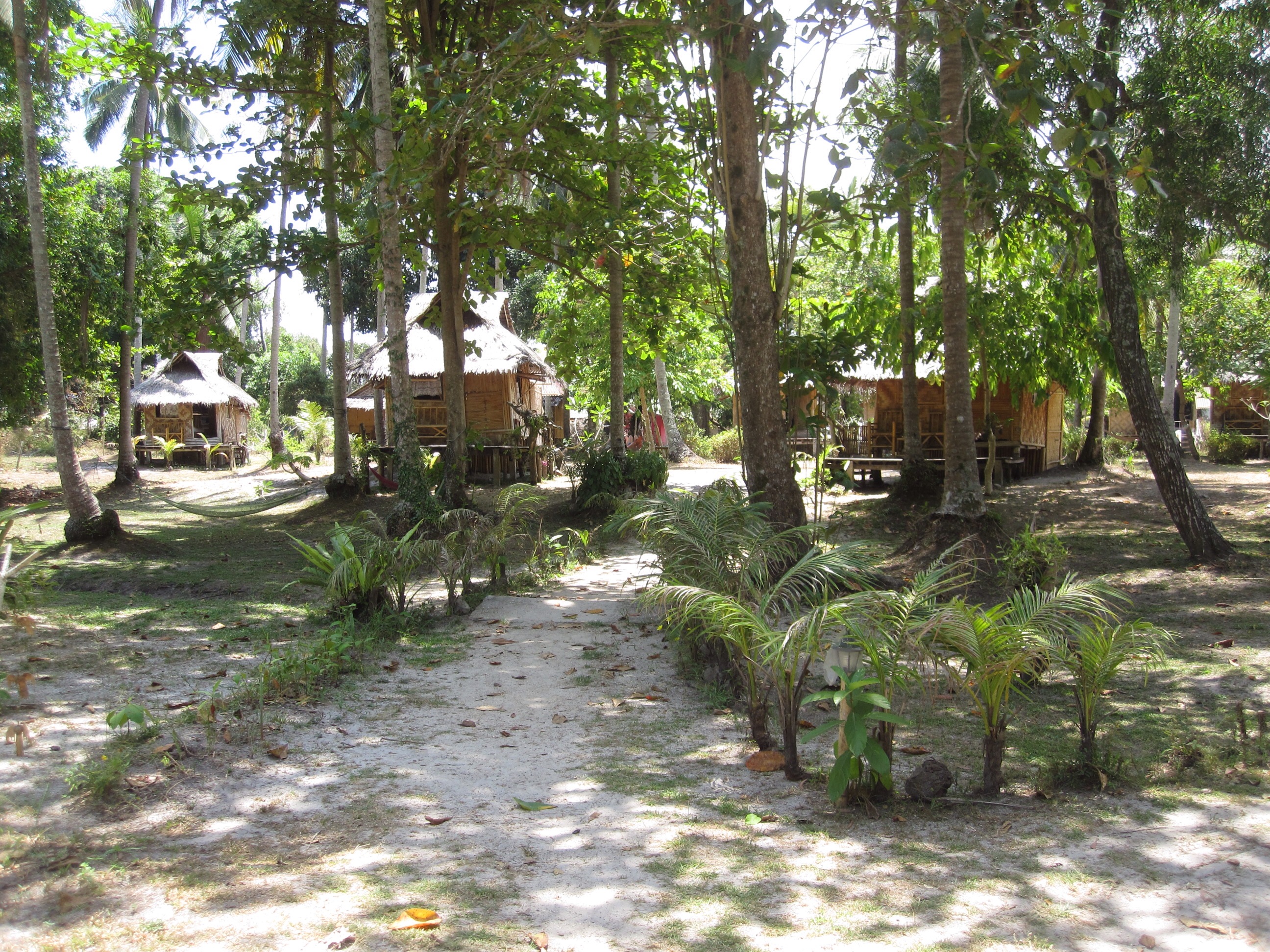 The staff there were extremely nice. It was managed by a lady and her brother Chey. Chey was a lifelong hippy with long hair to his waist and a habit of wearing Hawaiian shirts. He ran snorkelling and fishing trips and within a few minutes of chatting to him would convince anybody that they should go on one of his trips. We decided to go on a snorkelling trip to a cave called the Emerald cave the next day. Emerald cave is a cave which you swim into, in total darkness at one point and you come out into an Emerald lagoon surrounded by limestone cliffs. A spectacular spot. So we booked this for the next day.
We had a walk around the island for the rest of the day. The beach where Coco lodge is not really one for swimming. It's pretty muddy, more a base for the fishermen. But not far off you hit a beautiful beach. We went for a swim there, not the most amazing swim in the world, the currents were pretty strong so we couldn't go far. Still we couldn't really complain now could we??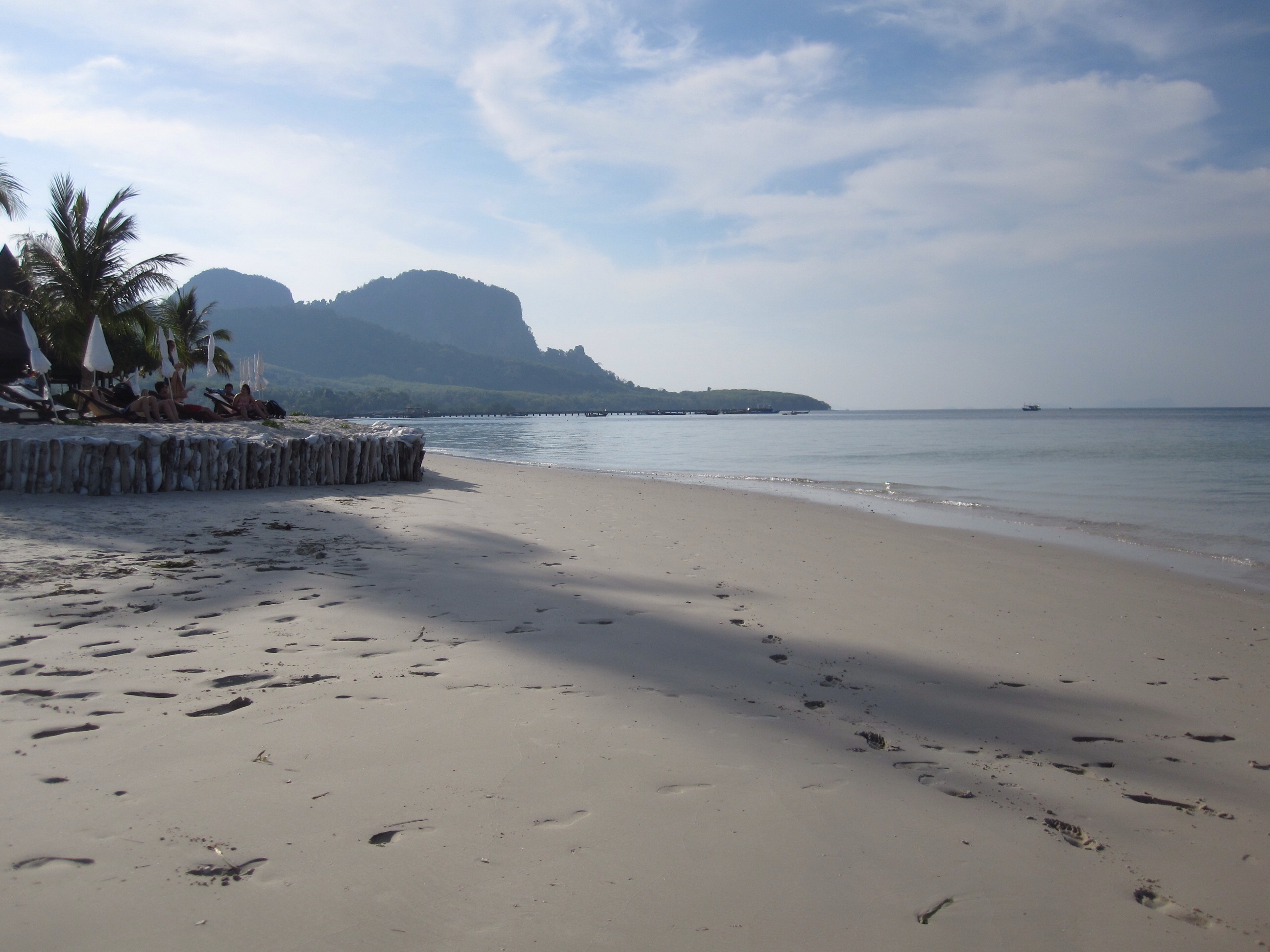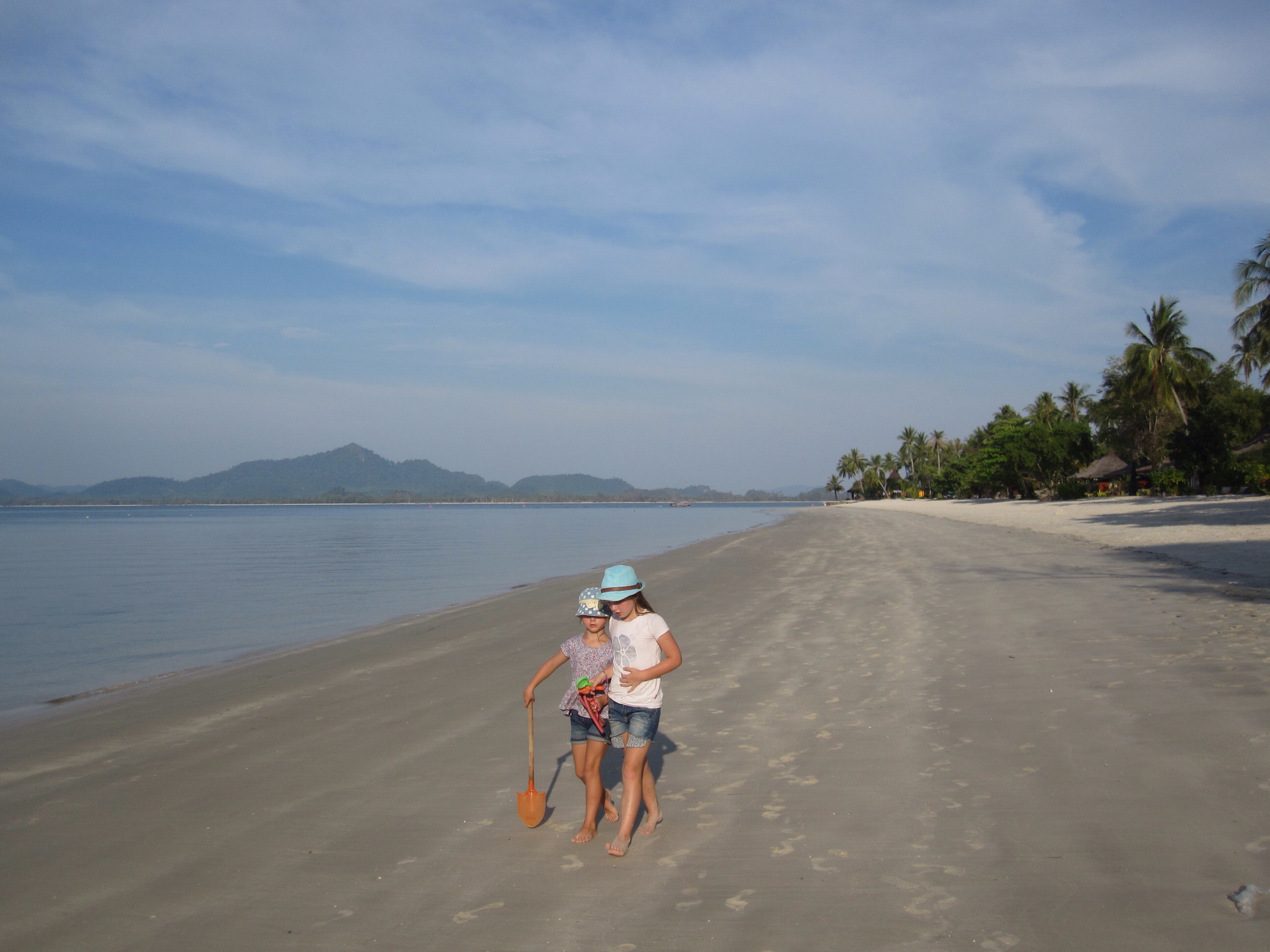 Walking back home we noticed star shapes in the sand. At first they were dotted here and there but suddenly there were hundreds and we realised they were starfish buried just under the surface of the sand. When we looked in the water we saw it was full of star fish too! It was pretty bizarre. I've no idea why they were all there. The girls rescued loads of beached starfish but had to leave the rest much to their disappointment.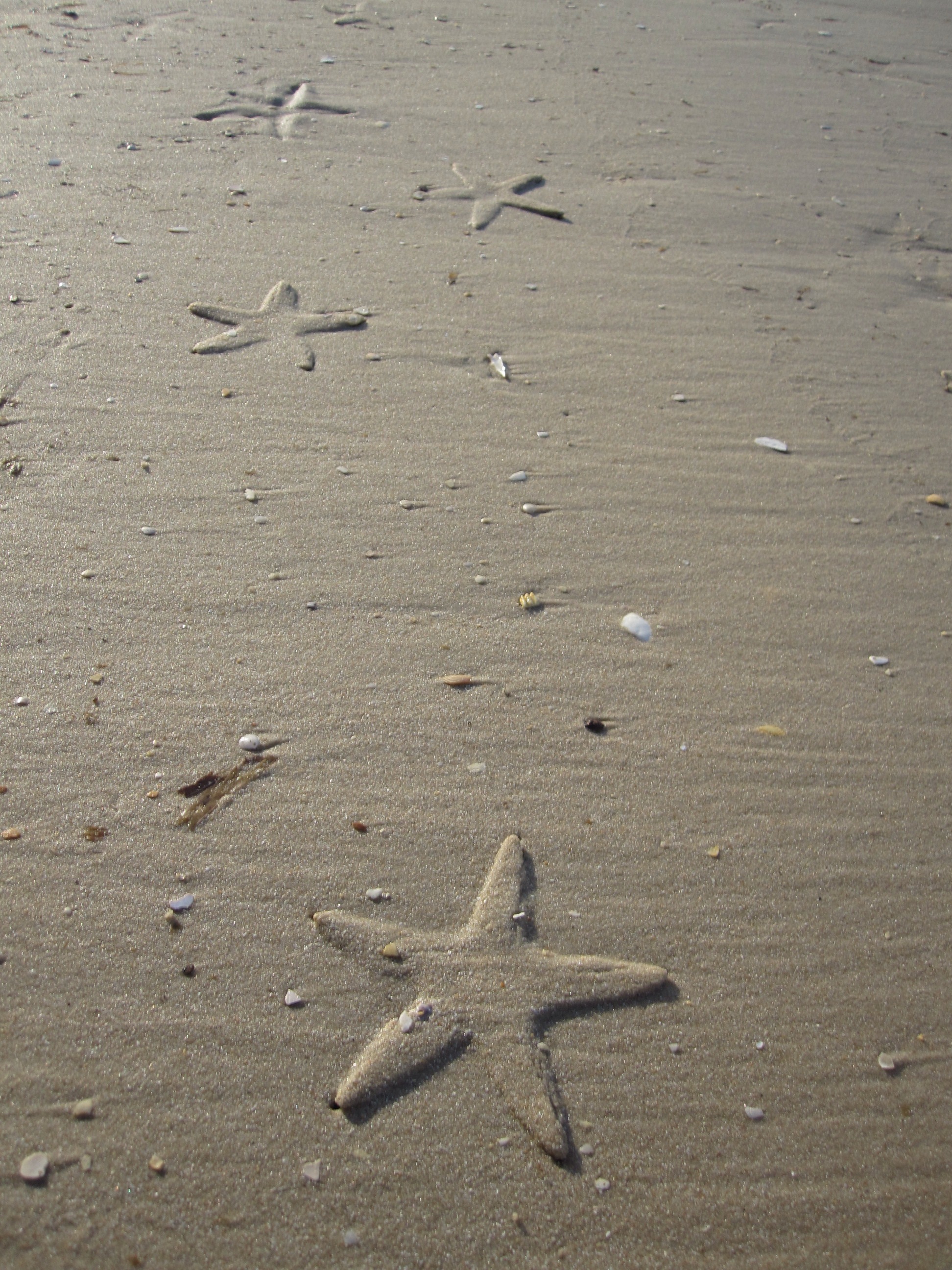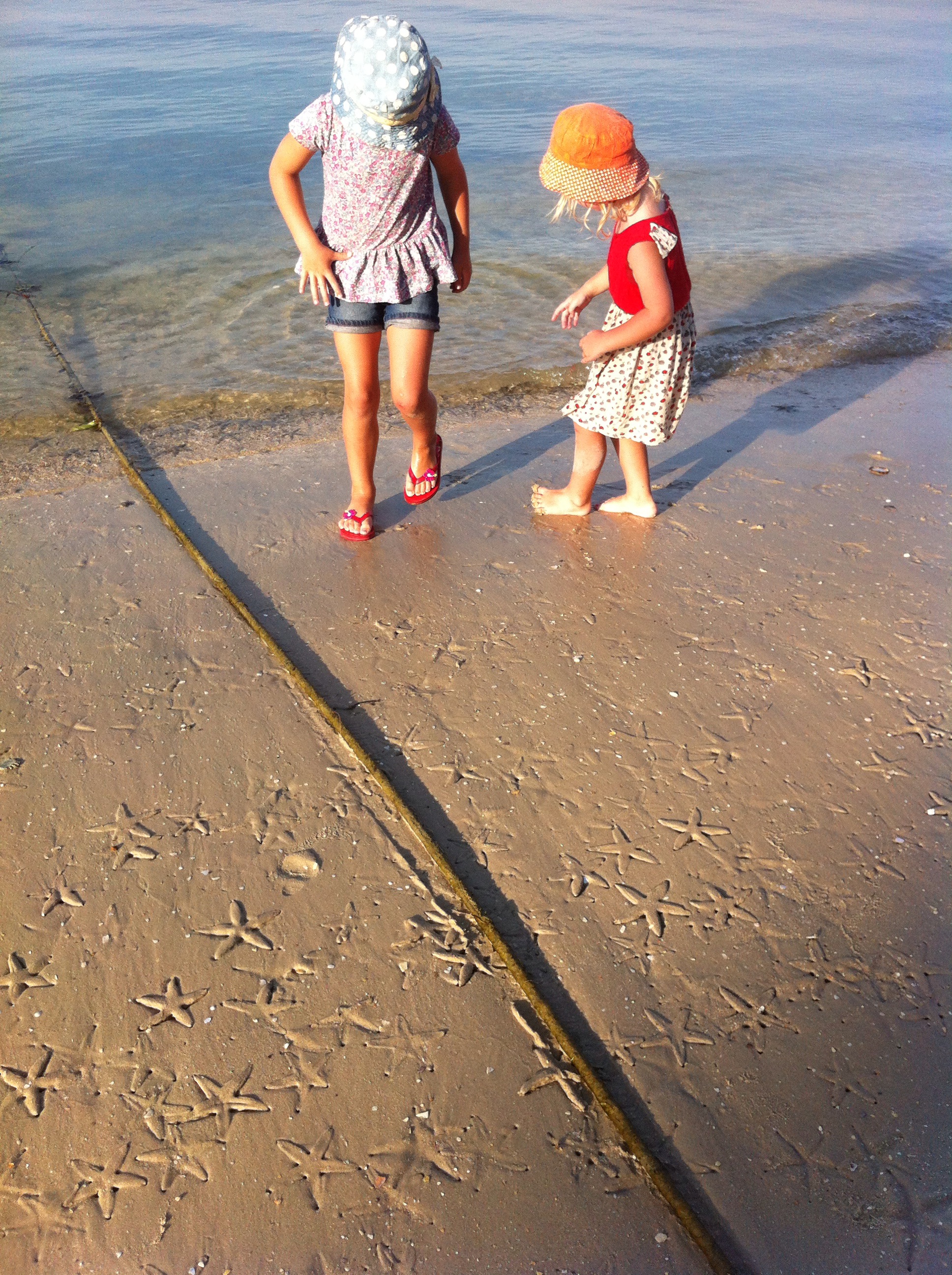 We got back to coco lodge and had a nice chill out. I forgot to mention there was loads here to keep kids entertained. They had a full bamboo play pen filled with toys.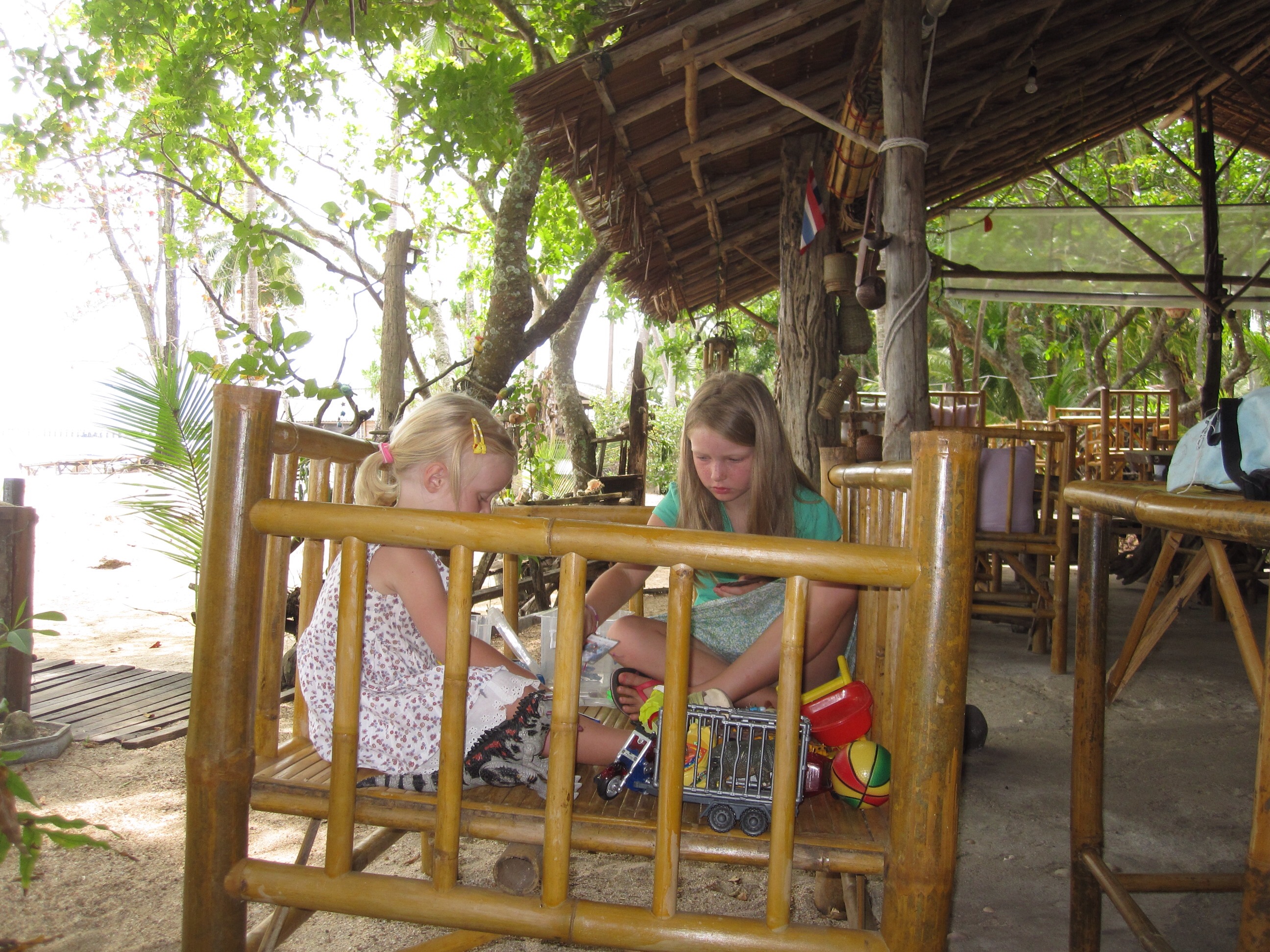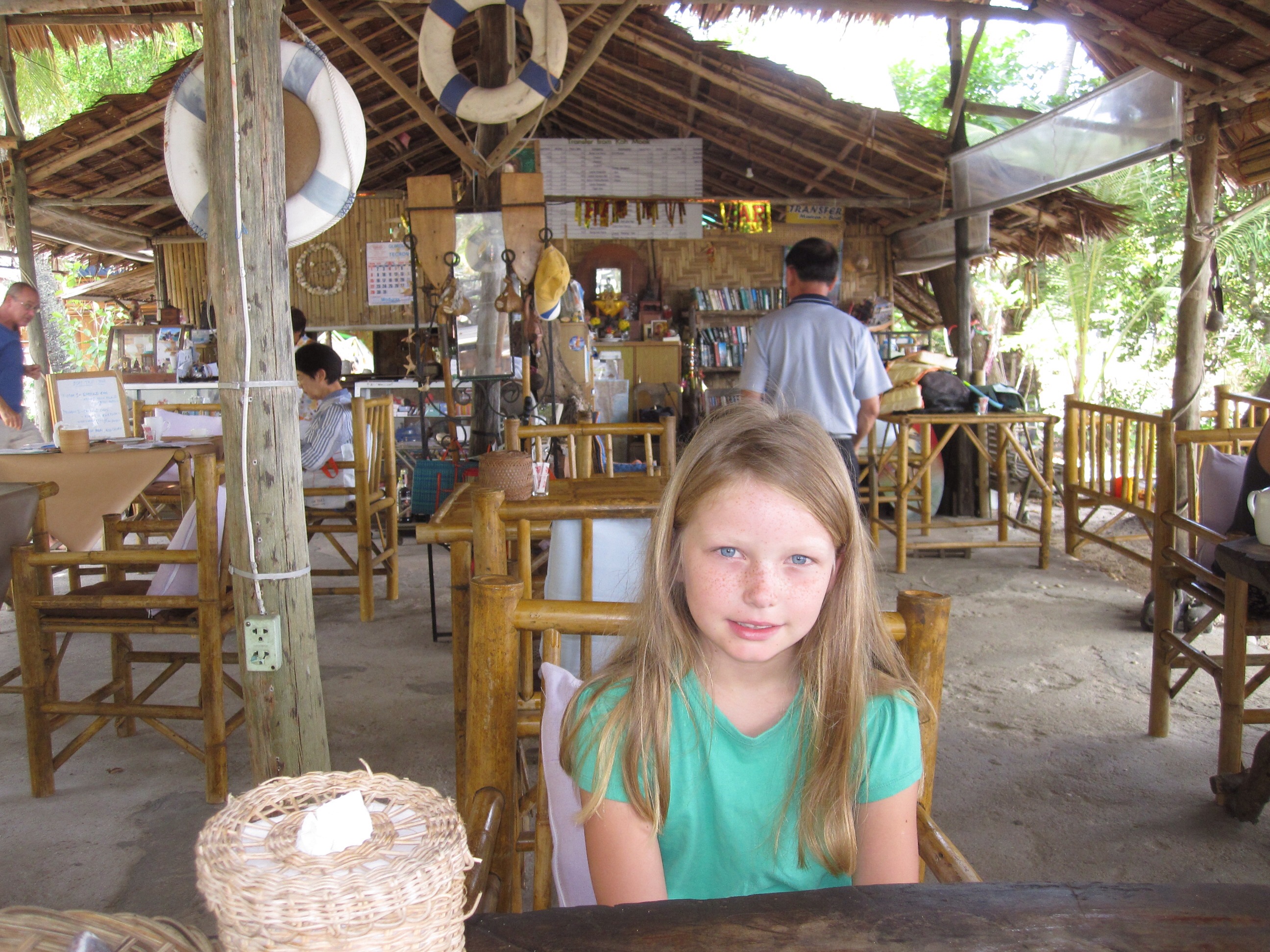 And to top it all off they had a litter of puppies. The girlies hardly came near us with so much to entertain them. Lovely :-).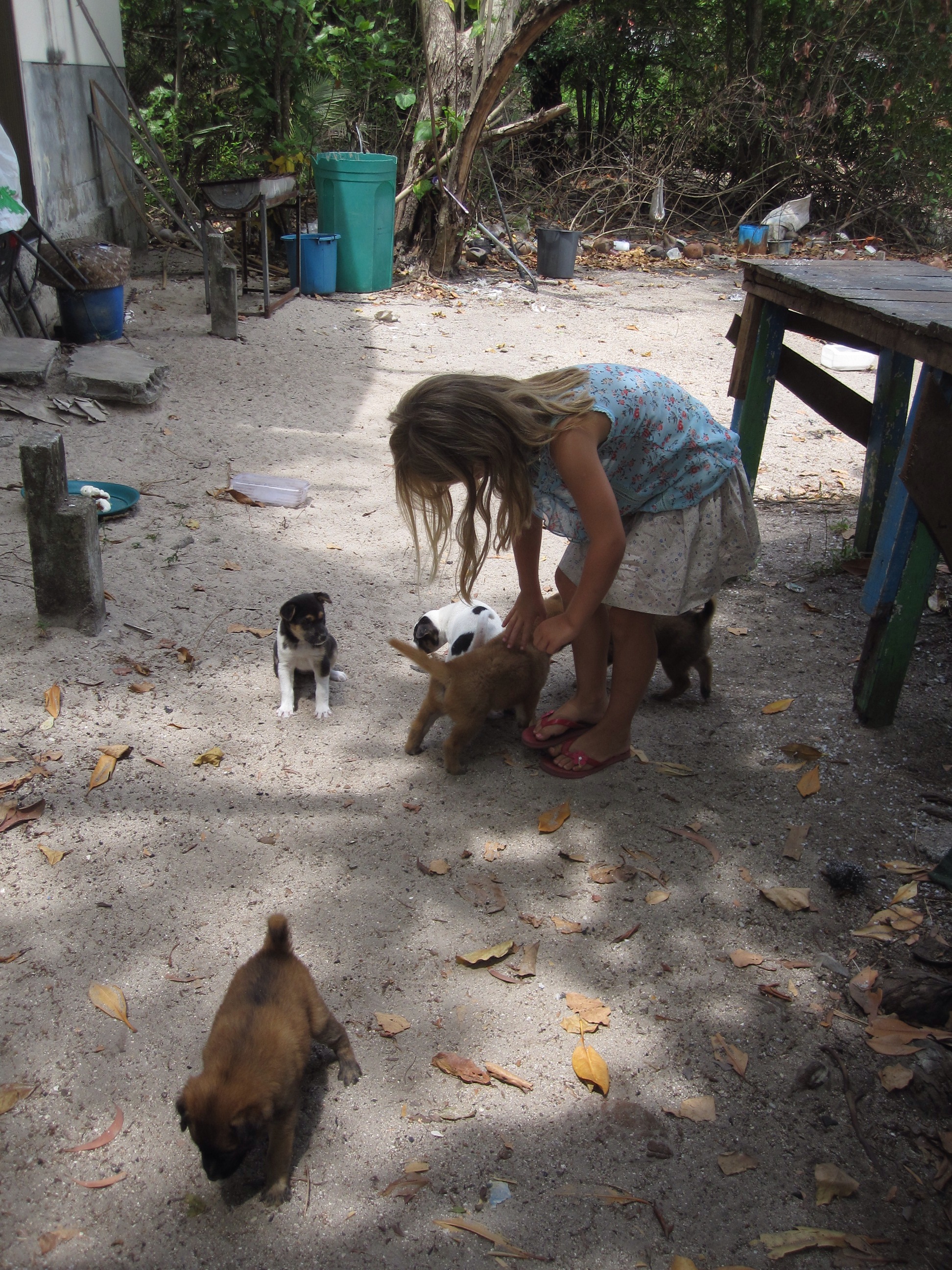 The next day was our snorkelling trip, there were 9 of us, the five of us and 4 Germans. We had a great trip stopping at two snorkelling spots where we saw plenty of coral and fish. Our guide used to dive under to show us things like lobster peeping out of the rock or unusual coral. We loved it. It was Freya and Shuna's first time snorkelling really and they were blown away! Dervie just floated around with her armbands on happy out.
We also stopped off at a secluded hidden cove.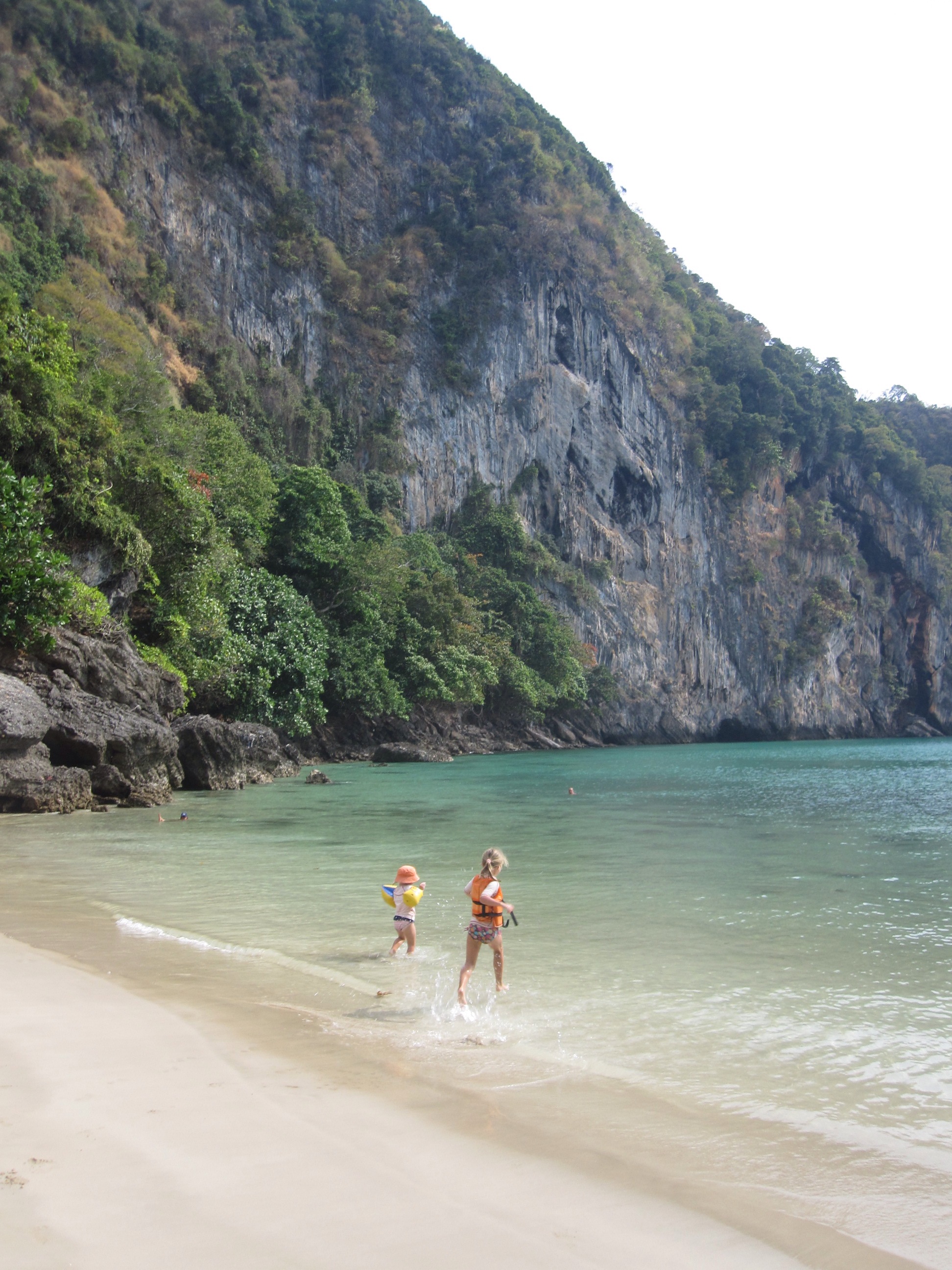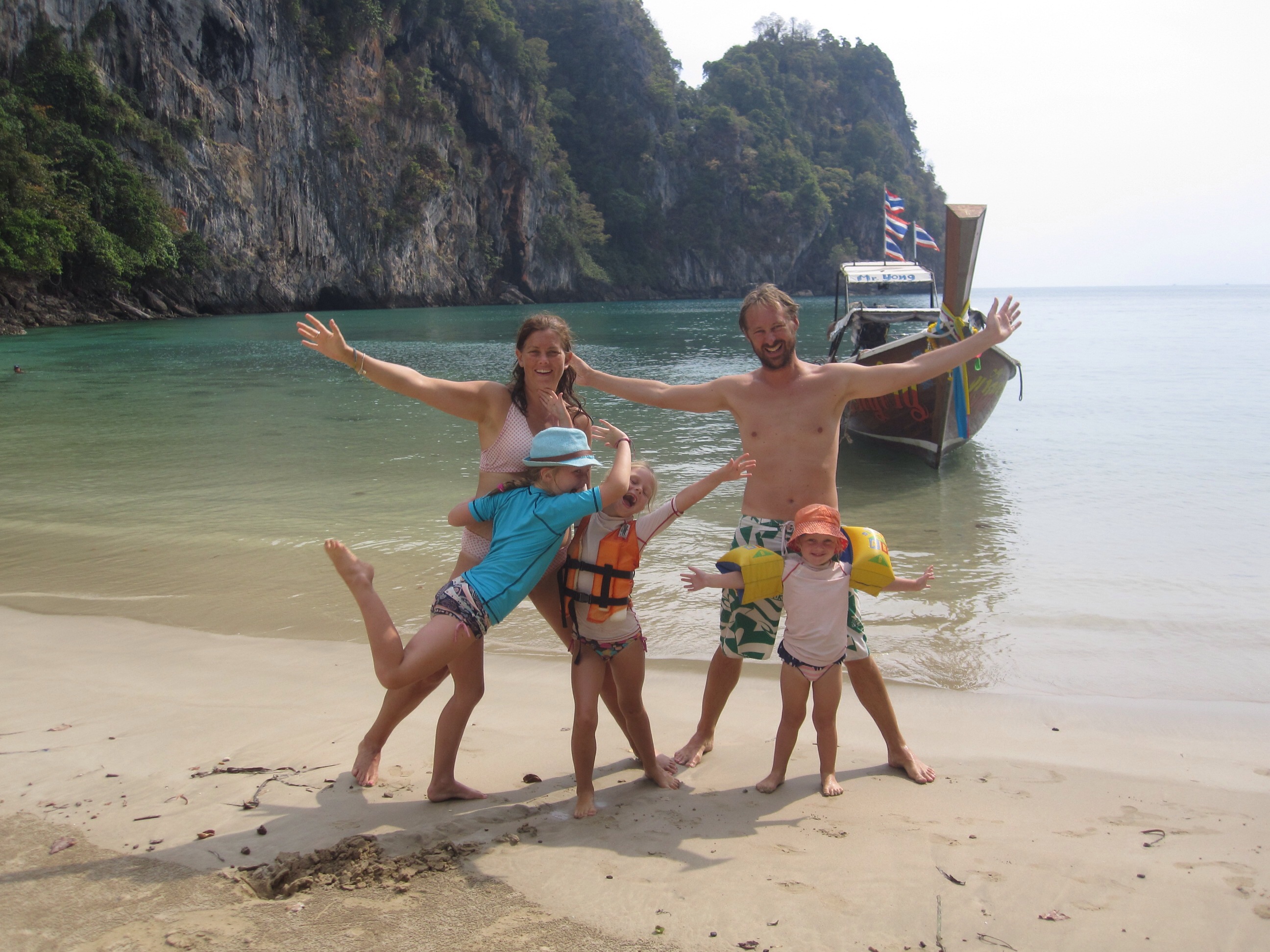 The Emerald cave was our next stop. We had a lilo for us all to hang on to when we were going in. We brought it for the girls but in the end most of us were hanging on to it.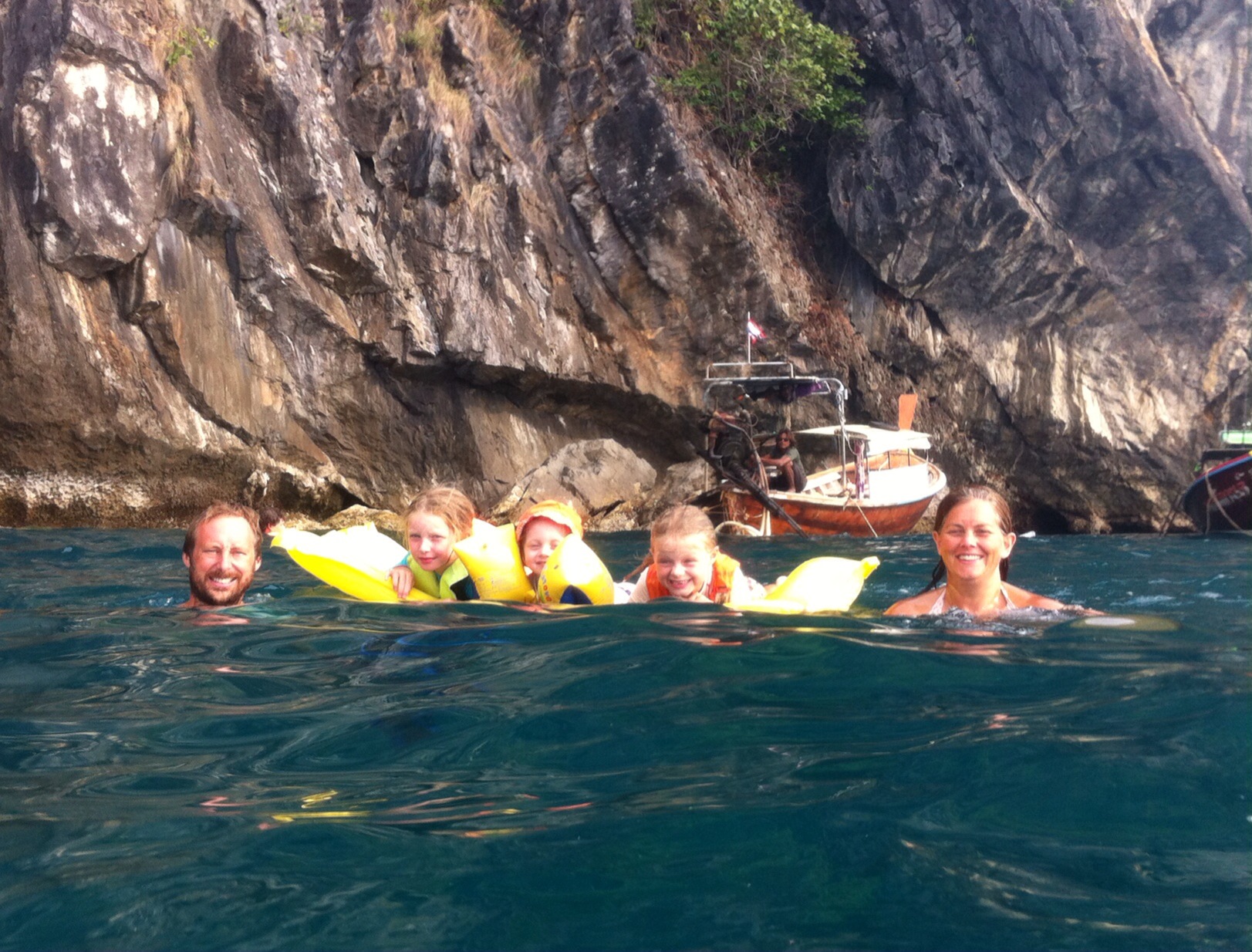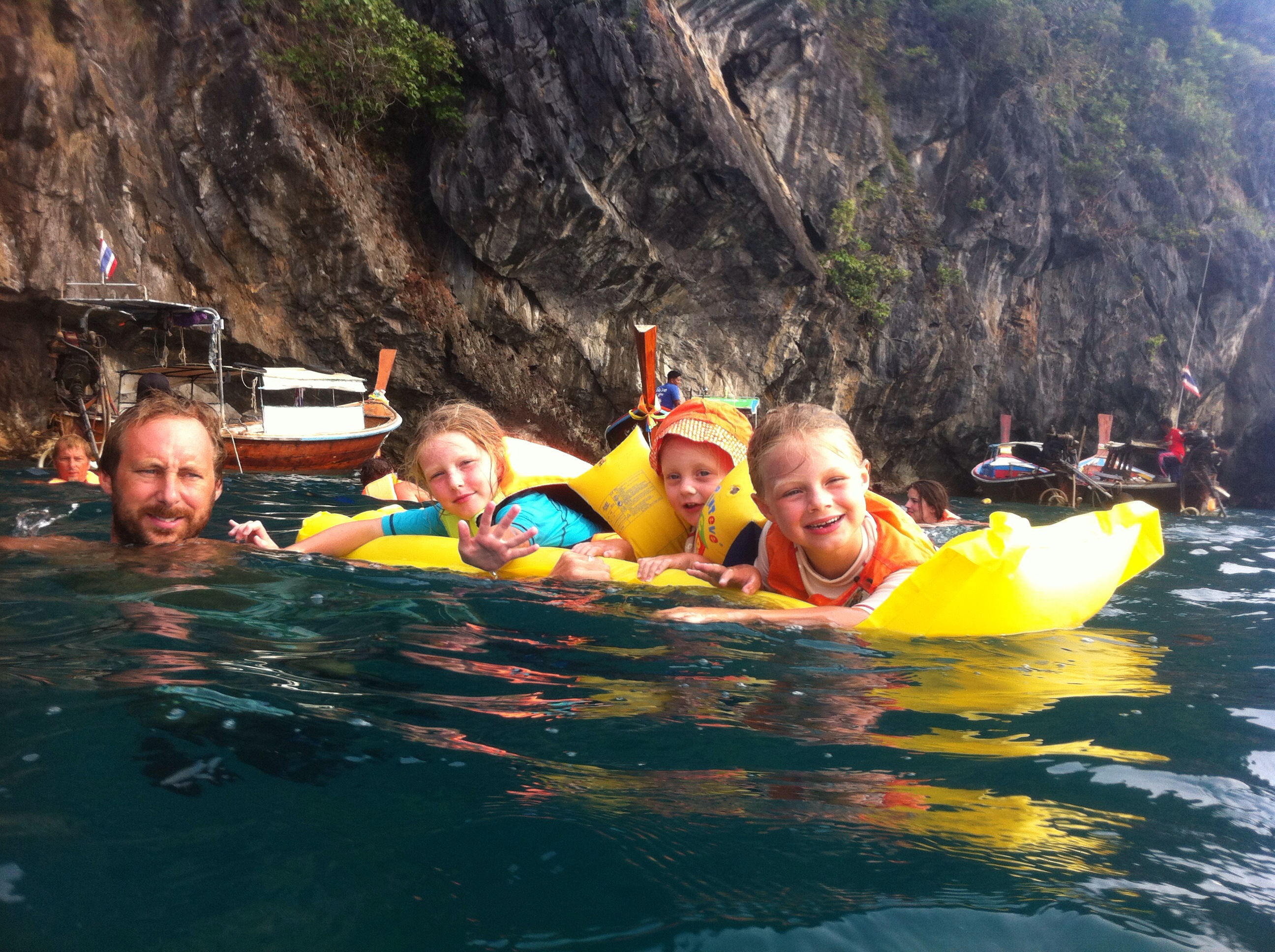 The swim in is amazing. You swim into a cave with the most unusual looking water, kind of aqua marine in colour, amazing looking. As you swim in, the cave gets darker and darker until you turn a corner and you're literally in pitch black. You can't see a thing. I had a waterproof cover for my iphone I'd picked up in Railay so was able to use our torch and a guide had another. Eventually you turn another corner and see some light ahead and you come out into the most beautiful lagoon surrounded on all sides by high cliffs.
It was amazing. We spent ages in there just chilling out with the lagoon completely to ourselves. As we were leaving a couple of kayakers came in but that's all we saw. It must gave been about 4pm when we were there, if you go earlier in the morning, it can be really packed with tour groups from lanta and tags other islands. We've seen pictures of the lagoon packed with people. It just wouldn't have been the same experience had we gone when it was busy.
There's a beautiful beach and cove on the far side of the island which we got a motorcycle taxi to one day. It's gorgeous. You can hire kayaks from there and kayak into the emerald cave. Instead we popped up the cliff into a restaurant overlooking the water. It was stunning.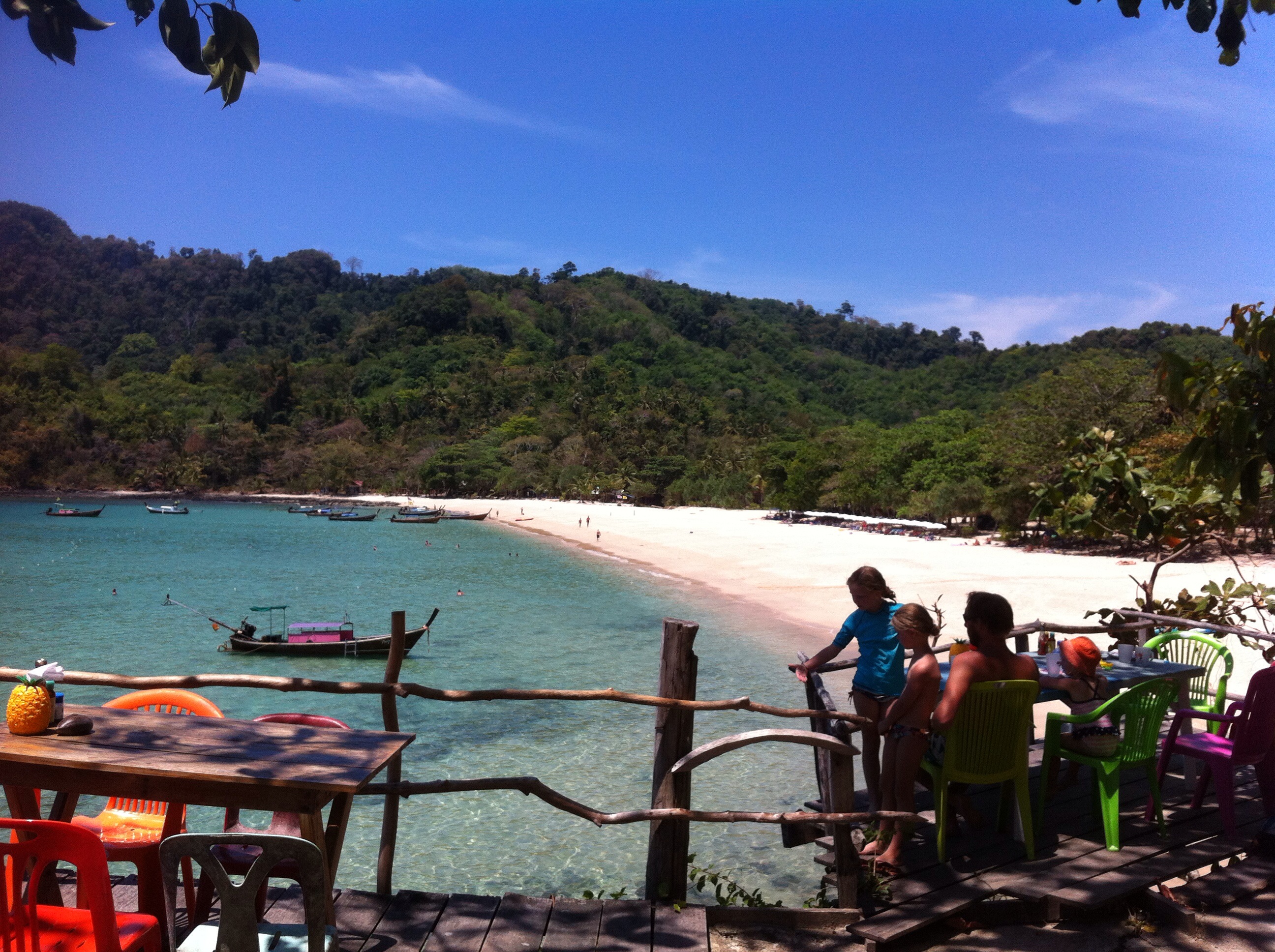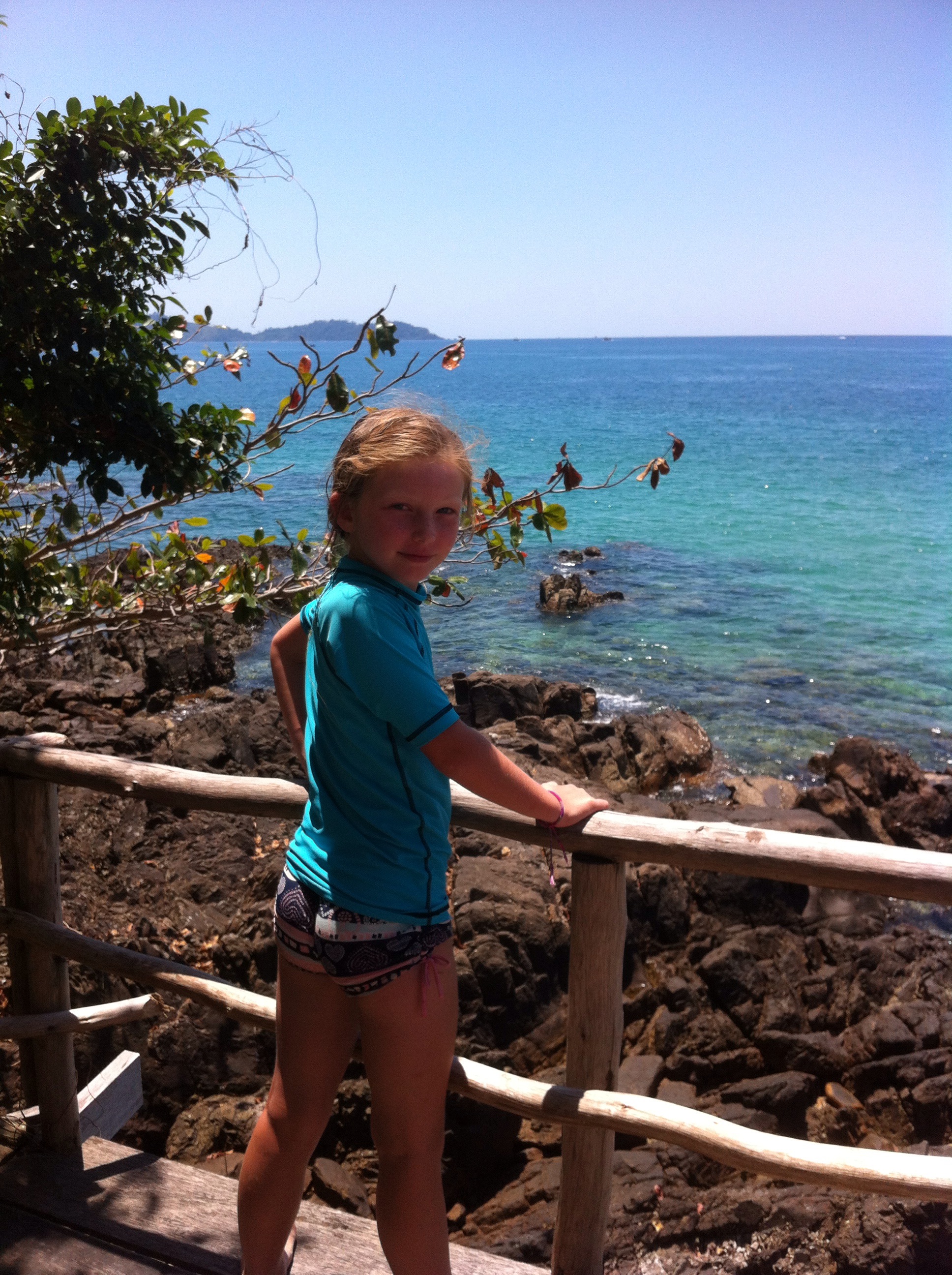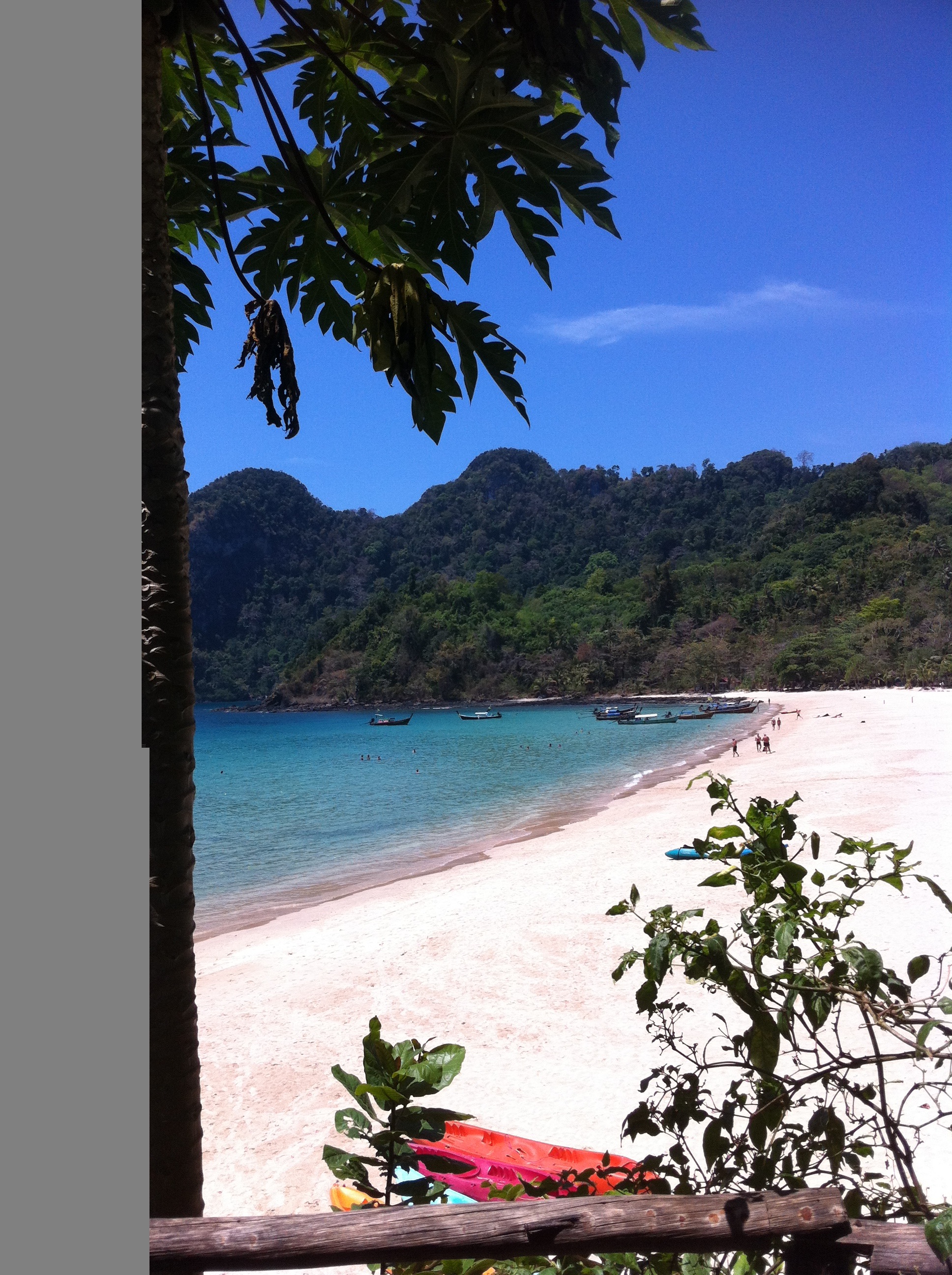 We left Koh Mook the next day to head to another island further South called Koh Bulone Le.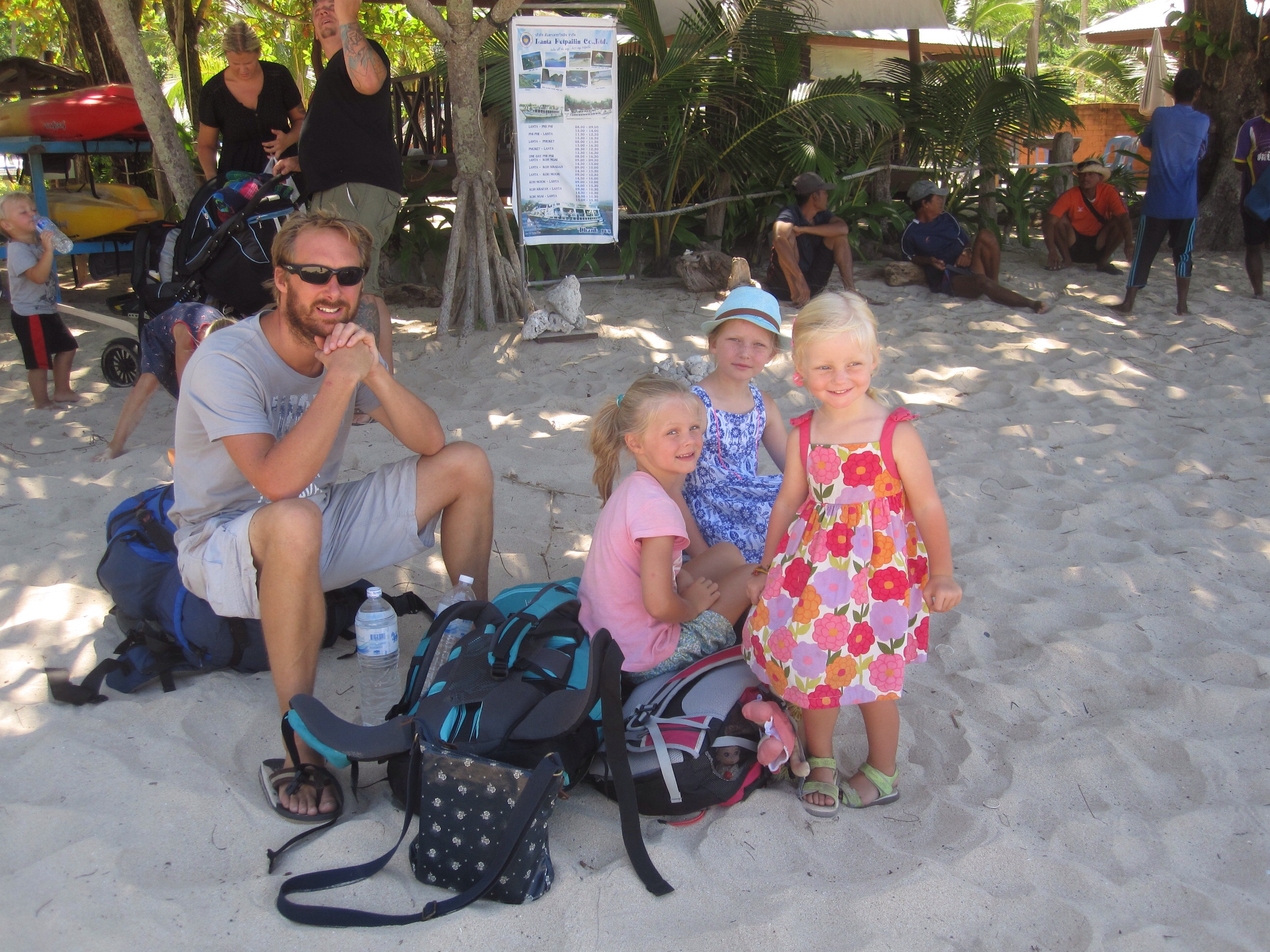 The ferry from Koh Mook was full of people heading to Lipe, nobody was really going to Koh Bulone or Koh Bulone Le as it's sometimes called. The boat pulled up at the most beautiful island, and we realised it was ours!
There were lots of ouhs and aahs from people on the boat as we hopped off and on to a longtail.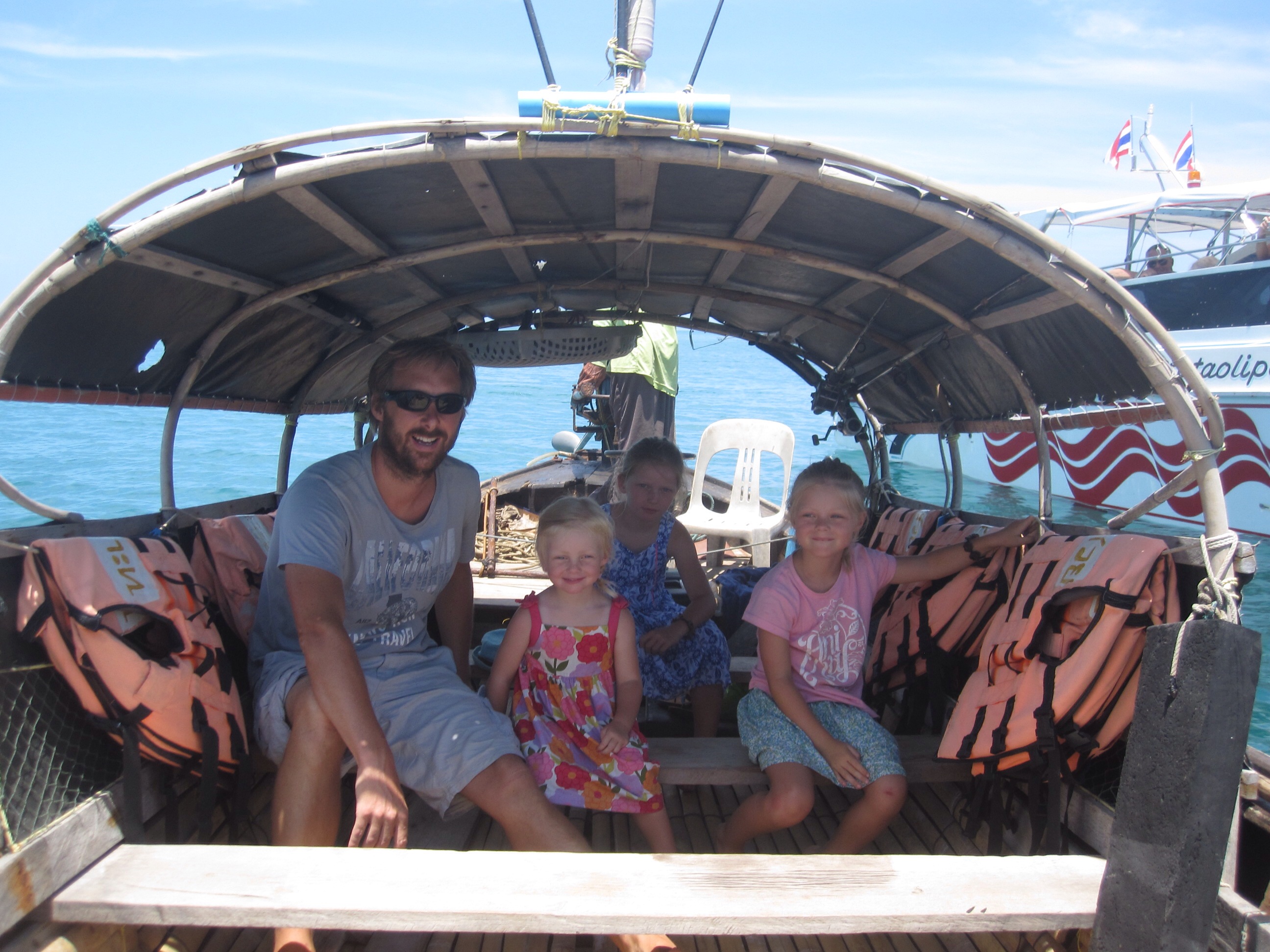 I have to say we were delighted with ourselves, you could hear everybody saying wow, where's that? Koh Bulone is the most beautiful island, it really reminded us of what Thailand used to be like.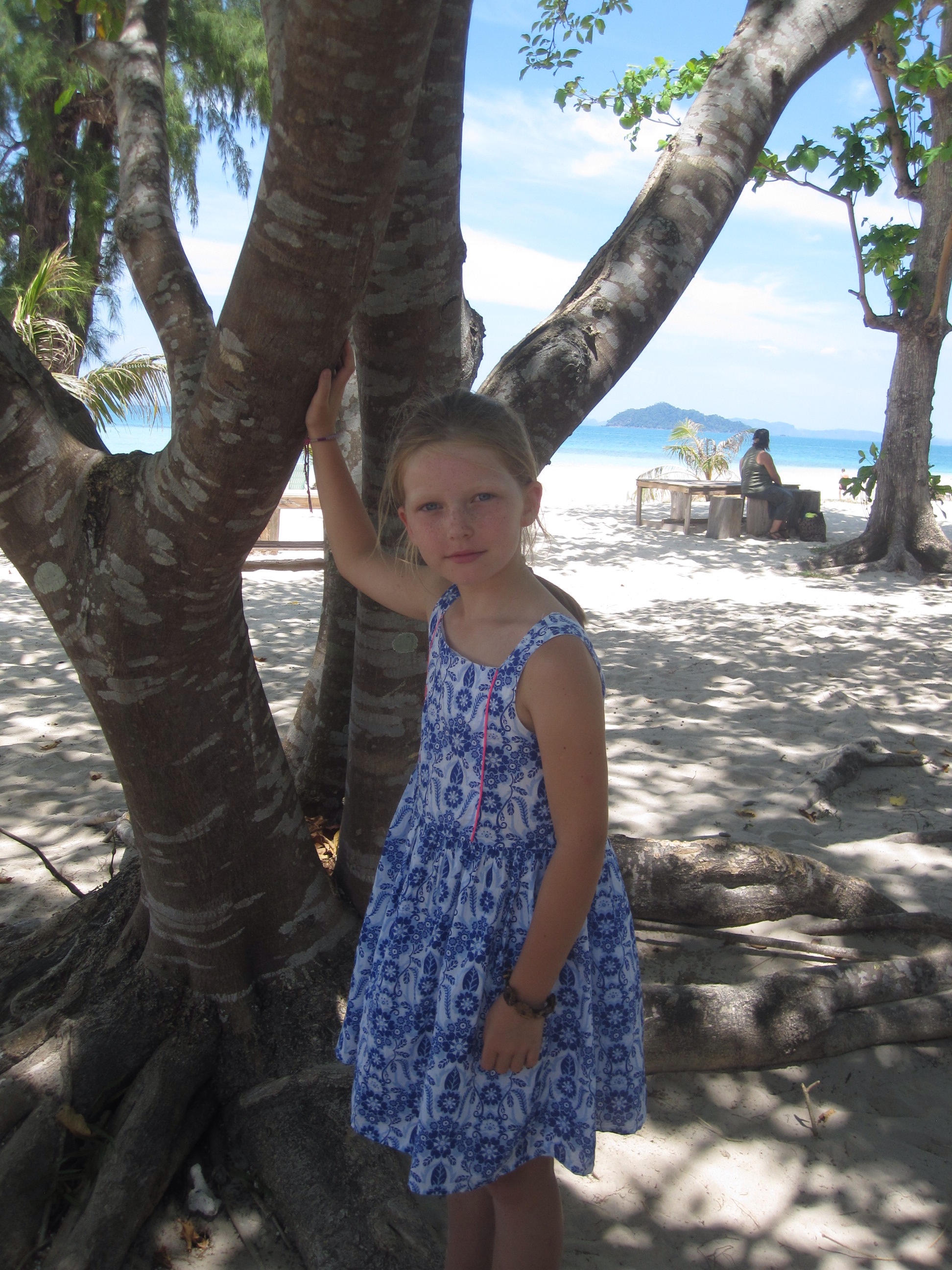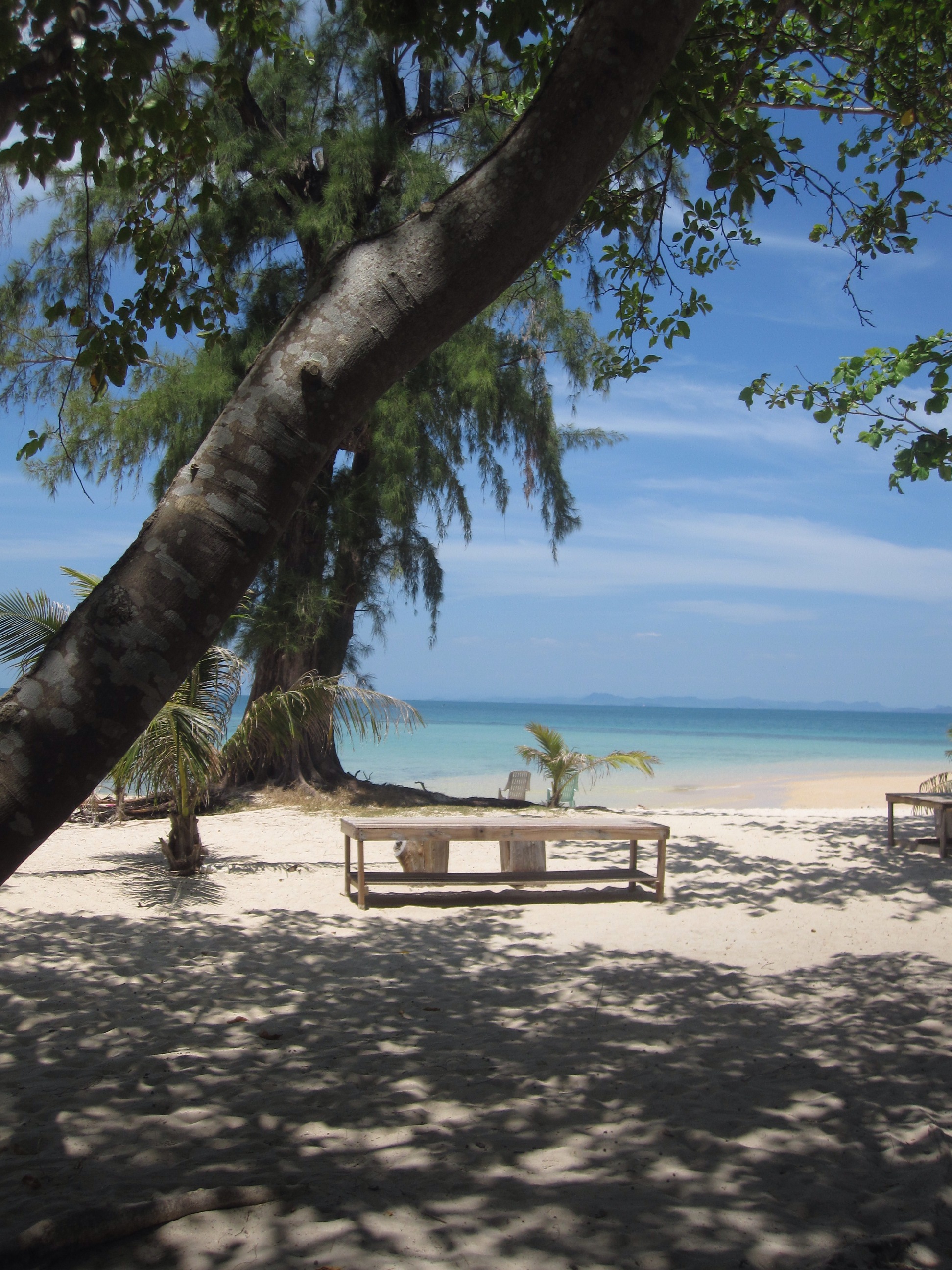 There are about 9 sets of accommodation and a few restaurants and shops. Other than that it's beautiful beaches, snorkelling off the beach and the most amazing snorkelling spots accessible by longtail off shore. Bulone was fab, we'd go back again in a heart beat.
We had a list of all the accomodation on Bulone from Travelfish which was great. We checked the first resort on the beach and not surprisingly it was really expensive. I have to say though if you were in the market for splashing out, they looked great.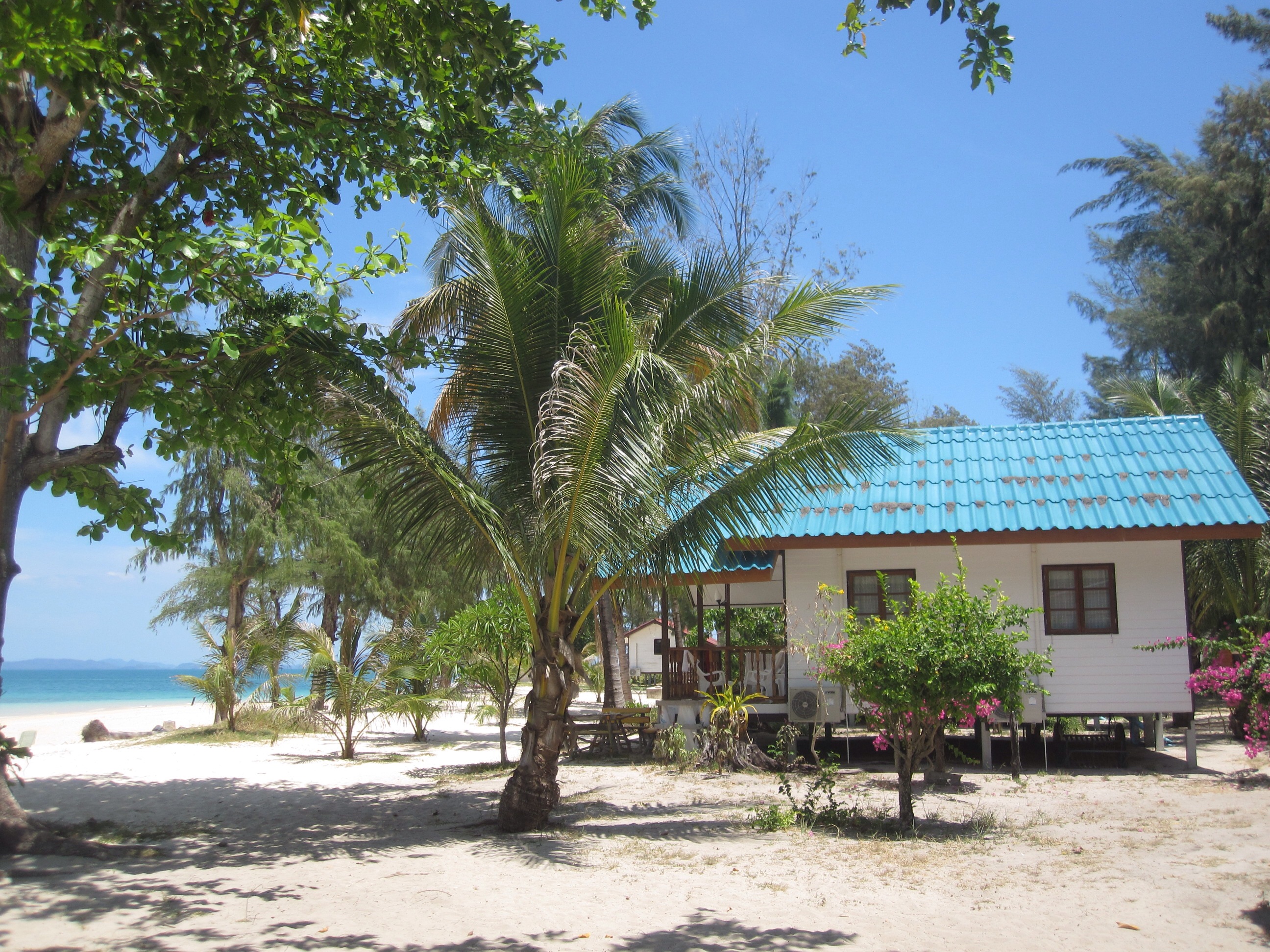 I left Ro and the girls in a restaurant and went off looking for somewhere to stay. It's a pretty grueling 1k walk up a big hill through the middle of the island to the cheaper accomodation.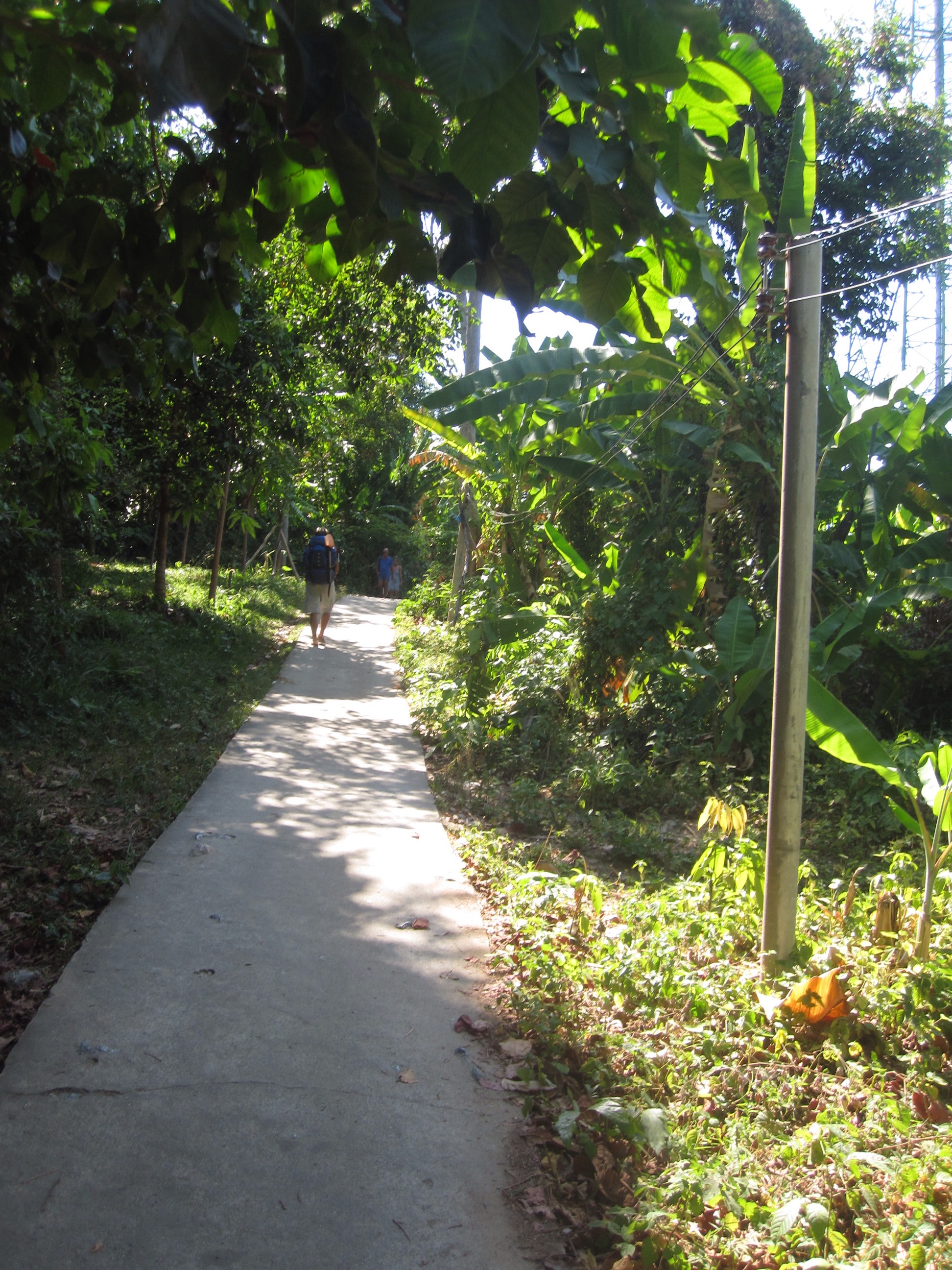 There are beaches over that side but they're not a patch on the other side. I checked out 4 or 5 different places before settling on "Jungle Huts" which were super cheap. We ended up taking a simple bungalow with a thick mattress on the flooor, a mozzie net and bathroom with bucket flush as well as a tent. They have large 3 man tents set up in amongst the bungalows which you can rent. We needed to get our budget back on track so opted for a tent and bungalow opposite each other. Freya and Ro decided they wanted to sleep in the tent and were met with absolutely no opposition from me :-). This place is simple and basic but we loved it.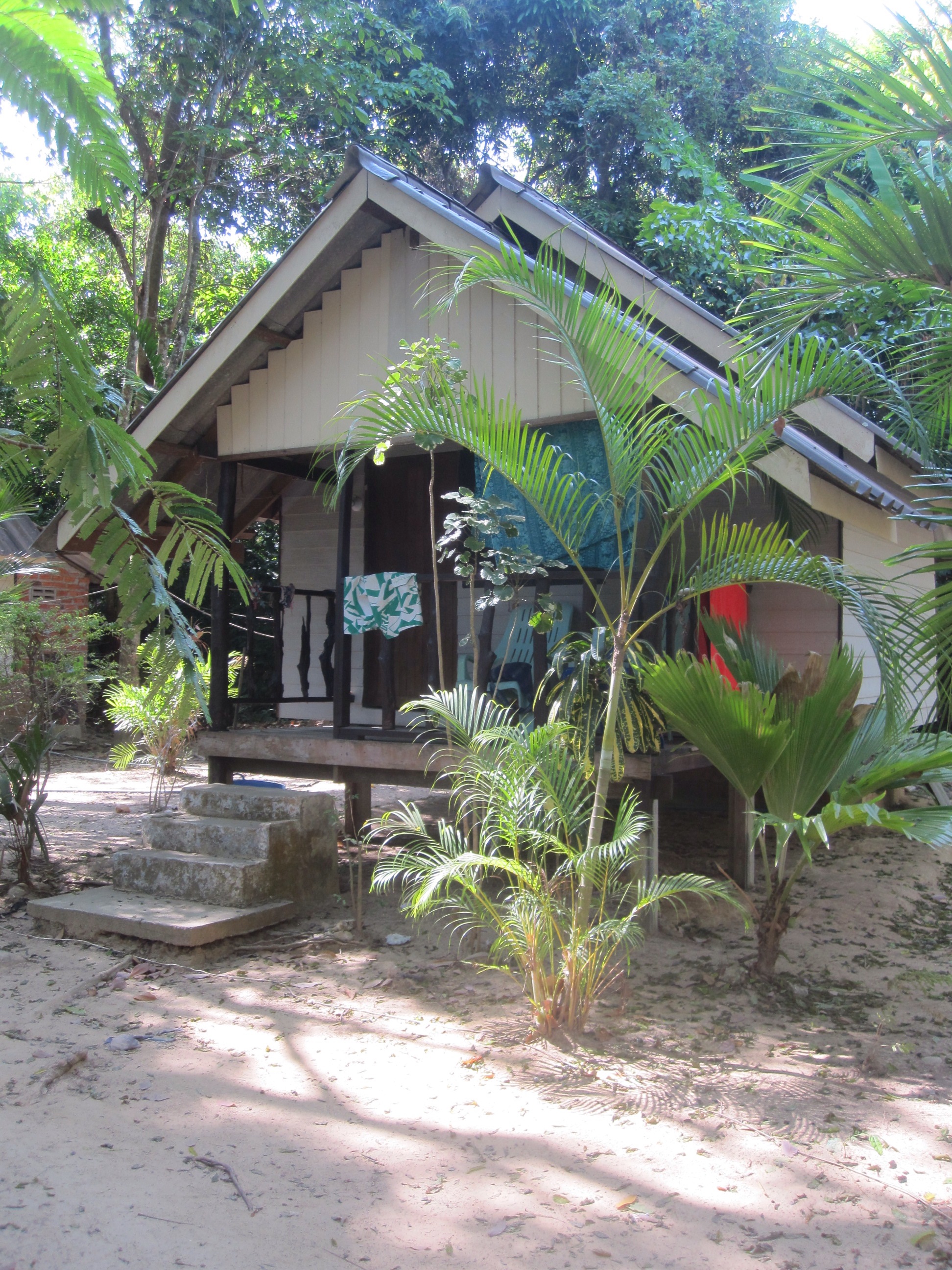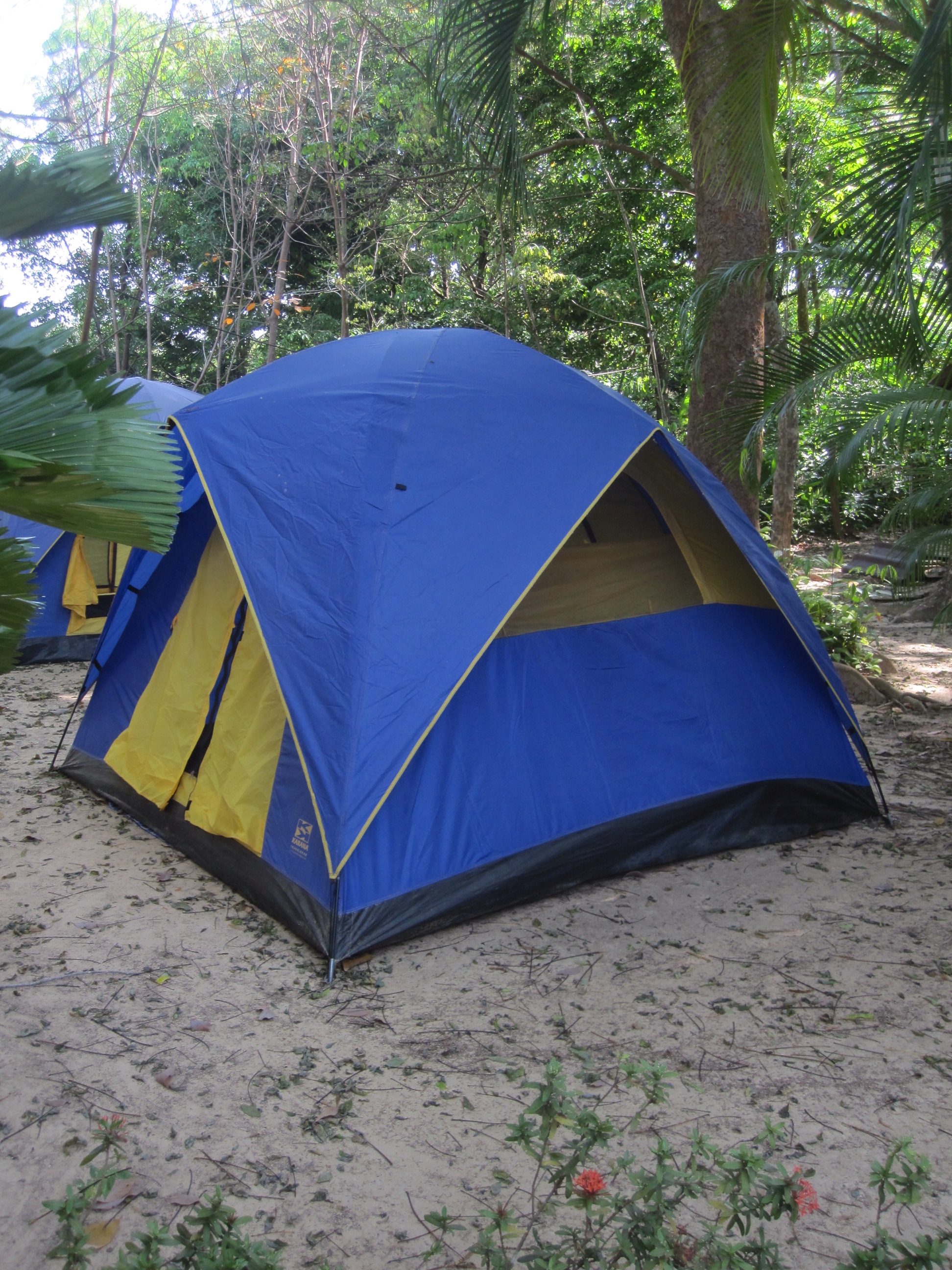 The huts are run by a lovely older couple with no English. The man took a shine on us and gave Ronan a few mattresses for the tent. Normally they just have a ratten ground mat so he was glad of them!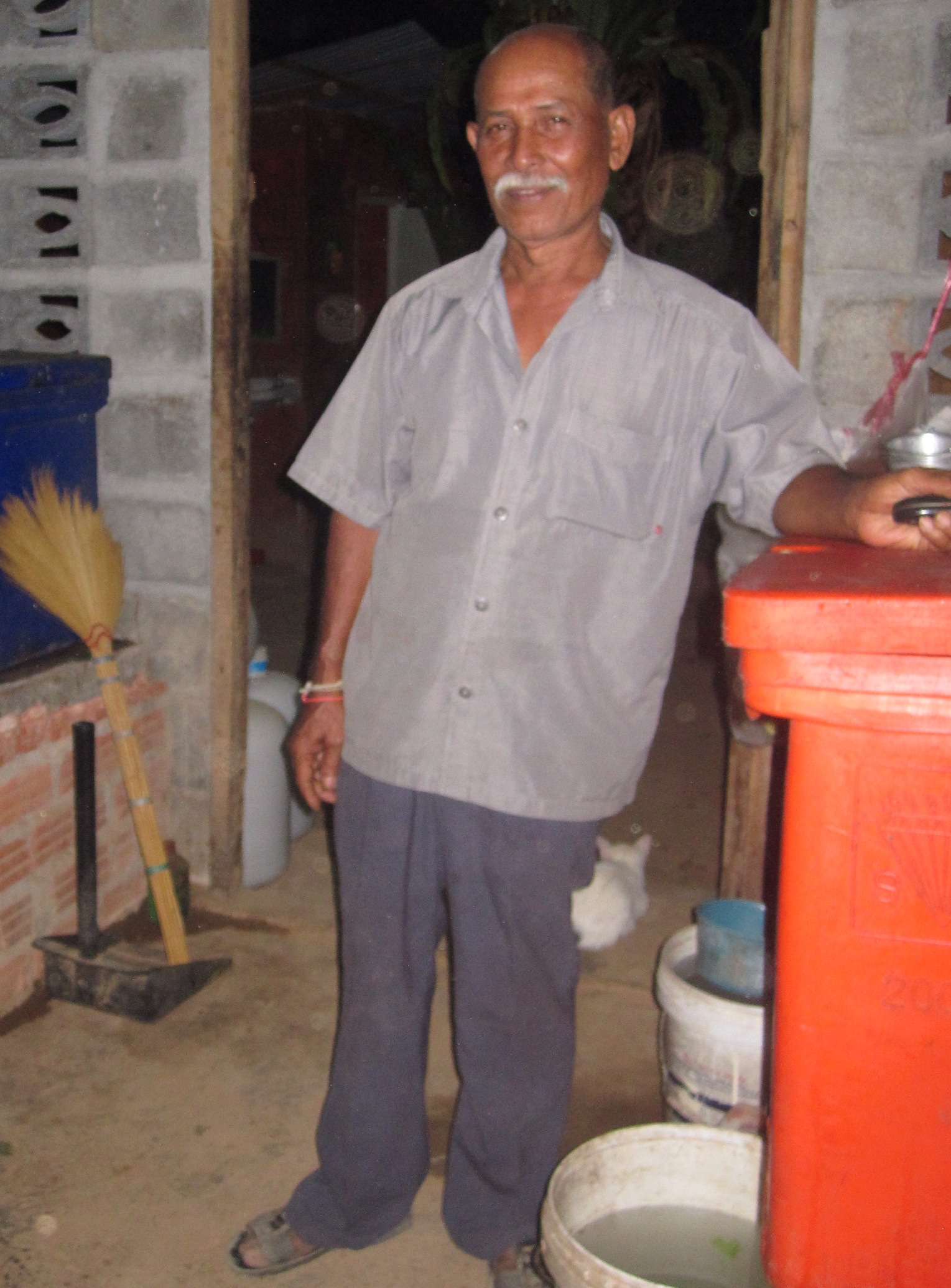 The lady runs the restaurant and served some of the best food we'd had in Thailand. Really delicious curries, rice and noodle dishes. And the prices were really reasonable.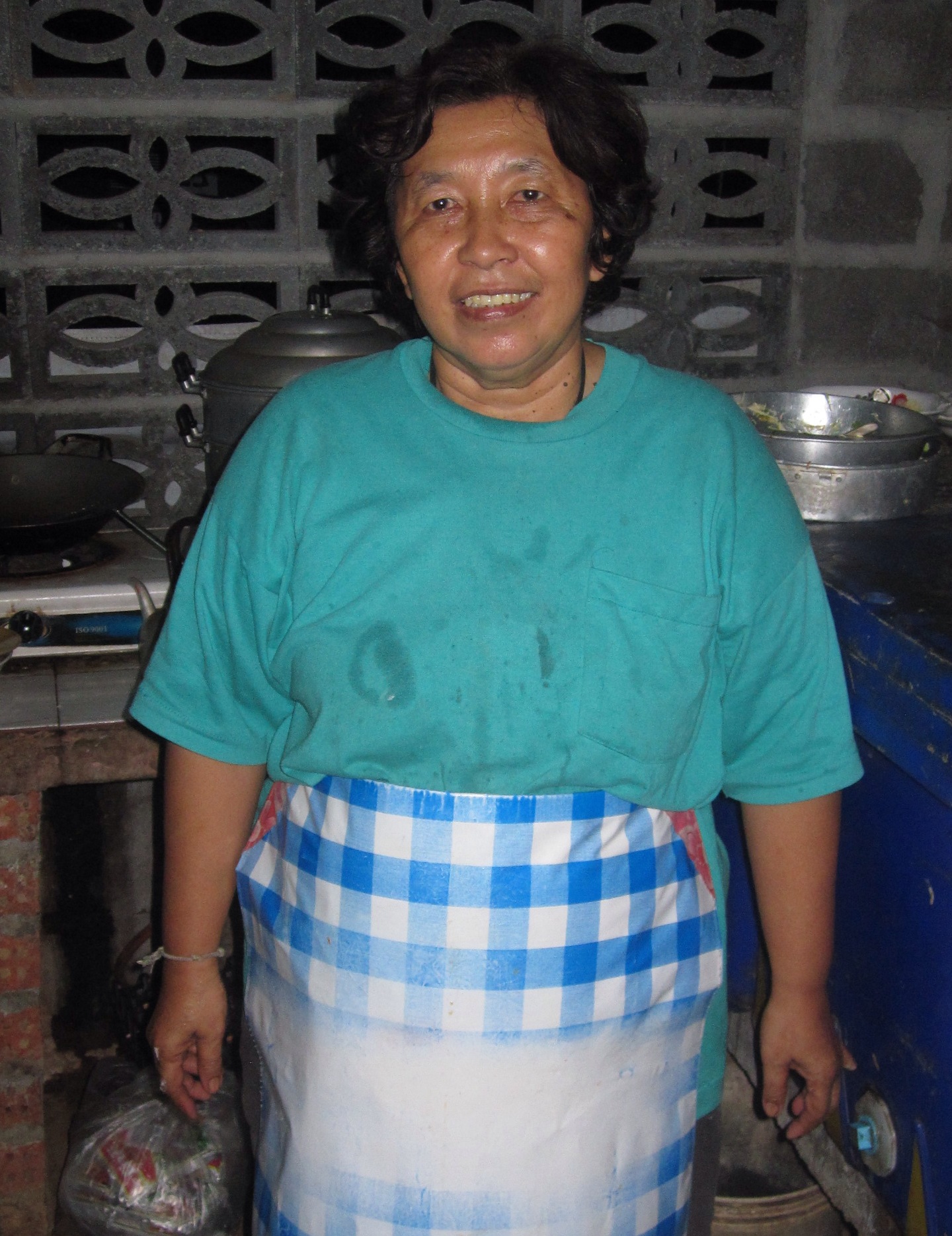 For breakfast, you pop into the kitchen to order your food with the lady. Dervie was a huge fan of the pancakes which were literally a cake in a pan. Yum!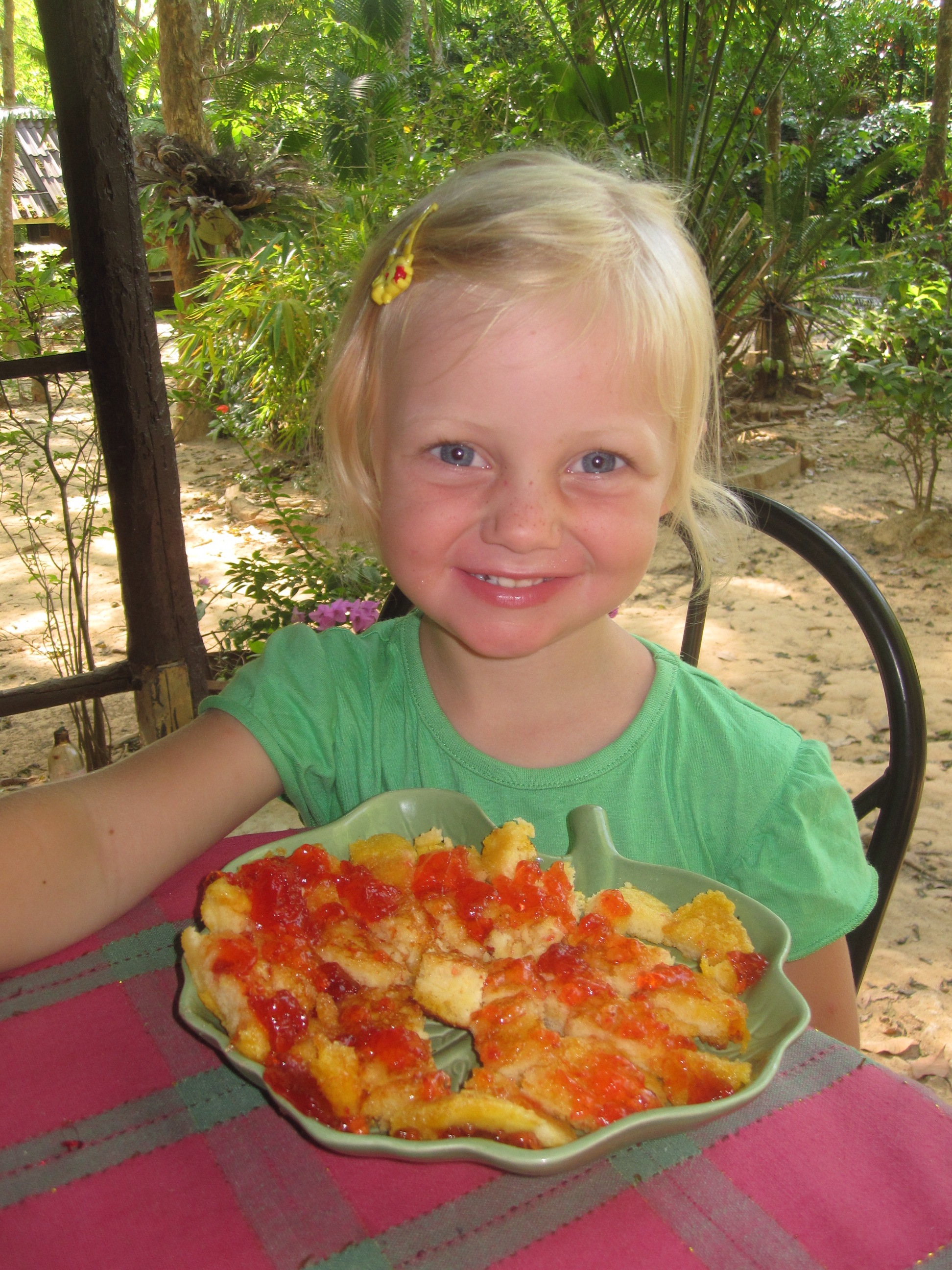 There were also delicious fruit plates, Freya's favourite!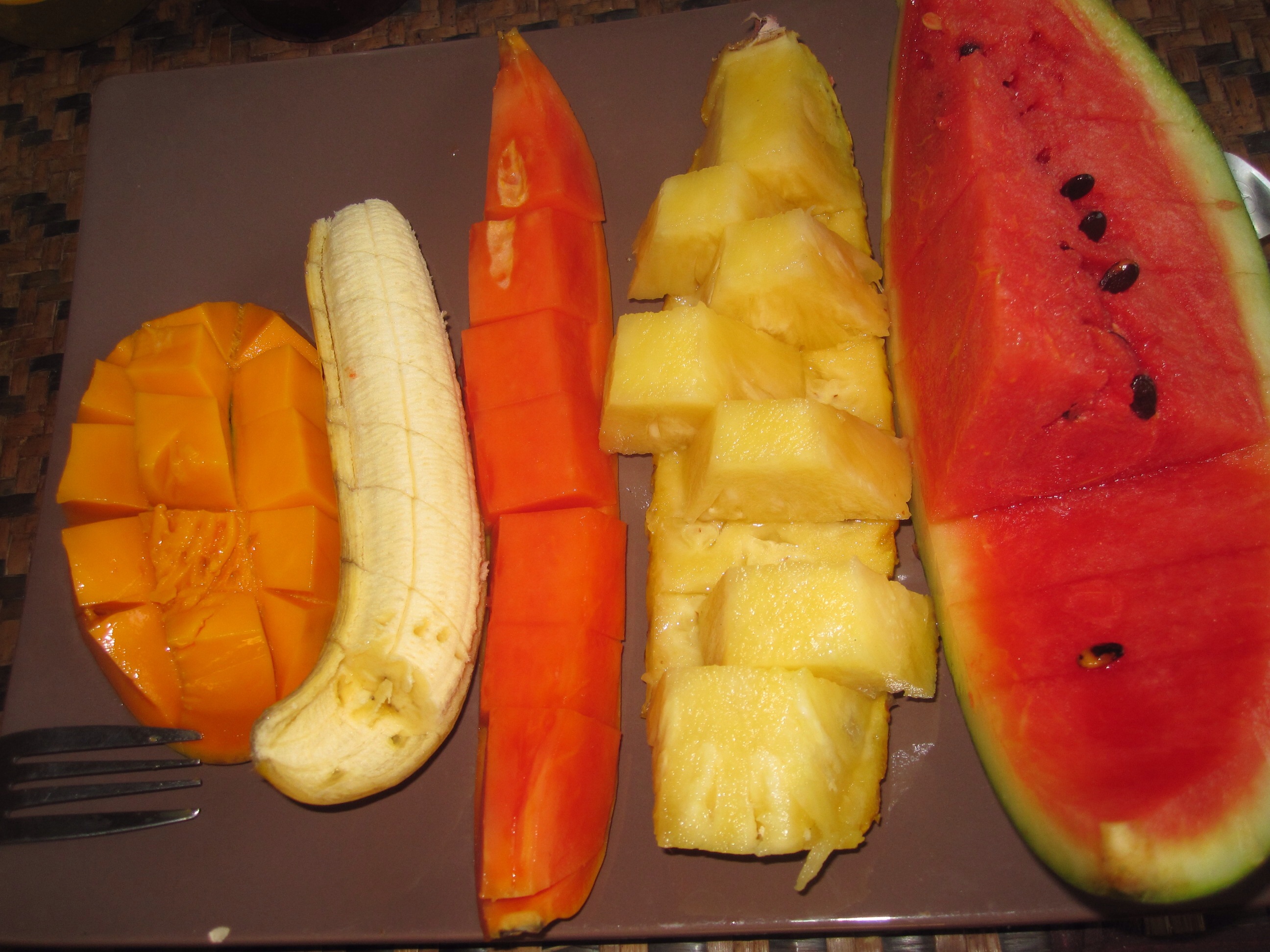 The Jungle huts are nicely positioned in the middle of the island in the jungle. The bungalows are surrounded by trees and flowers making the whole location very pretty. There's also an abundance of wildlife with plenty of mozzies around, big nasty ones so make sure you gave your repellent! More interestingly though and to the delight of the girlies, the forest around the bungalows is home to some huge monitor lizards. We frequently found them around or under our bungalows or climbing the trees looking for eggs. They were huge.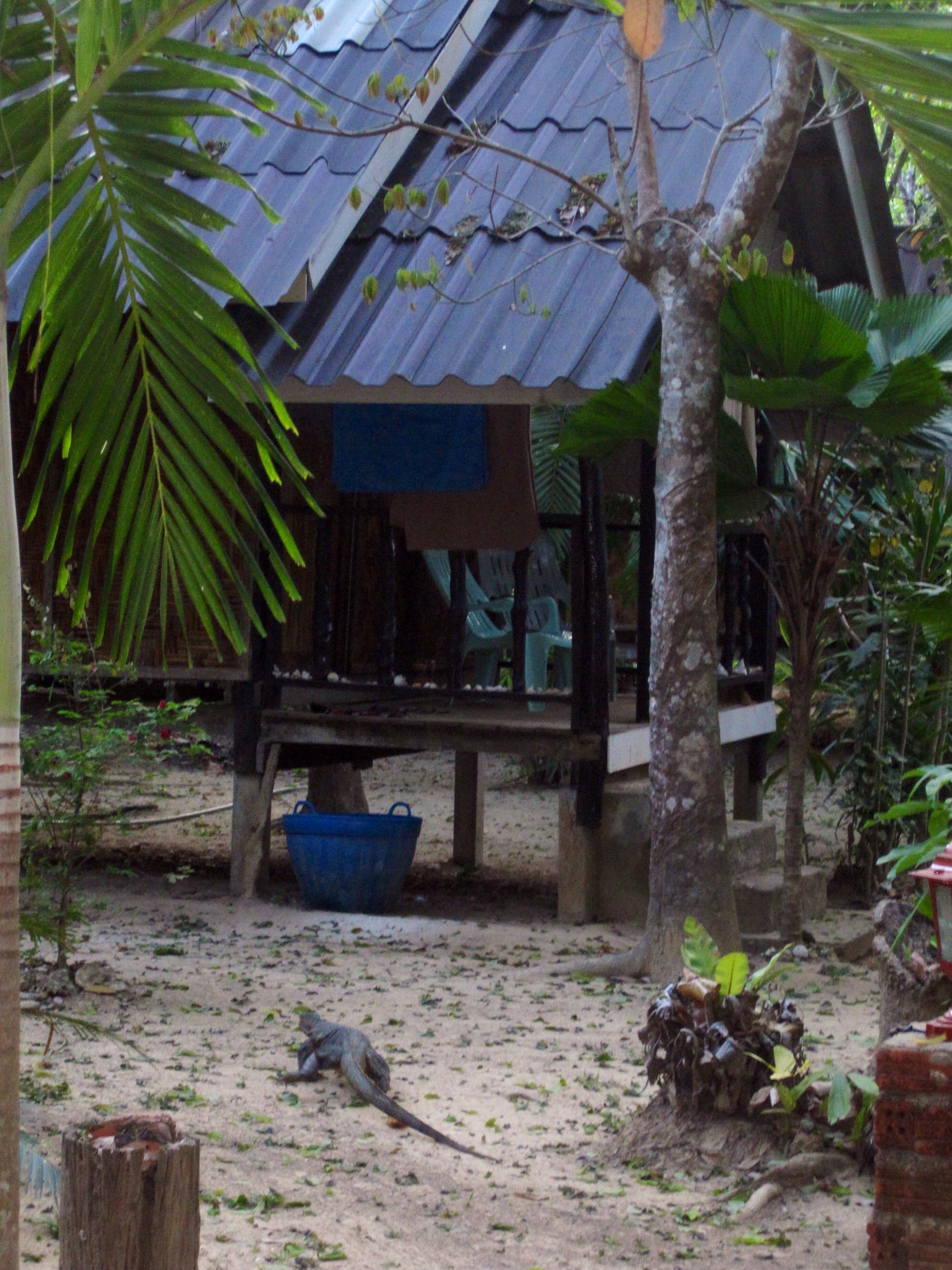 We also spotted some hornbills nesting at the tops of the trees. Was amazing to actually see these in the wild, they're impressive!
We spent our days on Bulone snorkelling off the beach, making same castles, swinging on swings and chilling out. The water is crystal clear and warm like all of the Thai islands and here there are very few longtails and no banana boats or jet skis (thank God) to break the silence. You have to swim out quite far or go at low tide to find good snorkelling. Unfortunately most of the coral nearer the shore has been destroyed. It's such a shame. We net a guy who told us that he had been here 15 years ago and the snorkelling off the beach was spectacular.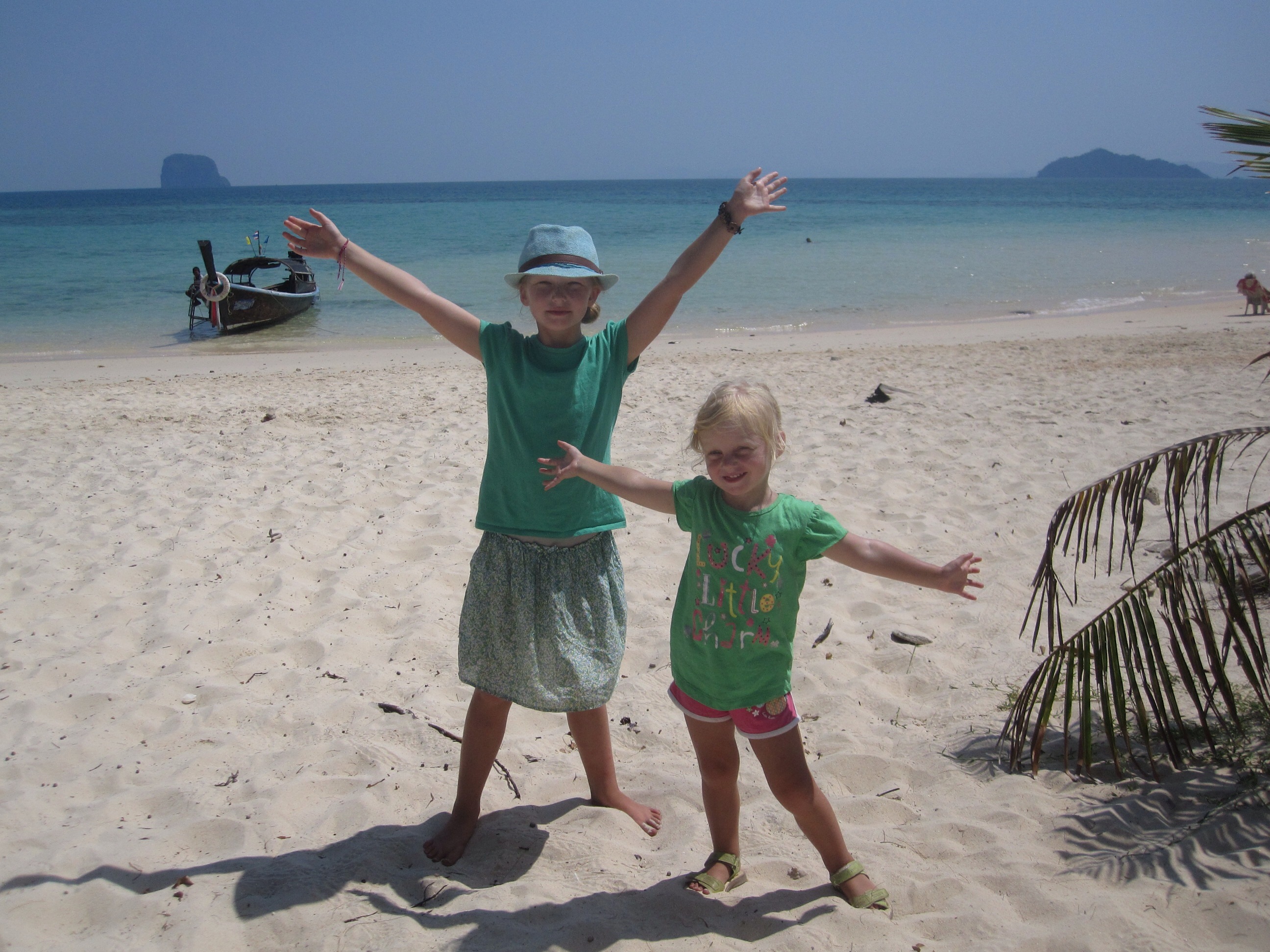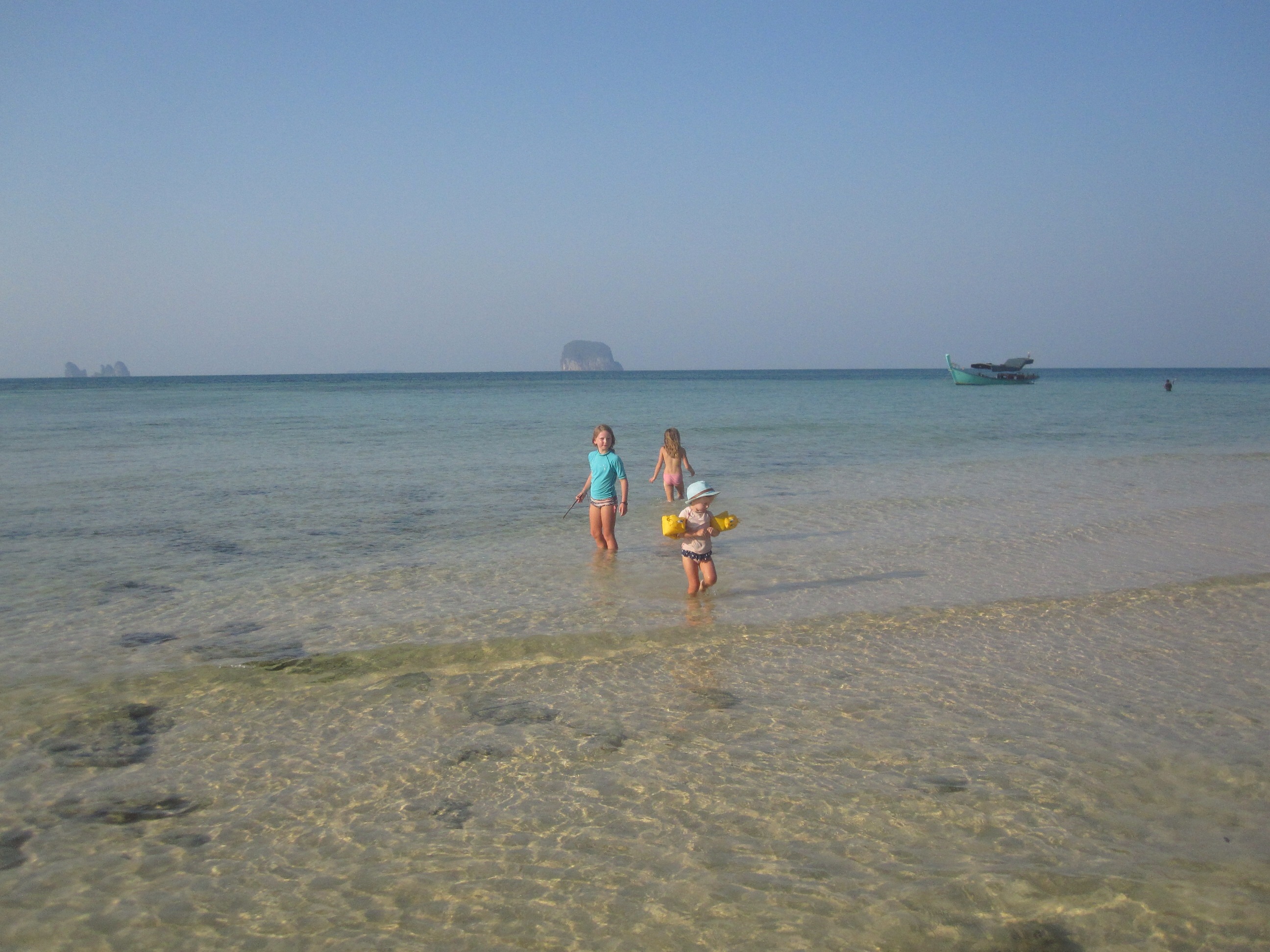 When you did swim out quite far, the snorkelling was spectacular. The girls especially loved the huge colourful clams which you could dive down to and touch making them shut closed really quickly. There were loads of shoals of fish and beautiful corals. Heaven.
We had heard about a great snorkelling spot out at sea called "White Rock". To get there from Bulone, you need to charter a longtail. We bumped into a lovely English family who decided they'd like to do it with us so off we went. You charter the longtail from the cabins on the beach, it cost us 1,500 baht (about €40). The driver took us to three different spots, some were quite shallow near small islands. One spot had huge sea urchins, bit tricky to manoeuvre around in shallow water. Then we arrived at white rock. It's basically two rocks out by themselves in the middle of the ocean.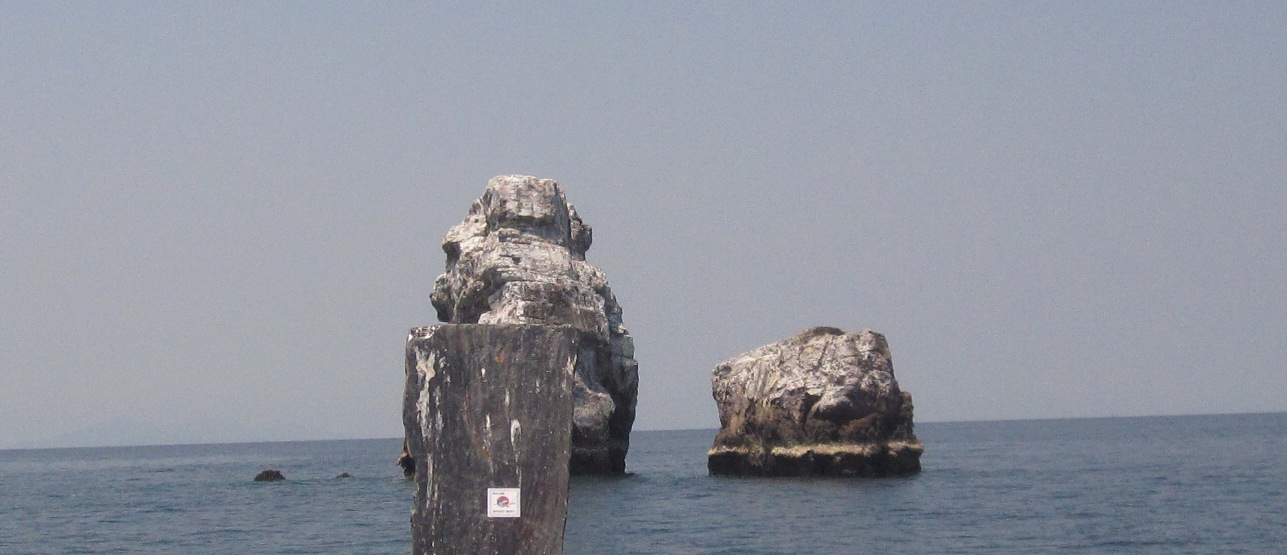 Edit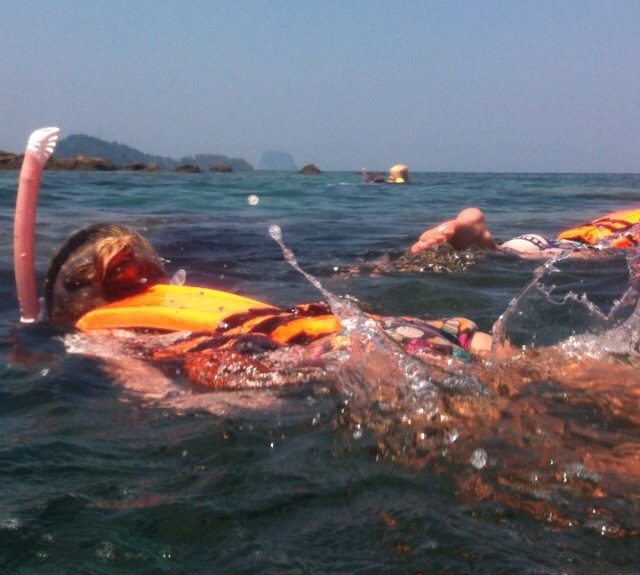 They project a few metres over the sea and then many more underneath. The snorkelling there was the most spectacular we'd ever seen. There were huge shoals of multi coloured fish, the most beautiful coral, perfect visibility and depths that make you almost scared. To use Shuna's favourite word, it was "awesome". We were completely blown away by it and didn't want to leave. And the best thing was that there wasn't another sinner around, just us and the other family and our boat driver and his son…. Amazing.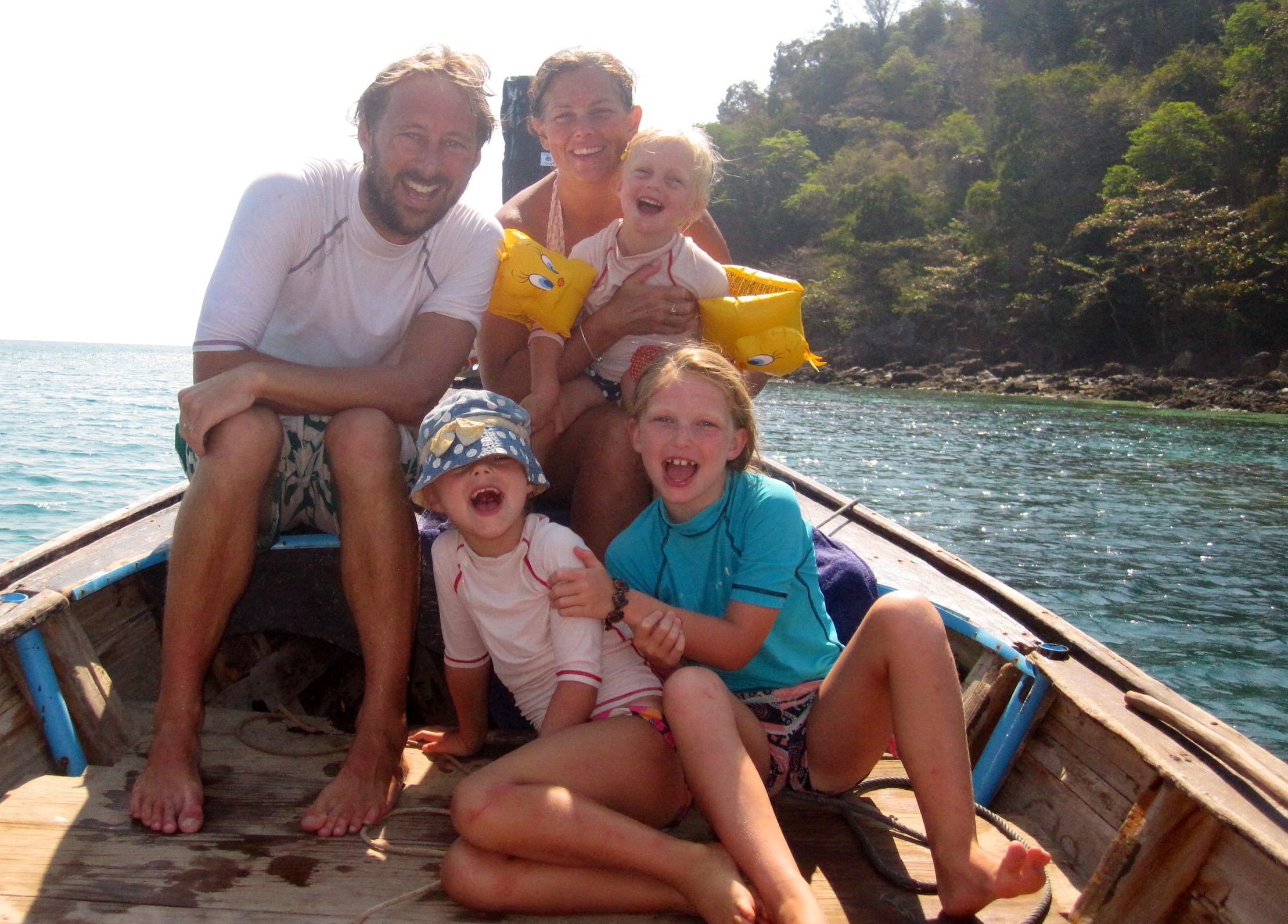 We arrived back to the beach and enjoyed a few beers with our new buddies delighted with the experience we'd had. It was a super way to celebrate St. Patrick's Day!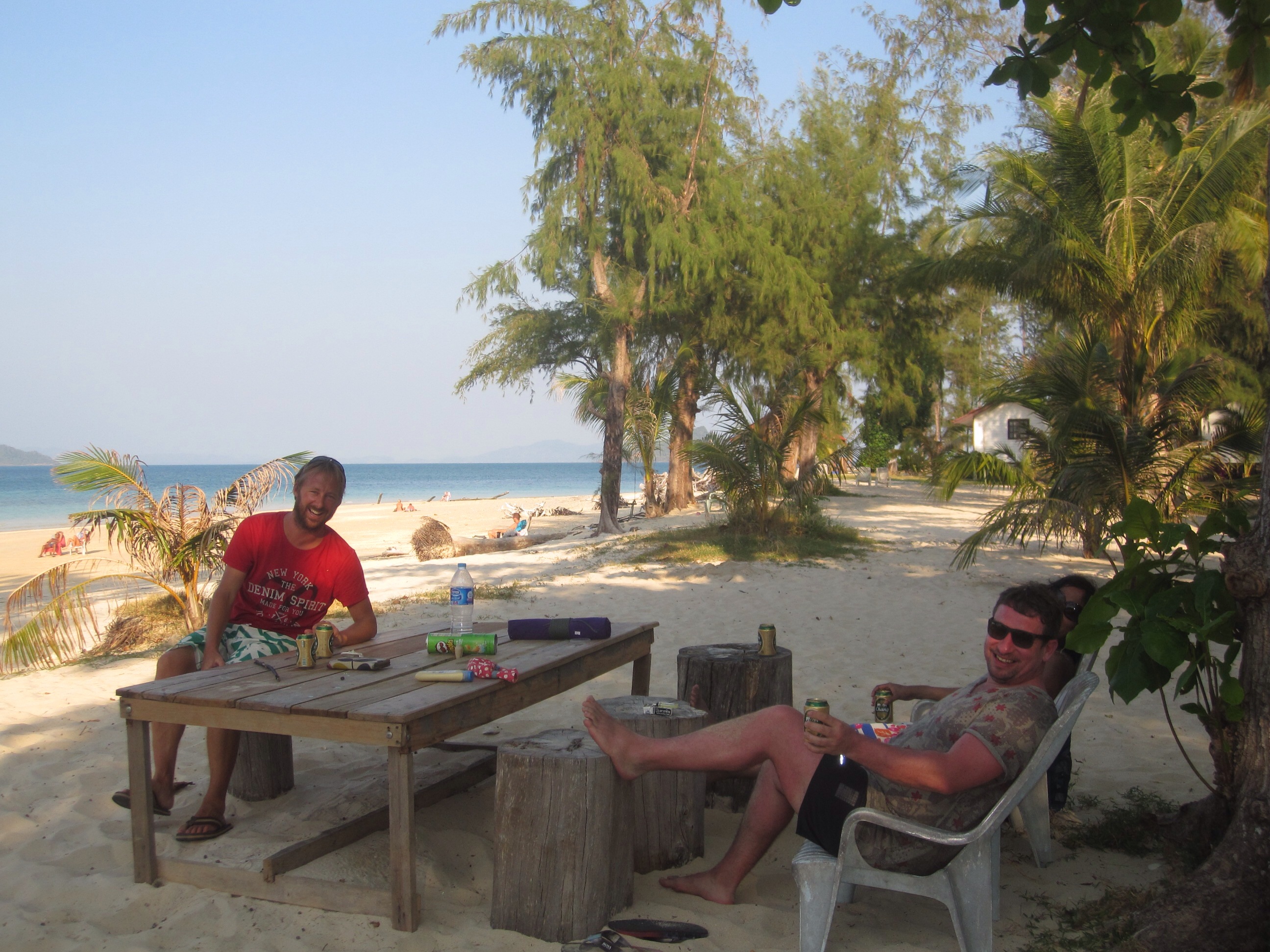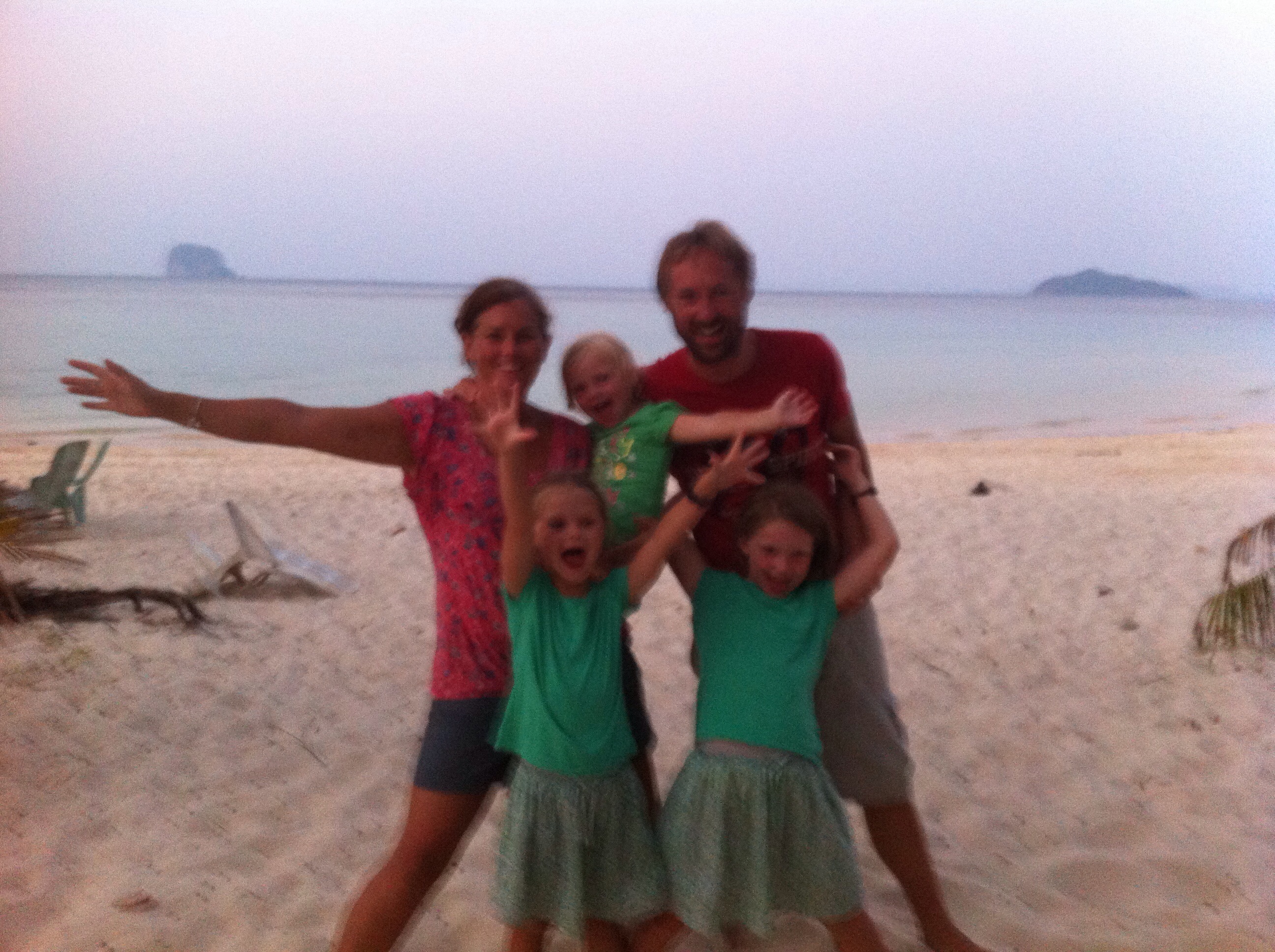 We left with heavy hearts and slightly heavy heads (;-) the next day to go to Koh Lipe. We really didn't want to leave but had run out of money and with no ATM's on the island, it was time to go. We decided we'd definitely come back though…. We loved Bulone!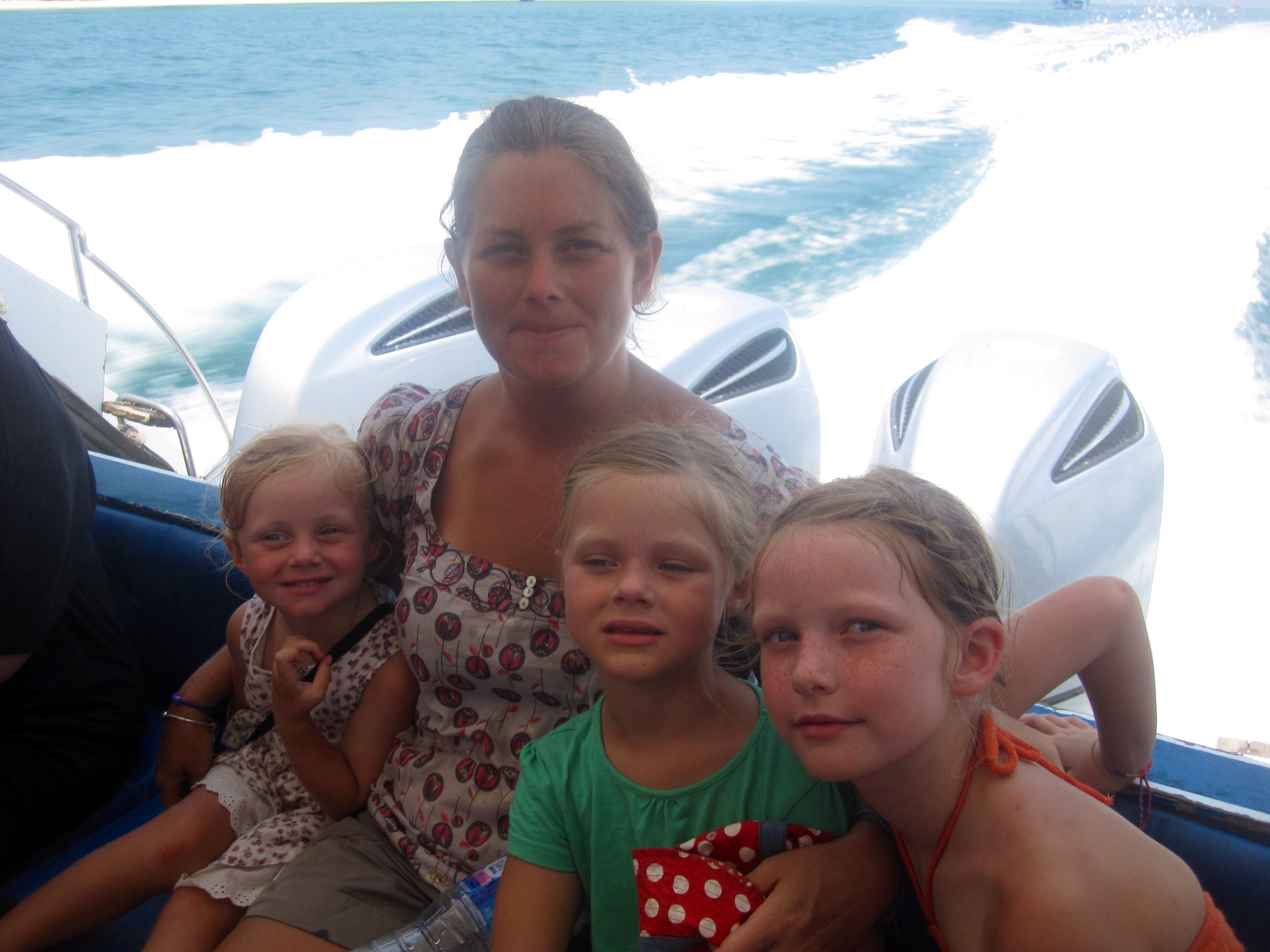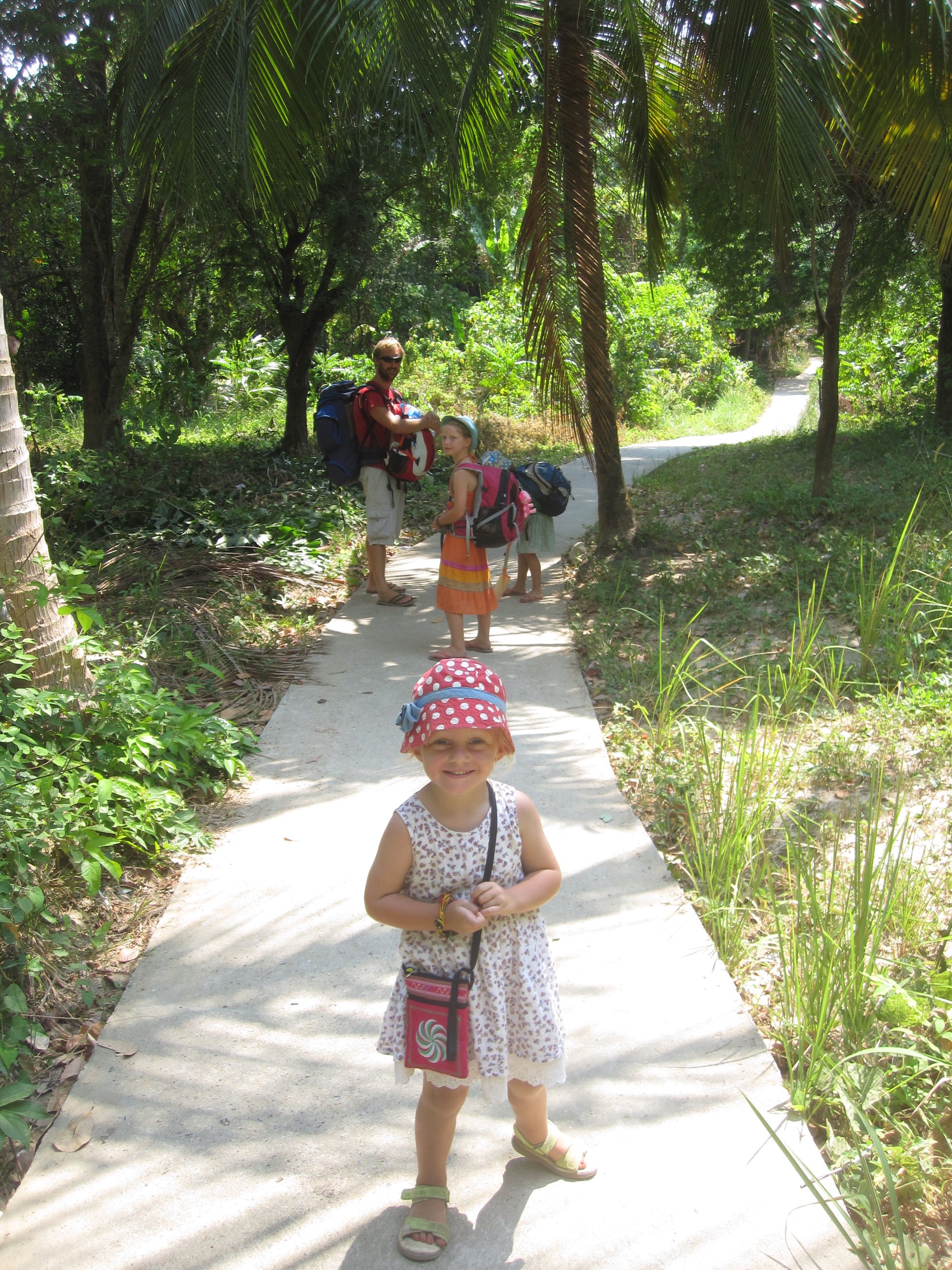 Lipe couldn't be more different than Koh Bulone but not without it's charms…. It's very touristy. I believe years ago it used to be a completely untouched paradise but now it's pretty mobbed. I guess that's what happens when word gets out about somewhere amazing.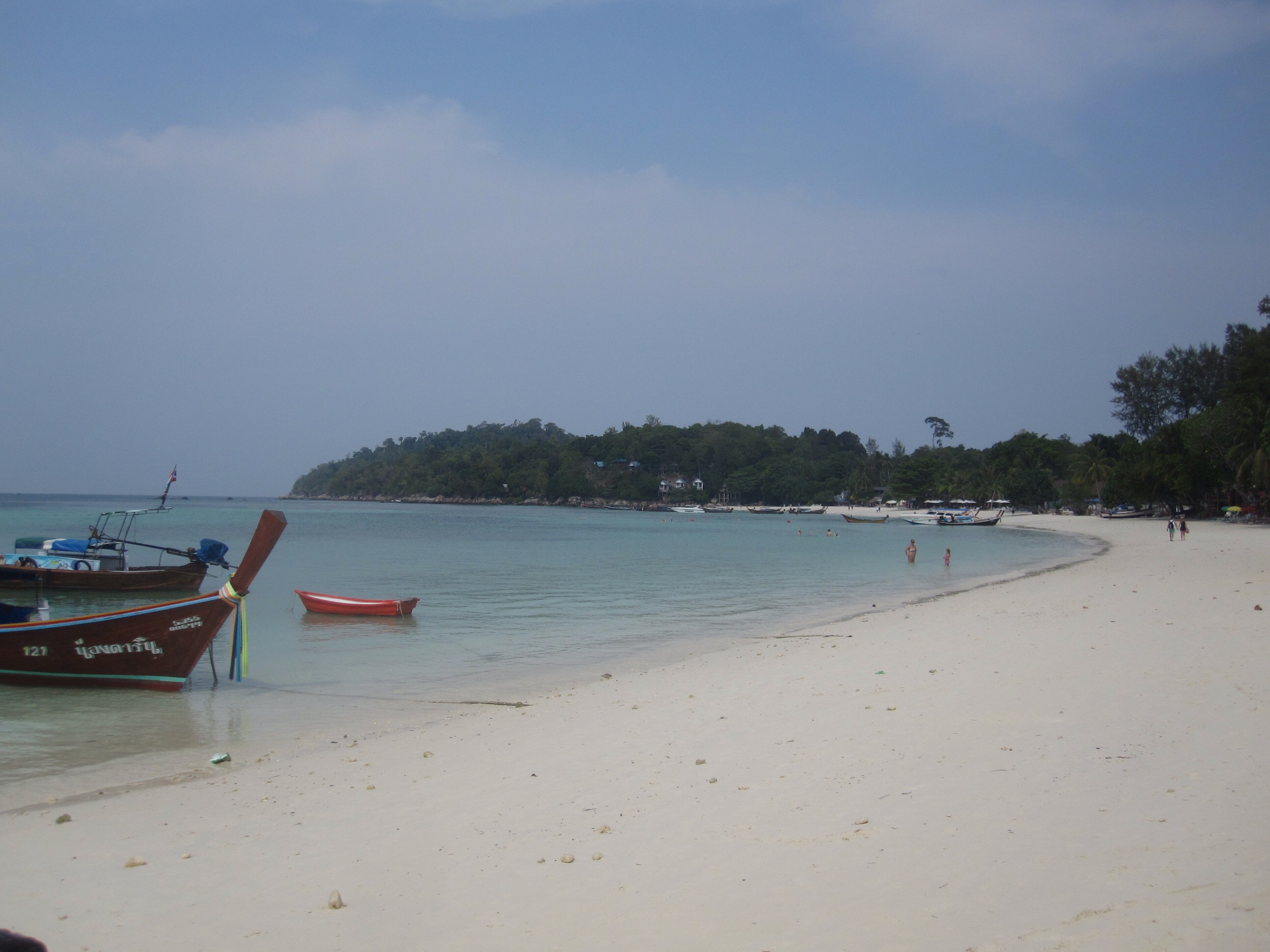 Lipe has many beautiful beaches, some more lively than others. They're joined by a really buzzy cool walking street packed with restaurants, bars and shops. Walking streets are cool in Thailand, really inviting and well done.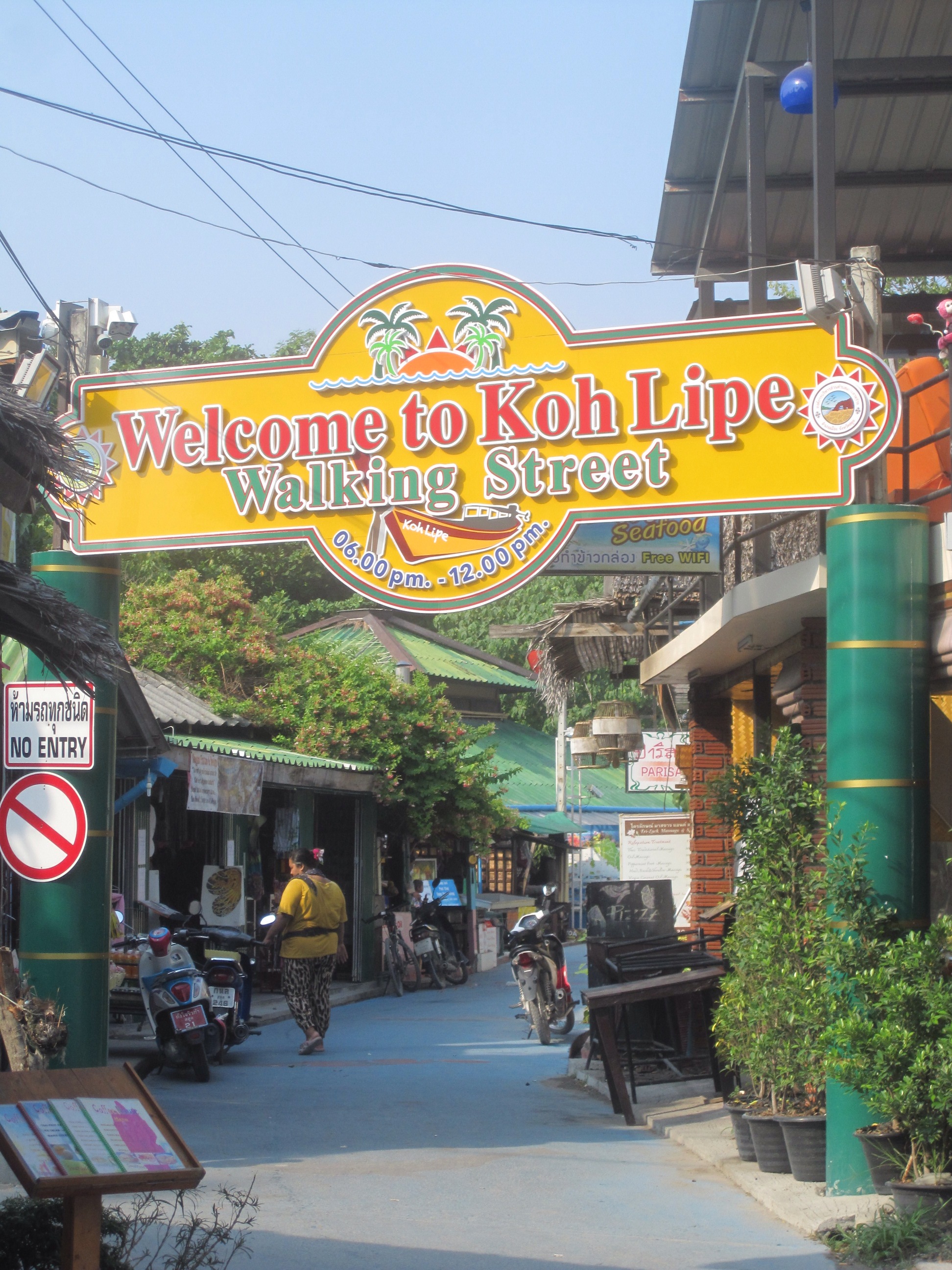 We decided to stay on Sunrise beach which was meant to be a bit quieter than Sunset beach where the ferry drops you but still completely beautiful. We had a bit of hassle finding accommodation, Ro walked the whole beach and much of inland but couldn't find places which didn't cost the earth. In the end we settled for 2 bamboo bungalows on the beach beside "Gipsy Bungalows", there were about 100 bungalows in the development with varying prices depending on how far back from the beach you were. We opted for 2 furthest back at about 700 baht per bungalow. I really liked them, the surroundings were a bit dodge with rubble around but the bungalows themselves were great. They had comfy beds, large mozzie nets, fans and en suite bucket flush toilets and showers. As they were raised off the ground, they were nice and cool too.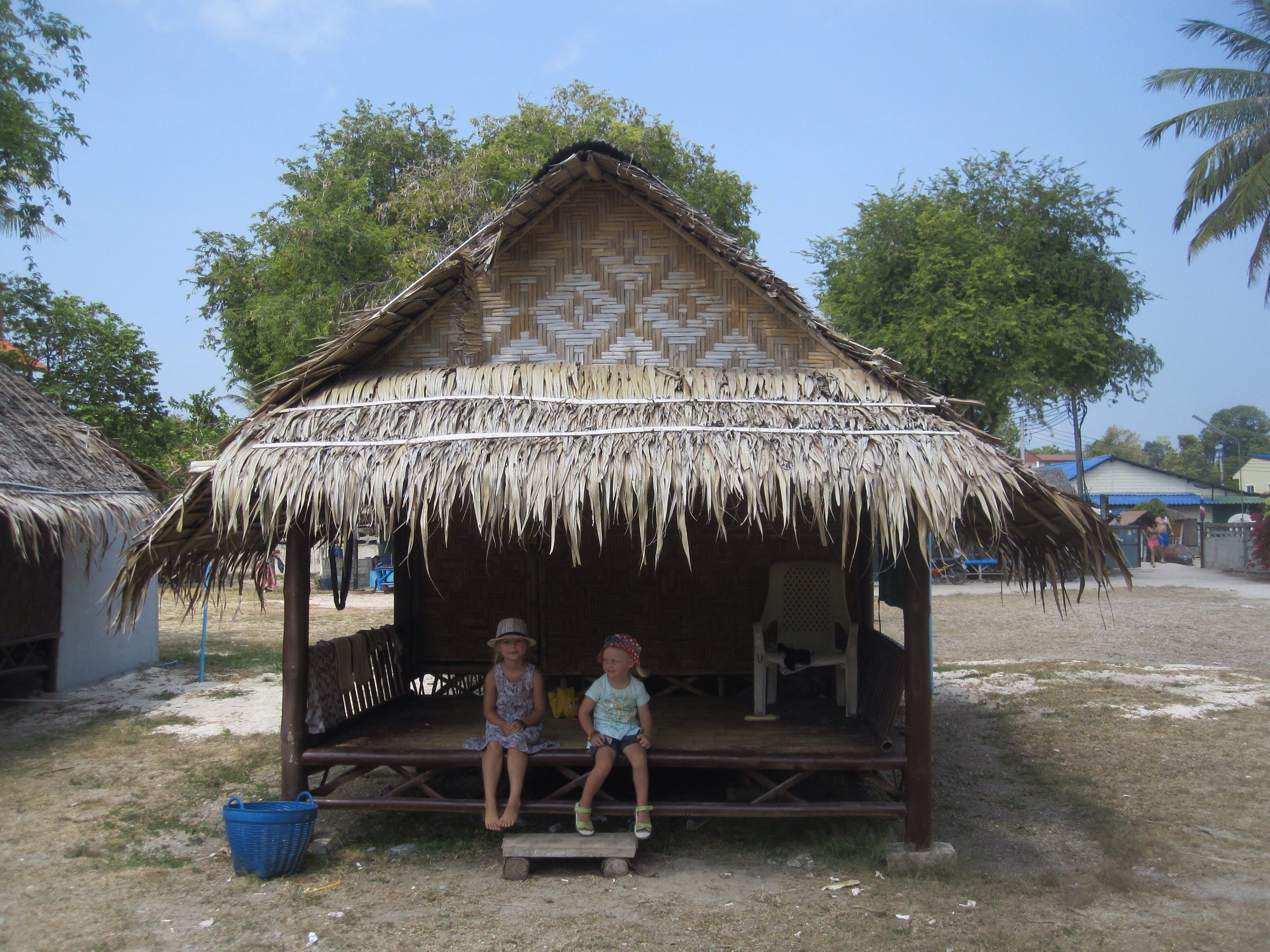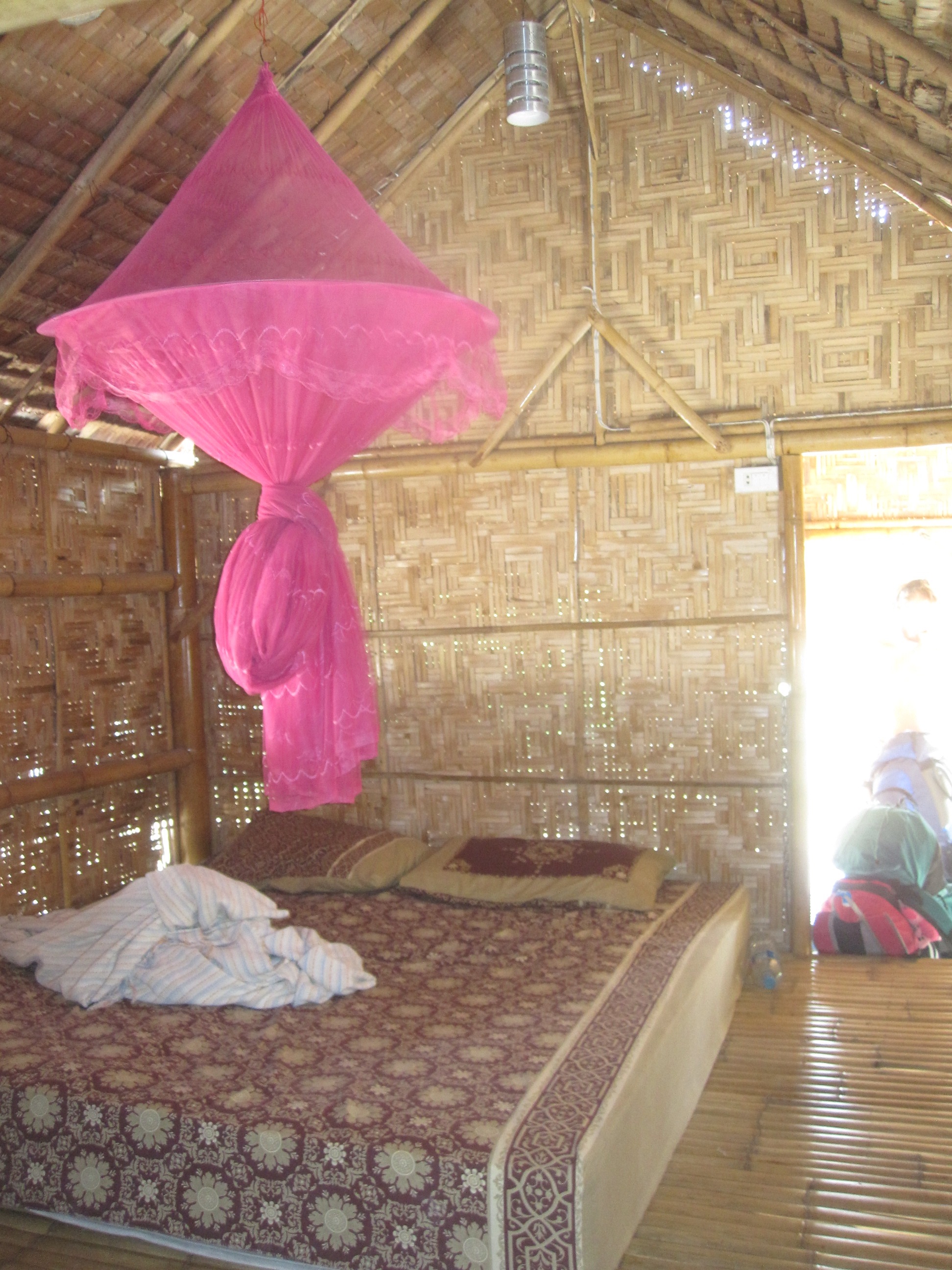 But we had our eye on the gypsy bungalows next door, they were snazz with a lovely restaurant and for the same price, we could get a bungalow together so we booked in there for a few days time.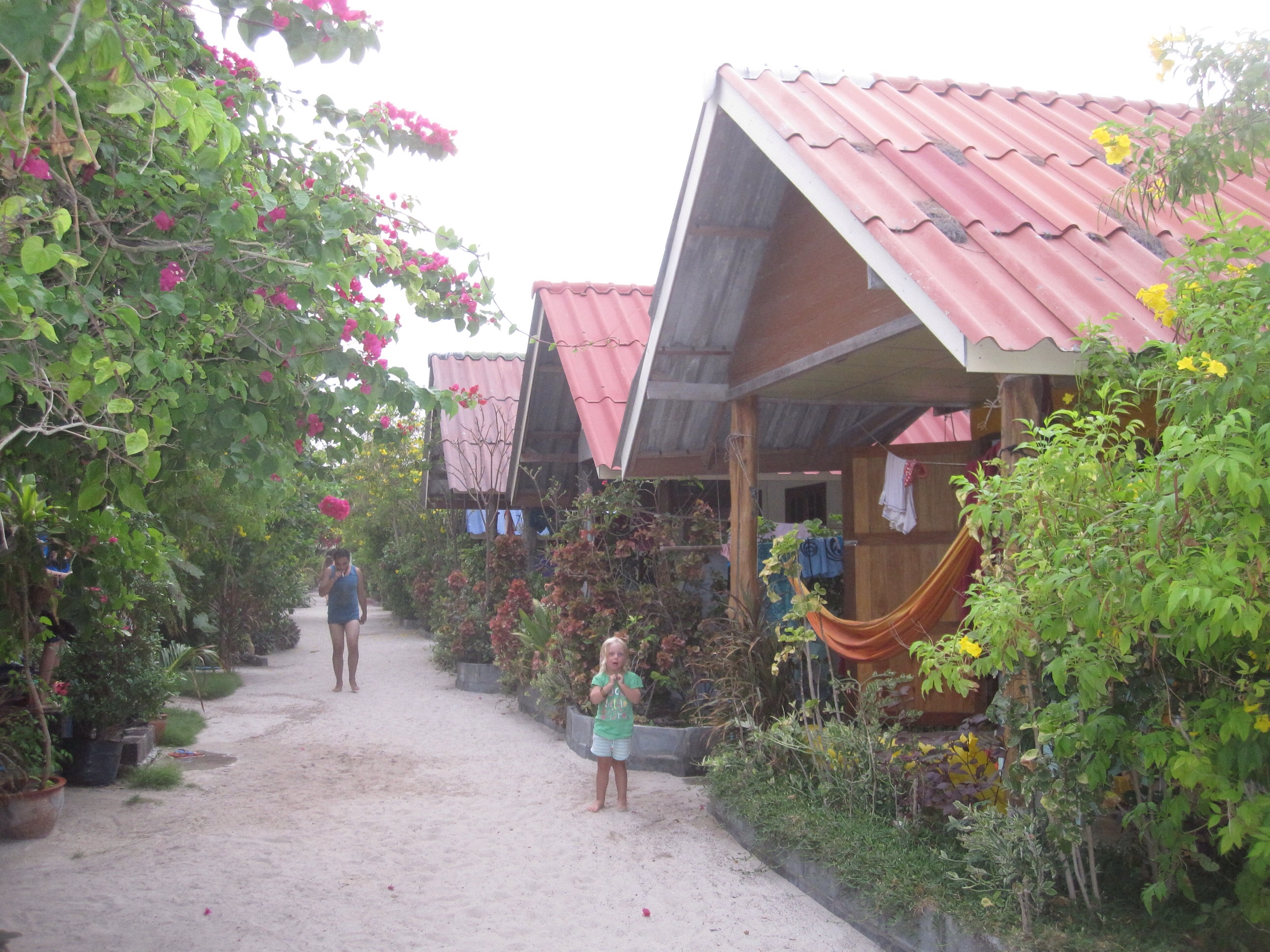 The location of both properties is great with access to the beach and walking street. If you cross the walking street, you arrive at sunset beach which is packed with cool beach restaurants and bars.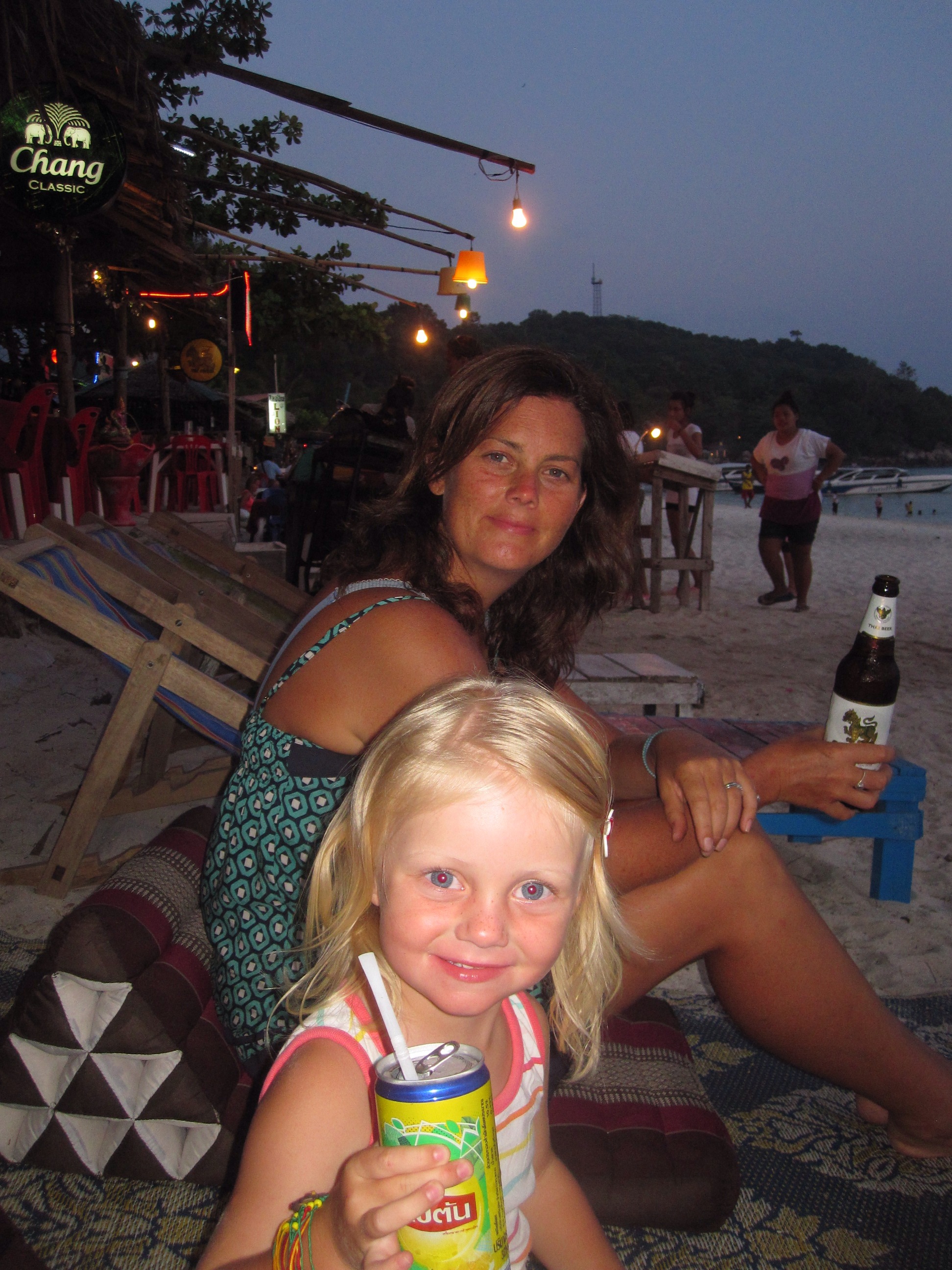 There are loads of seafood restaurants with amazing fresh seafood on display outside. We saw some huge marlin fish on display, you'd be chuffed to catch one of those on a fishing trip!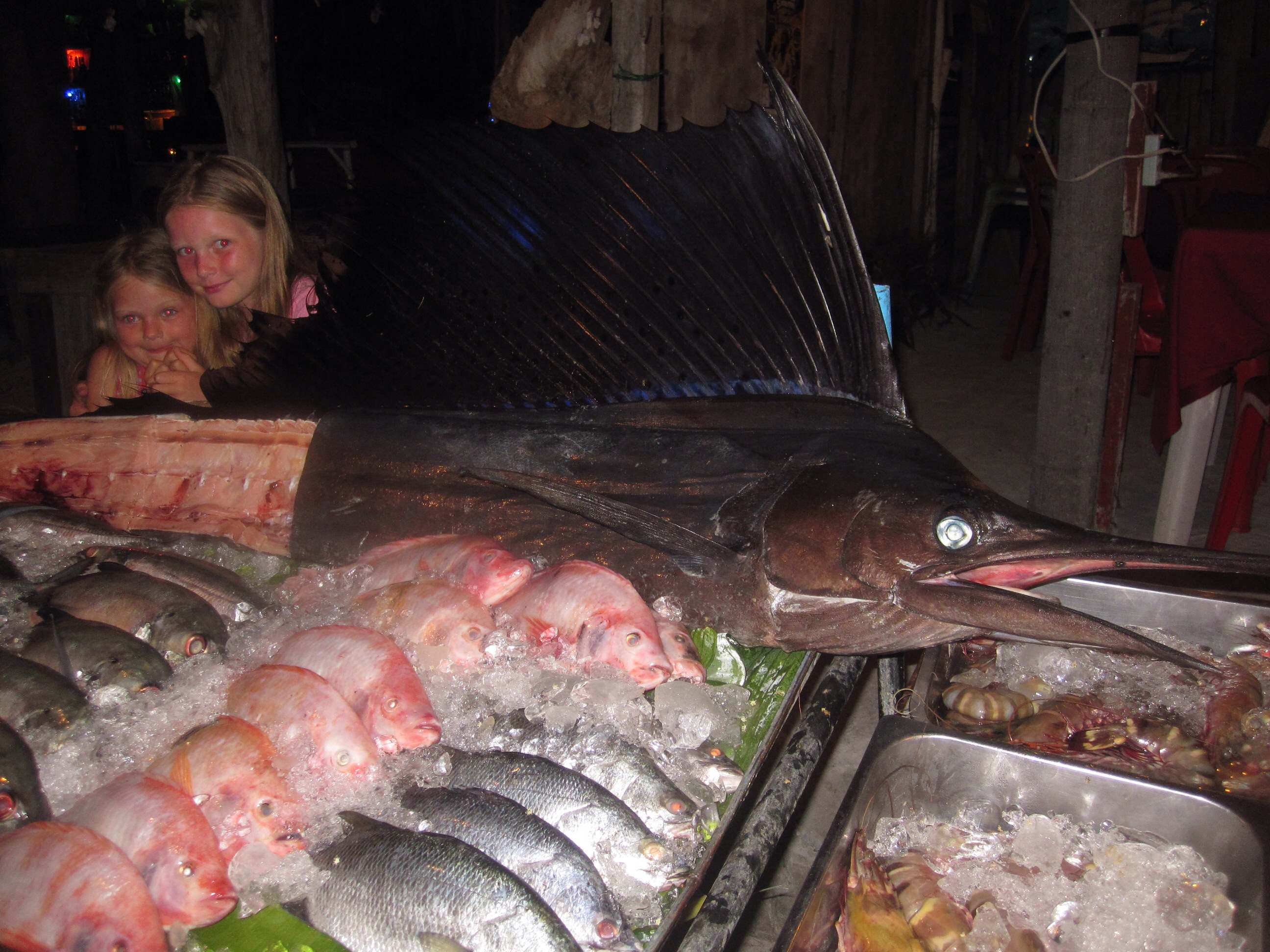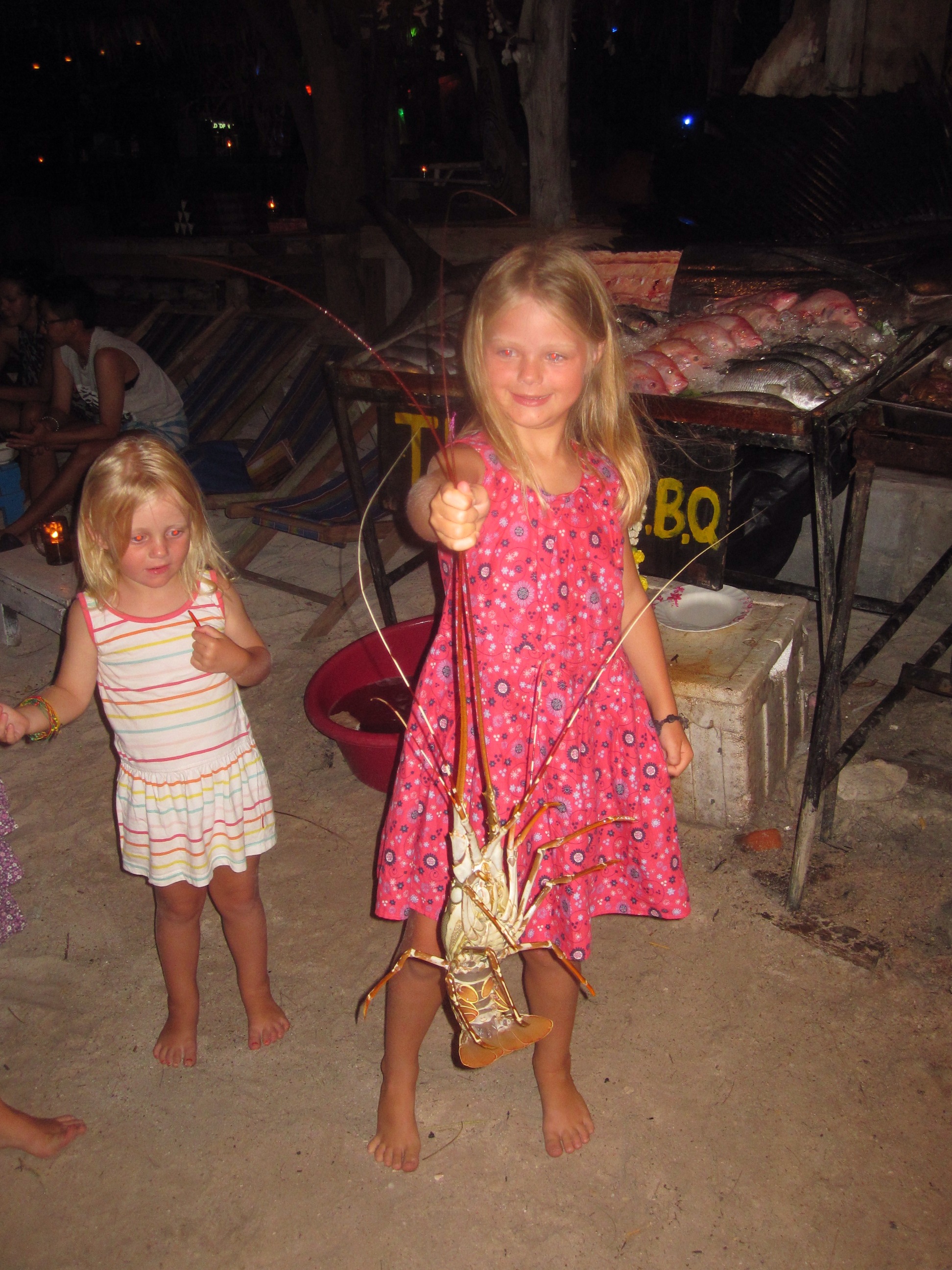 We had the most delicious food on Lipe. Our regular breakfast was a big bowl of fresh fruit with muesli and yogurt on it. Absolutely delicious!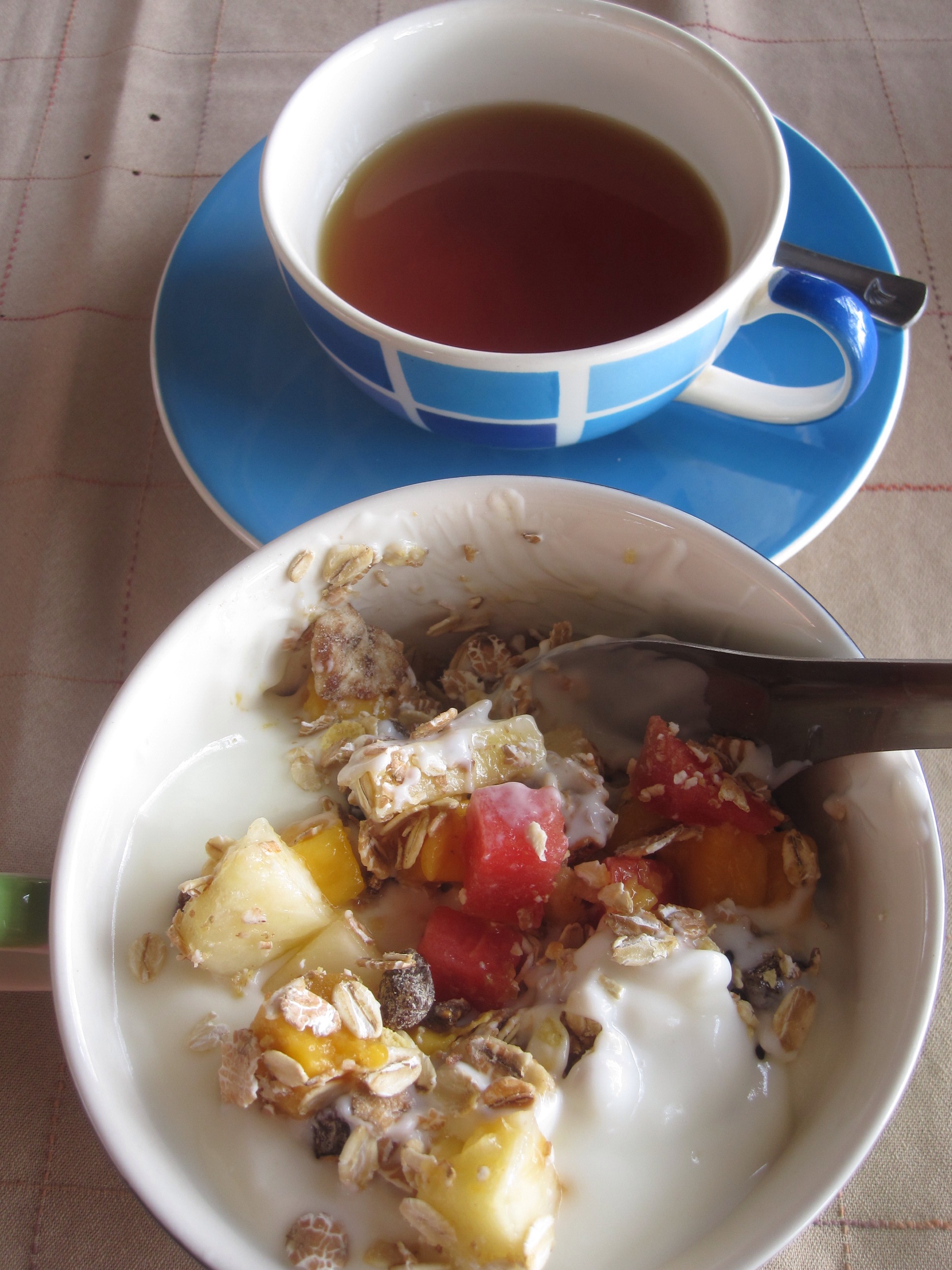 We also discovered a dessert of mango with sticky rice. If you haven't tried this, do, it's SO delicious. It's basically truce cooked in coconut milk with some fresh mango to the side. Soooo yum! Here's a recipe, try it, I'm drooling at the thought of it here.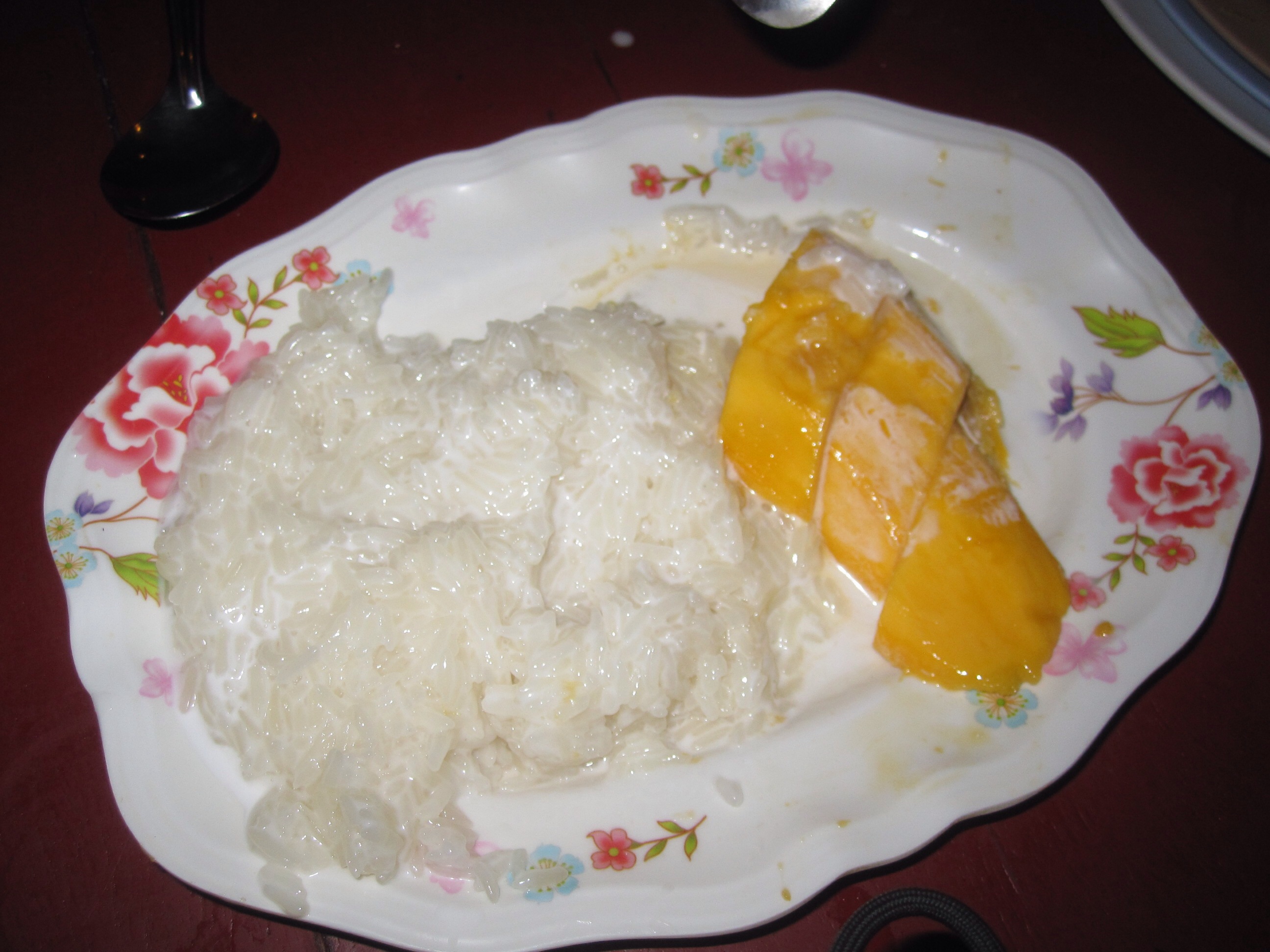 The girls also used to get the most delicious fresh fruit pancakes in Gypsy bungalows. Yum!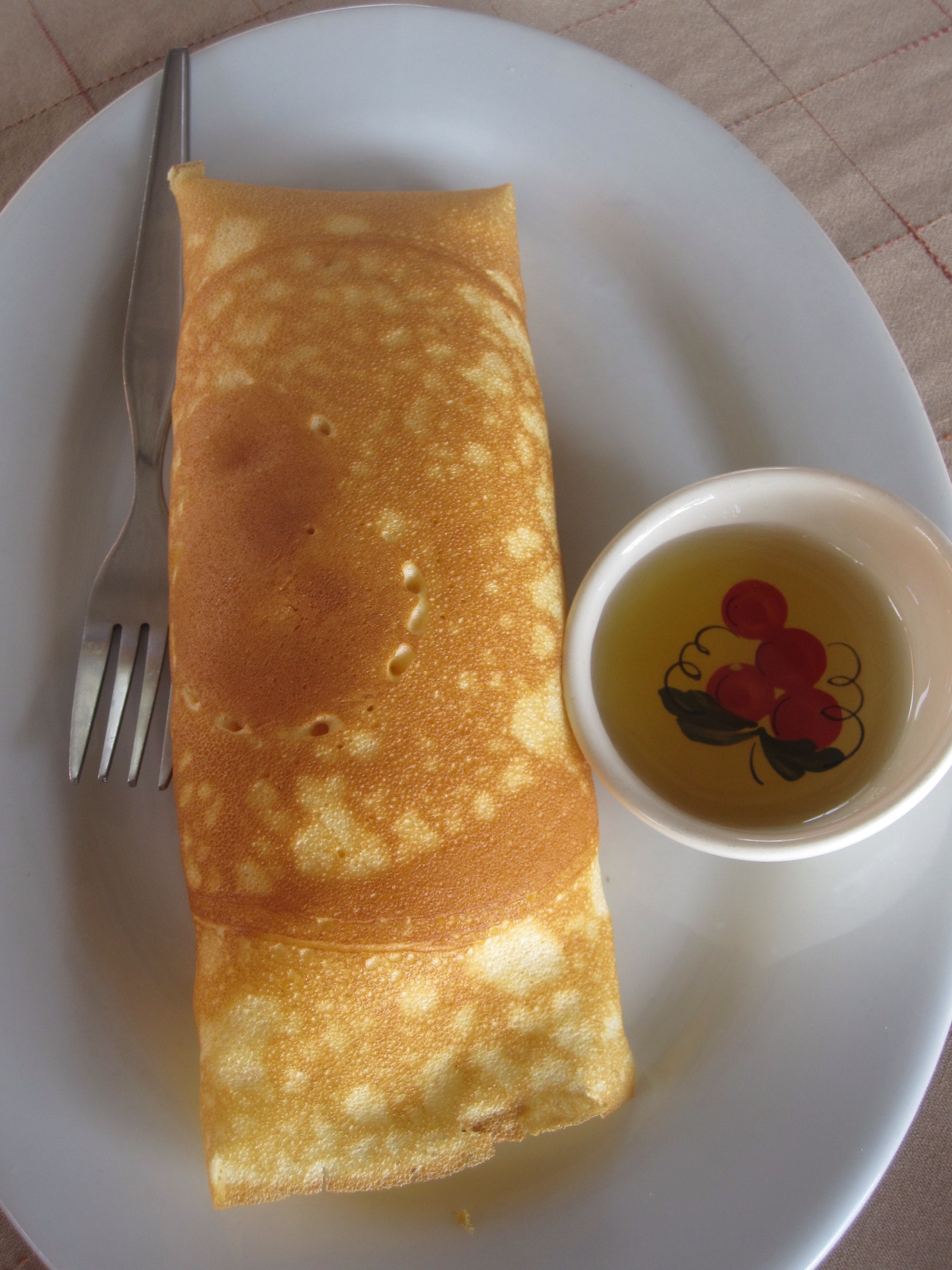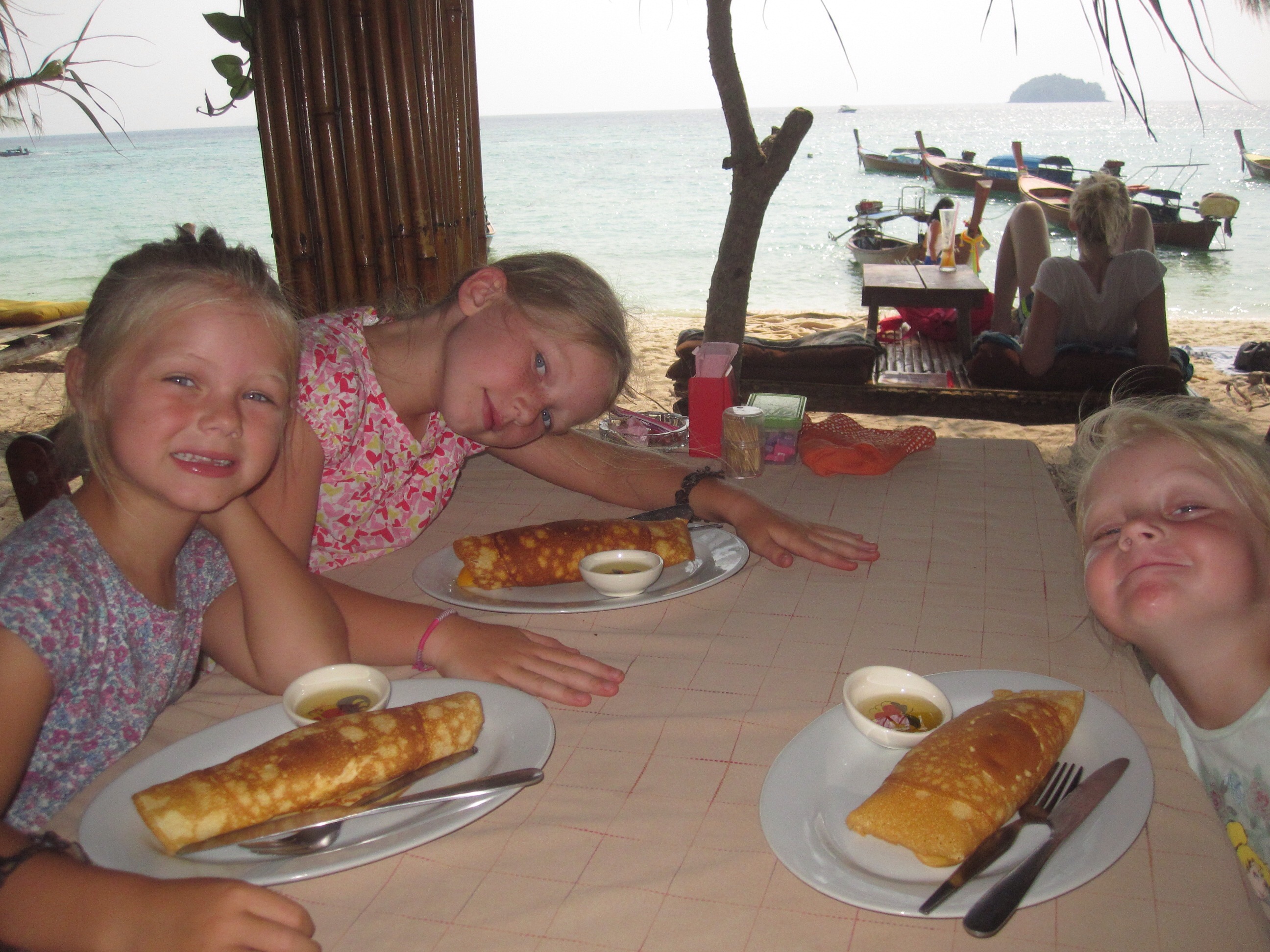 Sunrise beach is completely beautiful with squeaky white sand and crystal clear warm water. It's truly beautiful. We spent our days here snorkelling and swimming out to a disused paddle boat which we could jump off. It was heaven, we hardly strayed from Gipsy bungalows which are an extremely chilled spot to stay. I'm sure there is lots of exploring to be done on Lipe but we did very little and enjoyed every minute of it!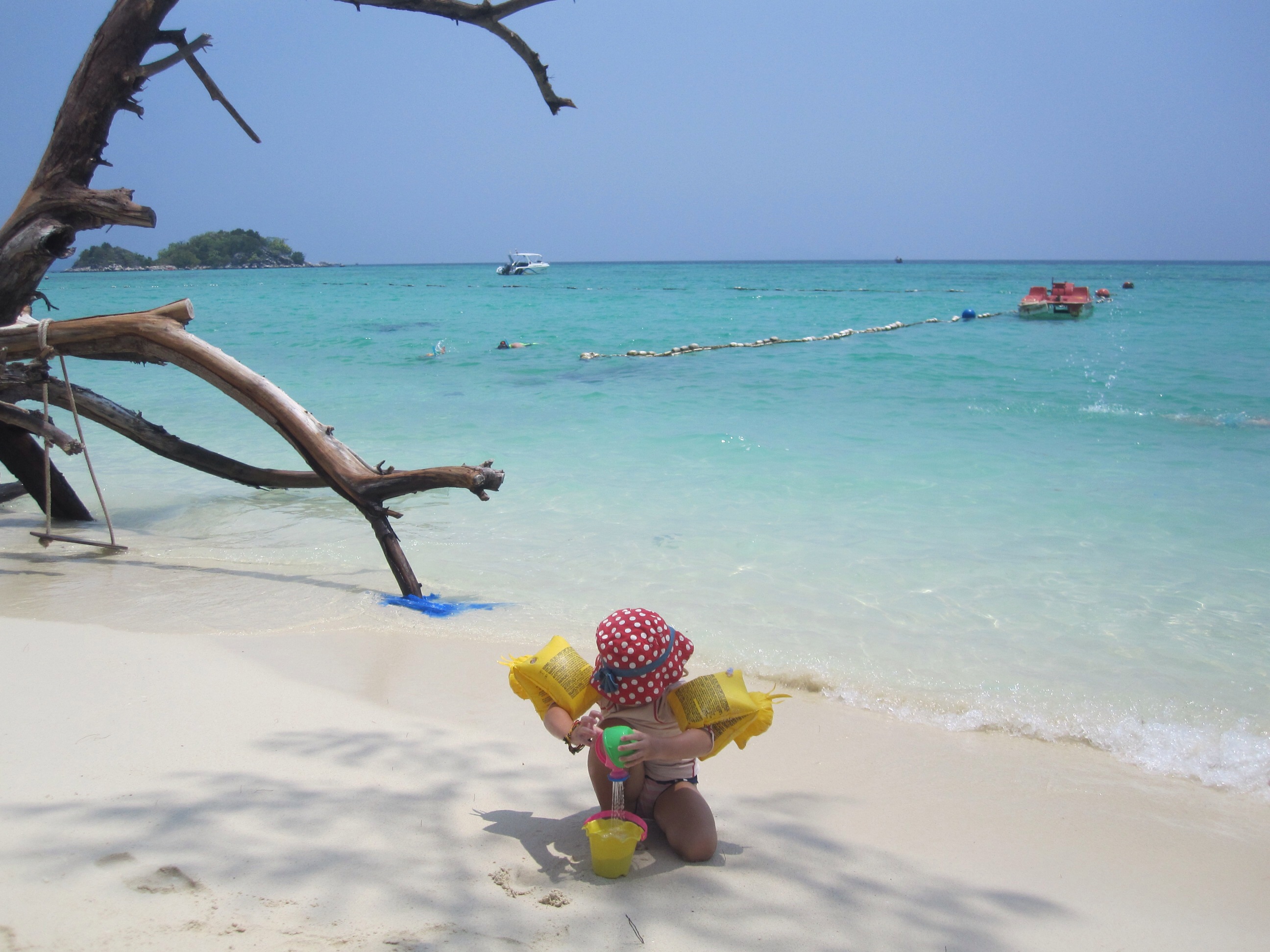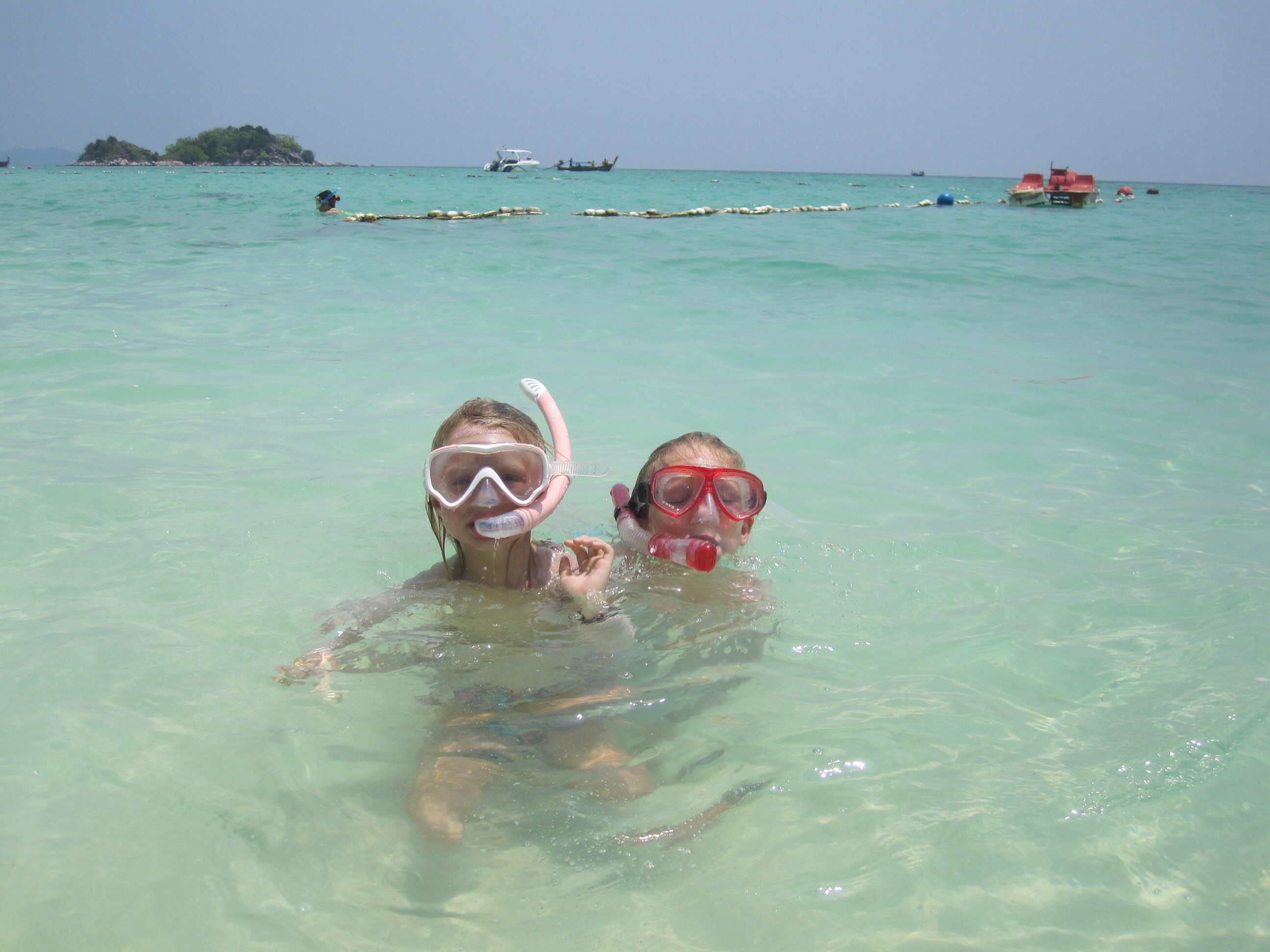 We did rent kayaks one day and wander around the islands off sunrise beach. There was some great snorkelling at one, Ro even spotted a moray eel.
You can also see quite a bit from sunrise beach itself especially at low tide where you can walk to a lot of coral and reef. We loved spotting nemos (clown fish) this way.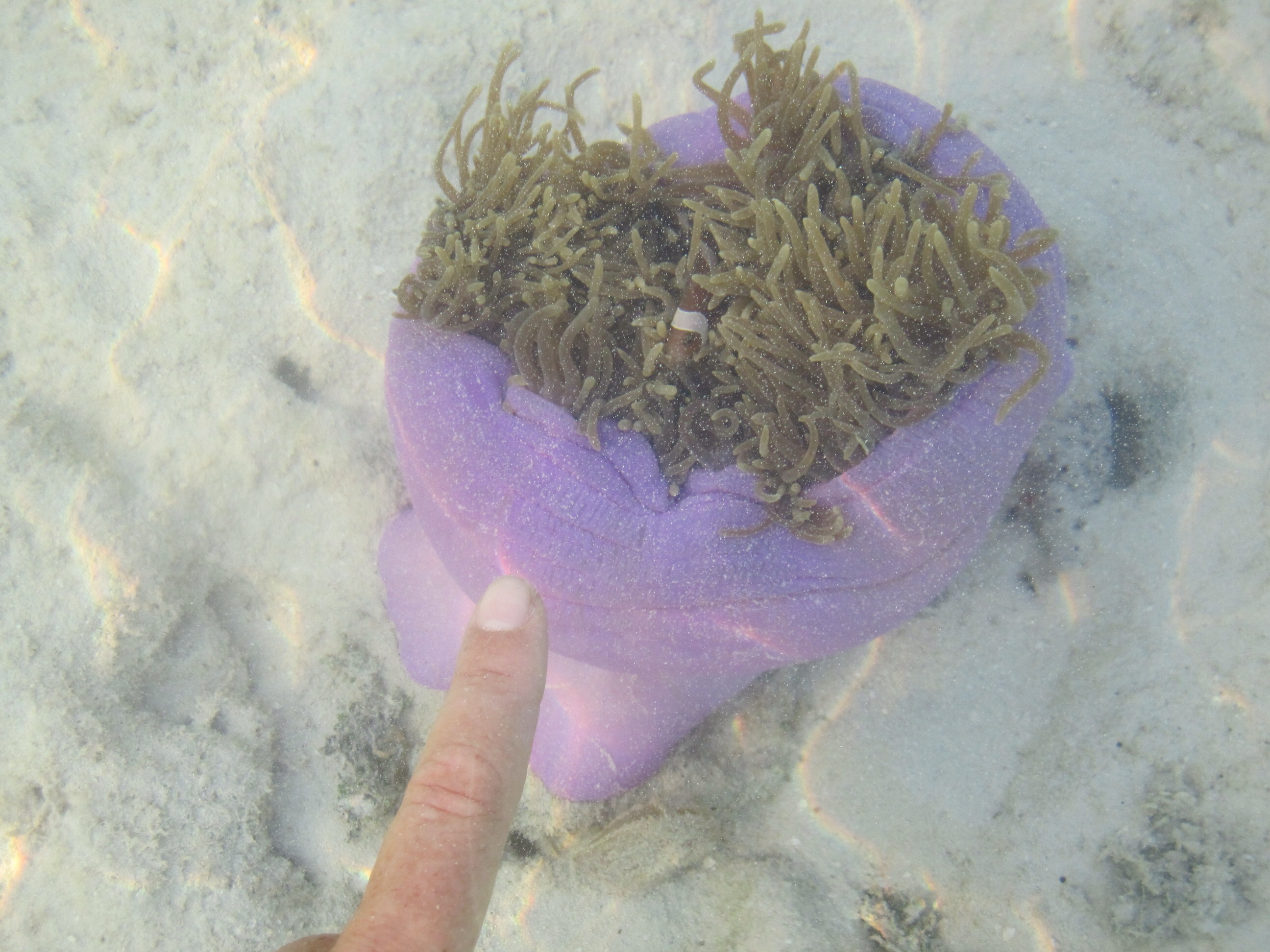 Lipe marked the end of our Thai adventure. Next stop was the boat to Langkawi in Malaysia.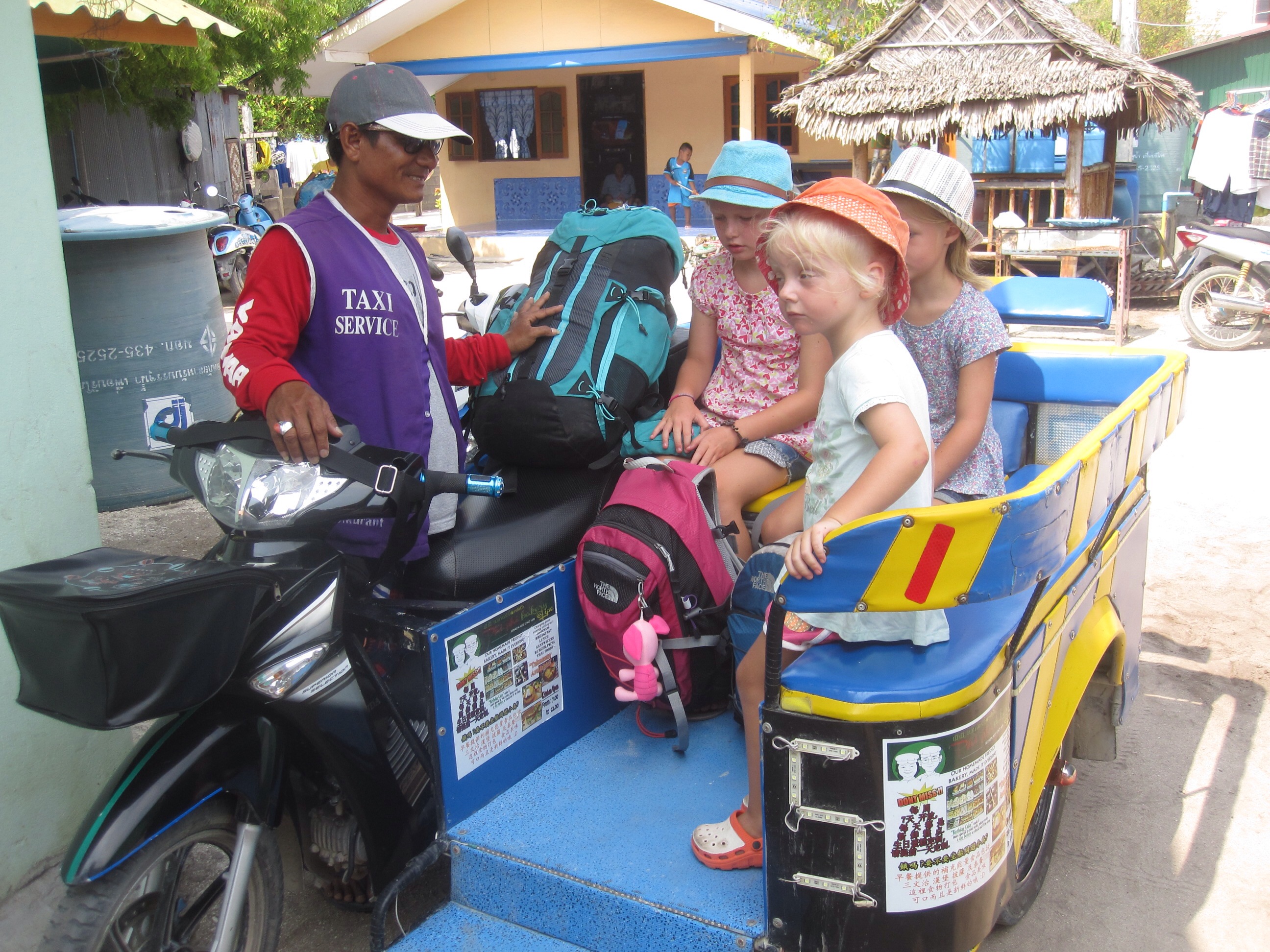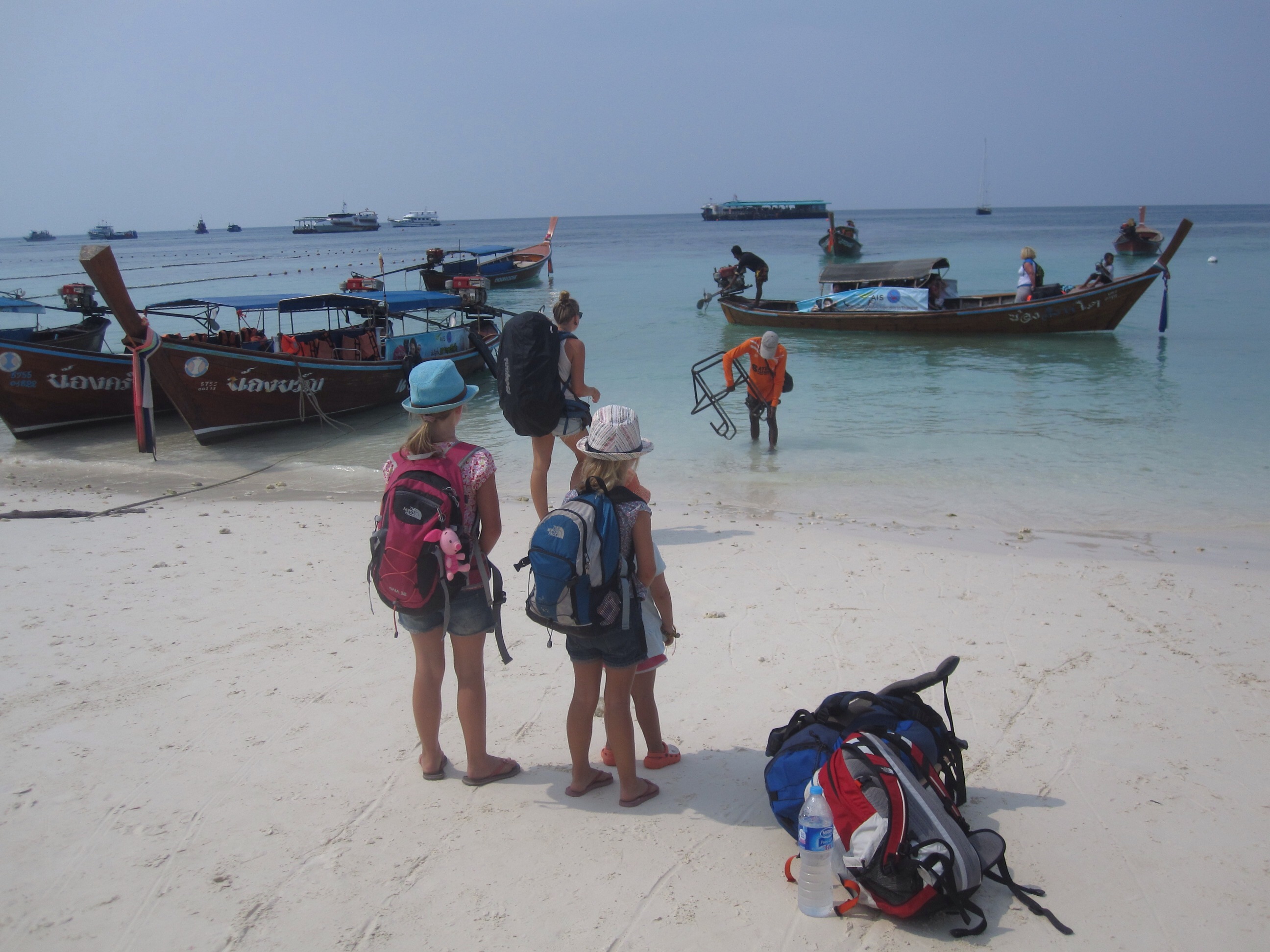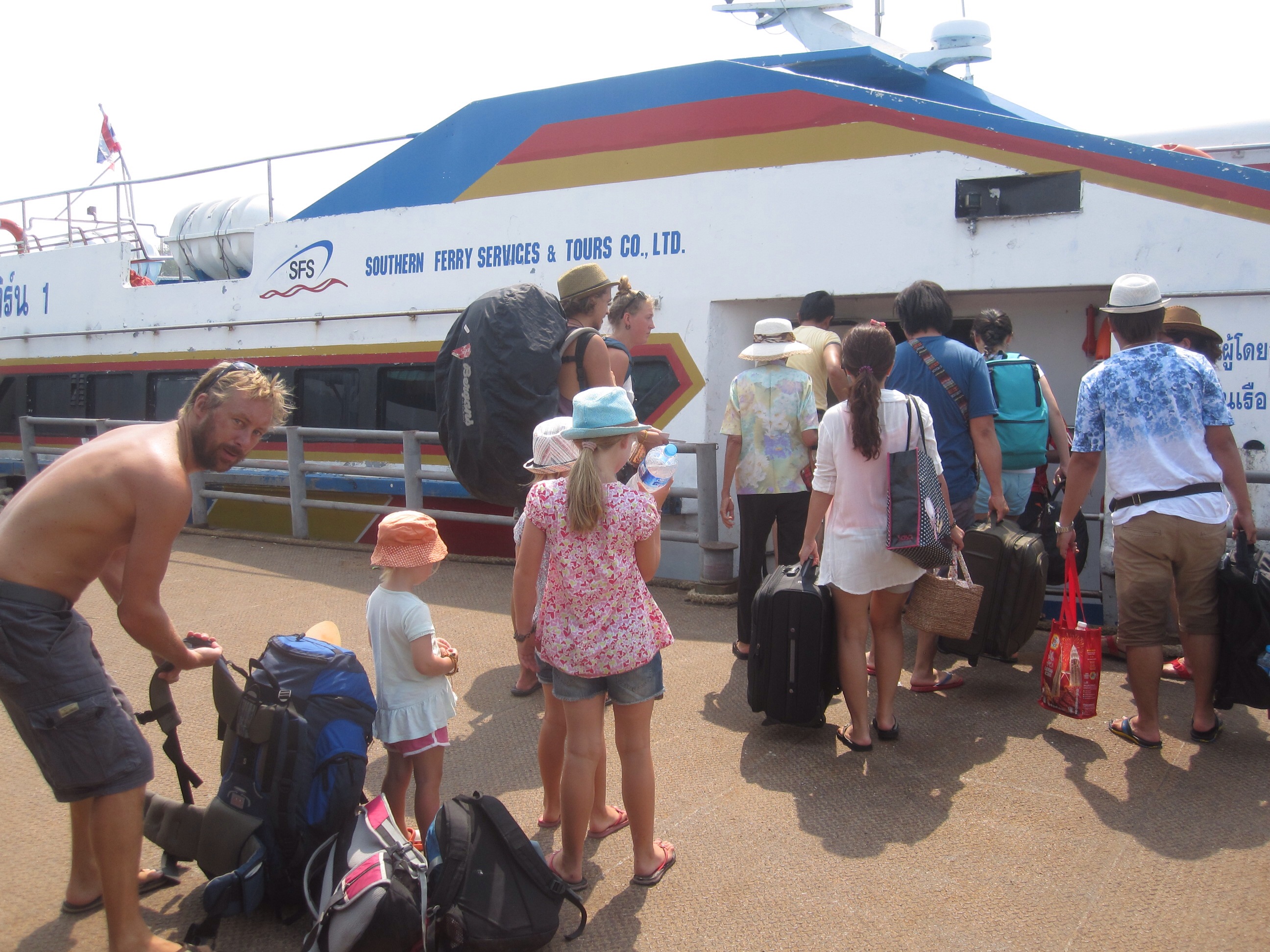 We had a plan to island hop down the west coast of Thailand but weren't sure we'd make it and here we were…. There were loads of other islands to explore, it's just the transfers which get pricey. We'd highly recommend this though, it was such a chilled out month. Wish we were back!!