We ended our month in Sri Lanka with a complete wind down week on the beach in Hikkaduwa. We possibly spent too long there but gosh it was nice… We did very little and enjoyed every second of it :-). I think you could sum up Hikkaduwa by saying "Turtle hatcheries, Tsunami memorials and Surfing".
I've already talked about our accommodation which was called "Drifters" and right on the beach with a pool. We thought a pool would be a good plan as the sea looked pretty crazy when we first arrived. They weren't even renting surfboards on the first couple of days as they were afraid the boards would get broken. As it turns out we didn't really need the pool, it was lovely for the first few days but by the end of the week, we were on the beach all day playing in the surf.
Hikkaduwa's a smashing beach. Looking back I think it was nicer than Mirissa, we all thought that. It's a really long stretch of beach with guesthouses all along.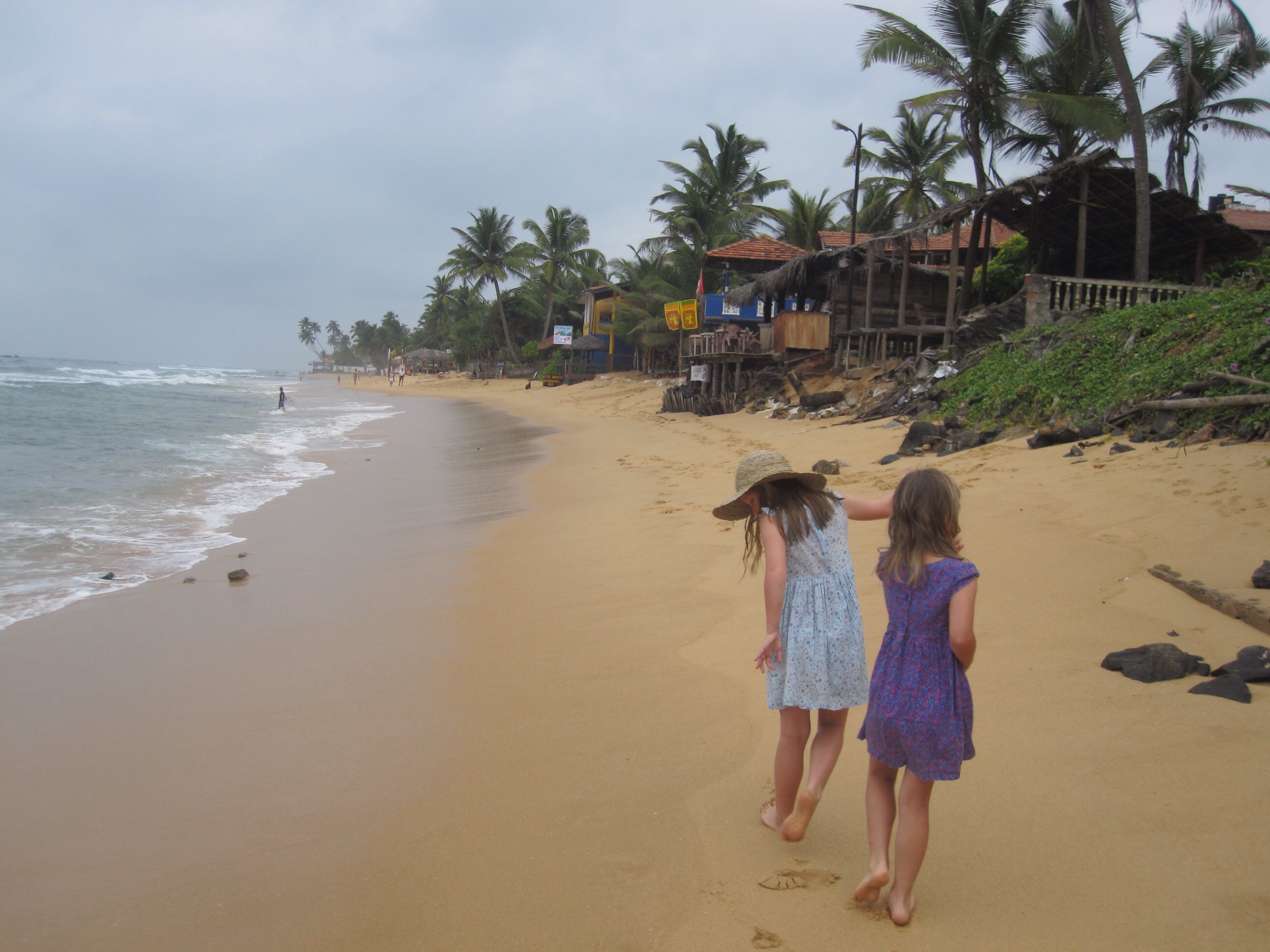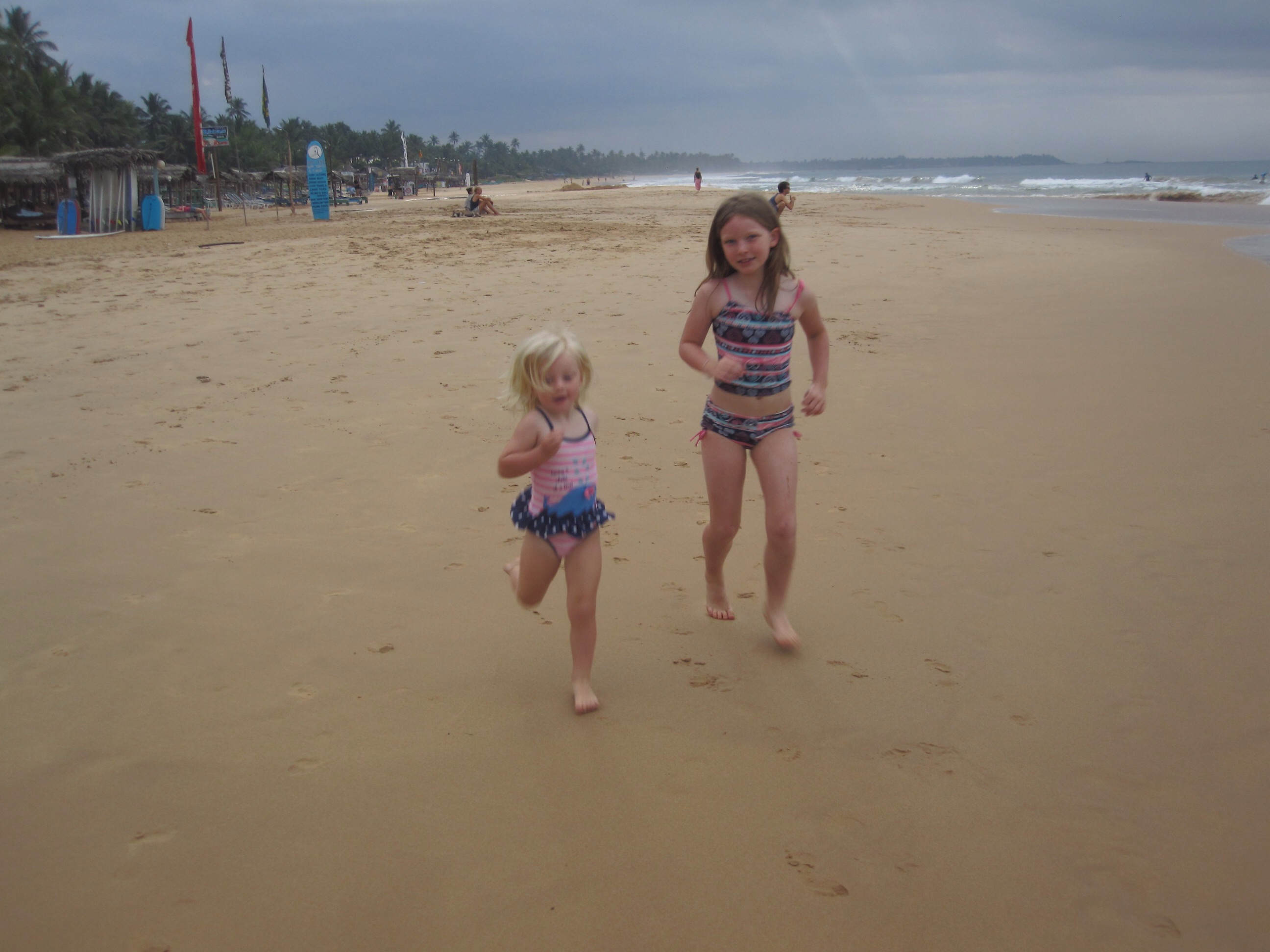 Their are also loads of guesthouses on the other (non beach side)of the road and on that side, you can get some real bargains. I would say there's no need to book accomodation, you get much better deals if you avoid online and just bargain face to face. We didn't have the best deal in Drifters but it was lovely to be on the beach and to have a pool so we were willing to pay a bit more.
Something we've noticed throughout our travels so far. Don't stress about booking accomodation, yes it's nice to book ahead sometimes but we've found you will always have plenty of options when you arrive on foot and you'll get much better deals. Many guesthouses and hotels aren't available to book online. I'm sure this is something which will change but our point is, there's always plenty of available accomodation. And websites like booking.com or agoda.com are great for booking but also inclined to panic you into booking. For example, we checked booking.com on the bus to Hikkaduwa and it said 93% of available accommodation in Hikkaduwa was booked out. Anything we could find on the site was out of budget or too small for us. So we thought we were in for a disaster on arrival. It couldn't have been further from the truth. Almost every hotel or guesthouse we went into had availability and wanted our business. So don't let the websites panic you into booking! Don't get me wrong, we've used both sites many times on our travels and found some great spots through them but some of our nicest spots were found on foot.
We spent the next few days completely winding down. We used to have a great cheap breakfast each morning in Dewasiri guesthouse further down the beach.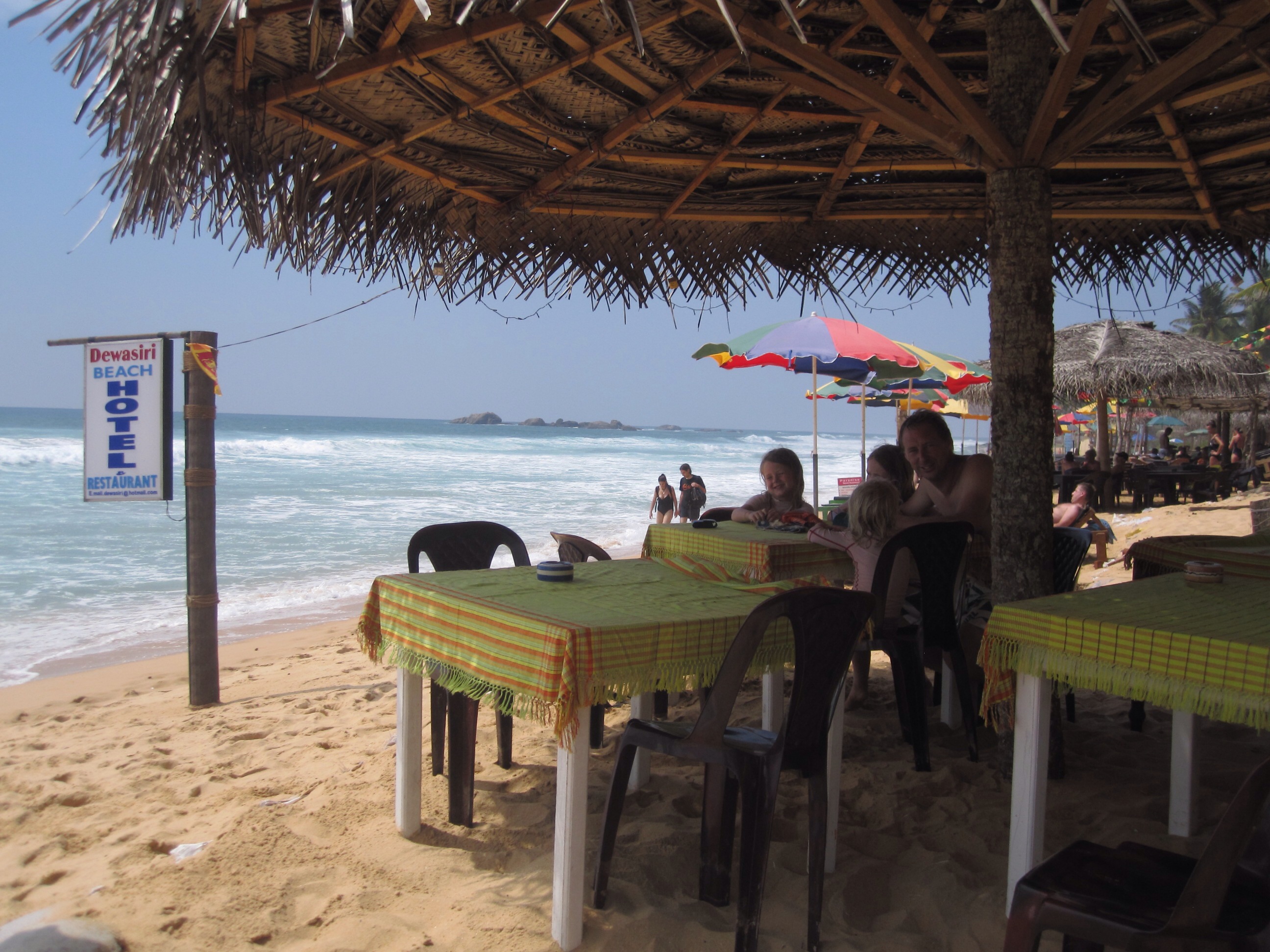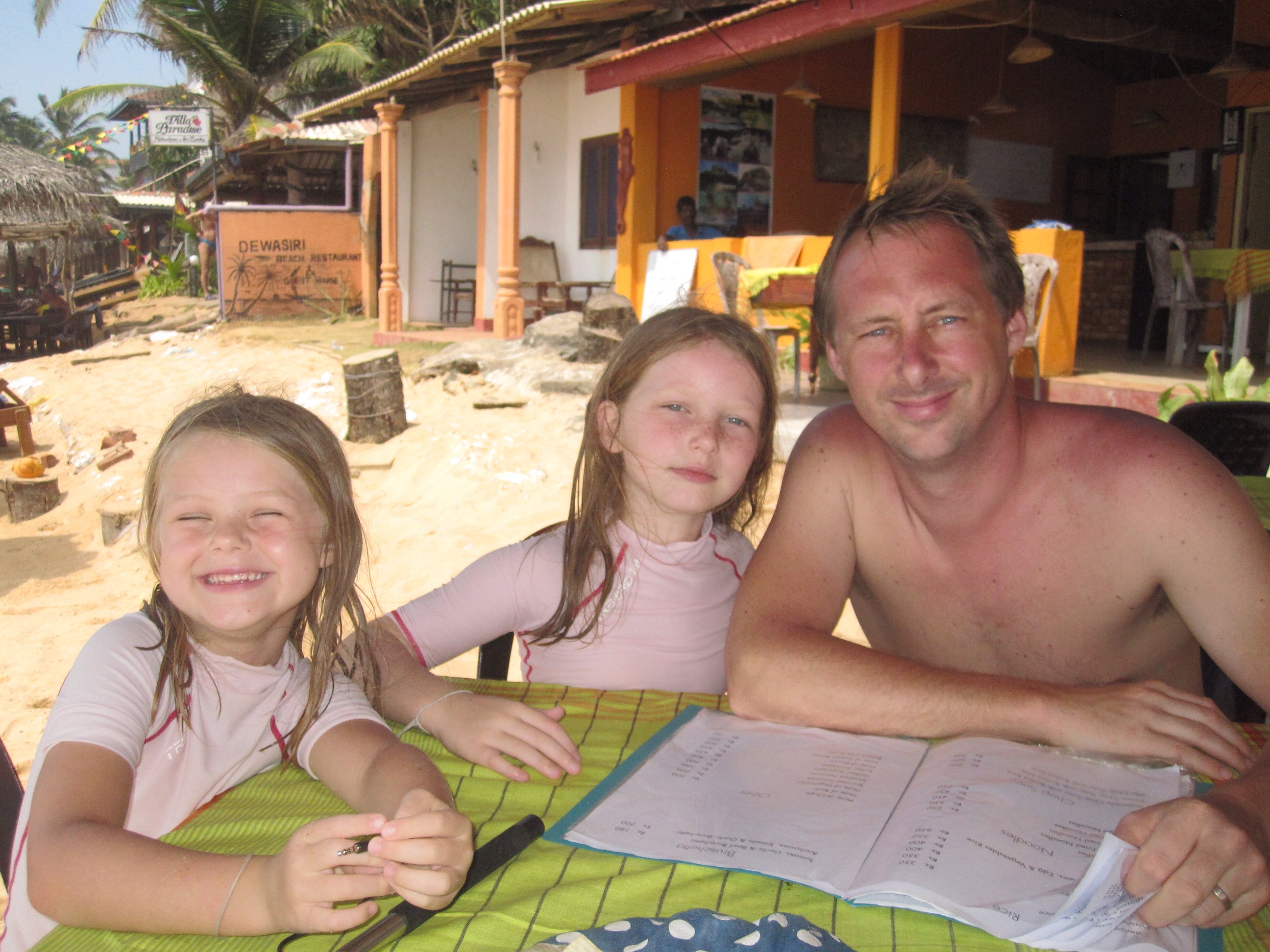 They did great scrambled eggs with really thick toast made from homemade batch bread and a really lovely pot of tea.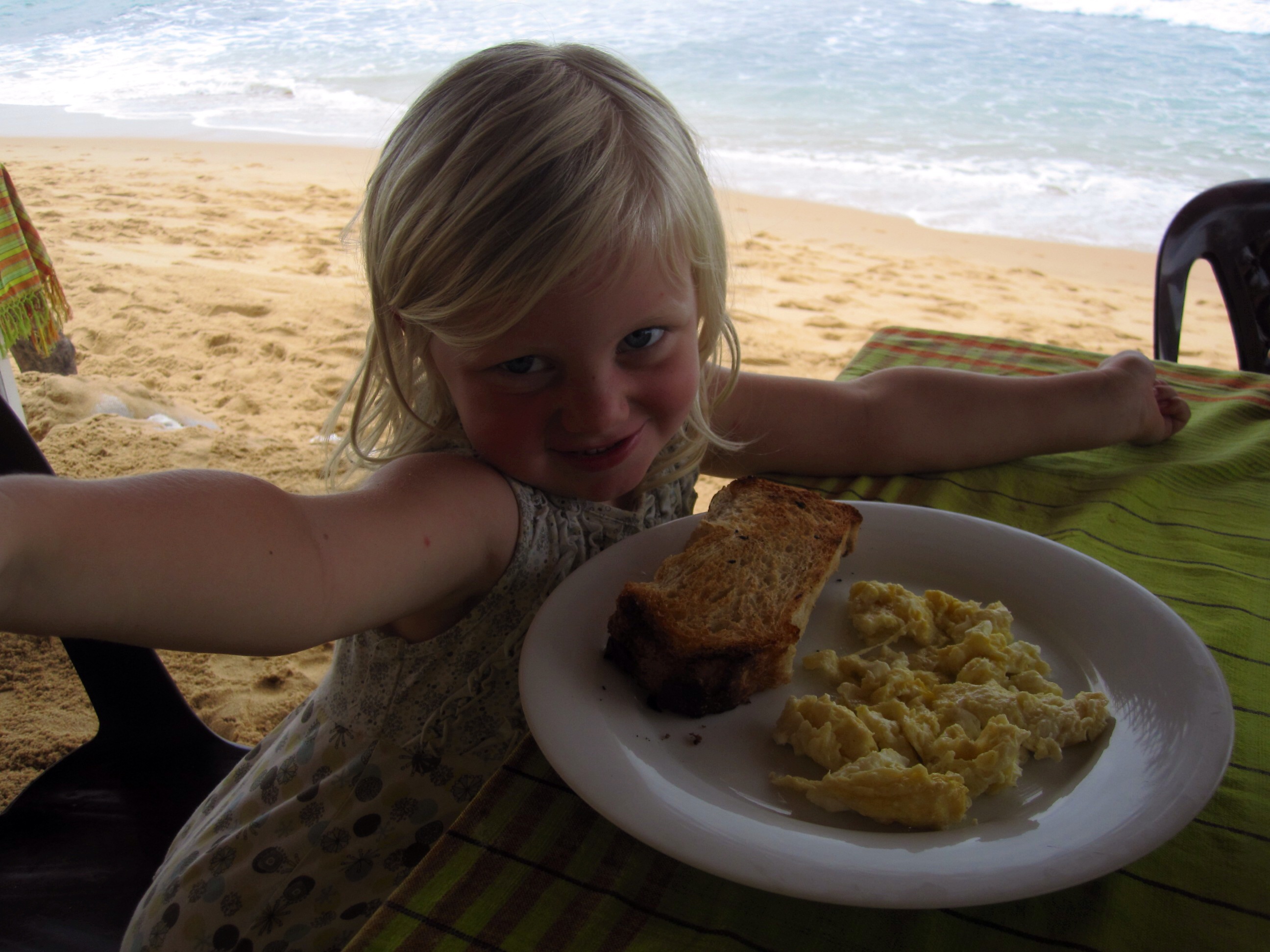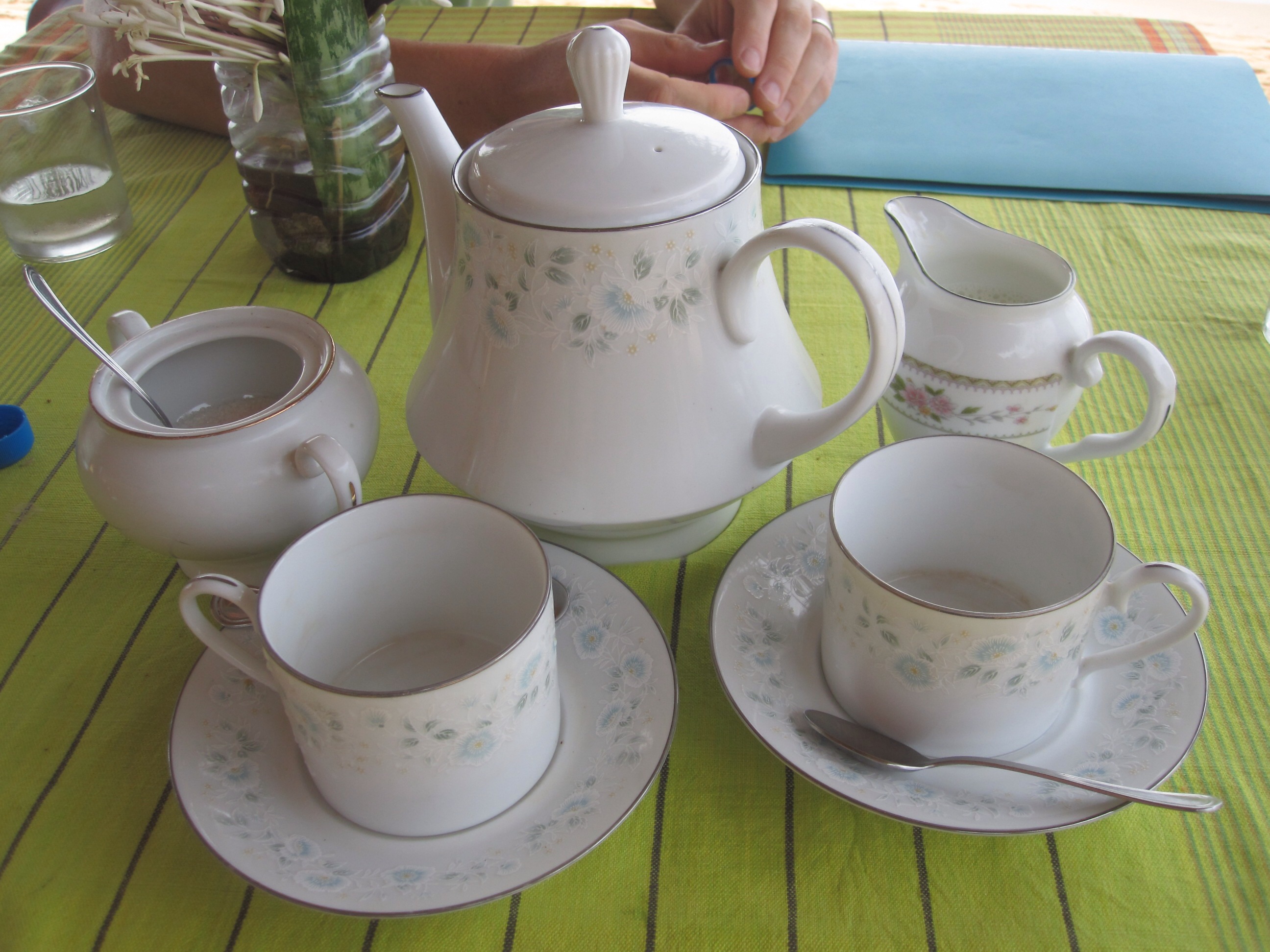 The lady who ran it was extremely nice so it was nice to give her custom. We nearly booked a room there, it was right on the beach but only had a double and a single so was just too small for us.
We also met a really nice travelling family from the UK, the Redferns, who were doing a round the world trip like us. They also have a blog snorkellingandelephants.com. It was smashing to spend a few days with them, we were really sorry we didn't have longer. They had 2 lovely boys Sam and Alfie, aged 6 and 8. Our girlies had an absolute ball with them, think their personalities were very similar. They were inseparable for the few days we were together.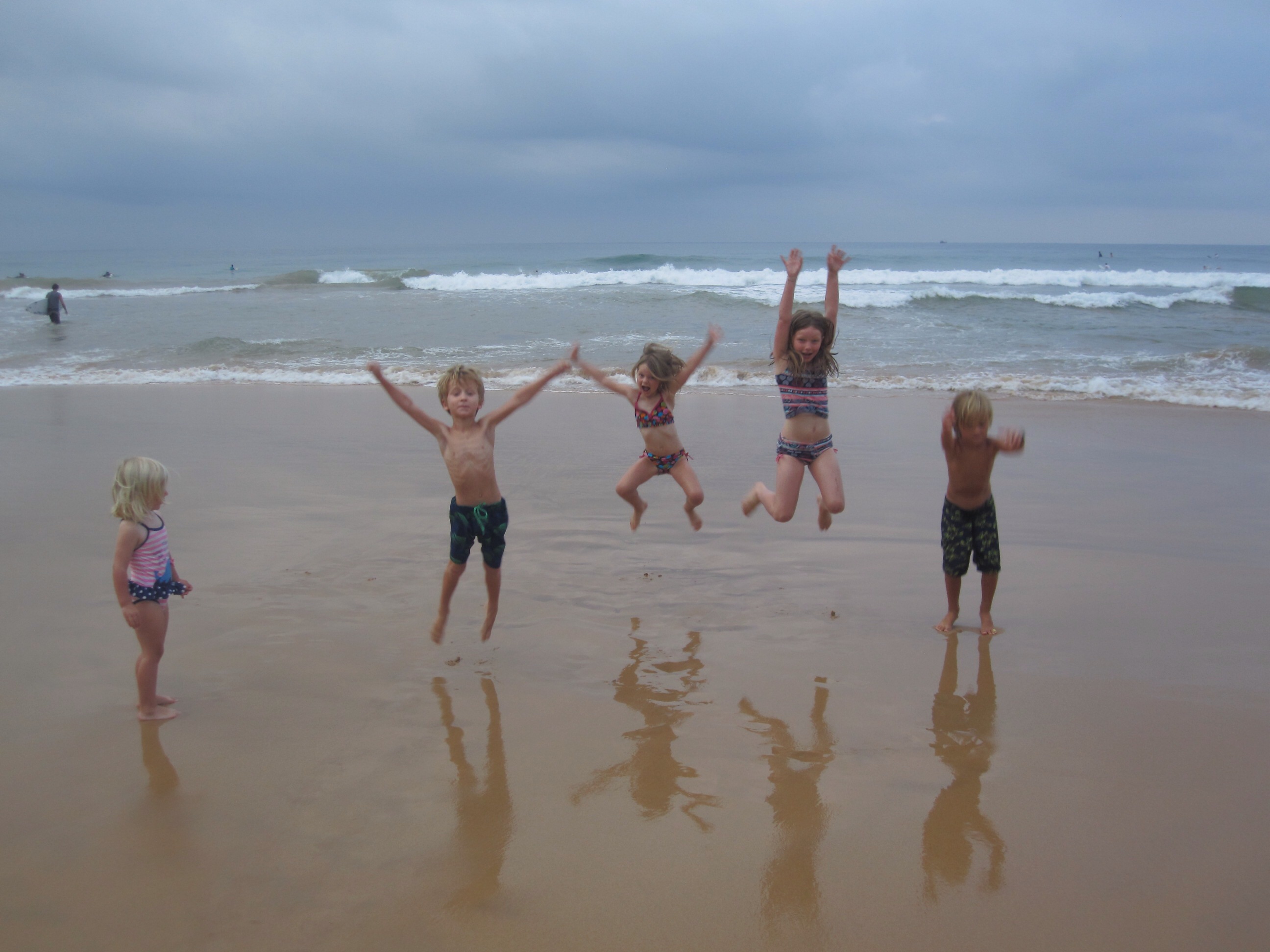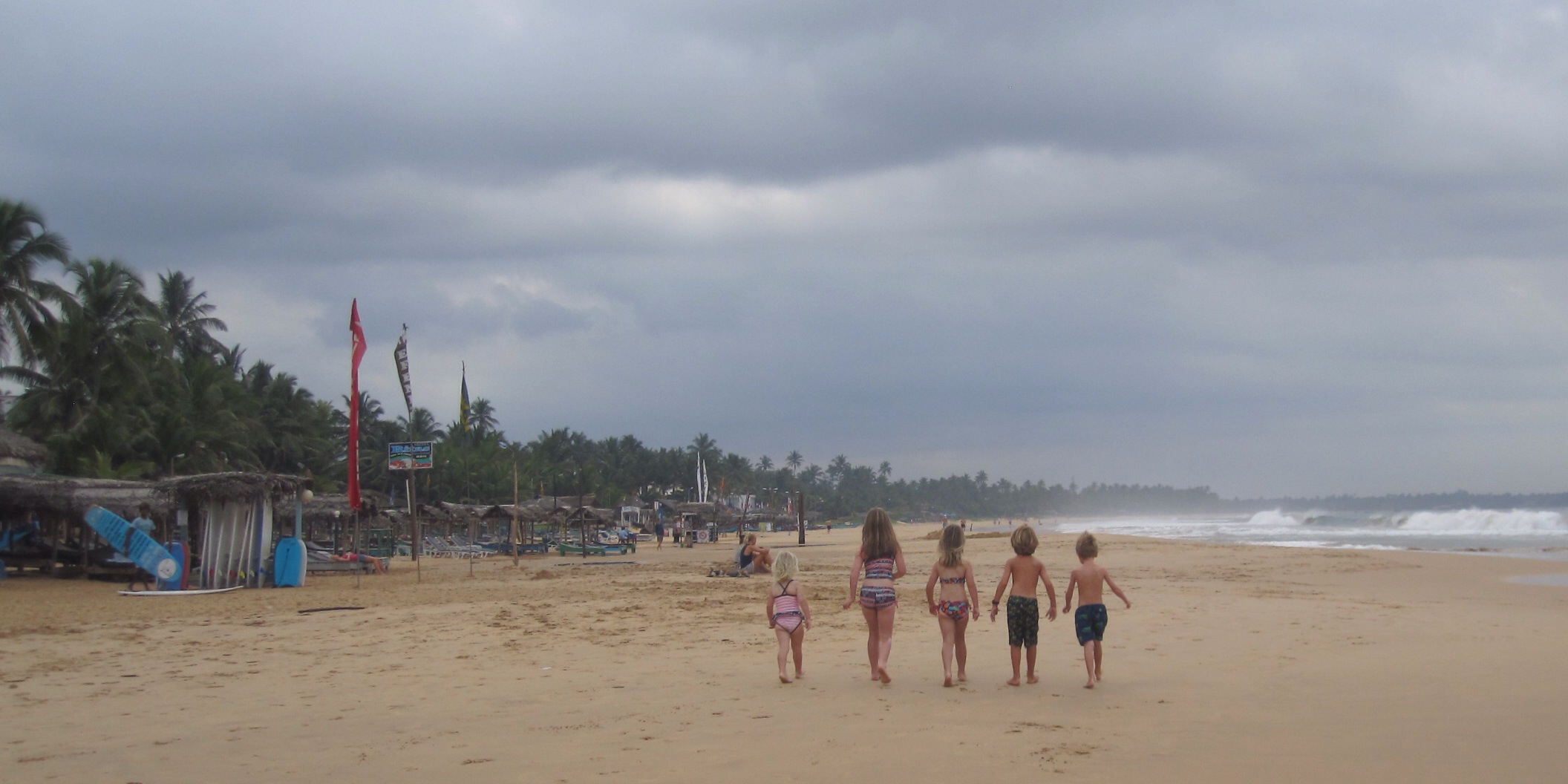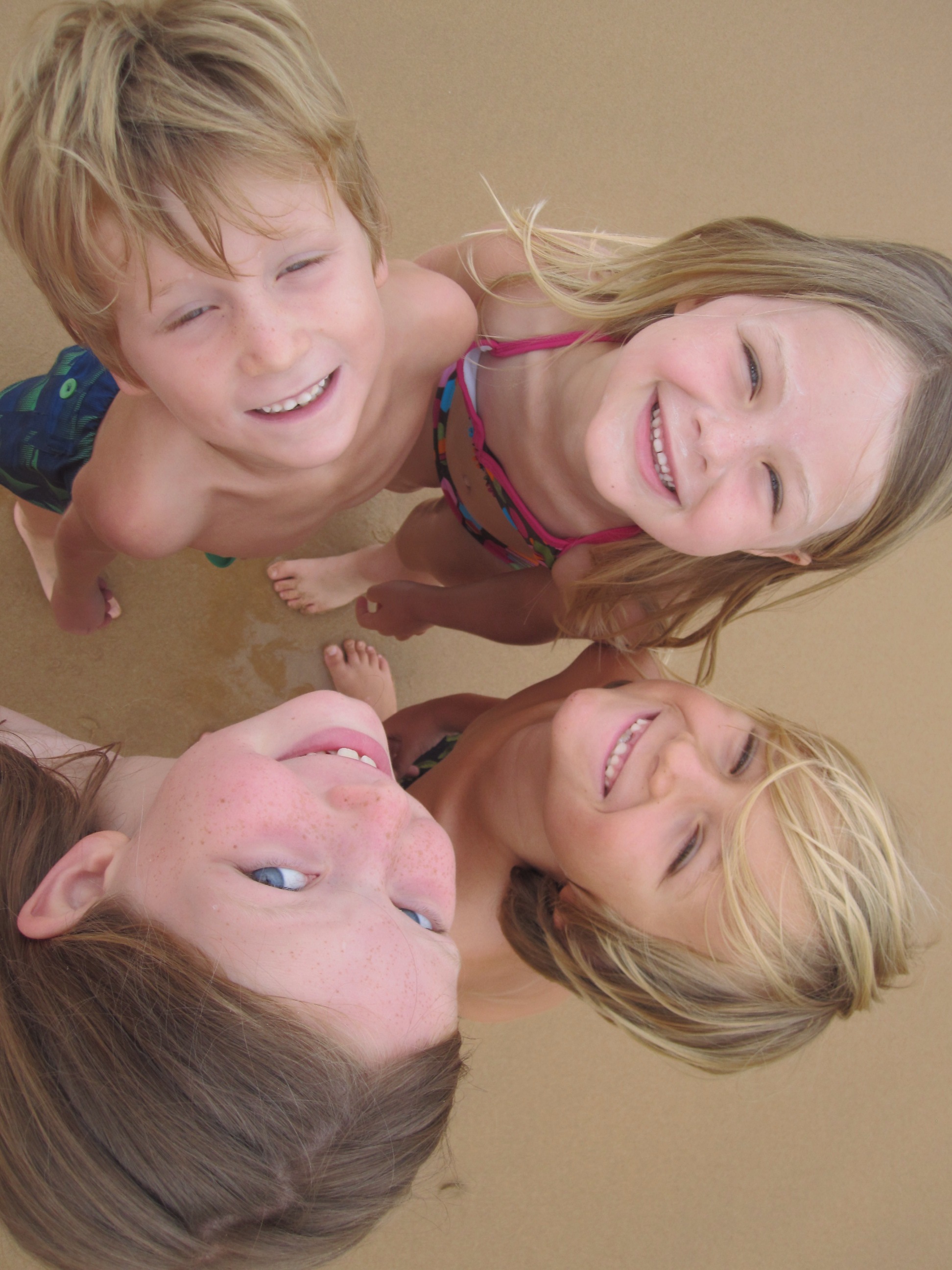 Hikkaduwa is a great surf beach with both reef and beach breaks.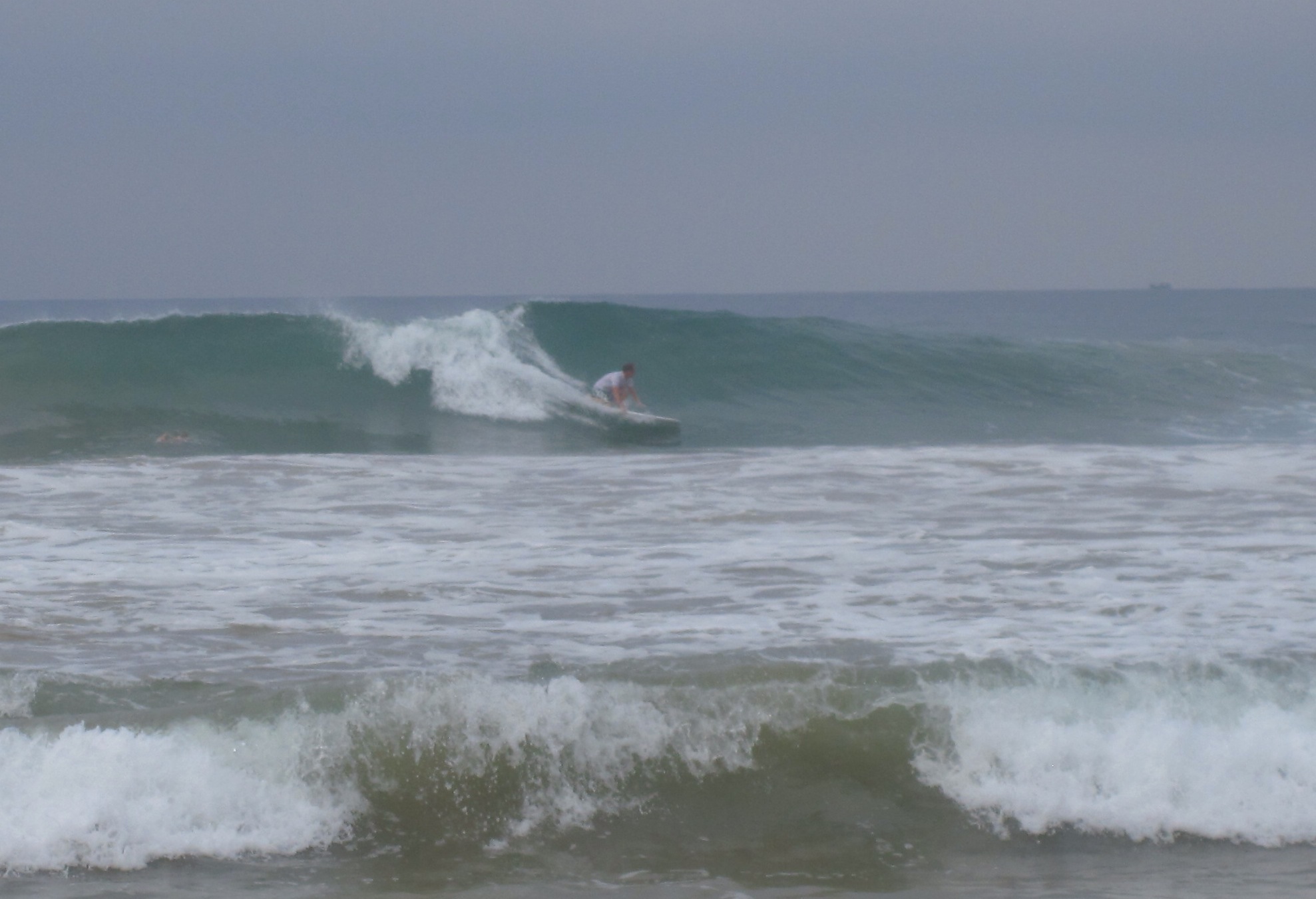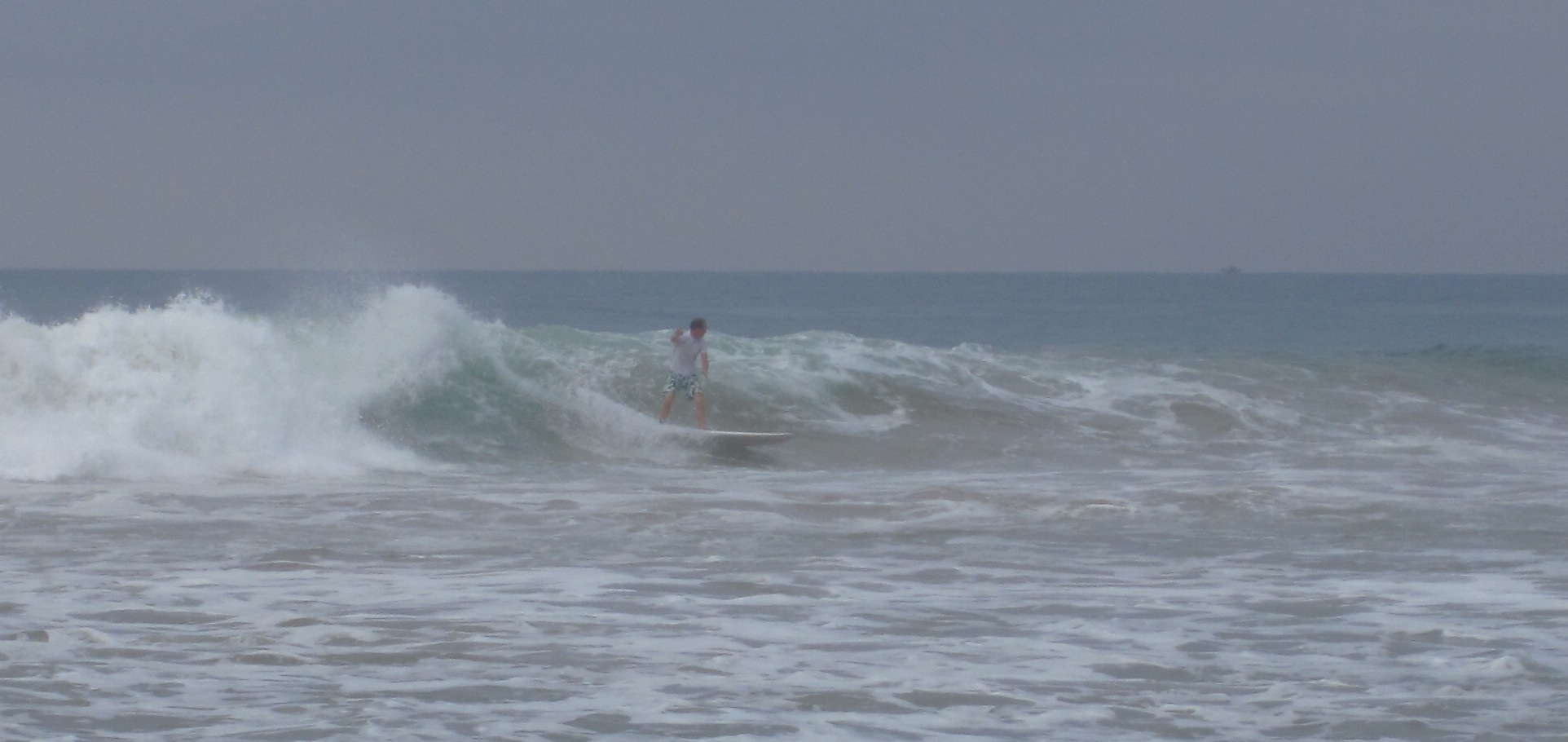 Freya learned to surf with Ro there and I did a lesson. I'm sorry to say she was way better than me and standing after a few attempts. Don't you hate it when your children are better than you at something! Here's my attempt (I'm the one on the right :-).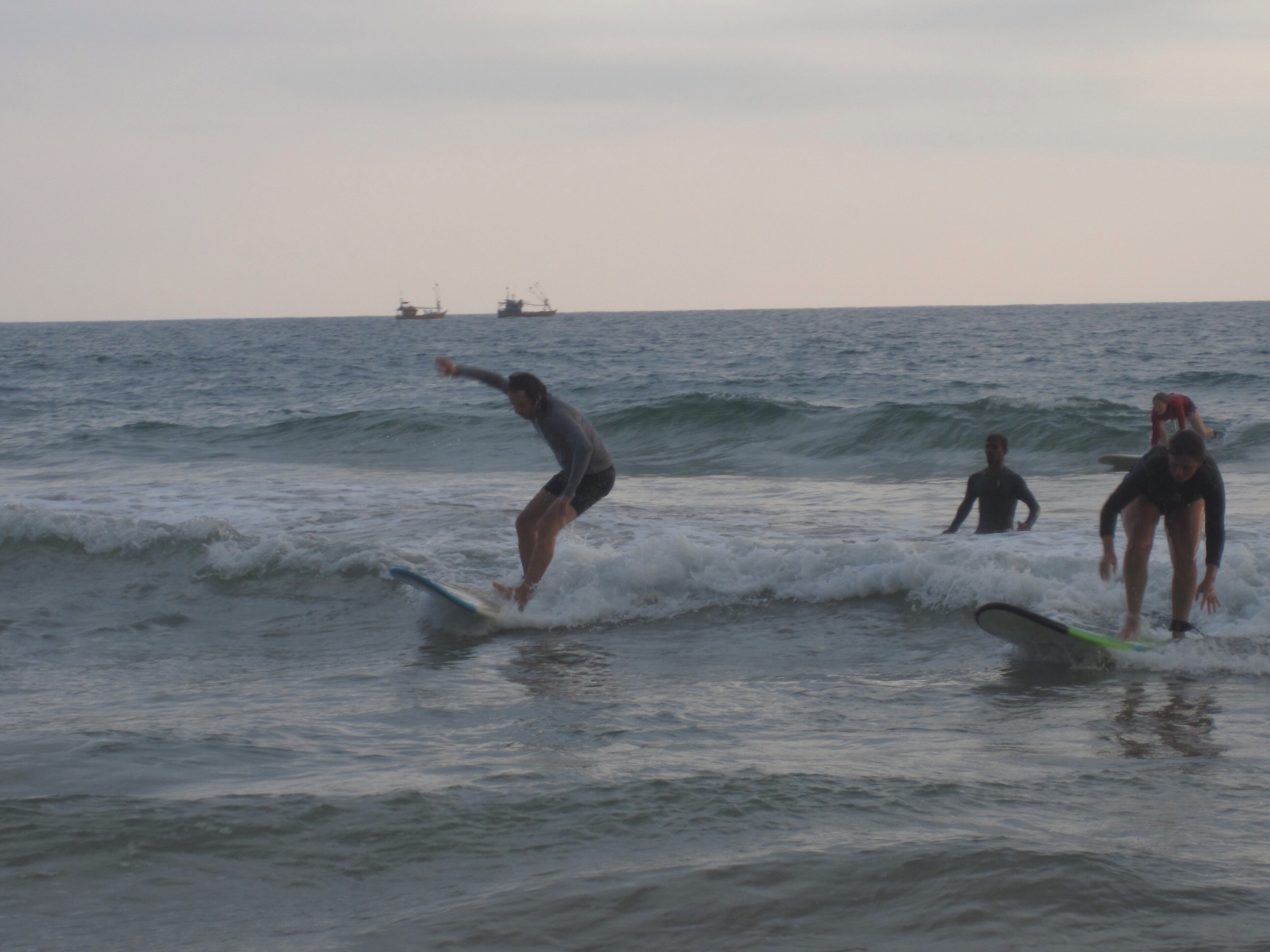 And Freya's (grrrrr 😉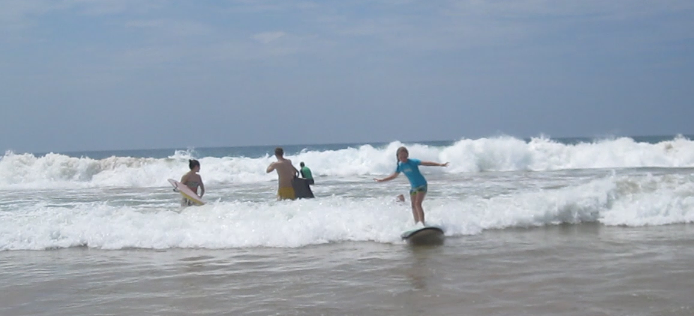 We found a really cool thing at the end of the beach one day, our new friends the Redferns had told us about it. If you walk down the end of the beach in Hikkaduwa towards Hikkaduwa town, you come to this spot where giant turtles come in to feed. The locals feed them a particular type of seaweed, you can buy some for 100 rupees or so. And then the turtles come right up and eat out of your hand. It's pretty amazing, they were huge. Well worth doing, we all loved it.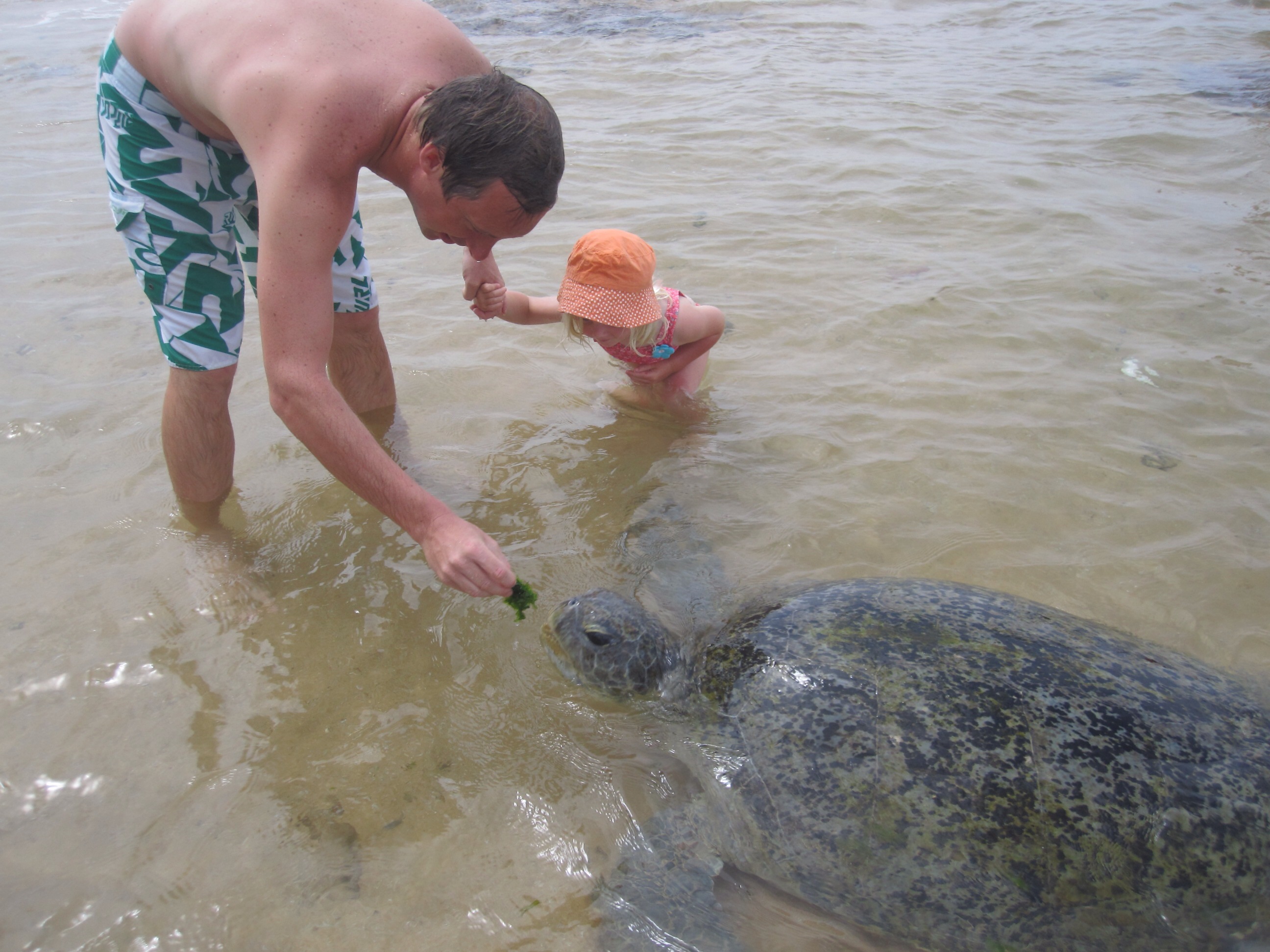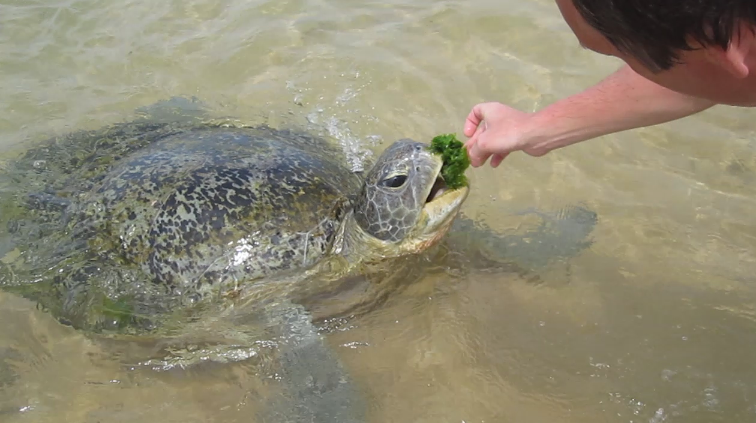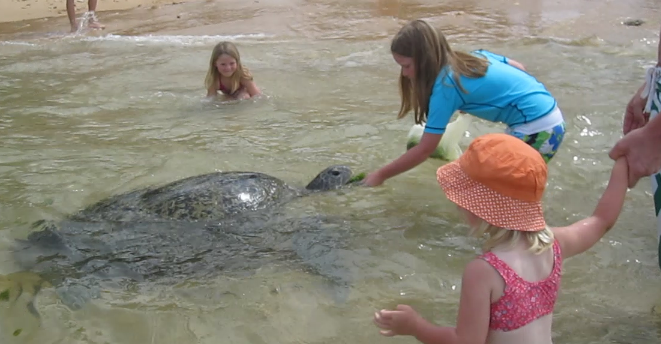 You'll also spot lots of hermit crabs on the way there much to Shuna's delight.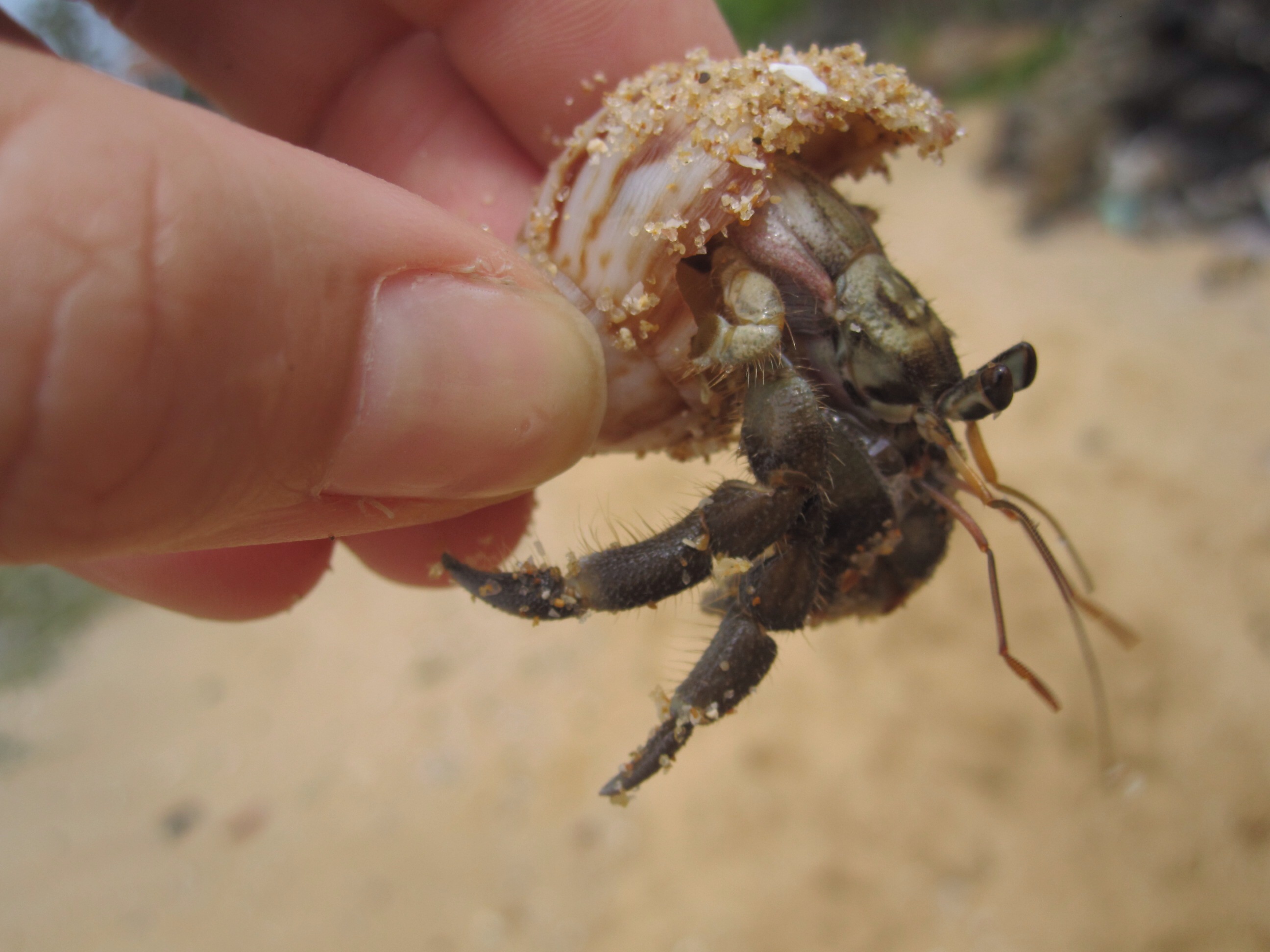 The next day we went to a turtle hatchery just outside the town. You can get a tuk tuk there for a few hundred rupee. I can't remember the name but the tuk tuk driver will know if you just ask for the turtle hatchery. You can also visit the tsunami photo museum and memorial while you're there so there's lots to do.
The girls adored the turtle hatchery. The one we went to was small but had plenty to see. It's run by a man who lost his whole family in the Tsunami and now wants to give something back. He happened to be out of town with his brother in Colombo on the day the tsunami hit and came back to find his wife and kids were lost and home flattened. Pretty sobering…. The idea behind the hatchery is that they buy turtle eggs on the black market, bury them in the sand and let them hatch. They then release the majority to the sea and keep some to show people in the hatchery. The Sri Lankan people believe that eating turtle eggs will lead to a long life so sadly there's a big black market trade for the live eggs. This is changing with education but probably not quickly enough.
There were 2 English students volunteering at the hatchery as part of their gap year. They gave us a tour and were extremely nice. They found the work as part of a website "planmygapyear.co.uk". We all got to hold turtles of all ages, of course the girlies adored the babies. It's lovely to visit, definitely recommended.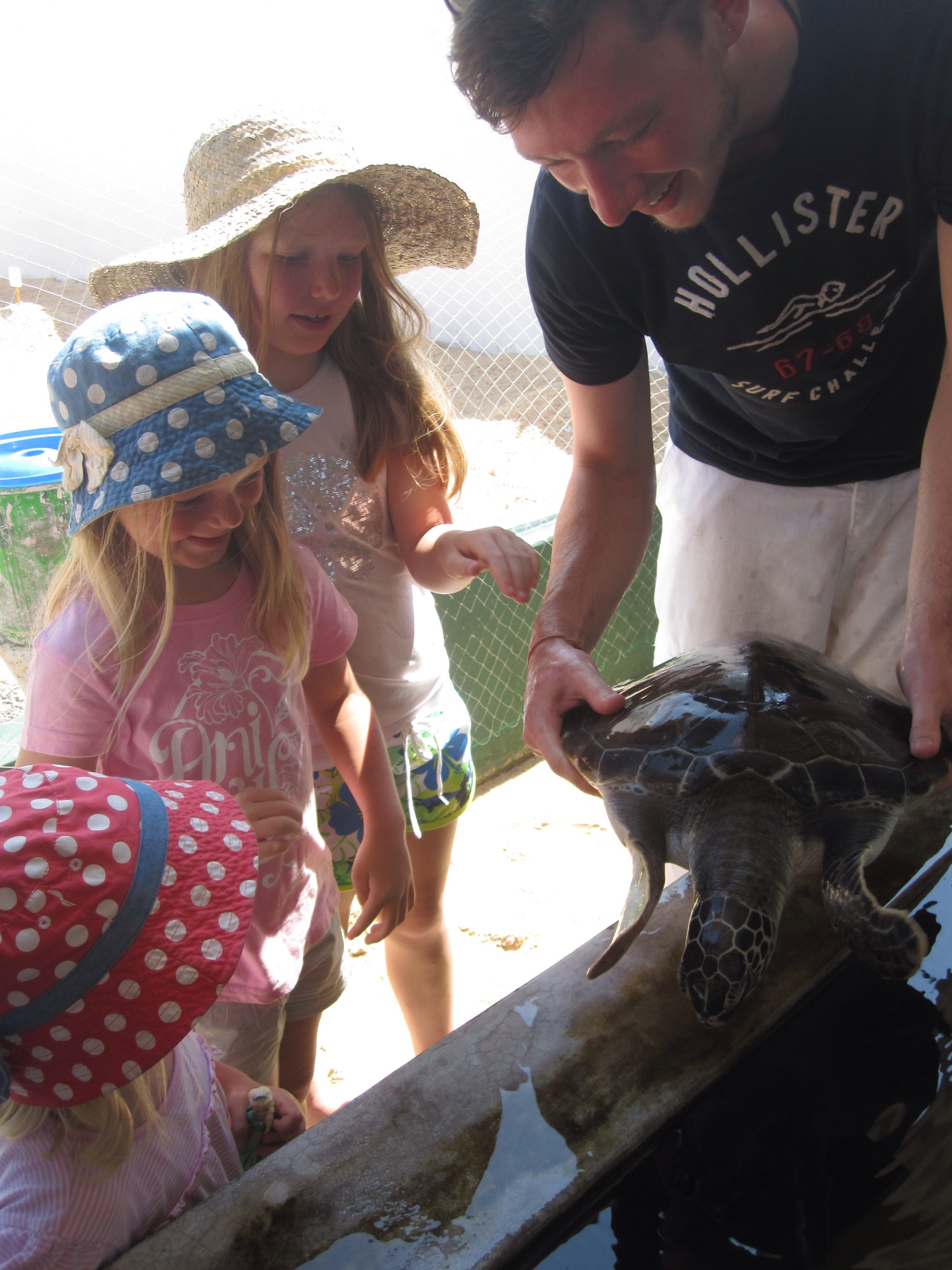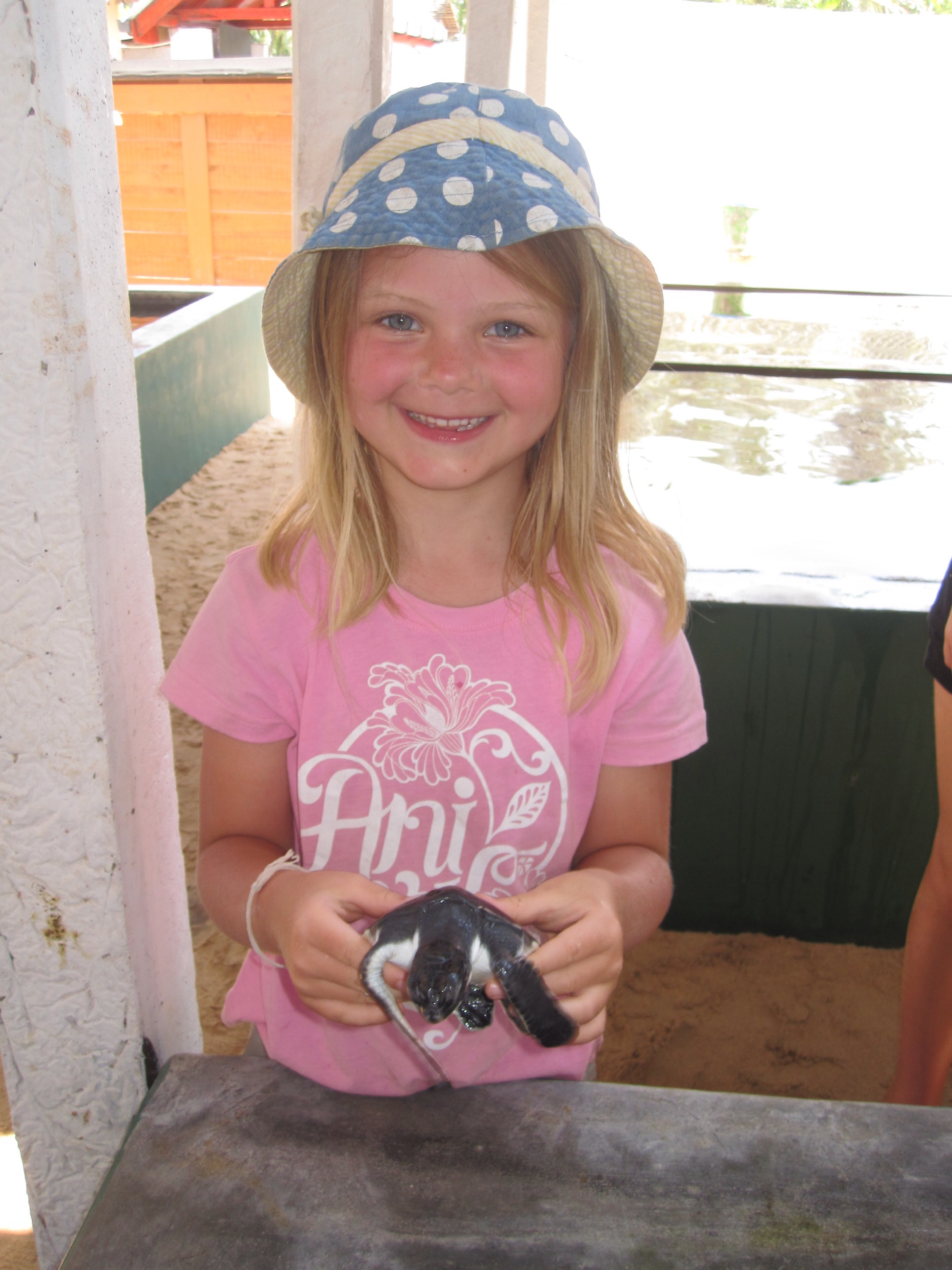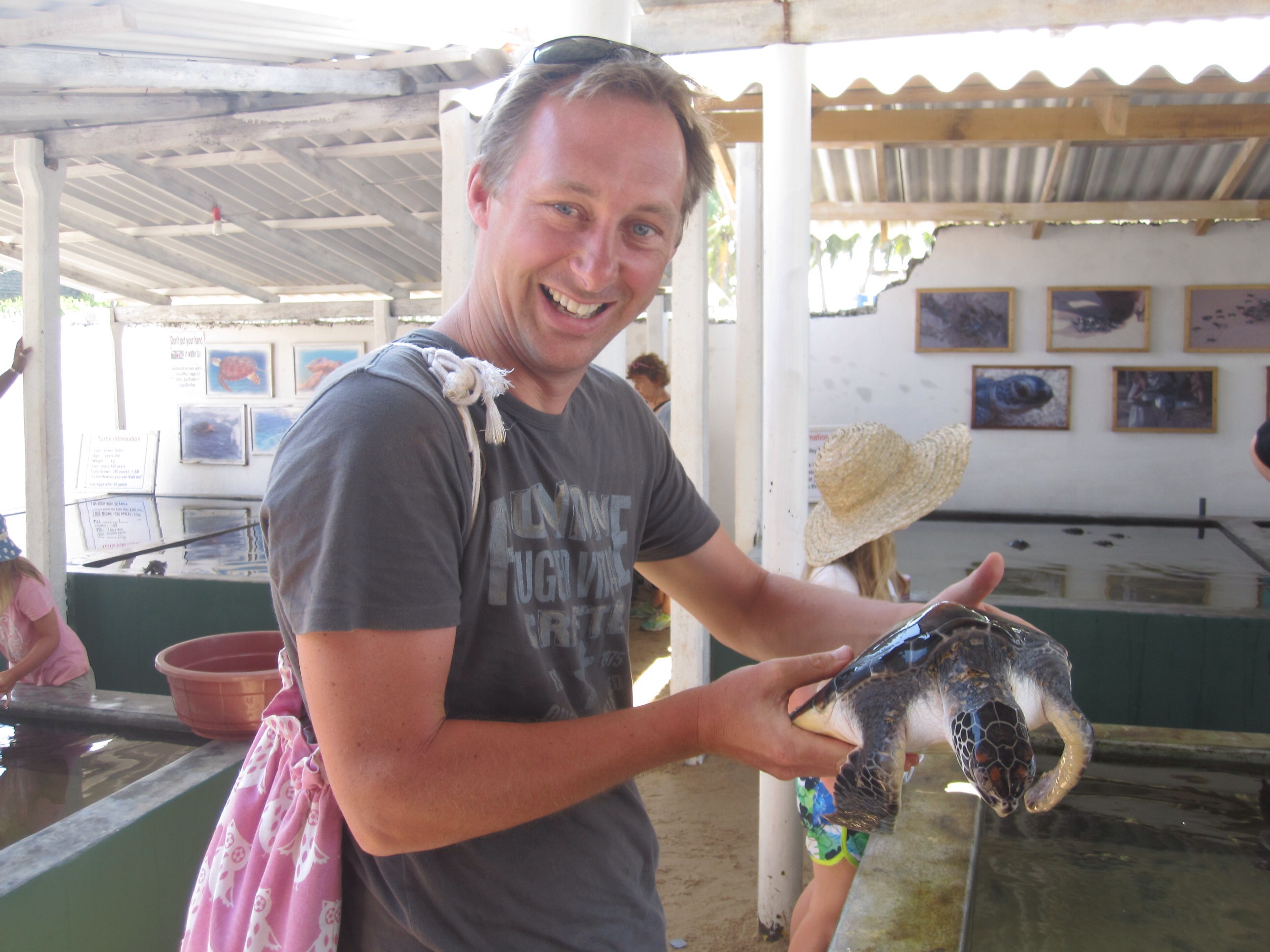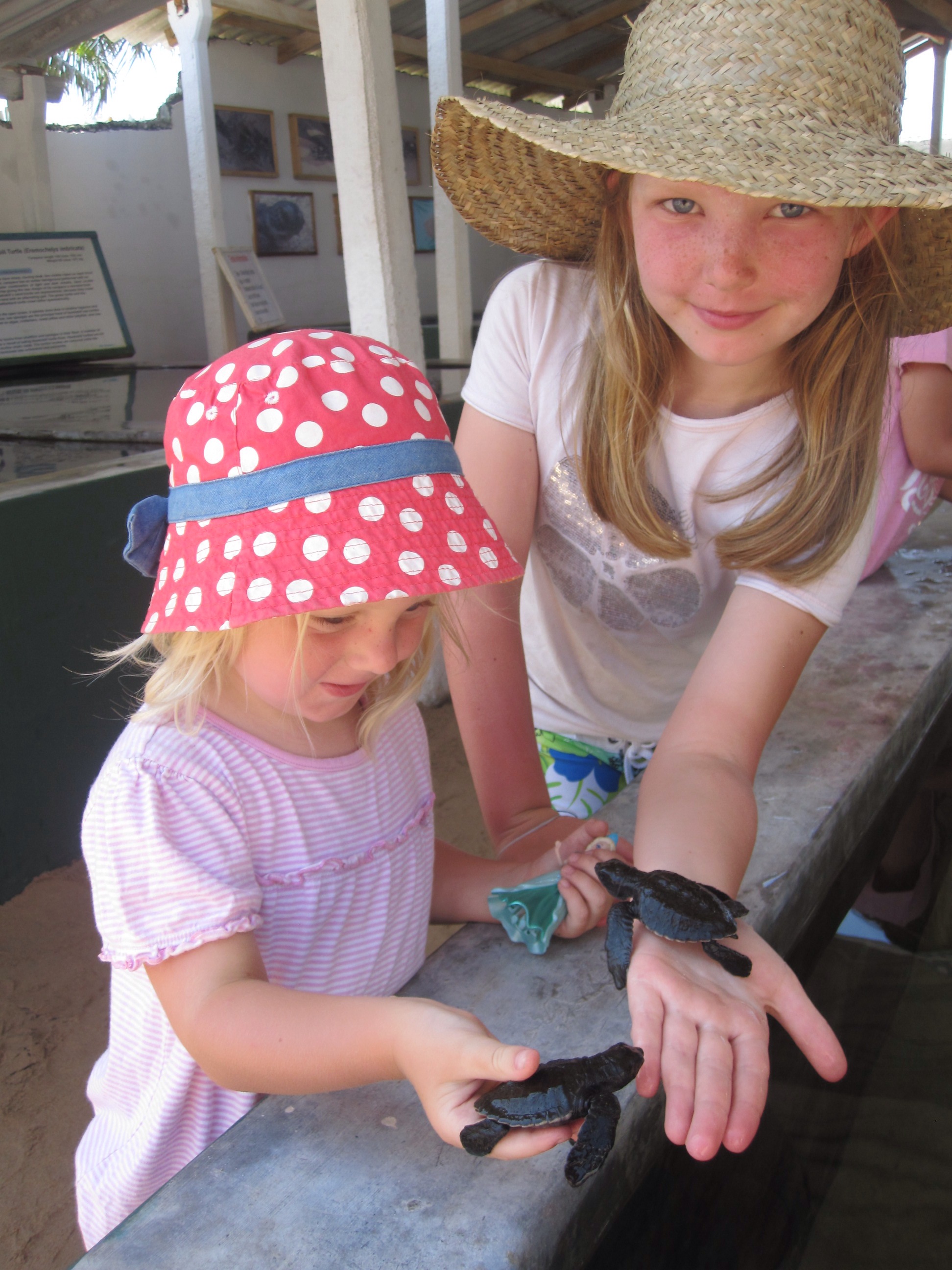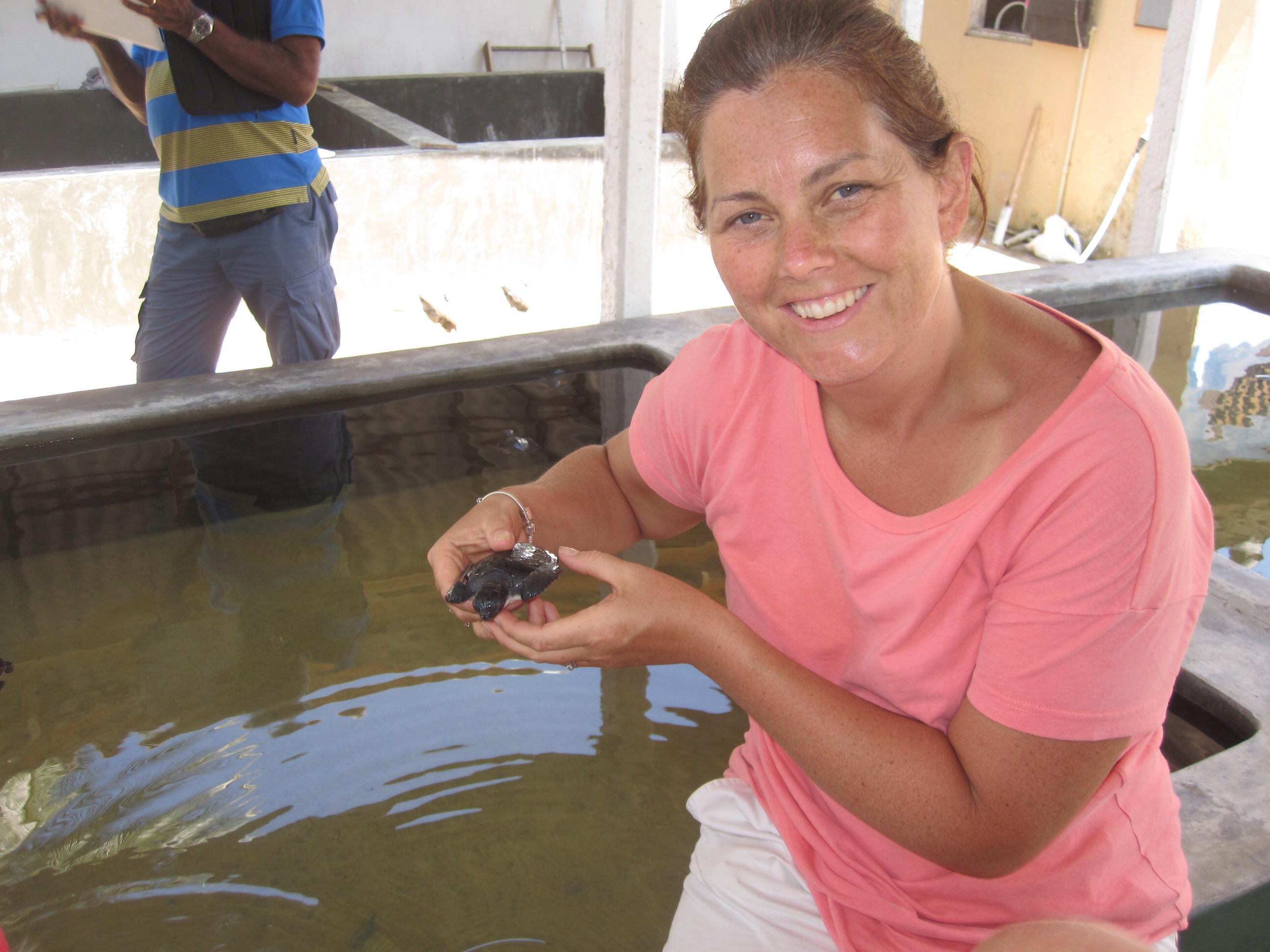 We also went to visit the Tsunami photo museum where a lady has set up 2 shacks and filled them with photos, childrens' drawings, survivor stories and photo albums. There's no entrance fee but I think everybody who visits will want to give a donation, we certainly did. The owner was able to tell personal stories about people she knew who'd been lost. She herself was lucky and had fled to higher ground when the first wave hit. She told of the water retreating out to sea for 2km after the first wave and crowds of people flocking to the beach to see the amazing spectacle only to find a second, much bigger wave come in. They didn't have a chance.
She had another story about a train passing through when the first wave hit. You might remember hearing about it at the time. It had about 1500 passengers in it heading to Colombo. The train had to stop as people were all on the tracks which were more elevated than other areas and seemed like a good place to seek refuge. People started climbing on to the train especially women and children and hundreds of children were passed up into the high carriages. But then the 2nd huge wave hit, over 10m high, drowning them all. It was the highest count of deaths in railroad history with 1,700 people killed. She had pictures of the tracks afterwards. They had once been straight but after the tsunami were completely winding.
The tsunami museum was very sad, but well worth seeing to give you a real sense of the devastation it caused. We had to be careful what pictures we allowed the kids to see, but they were completely amazed by it all. I guess it's given us a much greater appreciation of what friends and family who were caught up in the tsunami went through.
There are 2 tsunami memorials, one a giant Buddha donated by the Japanese, the second a much more tasteful bronze memorial with images of the tsunami itself. We didn't visit the Buddha one, it's a bit bizarre looking. The other is much more tasteful and the images very evocative.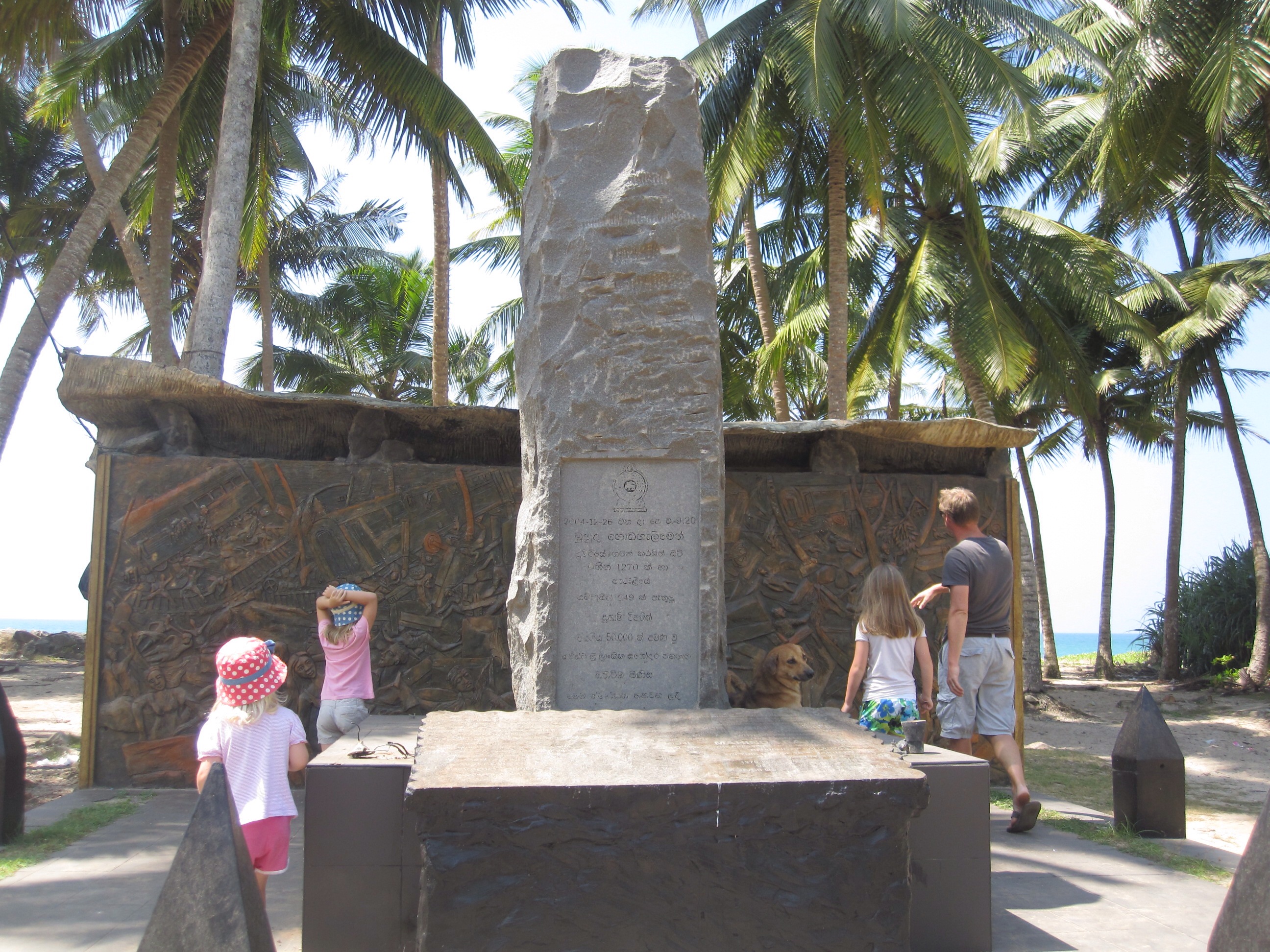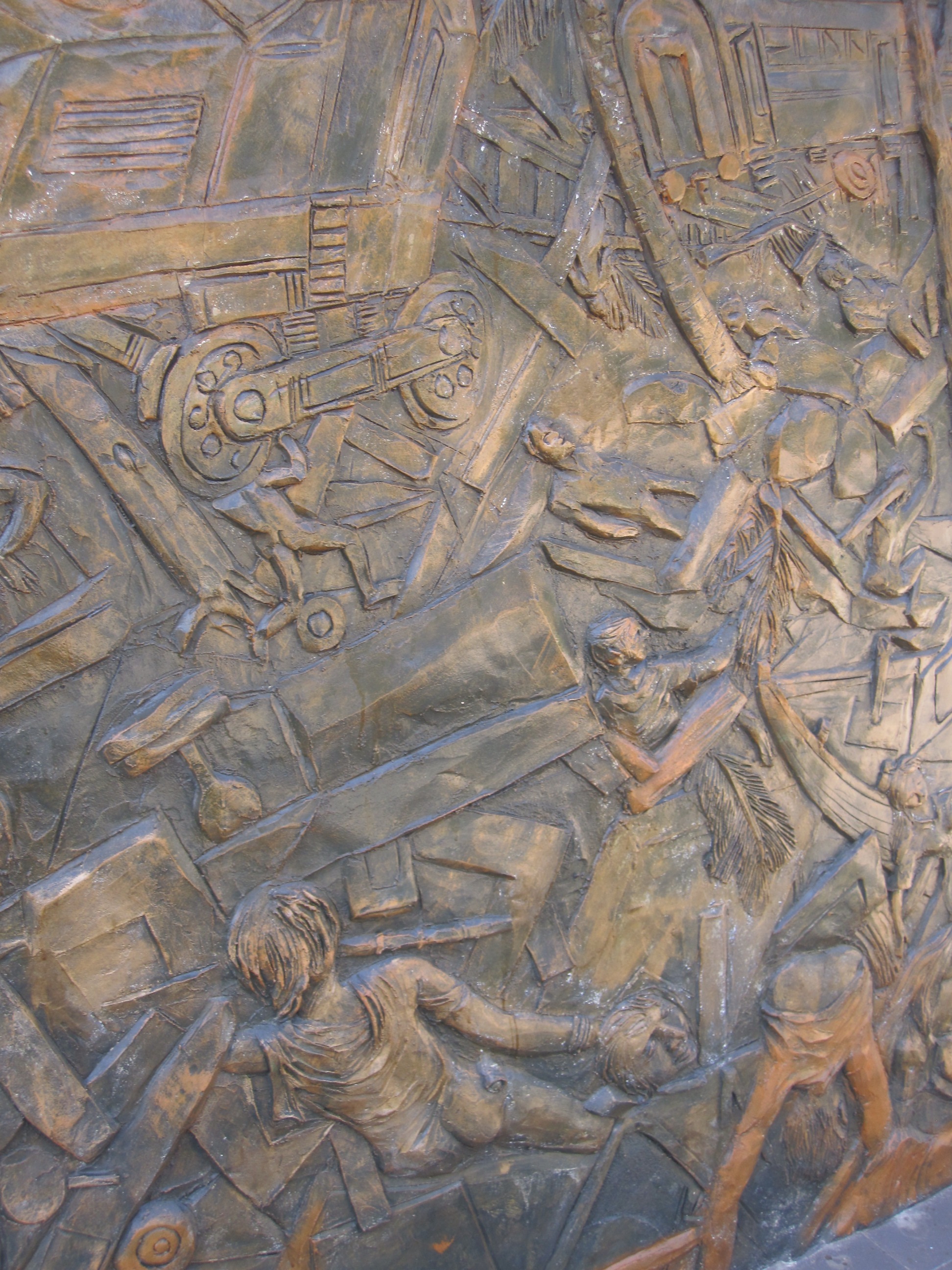 We spent our last few days renting surf boards and body boards, eating lovely meals and just chilling out. It was smashing.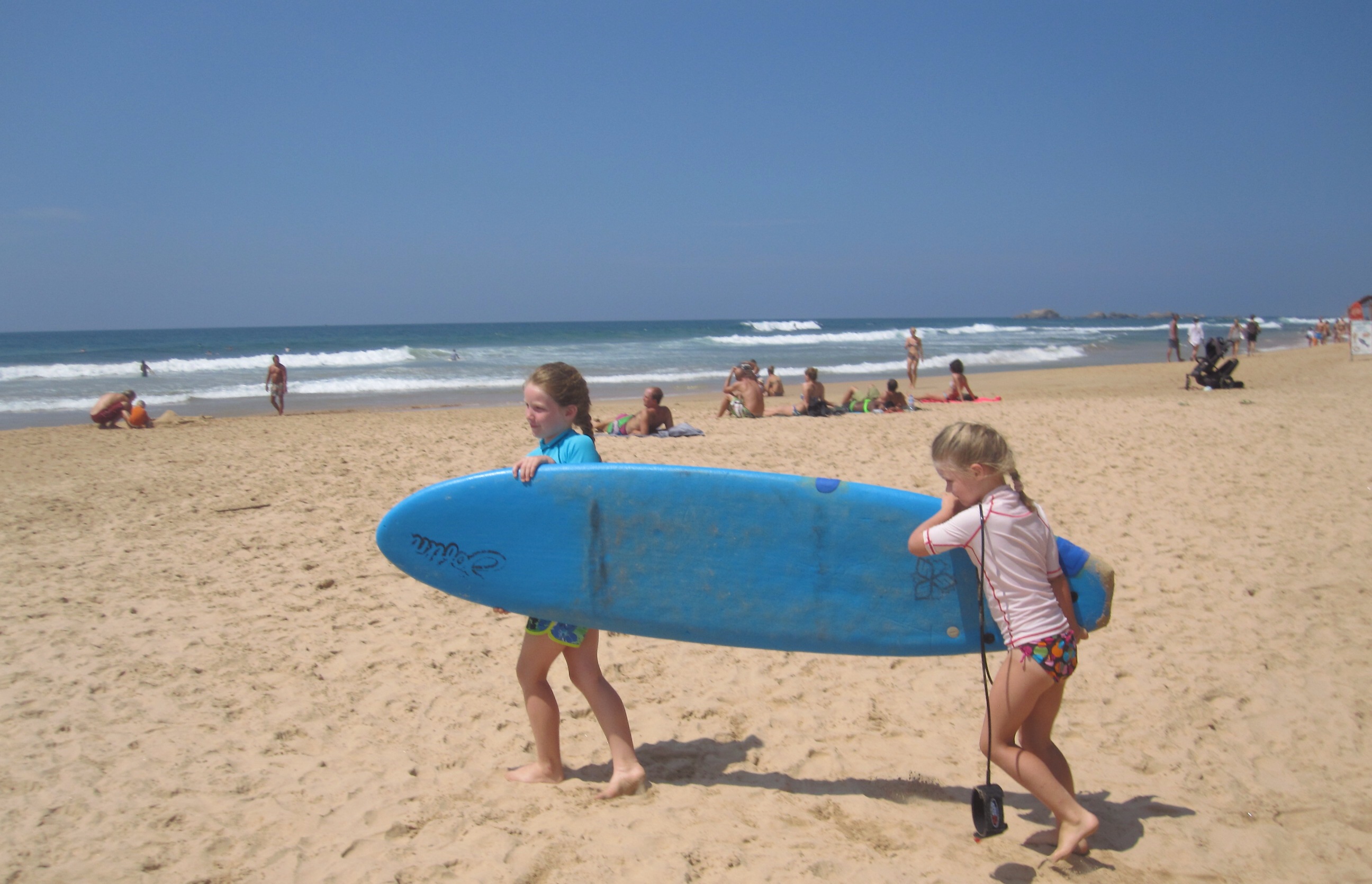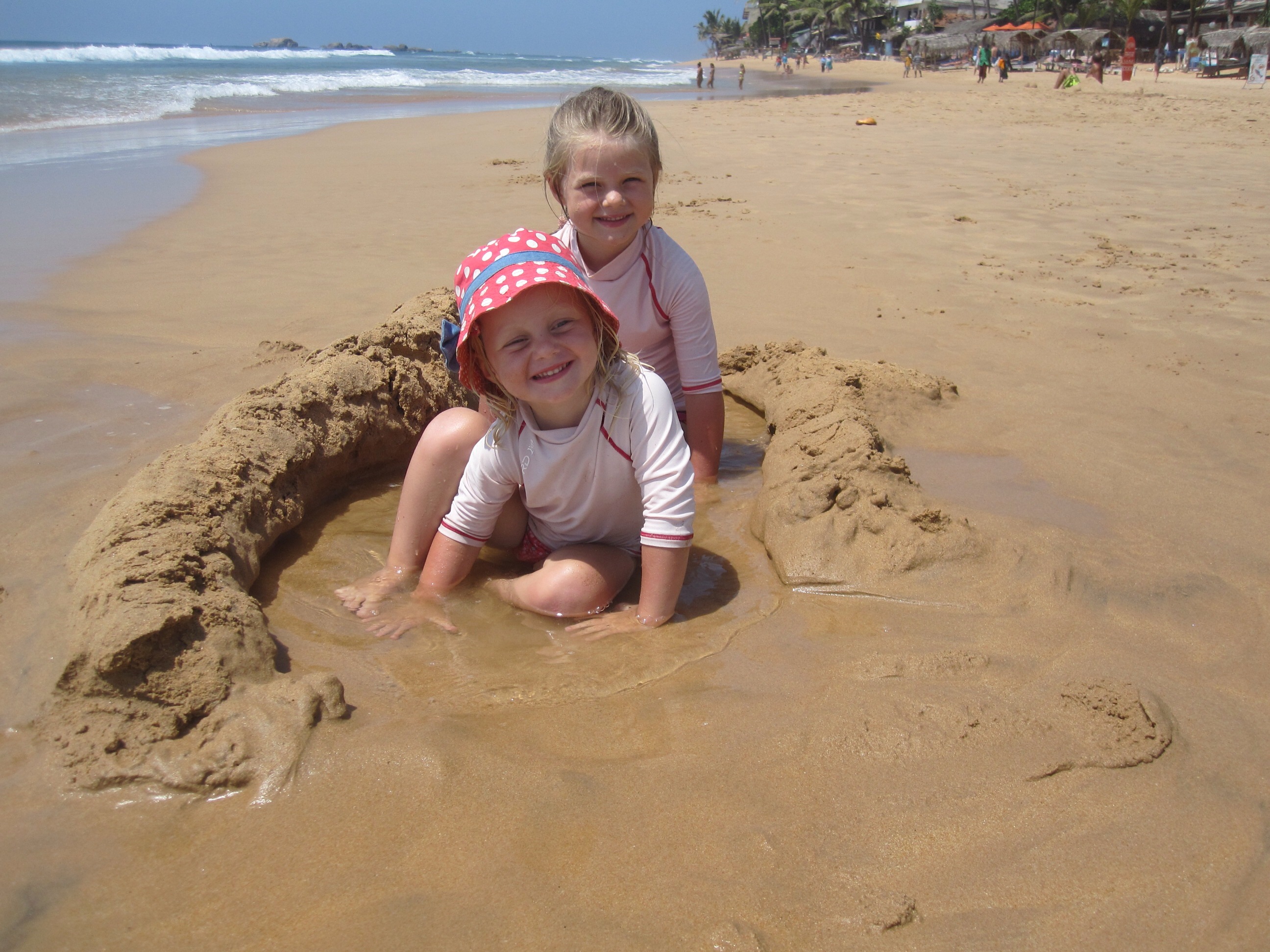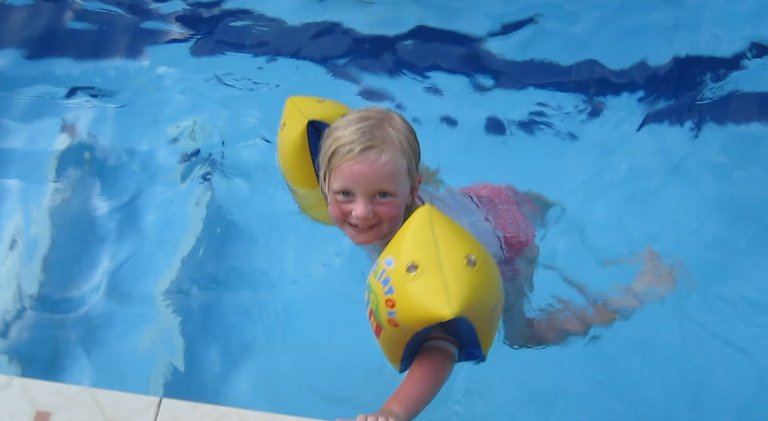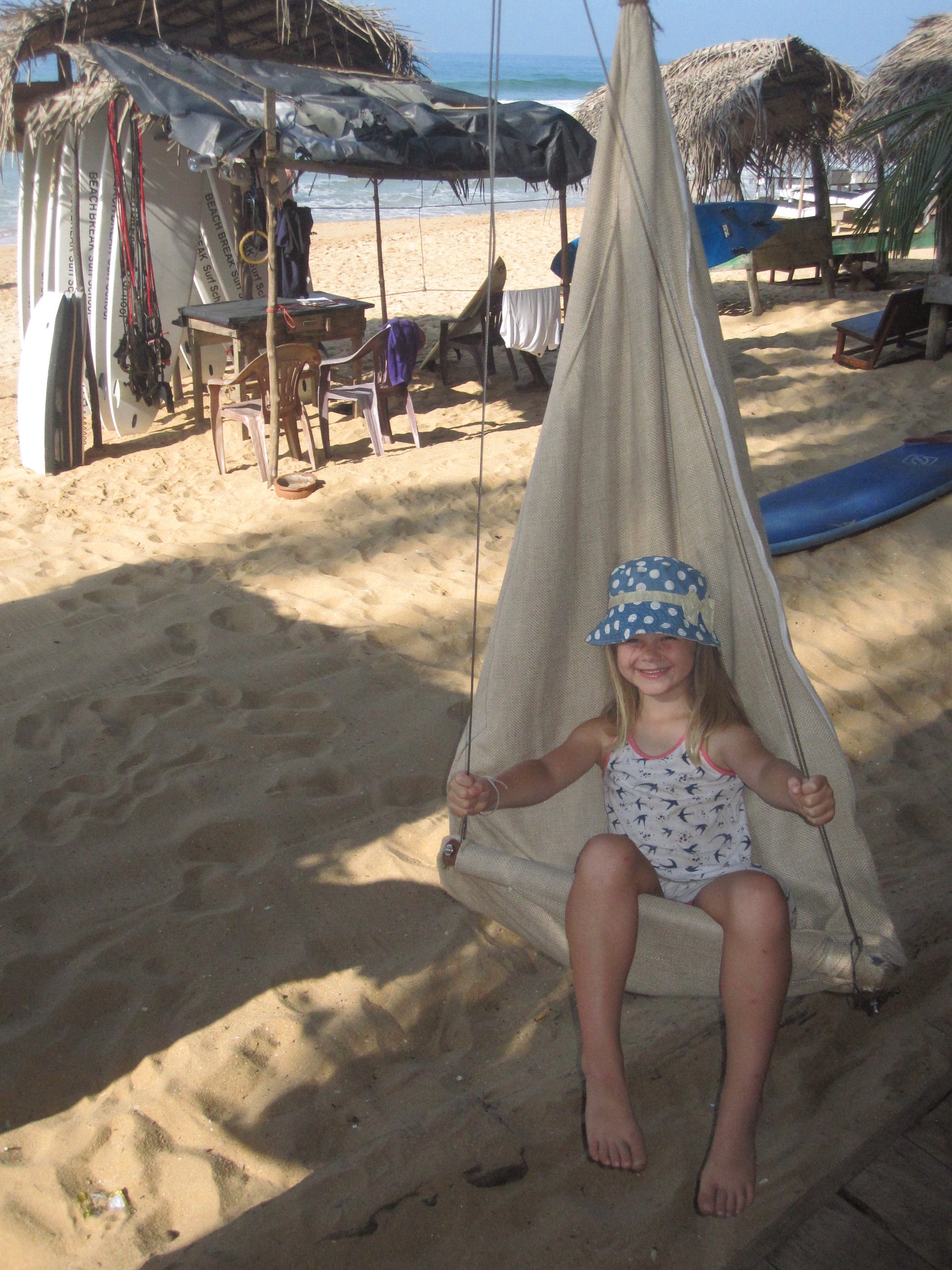 There are some great restaurants in Hikkaduwa. We only explored a few but there are loads. We did find a few good ones. Munchies on the Main Street opposite Drifters does the most delicious sweet and sour chicken. It was amazing with crispy fried chicken. Yum! We haven't found one as nice since.
The bookworm library does the best rice and curry in Sri Lanka. You wouldn't even know they do meals, it's a library not a restaurant. They just do rice and curry and charge 500 rupee per person (just under €3.50). You have to book ahead, we popped in at lunch time and ordered from the librarian for that evening. Rice and curry is a favourite in Sri Lanka. It's basically a bowl of rice and a number of bowls of different curries depending on where you are. This one consisted of a big bowl of brown rice and 6 bowls of different delicious curries. It was amazing. We had jack fruit curry, banana curry, pumpkin curry, potato curry, egg plant curry, lentil Dahl and poppadoms. It was delicious! And rather bizarrely, it's all served on picnic tables on the roof of the library. A roof with no sides… Not great from a health and safety point of view and especially when you've got little people with you. The girlies were warned that they'd to be stuck to their seats. But it truly was delicious. The pumpkin curry was particularly nice.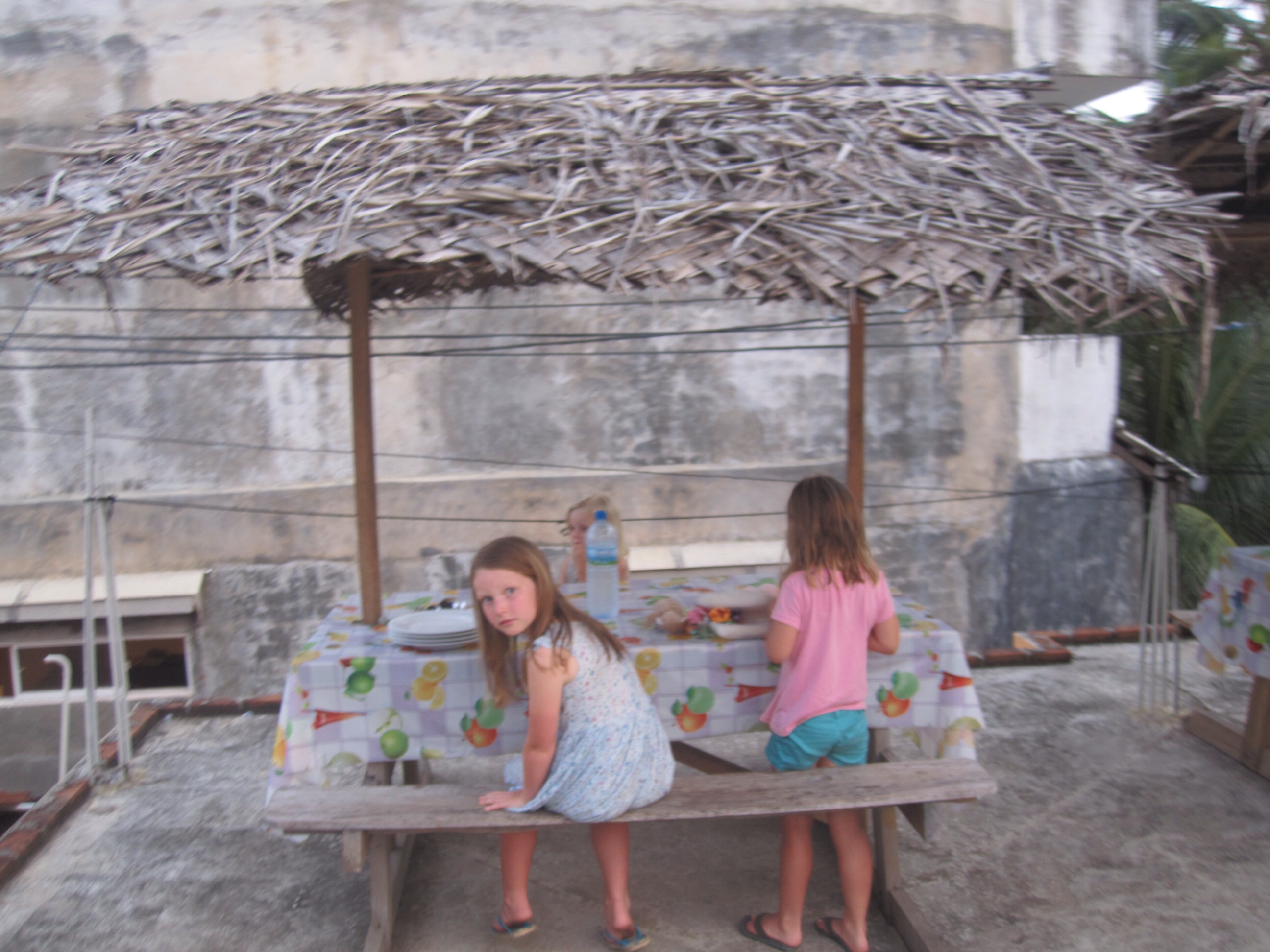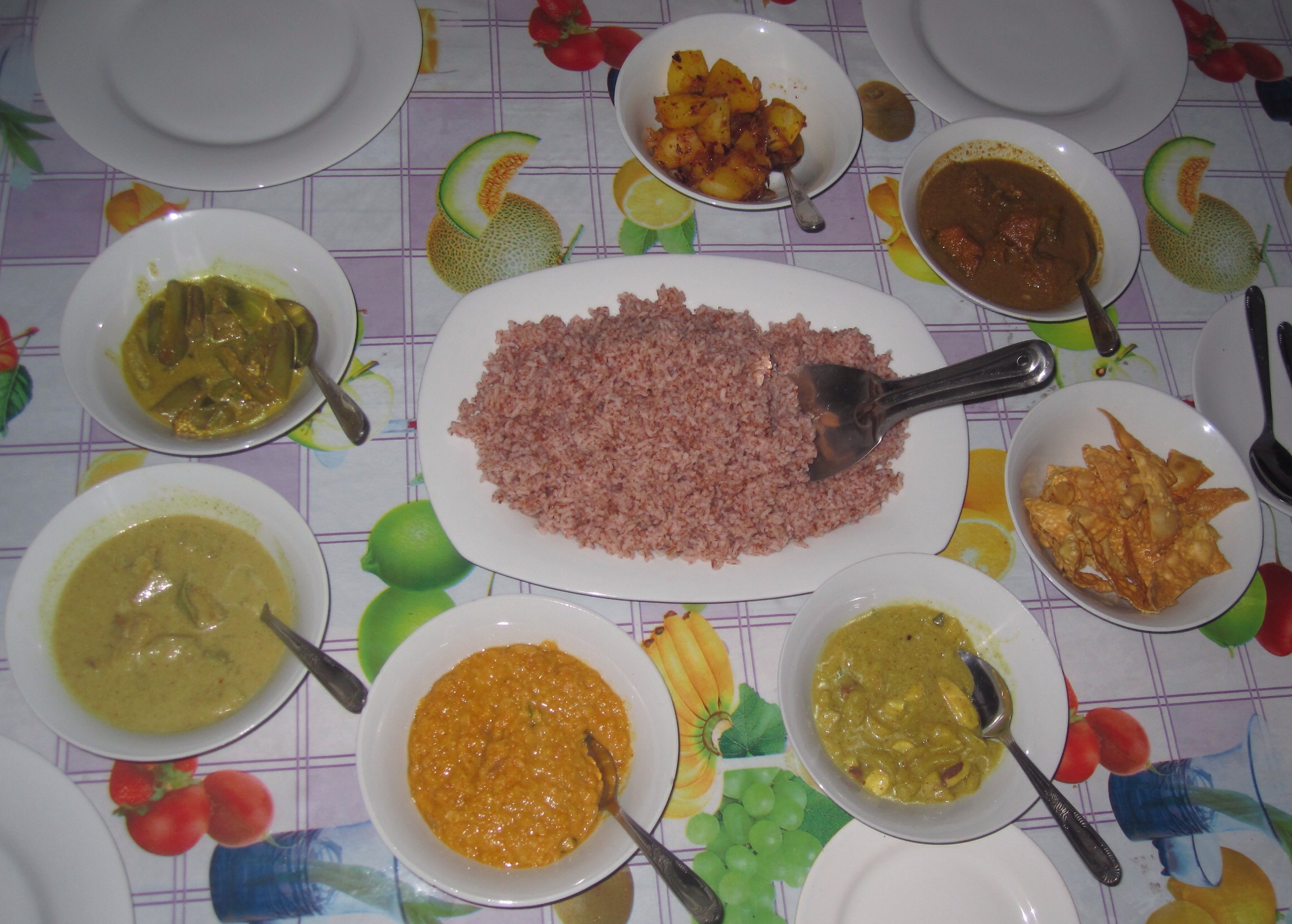 We also ate roti regularly in the roti shop just a few doors up from Drifters. The guy making the roti is supposedly known as "the King of Roti" in the area. He was usually dressed like the picture below, I guess it was most comfortable for the heat. It opens at 5pm and does the best kottu roti I've tasted. Kottu roti is made from pancakes which are chopped up with specific knives and fried on a hot plate with loads of veg. You can hear the chopping noise of the knives regularly in Sri Lanka. They are really cheap and completely delicious! Yum!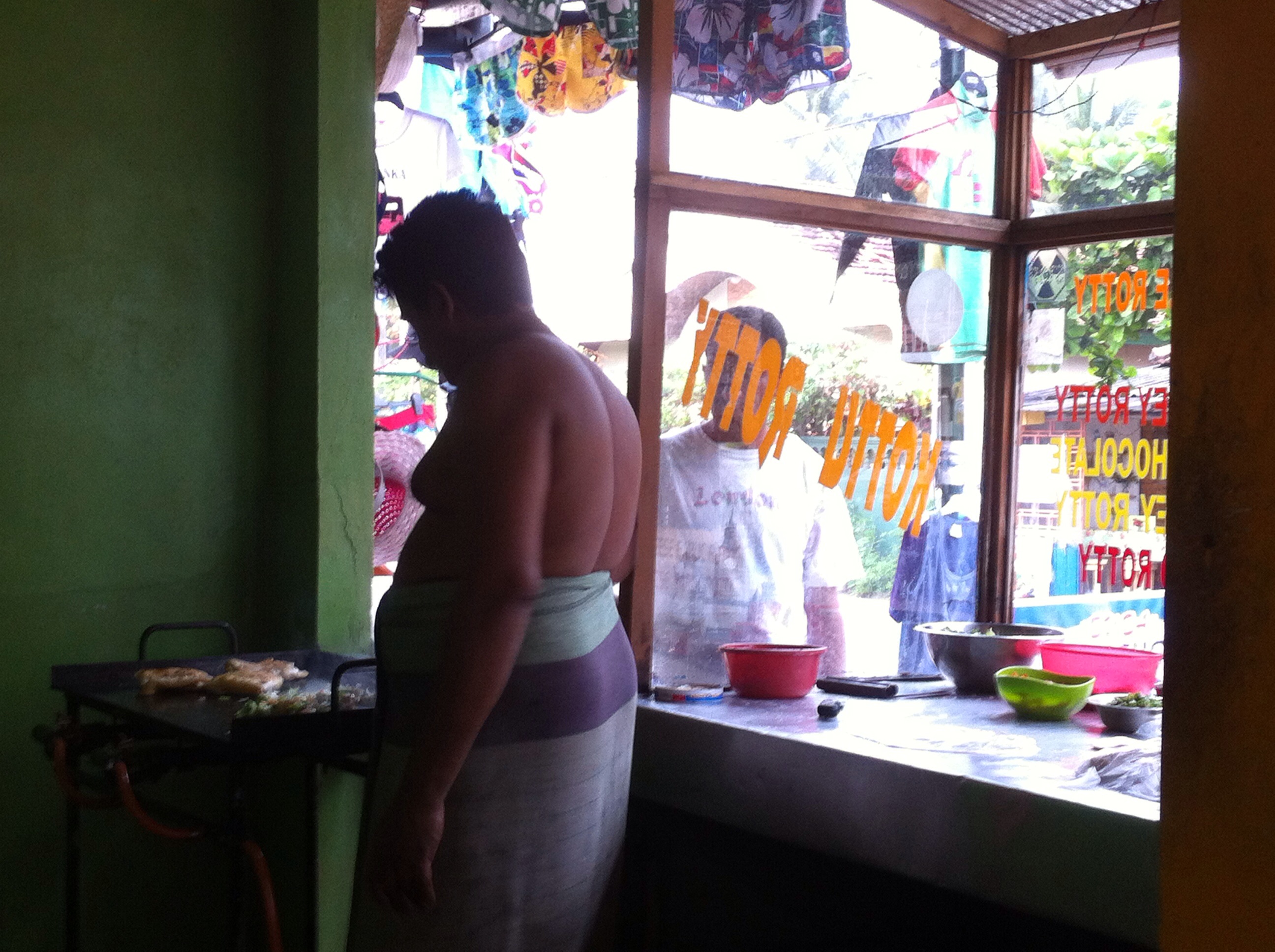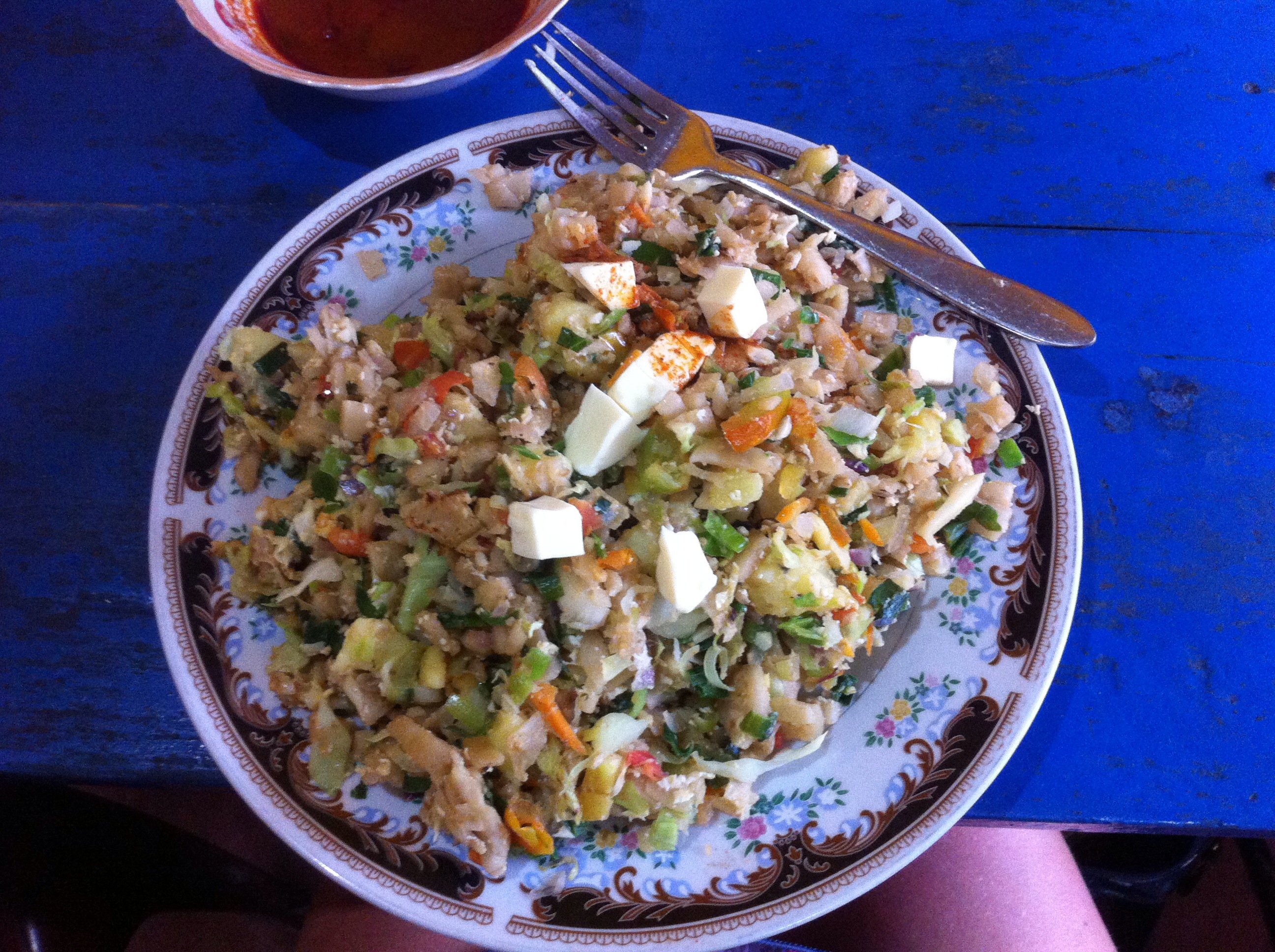 Another evening the kids decided they wanted pizza night and another family recommended "Spaghetti and co" to us. Wow, it was the best pizza we'd had since leaving Ireland and probably in Ireland! It was that thin base crispy pizza you get in Italy with the most delicious toppings. They also, to our complete delight have a kids play area with great books (Asterix and Tin Tin), Lego, play food etc. The kids had a ball there allowing us to be a couple and enjoy a few beers! Was heaven, a bit pricey by Sri Lankan standards €36 for us all. None of us wanted to leave.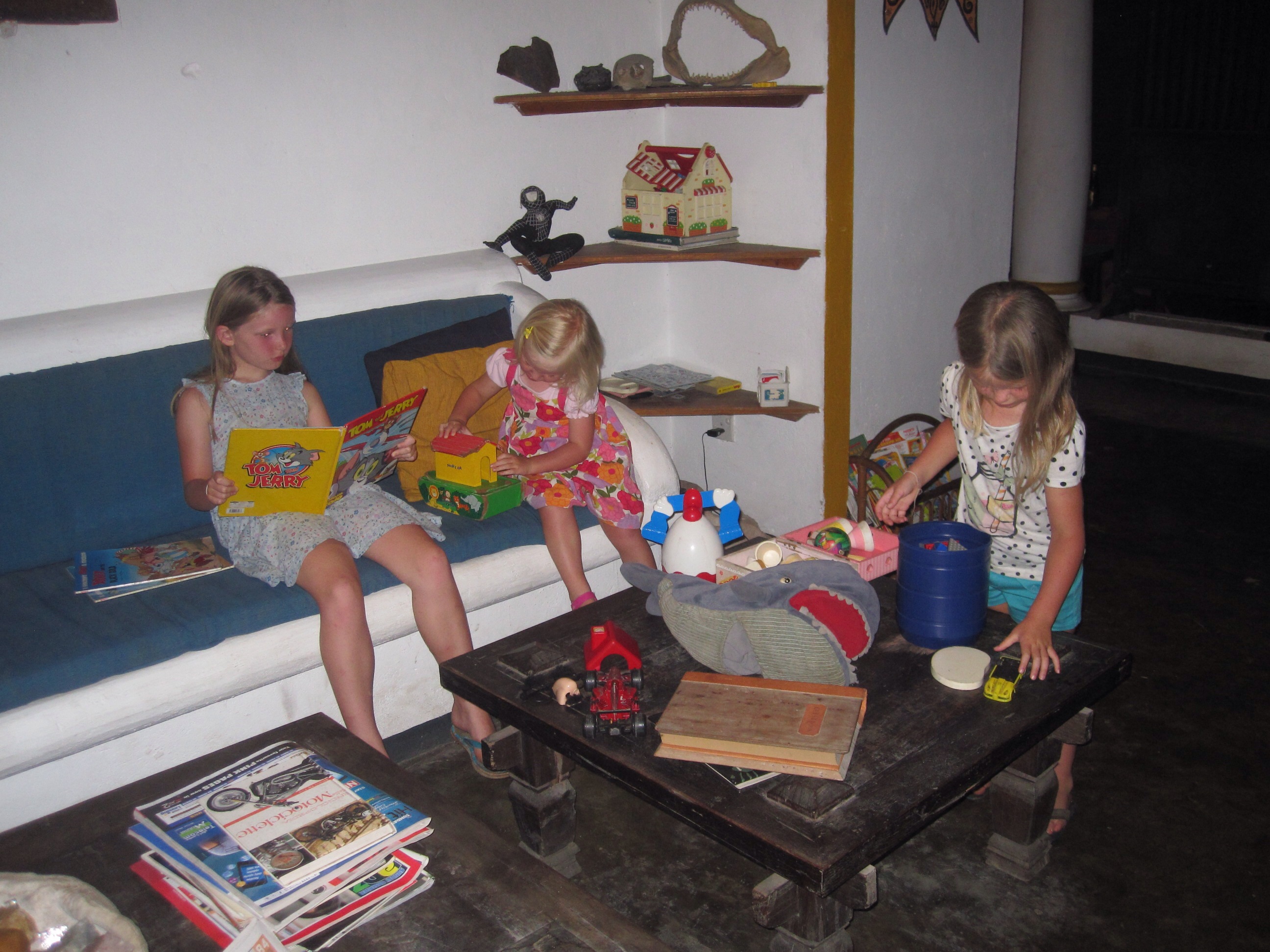 And for breakfast we had two options we loved, Dewasiri which I've talked about and the place just next door to Drifters which did a great breakfast for 400 rupees (€2.50) which consisted of any type of eggs, delicious pan (thickly sliced toast), fruit juice or fruit plate and tea. It had cool music and hammocks and swings hanging around. A really nice spot to hang out in.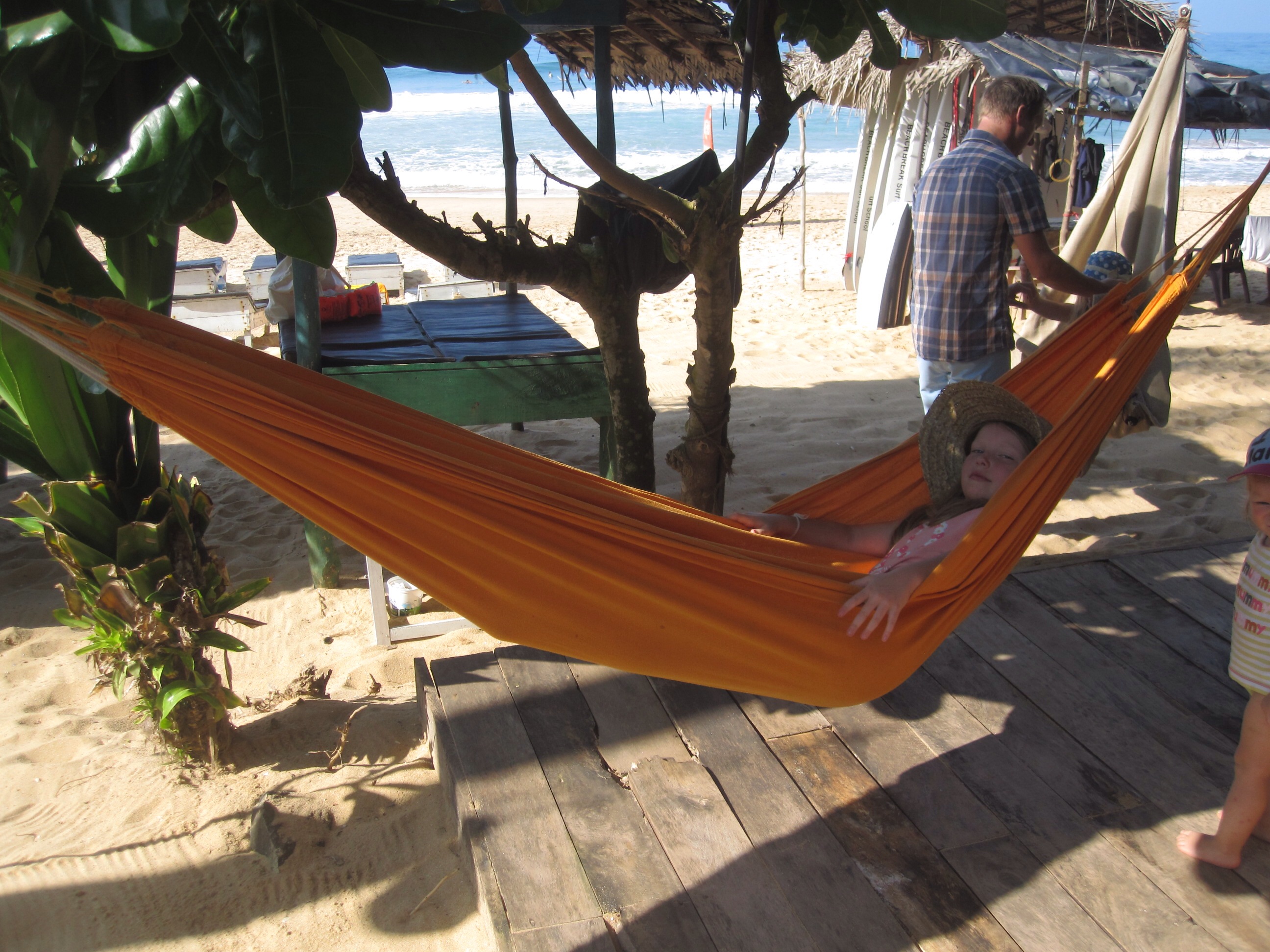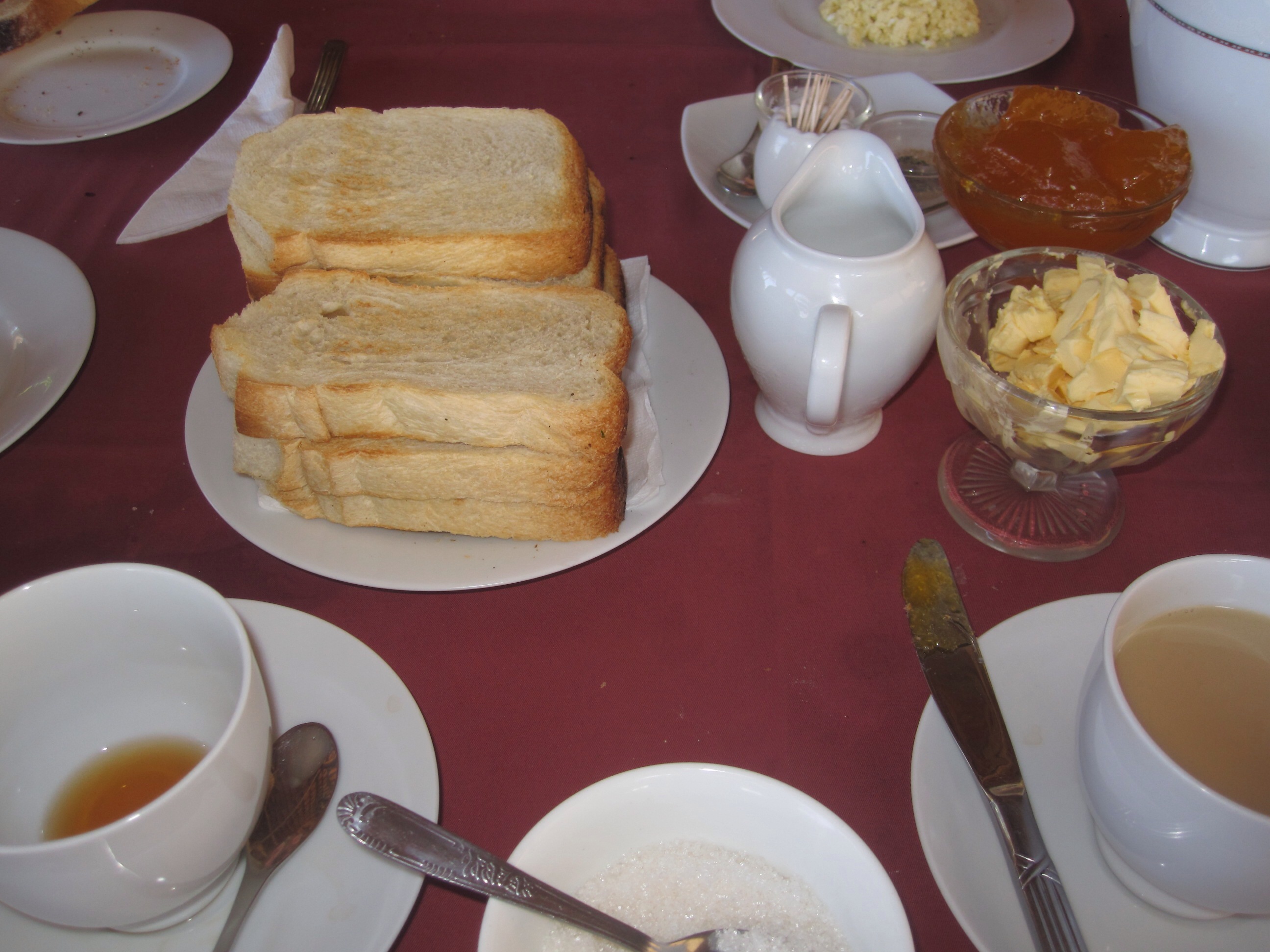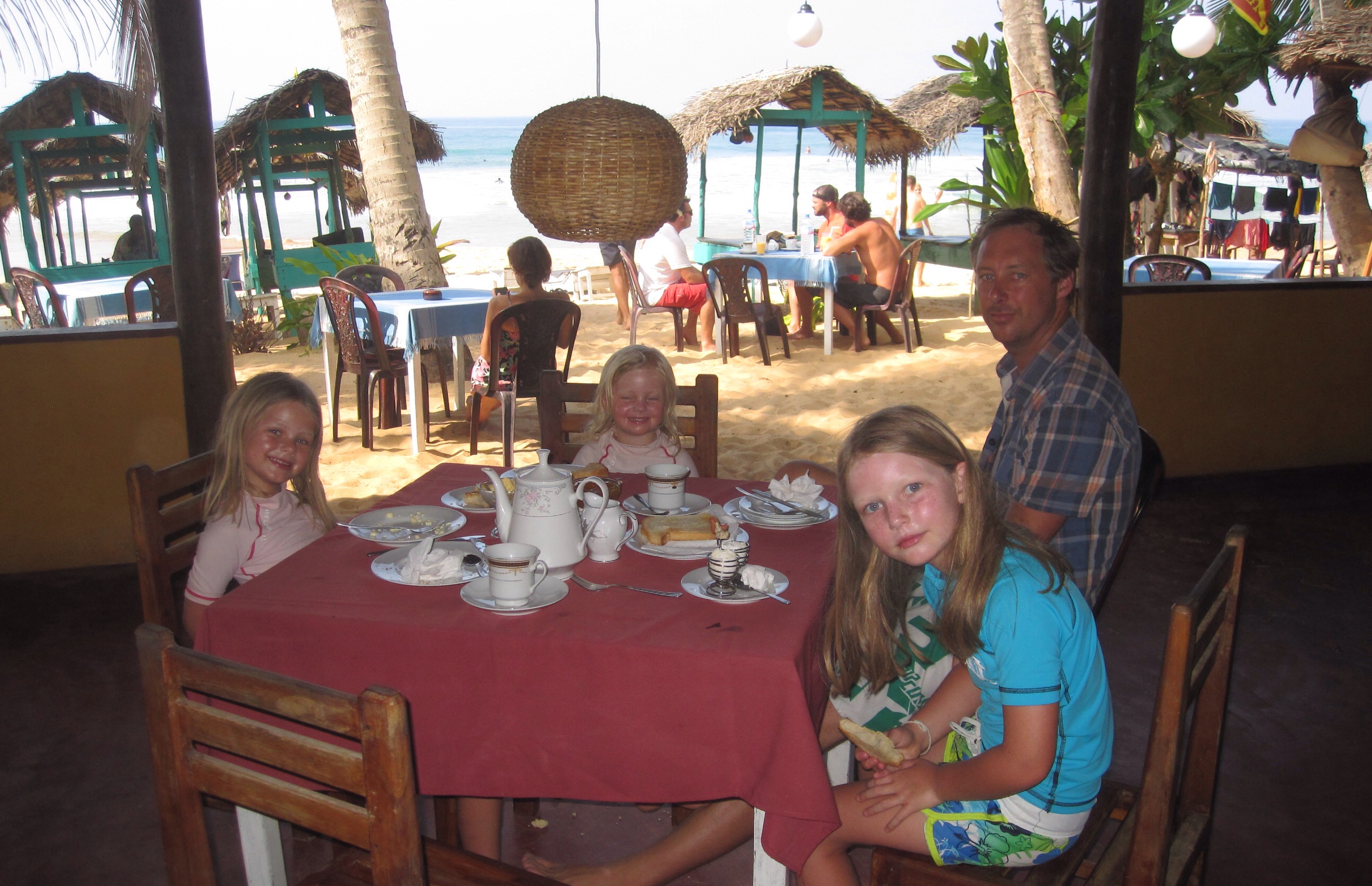 So all in all Hikkaduwa was a lovely way for us to end our Sri Lankan trip. And Sri Lanka has proven a really great start to our round the world trip. We've loved every second of it. If you get a chance, don't hesitate, just go, you'll fall in love with it just like we did….