There's no doubt about it, visiting the Galápagos Islands is expensive. The flights and entrance charges alone are a bit of a killer so unless you're on a huge budget you need to find some freebies when you get there. This post talks about the free or almost free things to do in Galápagos. There are loads and they're great! We'll break it out into islands and talk about Santa Cruz and Isabela. These were the two we based ourselves on in our 10 day trip in late June 2015.
Isla Santa Cruz
Santa Cruz is the main island in Galápagos with the most tourist amenities including ATM's (important as they aren't available on most islands). Most airlines fly into Isla Baltra and then it's just a short bus and boat ride to get to Santa Cruz.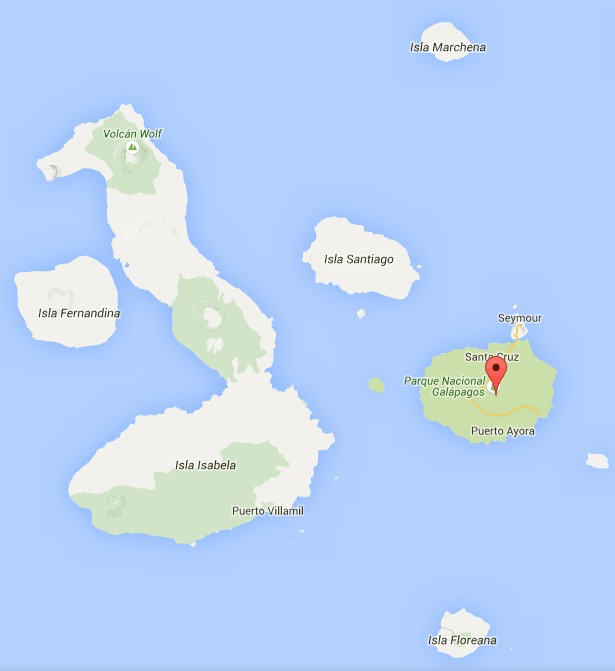 This is the best island to organise last minute cruise places. There are loads of agencies offering them. I really think you'd be pretty mad to book a cruise in advance if you have any sort of flexibility in your travel time. You can get amazing deals by just booking when you get there.

1. The pier in Puerto Ayuro
A simple walk down the far pier (the one without all the boats and taxis) in Puerto Ayora the main town in Santa Cruz is lovely and you'll be blown away by the wildlife you see here especially if it's your first visit to Galápagos. We walked along and first looked down the wall of the pier to see it full of Sally lightfoot crabs and baby marine iguanas. Sally lightfoot crabs are the beautiful brightly coloured crabs you see below. They really stand out against the black volcanic rock. Our girlies loved spotting them, we all did.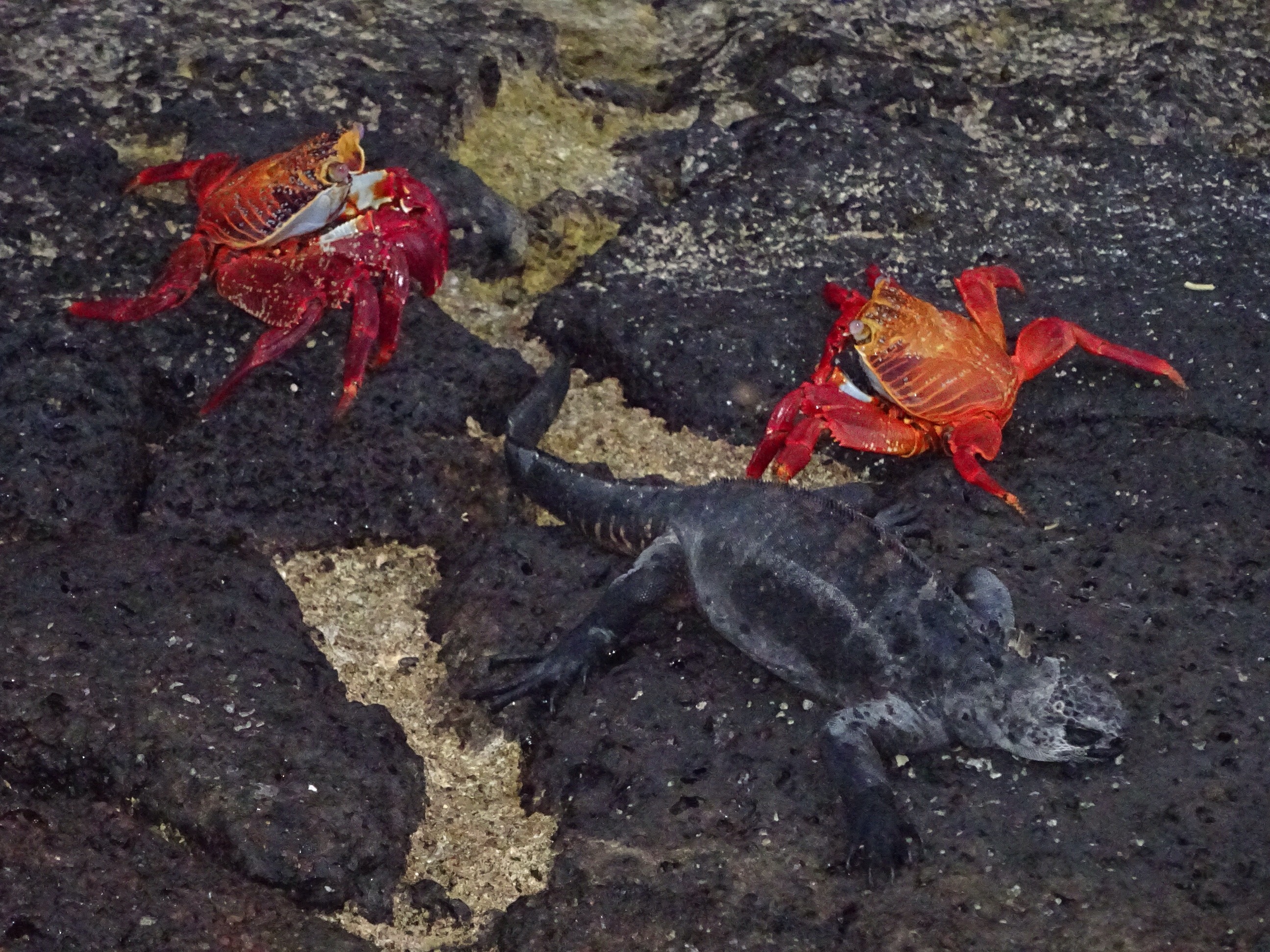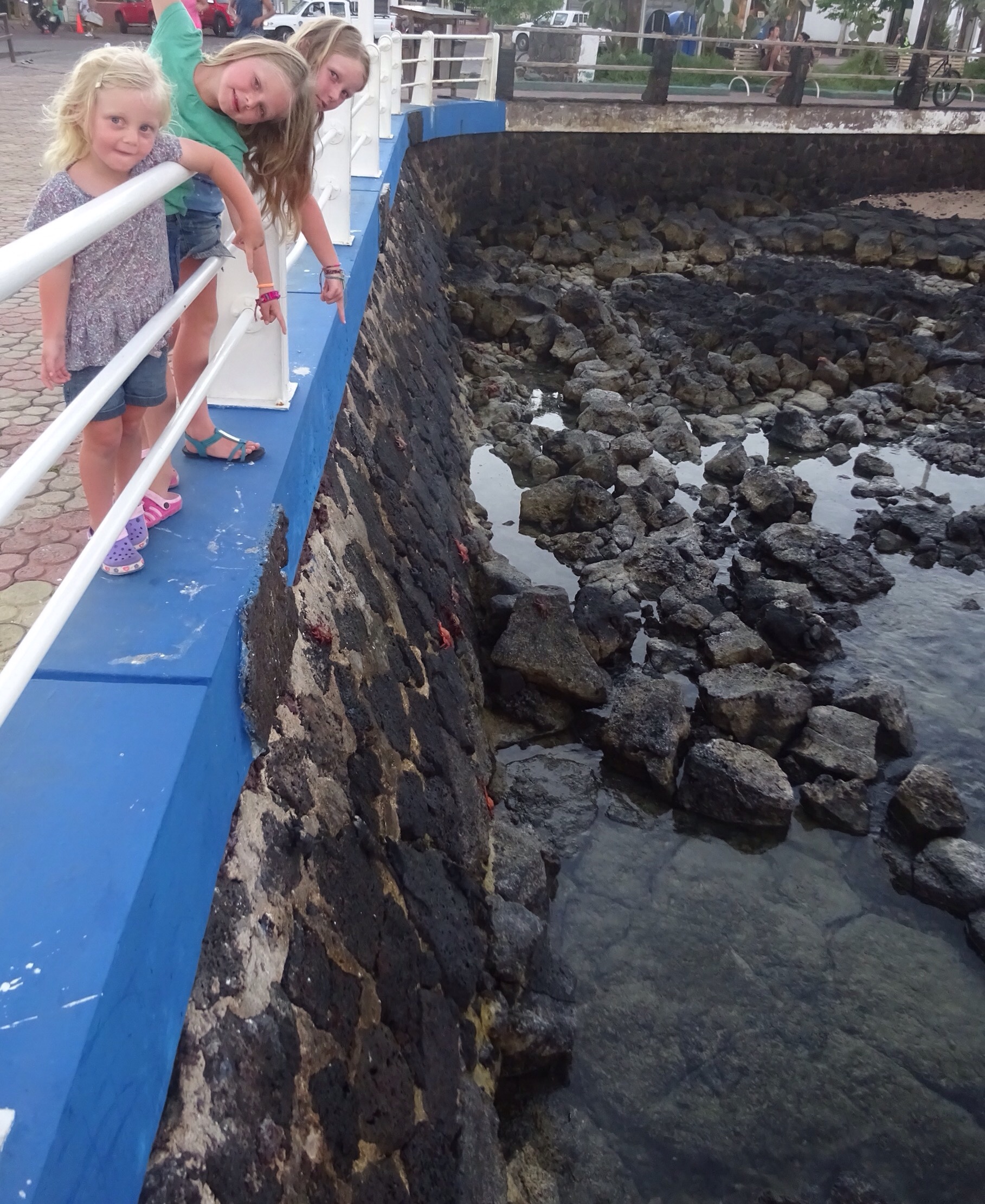 Then a little further on there was a lady who told us there was a large turtle swimming around and to our delight there was. It swam around munching on seaweed the whole time we were there.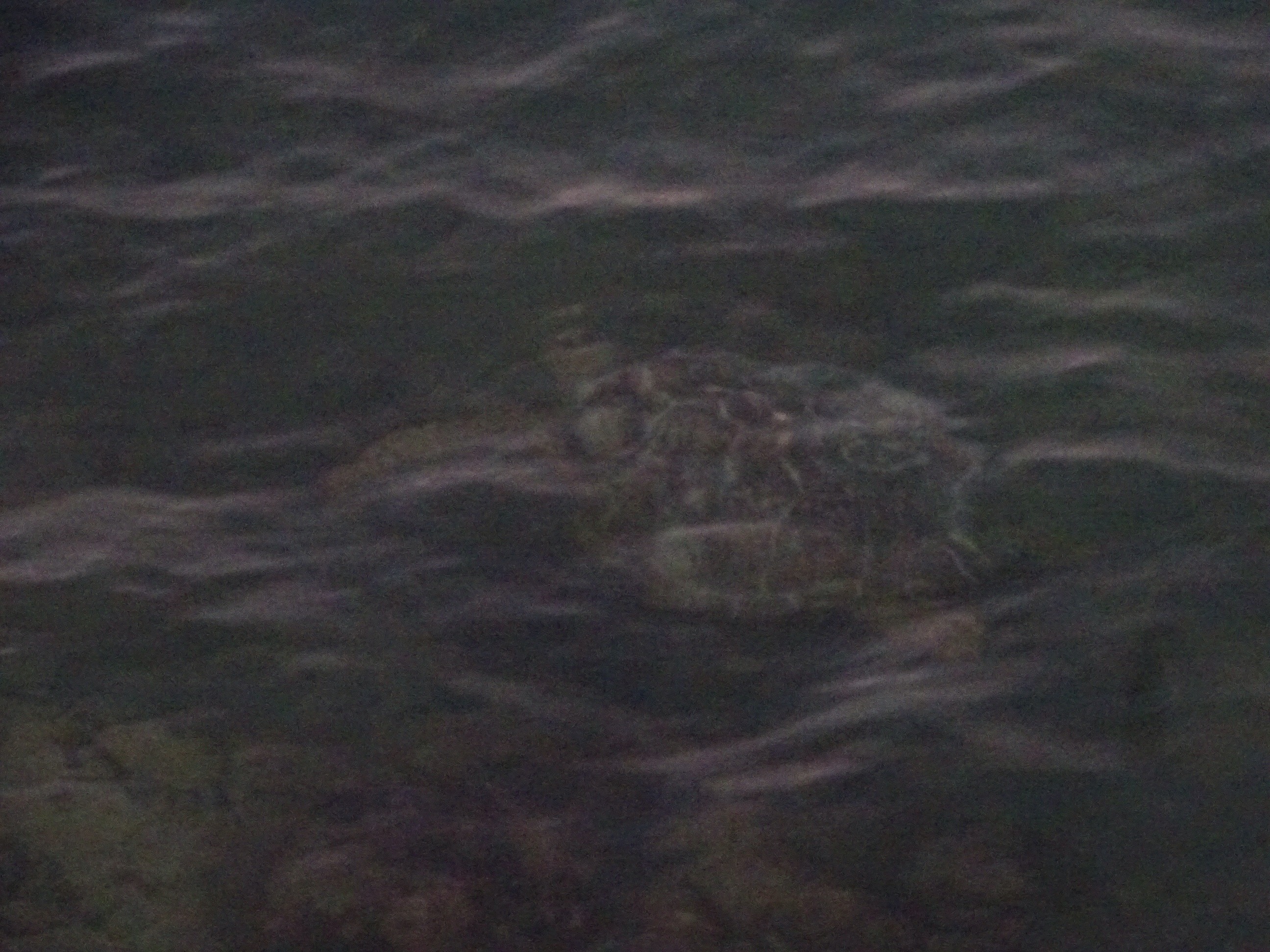 While we were watching the turtle, 5 small rays swam in and wandered around.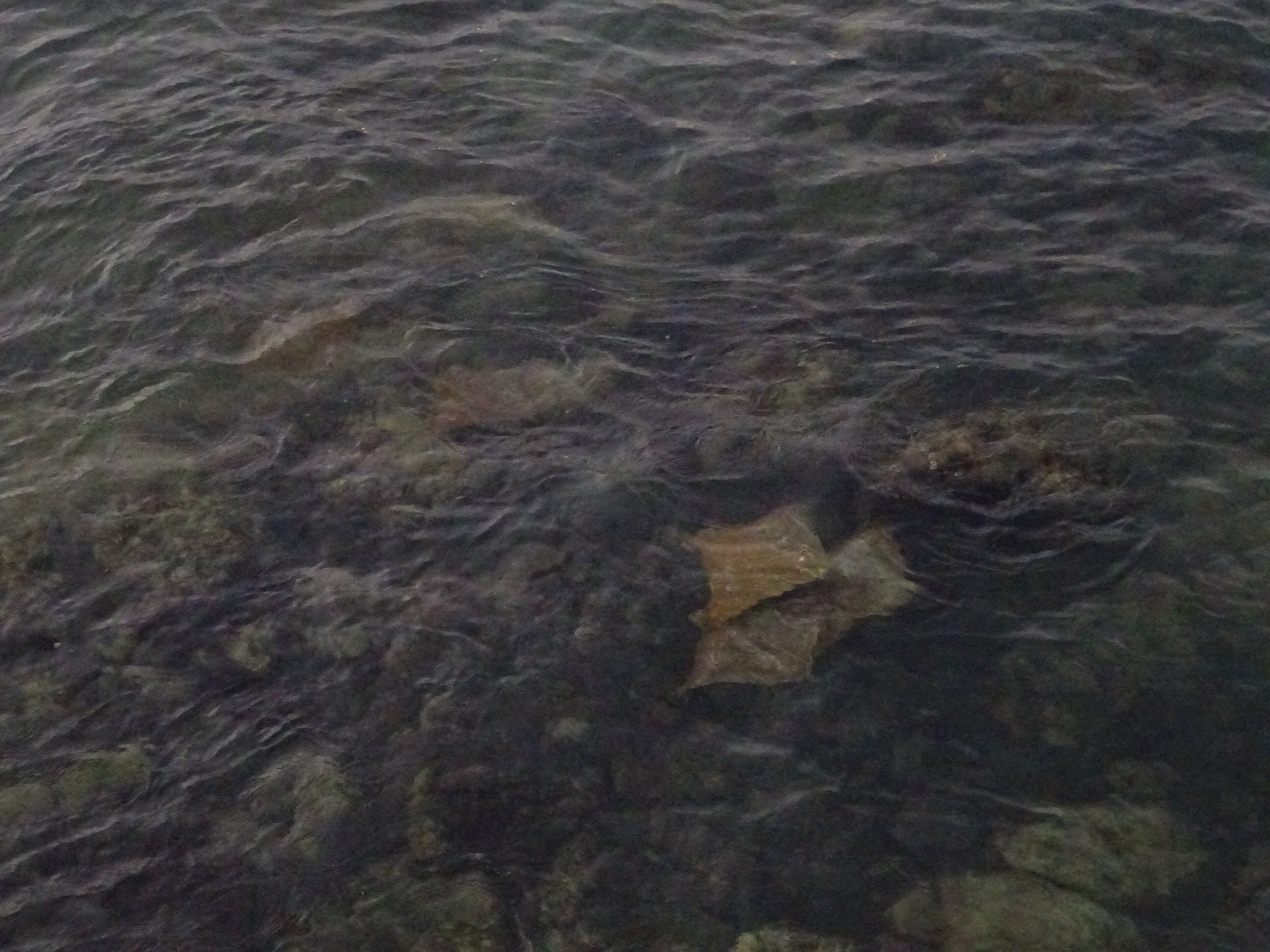 A little further on and there was a mum and baby fur seal playing together having loads of fun.
And there were of course a few Pelicans like this one parked up on the fence.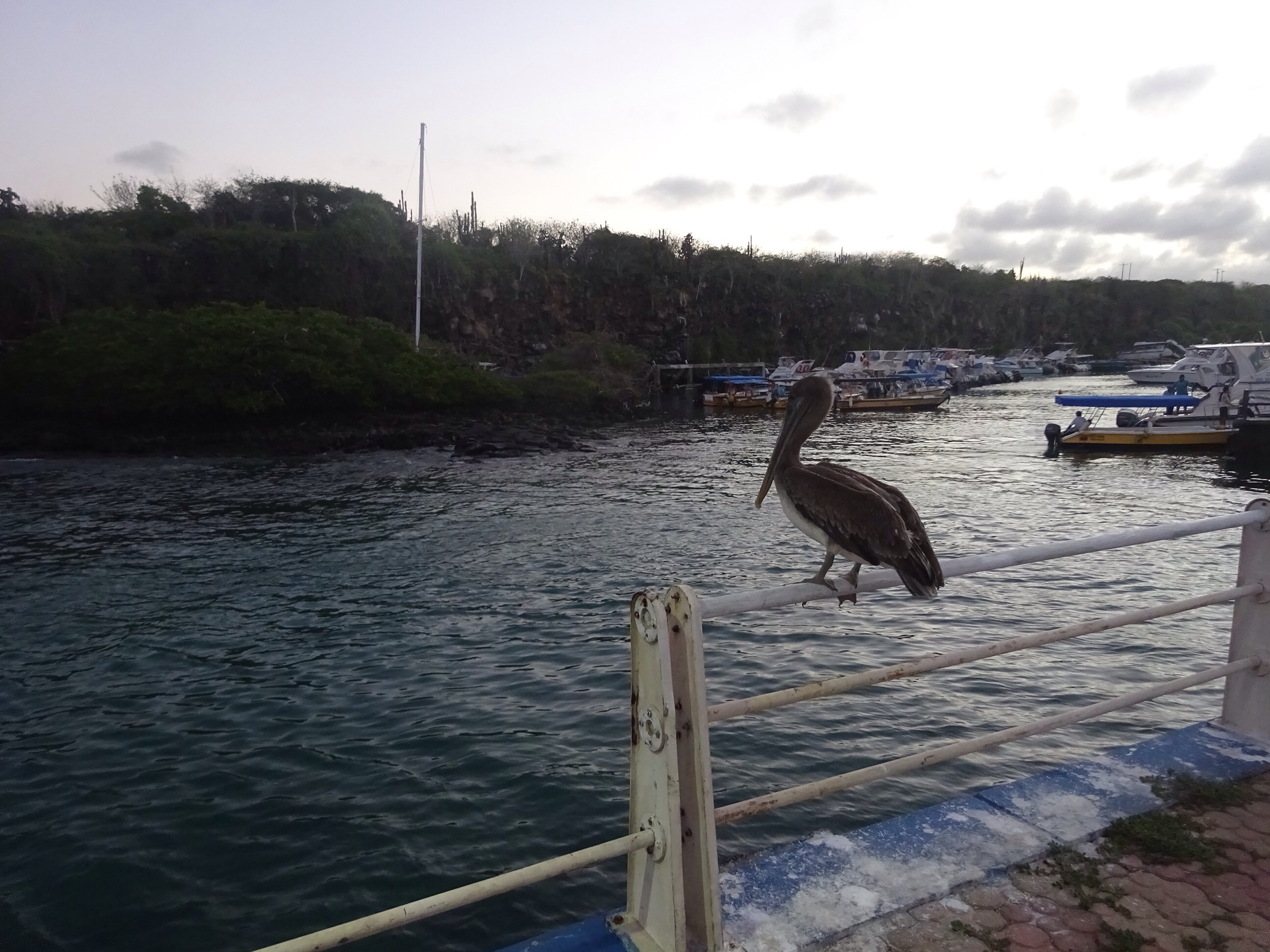 We came back later that night and walked the other pier (the one where you catch all the boats) and saw 5 baby sharks swimming around.
And to the girlies delight, a mother seal feeding her baby.
This just gives you a taster of just how much amazing wildlife there is on your doorstep in Galápagos. That's what makes these islands so amazing, it's just the simple access to wildlife in it's natural habitat but yet quite comfortable with people, that blows you away. Here we saw crabs, iguanas, seals, sharks, pelicans, turtles and rays and it didn't cost us a penny!
2. Charles Darwin research centre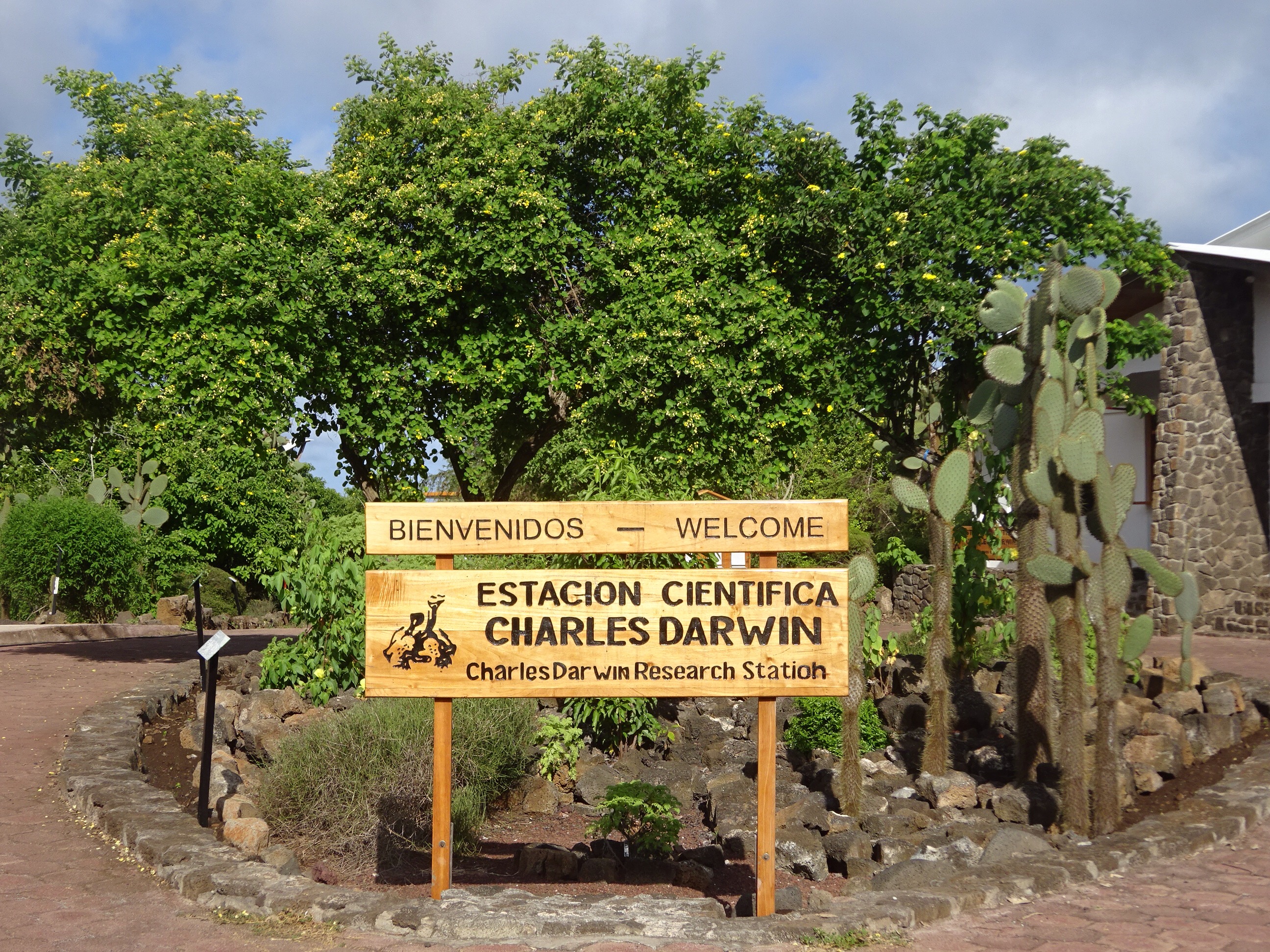 The Charles Darwin research centre in Santa Cruz is free. It's not the most amazing spot you're going to visit but worth a walk around if you don't have much on. You can get a taxi from town (Puerto Ayora) to the entrance for a dollar. All taxis around town are just a dollar, you only pay more if you go outside town. If you were feeling energetic, you could also walk to the centre from town in about 20 minutes, it's just at the northern end of Avenida Charles Darwin, the Main Street. It's a nice walk past lots of little souvenir shops and restaurants, just not that pleasant in the main heat of the day. So we got a taxi up and walked back .
When you get to the Charles Darwin centre, there's a nice looped walk around it to view some enclosures with giant tortoises in them. It's basically a research centre for giant galapagos turtles so you can get really close to them but somehow you don't really feel like you're seeing them in their natural habitat, it feels more like a zoo and quite a sad zoo at that.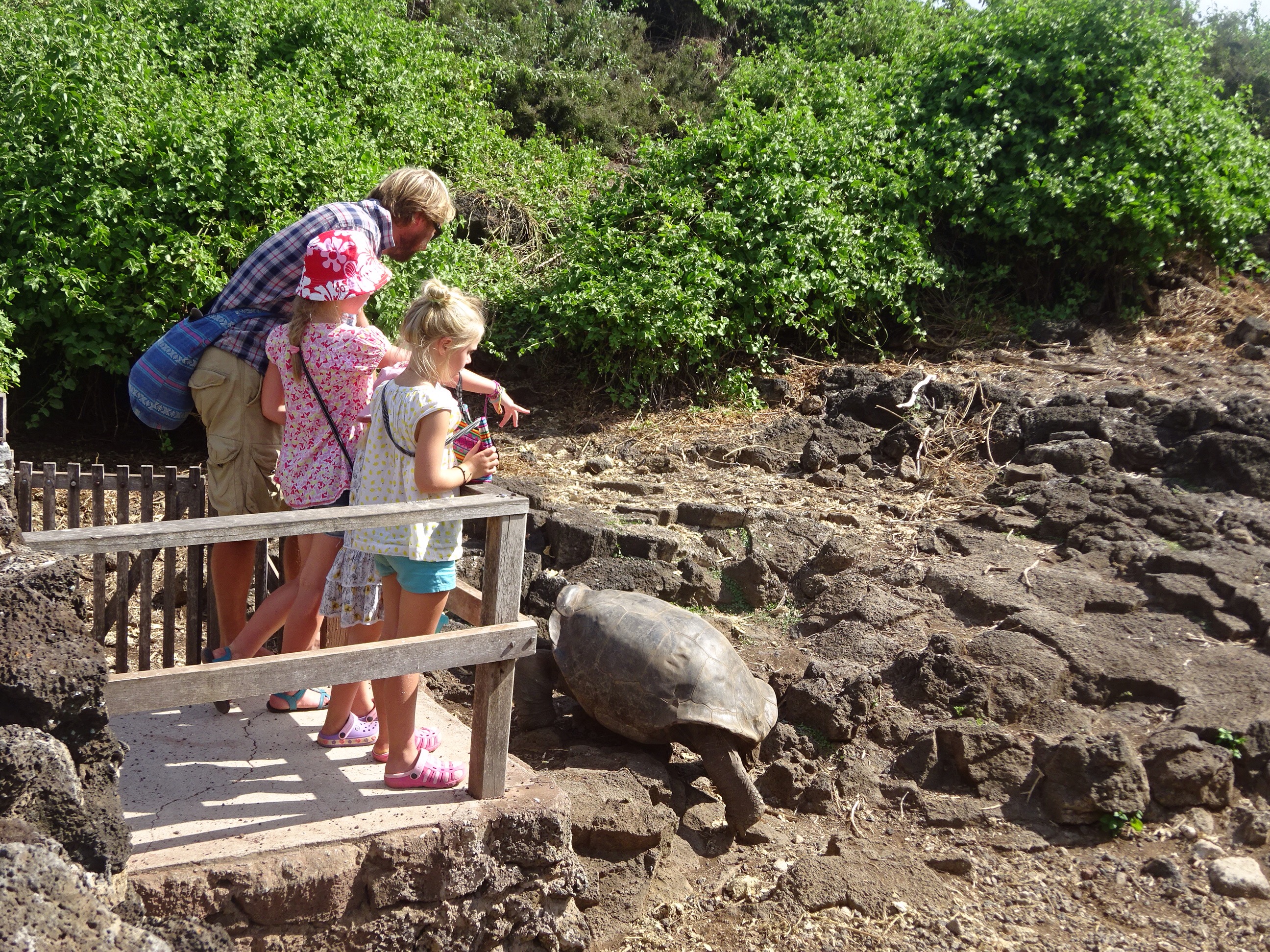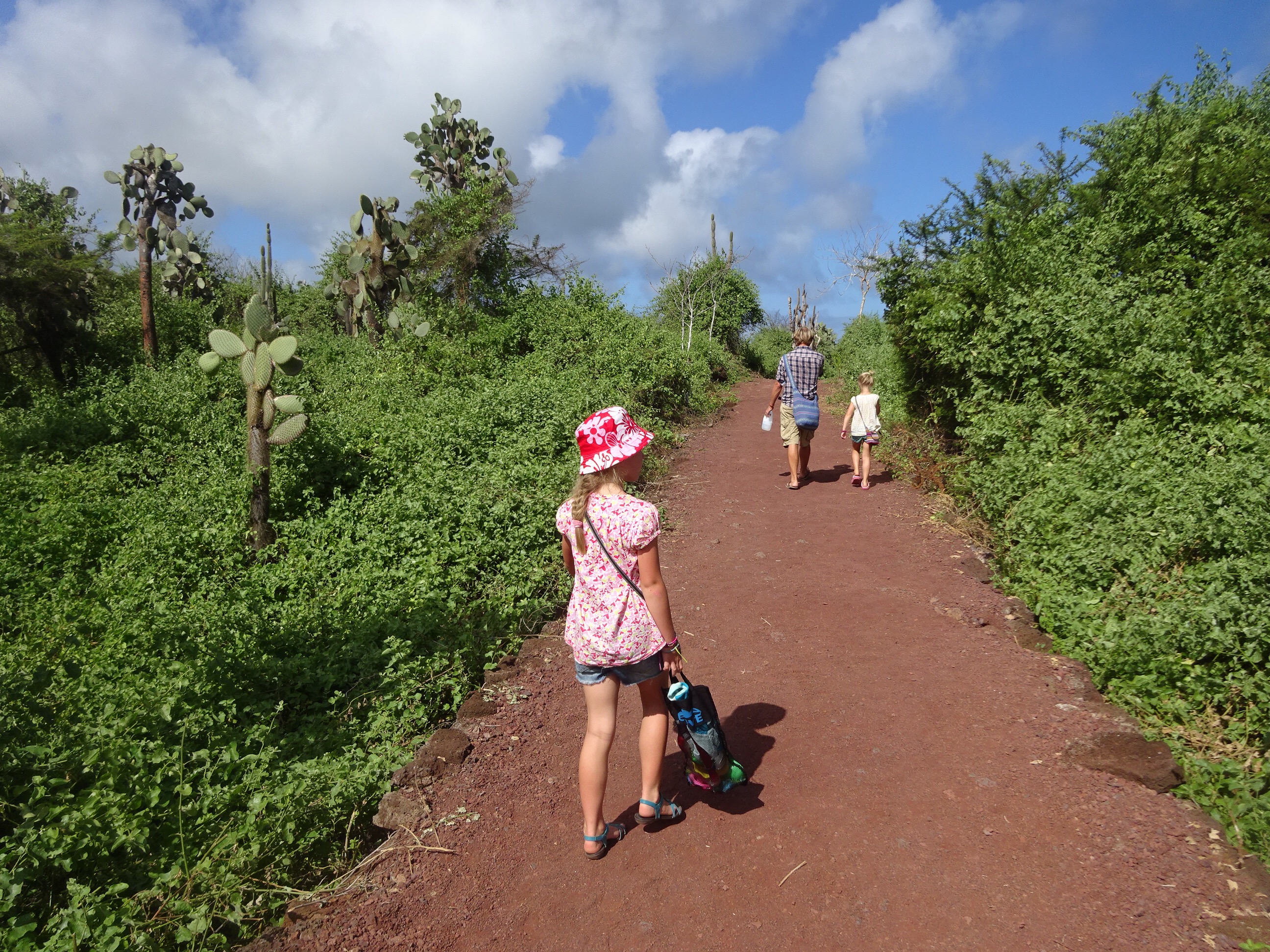 It is enjoyable with young kids though and great for your first glimpse of these giant creatures. You'll see many of them in this kind of position below which leads to some interesting questions if you have little people with you. We had lots of discussions about why the turtles liked to play horsey etc while quickly trying to move the kids to the next enclosure. We weren't quite ready for the birds and the bees chat yet, let's preserve their innocence while we can!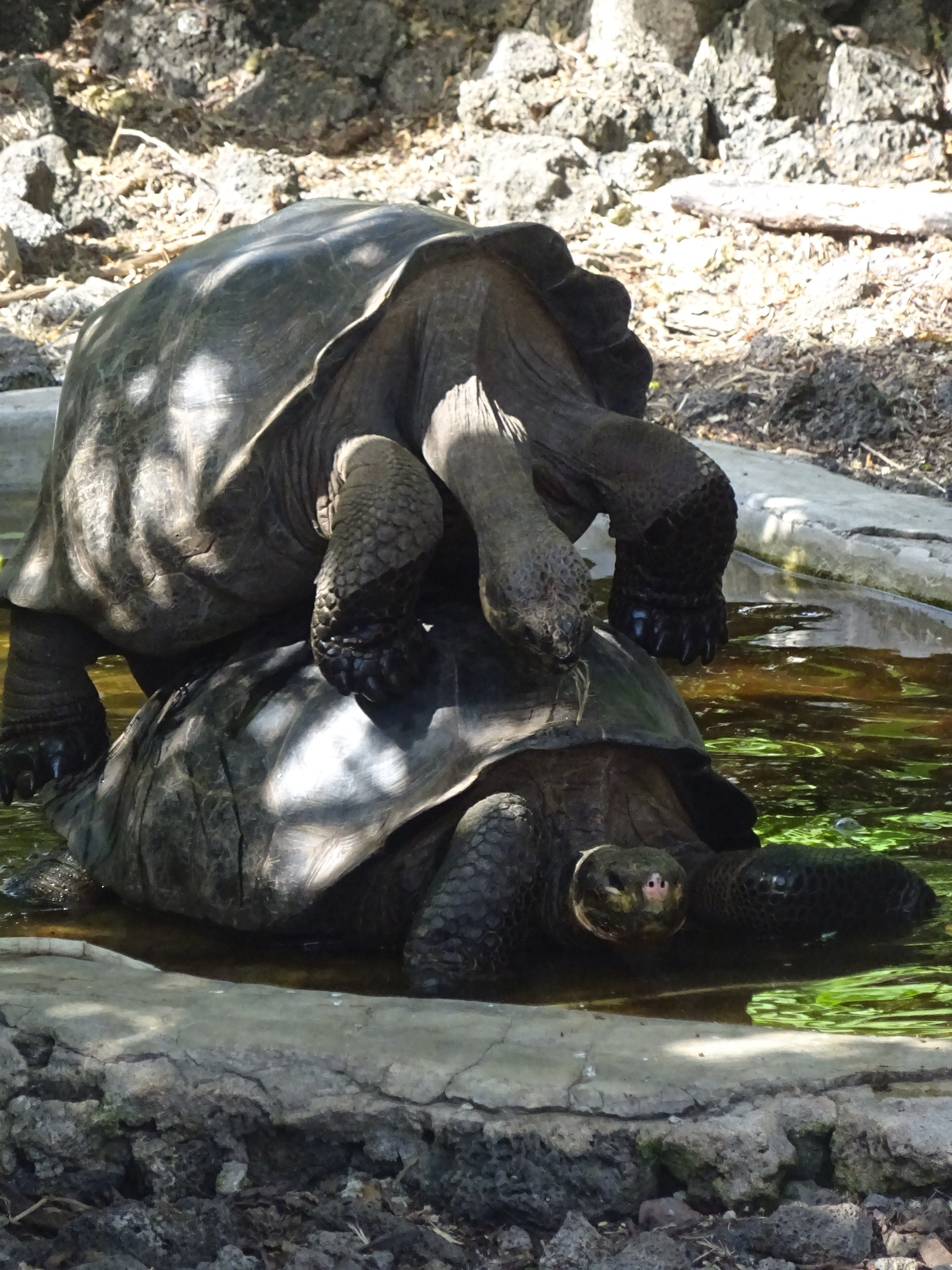 The Charles Darwin centre has a breeding area where they take eggs laid in the wild and let them hatch here in safety away from predators. Once they hatch, they're kept in enclosures until they are 4-6 years old. At this stage, they're pretty strong and can be safely released back to the wild. They are repatriated back to the island they were originally found on. This programme is helping to grow the population, it's a pretty important one.
Don't expect too much from this centre, it would be much better to find somewhere to see the tortoises in the wild but if you have a bit of spare time, it's worth a visit. 

3. Playa de la estacion
This is a nice little beach not far from the entrance to the Charles Darwin research centre. You can definitely do both together one day.  It's a great spot for a bit of a swim and a snorkel. It's pretty rocky but there's a sandy path into the water and a small sandy beach so perfect really. Here you'll spot lots of red and yellow Sally lightfoot crabs on the black volcanic rocks as well as plenty of marine iguanas.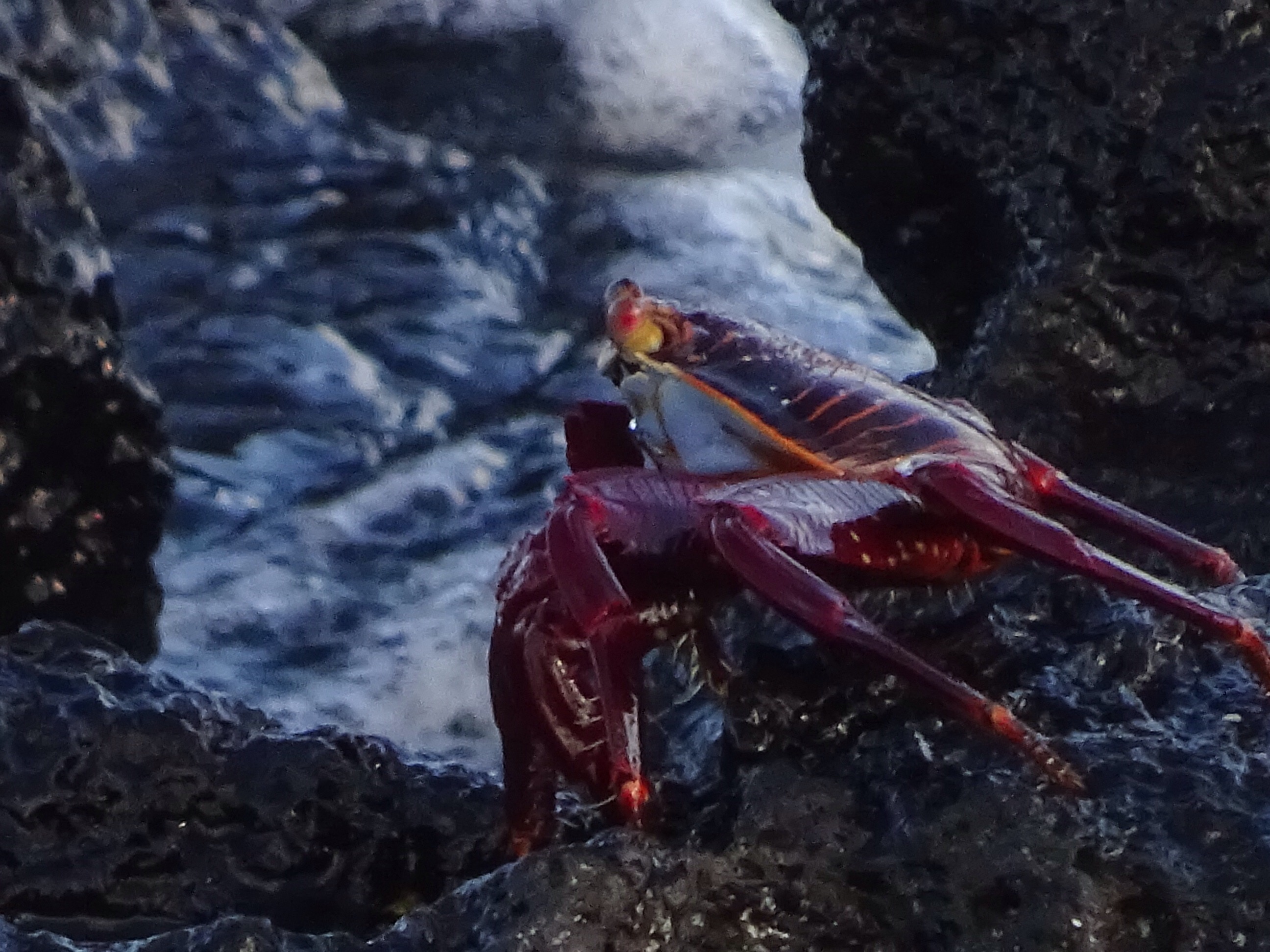 A seal also came in for a swim with us while we were there.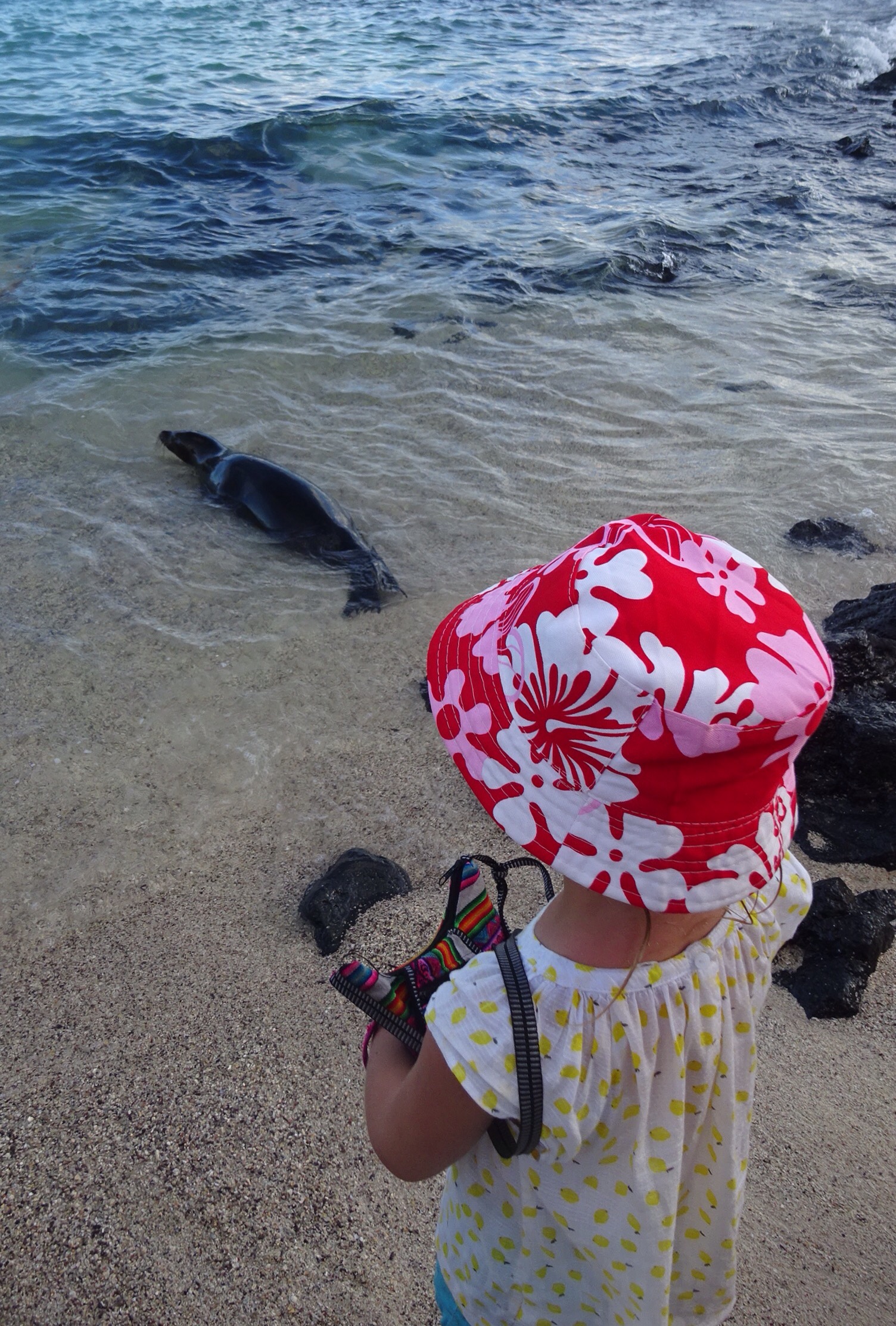 The snorkelling is good here for all types of colourful fish. We even spotted a few types of sea snake or eel here (not sure which it was :-)).
A word of warning though, keep an eye out for jellyfish. I got very badly stung on our last day by a tiny blue medusa jellyfish. It looked so harmless but gave me the worst sting I've ever gotten. Think I was unlucky, nobody else got stung despite the fact that there were plenty of people in the water at the time.
4. The fish market
There's a small fish market in Puerto Ayora where you'll find 3 or 4 fish mongers gutting fish. It's right by the sea on Avenida Charles Darwin. There are always piles of Pelicans and a few seals waiting to feast on the scraps. It's fun and buzzy there. Our girlies loved hanging out here just watching the seals and pelicans.
You can buy your fish from the fish mongers, get it gutted and then get it cooked straight away in the restaurant next door. You'd happily feed two people for about 15 USD. The below fish were 15 USD each in the restaurant next door and completely delicious!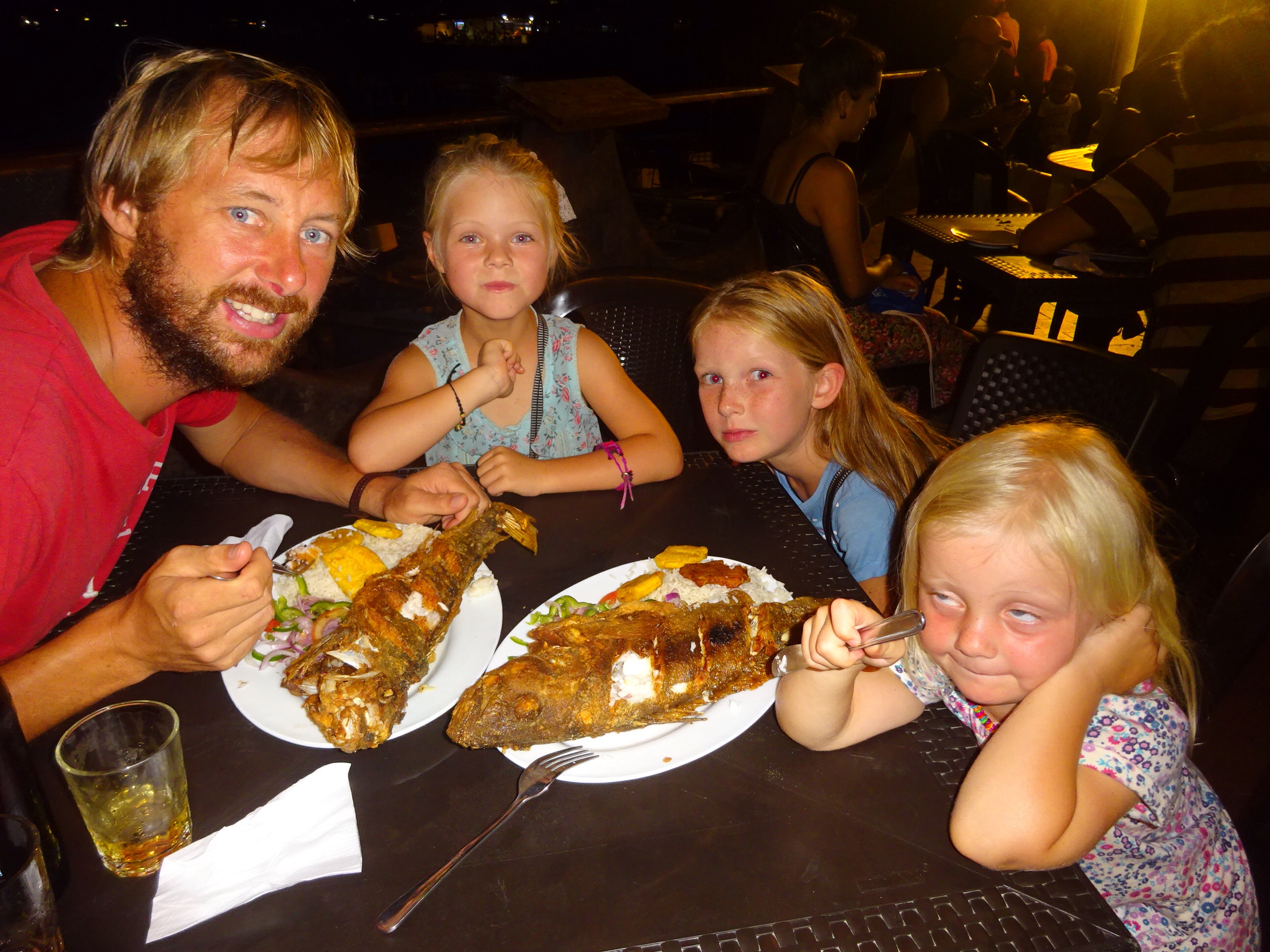 5. Tortuga bay
Tortuga bay is a beautiful long sandy beach on Santa Cruz with beautiful squeaky white sand and blue clear waters. It's pretty much picture perfect….. But despite the beauty, it's not that safe to swim in which is a real bummer as you have a long sweaty walk to get here.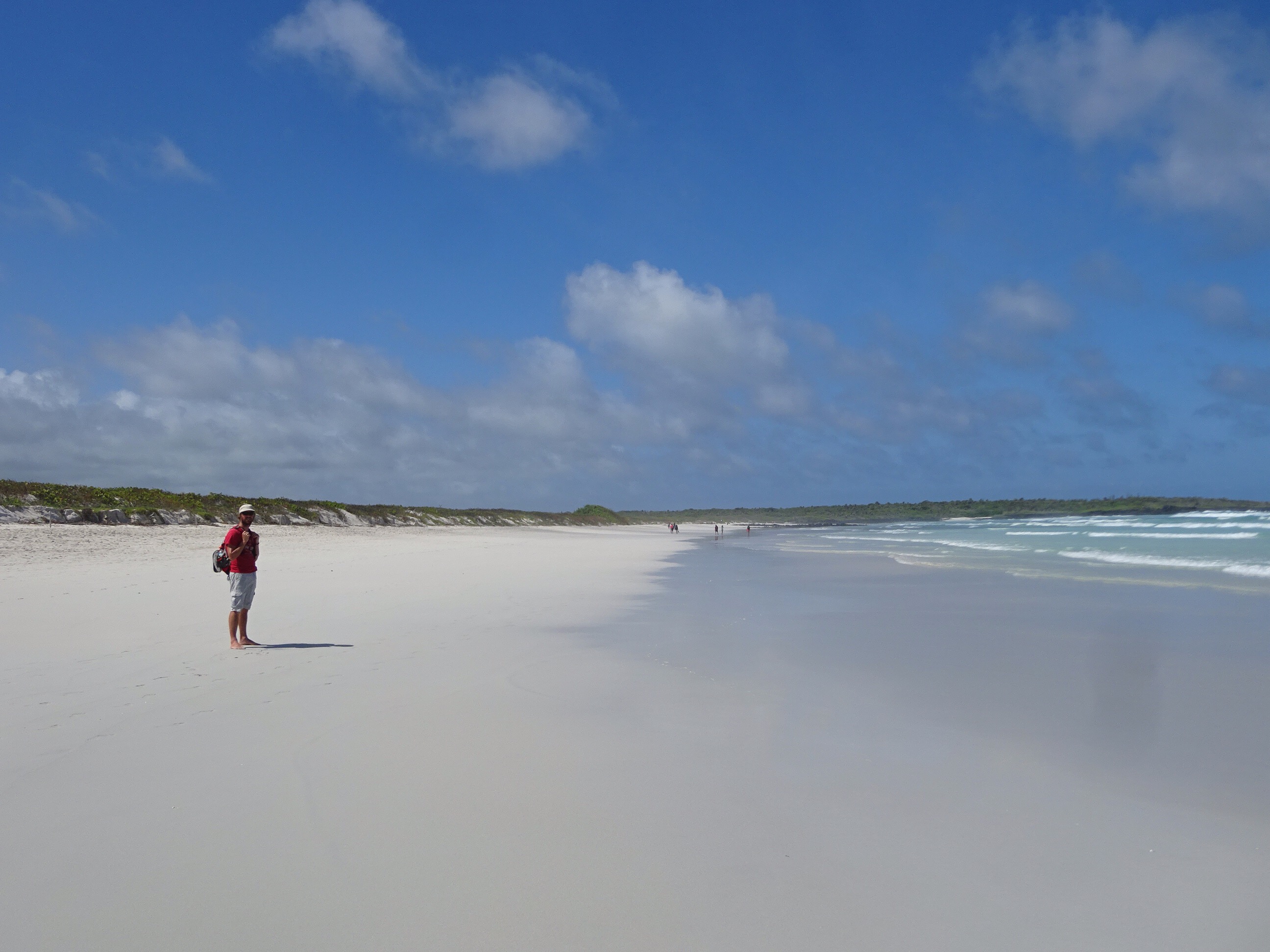 As I said, it's a bit of a trek to get there, it's a 2.5km from the guards entrance along a paved pathway. Not much you say but try it in the heat with 3 small kids :-), the youngest of which understandably gets particular moany on long, hot walks!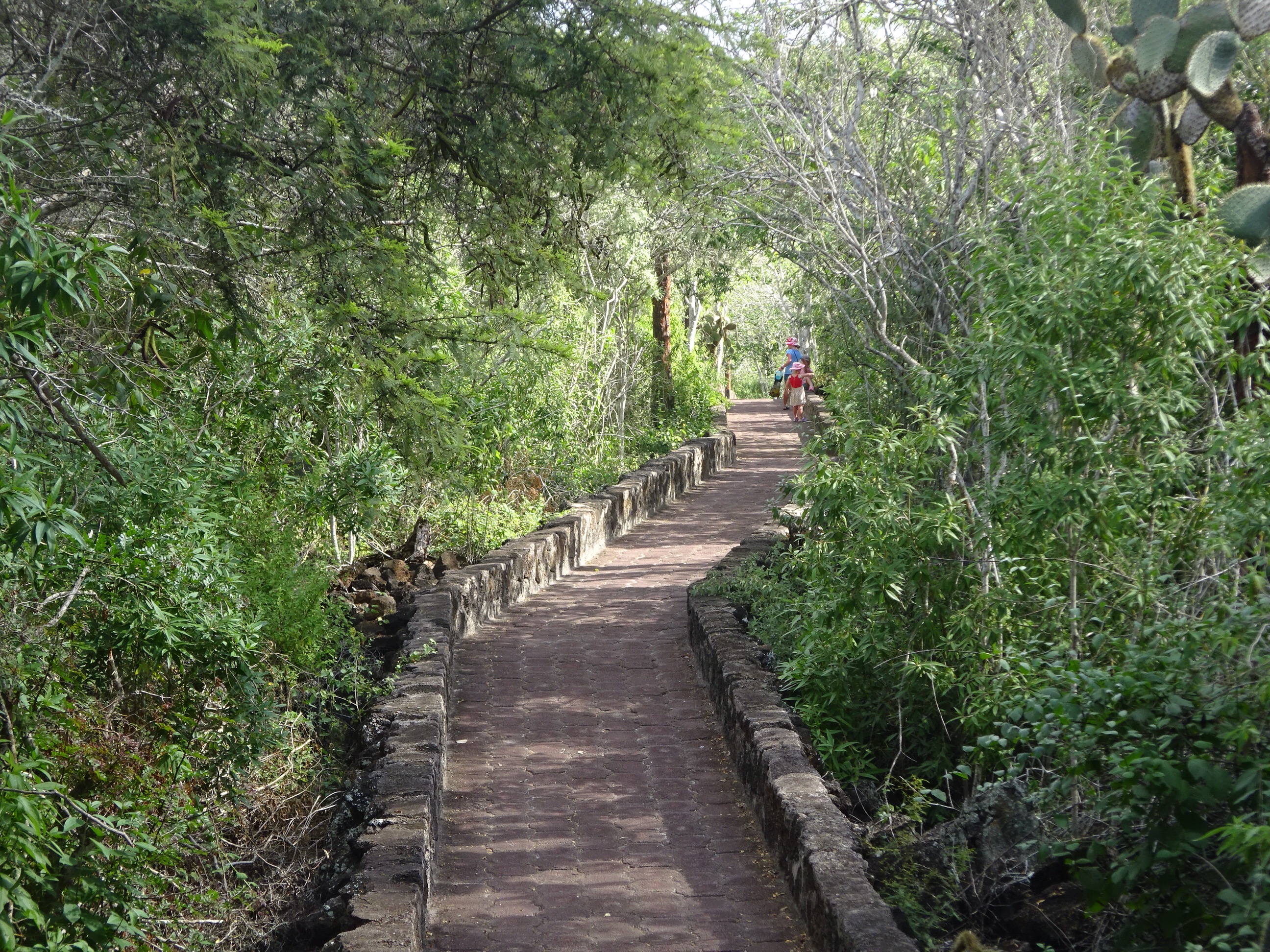 Still if you can bear the heat (bring lots of water and sun hats), the walk is lovely. No cars or bikes are allowed on the walkway which makes it really calm and pleasant. Quite a few runners use it for a running path. It passes through a lovely, heavily vegetated volcanic landscape. You'll pass huge wooden looking cactus trees on the way.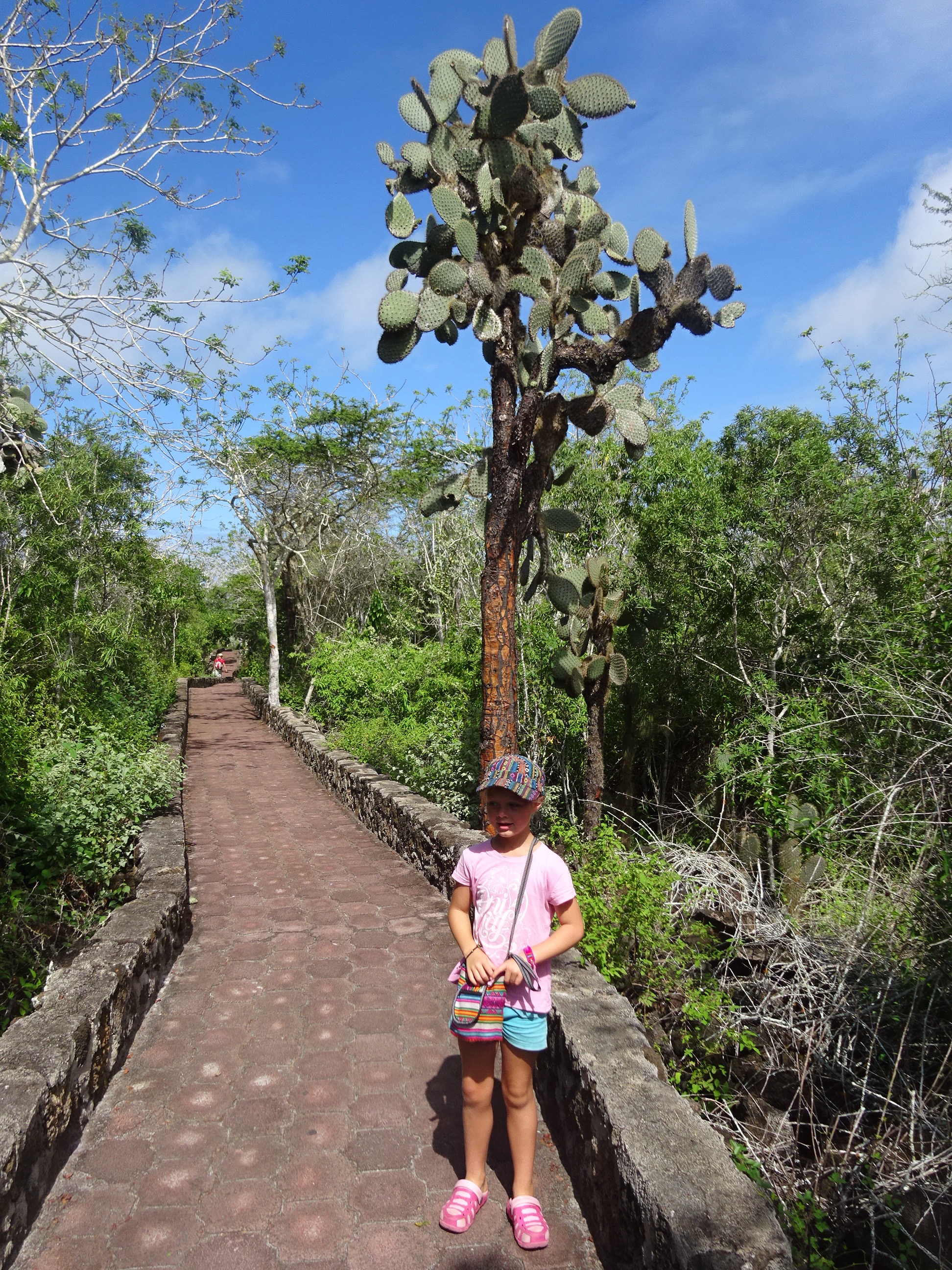 And you'll see loads of lizards and birds. It's a lovely walk, full of nature. It's just really, really, hot! Well in June it was anyway. And the other major negative is that when you finally arrive at the beach, and gasp in awe at it's beauty, you realise you can't swim at that part of the beach where the path brings you. At least it's not advised, apparently the currents are lethal. To swim you have to walk another km or so along the beach to a safer spot. That's a bit of a killer when you all you want to do is jump in and you've had half an hour of "are we there yet" questions from your tired, hot kids.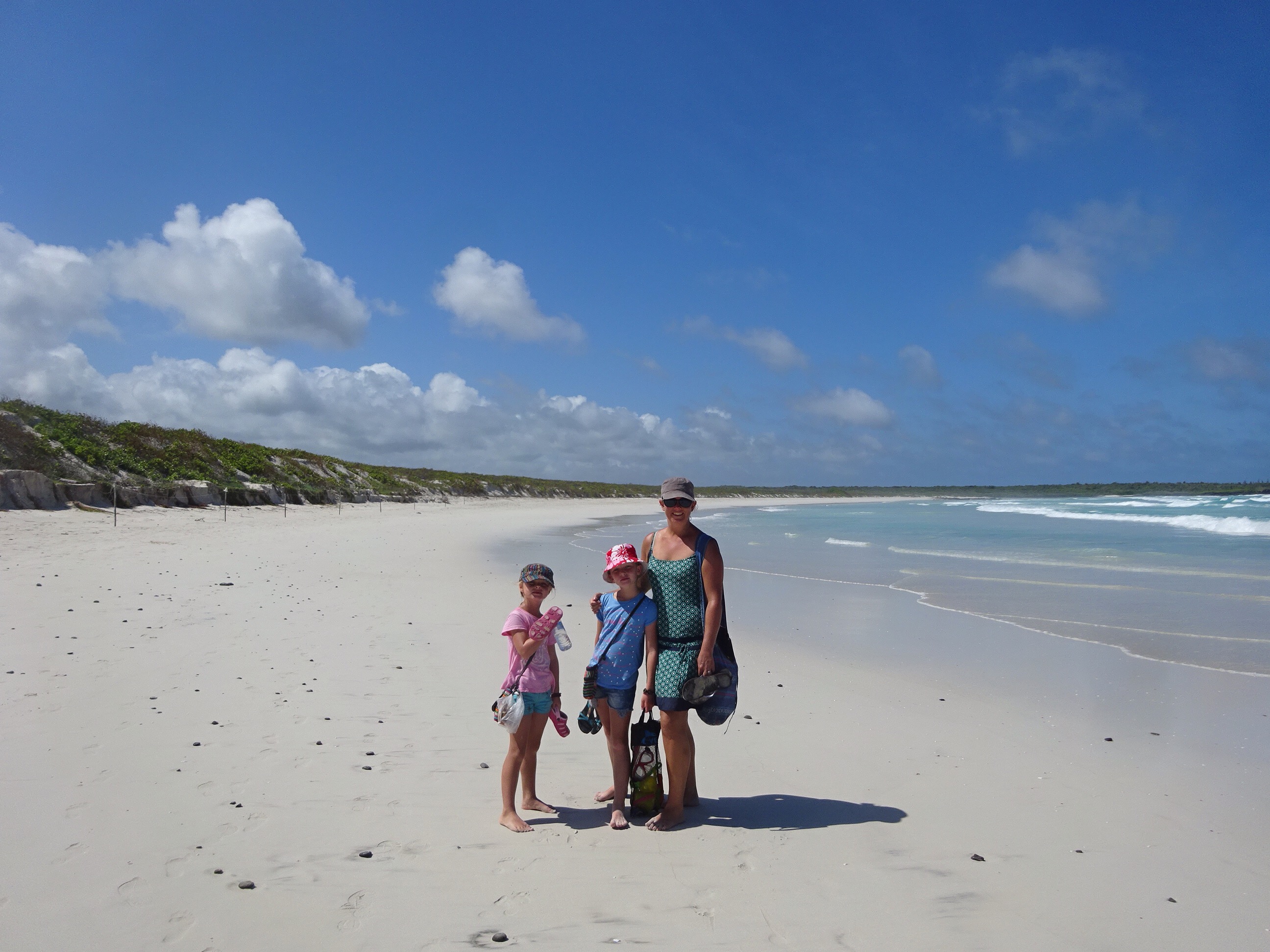 So a km further along the beach, you'll find a good swimming spot. Actually a few of them. There's a good snorkelling/ swimming area on the left just in front of the mangrove trees or an extremely calm lagoon on the far side through the trees.
The lagoon is beautiful although we were a bit disappointed by it as we thought it was a bit slushy from the mangroves. There were also lots of biting horse flies around. They kill you when you come out of the water and really really hurt! Agh! Hate them! And the snorkelling there was pretty rubbish with very little other than the odd fish to see. So I think I'd say skip the lagoon and stick with the other side which was great.
We really really loved the snorkelling spot on the main beach in front of the mangrove trees. That was cool! The snorkelling was great and at about 4pm, all of the marine iguanas decided they had enough lounging in the sun and came in for swims. We snorkelled along side them for ages which was amazing.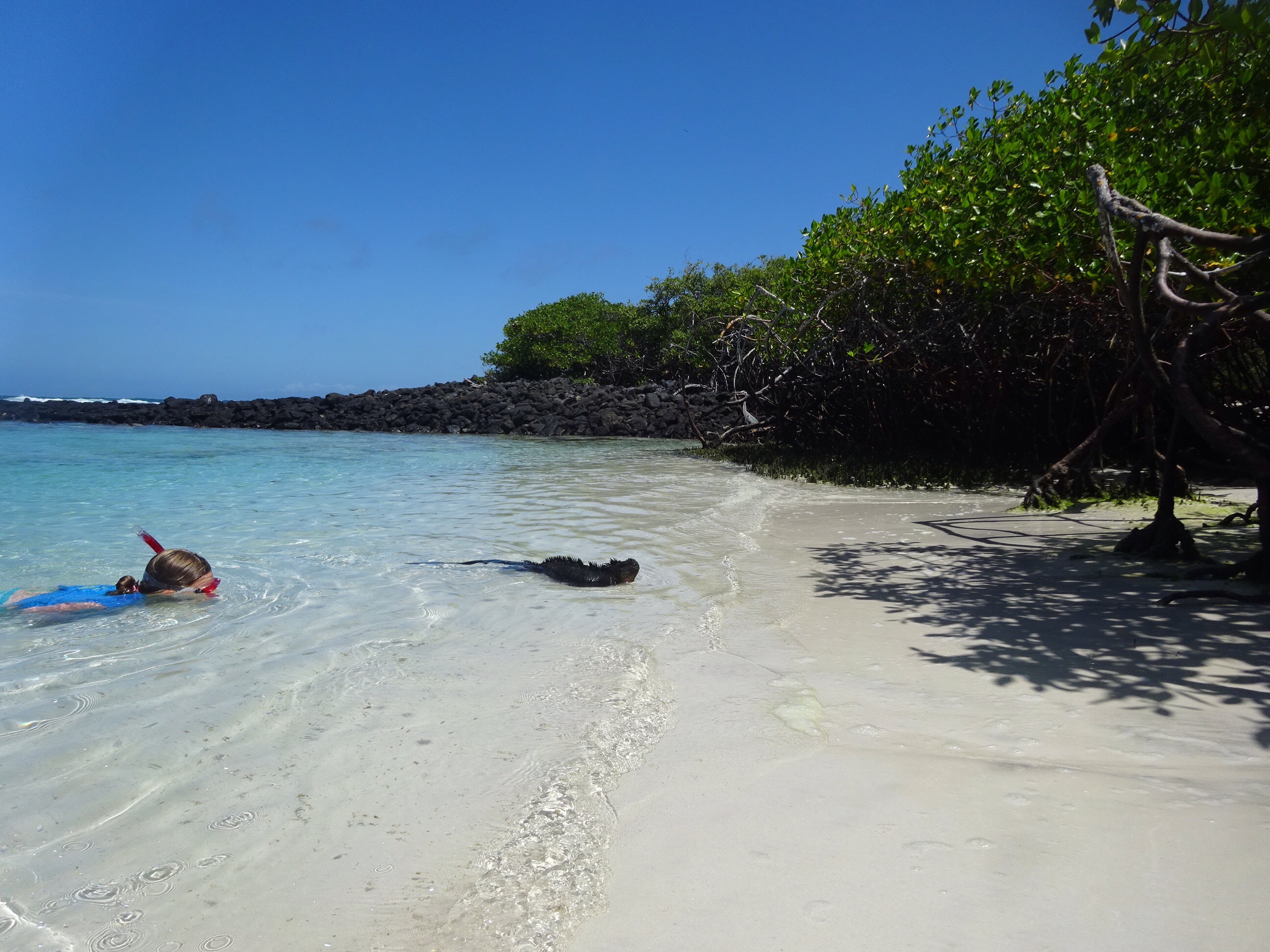 We also snorkelled with a Pelican who was catching fish. It was amazing to see it's beak filling up like huge balloons as it dove under. I never knew that was how they fished! It seems they dive quickly under with their beak open wide and scoop up a big pile of water and hopefully a fish. They then let the water drain out the sides and they have their lovely fish left behind. It was really really cool to watch, think it was one of Shuna's favourite things.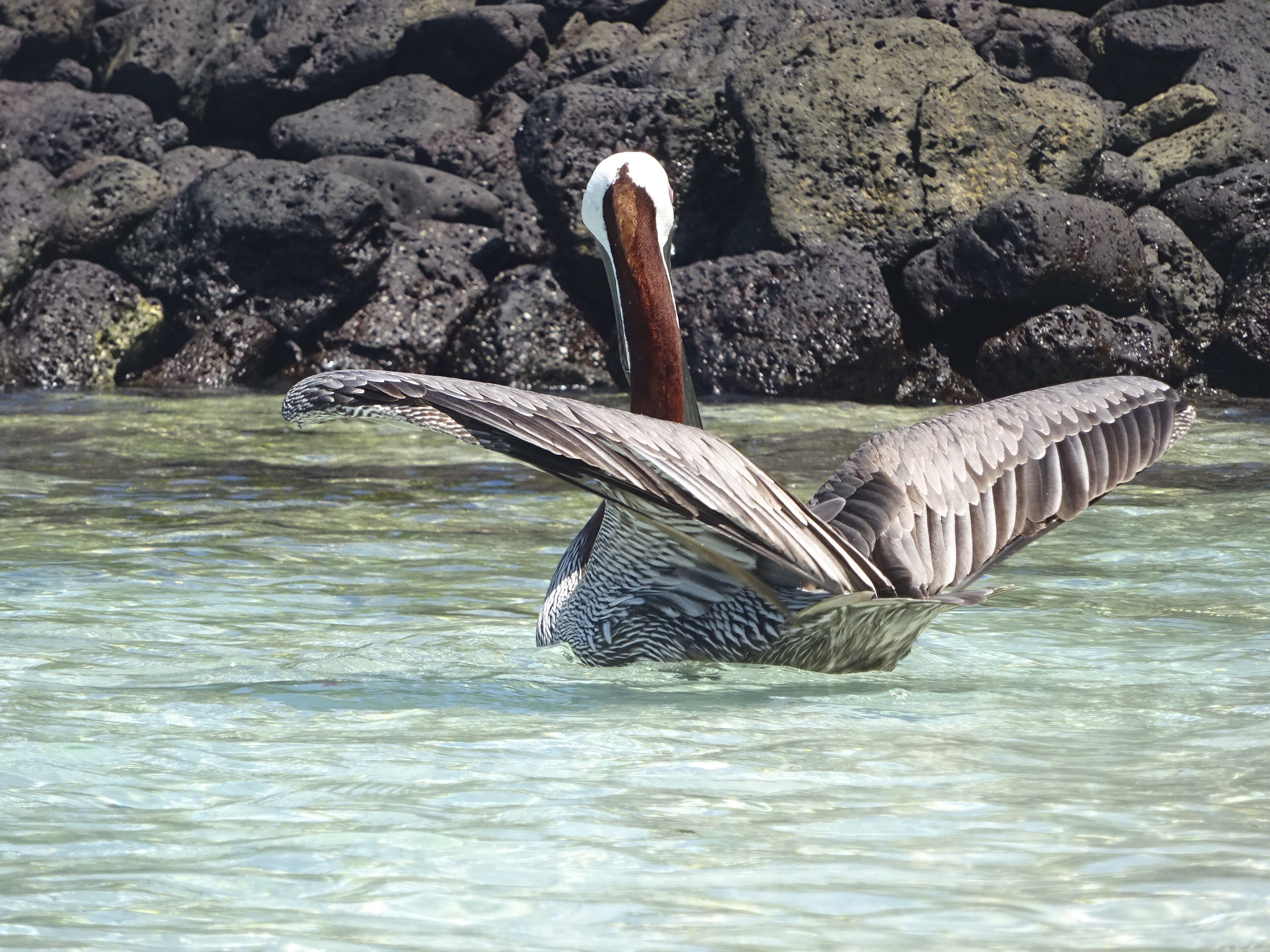 Apparently you can catch a boat back to Puerto Ayuro from the lagoon which would have been great but we couldn't find any. So it was a sweaty 2.5 -3.5 km walk back for us. The boats are 10 USD per person anyway so a bit of a rip off.
The guard station at the end of the walkway has some great Ecuadorian ice creams called "Los Coqueiros". They're completely delicious. Try the coconut one which has loads of bits of coconuts in it. We all loved it. Mind you the way we were feeling after that hot walk, anything cold would have tasted amazing!
6. Playa de Los Alemanes
Playa de los Alemanes is a small beach very accessible from town. It's named after the German families who settled there years ago (it means "Beach of the Germans"). One family still have a restaurant there called "the cave". The beach is on the way to the swimming spot "Las Grietas" which you'll probably hear about if you're visiting the island. To get to the beach, you catch a water taxi from the main pier in Puerto Ayora across the bay. It only takes a few minutes and it's only 60 cents U.S. each (30 cent for children) to get there so a bargain. Here's a water taxi below.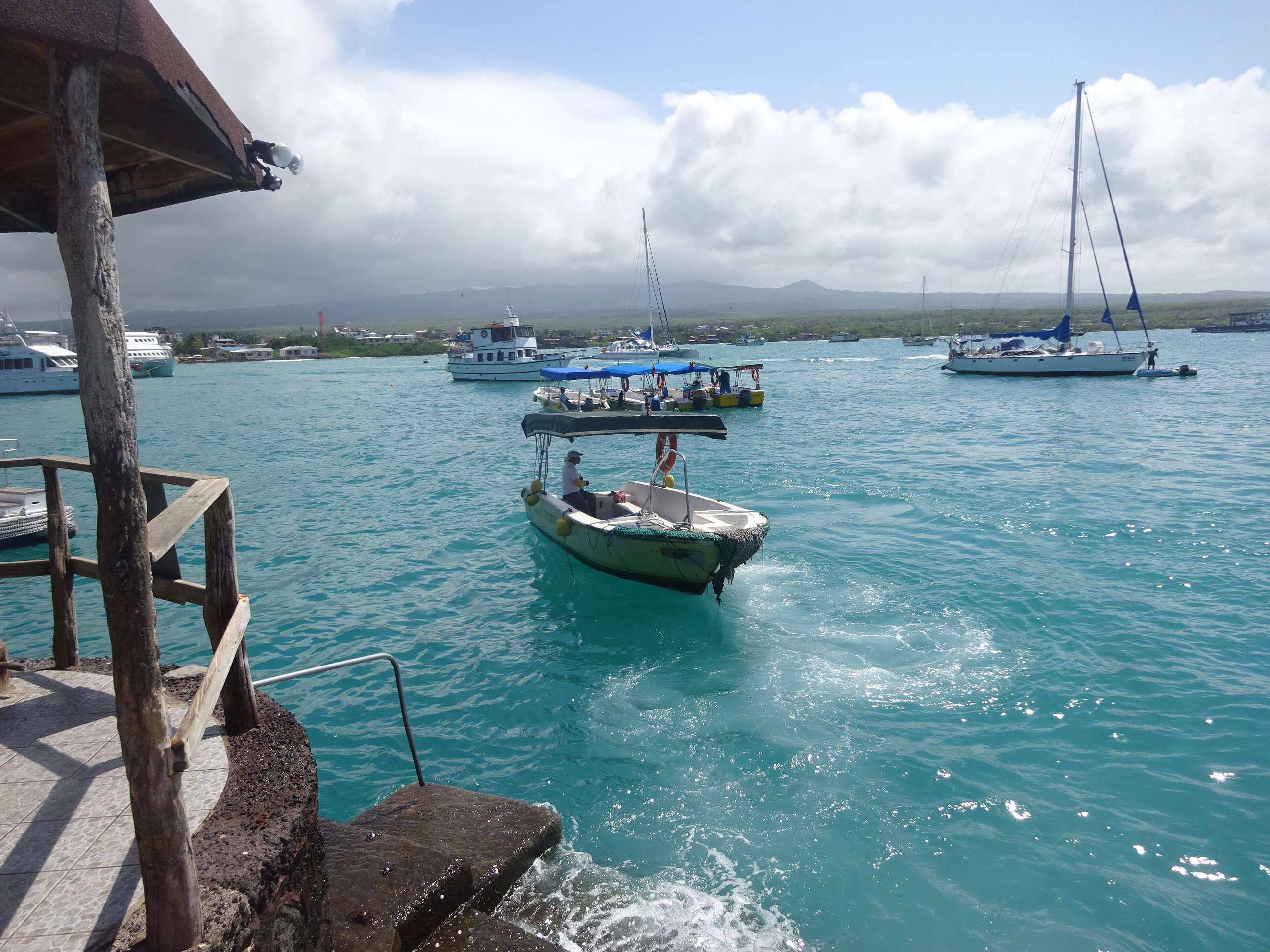 You get out at the Eco hotel called "Finch Bay". From there you walk along a paved path and boardwalk to get to the beach.
The beach has a few trees around for shade. It's perfect if you're looking for a sunbath or a swim near town. It was busy with piles of school kids when we were there but still worth the trip.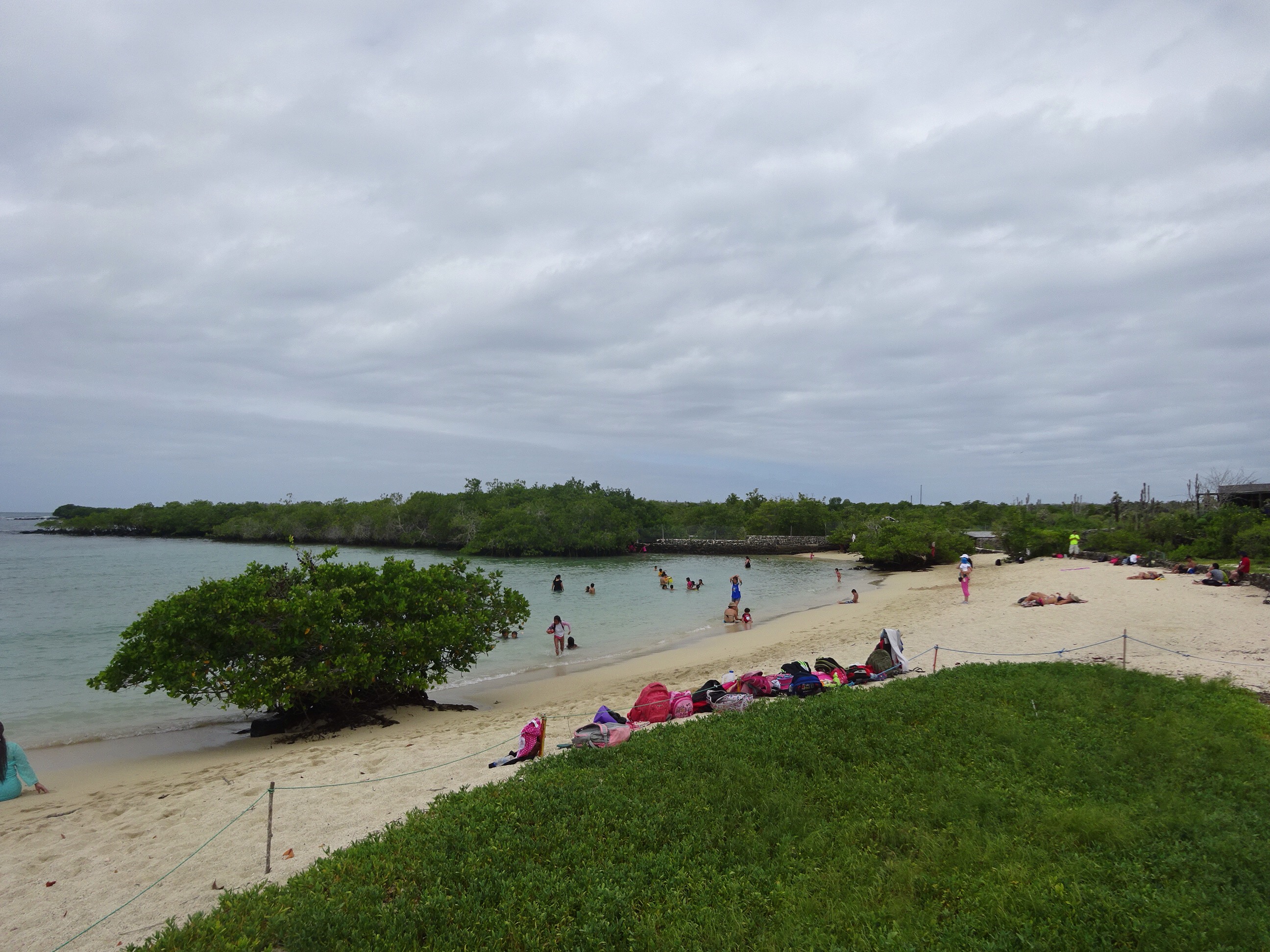 7. Las Grietas
Las Grietas is a snorkelling/swimming spot which is a narrow channel between two high volcanic walls. It's a really deep spot but with places along the sides where you can hold on if you need a break. To get there, you catch the same water taxi as above, walk past Playa de Los Alemanes and continue along a pathway and Boardwalk for another 15 minutes or so. Again it's a lovely walk as really all are in Galapagos.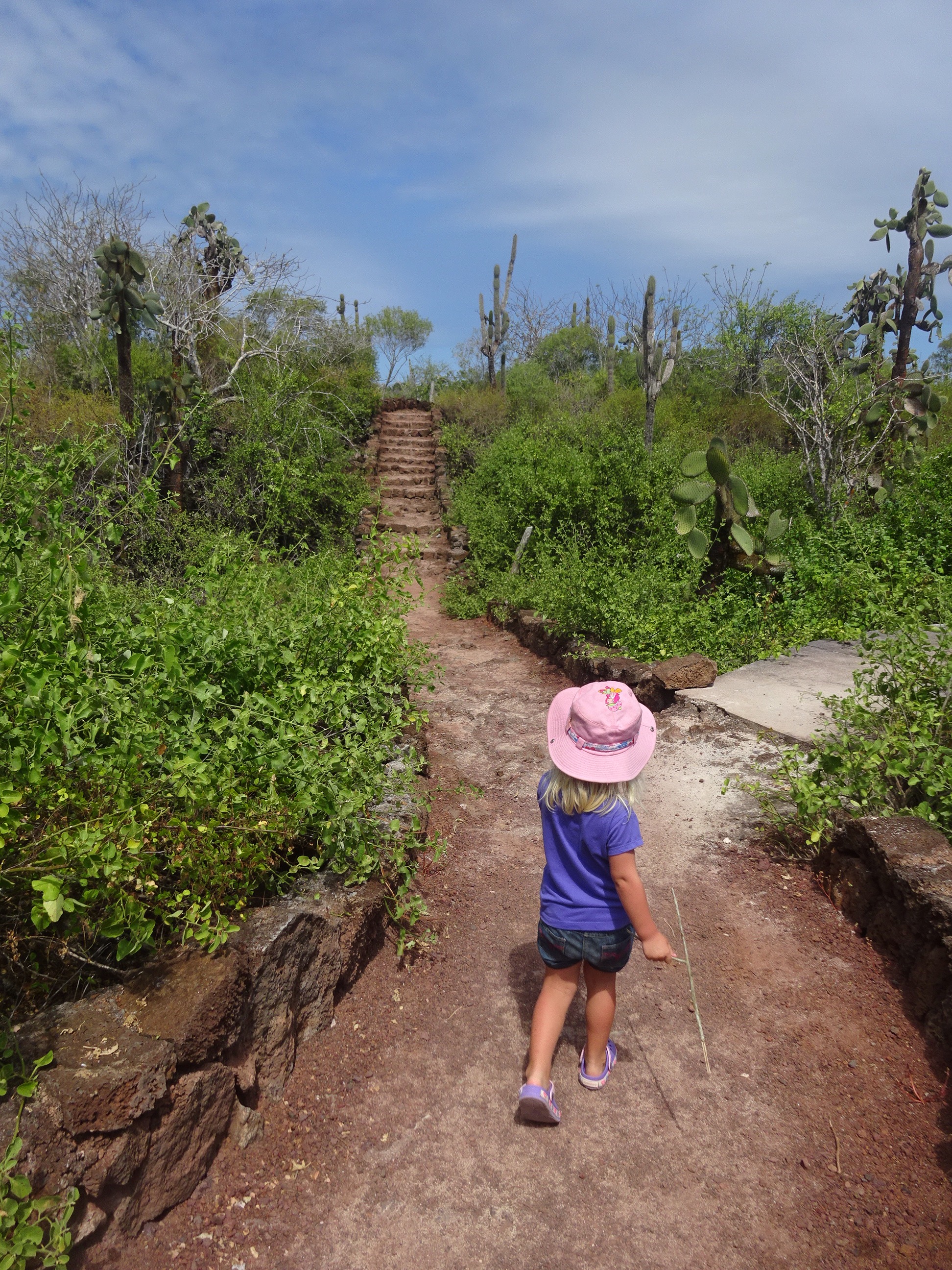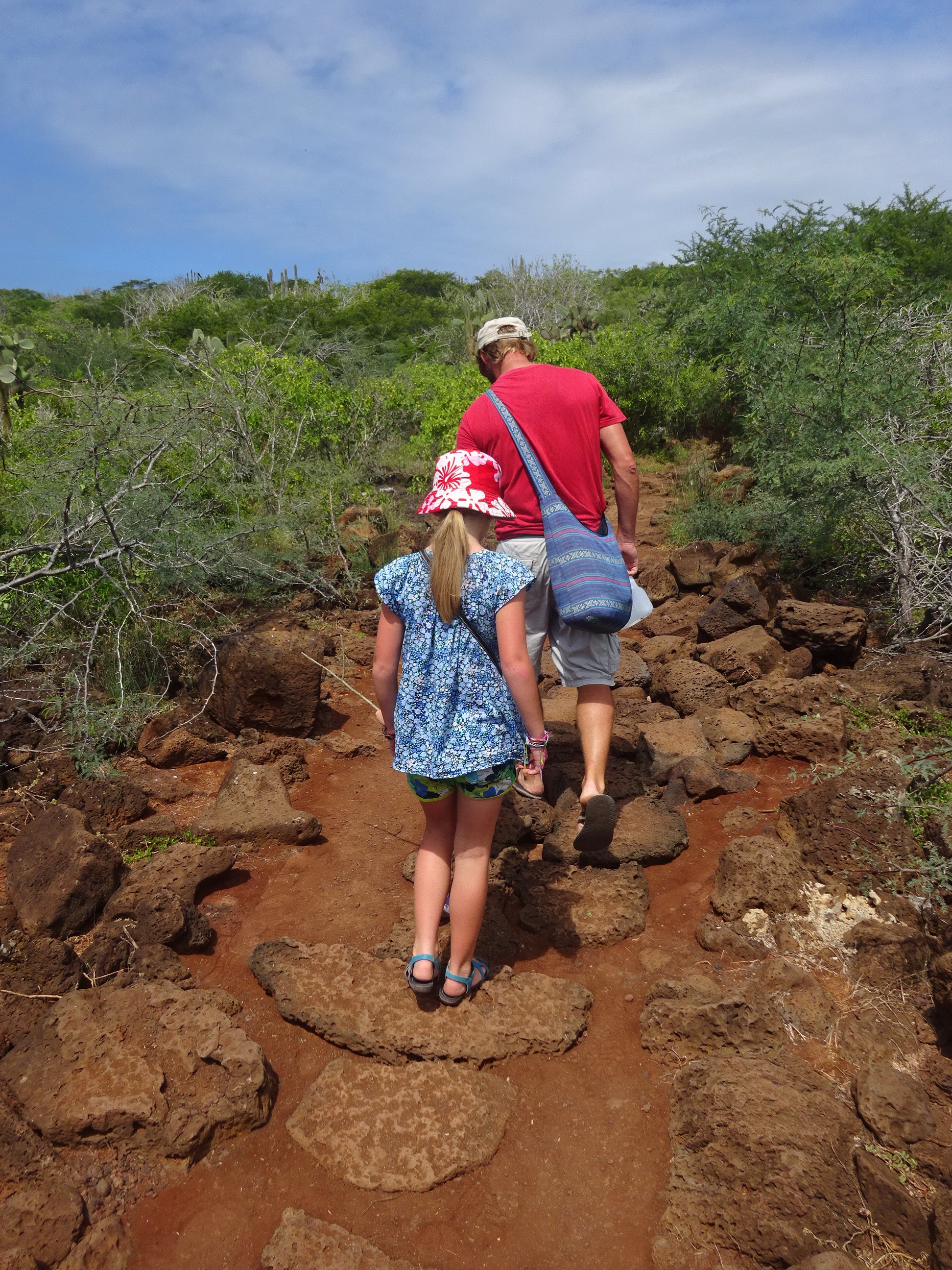 You'll arrive at a boardwalk with steps down to las Grietas.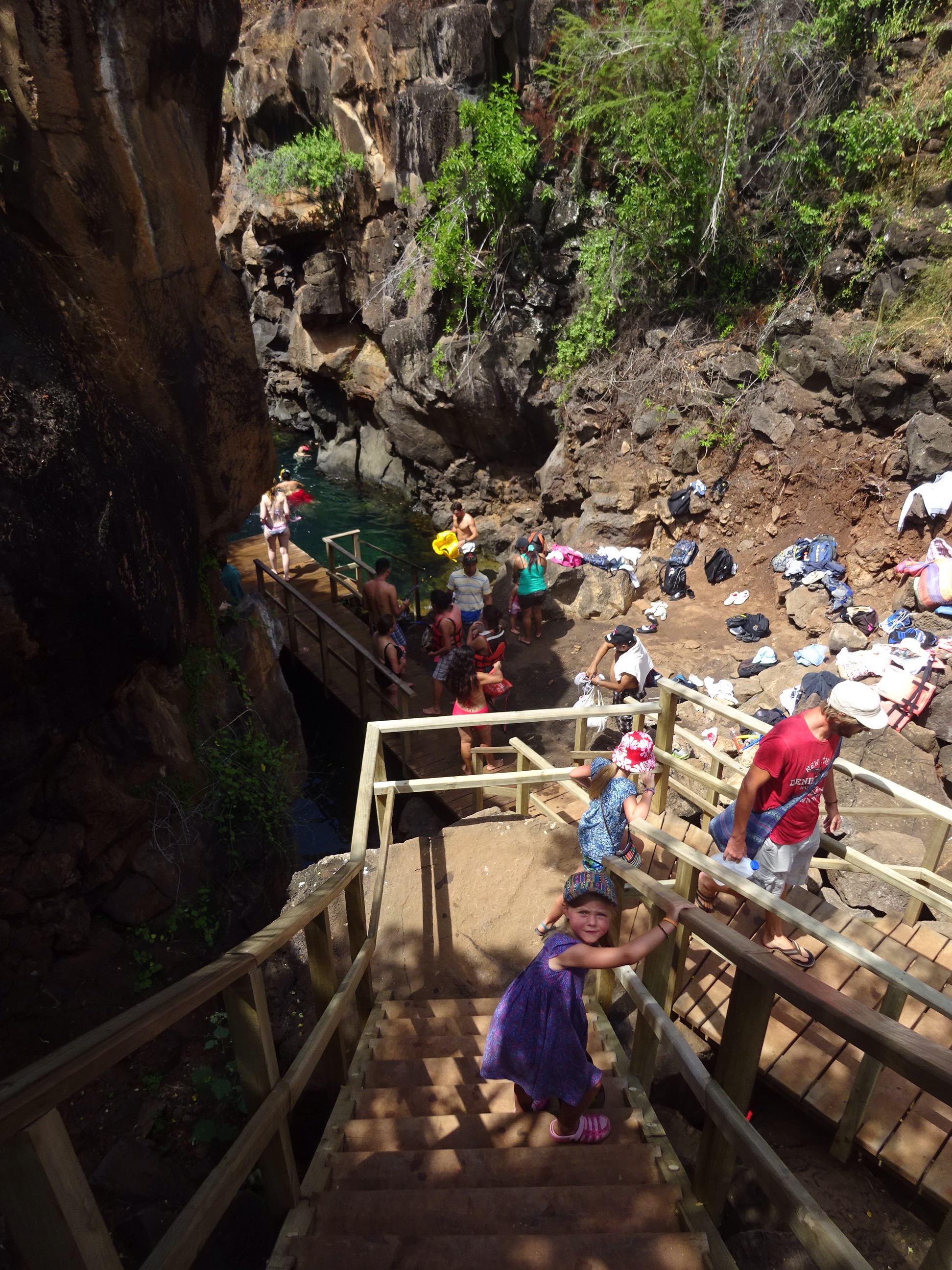 Then there's a little platform you can jump off and in you go. There weren't a lot of fish for us to see when we were there but the whole snorkelling experience of snorkelling between two high cliffs is cool. We also had a lot of fun jumping in.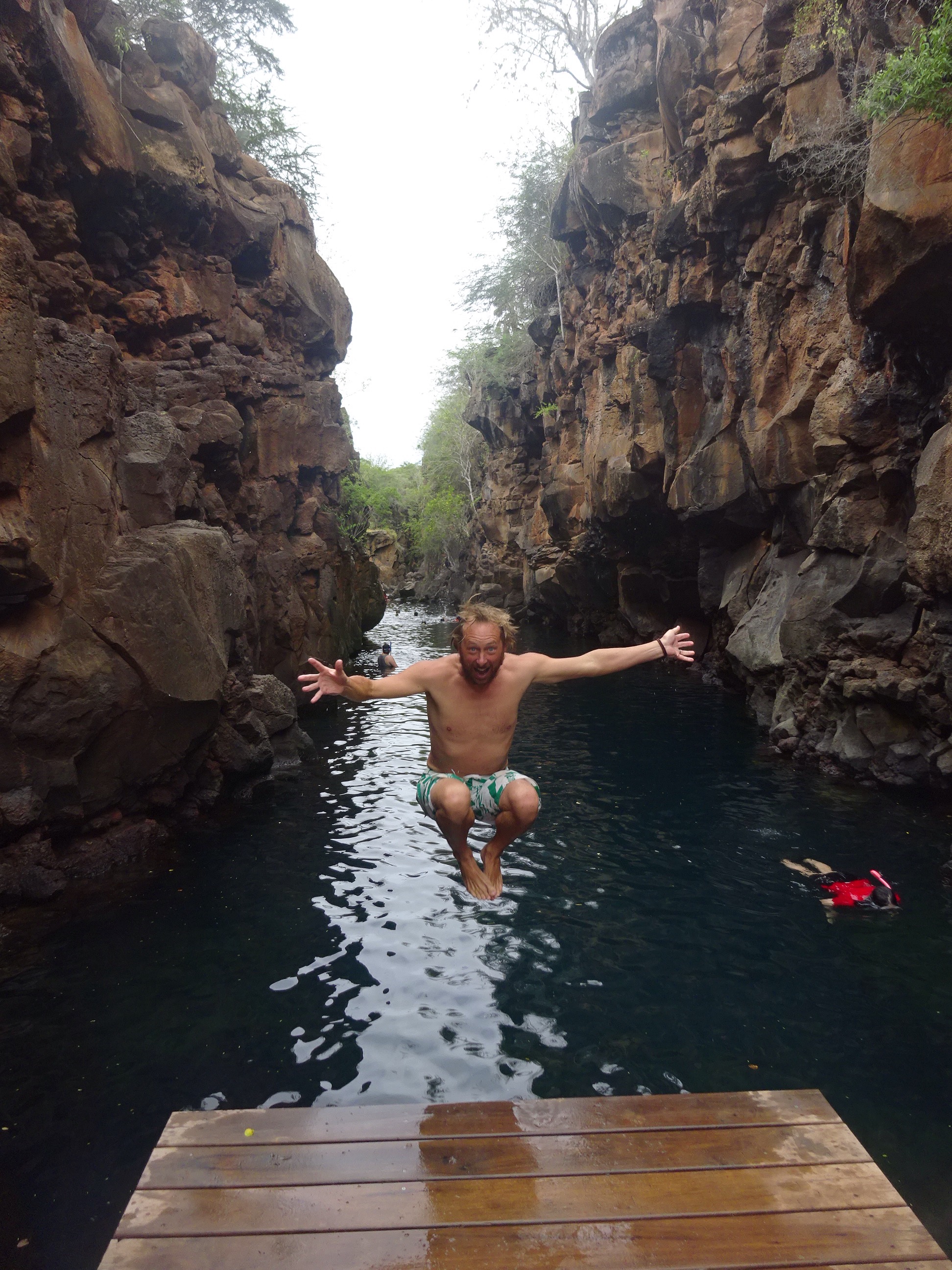 One word of warning, there were swarms of insects around the rocks at the bottom of the walkway when we were there. They looked like a type of wasp but didn't appear to be annoying people although we suspect our 7 year old Freya may have gotten stung by one when she put her hand on a hand rail. There are lots of yellow trays around with some substance inside to catch them so they must be a problem. Was all a bit freaky so keep an eye out for them.

8. Laguna de los ninfos
We thought this was going to be a lovely swimming spot in town but sadly no, they don't allow swimming there anymore for some reason.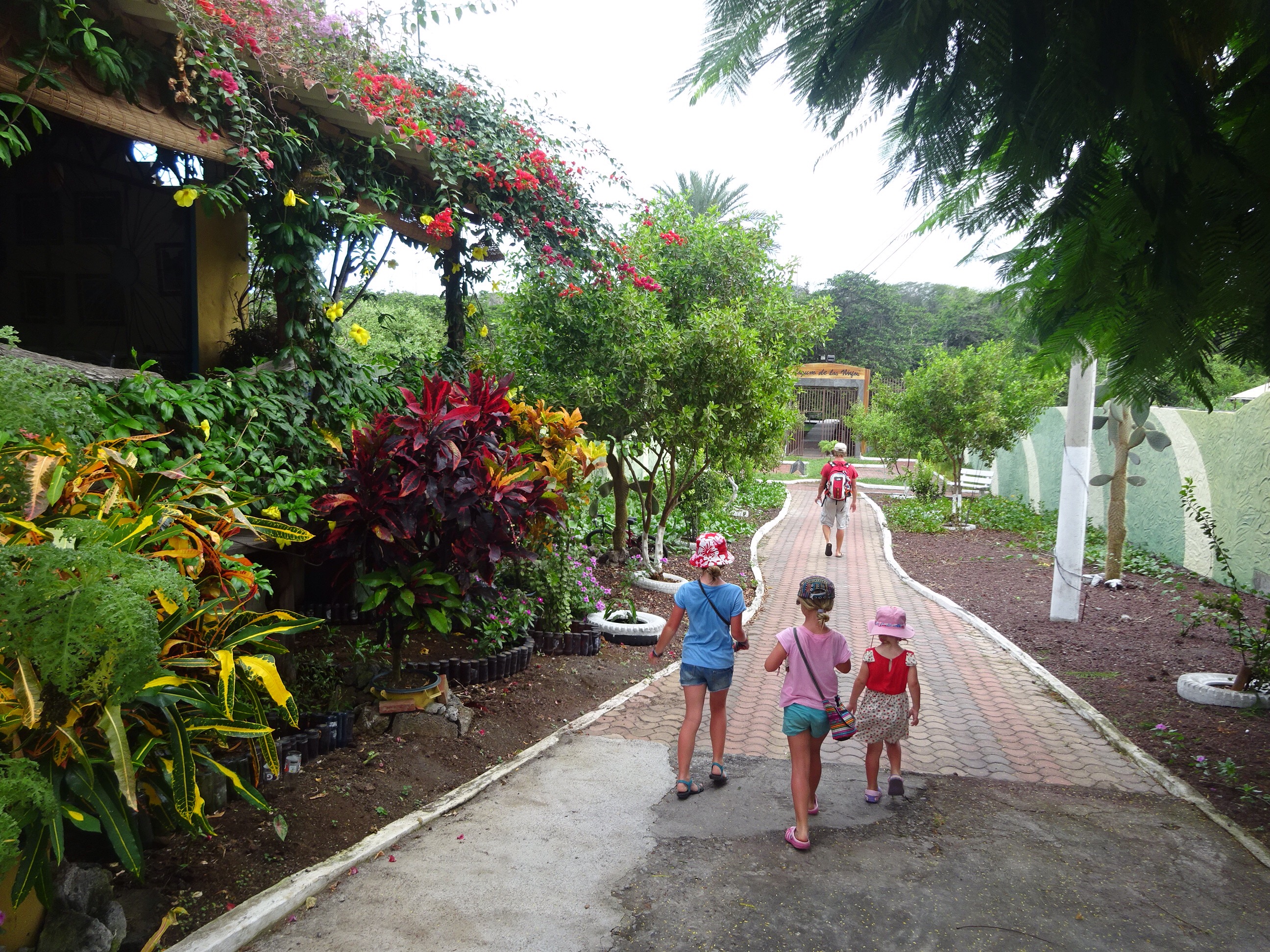 And it has a platform which would be perfect for jumping off! We were tempted to just go for it but there were signs everywhere saying not to so thought we better not. There must have been a good reason to say no swimming. Despite the fact that you can't swim here, there is a nice walk around the lagoon on a wooden boardwalk through the mangroves. It's a really chilled, beautiful little spot. So good for a walk but sadly not good for a swim.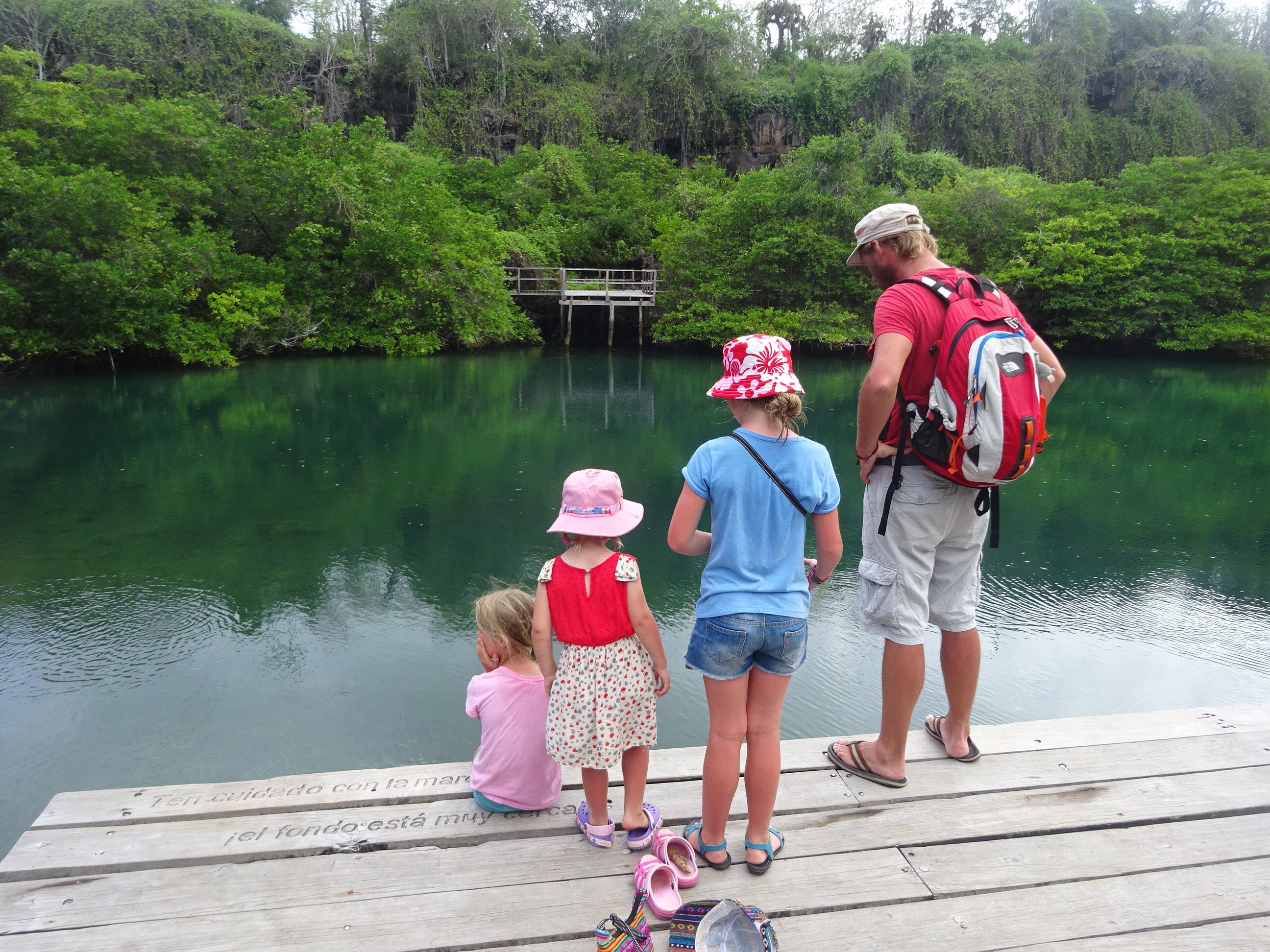 9. Treat yourself to an ice cream in Galápagos Deli
Okay so this isn't free but at 2 USD a cone, it's not bad. And the ice cream is sooooo delicious! Galápagos deli is a nice restaurant in Puerto Ayora. It's rated number 1 in TripAdvisor so don't just take our word for it, go!  It looks great for breakfast or lunch and also does pizzas. We only went for ice cream. They have a really delicious selection of flavours. We got 5 different ones mint, blackberry, banana, coconut and caramel/nuts. All absolutely delicious! Go!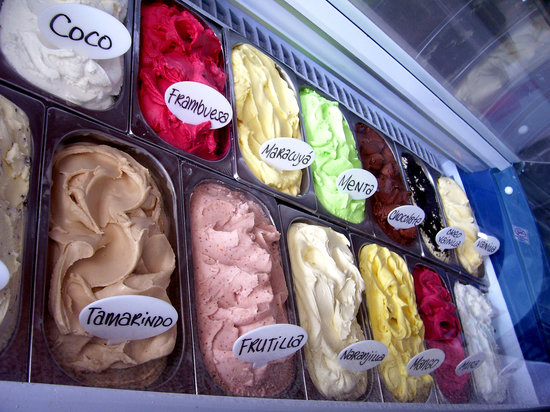 Isla Isabella
Isla Isabella is the largest island in the archipelago made up of 6 volcanos which fused together over the years as they errupted. One, Volcan Wolf errupted this year (2015) just a few weeks before we arrived which was a bit exciting and slightly unnerving. The island looks like a large seahorse as you can see here.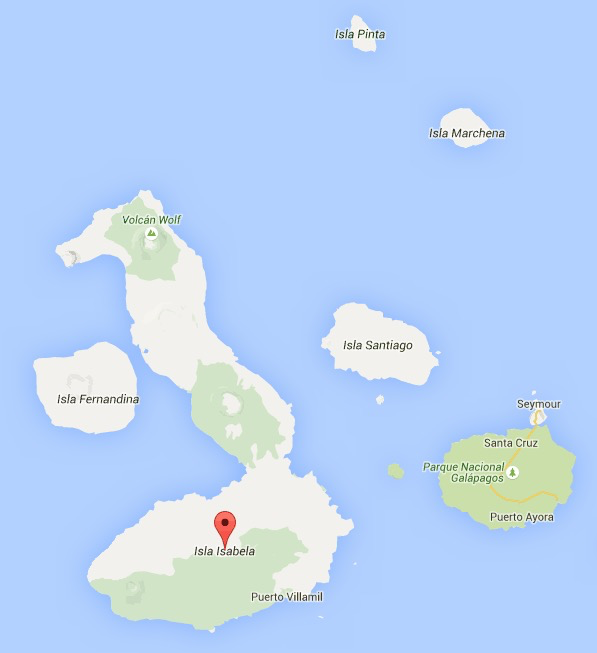 Isabella is much quieter than Santa Cruz but is growing busier. It's a beautiful, tranquil, laid back island with loads to do near Puerto Villamil, the main town.

1. Snorkelling in Concha de Perla 
I think this was one of our favourite things to do in Galápagos. It's basically a snorkelling spot near the port in Puerto Villamil which is the main town on Isabela. To get there you just turn left before you reach the platforms for the port. You should see the signs for "Concha de Perla". You're very likely to see some seals along the way like these ones. They're everywhere!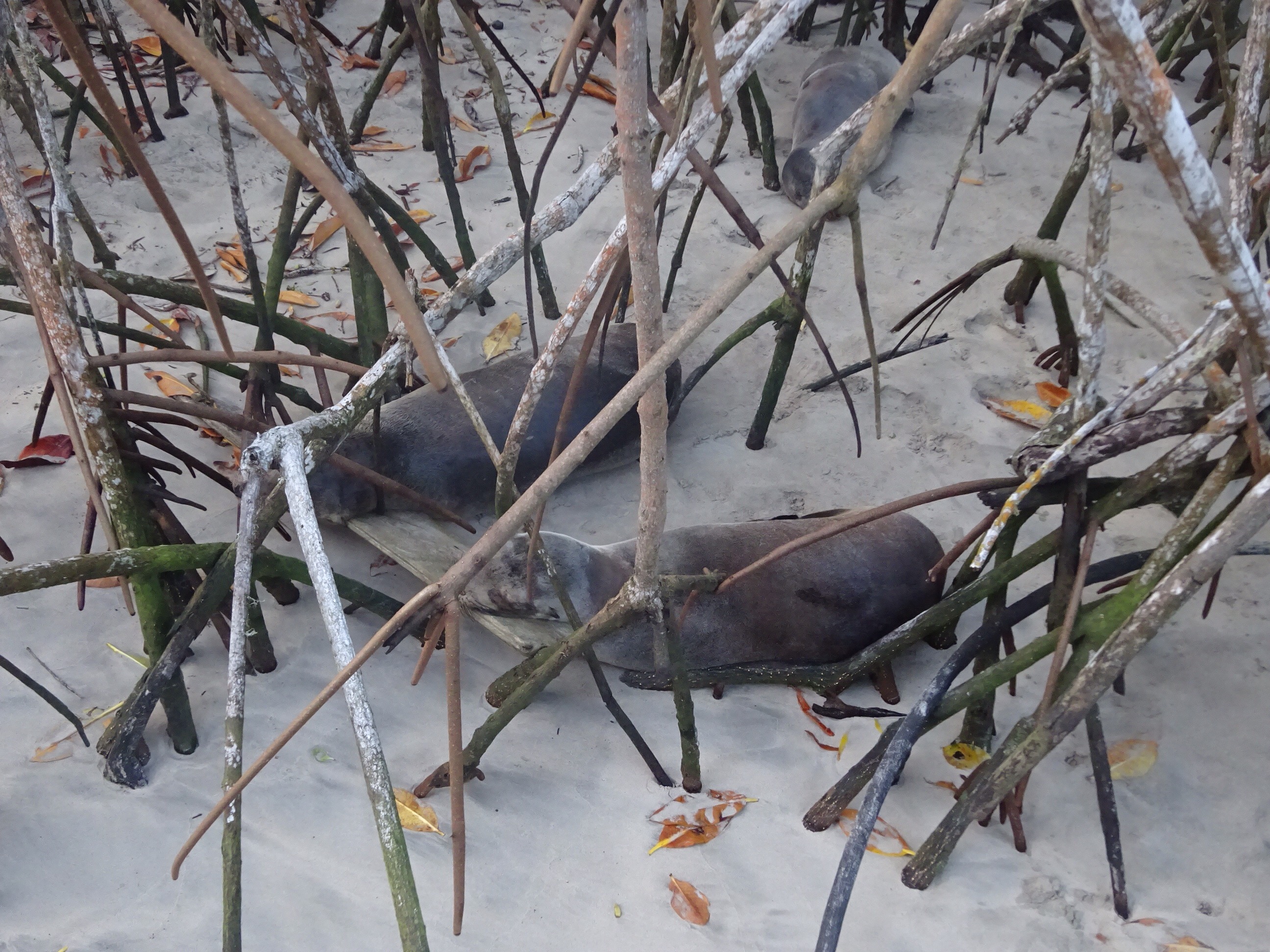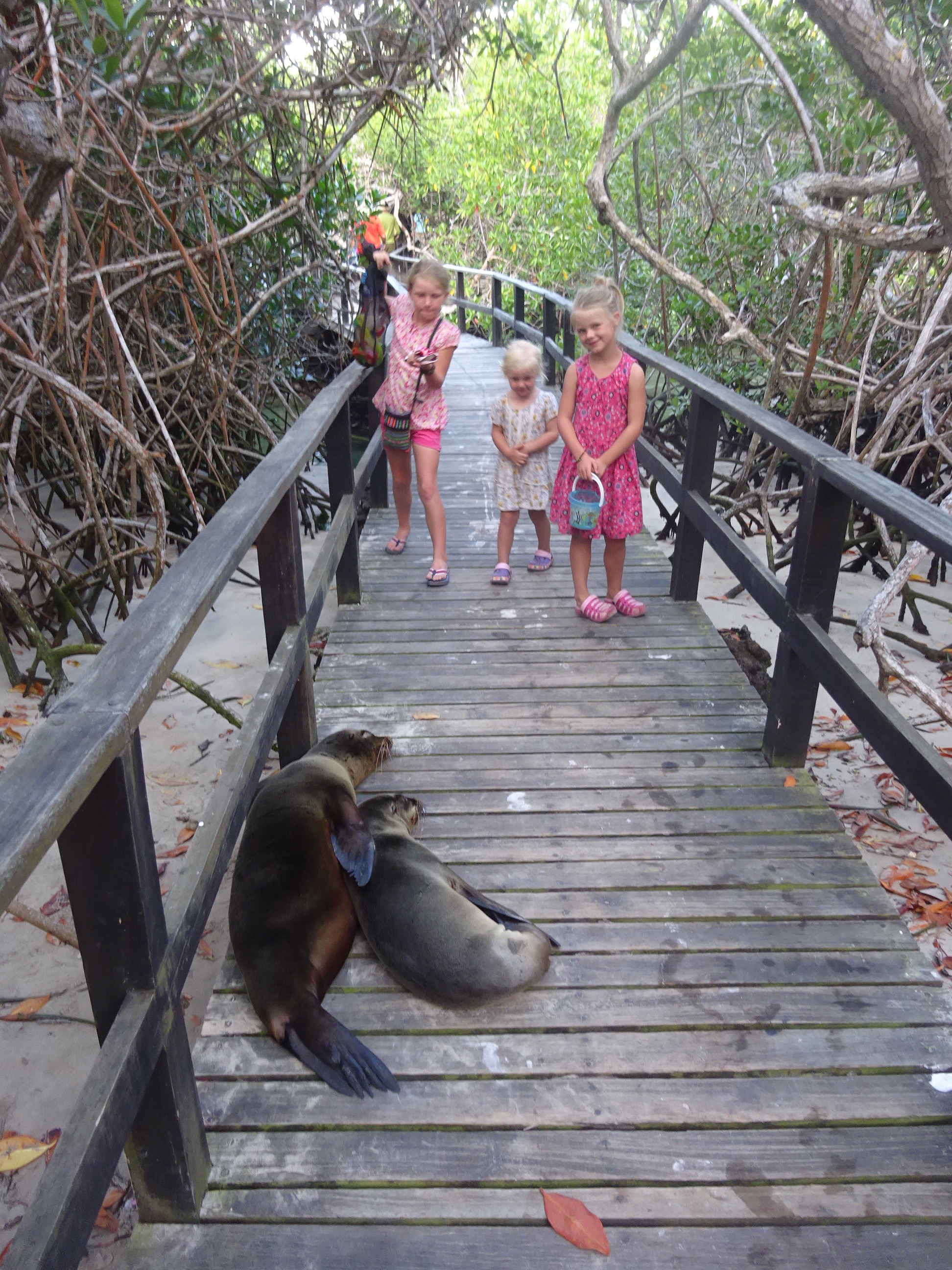 There's a great platform to dive off and then a large snorkelling area surrounded by mangroves and rocks. We went there twice, both times at quite high tide which mightn't be the best snorkelling conditions. Still it was fab and completely free if you have your own gear.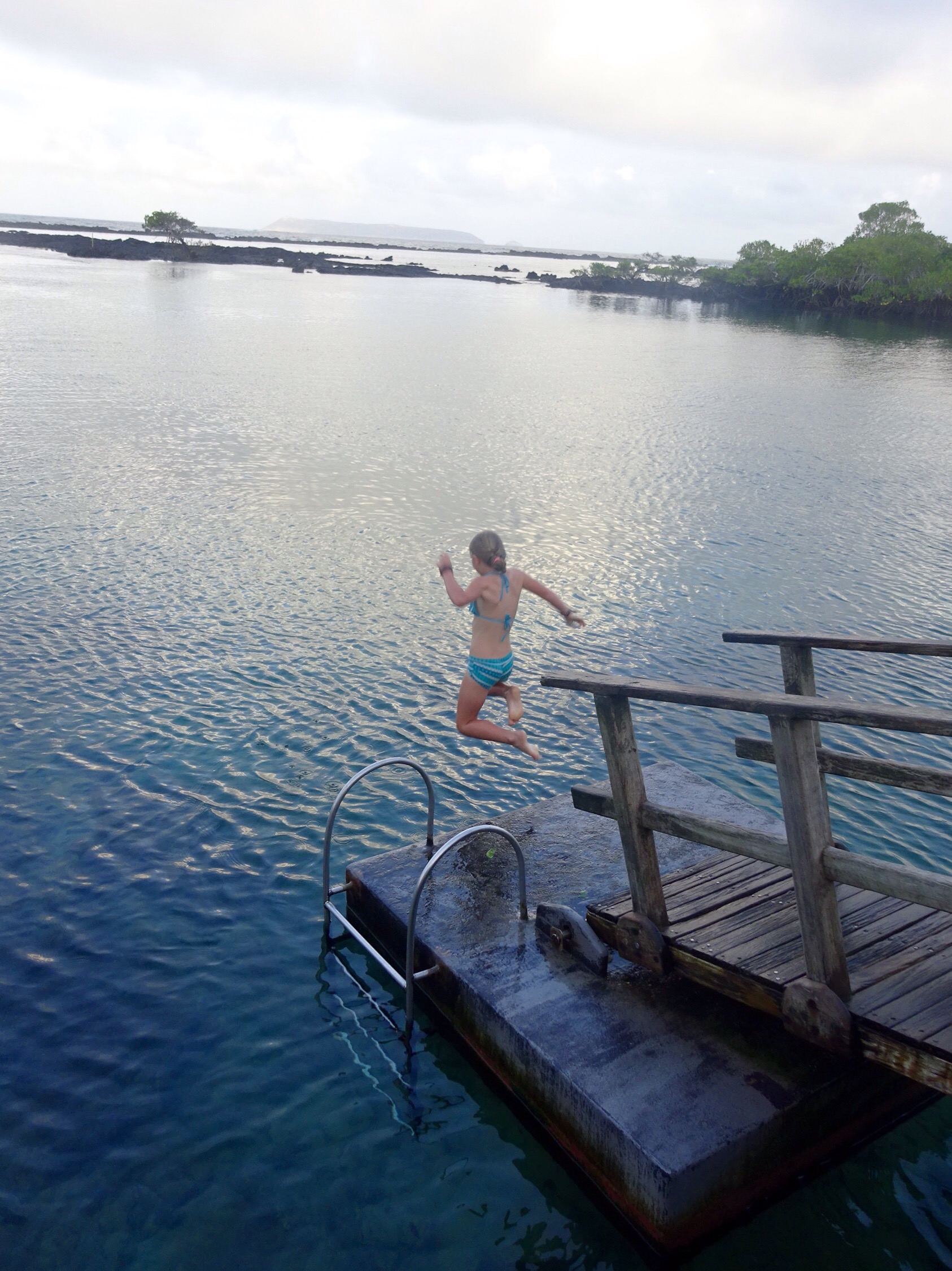 I reckon every time you go here you'll see different marine life and are likely to see practically everything you want to. We snorkelled here with marine iguanas, penguins, rays, really playful seals and plenty of fish including some cool really big box fish. We didn't see turtles or sharks here but I reckon you easily could. There's a huge area to explore both inside the main area and then out further beyond the rocks.
The complete highlight of Galápagos for me was swimming with a really playful seal here. It was just the two of us swimming together. I'd dive under and turn upside down and he'd do the same. We must have been playing like this for about 10 minutes till some more people spotted us and came over. He went off chasing fish then. I was buzzing, I don't think I'll ever forget it.
We also snorkelled with penguins fishing which was brill. We loved that!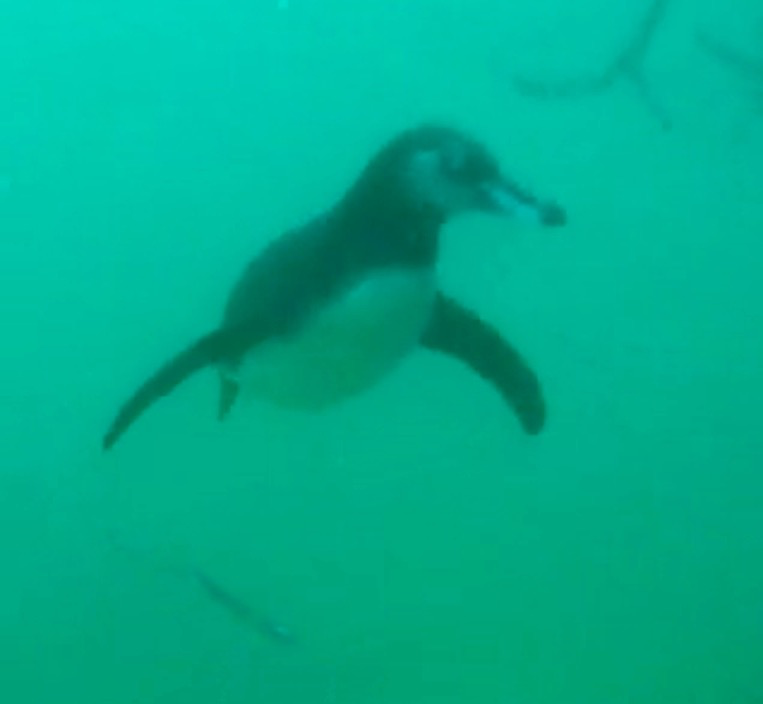 The last time we snorkelled here we saw a guide bringing a group far out beyond the rocks which border the area. We were dying to go out exploring but at that stage we'd already been snorkelling for 2-3 hours and were wrecked. My legs were even starting to cramp up so it wasn't going to happen. But it definitely looked good. You could easily come here daily if you were on Isabella and see plenty.
If you don't have your own gear, you can hire really good snorkels and fins for 5 USD a set per day from a dive shop in town just off the main strip where they all are. They have a sign in the window saying they hire gear. We didn't need wetsuits. We also hired an inflatable life jacket for Shuna our 5 year old from another dive shop for 3 USD. It's so much better when everybody has their own gear.

2. Beach in Puerto Villamil
Isabella has beautiful beaches right in town which is great. There's a little curved one just off one of the streets at the plaza. It's not the best for swimming but you can definitely get in for a dip.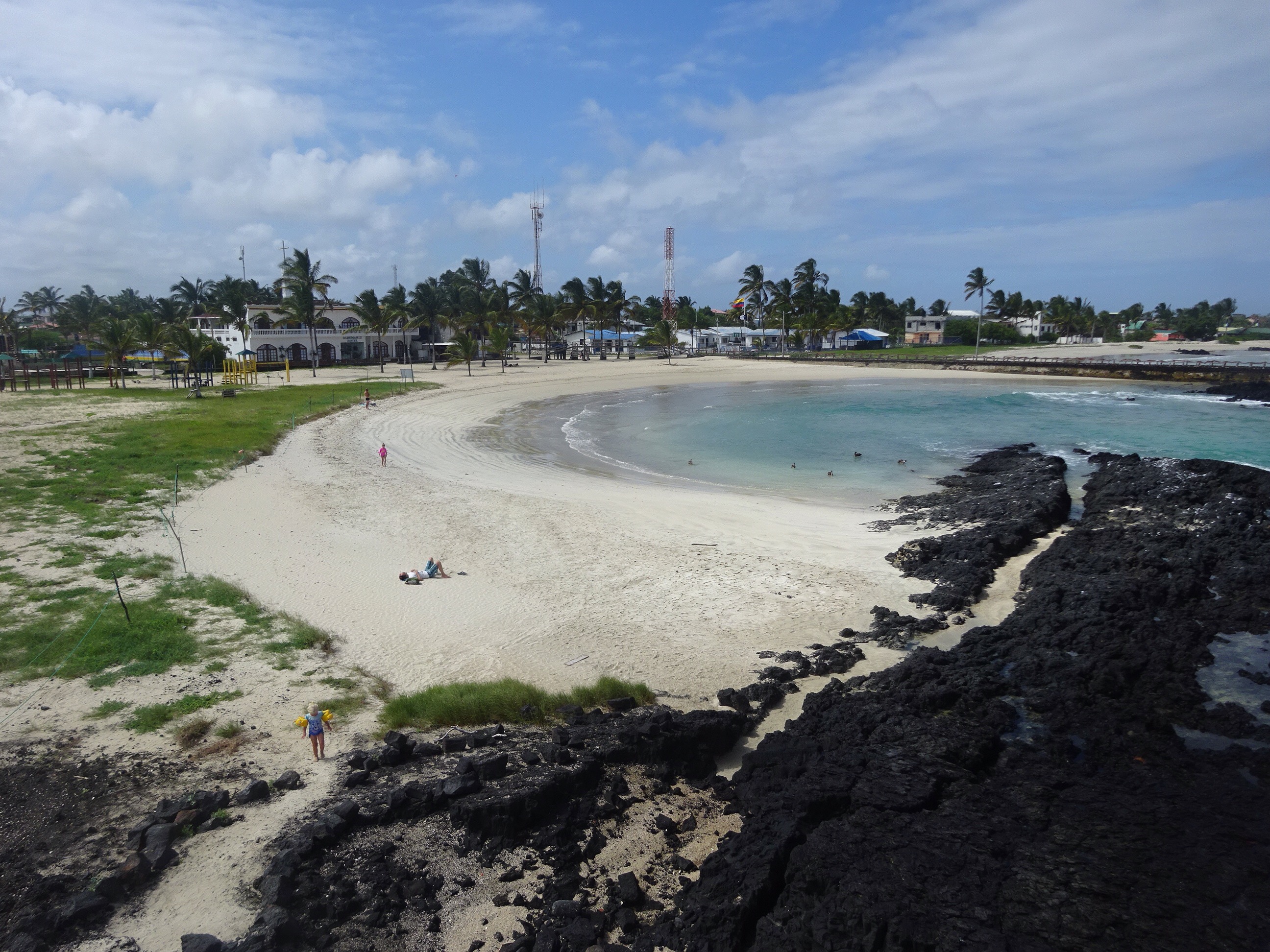 It has a look out spot at one end where you'll see loads of baby marine iguanas huddled together lounging in the sun. You nearly miss them against the black volcanic rock – pretty impressive camouflage!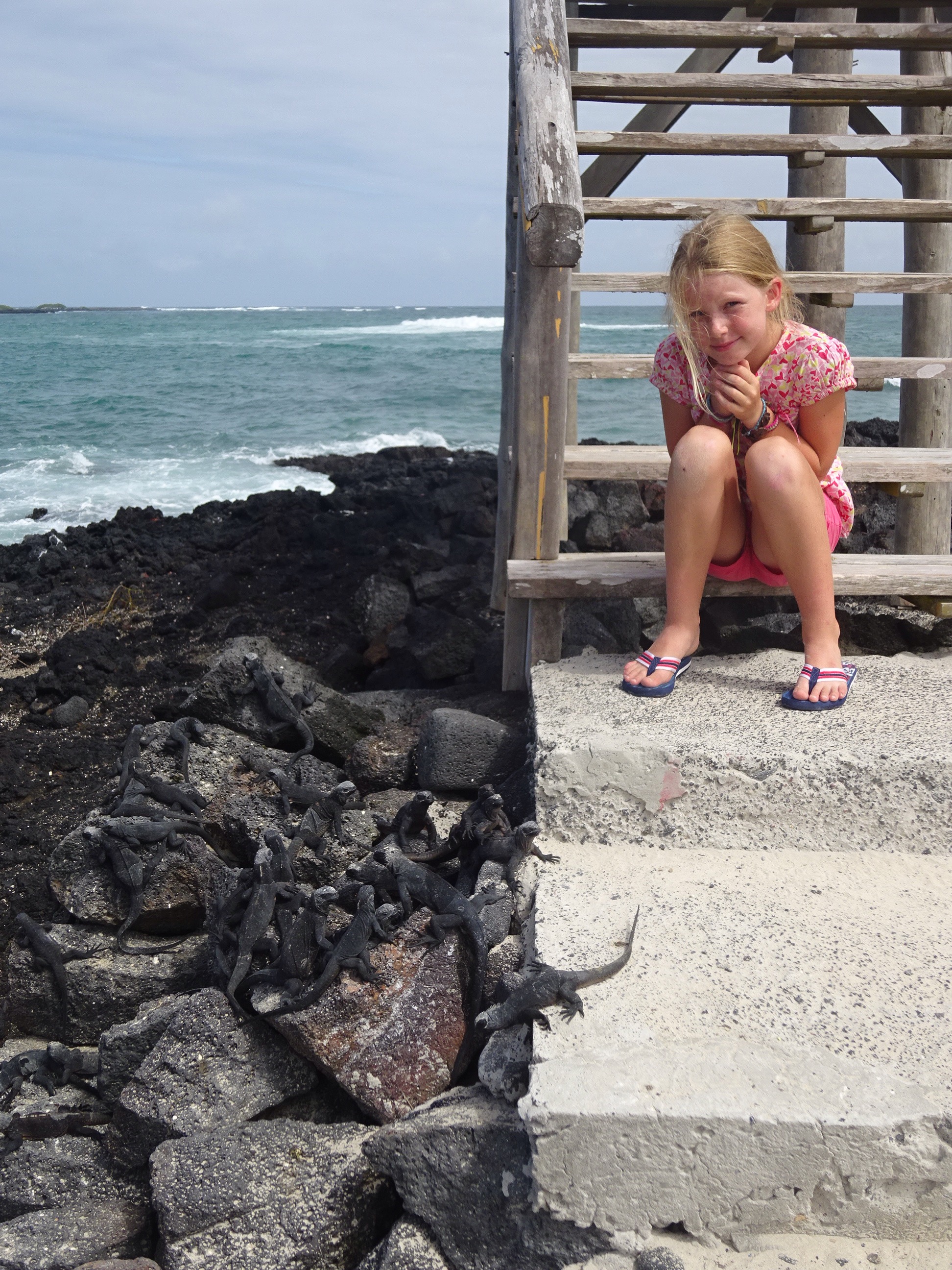 There's also a large playground on the beach but unfortunately it's not in the best state of repair.

2. Giant tortoise breeding centre
There's a giant tortoise breeding centre about a 20 minute walk north of town. We got a taxi there for 1 dollar per person, usually we can bargain the kids for free. It's free in and you wander around looking at various pens of tortoises of different sizes. Here they are breeding the various tortoise species from each volcano similar to the Charles Darwin centre on Santa Cruz. They also have adult tortoises which they have rescued from various forest fires and volcanic eruptions on the island.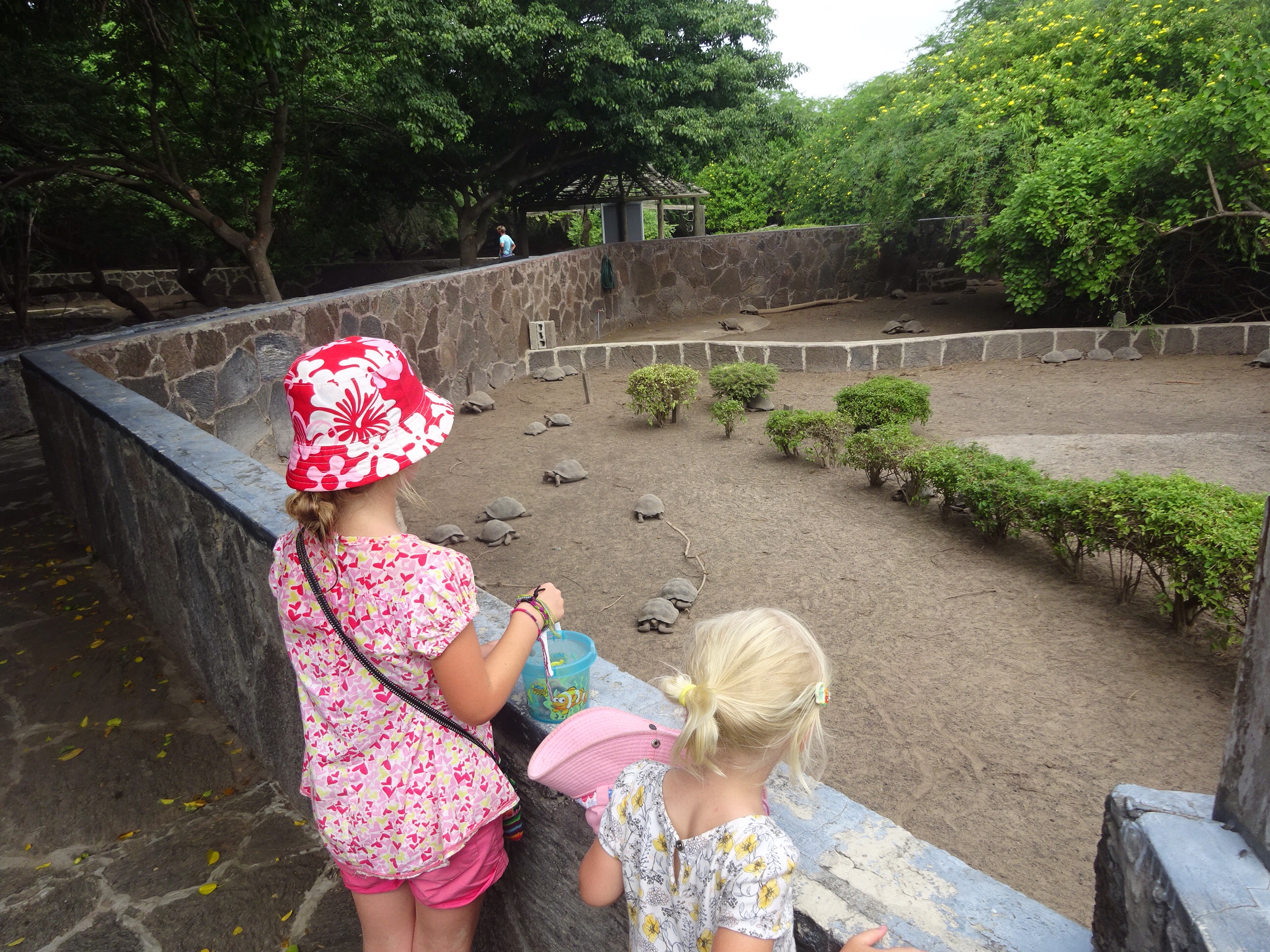 The centre is nothing majorly exciting, like the Darwin centre on Santa Cruz , it's a bit like a zoo. But there's an interesting visiting centre telling you all about Galapagos. There were some really interesting displays about the non-indigenous animals and insects destroying the islands wildlife and landscape. It shows you why they are so careful now about what species get introduced on the islands.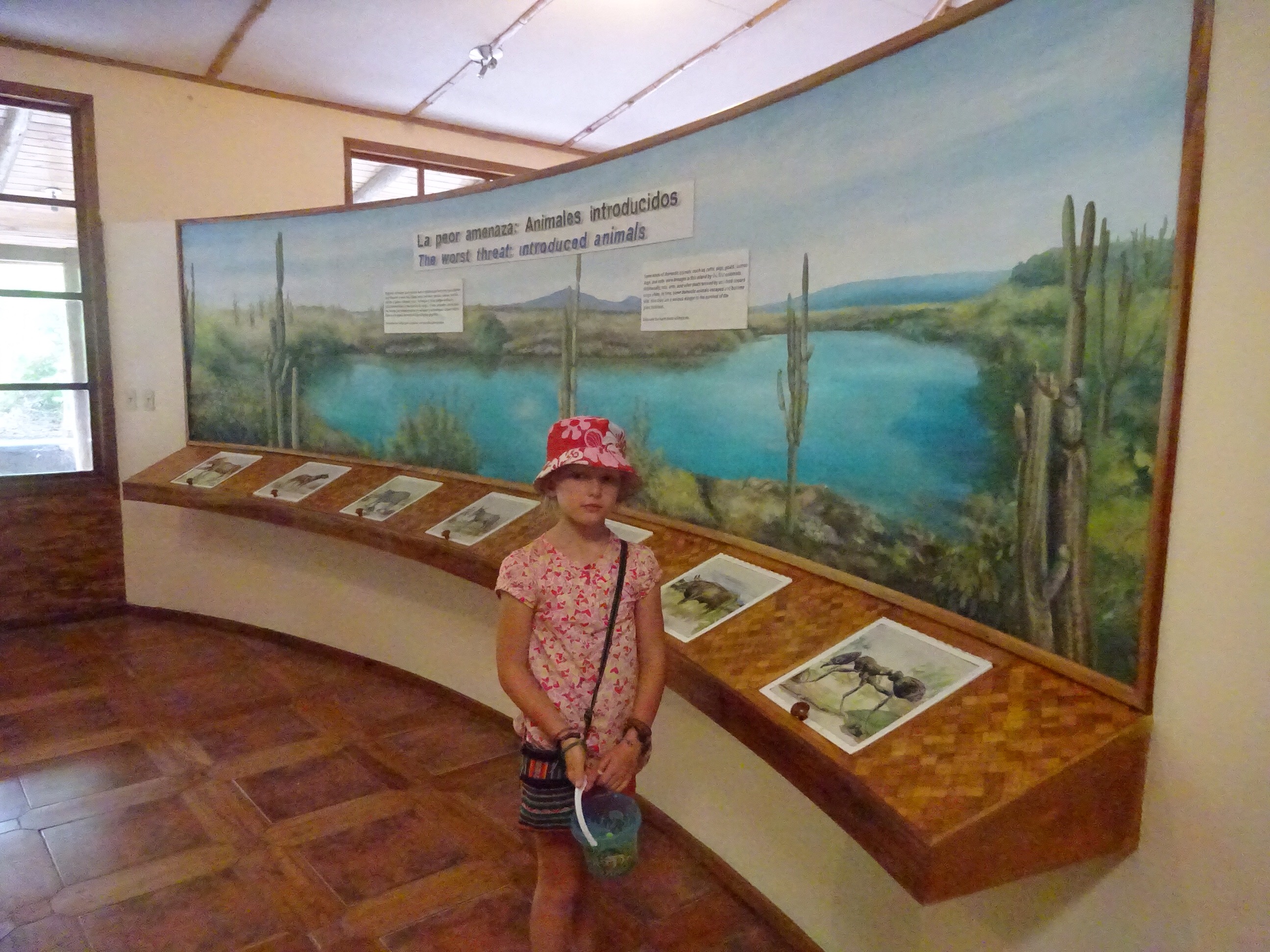 3. Walk to/from tortoise breeding centre
I thought this merited a separate paragraph as it's a lovely walk even if the tortoise centre isn't your final destination. The walk is on a paved walkway with some boardwalks.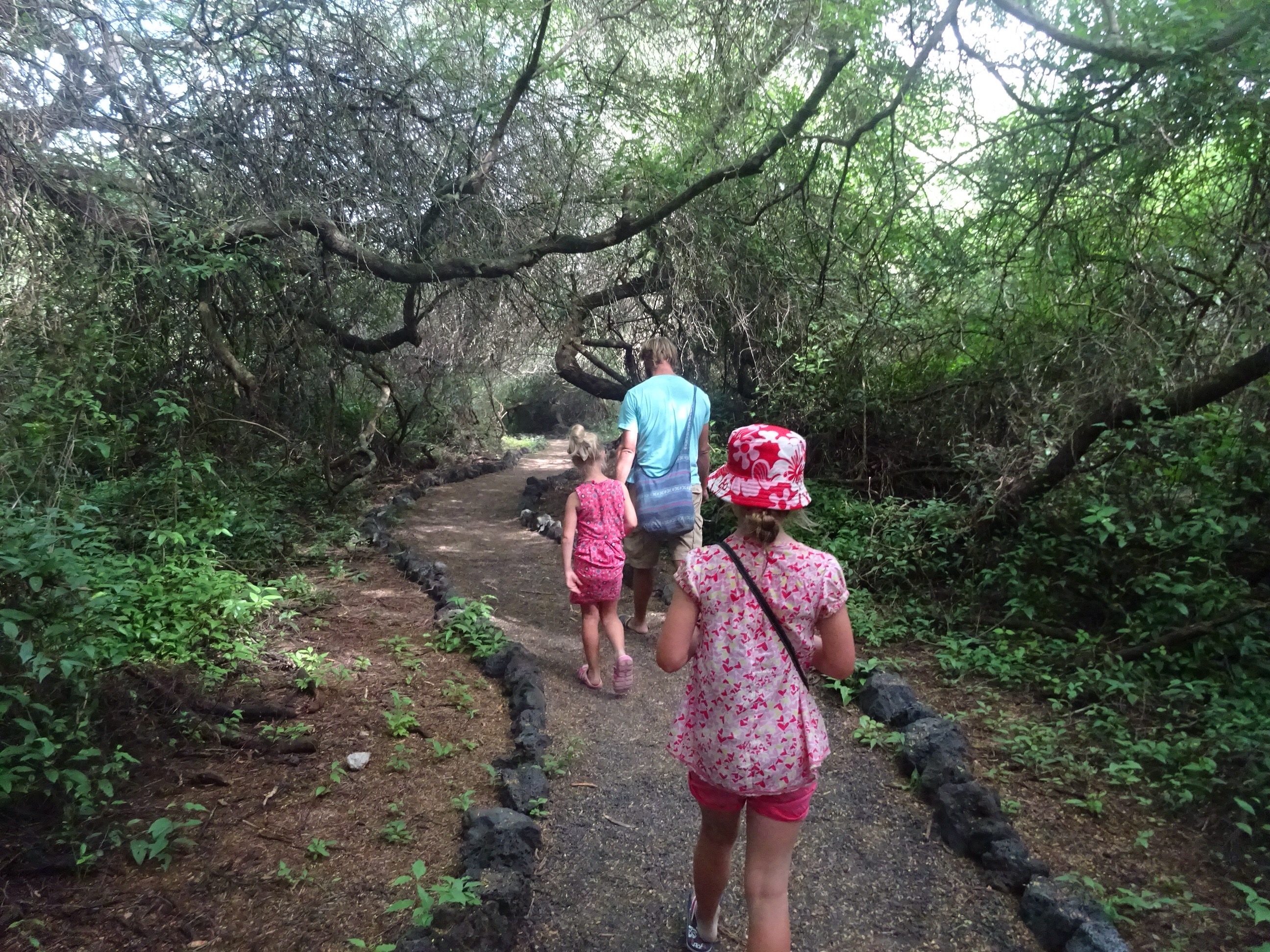 It passes through rich vegetation and alongside lakes where flamingos feed. We saw 3 or 4 brightly coloured flamingos along the way.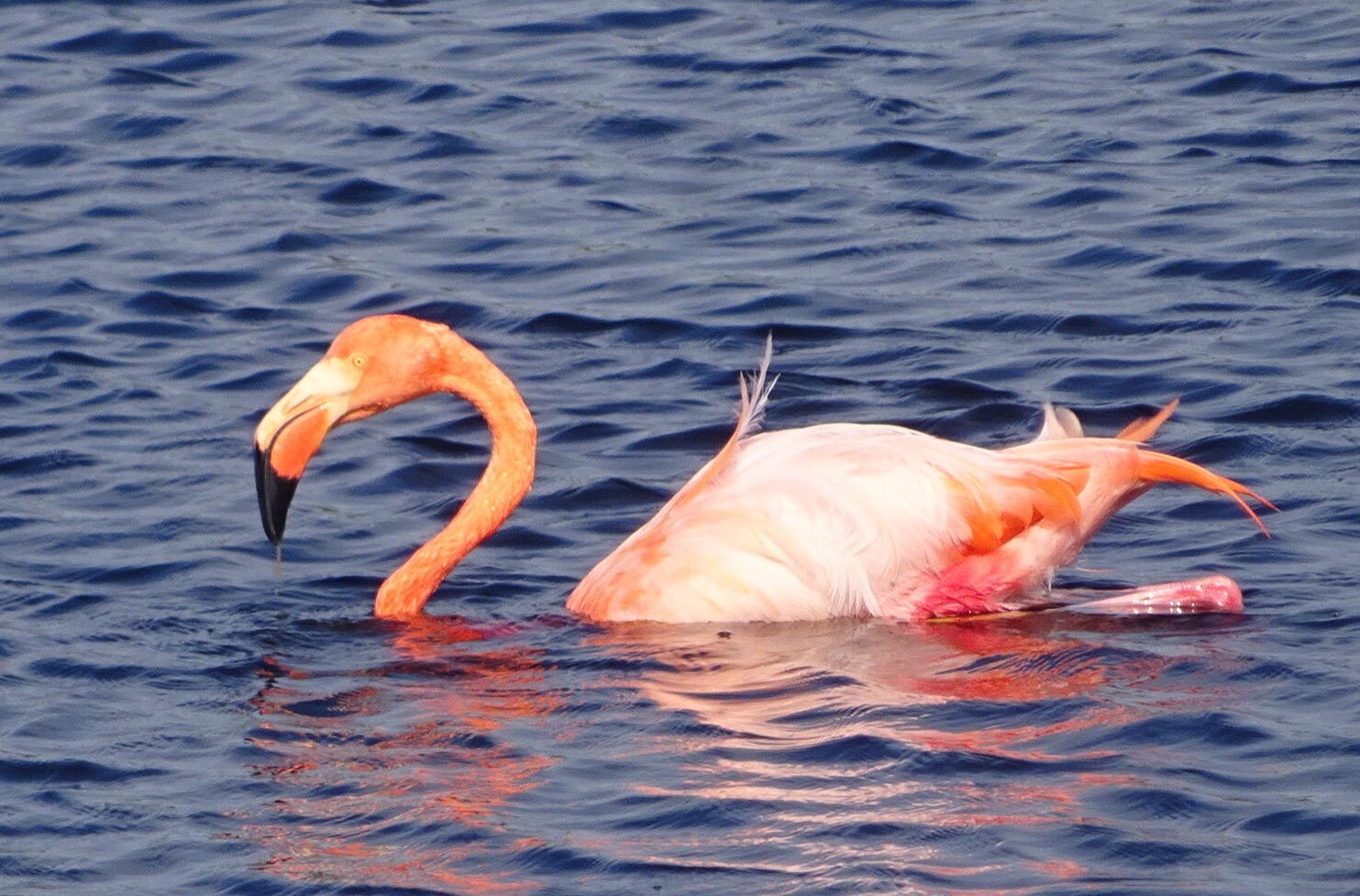 4. Bike ride along the coast
We didn't actually do this but I thought I'd mention it as we probably should have. You can hire bikes from numerous spots in town and cycle along the coast road passing the tortoise breeding centre along the way.  It's supposed to be great.
Now we only visited 2 islands, there are others you can stay on like San Cristobal which is supposed to be great. But the crossings between islands are pretty horrific so we just stuck to two. You can easily, easily find loads of things to do for free on the islands. So if it's a budget trip, you're after like we were, do it DIY. If however you have access to any extra funds, I think we really would recommend a cruise. The cruises go to places you just can't access any other way. So to truly, truly experience Galapagos, I think a combination of staying on the islands and a cruise would be fab. I'll do another post with detail about the paid activities we did on the islands which led to some pretty amazing adventures including snorkelling with sharks, climbing through lava tunnels and walking alongside truly giant turtles which completely blew us away! I'll also go into detail about some of the places we stayed in so you get a feel for the accommodation on the island. So keep tuned, that post will come soon.
I'm sure there are more freebies to do on the islands, if you have visited and know of any more, please let us know about them in the comments.
Galápagos doesn't have to be that crazy expensive place you think it's going to be. I think for the true Galápagos experience, a cruise would be amazing but we were really super happy to do a DIY trip. We'll come back and do a cruise to celebrate our 60th birthdays in 20 years time! Yes… I'm afraid my Galápagos love has not quite been quashed…. if anything it's just made me love it more.