After a few days in Santiago we decided it was time to explore the countryside so as I mentioned in an earlier post we hired a car and headed off to travel around Santiago to see thermal springs, mountains, walks and wine tours. It was smashing to have our own car. There's a lovely freedom about throwing everything in the boot and just heading off.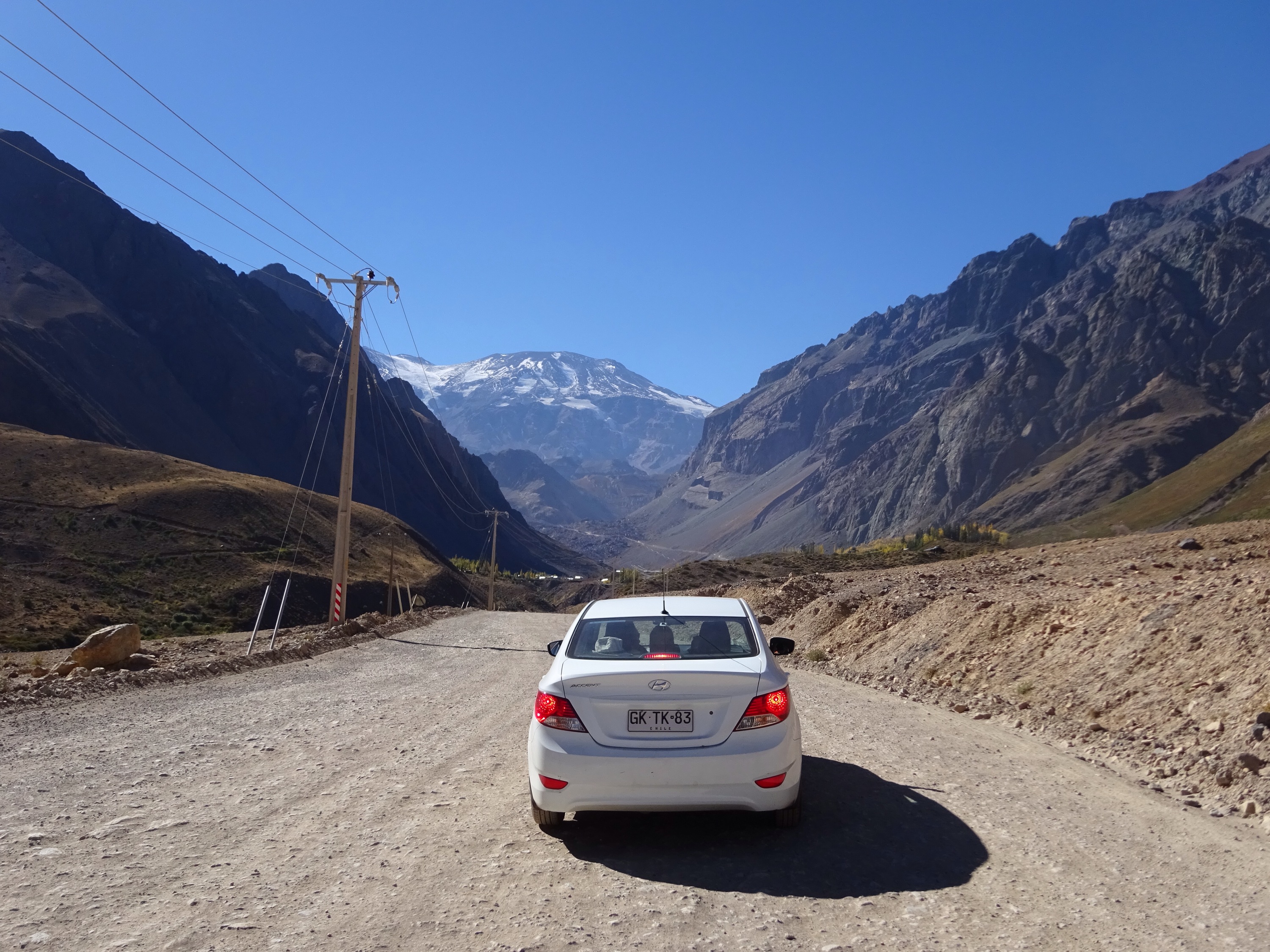 Our first stop was the "Cajon de Maipo" or the Maipo valley which we'd heard was amazing with really stunning mountainous scenery, thermal springs, glaciers and volcanos. It didn't disappoint. If you get the chance while in Chile, go. It's really smashing. We started off looking for accommodation in the small town of "San Jose de Maipo". You notice here that most of the accommodation is "Cabañas" or cabins. Chileans seem to love the outdoors, there are loads of campsites with tent spots or cabins to rent. You can find them everywhere. I think if you were able to carry a tent around, you could see Chile really cheaply. It just wasn't feasible for us as a family of 5 unless we had our own transport permanently. Anyway we went to a few places which appeared completely empty only to be told they were full. It turns out people from Santiago like to get out of the city at the weekends and come here, hence it was all booked up. After the 6th or 7th turn away, we were getting a bit stressed wondering would we find somewhere when we came upon a big resort written up in the Lonely Planet called "Cascada de Animas". We had overlooked it originally as it looked too snazzy for our budget but it turned out not to be too bad (well for Chilean standards). They had a 2 bed-roomed cabaña available so we booked in. It worked out costing 50,000 pesos a night or just under €75.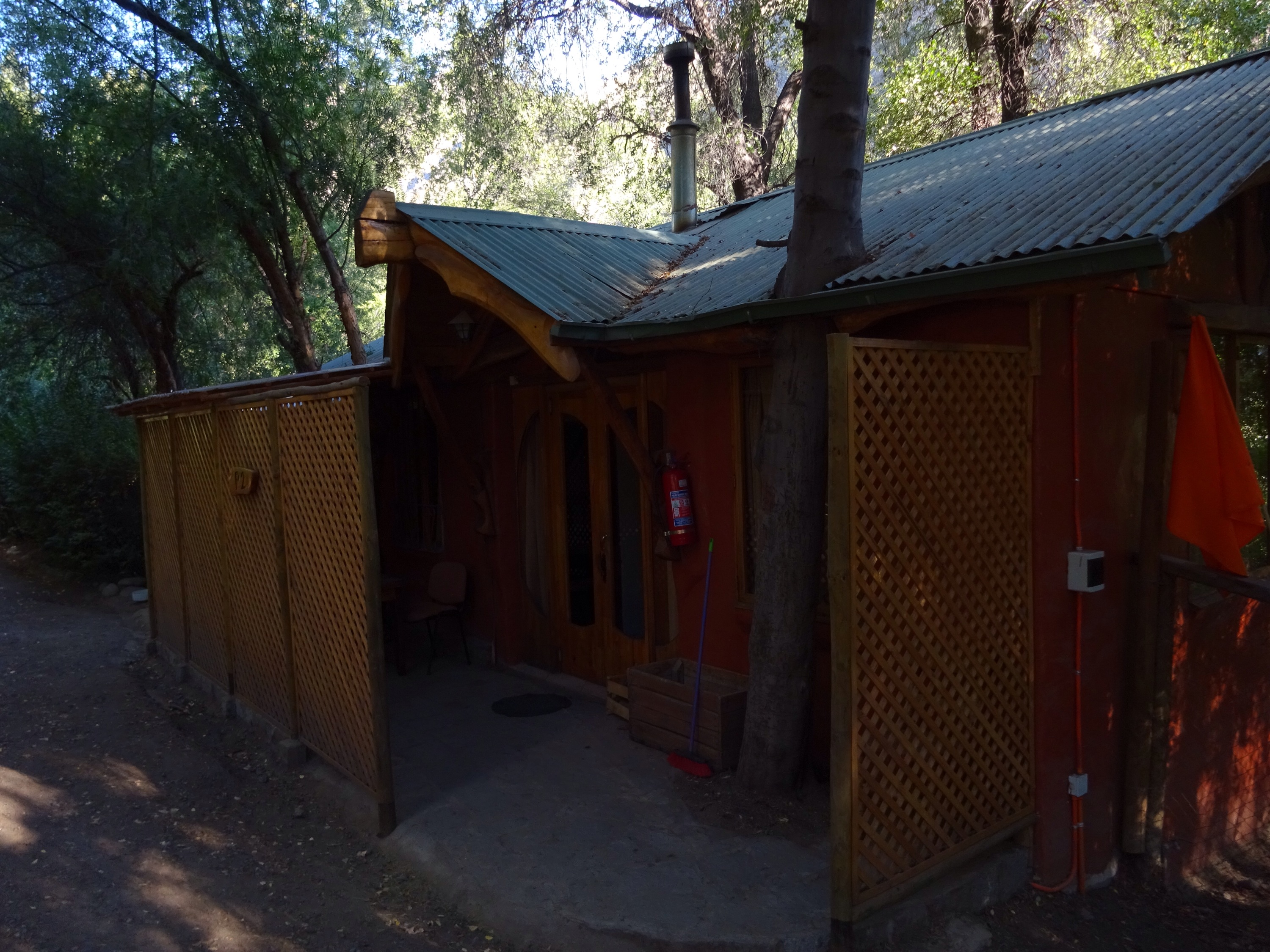 The cabaña was really smashing.  We loved it. It had a large living room with 2 big sofa beds, made up with duvets and blankets and a wood burner. There was a separate large bathroom and a lovely double room. It was all wooden inside, it reminded us of a ski lodge. I don't think this photo does it justice, it was smashing.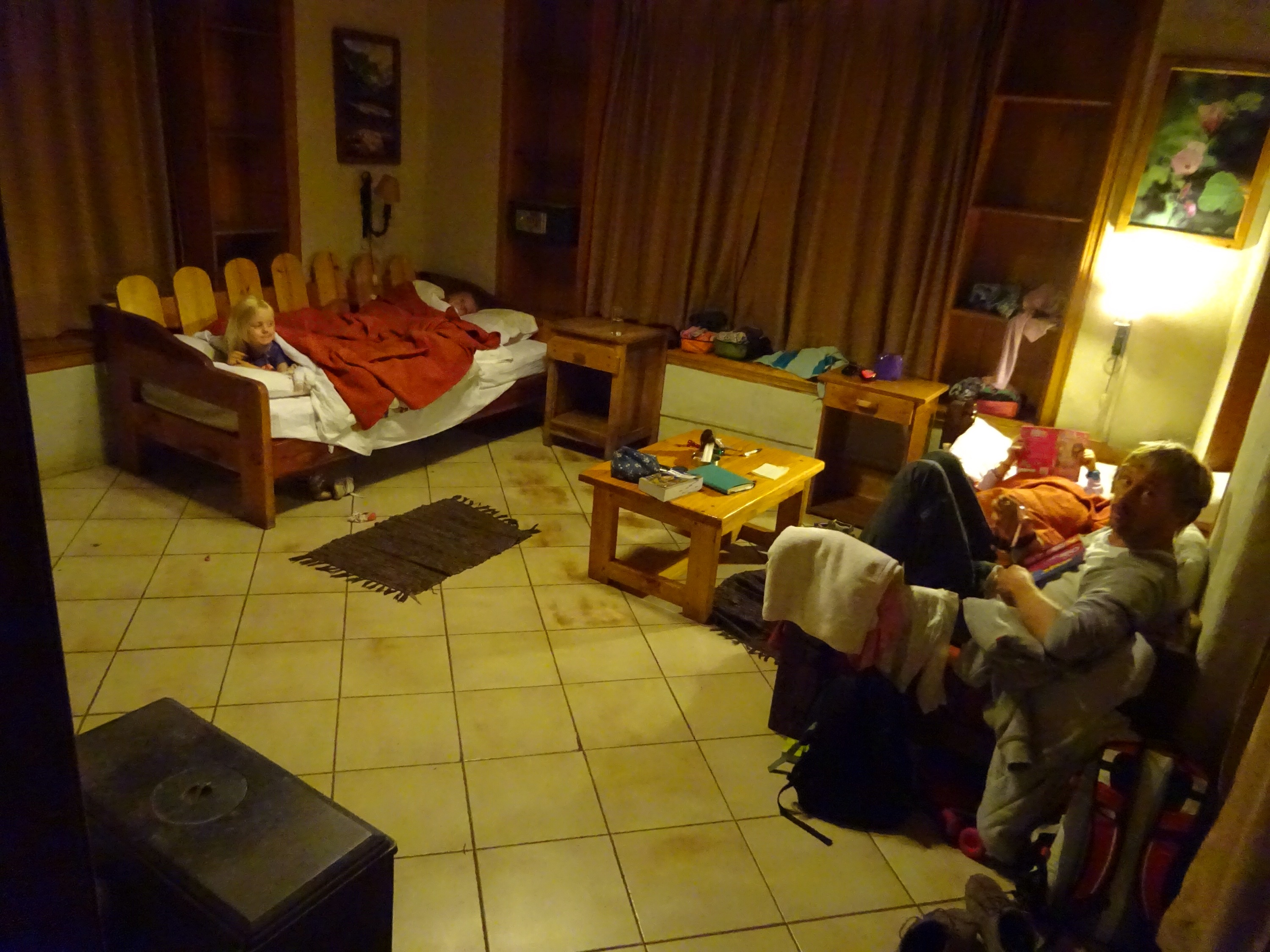 When we arrived we noticed a big box of wood outside the door, surely we wouldn't need that? You'd like to think that but I'm afraid it was very welcome later on. Little did we know how cold it gets at night in the mountains. And I guess April is winter time! It was definitely chilly in Chile! That night we gathered kindling in the woods and used all our logs and had a roaring fire.  It was heaven, lovely and cosy….. A wood burner, a smashing cosy log cabin and a bottle of Concha y Toro wine for €2, this was the life :-).
Cascada de animas is a big resort with really nice cabins as I've mentioned, a restaurant, bar, loads of activities, a pool, picnic areas, barbecues and camping areas. The pool looked fab but was closed for the winter unfortunately. The whole resort is in a beautiful setting on the banks of the river with mountains all around. There were loads of activities organised in the resort. You could go for guided treks, easier walks, go horse riding or rafting. Most of these you had to pay extra for.
Here's a picture of the pool, such a shame it was closed off…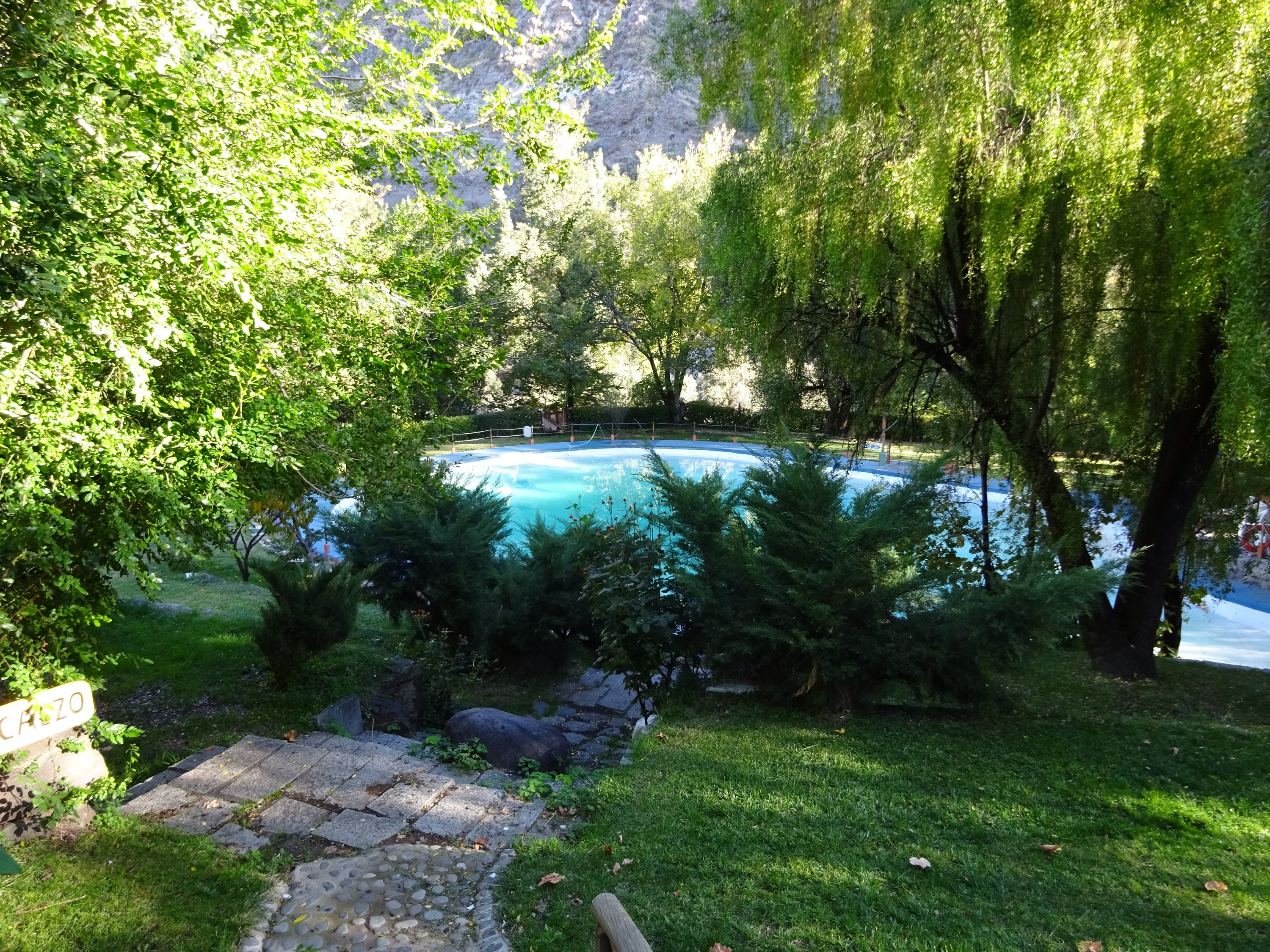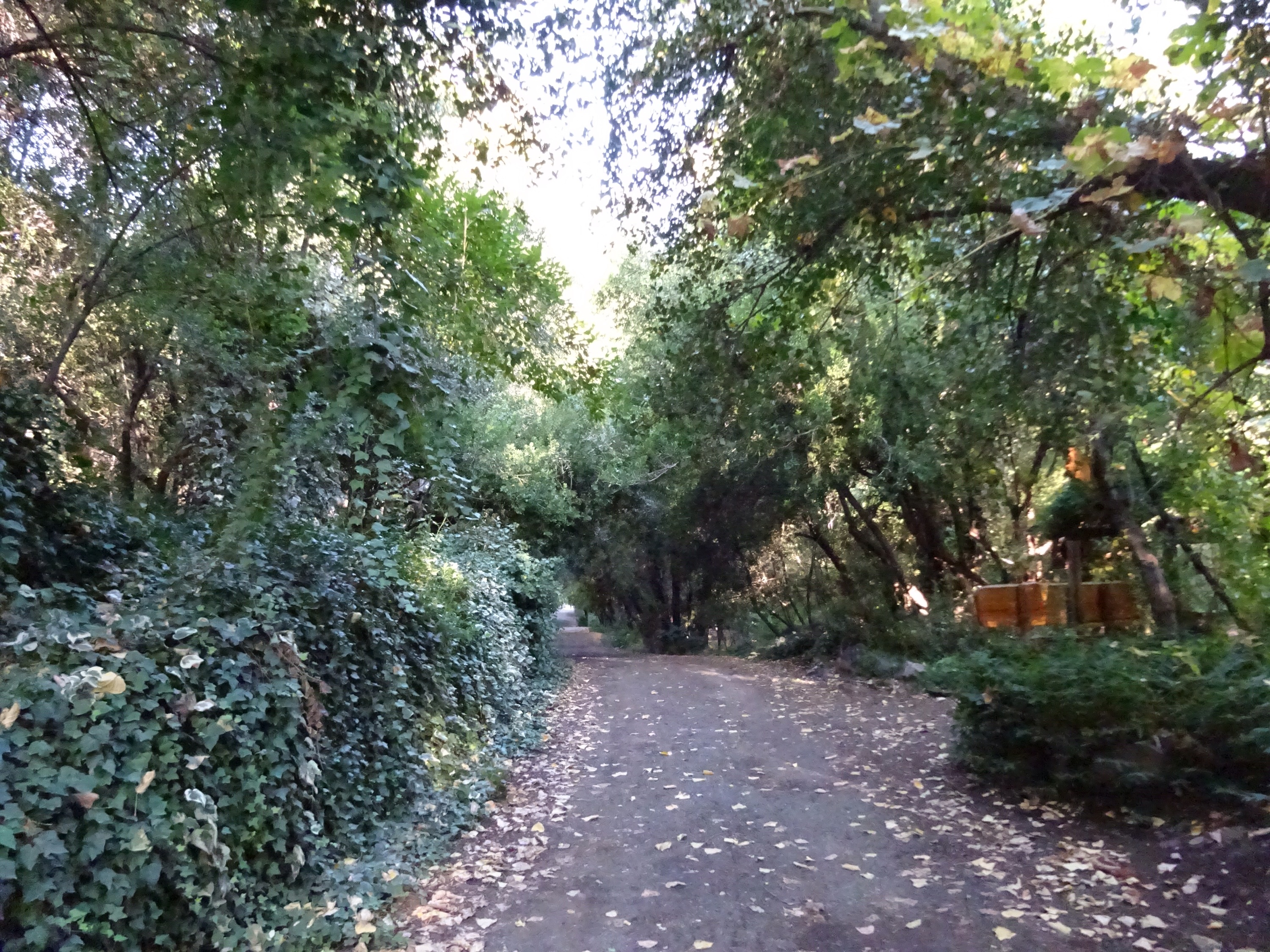 This was one of the great playgrounds, this one was right outside the restaurant which was very convenient! Wish they did this kind of thing more often in Ireland!
We were on a bit of a scrimp after spending €75 on our accommodation. After all this was more than our entire daily budget in Asia! We had a chat with the guides in the campsite about things to do. They offered all sorts of activities but of course all at a cost. Then they mentioned that there was a free guided walk to a waterfall a few km's away called "Cascada de animas" (waterfall of the ghosts). Ronan's not a big fan of guided walks, he much prefers do them himself but I said yes before he had a chance to say anything else and we arranged to meet our guide that afternoon. It turned out to be well worth the trip. We were the only ones walking with a really nice Columbian guide called Cesar. He was about 28 and clearly loved his job. The walk was great, we started the walk by crossing a wooden bridge over the river.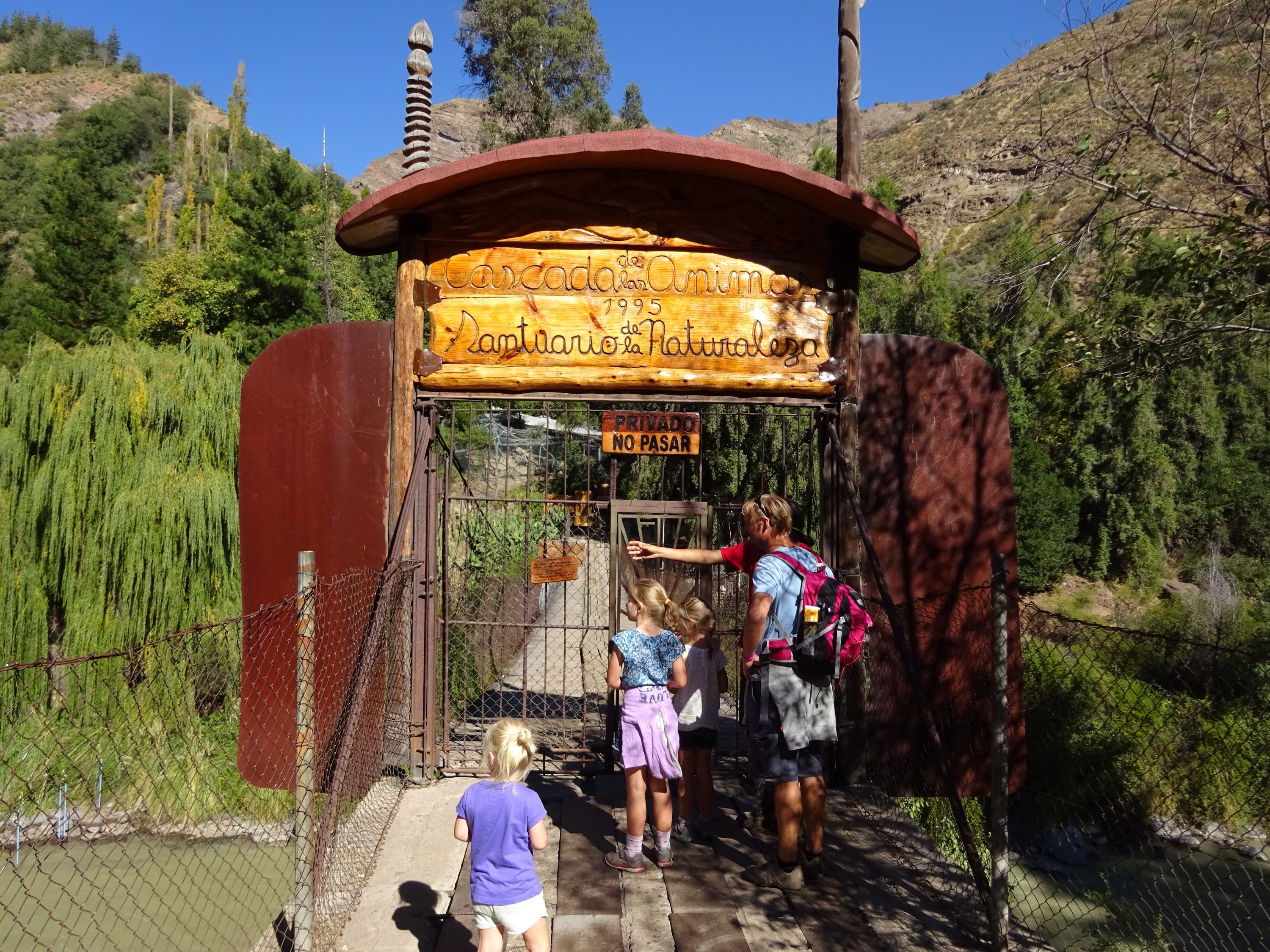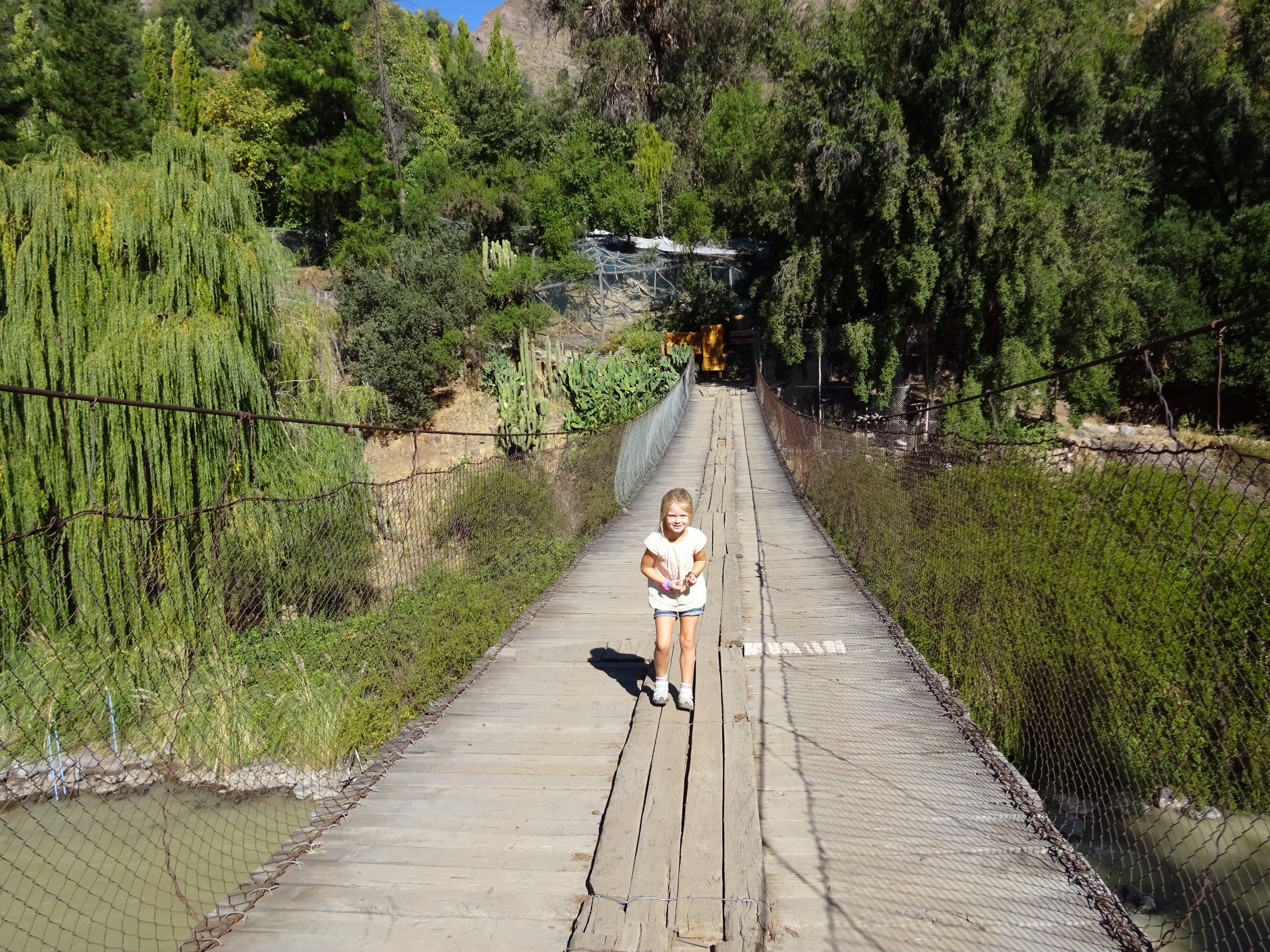 Then we went along the banks where they had a bit of a wildlife sanctuary. There was a huge eagle whose wing had been shot so it could no longer fly.

And another enclosure had two pumas. We felt a bit sorry for these guys as we thought they could be let loose. They were being kept to protect them from poaching. Maybe they would have been better to take their chances in the wild.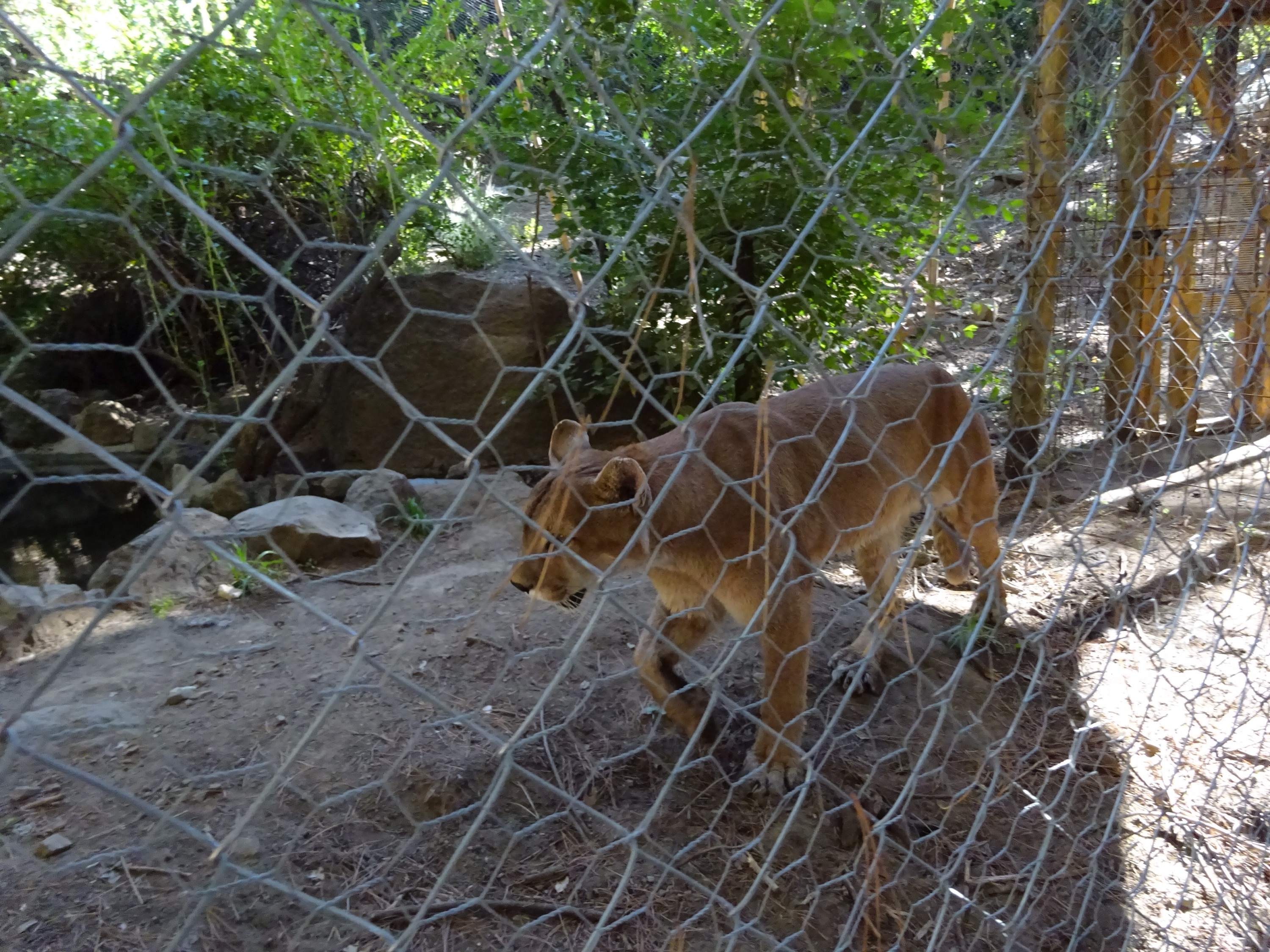 We continued on over bridges and up hills, the views getting more spectacular each corner we turned.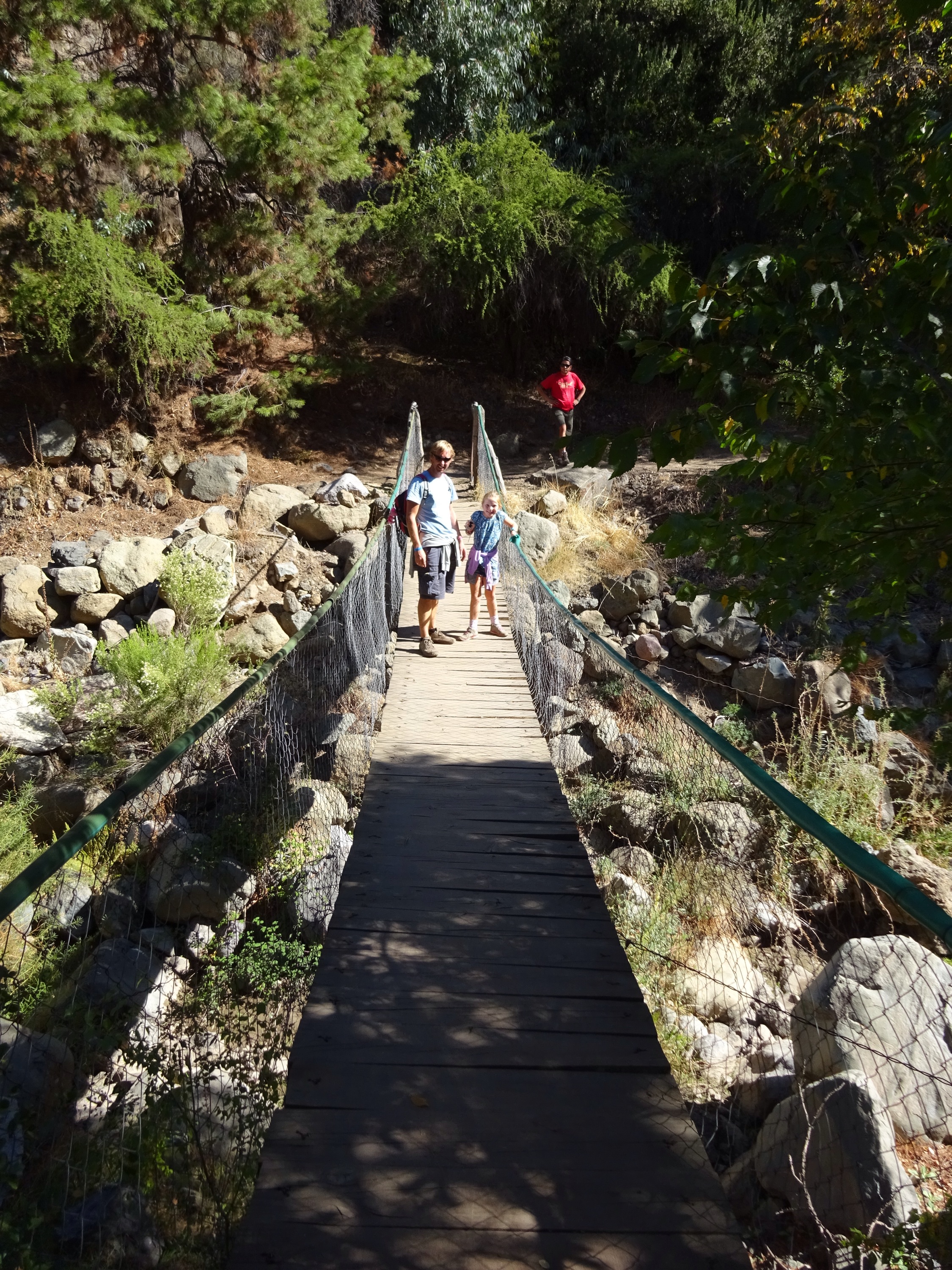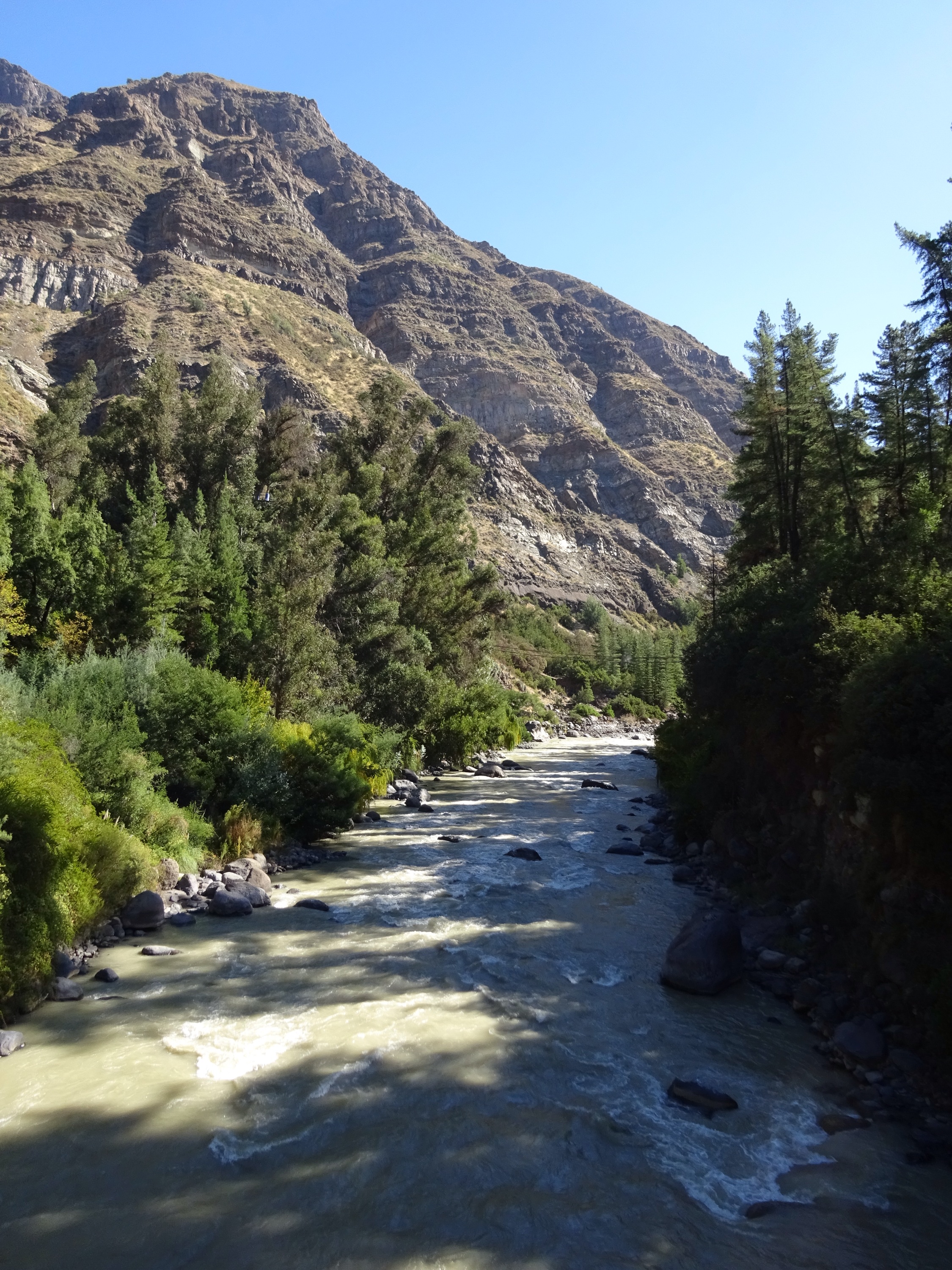 We soon came to a pretty dismal waterfall. It was the dry season so it was more a "watertrickle" with some little pools at the bottom.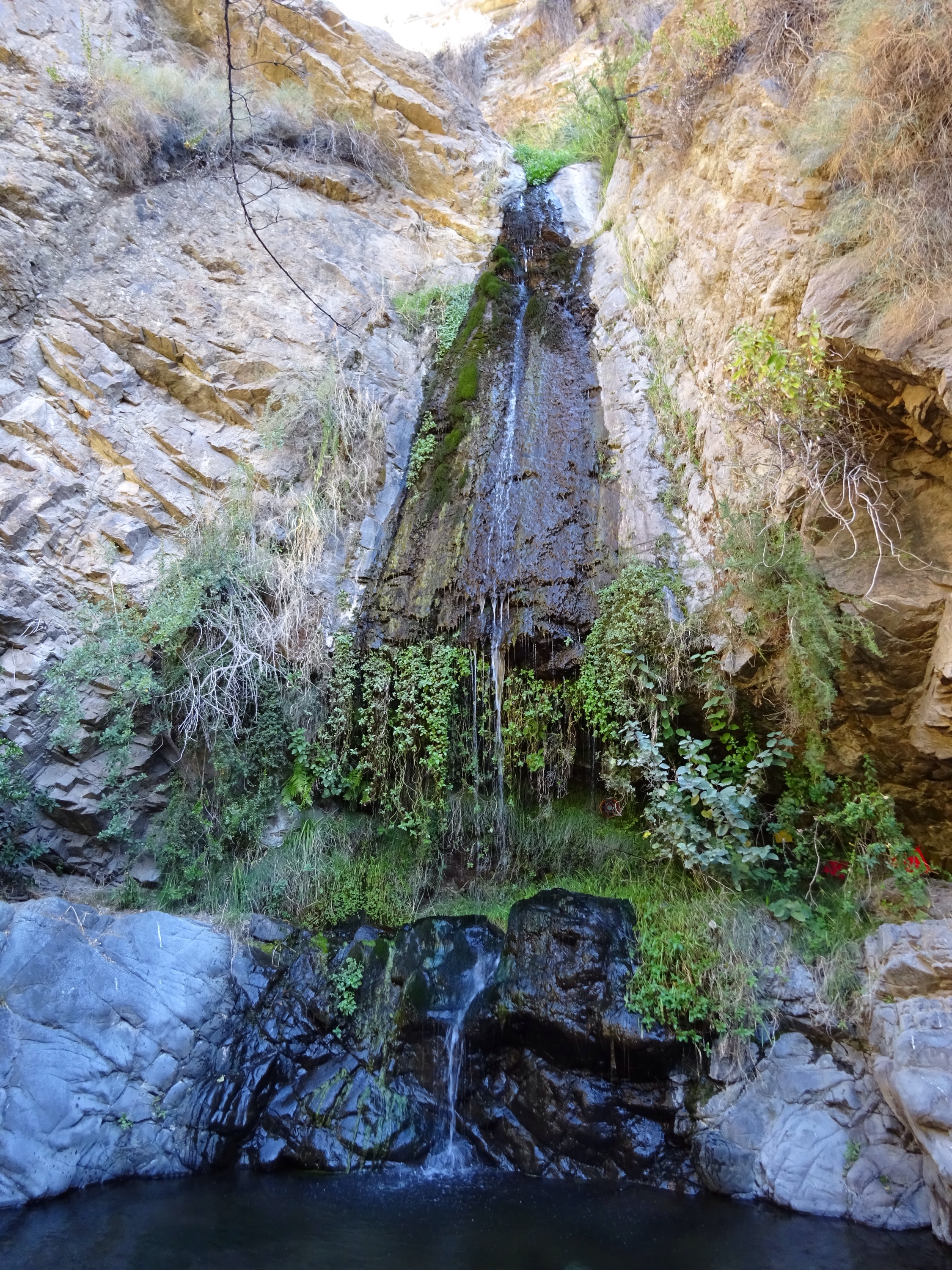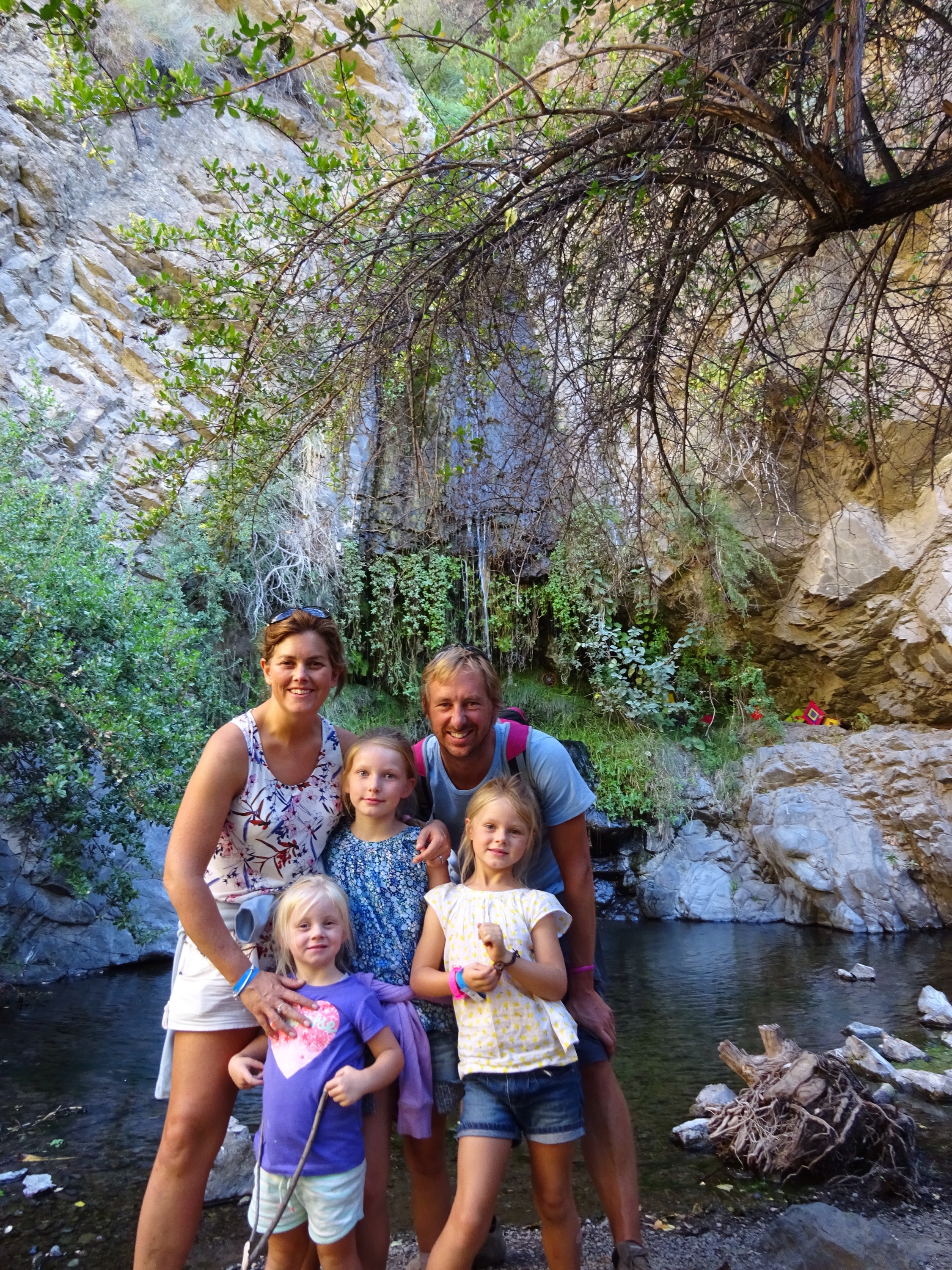 Cesar warned us to be careful where we walked as it was a breeding ground for a particular type of frog and there were loads of babies around. To the girlies delight we found loads of tiny baby frogs and they were able to hold some.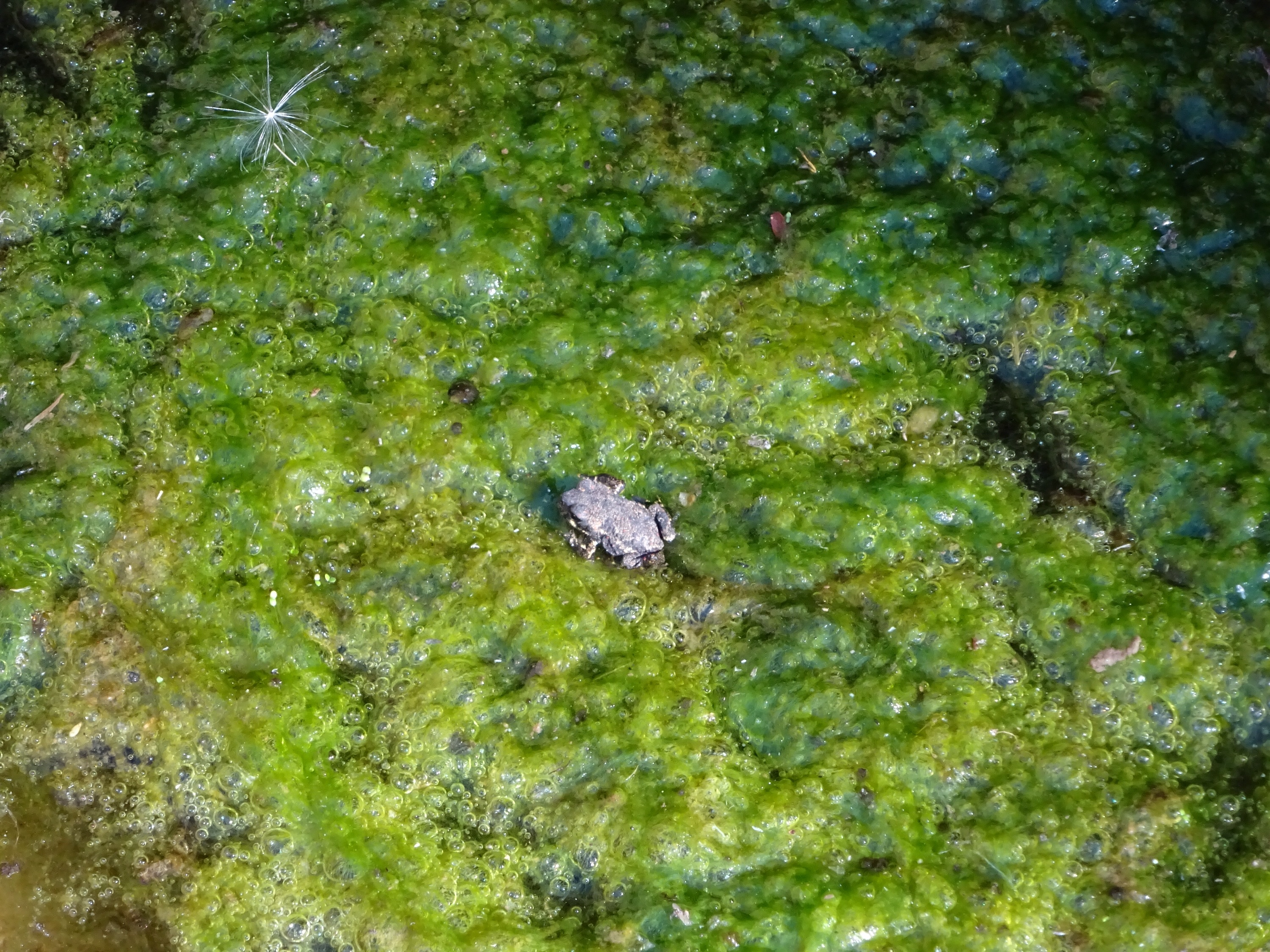 The views on the walk back were spectacular. We kept stopping to soak it all in. The whole area is completely stunning with load of treks available. If you didn't have small kids, there were some amazing ones you could do.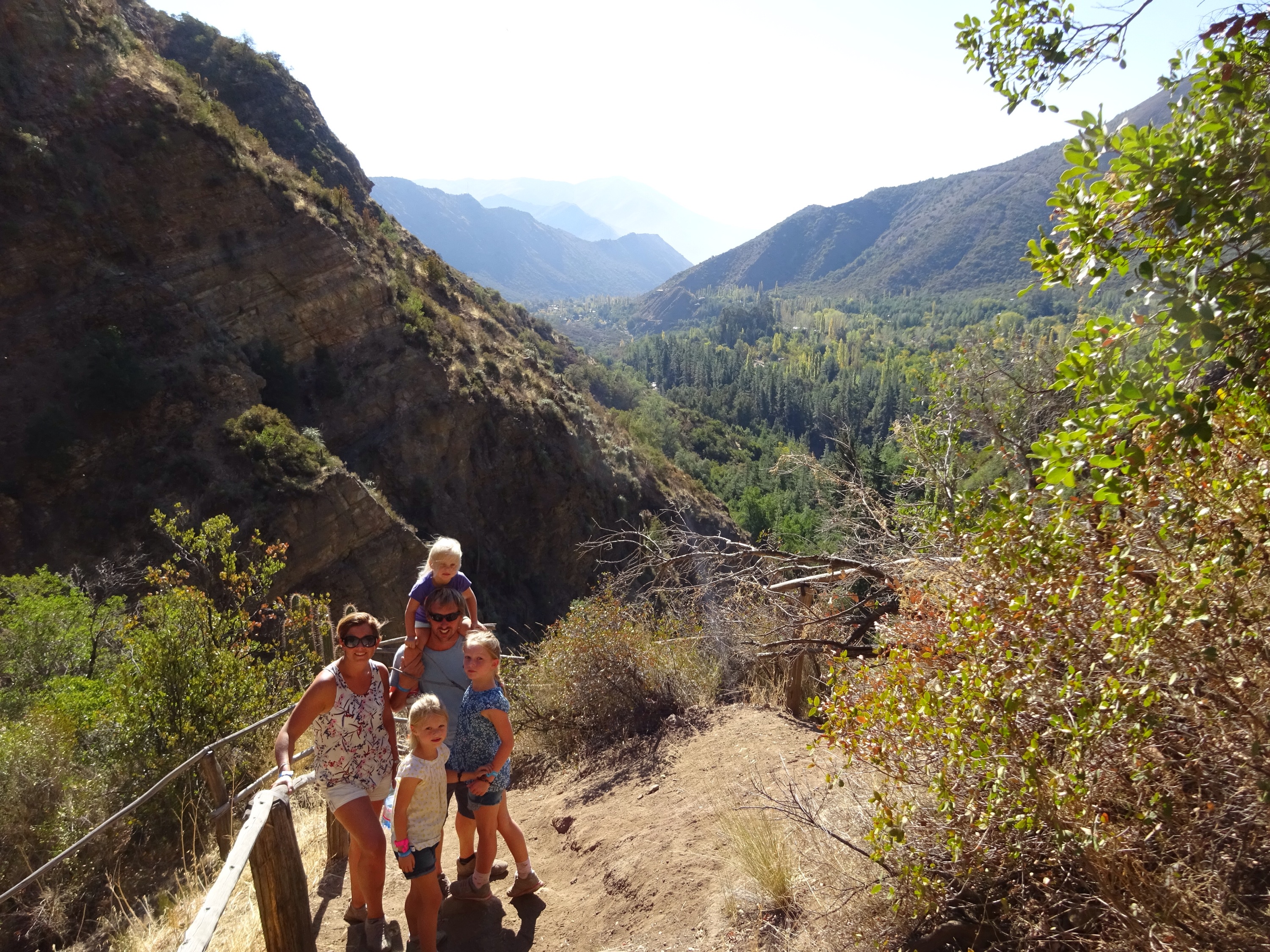 We had great chats with Cesar all about life as a guide and Chile. He told us that the Chilean government had plans to dam the river to generate electricity. It had already been done in many places. The locals were all petitioning against it. It seemed like such a shame to us, the river was so beautiful and lots of people got their livelihoods from it. Not to mention all of the nature which would be affected. I know the demand for electricity is growing all the time but it seems like such a shame if this is our solution to the problem.


Rafting on the river seems to be huge here. There were trips organised from our place daily. We didn't go as the river looked too big for the kids but we'd definitely recommend it, it looked cool! We were a bit jealous seeing groups getting ready to go.
That evening we went for a drink in the restaurant on site. We had vouchers for two free Pisco Sours. We hadn't tried Pisco before this but I have to admit, we've tried many a one since! It's completely delicious. Pisco is a drink found in Chile and Peru. The two countries fight about it's origin, both have towns called "Pisco" in an effort to try to have rights to the name. I think they've now agreed that they can both lay some claim to it. It's a strong liquor, about 40% proof. It's made from grapes so in certain regions you'll find pisco vineyards like you would a wine vineyard elsewhere. It's usually served as a Pisco sour which is with lemons/limes and sugar and a beaten egg white. It's really strong but delicious.  Not unlike a limoncello which you may have had if you've visited Italy. Here's a recipe for a Pisco Sour, try it if you can get your hands on some Pisco. You can also buy Pisco sour mixes already made up in a bottle. A cheaper option which of course we had to try (purely to be able to tell you all what it was like) and have to say it was highly recommended too! Anyway we had our first Pisco Sour on the veranda of the restaurant overlooking the river while the kids played in the playground outside. Couldn't have been nicer. Perhaps that's why we liked it so much. We actually managed to have some adult time and chat without little ears asking a million questions!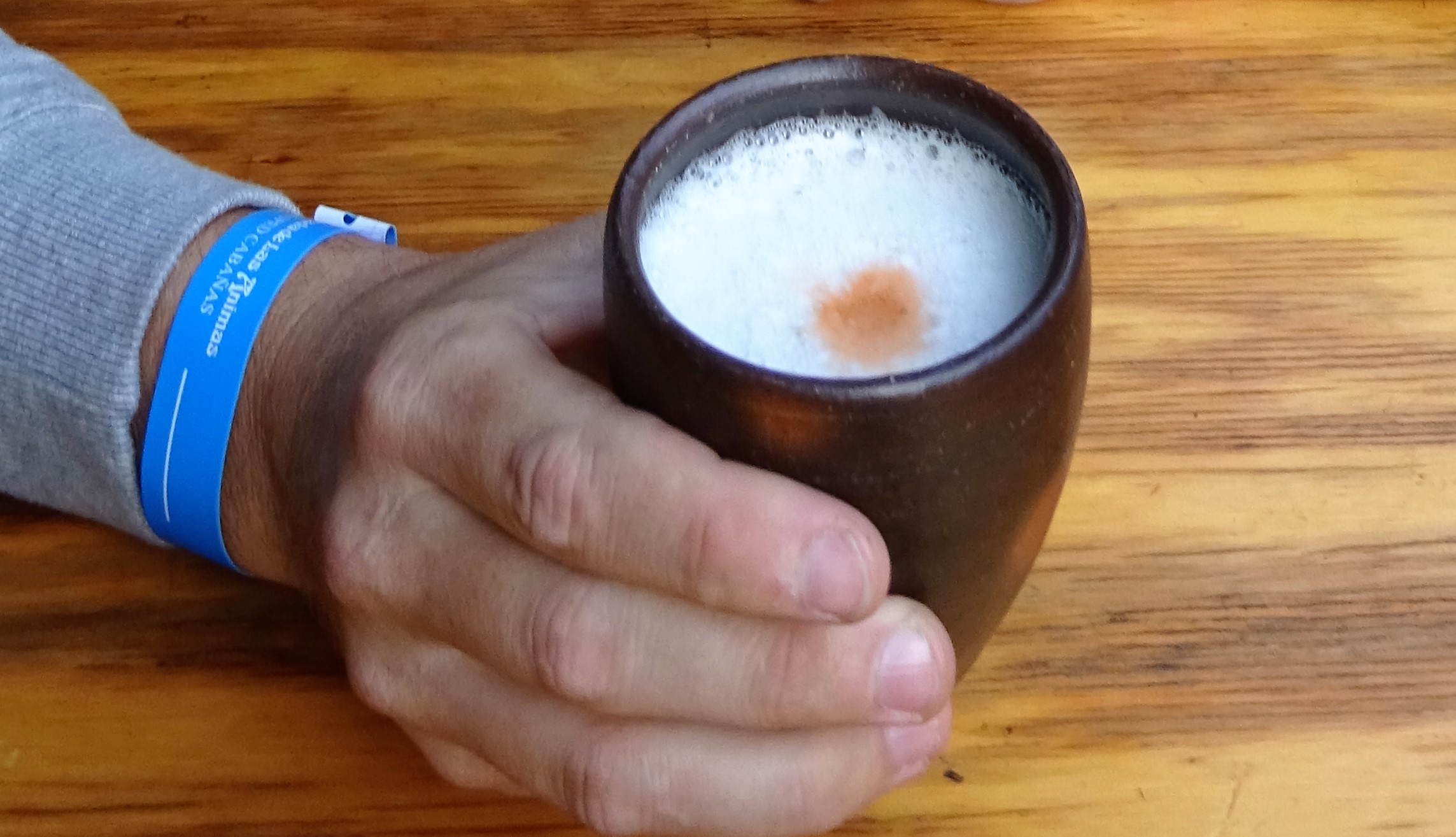 It would have been smashing to have eaten in the restaurant that night, it looked really fab but was way out of our budget. What a treat it would be though… especially after a Pisco Sour or two. Instead, that night we drove into the nearest town "San Jose de Maipo" and explored a little, looking for somewhere to have a bite to eat. In the main square "Plaza de Armas" (every town in Chile has a Plaza de Armas. In fact, every town in South America has a Plaza de Armas) we came across something we really didn't expect to see. There was a statue there of an Irishman. Well an Irish descendent – Bernardo O'Higgins son of Ambrosio O'Higgins who came from Ballina, Co. Mayo. Handsome chap with some quality side burns as you can see from the picture below. Bernardo is a much loved figure in Chilean history, he liberated the Chileans from the Spanish and then led the newly independent Chile. This was in the early 1800's. Every town and city in Chile has a street called "Calle Bernardo O'Higgins" or "Bernardo O'Higgins Street". Funny how the old Irish get around.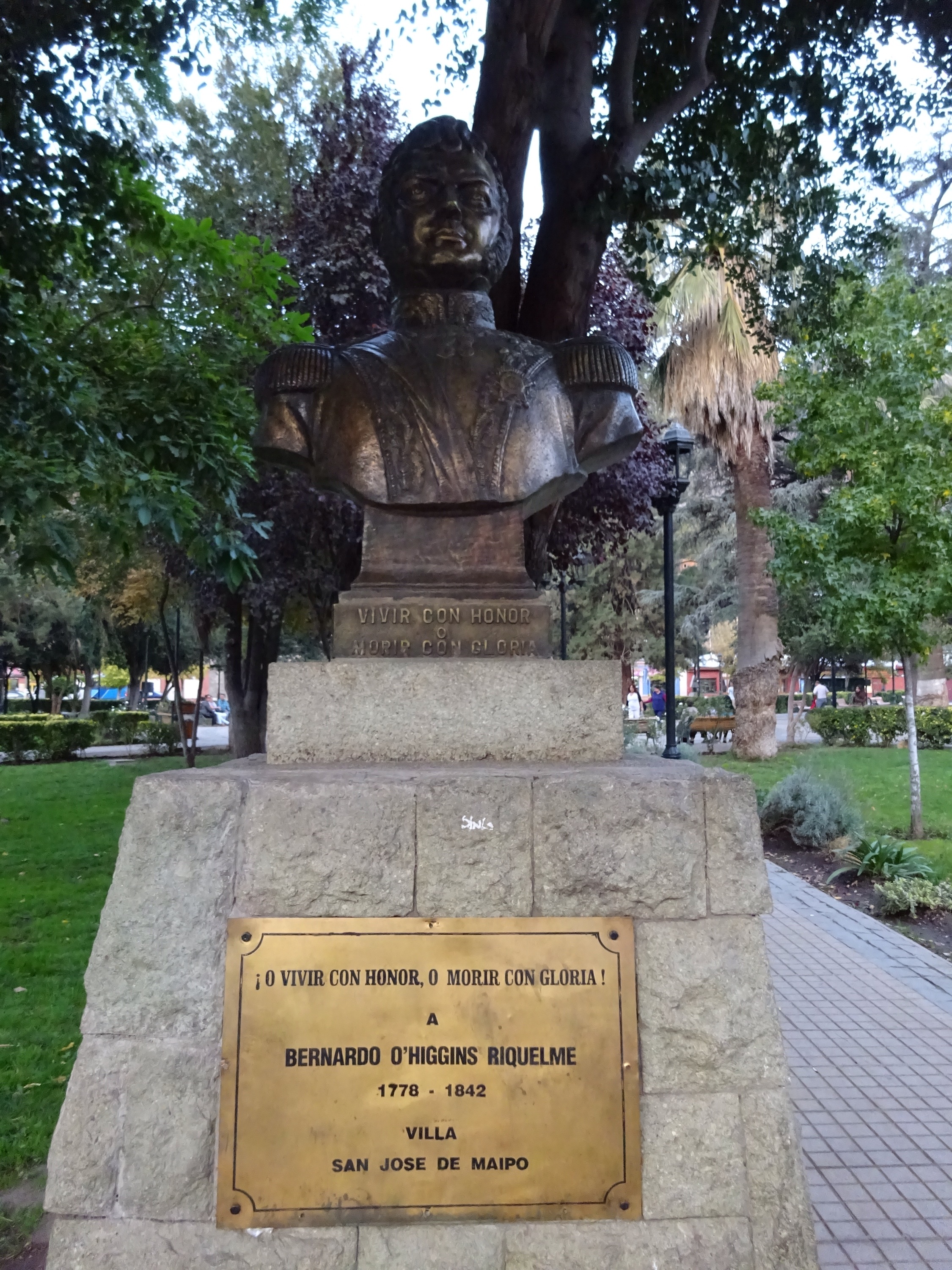 Anyway after giving the nod to Bernardo, we went off looking for a restuarant. We found a lovely little family-run place in town with really nice, friendly owners who were delighted we'd decided to come in. They served great Quesadillas. It doesn't look like much in the picture below but trust me, it's a lovely little spot. We went to bed that night in our smashing cosy cabin, delighted with our first day in the Chilean countryside.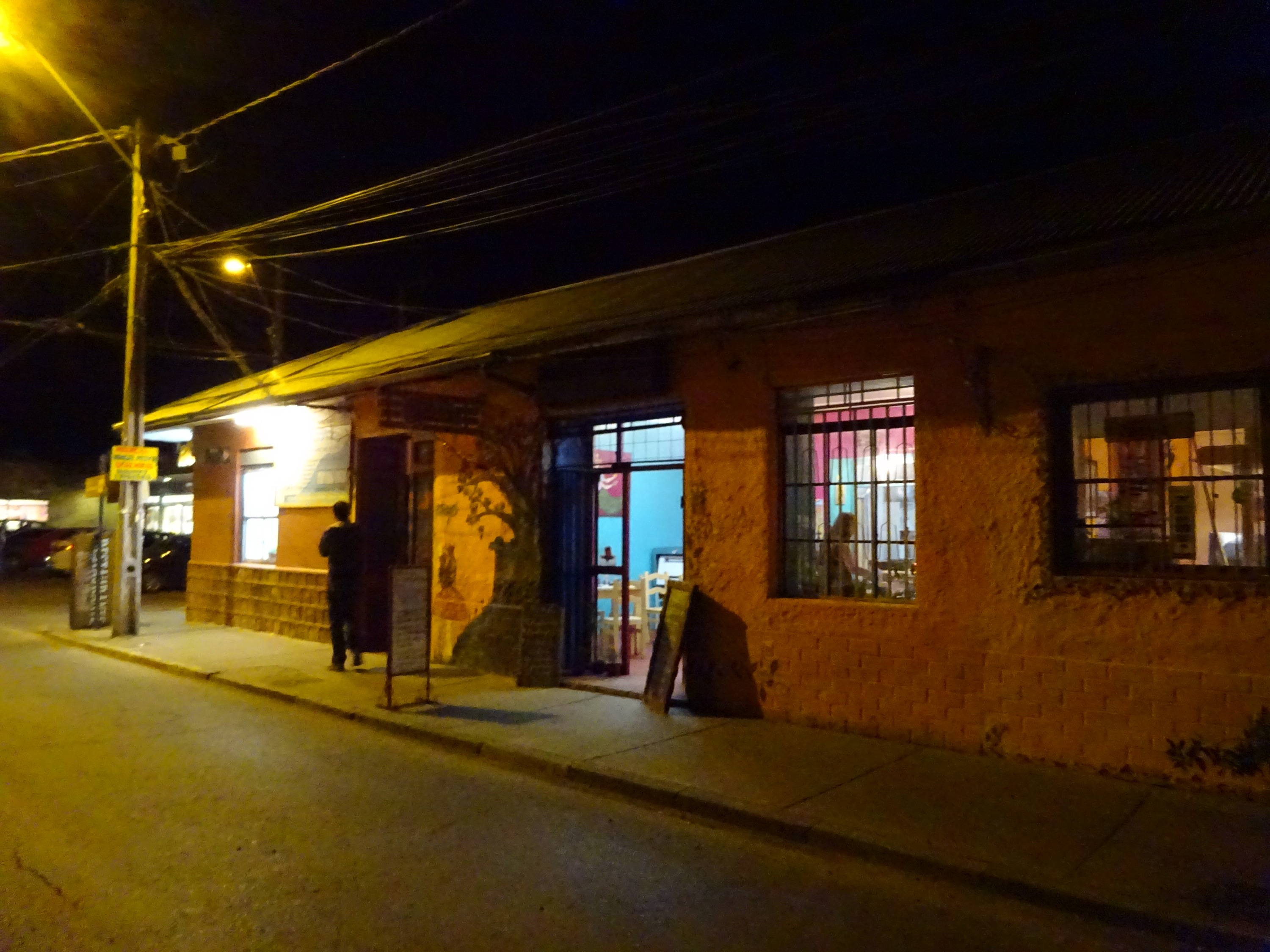 The next day we set off to explore the Cajon in our car and go bath in "Los banos colinas" (volcanic thermal baths). We'd heard loads about them so we were dying to get going. The weather during the day here is beautiful, it's just at night that the temperature really drops.
The road into the valley starts off well but ends up as a complete dirt track. We'd been warned about this but assured by our car rental company that it wouldn't be a problem and to just go for it. So different from any car rental companies in Europe where you're warned not to go off road! The road winds through the most beautiful countryside, really breathtaking, passing huge volcanic mountains, landslides and valleys. You can see snow on the mountains in the distance. It was spectacular.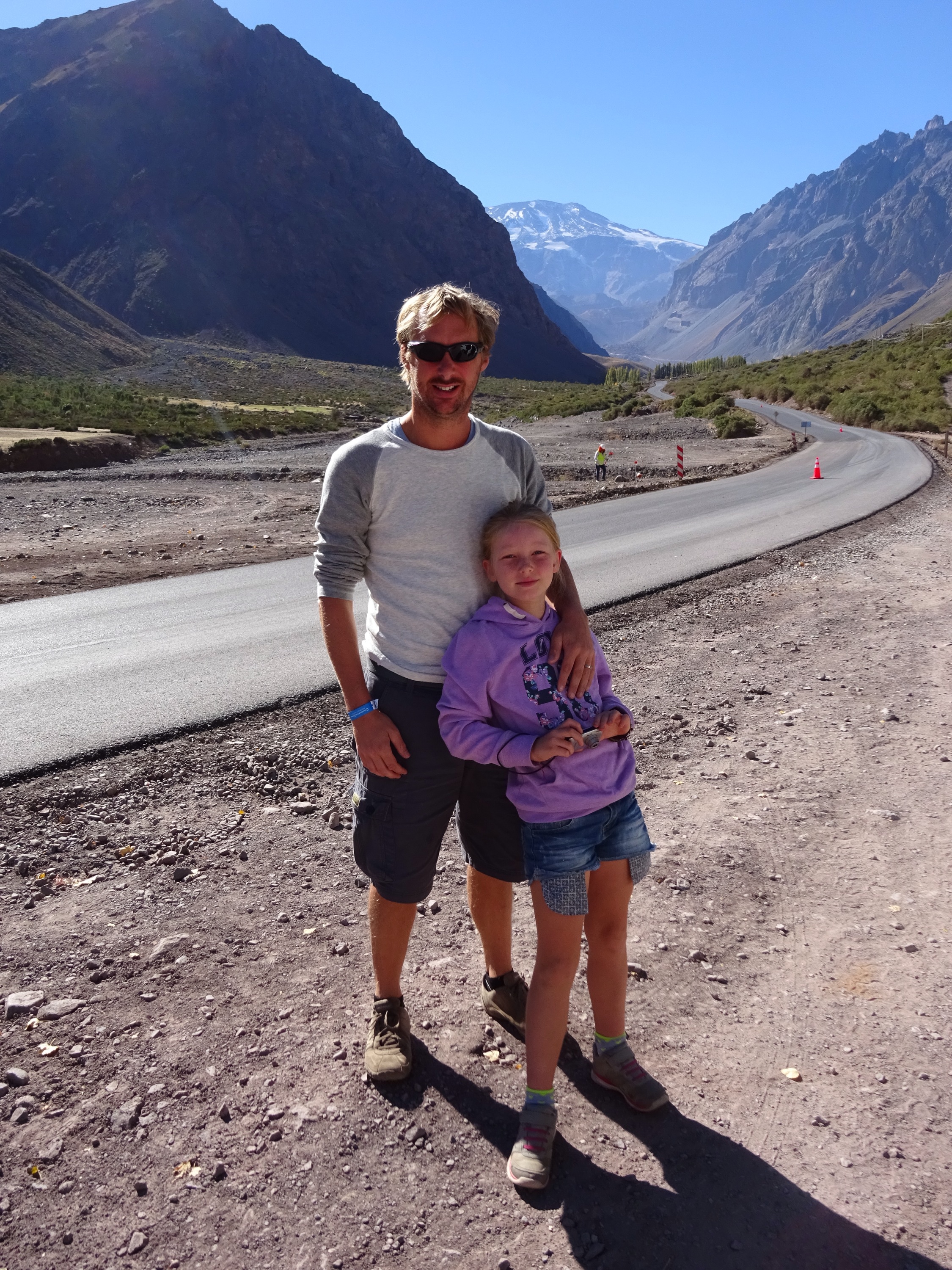 After a while we came to some stop (Pare) signs and other signs which said "Peligro" which means "Danger" – lovely…. where on earth were we going…. And as you can see the road deteriorated really quickly.

Emm where's the road gone? Soon the road completely disappeared into a stone track. We weren't sure whether to keep going but there were other cars merrily driving along so we continued on…. slightly nervous about the prospect of breaking down here.
The road was pretty scary in places as you passed huge landslides coming down the mountain. That was nerve wracking and then there were the signs warning about the possibility of volcanic eruptions and warning you that you were in a highly dangerous volcanic area…. There were plenty of signs showing evacuation routes. Marvellous…. The scenery was breathtaking though!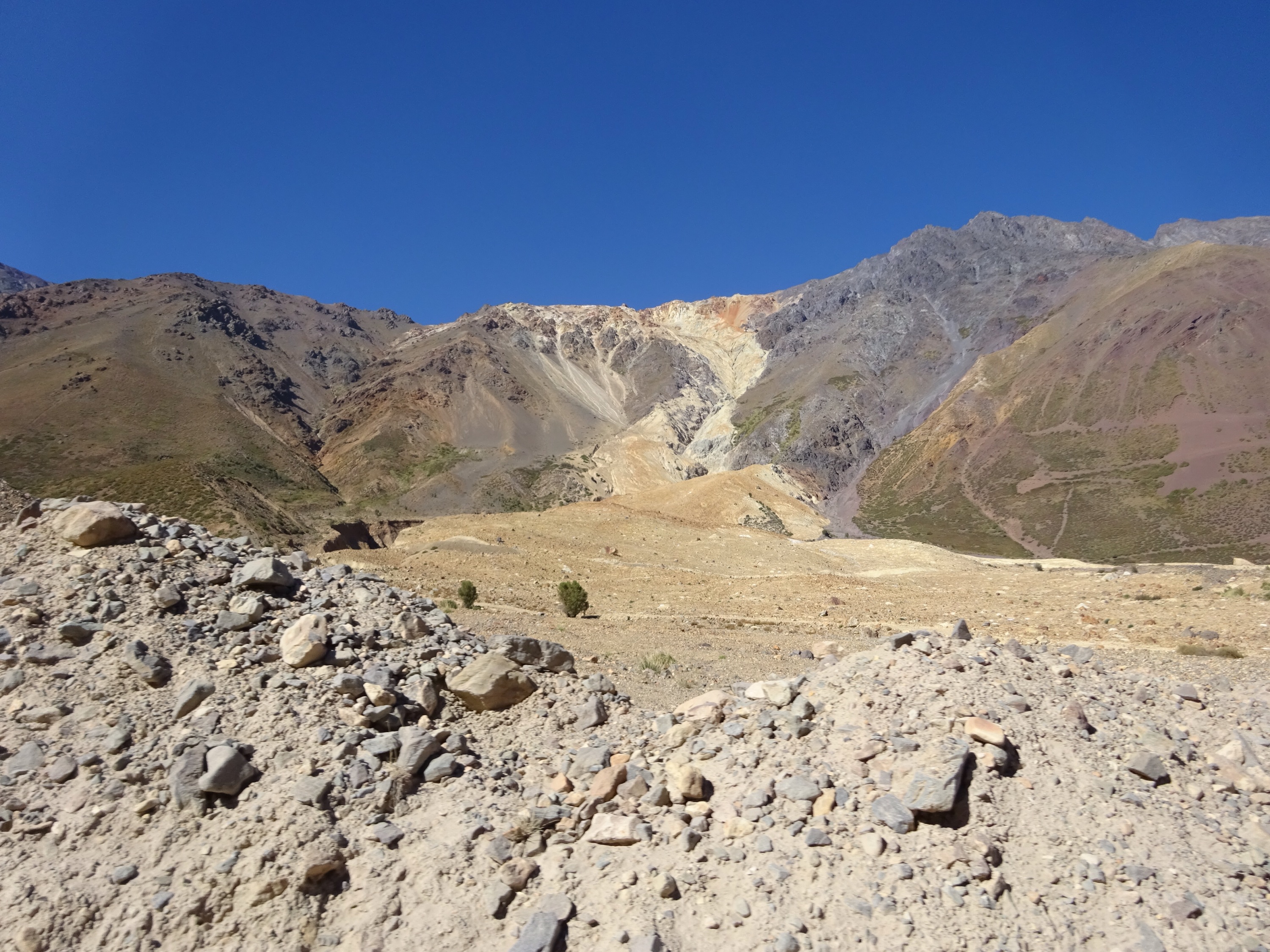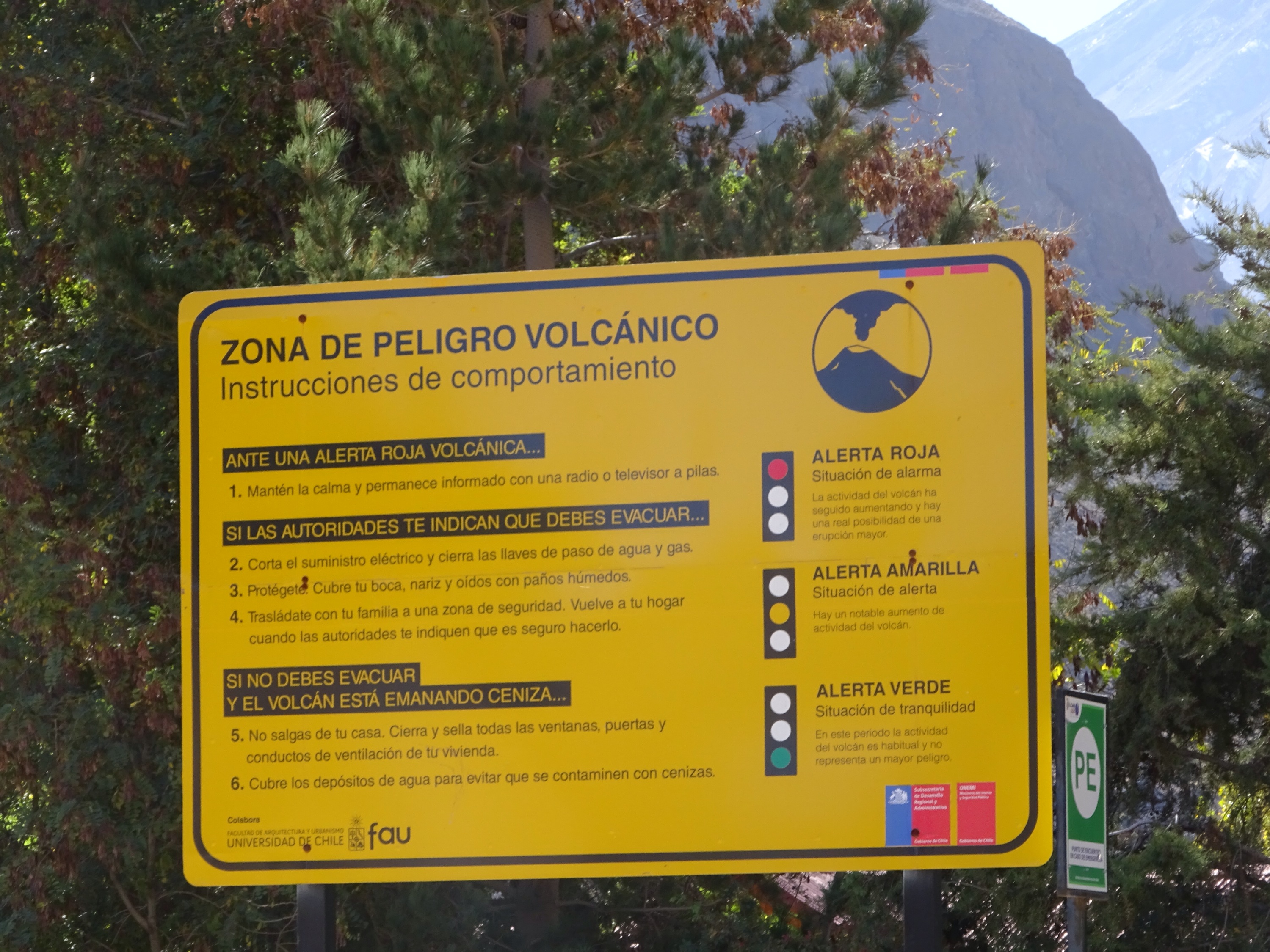 After a while, we came across a sign for "queso" (cheese) in a makeshift shack at the side of the road and decided to buy some for lunch. I went inside to find goat skins hanging over the fence, lots of chickens, some dodgy looking dogs and an even dodgier looking man in a small hut. He looked a bit like one of the characters in the movie "Deliverance" so I decided it might be best not to linger too long. I asked him if he had any cheese in my best Spanish and he opened a press where there must have been 30 or more huge rounds of cheese. He then mumbled something back to me, I didn't understand a word but somehow managed to agree on the size of slice and off I went with a delicious big lump of cheese for lunch. Now we just needed some pan (bread). The cheese man told me we could get some further along the road, at least I think that's what he said….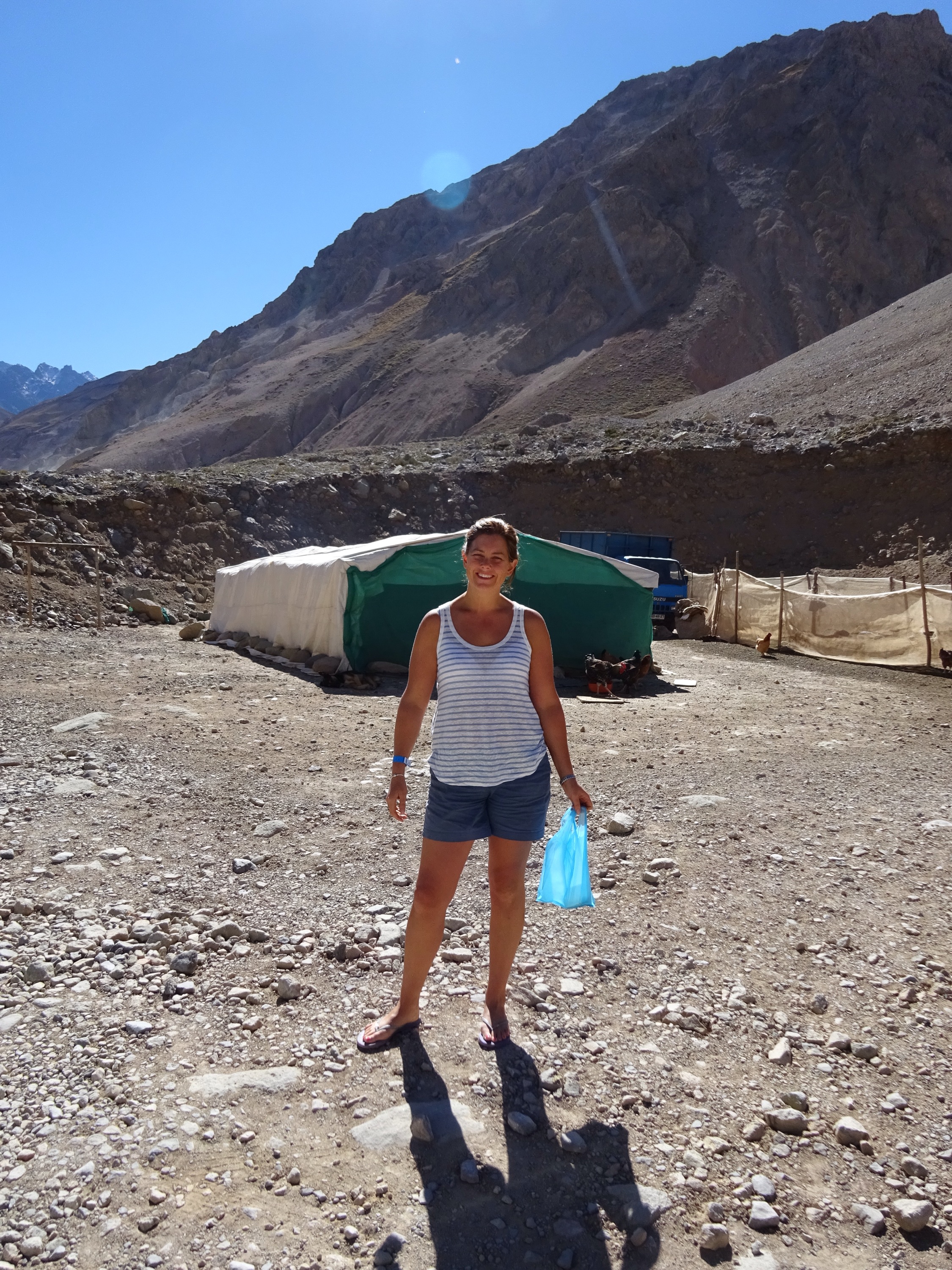 The bread place was actually a little shop and restaurant further along the road run by a lovely older couple. They were delighted when we walked in and were getting ready for lunch. They told us they would serve lunch at about 2pm, it was only 11am so no point waiting unfortunately. I'd say it would have been a great experience to have lunch with them. Next time… We got some bread and drinks from them and continued on.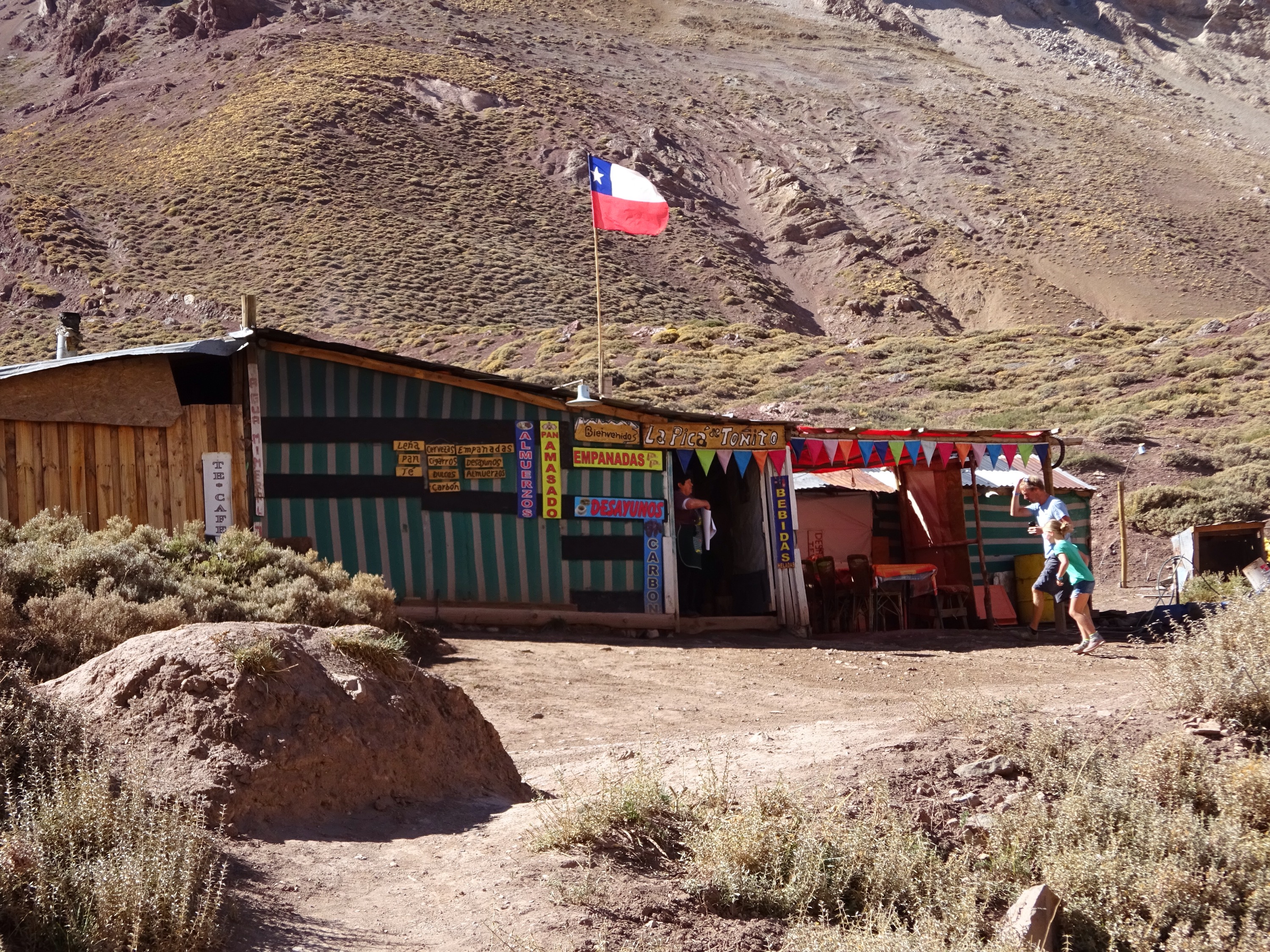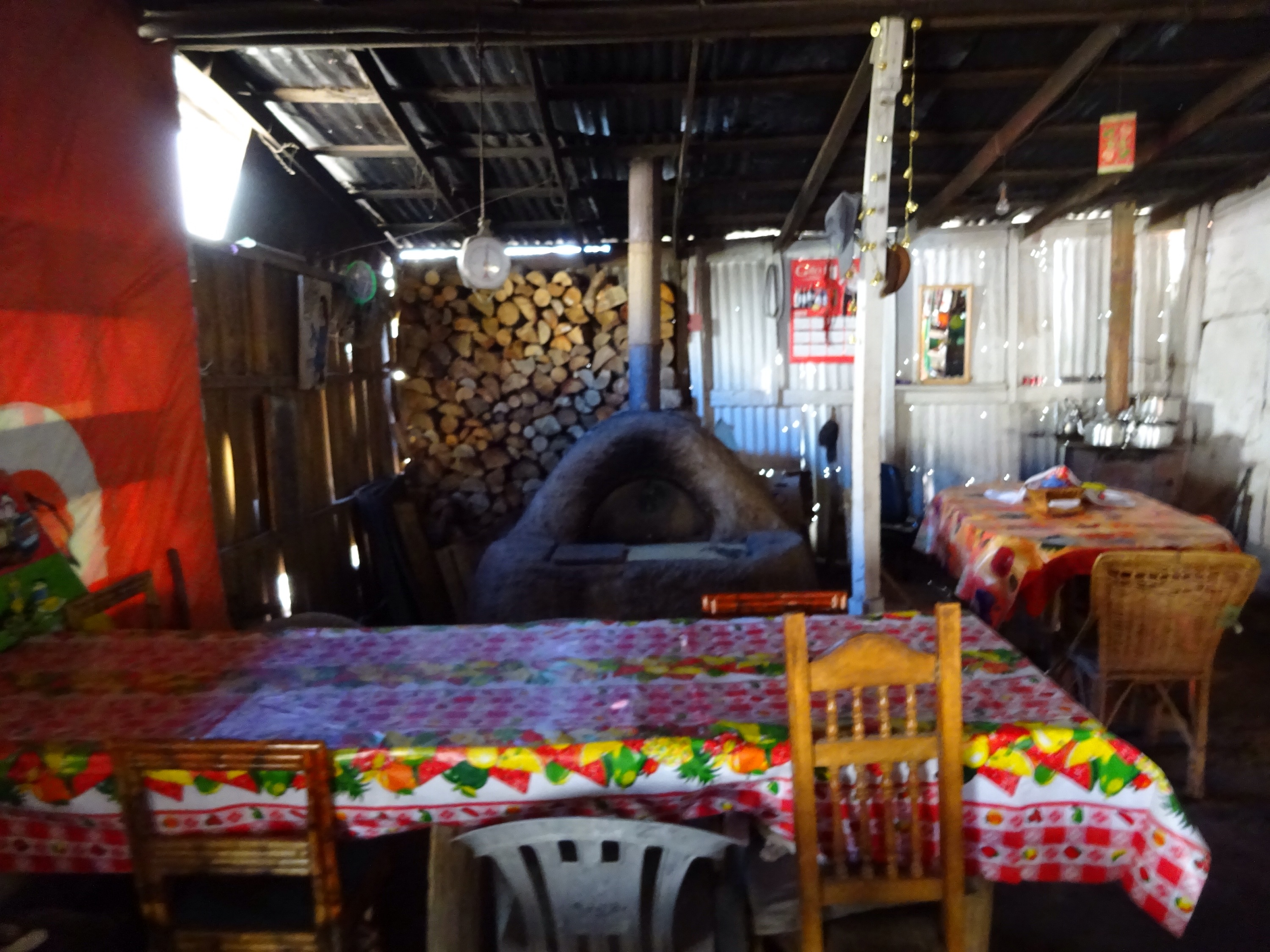 Eventually we came to the end of the road which is where the baños or thermal baths were. You have to pay into them, we tried to bargain with the guy manning the entrance but didn't get very far. Quite shocking despite my best negotiation tactics, he really was having none of me :-). The baños are a series of 4 or 5 volcanic pools coming down the mountain. The upper one is very hot and they get slightly cooler the lower you go. We picked a pool mid way and hopped in. Ohh wow….. it was absolutely heaven! We shared the pool with an older couple who were spreading the volcanic mud on their skins. We had to give it a bash, it's pretty smelly with sulphur but apparently great for you. So we had a bit of a mud bath much to the girlies delight. The highest bath was almost too hot to tolerate, definitely too hot for the kids. I was the only one who managed to get in that one but I have to say, I do love a good old hot bath! We spent ages at the pools enjoying the amazing scenery and pools. I don't think we'll ever experience anything quite like it again, it was spectacular and not in the least overrun with tourists.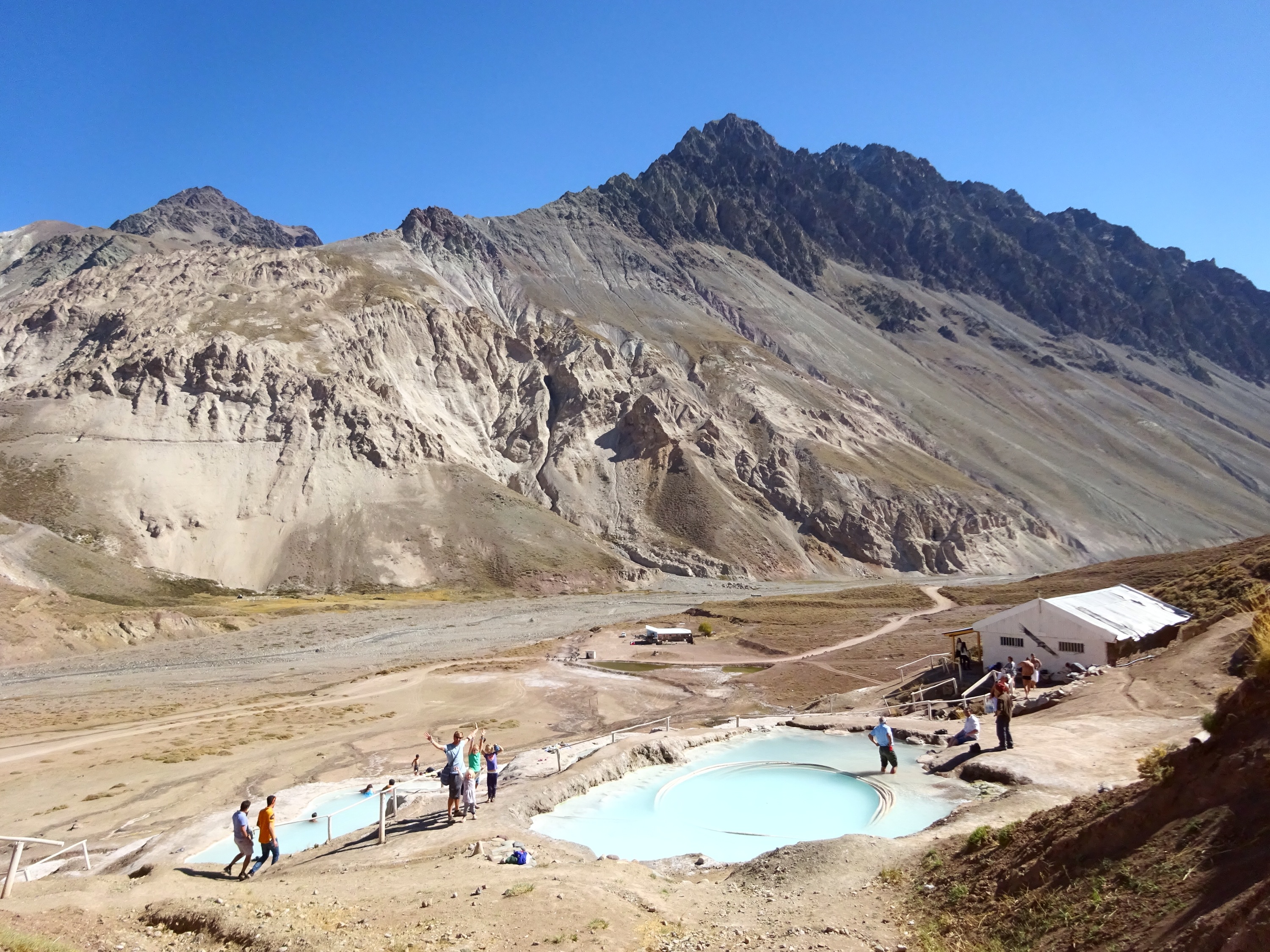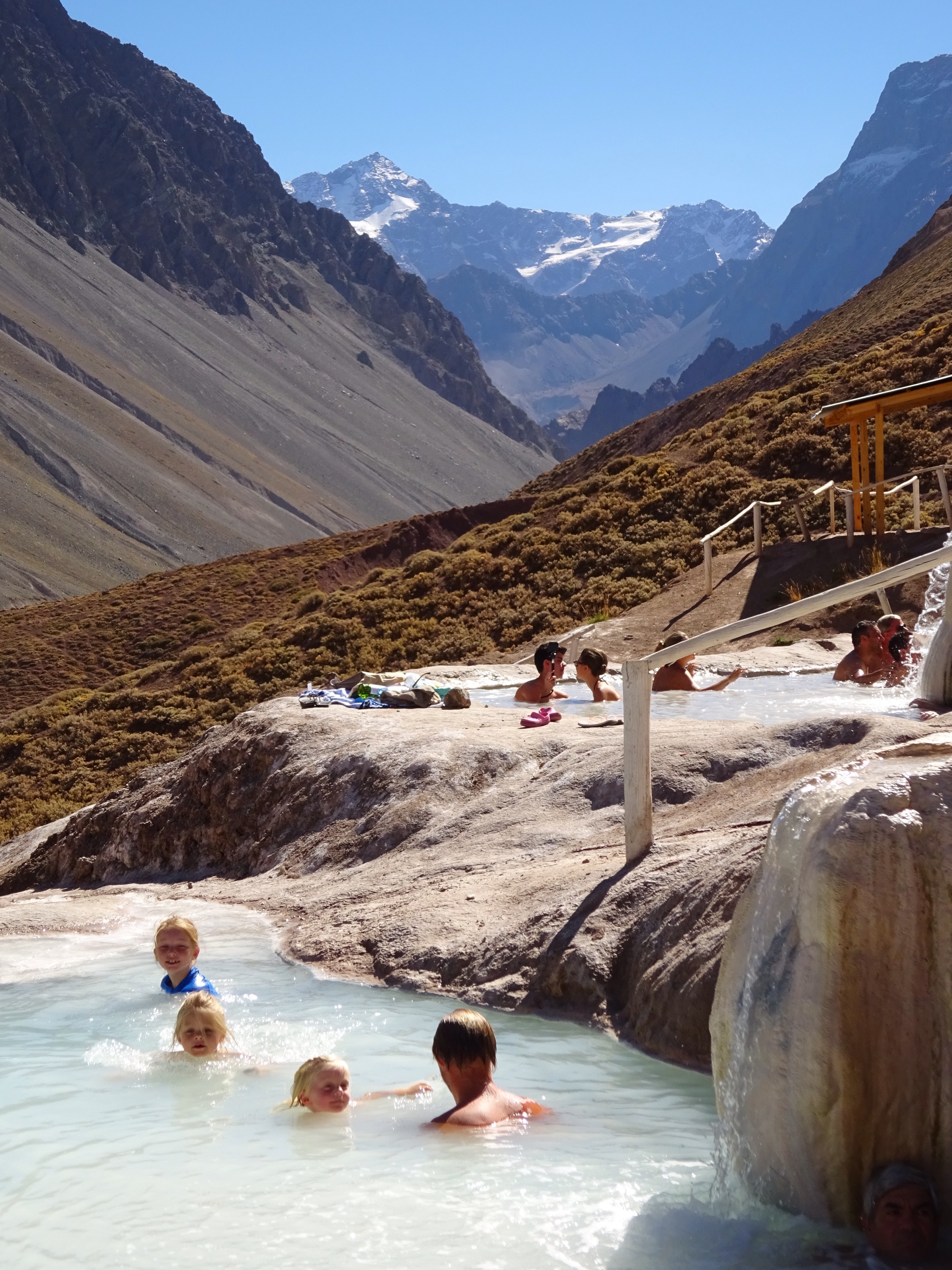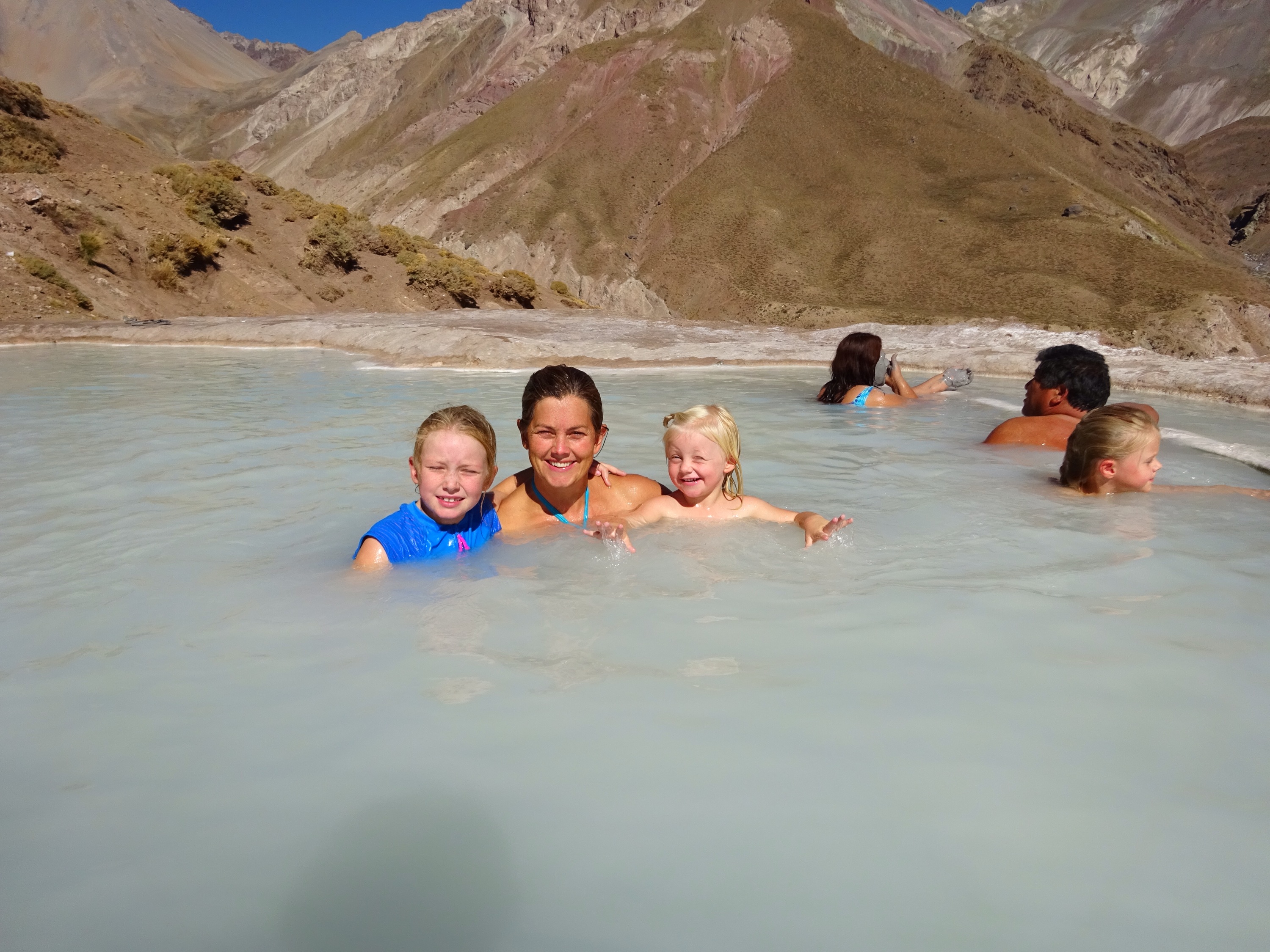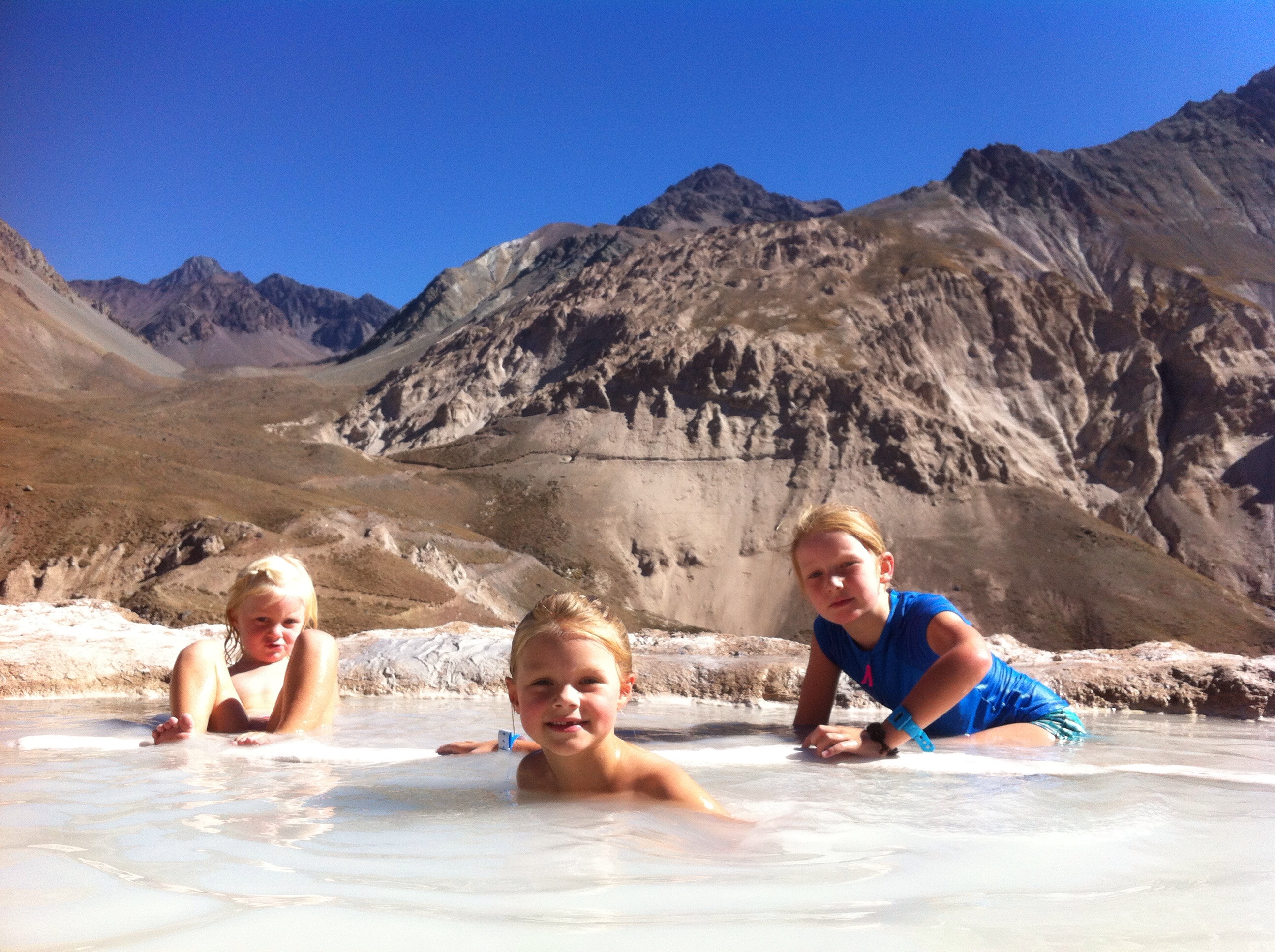 After the baths, we went for a bit of a walk up the hill behind. At least we tried to go for a little walk up the hill behind but struggled with the altitude. It was our first experience of it really and we found we were completely out of breath in no time!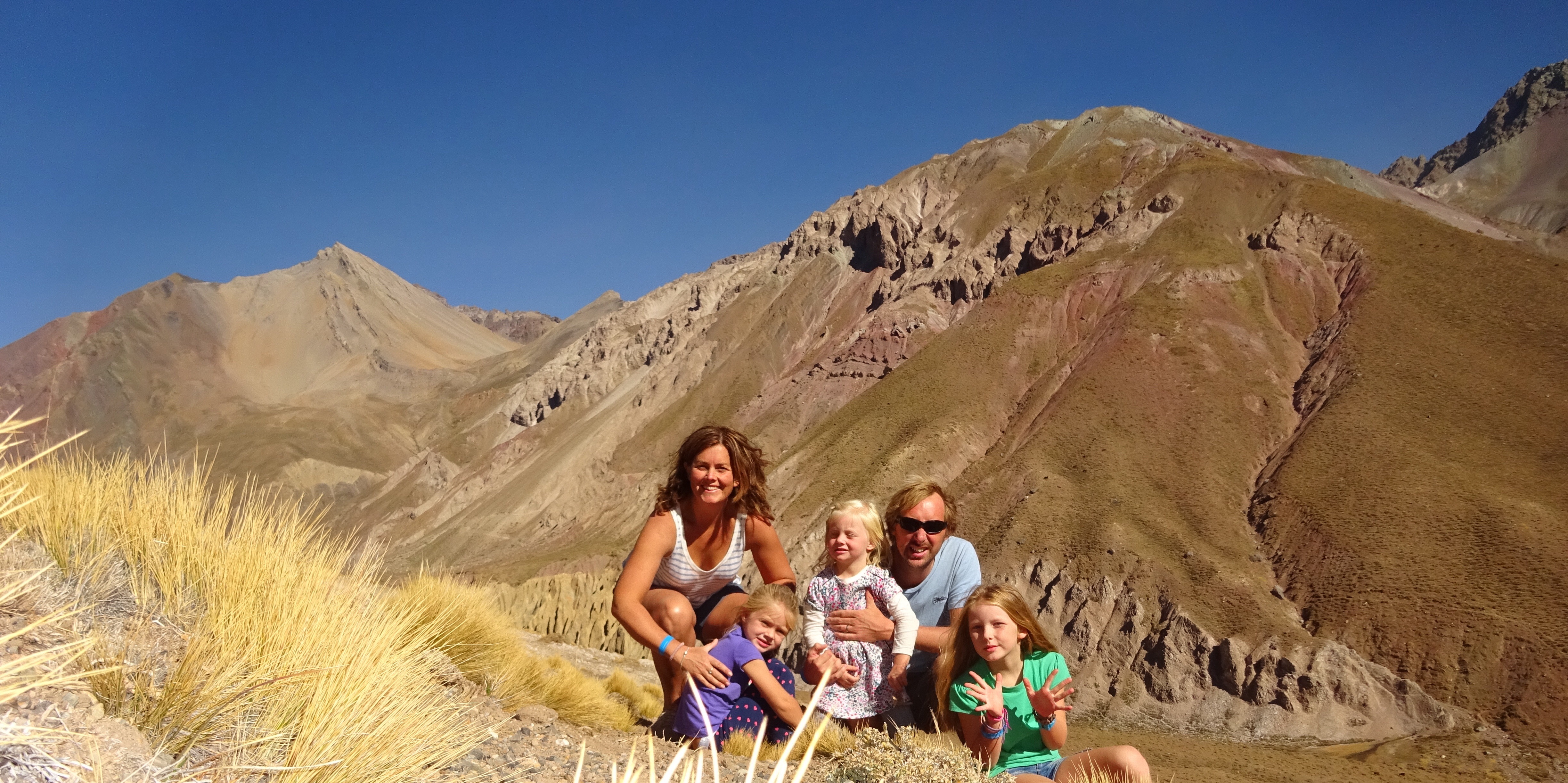 That night we went back into town and out for delicious empanadas cooked fresh in a clay-fired oven. They were superb! A great end to a really great day.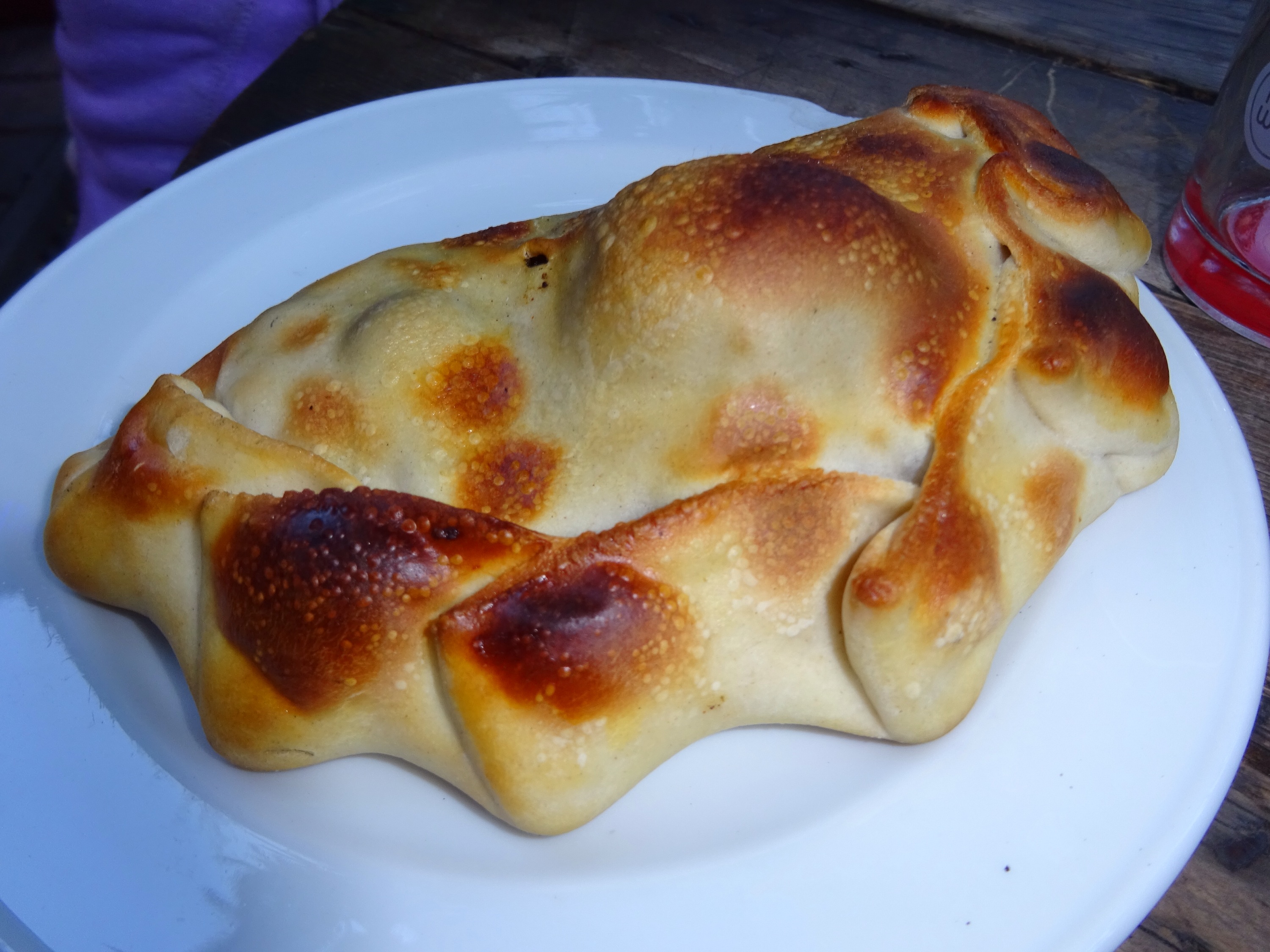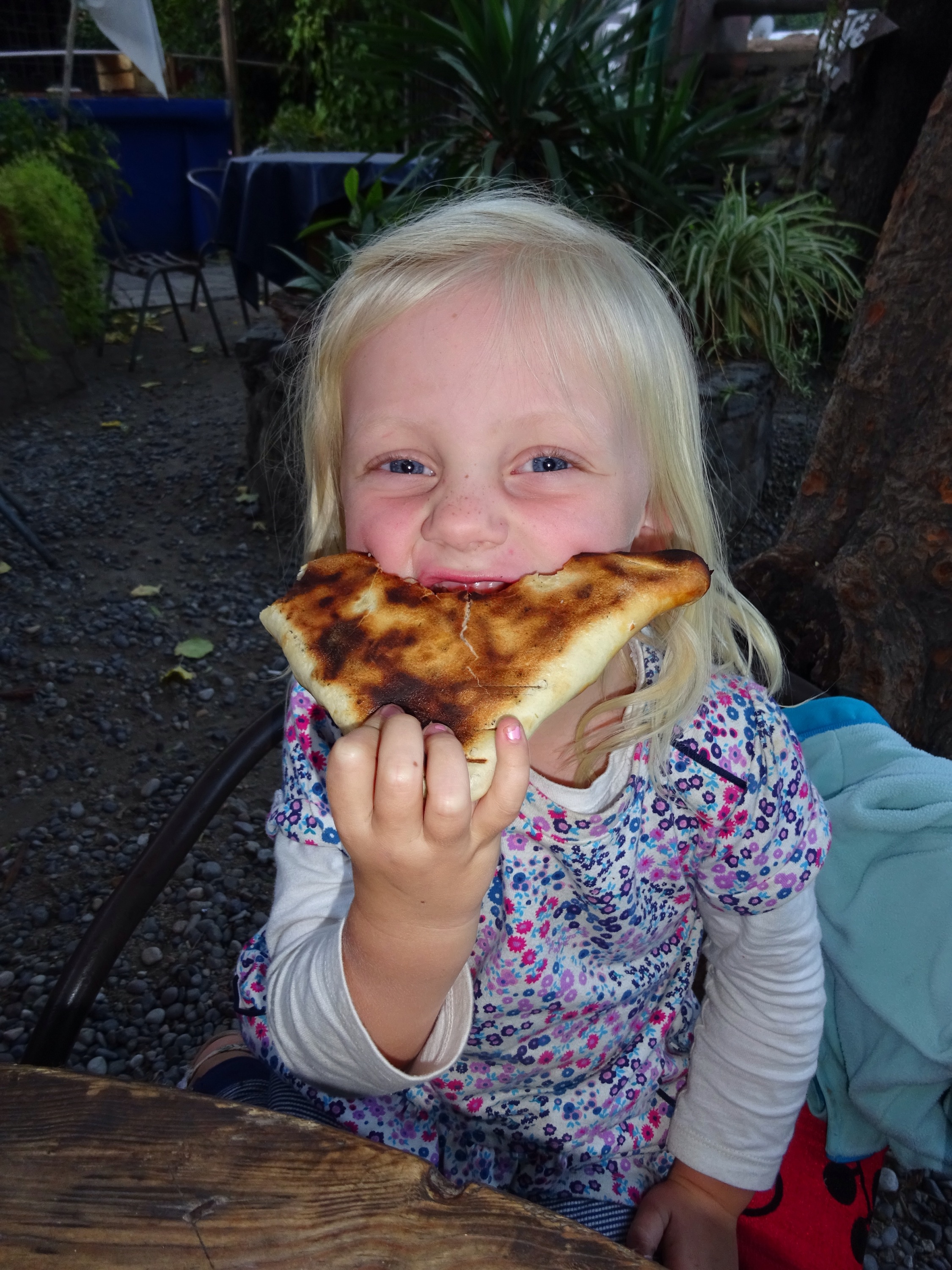 We left the Cajon de Maipo the next day, pretty sad to be going. There's loads there to merit a longer stay. I guess we felt there was loads more to see and only had the car for a few days so wanted to move on. In hindsight, perhaps we should have stayed on.  If you're into trekking it would be an amazing place to go. There's also a glacier there which sadly we didn't make it to. And of course I mentioned rafting and horse riding already. Let's just say there's lots to do and it's only an hour and a half from Santiago. Go!
We were headed to Valparaiso another city further north and conveniently along the way you pass very near some vineyards including many of our Chilean favourites "Concha y Toro" and "Undurraga". Sure it would have been rude not to have popped in to at least one of them, wouldn't it? We picked "Concha y Toro" which is so popular in Ireland and one of our favourites in the Kelly household. Have to say I was super excited to be going.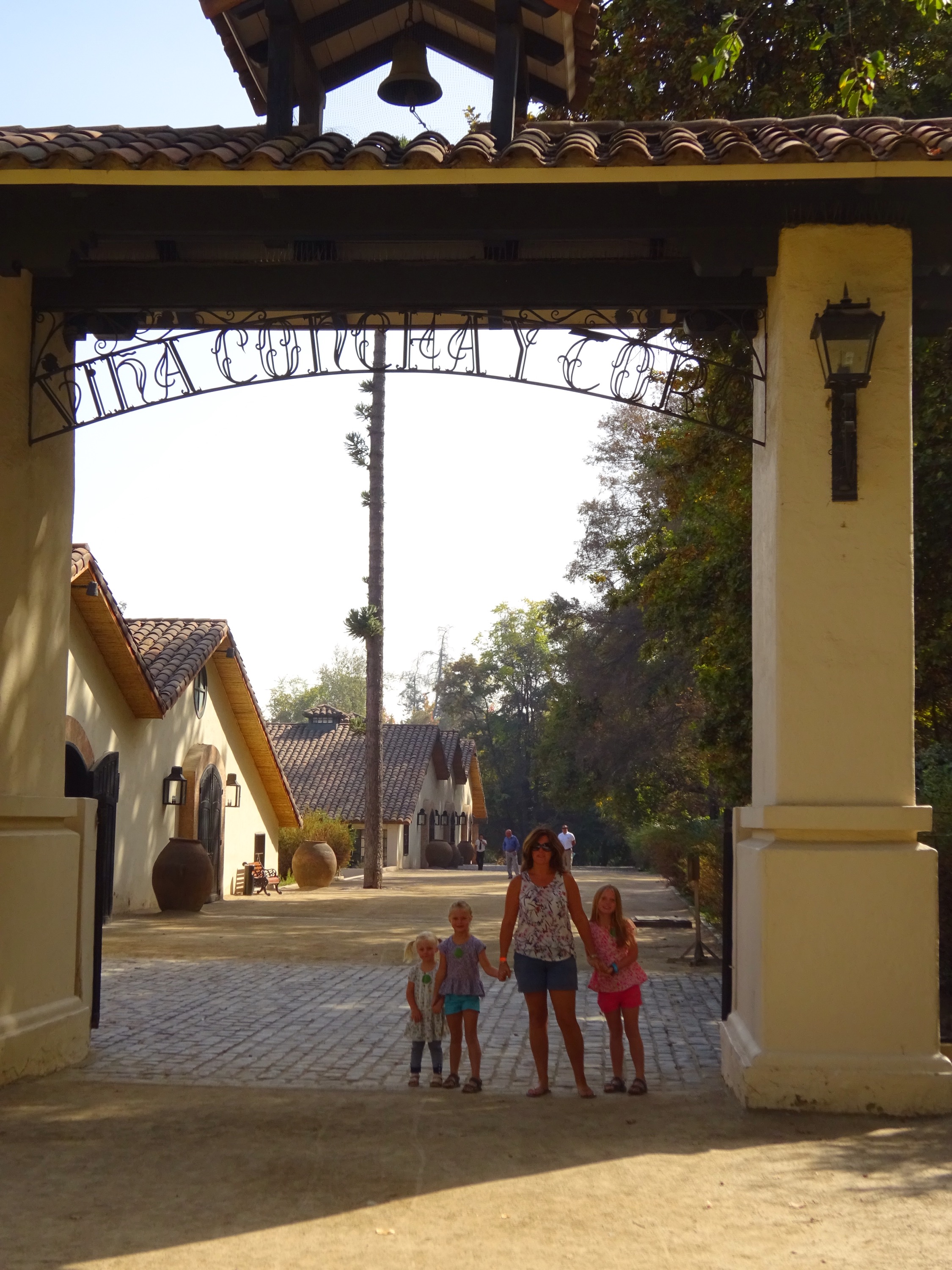 Concha y Toro is well worth the visit. The vineyard is in a town called "Pirque" not far from Santiago. There are many companies offering day trips from Santiago. This location is actually the site of the original owner "Don Melchor Concha y Toro's" summer house. Don Melchor founded the vineyard in 1883 when he brought some vines in from France. He quickly realised that the conditions in Chile were perfect for growing vines. Originally he just made wine for family and friends but everybody raved about it and he quickly recognised how delicious they were and created the vineyard.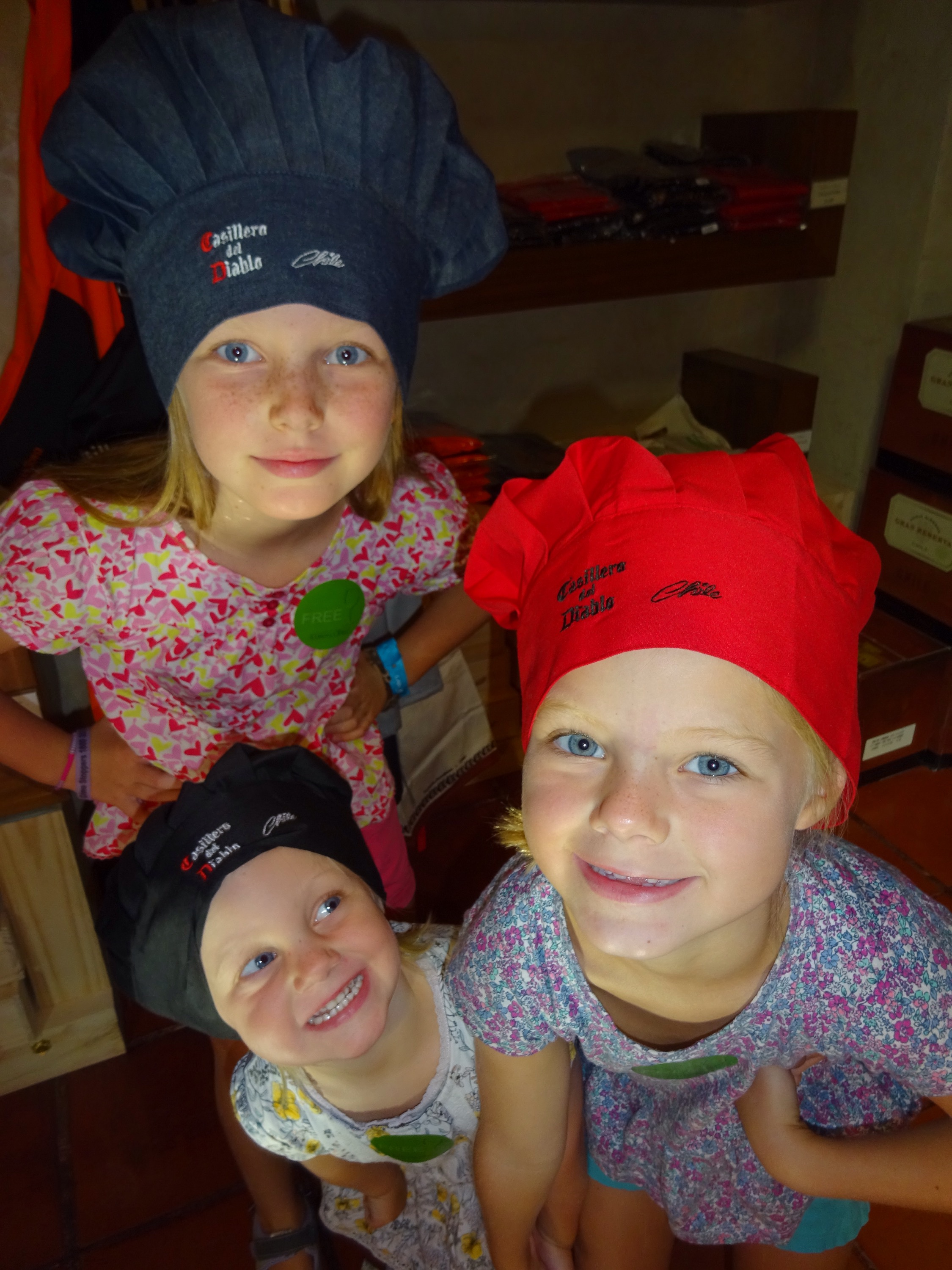 The tour was great. It starts in a beautiful courtyard just outside the shop. There's a lovely restaurant there with outdoor tables and there were a group singing, dancing and playing guitar in traditional dress. They were great, it created a lovely atmosphere.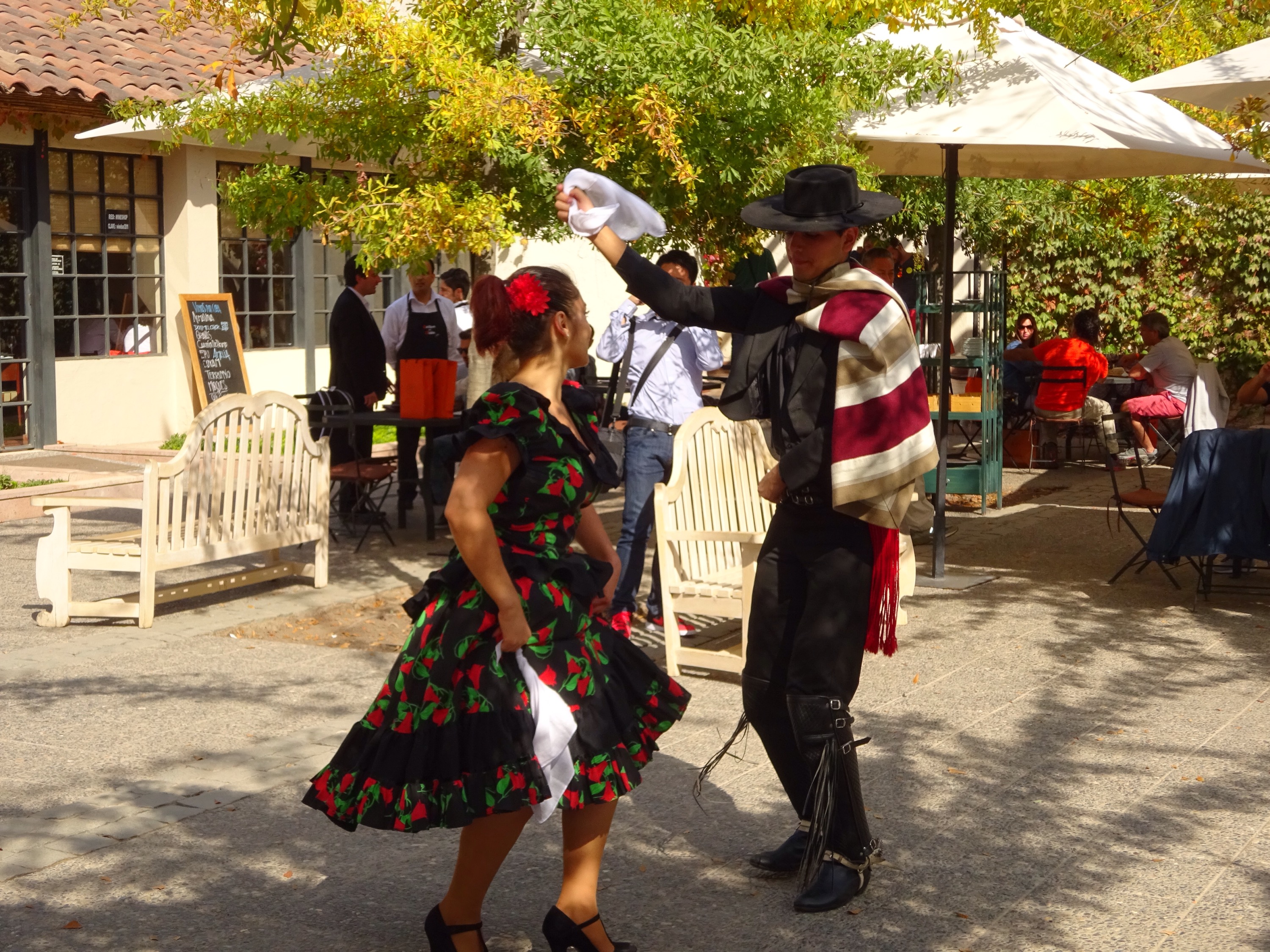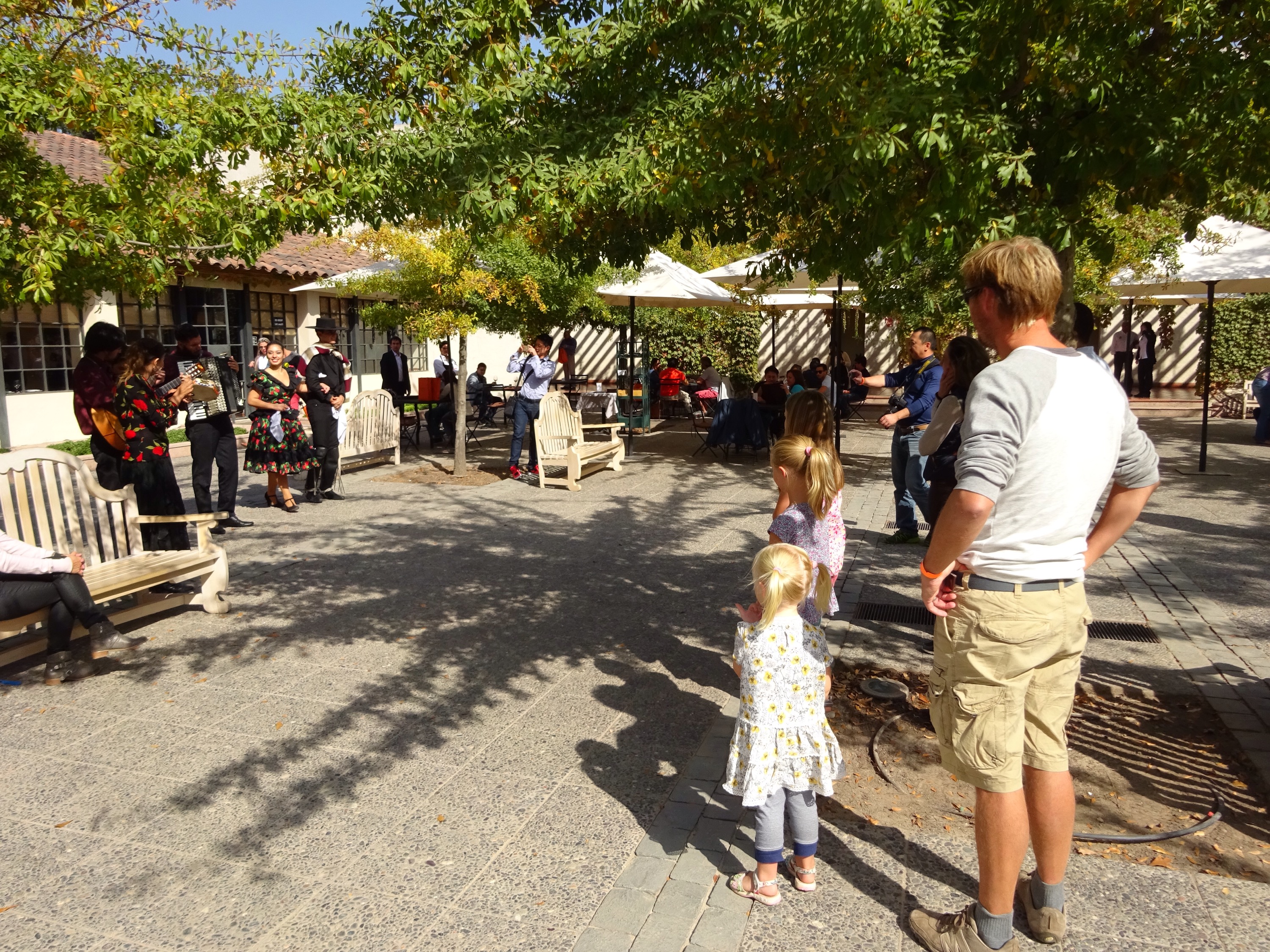 The tour takes you around the grounds which are beautiful and into the vineyards. There's a small section of vineyard specifically for tourists where you can taste the various varieties of grape. Our girlies were delighted and stuffed themselves with each variety.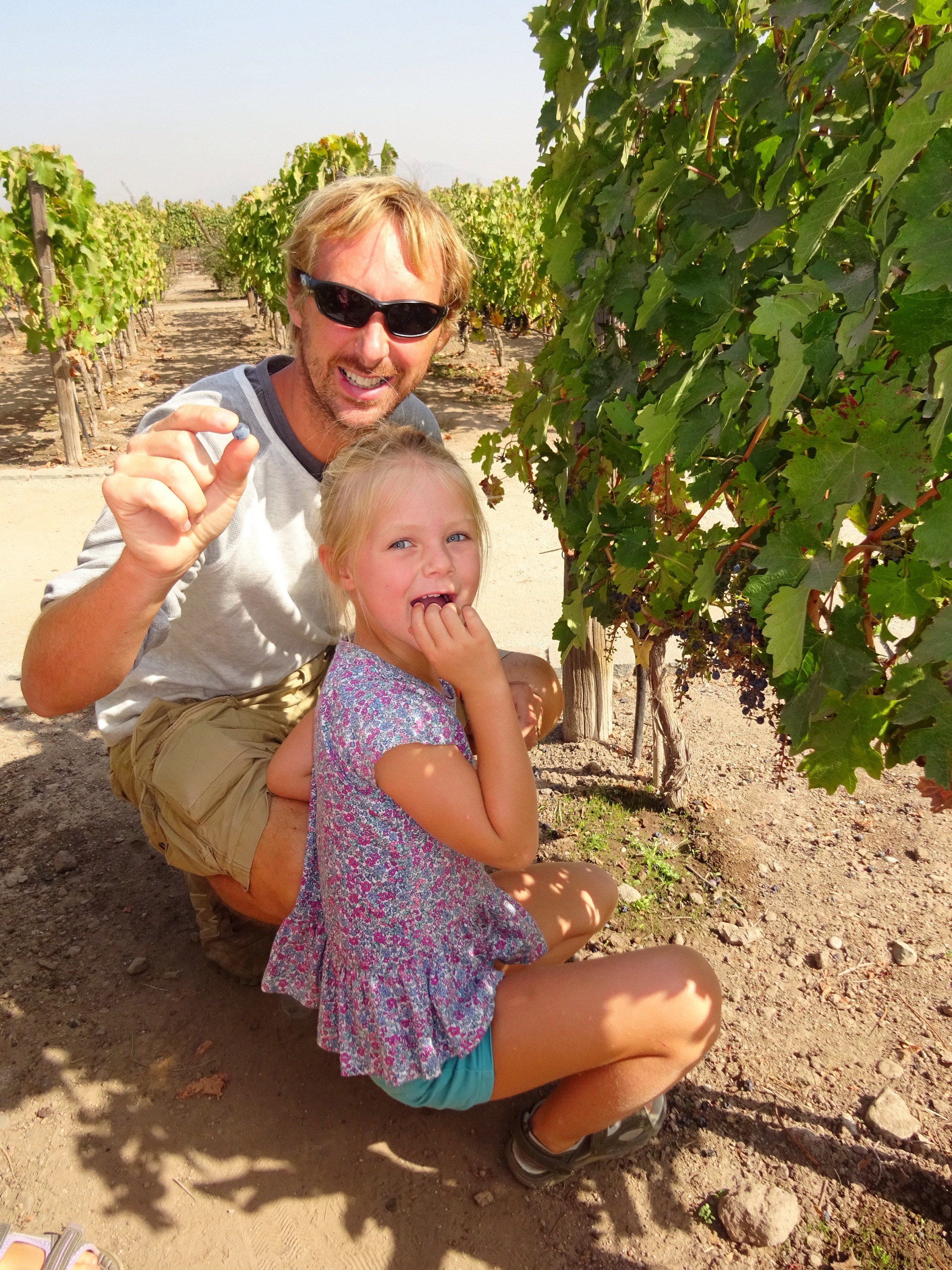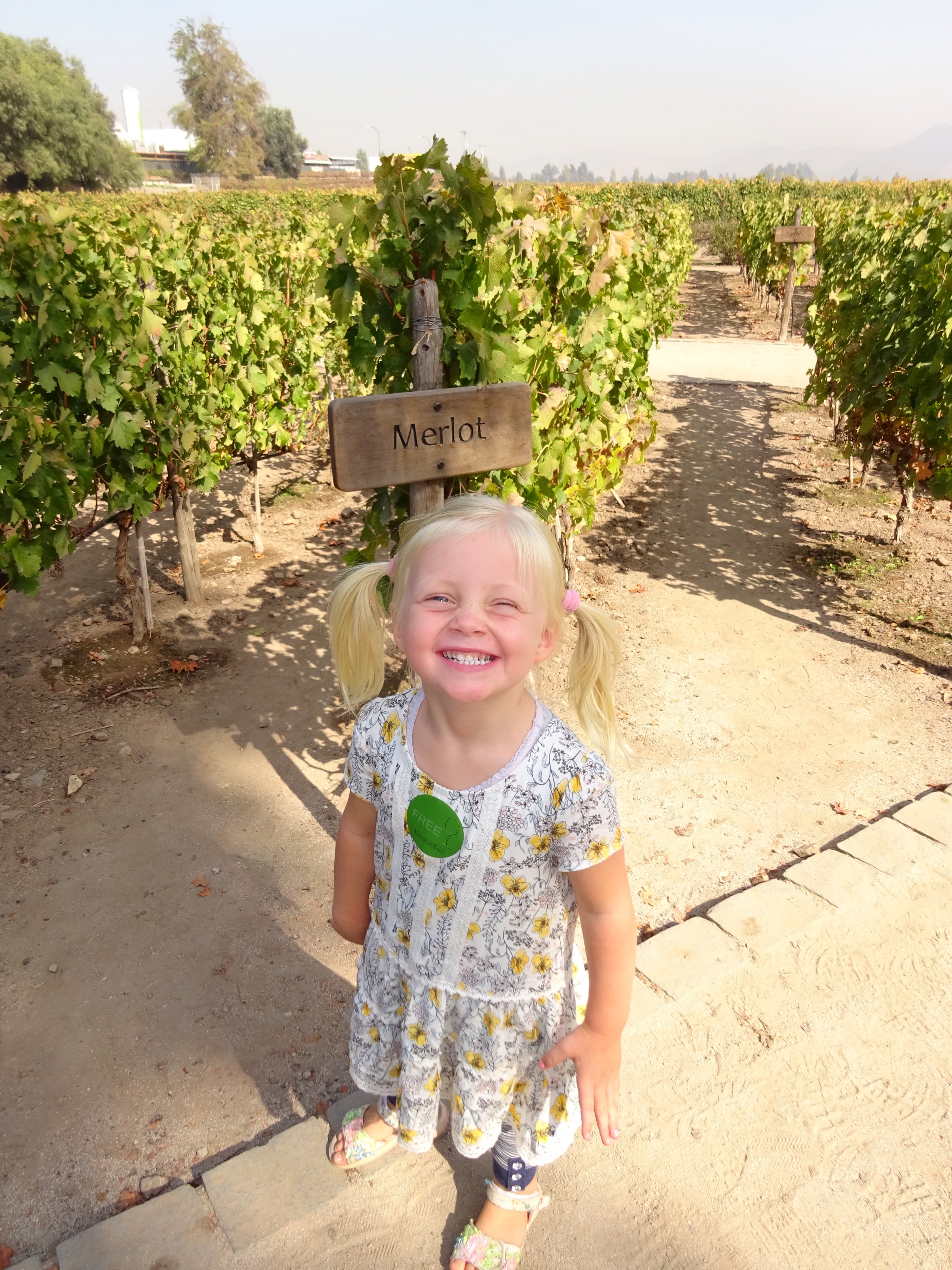 The vines here are drip fed water through an irrigation system. As a result of being drip-fed, they are tiny and have a very high sugar content, much better for making wine.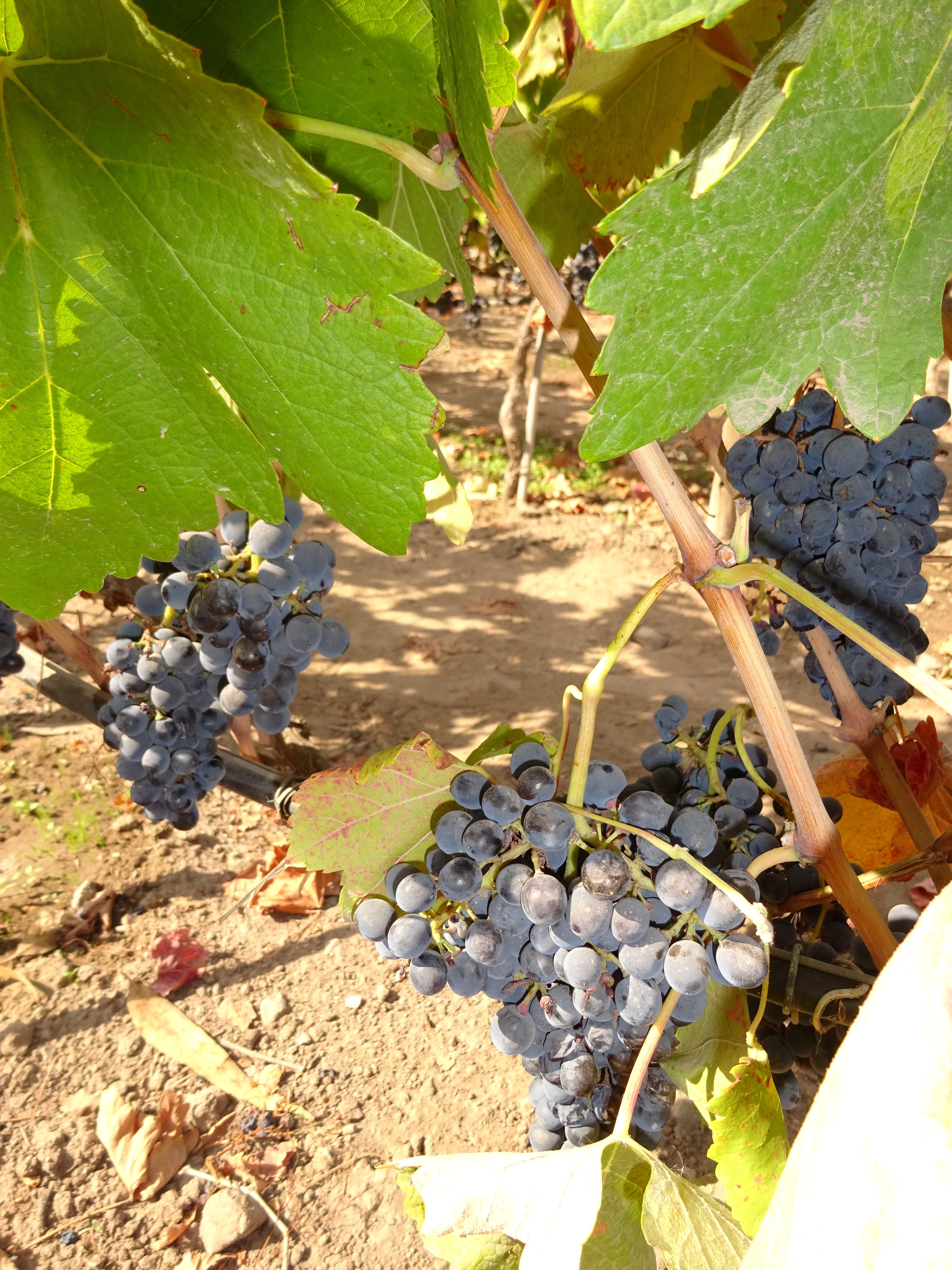 You're then taken into the cellars to see where the barrels are kept. The best part of the tour was when we were taken into the famous "Casillero del Diablo" or Devil's cellar. We'd drunk many's a glass of wine from a bottle of the same name that it was hard to believe we were actually here at the vineyard all the way across the world in Chile.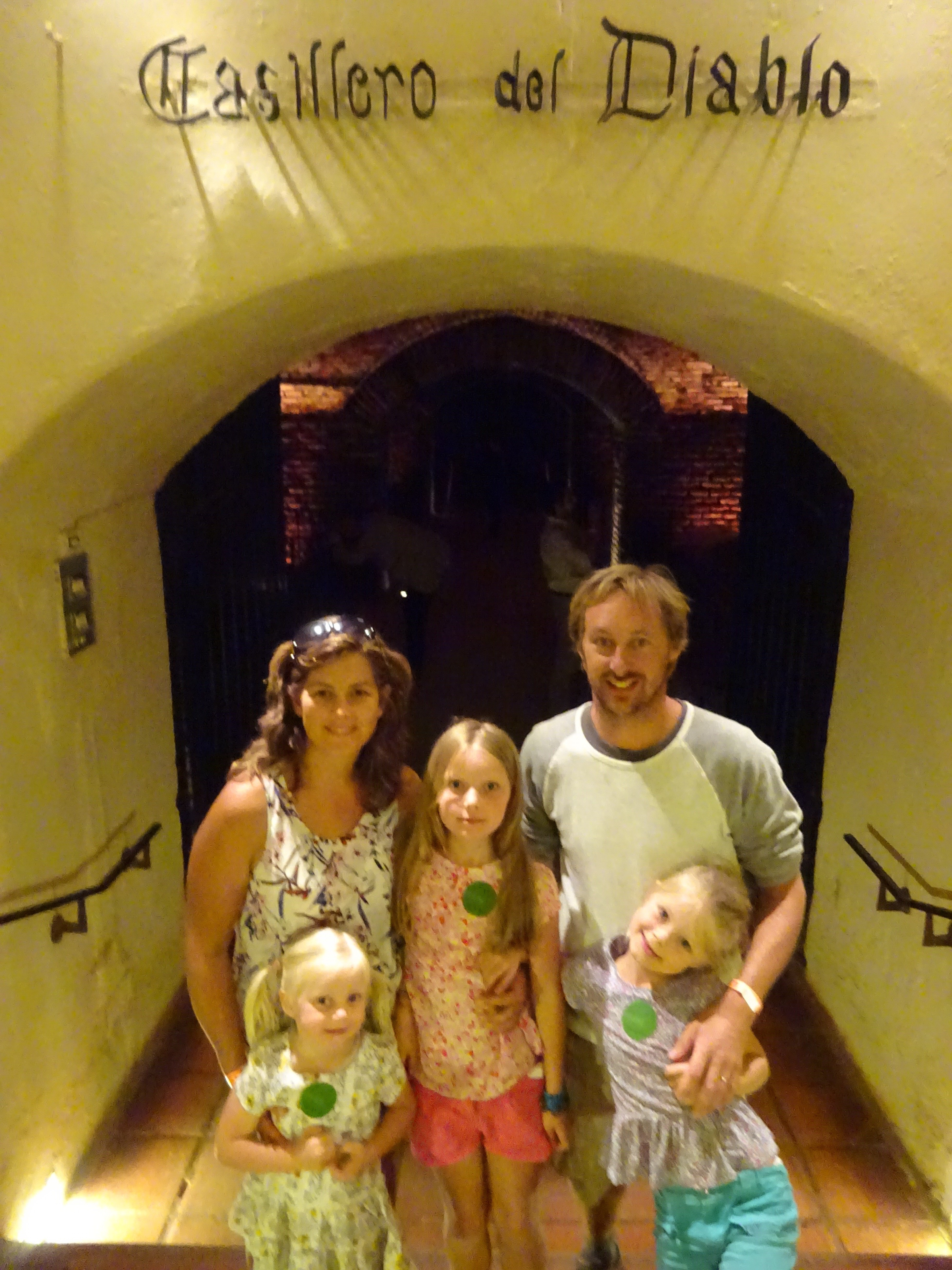 There's a great story behind the cellar. It turns out this was where Don Melchor kept his best wines, those he wanted to keep for family and friends. One night a group of men broke in and robbed all his prized wines from the cellar. Don Melchor was absolutely disgusted and tried to think how he could possibly prevent this happening again. He invented a story about the Devil being seen in this cellar. Word quickly spread of the "Diablo" and fear spread through all the local communities who were a superstitious lot. They were terrified. The rumour grew and grew with more people claiming to have seen or heard the "Diablo" and telling another terrifying story in the process. The cellar was never robbed again. It's still home to the families best wines and of course "El Diablo"….. Ouuu spooky. Here he is!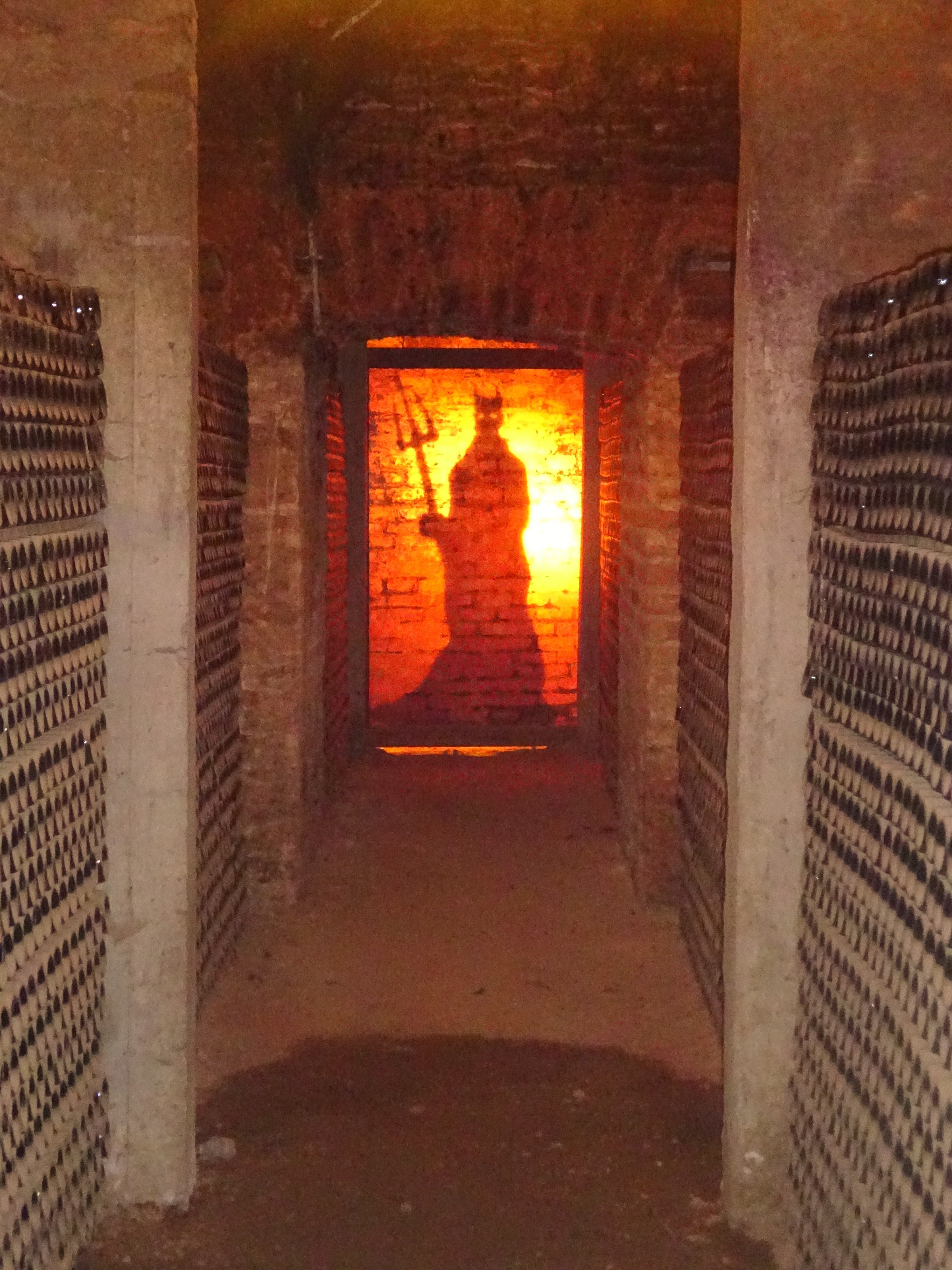 When you go in to the cellar, the doors are locked behind you and there's a great audio played telling the whole story of Don Melchor and the Diablo. The girlies weren't big fans of this as they listened to the devil's footsteps on surround sound. It was great though, really chilling and really made you feel like there was something sinister about the place.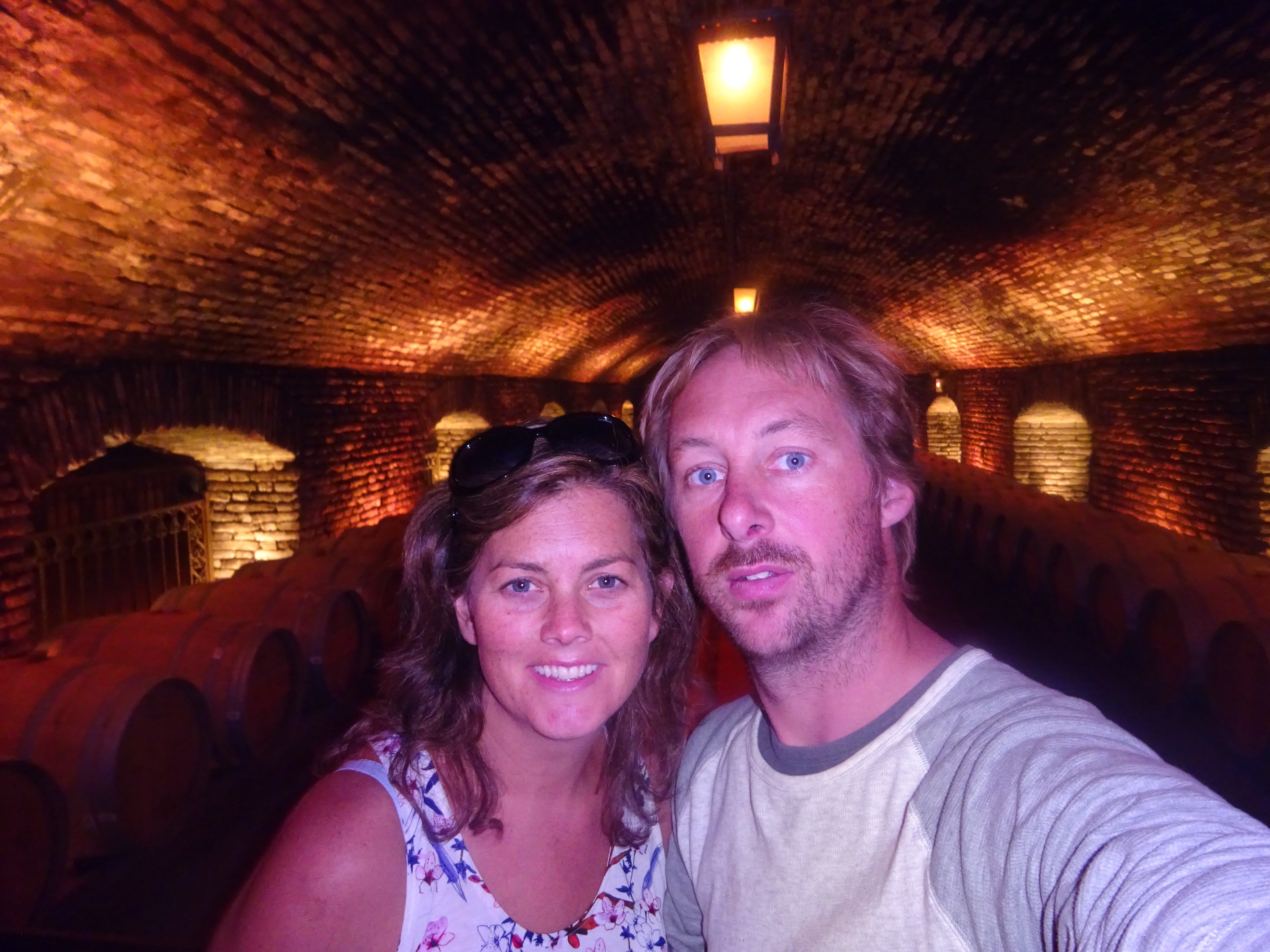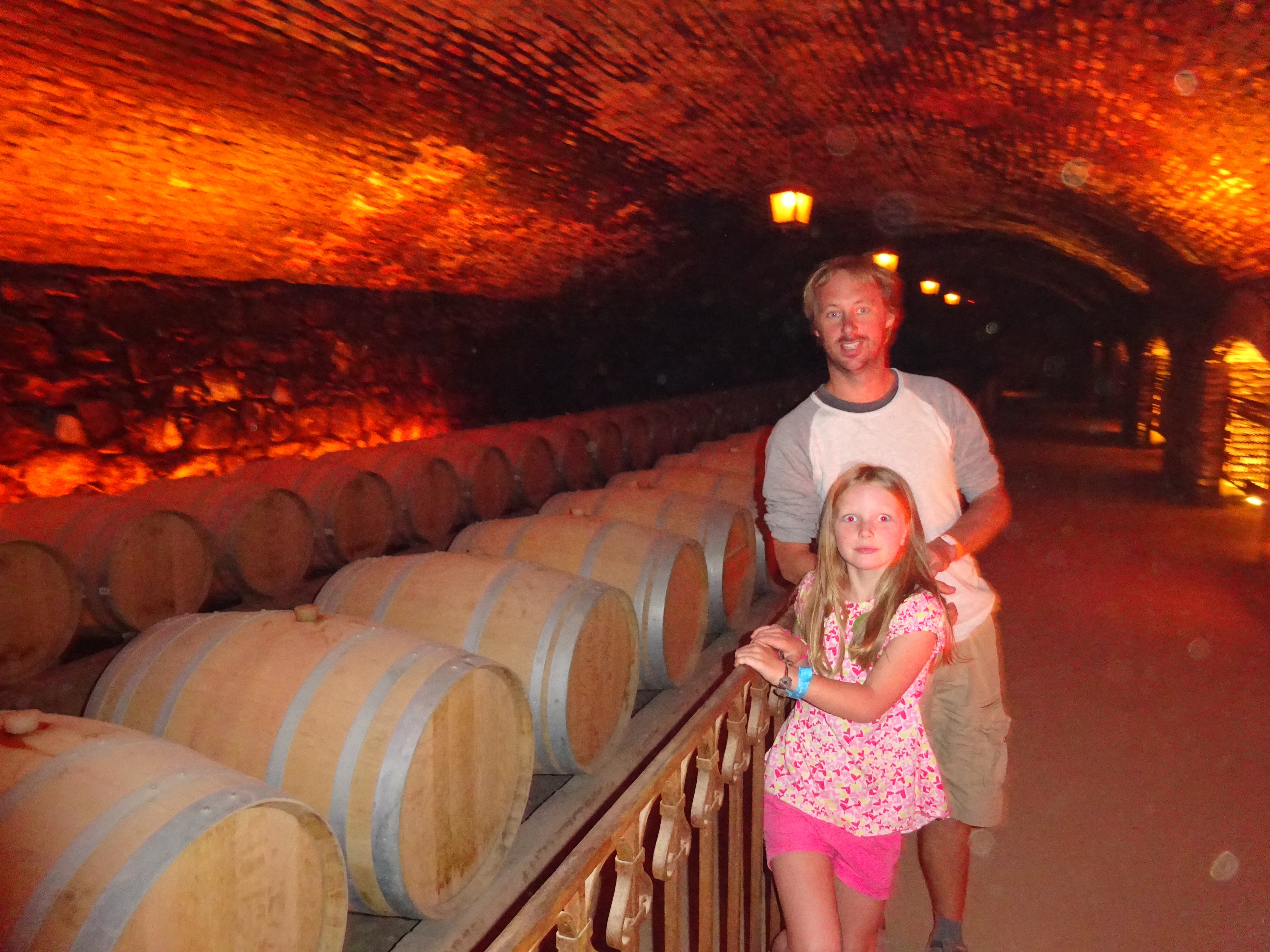 The tour ended with some wine tastings, you do three in total. There wasn't anything amazing about the tastings, the first was the same "Casillero del Diablo" wine we have at home, sure we know exactly what that one tastes like ;-).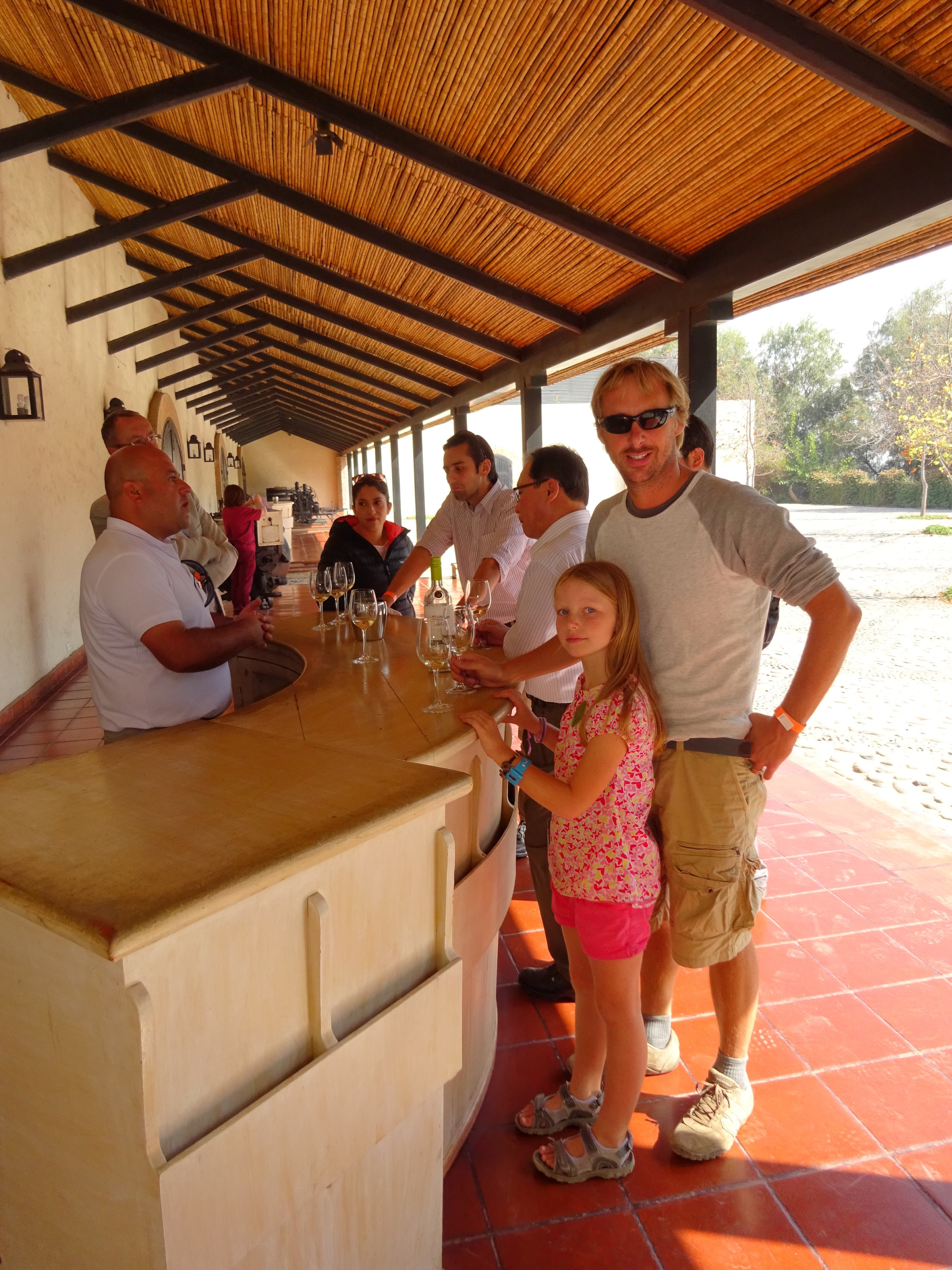 You're allowed keep your wine glass engraved with "Concha y Toro" as a keepsake. Unfortunately we couldn't carry them in our back packs so they were left with our Hostal owner in the next town. Don't worry Dervie didn't actually drink any in the picture below, she just was learning how to sniff it :-).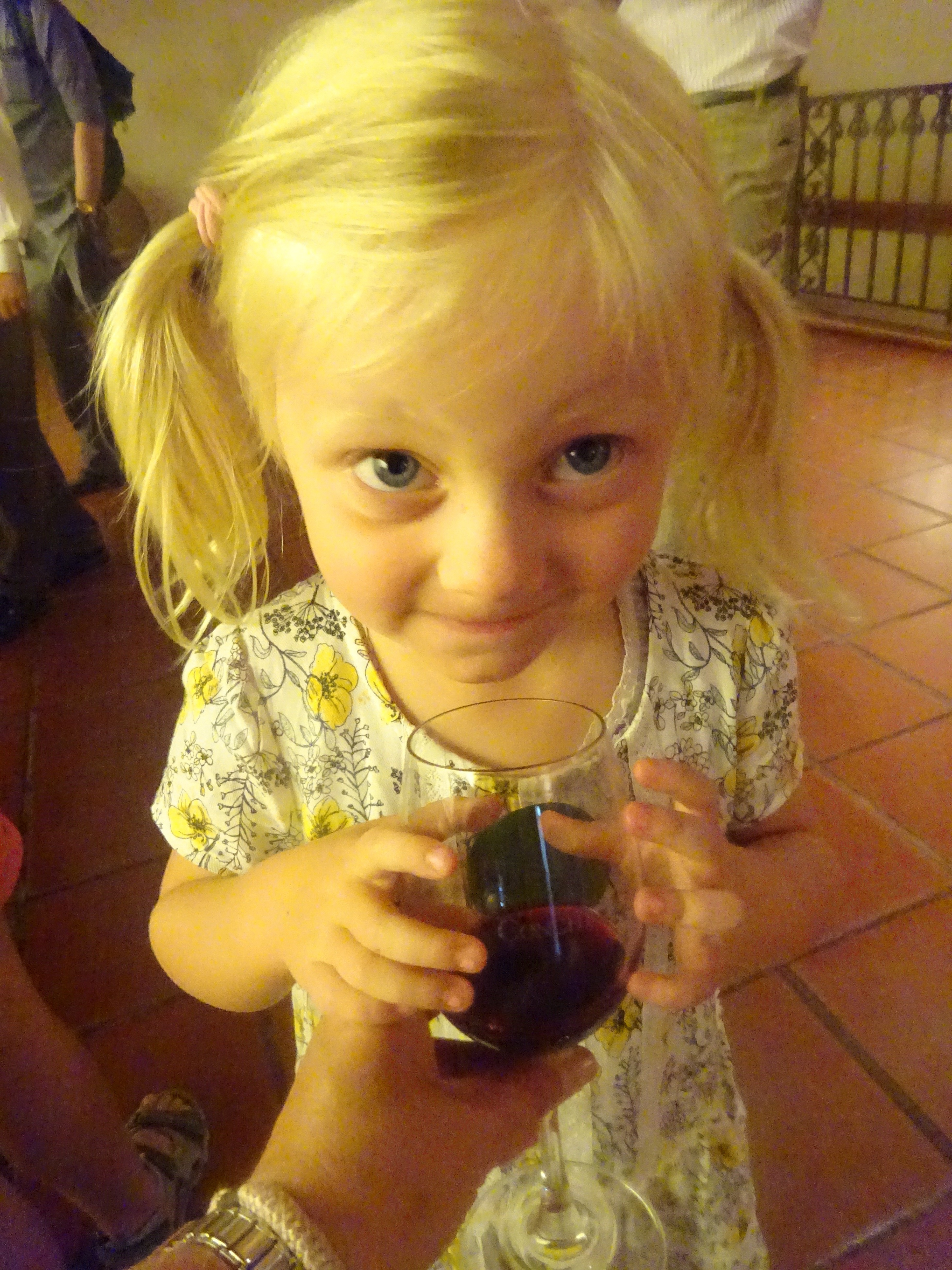 If you're in the Santiago area, we'd really recommend a visit to the Concha y Toro vineyard, it was a smashing day out, one which the kids really enjoyed too.